Guestbook about Costa Rica. I asked my friends to tell me what it was like to live there, whether I had washed away to spend the winter, what climate, what prices for everything about everything. In general, the typical issues that worry winter workers and immigrants. Yes, yes, there is also possible to emigrate, but the guys will not tell about it, since they drove it for a while. Maybe someone else will tell
The content of the article
About Us
For most of our lives, we were creepy homebody. They began to travel 5 years ago, after our daughter was born. Later, in Thailand, our son was born. He celebrated his first year in Cyprus, the second in Costa Rica. The whole last year we spent away from home, traveling. First we lived in Spain, Italy and the Czech Republic, visited Europe, and then flew from Frankfurt to Costa Rica. We lived in this wonderful country for 4 months with two children of 4.5 and 2 years old and two cats. The first month was a real pura vida among green hills (pura vida is the motto of Costa Rica, literally "pure life", but in meaning closer to "life is beautiful!"). Then the stamp expired at the entrance, and it was decided to go to Panama. There we were drawn back to Costa Rica, even then it sunk into the soul with its stunning nature, climate, friendly and friendly people.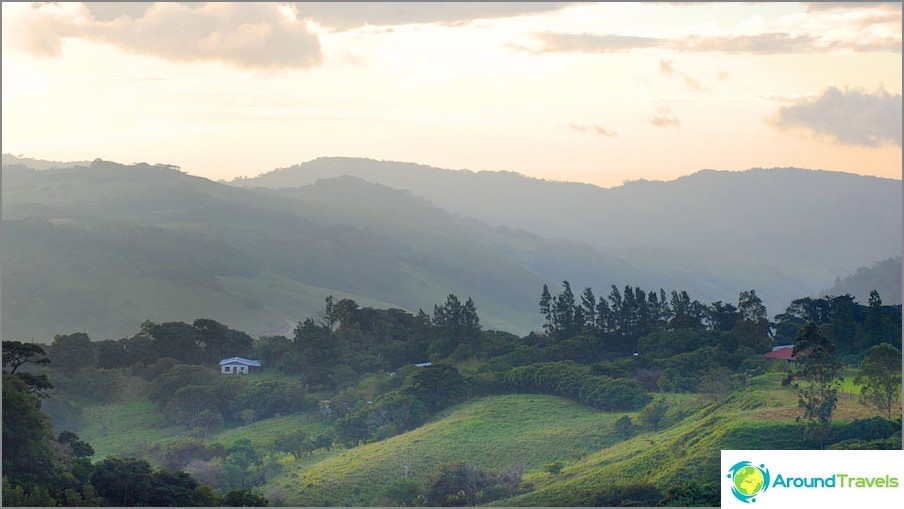 The Pros and Cons of Living in Costa Rica
The decision to live in Costa Rica wasspontaneous, just everything matched. We thought about wintering in a warm country, and Thailand, which we love so much (we spent two winters there, living in Phuket for almost a year), seemed too familiar and cozy, we wanted something new. At that time Ben, a student from the USA, came to us on couchsurfing. He taught Spanish and traveled to many countries in South and Central America. Ben advised us to go to Costa Rica. At the same time, visas for Russians were canceled. Then I accidentally came across advertising Condor airline with cheap air tickets from Frankfurt. And finally, I found a wonderful home on Airbnb amidst untouched green hills ... We decided.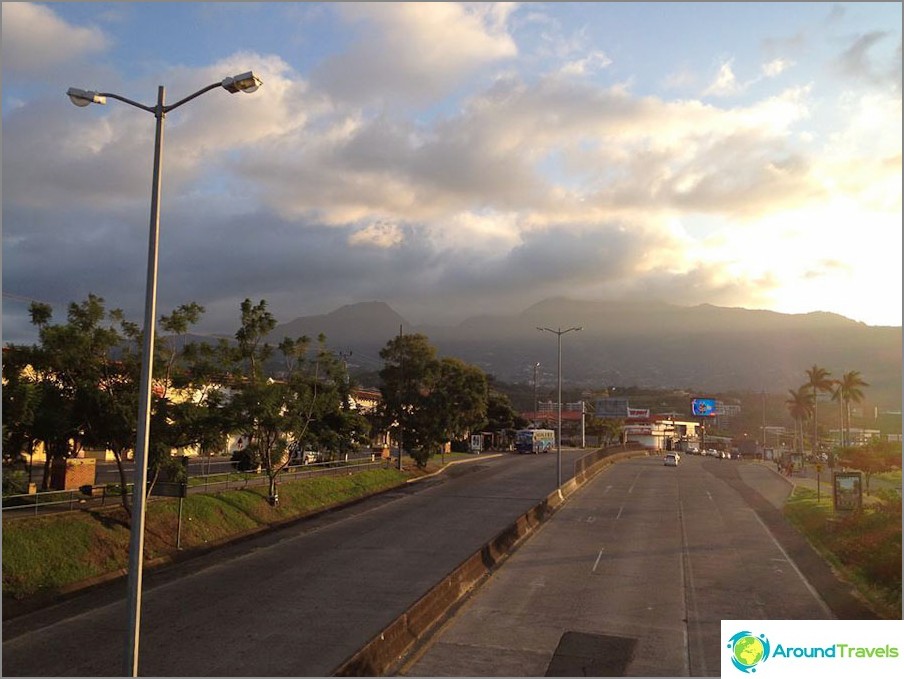 In our experience, life in Costa Rica has both pros and cons.
Minuses
Not cheap - this is probably the only seriousCosta Rica's flaw for me at the moment. Affects the neighborhood with the United States. And Canadians also love to relax and live in Central America. This significantly inflates prices for housing and food.
The second minus is the usual for Latin America, the relaxation and lack of commitment of local residents. If something is not done, you can't count on a quick fix.
Not as safe as, for example, in Thailand. You can often see barbed wire and broken glass on the fences. Although there are many expats in the country, i.e. there is no particular crime in fact now. Some thievery and rascality in one way or another characteristic of the inhabitants of all Latin American countries. Local offices are also concerned, even large ones. So it is better not to relax.

Concerning the safety of us, many frightened thatchildren can steal and rob in the middle of the street. In fact, I got the impression that San José is pretty safe. Many cops, few dark personalities. Late 10:00 pm we, however, never walked.

Once left just bought 4 pairsCrocs in the supermarket, half an hour later the bag was in the same place. Once again, the credit card was accidentally handed over to the laundry, it was returned to us in a separate plastic bag, slightly worn, but working. There were no subsequent cash withdrawals from this credit card. In general, I would feel completely safe if not for the warnings, tall fences with barbed wire, armed guards at the entrance to the bank (one on each side of the entrance), metal detectors in buses and protected playgrounds.

Poorly developed (compared to Europe) urbaninfrastructure, some general provincialism and parochialism. The country has chosen eco-tourism and the preservation of wildlife as a vector for the development, so there is not a lot of cultural life on a global scale and other amenities of civilization. The range of products is also not the richest.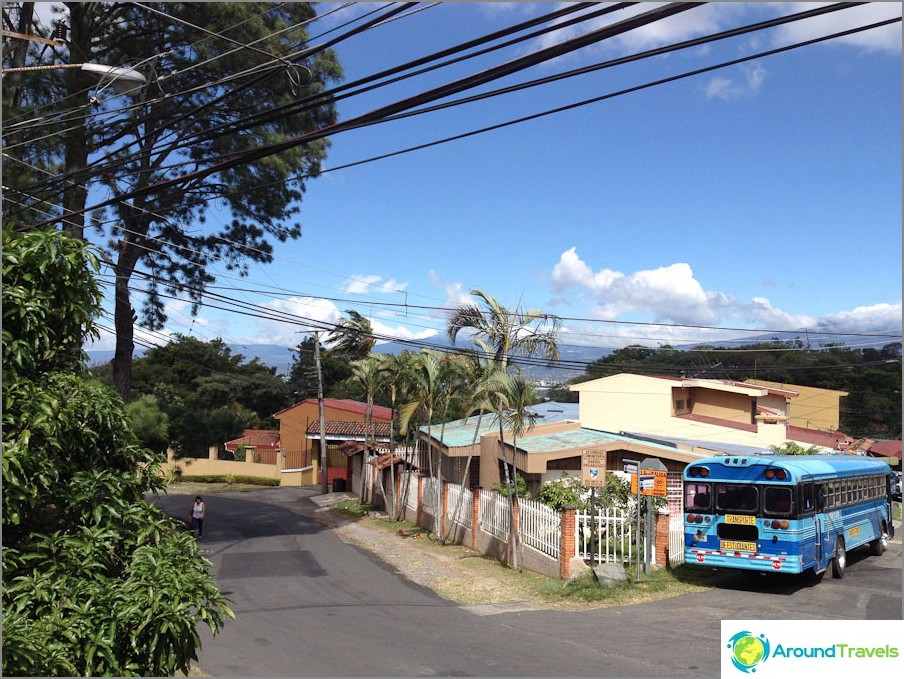 pros
Ecology, very beautiful and rich nature. The motto of Costa Rica is pura vida. This country has relied on eco-tourism, the cultivation of environmentally friendly fruits and vegetables, and farms. On the one hand, Costa Rica is very agrarian, rural, on the other - it is focused on tourism, mostly from the USA. There are many nat. parks, reserves. All sights are mostly natural. A lot of places to visit. There are coasts with desert beaches and warm water and waterfalls and rain forests and mountains and volcanoes.
Friendliness of the local population. Given that the crime situation in the country is not very good, the people on the streets are very friendly and smiling, open.
Pleasant climate. Despite the fact that the area of ​​Costa Rica is very small, it fits many climatic zones. There are hot tropical coasts and highlands with eternal spring and coolness.
Not difficult for Europeans and common inThe world language of the local population is Spanish. At the same time, the country is focused on tourism, so English is also understandable to many people. Unlike neighboring countries, where it is almost impossible to communicate without Spanish from the countries of Southeast Asia, where, not knowing the local alphabet, you cannot even read the sign on the street.
In general, Costa Rica is suitable for those who want to live in harmony with nature, who values ​​environmental friendliness and cleanliness, positive people, silence and solitude.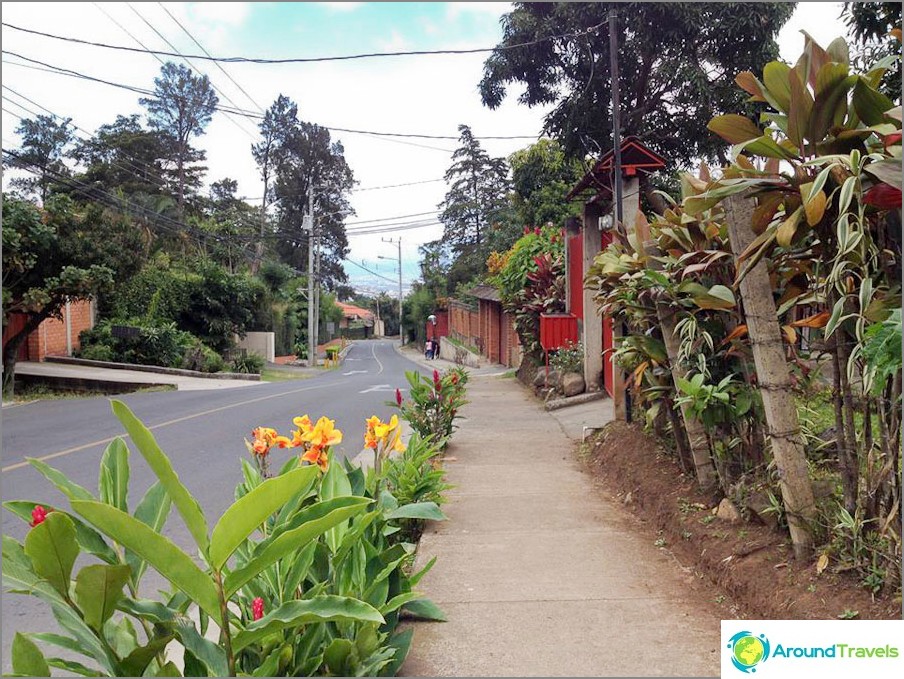 Life and Wintering in Costa Rica
Visa issues
According to the recently amended rules, Russians inCosta Rica entry for a period of up to 30 days for a stamp, after which it may be extended up to 90 days. Even in Costa Rica, you can enter on a valid visa in one of the EU countries.
We had a visa, but ended in 5 days. Having read the forums that, according to the rules, they require a return ticket at the entrance, we ordered them from the local airline Avianca (since the tickets were fully refundable, we were not embarrassed by the price of a thousand bucks ... but then for a long, long time butting these swindlers returned the money to us and, finally, six months later, when they returned to Russia, they returned it and finally the money. The airline itself did not intend to return the money).
Upon arrival return tickets no one asked- It is at the discretion of the border guard. And if he asked, they are not checked in any way, everything that looks like a ticket will fit. When you re-enter Costa Rica from Panama, they did not check the return tickets again - they treat families with children differently and make all sorts of concessions and concessions.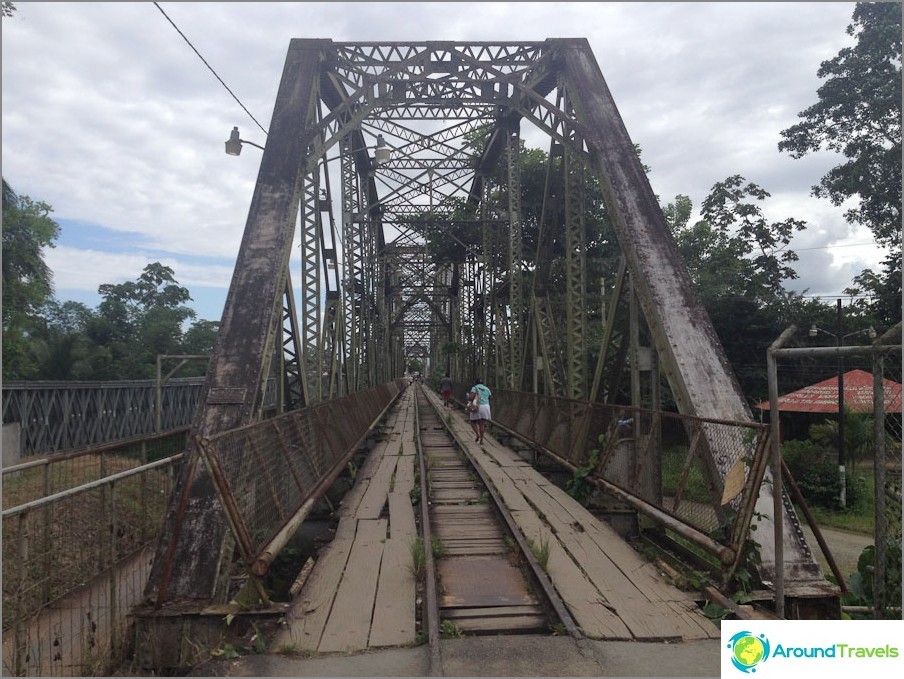 Although the decision to abolish visas for Russianspublished officially, in fact, no one knows anything and the officers act rather at their discretion. As already mentioned, now for the Russians in Costa Rica entry visa-free for 30 days. But for the first time we were stamped for 40 days, and on the border with Panama, for the second time, for 90 days.
For citizens of the United States / Canada and other decent countriesat the entrance a stamp is put for 3 months, which can be extended for another 3, so the question of visas is of few people concerned. Citizens of the Russian Federation upon the expiration of the first term can, in theory, extend the stamp for 2 months in immigrant (we didn't use it, whether it really works - is a question). To make a vizaran, you need to leave for at least 3 days, but you can infinitely be used, and in Nicaragua (the easiest option), in principle, should not be very expensive, maybe 60 bucks for round-trip (bus prices can be viewed here: http : //www.ticabus.com/.
For overstay 100 bucks for each month, but no one really knows what to do, if less than a month - we had overstey for 12 days, at the airport we were not even asked about it.
Climate
The climate in Costa Rica is wonderful. On the coast - tropical wet and hot, there we were just passing through (on the Caribbean side). Very reminiscent of Thailand, but much less secure. In the capital, San Jose, at night +18 C, in the daytime + 25 ... + 30 C, there are strong winds and even chilly. In the mountains it's generally cool - eternal spring. It is warm during the day, cool and fresh to sleep at night. Rains in San Jose do not happen from November to March approximately, it pours in the mountains anyway.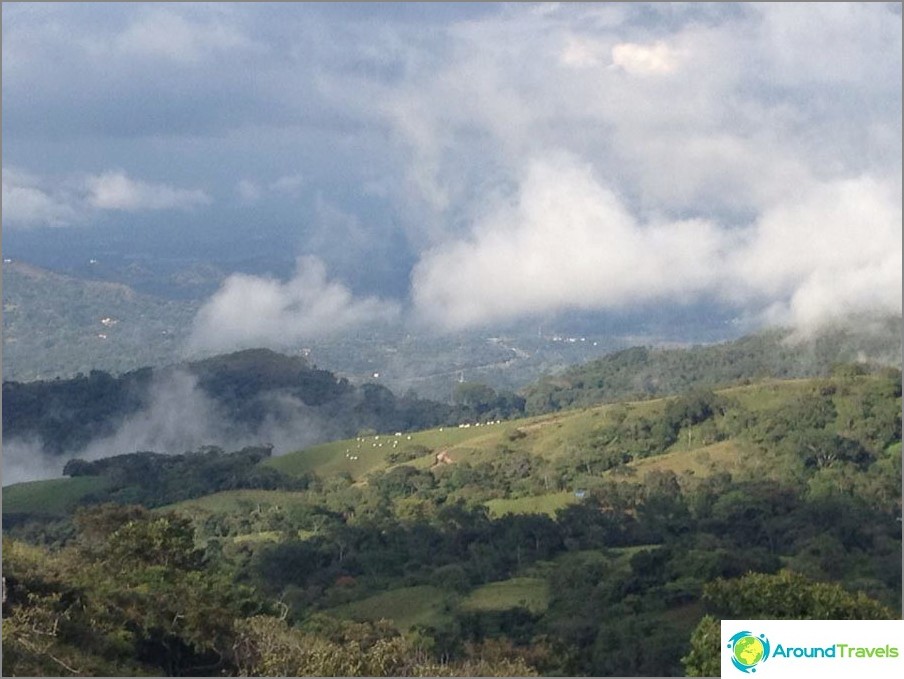 Local population
Costa Ricans call themselves tico or tica, depending on gender. They love and accept such a name themselves, there is even a stable notion of tico style and there is for example branded tico cheese.
To children are very positive and welcoming. Everywhere, local people walk around with babies, they are always in the hands of moms and dads, there are practically no wheelchairs (but there's not much of a train, there are open hatches, sometimes there are no sidewalks).
Tiki live in families in their homes. As a rule, there is a lot of land around the house. Trees, grass, all kinds of pets, there is where to run around the children. In adults, there is no need for children to entertain themselves separately; they find the occupation themselves. Lifestyle rather rustic.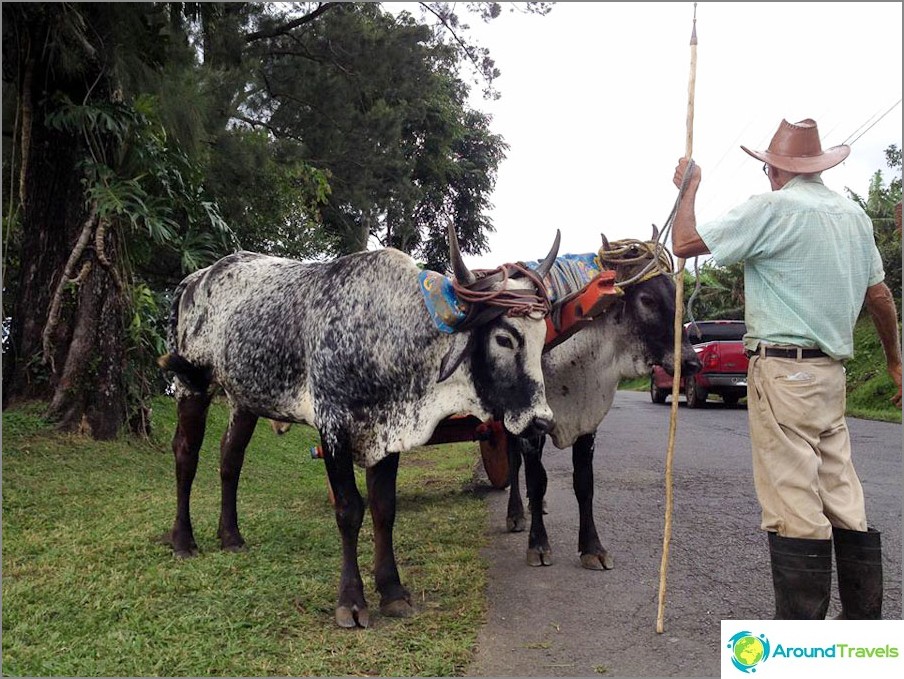 All people are very, very nice and open,they greeted them, if they looked at them, they must smile at you and the children. Our children became very sociable after the winter in Costa Rica, before that they were more enslaved, they smiled less. In Costa Rica, the bus always gave us a place. But in the Czech Republic, for example, they were not inferior, we often went standing. Yes, even in San José, the sweetest and kindest taxi drivers that I had just met.
It's funny that they recognize the Russian language on the street, rejoice: "Rousseau, Muzo Frio" (Russian, very cold). In general, Russians are treated well, affably.
Locals often behave themselves, likechildren, all emotions are - all on the face, and as a rule, positive emotions. But those tiki who lived in the United States, and then returned, they seem to smile, but always in the background think something and soar about something.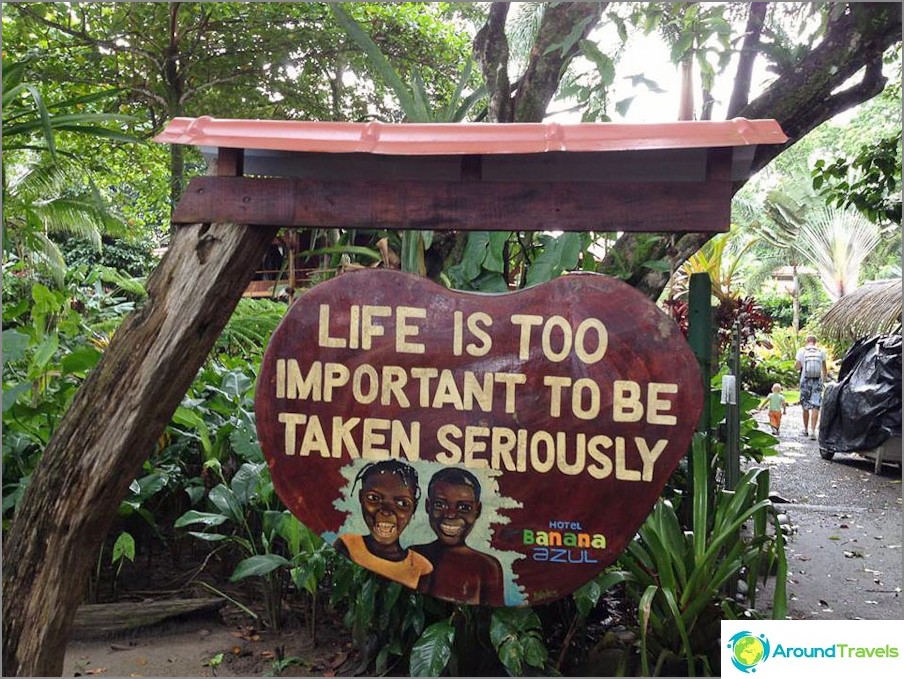 Products and Prices
A lot of stores, sharpened just for "farang". It has everything neatly and beautifully arranged, especially for expats. There are a lot of them in Costa Rica. Eco labels on many fruits and vegetables, insanely tasty strawberries, mango are pleasing.
Milk is cheap, because the price is regulated by the state and in all stores is the same: 1 dollar per liter. Bread 1-2 dollars per loaf, chicken - 8 dollars, turkey leg - 4 dollars, a kilogram of good processed beef - 8 dollars, tomatoes 3-4 dollars, potatoes 3-4 dollars (all prices - per kg). Bananas, coconuts, mangoes are as cheap as in Tae. Avocados are incredibly tasty, we ate them every day, about $ 1.2 apiece.
With bread, however, it's a disaster, it's really a disaster –– they don't know how to bake delicious, and the flour is so-so. There was only one store where we bought delicious bread.
As for seafood, for exampleThe shrimp topic in Costa Rica is not disclosed at all. In Tae it was several species on ice every day in Tesco, and in Costa Rica 1-2 species. Sometimes it is just cleaned, piled in the fridge and looks very well, not fresh.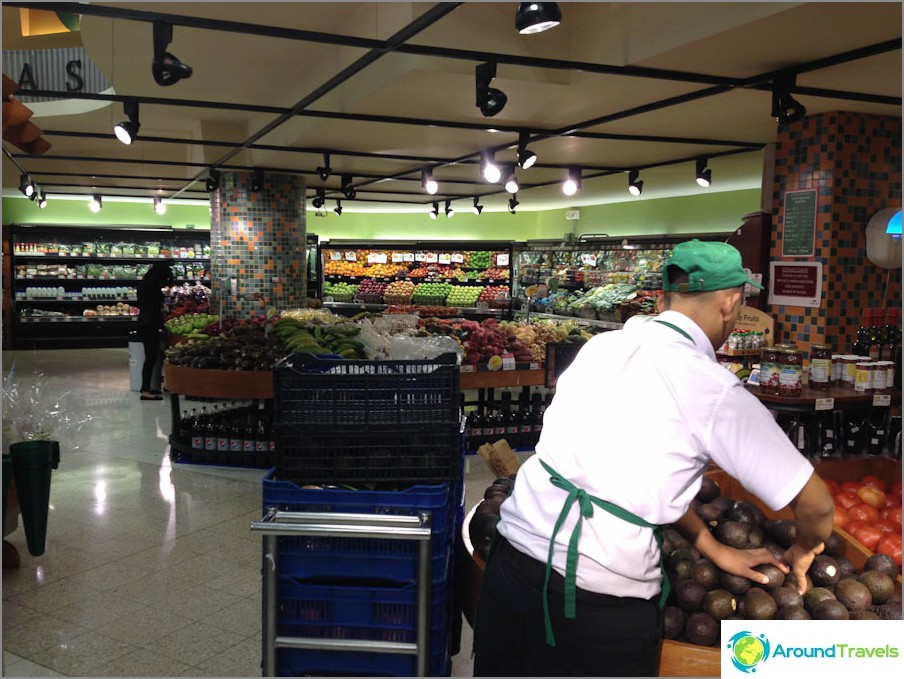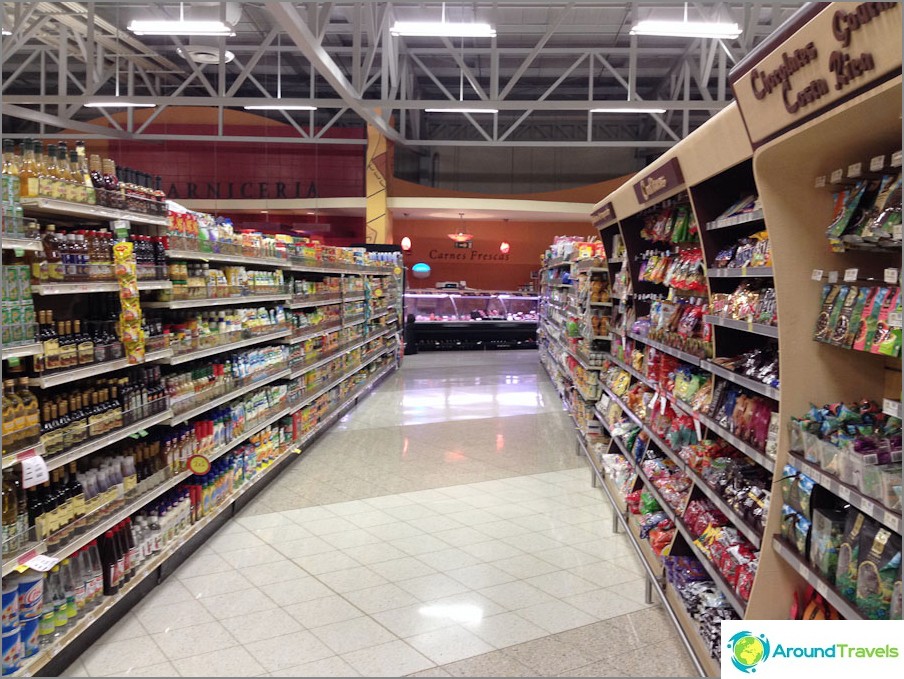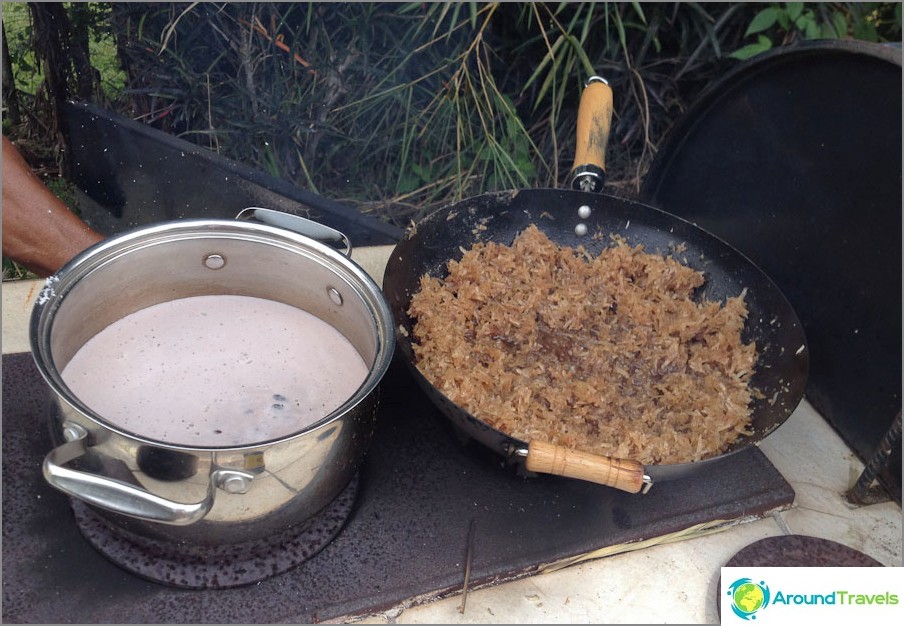 Our budget
Without giving up anything to myself - $ 1200-1400 per month for a family with two children + 2 cats.
True, food prices are not encouraging at all. This is also noted by residents of the United States who have arrived in Costa Rica. They say they live cheaper.
By the way, in Panama there is not a damn thing at all, but still we spent 1000 bucks on food per month, so the high cost of food is a problem not only in Costa Rica, but in any tourist places close to the USA and Canada.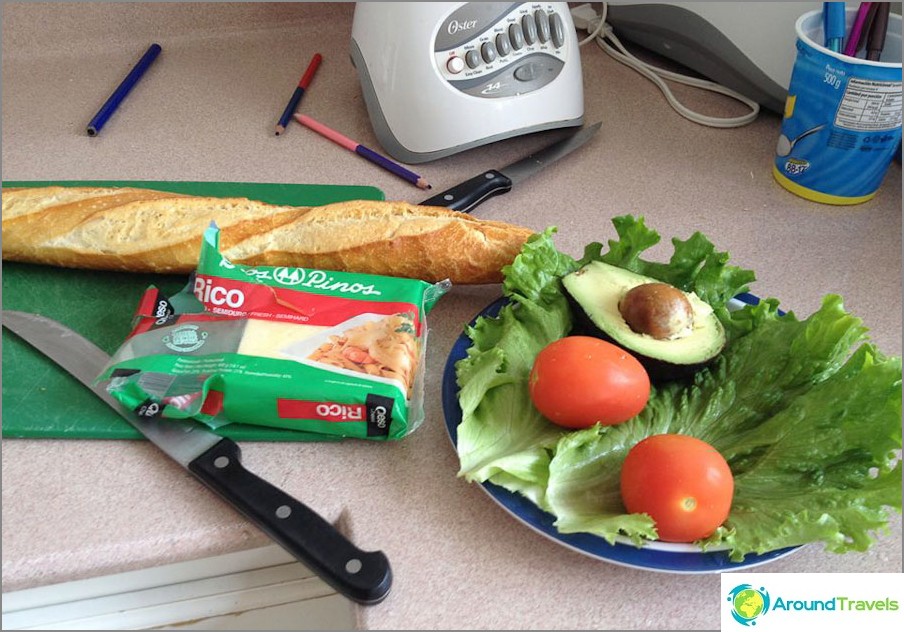 Housing
It's not so easy for families with children and cats to find accommodationMuch depends on the initial contact with the owners. It happened that we did not expect anything good, but found warmth, comfort, and a warm welcome. It also happened to cancel the reservation. the hosts suddenly began to behave not fair or incomprehensible. We have no special requirements for homes, for all the travel time the living conditions varied from a huge mansion, where it was difficult to count the number of rooms, and to a small room in the house of a large noisy family with a dog.
The first accommodation in Costa Rica, we found a fewmonths before arriving at Airbnb, here it is, $ 700 per month. Tried other options, including on-site search, but Airbnb is the best way to get a complete picture of future housing and future owners. There was a case when we extended the lease personally, after the contract for Airbnb ended, and the attitude of the owners changed dramatically for the worse.)
It was a cute double house with homemadebamboo furniture. He stood alone on a high hill and delighted with stunning views of untouched nature from the windows, especially the sunsets admired when the lights of San Jose lit up in the distance. Life stopped, I wanted to admire all this endlessly, and also to wander through the surroundings, to enjoy the impetuous humming birds, to watch the mist descend from the mountains, then to burst with rain.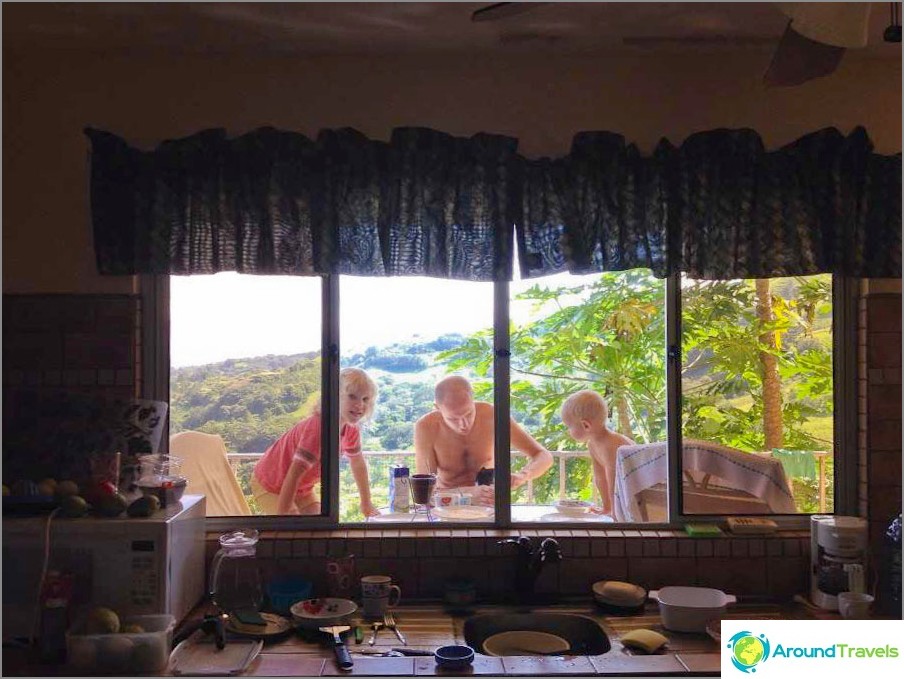 During a trip to Panama, we missedcivilizations, so settled right in San Jose, which doubled the price tag on housing. The capital of Costa Rica, San Jose, seems at first glance not the best place to live. However, the Eskazu area where we lived was just beautiful. We rented the top floor of a very funny house with a huge hanging bed, a bunch of different hammocks, and with the hostess who had been fishing in Alaska for 10 years. Surprisingly, some 200 meters from the house, civilization began, with bustle, shops, cars, but as soon as we returned to this house - only the murmur of a stream and squirrels jumping on bamboo thickets, carrying unripe mangoes from the tree.
Our last home was a condo with a pool andother benefits of civilization (their site - http://www.casareflejos.com/). We did not want to change the area, and it was the most expensive housing in our life, sharpened specifically for expats. There was absolutely everything, including daily cleaning and laundry.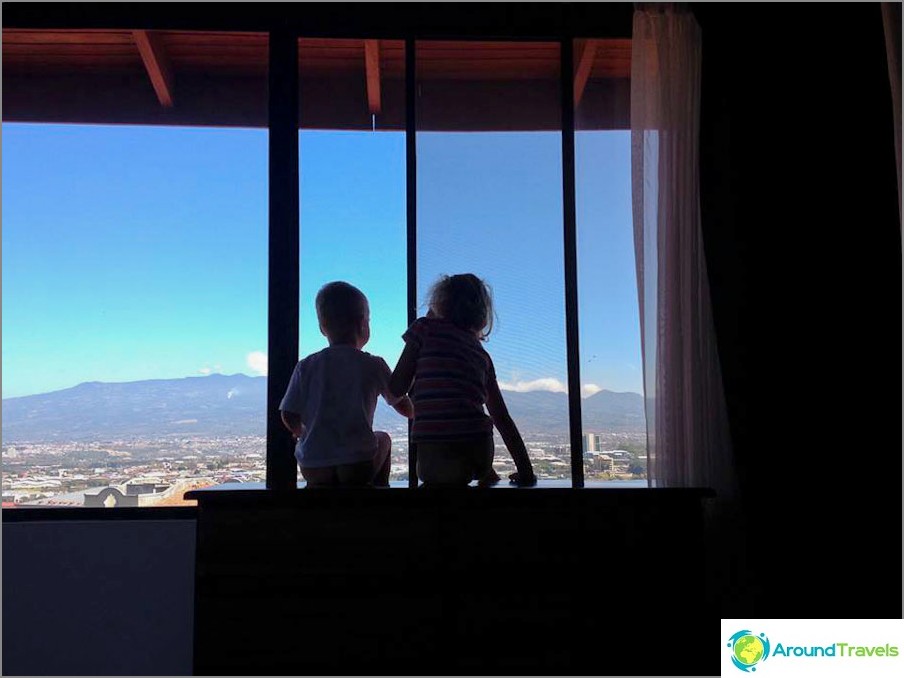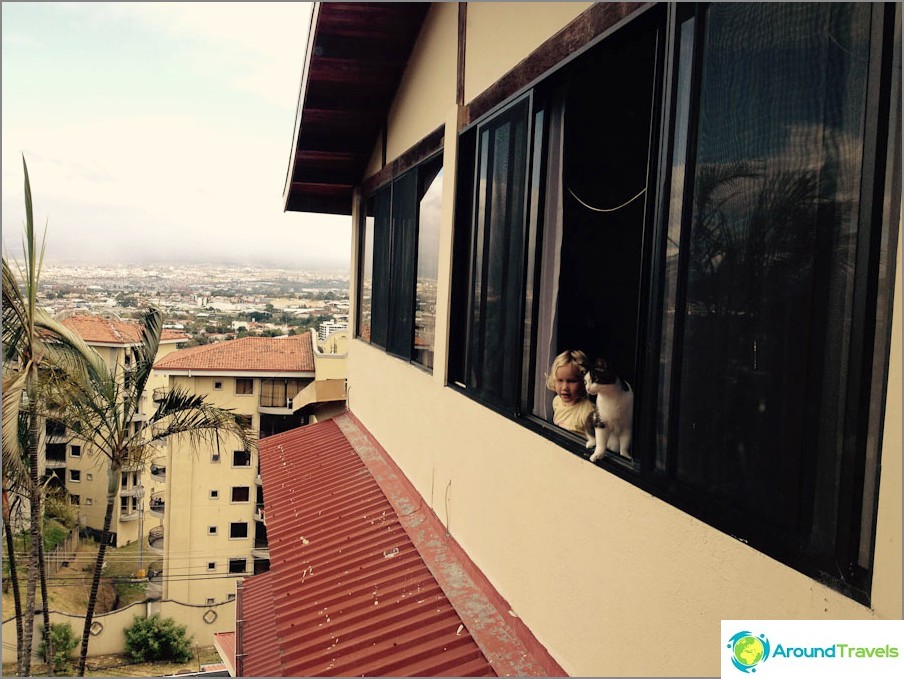 Affordable housing in Costa Rica is, and not small, butcloser to Christmas and New Year all more or less decent dismantled. I have never seen so many "grandmother's houses". As a rule, these are houses that locals rent. The house itself will most likely not be new, something in it may not work, and it is unlikely that they will soon fix it - tics are rather frivolous people (and this is perhaps the recipe for their happiness).
Usually houses are not united in settlements with a commonfence, common area, security, etc. The site, if there is one, is separate, each has its own fence, it is high and high and must be entangled with barbed wire (where it is under voltage).
The cheapest housing is probably 400 bucks, the most expensive (like our last one) is 1,400, but in terms of quality it is worth it.
Life
Houses are capitalized. These are not just concrete boxes, inside are comfortable, almost always there will be fans on the ceiling in case of heat during the day, they love bar counters and make the kitchen with a large panoramic window - it is very pleasant to cook with such views.
For all the time, only small insects were eliminated from the house, but a scorpion crawled over to its neighbors. They have eco cabin, such as a wooden house, not a capital one, right in the middle of the wild nature.
In houses, there are usually aluminum windows, usually mosquito nets everywhere, even in low-cost housing. In San Jose, we did not observe mosquitoes.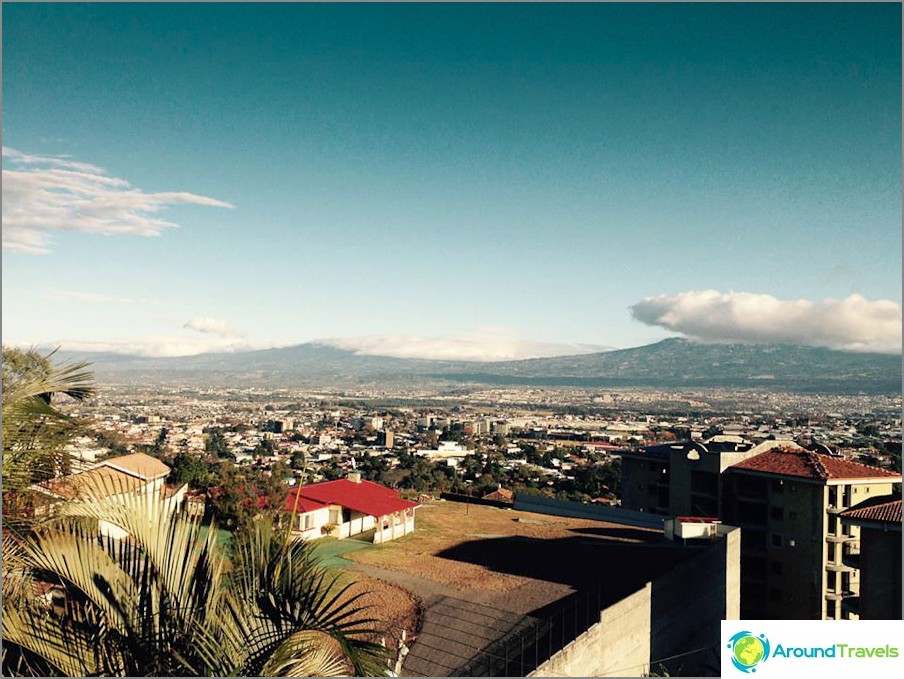 The water is almost everywhere central, they save on heaters, they will not be in cheap housing, there will be a tank on the roof. Sewerage is quite civilized. Where we were, nothing flows through the drainage ditches.
Tiki believe that they have clean tap water. For cooking, it is definitely good, but in my opinion a bit too much chlorine. Although many tics drink it right this way, therefore the purchased drinking water is not cheap, 3-4 dollars for 5 liters.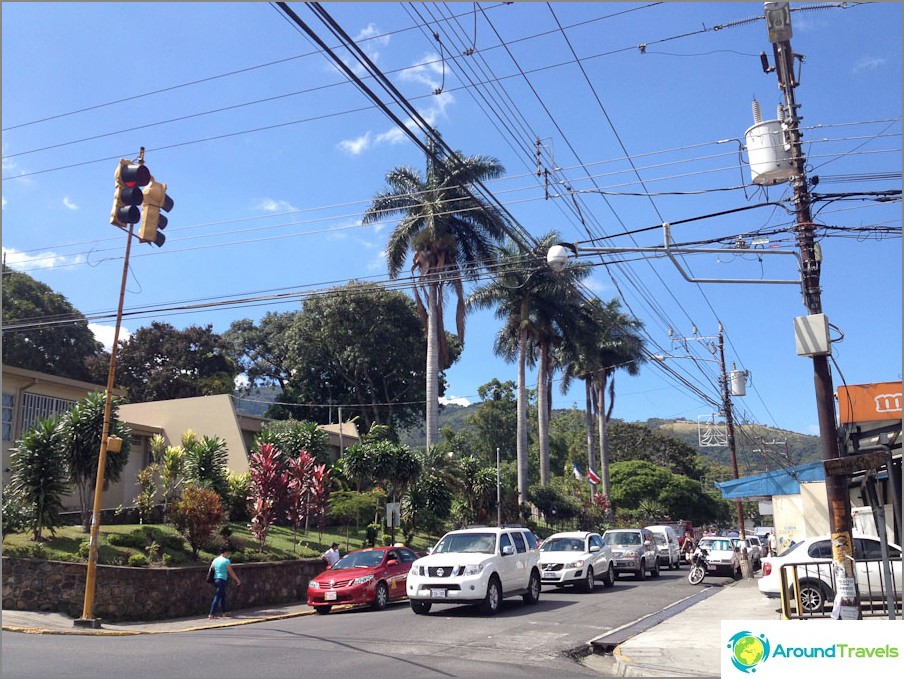 Children's entertainment
In Costa Rica, we walked a lot, in the hillyThe terrain it was a pleasure to do. Another couple of playgrounds was close. The old sites they resemble ours - everything is iron, rude is. But the new ones are wooden, cool. There are still entertainment centers, we went to the largest, Multiplaza, - there are 2 free sites and constantly some kind of entertainment, such as pedal machines, trampolines and other things. It was cheap: 1 dollar per trampoline, 2 dollars for a huge pony lap.
In San Jose, we went to the city park of La Sabanna,We really enjoyed. Large in length, with a bunch of playgrounds, ponds, football and basketball fields, skate and roller courts, with riding a pony and horses. There are a lot of people there, but everyone always has enough space to have a picnic. And there also eucalyptus trees - I got cold a couple of times, we went there, lay around, breathed and took everything off like a hand.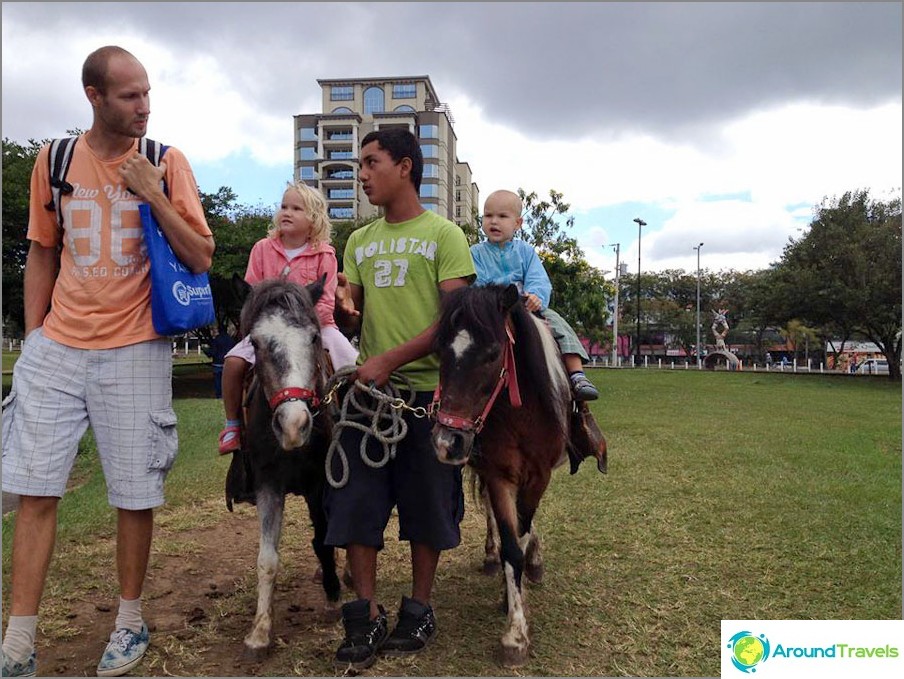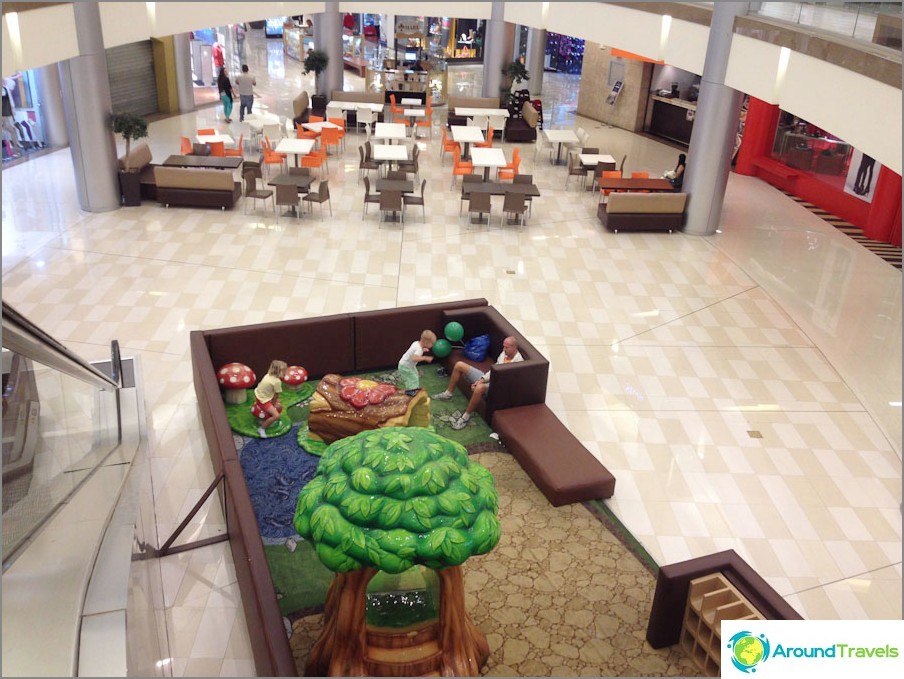 Animal Travel
We paid 100 euros for an animal up to 6 kg atCondor, in Europe paid 50 euros for the flight for each animal. Not very cheap, but not as a person. According to the documents, the requirements in the EU are identical to the export of cats anywhere from Russia. With the papers that were from Russia, they let us out. But then the difficulties began, because flying back from Costa Rica to the European Union is not so easy. We need a test for rabies, passed in the official laboratory (which are not in Costa Rica). Veterinary medicine takes blood for analysis, sends it to the US, it costs from 300 to infinity bucks to an animal and wait at least a month. And that's not all: you need a certain sample heatlth certificate, it costs 100-150 bucks per animal, depending on the vet's impudence. Condor required only scans of the test, not the original. We paid only for help, the test did not do.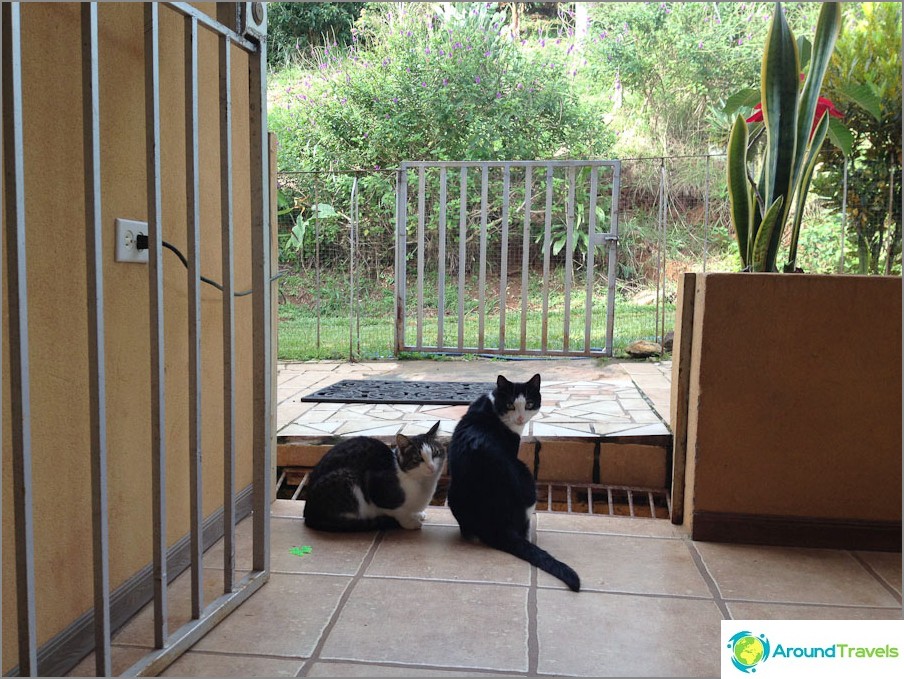 In general, in Latin America, for cats, they fight forfull program. We also, to go to Panama with the cats, called a bunch of bus companies and only one managed to persuade one to take us with the animals, there is no categorical one from the others.
In Europe, too, everywhere was different: Spaniards do not even allow cats to go to public transport, the Germans can even go to the bus, even to the train, and this is free and I don't need any certificates, the Czechs can go to the train, the bus can't, and in Italy we were almost turned off for a flight because they were not satisfied with plastic containers, there should be rag bags and that's it. We loaded everything into the soap, 5 minutes before departure, after the personal permission of the crew commander.
In general, from the point of view of transportation, traveling with animals is more complicated than traveling with children.
Olga and Sergey, with children Tanya and Denis.
Life hacking 1 - how to buy a good insurance

Choosing insurance is now unrealistically difficult, so to help all travelers, I compile a rating. To do this, I constantly monitor forums, study insurance contracts and use insurance by myself.

Life hacking 2 - how to find a hotel 20% cheaper

First, choose a hotel on Booking. They have a good offer base, but the prices are NOT the best! The same hotel can often be found 20% cheaper in other systems through the RoomGuru service.

Discount hotels