I have great news! Everyone knows that access to the Airbnb affiliate program has been closed for several years and it was only possible to receive registration bonuses and use them only for booking accommodation inside Airbnb. That is, you will not withdraw the money, and the one-time bonus. Obviously, such cooperation is not particularly profitable, because bloggers did not receive any percentage of the booking.
But now in the Travelpayouts affiliate program aggregator, you can receive remuneration directly for booking, no matter if the user is registered or not.
Airbnb Travelpayouts Affiliate Program
Since April 28, 2016, Airbnb has stoppedcooperation with Travelpayouts and closed the affiliate program, having worked a total of not more than a year. Thus, Airbnb threw webmasters and bloggers for the 2nd time. All the written content for nothing yet to alter.
Honestly, I've been waiting for a while that Airbnb themselvesopen access to your affiliate. But the years went by, and they still did not do anything in this direction. The money that I have accumulated there, and are waiting for their time (I mean booking). It's great that now there is an opportunity to earn money directly on the reservations themselves, even if through an intermediary, and withdraw these funds.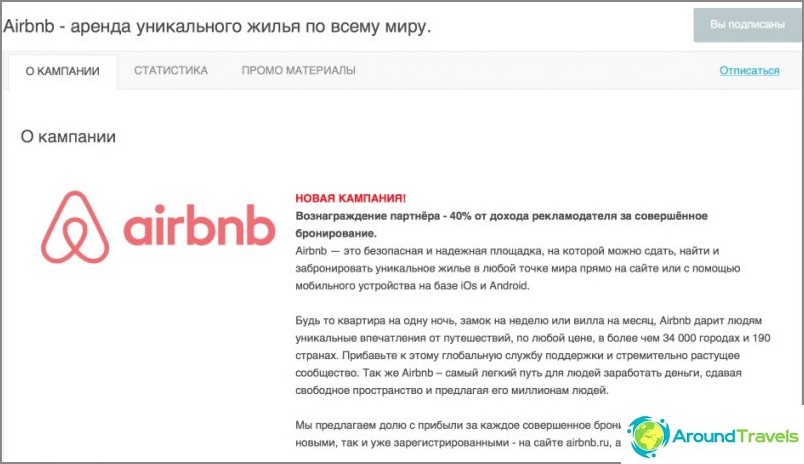 Let me remind you that Travelpayouts is an aggregatoraffiliate programs, the brainchild of Aviaseels. There are now about 20 of them and it would not be possible to cooperate directly with everyone. You can register on my link, if there is no registration there yet.
Yes, they, as intermediaries, have their own commission, butThere are no other options. Either nothing, or work through an intermediary. For me, it's great that you can now combine the official Airbnb affiliate program "Invite friends" and the one that Travelpayouts offers. Alternatively, use one thing, now there is an alternative.
Cookies 30 days.
Model last cookies win, as for all other affiliate programs in Travelpayouts
Remuneration from both registered (!) Users and unregistered users.
How to use
I see that you need to trycombine both affiliate. First, a person registers on your link and you both get a bonus of $ 20. All good. Next, you need this user to book a specific apartment on your link, then again everything will be fine. The user will receive a verified accommodation, you will receive 40% of the booking fee.
Be careful with bonuses. If you pour a lot of traffic and get a lot of bonuses, then Airbnb can ban your account, since the invitation links according to the rules are intended only for personal and non-commercial use. A very strange and incomprehensible policy, but this is a fact, I have already received a warning. More about this.
Of course, the situation described is perfect, but you cantry to write your own texts in such a way that such a script is executed. The logical question is - how to make a link to a specific housing in the service? For this there is a link generator in your account. Simply insert any link with Airbnb there and get the link that you want to post on the blog. In addition there are search forms! Usually it is the form that gives a good conversion.
Life hacking 1 - how to buy a good insurance

Choosing insurance is now unrealistically difficult, so to help all travelers, I compile a rating. To do this, I constantly monitor forums, study insurance contracts and use insurance by myself.

Life hacking 2 - how to find a hotel 20% cheaper

First, choose a hotel on Booking. They have a good offer base, but the prices are NOT the best! The same hotel can often be found 20% cheaper in other systems through the RoomGuru service.

Discount hotels