There are already beach reviews on the blog. Phuket. Samui. Phangan. Pattaya. Koh Chang. Krabi. Phi Phi. Koh Lanta and Hua Hin. In this post about Koh Chang.
I am sure that connoisseurs of beach holidays and bounty are notin all agree with me, but for me on Chang everything is fine with the beaches. If there is sun and not too windy weather, the sea will be turquoise, the sand will be white and the water will be clear. And when the sky is cloudy and the water is cloudy, it is still good when there is such a nature around. After Phuket there is just an uninhabited island, in fact. Of course, if you need something special, it is better to go to the small islands here in the district, or in the Krabi area with Phuket. But it is worth considering, the more heavenly place, the less there is infrastructure. Read more my post - What to see in Koh Chang, there I have descriptions of attractions and a map with points.
The content of the article
List of the best beaches
Despite the increasing number of touristson Koh Chang, in my opinion, a beach holiday is quite an excellent one. It seems to me that the rumors that a lot of people became straight there are exaggerated. Specially traveled recently to Koh Chang to make sure. After Phuket or Samui, there is just a specific village. There were few people even on the most popular White Send in December.
Below I described in detail my feedback on allthe beaches of Koh Chang and, to add objectivity, provided photos. In my opinion the best beaches of Koh Chang by a combination of factors - White Sand Beach, Lonely Beach, Klong Koi Beach. Listed on the distance from the ferry and descending civilization. Although in fact the infrastructure is normal of these three only on White Send, where they even built a large Macro supermarket. BigS and Tesco are also there, but they are closer to Klong Prao. There, in principle, is also quite good in terms of infrastructure, but I personally don't really like the beach there.
I remind you that if you are interested in hotels on KoChang, then search for them best through RoomGuru. This is a search engine aggregator, which shows prices at once in all booking systems, including not only the usual Booking, but also Agoda, which is the main one in Asia. It is here that you will receive the most complete database of hotels with prices in each of the systems, and only then will go to the desired booking system and book a hotel there.
But to spend the winter on Koh Chang is not very. There is too little normal housing for monthly rentals. At least during the peak season you should not go here, you will not find anything at all. Or it will look like a hotel bungalow, small and plainly without a kitchen.
Main beaches of Koh Chang
Before you go to the description of the beaches of KoChang, for the most independent audience, I would like to recommend RoomGuru - an excellent booking service that is not inferior in its functionality to any of the leaders in this segment, but at the same time there are often better deals on the hotel that interests you. Clicking on the green button below this paragraph takes you to the RoomGuru page with Koh Chang hotels.
White Sand Beach
All the times on Koh Chang I have stayed at thisthe beach. The fact is that there is more infrastructure on the island: a lot of different housing from budget to good resorts, cafes, shops, banks, there is even a small hospital. Although the following beaches Klong Prao and Kai Bae also, in principle, just enough, what you need a rest. But the beach itself is better here and, as it seems to me, the location is more convenient if you are going to ride around the island in different directions.
In my opinion, by a combination of factors - thisThe best beach on the island, although someone does not agree with me. On Ko Chang, in principle, not so many people, as on other resorts such as Phuket, and personally I am quite satisfied with this population. In this case, there is everything, including large supermarket chains, while everything is very compactly located, everything can be reached on foot, where he would not live. And the most right end of the beach is generally quiet and secluded, even during the season there are very few people there, and the depth increases quickly and you can swim without problems. Read more about white senda with photos.
Chai Chet Beach
Chai Chet Beach is not on all maps and is often called simply the northern part of Klong Prao Beach. This is the northernmost piece near Chai Chet Resort. Whether this piece was called because of the hotel, or the hotel because of the beach. Just south of the neighborhood is another hotel. Koh Chang Paradise Resort & Spa, there are swings in the territory, but they are only for guests. By the way, the hotel is pretty good, I liked it when I was there.
So, the official name of the entire beachstill Klong Prao, especially on the track there is a sign with the name Klong Prao. Just a long beach, 3-4 km. But in order to explain in more detail, there are 3 points on my map: Chai Chet, north of Klong Prao (the place where the pointer is) and south of Klong Prao. The border between the northern and southern parts of the beach is located at the place where the river flows, and Klong Prao Resort is also located there. The main infrastructure is located just in the area of ​​Chai Chet. Here, and there are shops (7/11, Tesco), and gas station, in general, everything you need. The middle part of the beach / area is almost empty. And only then civilization will reappear in the very south of Klong Prao.
Chai Chet beach is very nice, there is good sand andthe sea, there are trees, kept clean. The water at low tide goes quite far. For me, this is the best part of the whole Klong Prao. And for a traditional beach holiday, I would stay, either here or on the White Sand Beach.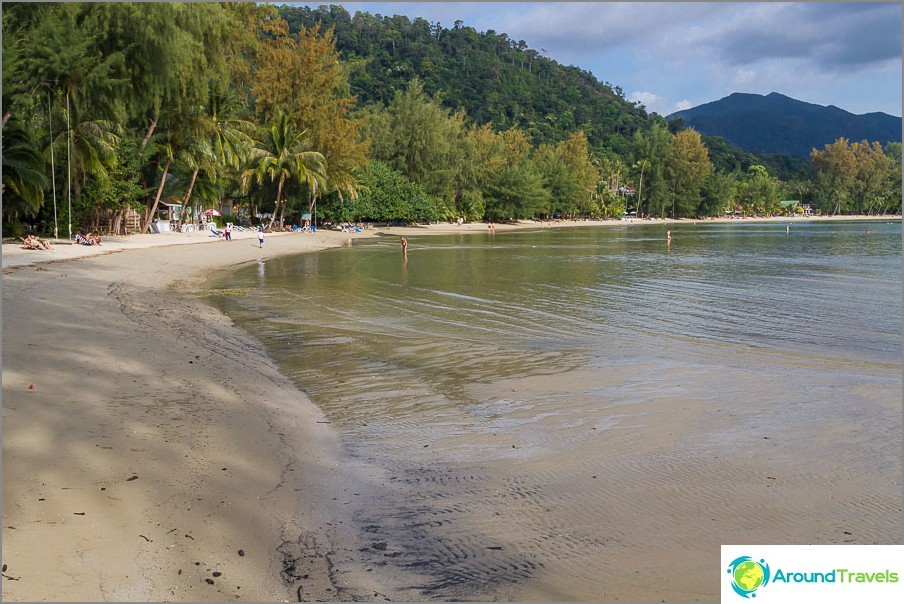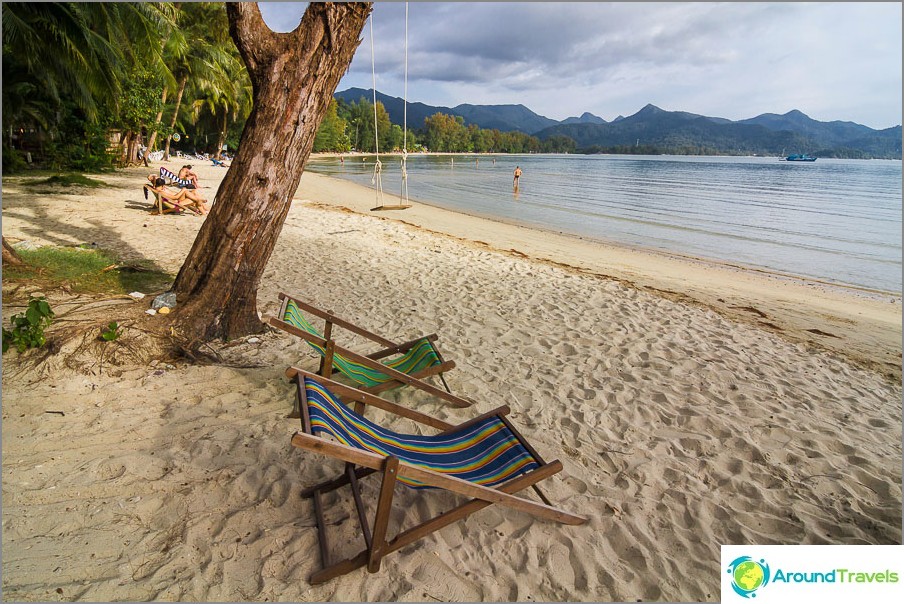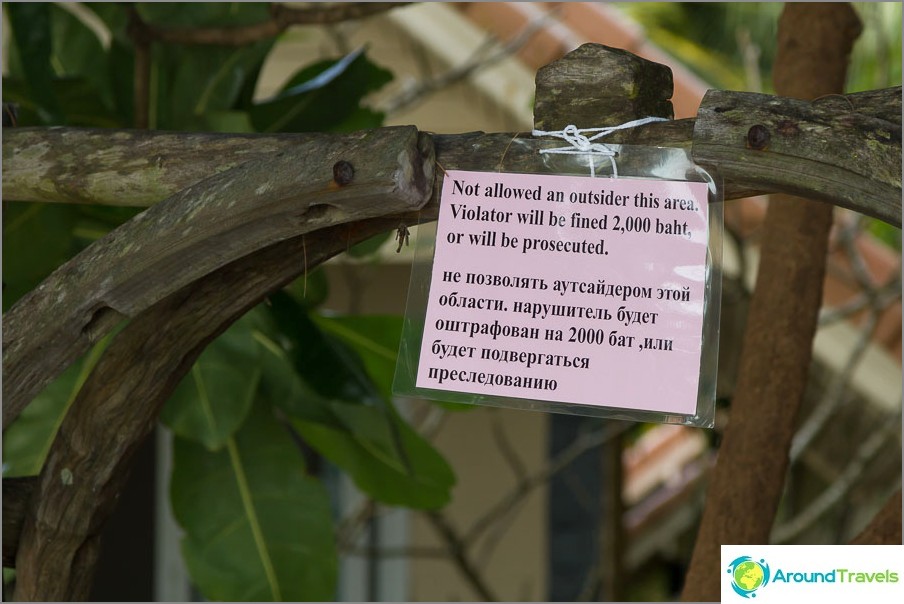 Beach Klong Prao Beach, northern part
If you walk a little along the beach from Chai Chet to the souththen we find ourselves in a slightly wilder place. This place is quite deserted, few people come across trash, almost a wild beach, this is just around the signpost on the road to Klong Prao Beach and the bridge leading from the road to the beach. A little further south begins the territory Klong Prao Resortand everything is very clean and civilized on the shore. Resort workers are constantly cleaned.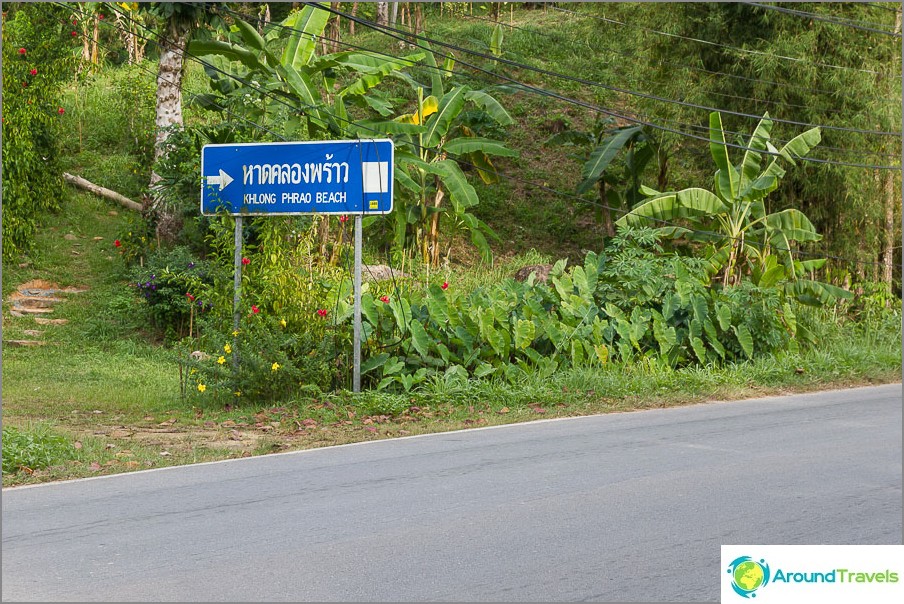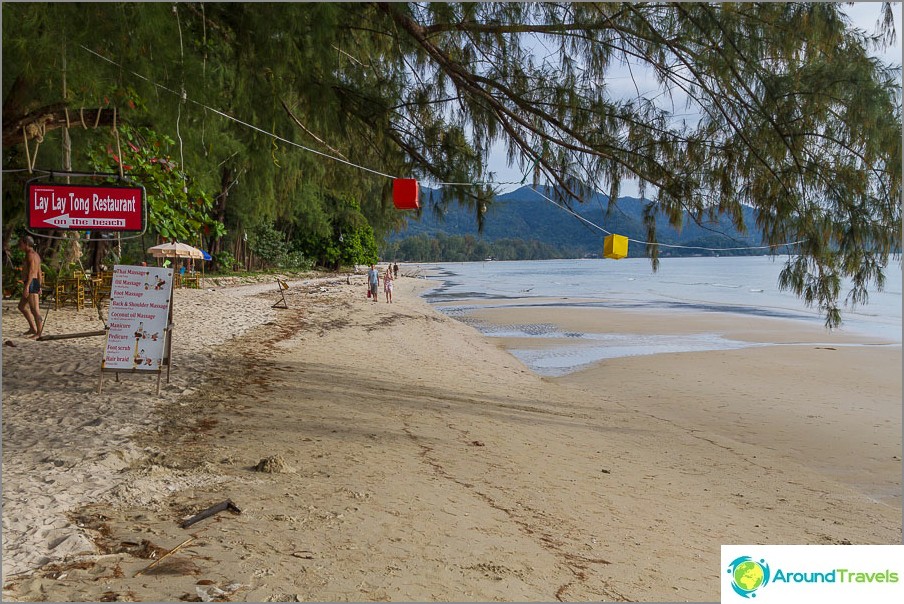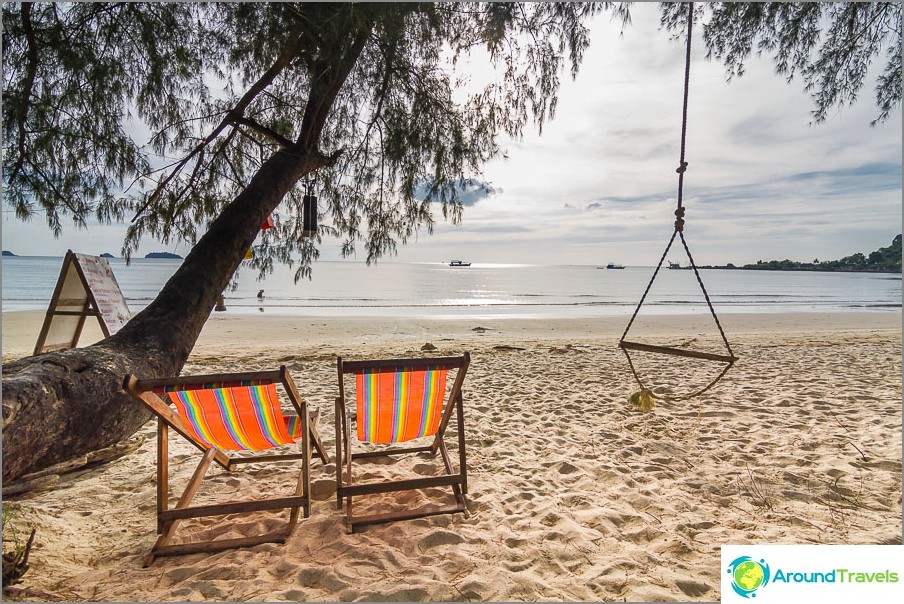 Passing a little more on the highway we will see a turn to one of the biggest waterfalls. Klong plu waterfall, the pointer is on the road.
Beach Klong Prao Beach, South
We drive on the highway, we see a turn to the right and go deep. Among the palm forest there are several complexes of budget bungalows, for example, Tiger hut, very simple and uncomplicated housing (just in this place the mark on the map I have).
People are not very much in this place, pleasant quieta place. Resorts too, but they are south of the beach. There is little infrastructure near the water, only the one that is represented by hotel services. All infrastructure is concentrated along the route. As you can see on the map, go about a kilometer from the coast.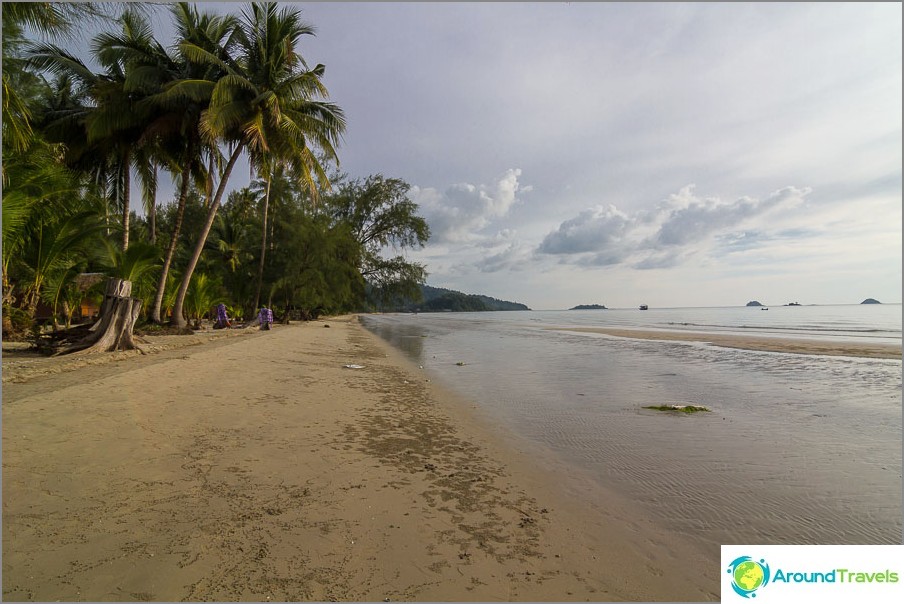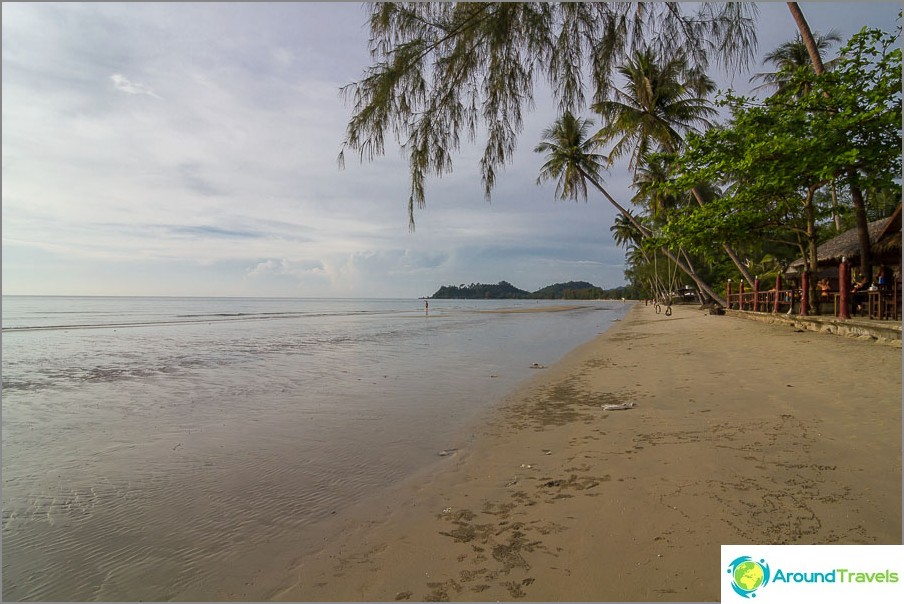 The southernmost part of Klong Prao, where the track is againbegins to approach the shore, also has stretches with good sandy beaches. There, hotels are close to each other and the tide water comes very close. I photographed about the budget resort Chok dee, he is the last one on Klong Prao beach and further there is a stone ridge, a hill, and after him Kai Bae beach.
Kai Bae Beach
The next beach is Cai Bay, which is actually meI remember the fact that there you can rent kayaks and swim a little on the small neighboring islands. They are located very close there, so swim is not difficult. Kayaks are not located on the southern part of the beach, while the north is calmer and less crowded, although there are cobblestones in the water. With housing and infrastructure everything is in order, but then again I personally visually like White Sand and Klong Prao more. But I do not persuade, the choice is yours.
After this beach will be a sharp rise in the mountain andbeautiful observation deck where you can perfectly meet the sunset. I came there several times and advise you. And if you drive on the highway a little further, then at the top there will be the sharpest turn on Koh Chang and the road to Siam Bay Resortwhich has its own private beach. The place is very quiet, with good prices, rooms start from 700-1000 baht and above. Many bungalows have a view of the sea and they stand on a dais, it's generally very beautiful there. If you need silence, like few people on the beach, and do not mind the road, then consider this option. When I arrived there on a bike, it was pretty scary to go on such a steep climb / descent. And it seems that here is near Kai Bey with its infrastructure, but not everyone wants to ride on such a road.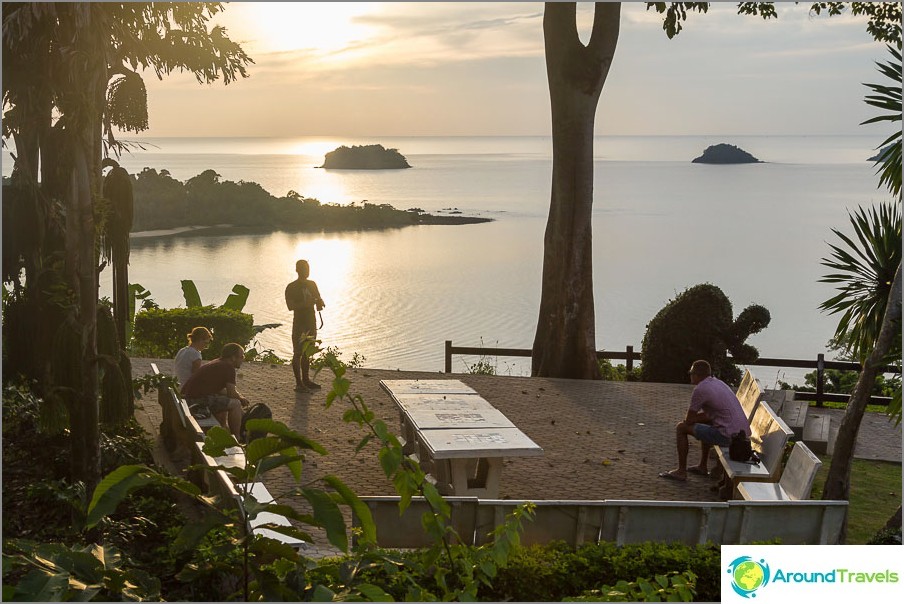 Lonely Beach
The second most famous beach after White Sand, many people come here. These are mainly young people or backpackers, because the place is tusochny and the noise at night can interfere. Some compare it to Pai in the north of Thailand. I will not say that I fully agree with this parallel, but there is something in it. And if you go to Chang to stay in an informal atmosphere, then you are here.
The beach itself is good, the depth is rapidly increasing. Lonely Beach is different from others in that almost all hotels and cafes are located in the southernmost part of it. It is divided into two parts: sandy, where to swim, and a stone beach with shelter. Along the sandy strip there are several large resorts. More Lonley Beach in detail with description and photos.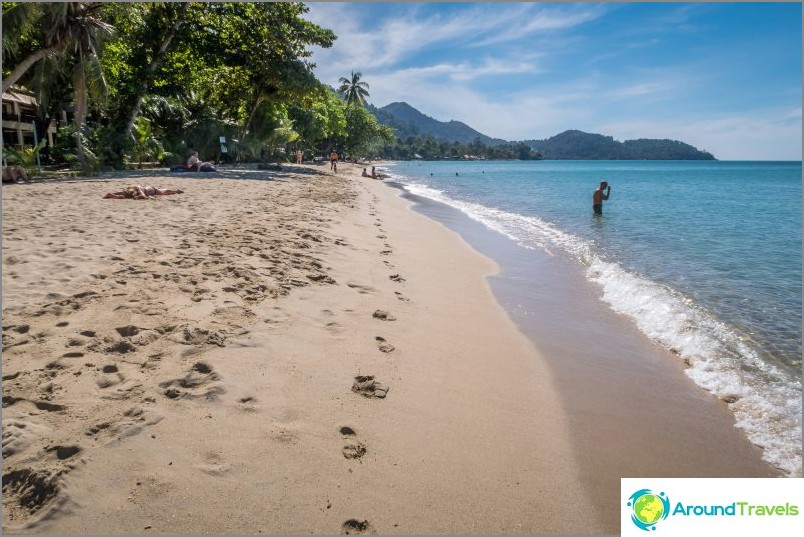 Not the main beaches of Koh Chang
Klong Son Bay Beach
The very first beach on the west side, and closed to outsiders. Now there is a village built Siam roayl view and, accordingly, you can only get therebeing a home owner or having booked an apartment / villa. The beach is excellent for reviews. I was not there because I did not book accommodation there, but there were my good friends, they were delighted with both the accommodation and the beach.
I know that beaches are kind of common in Thailand, but IOnce I tried to drive from two roads and the guards did not let me in. They say you can get from the sea, but for this you need to rent a boat. I think it's not worth it, the neighboring beaches are not worse. But if you book accommodation here, you can get a good privacy.
Pearl Beach
This piece can be considered the southernmost part of the White.Senda I have no photos, because there are only stones there, and there is nothing to do there, except to watch the sunset. And to find it is not so easy, because it is fenced off from the road by hotels and houses.
Bailan Bay Beach and Lisca Beach
Somewhere on Bailan Bay there is a small sand bar, but I only saw stones. In any case, I don't personally remember this place, of the interesting only is the rope park Top tree adventure park nearby, but because you can just come once and all. By the way, near this park there is a very small beach - Lisca Beach, with sand and a gentle entrance.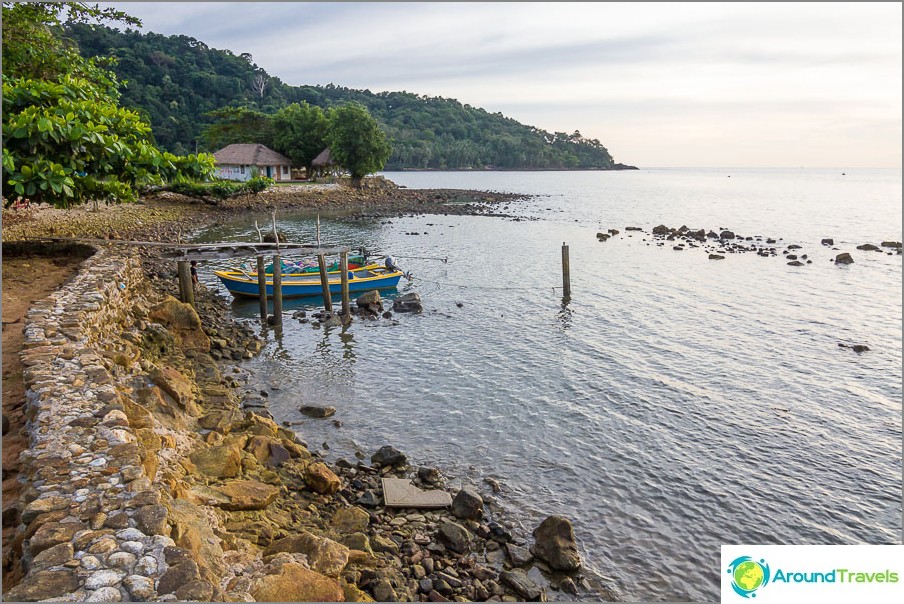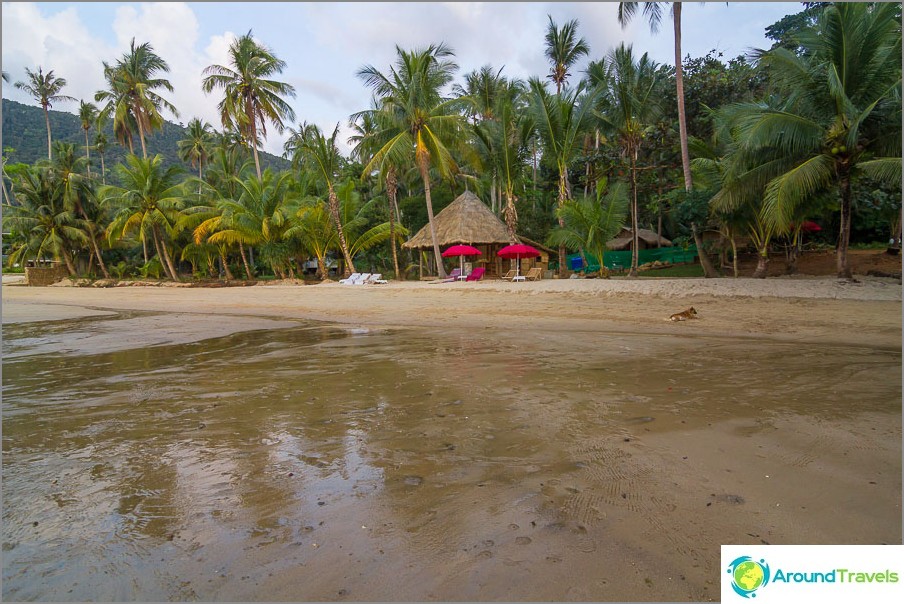 Bang Bao Village
Bang Bao is a fishing village with a bunch of cafes,where all kinds of seafood are sold. Cafes are located along the long pier extending into the sea. The pier ends with a beacon, inside which you can climb. Swimming in the area of ​​the village and the pier is impossible.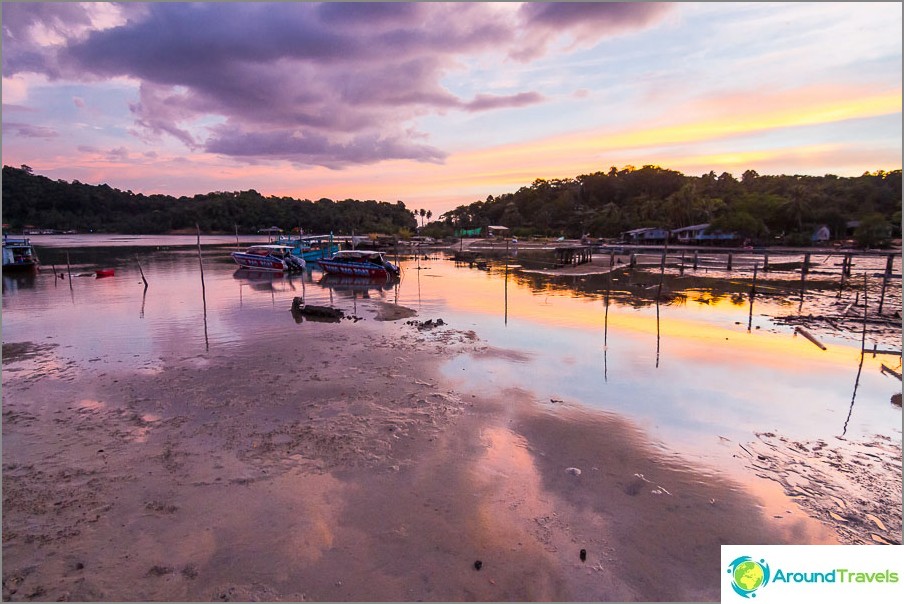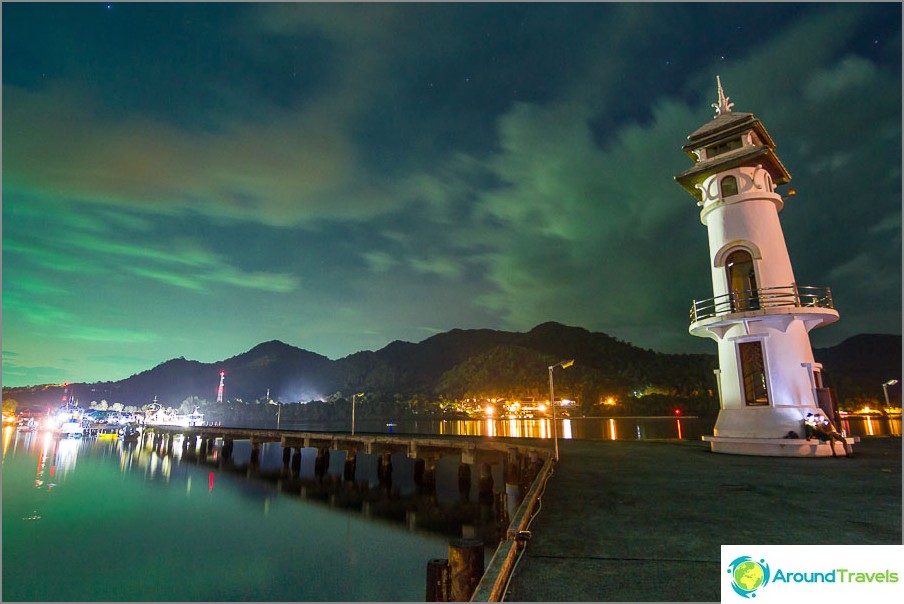 Sai Noi Beach
If you go further along the main road to the east(now it has already turned and goes east instead of south), then literally a few minutes from the turn to the pier there will be a small beach of San Noi Beach. It will be visible from the road through two cafes.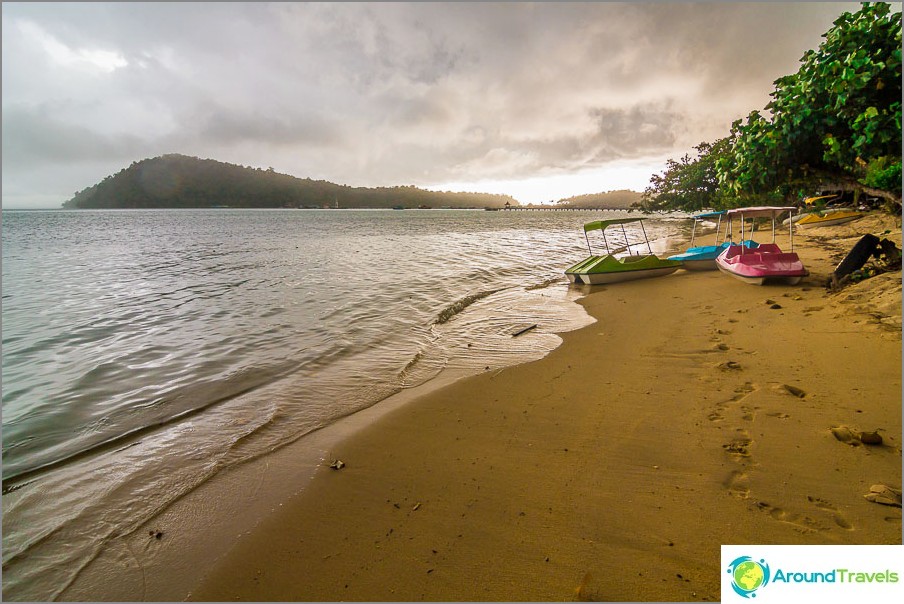 Klong Koi Beach
A little further we get to the beach Klong Koi Beach,where apart from bungalows and cafes there is nothing else. In part, this place resembles Lonely Beach, only more wilder and with less infrastructure. Thais with dreadlocks, pacified atmosphere. Although the infrastructure can go to the village of Bang Bao.
I really enjoyed Klong Kloy, excellentplace to relax. The beach itself is clean, sandy, the entrance to the sea is quite fast, not very many people, and there is not too much housing either. If you go further along the shore, then a grove begins in 100-200 meters, and then a decent resort Tranquility Bay Residence.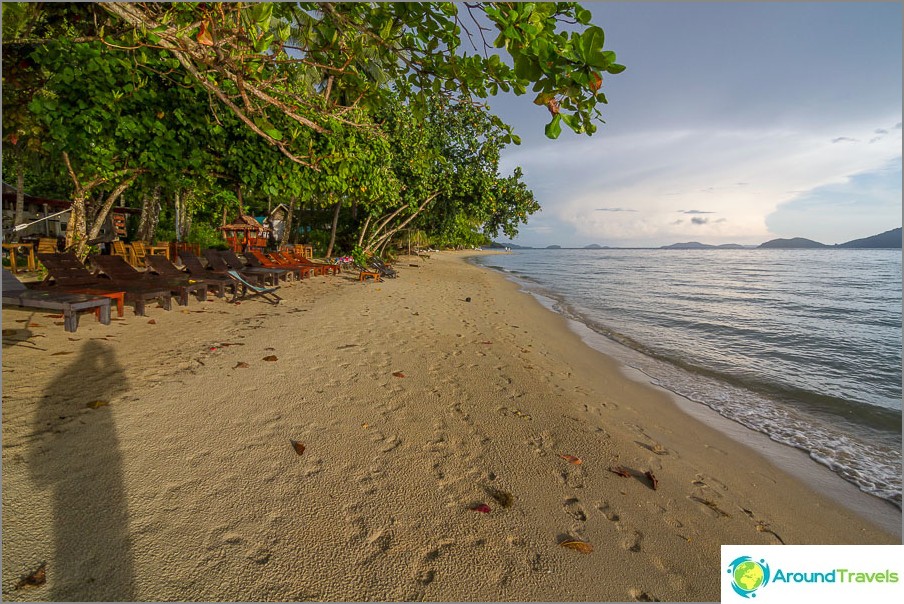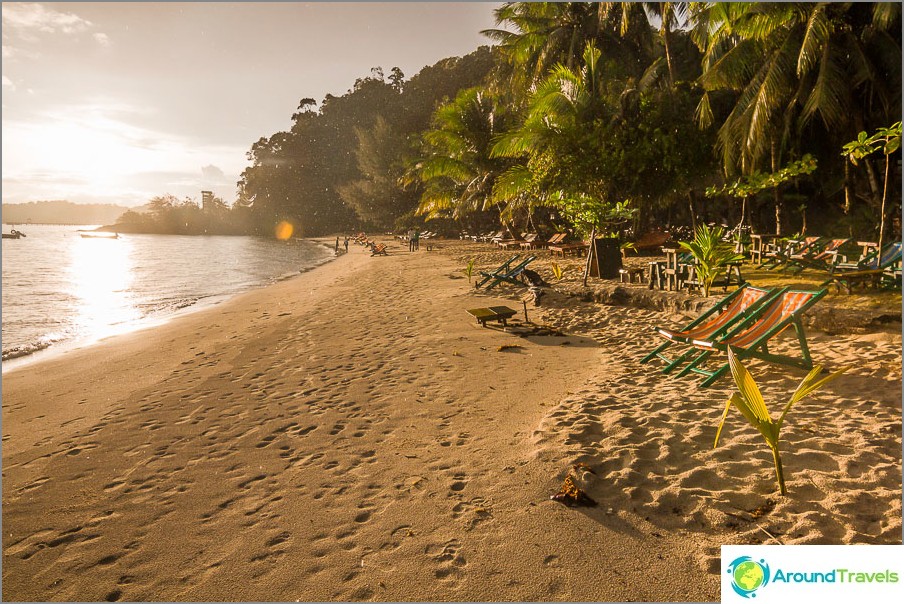 Further the trail leads to the Grand Lagoona Resort and ends there. This name is outdated, but many still use it as a matter of habit. The hotel has long been called everywhere Koh Chang Boat Chalet. Entrance to the territory is paid, the beach is beautiful and uncrowded, the territory is beautiful, but the hotel in the form of boats is too old. Suitable for those who want to be apart from civilization, and who are willing to reduce comfort.
Beach near Cliff Cottage
If we turn left before the Bang Bao pier and continue along the path, it will lead us to the hotel Cliff cottage, near which there is a nice cafe andsmall beach. Previously, this place was good because you could go snorkeling here. In my arrival, apart from sponges, hedgehogs, sea cucumbers and a pair of fish, there was nothing to watch. Only if the tire is automobile. But I really enjoyed lying in a hammock and eating ice cream.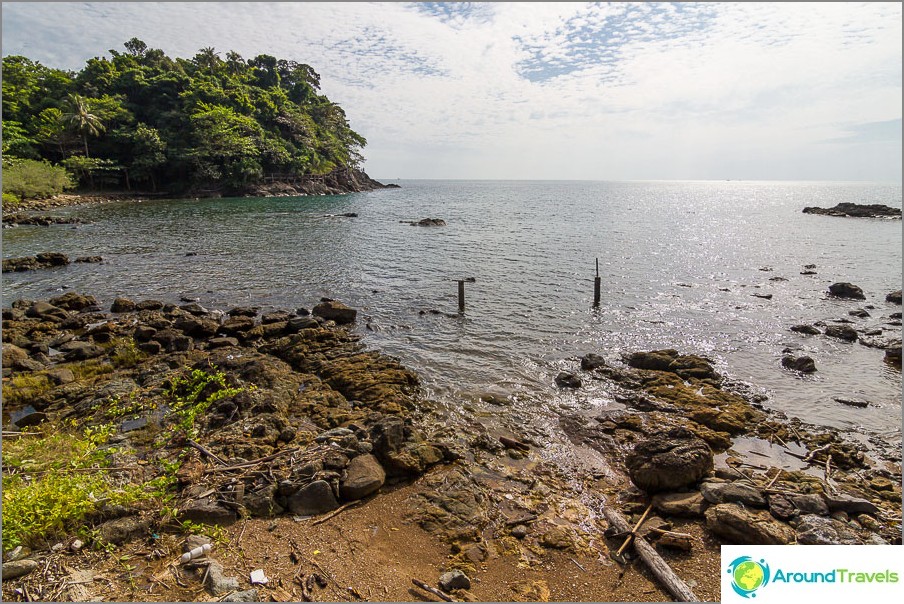 Long Beach
Go back to the White Sand Beach,which was our starting point and heading east. In terms of attractions and beaches, there is almost nothing there. But this is good, because of this there are few people there. You drive along the road through the jungle, admiring the beauty, great! Along the way, there are small beaches, but not very watery because of the stones.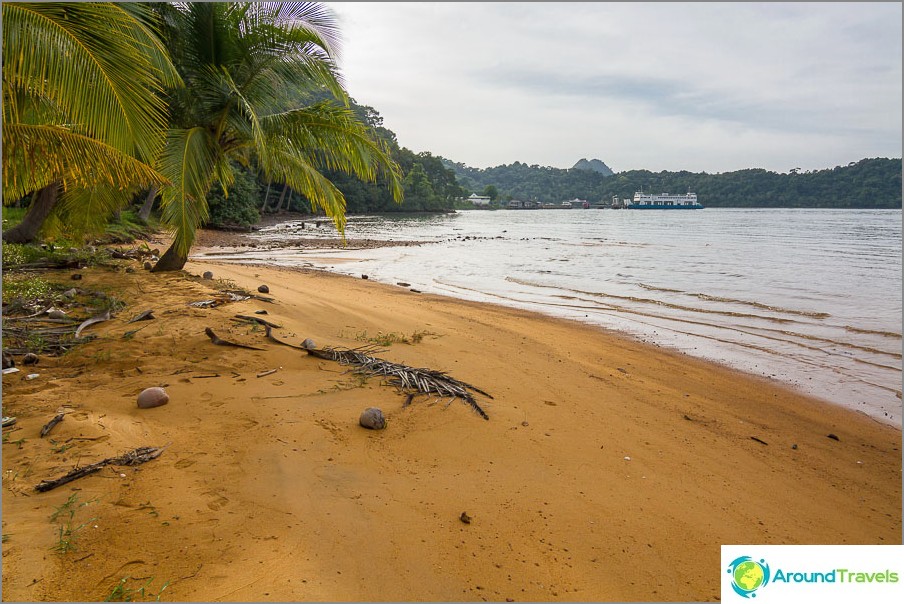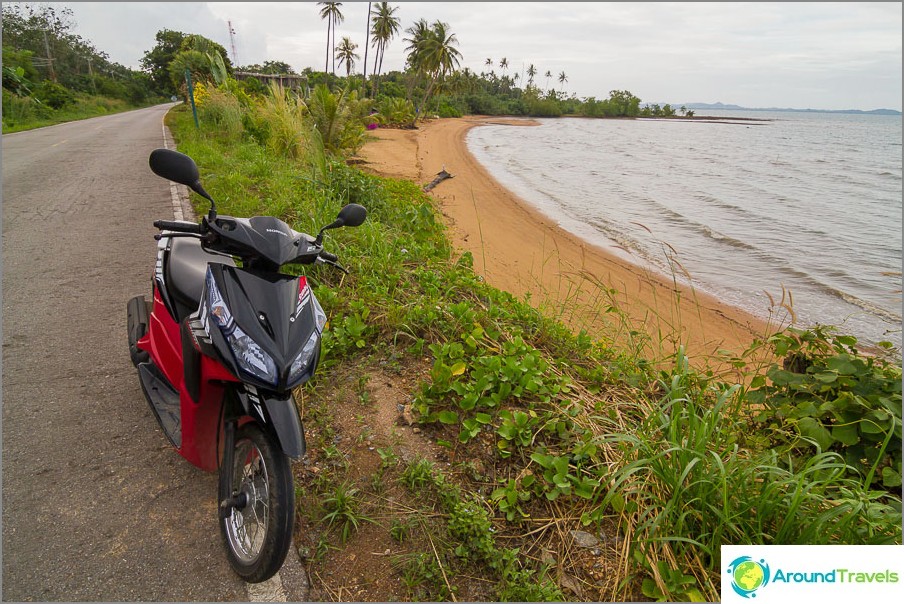 And, if you go so long and come almost tothe very end of the island, then there will be the wildest beach - Long Beach. Here you can fully merge with nature, because the bungalow here is akin to tents, the same in terms of reliability and convenience. At that moment, when I was there, even there was no electricity (the generator was temporarily not working), and there were only a couple of people. There was only one such complex here (there were two before), but a classic modern hotel is being built nearby (it may have already been opened), which can negate all the wildness of this place.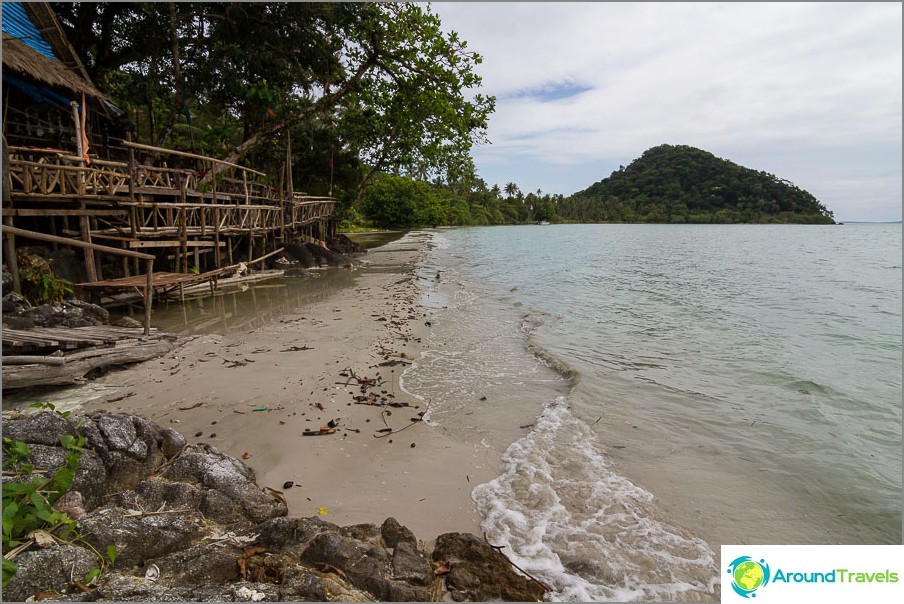 Long Beach is quite small but nice beach. For some reason, there is too much water in my photos, but usually the strip of sand is much wider. A little further along the dirt road there will be another beach with a memorial, it is literally 10-20 meters long, great for a romantic picnic. And even further if you drive, you will see the Tantawan Resort with very decent houses at an indecent price and rental of kayaks at the Dead End Cafe.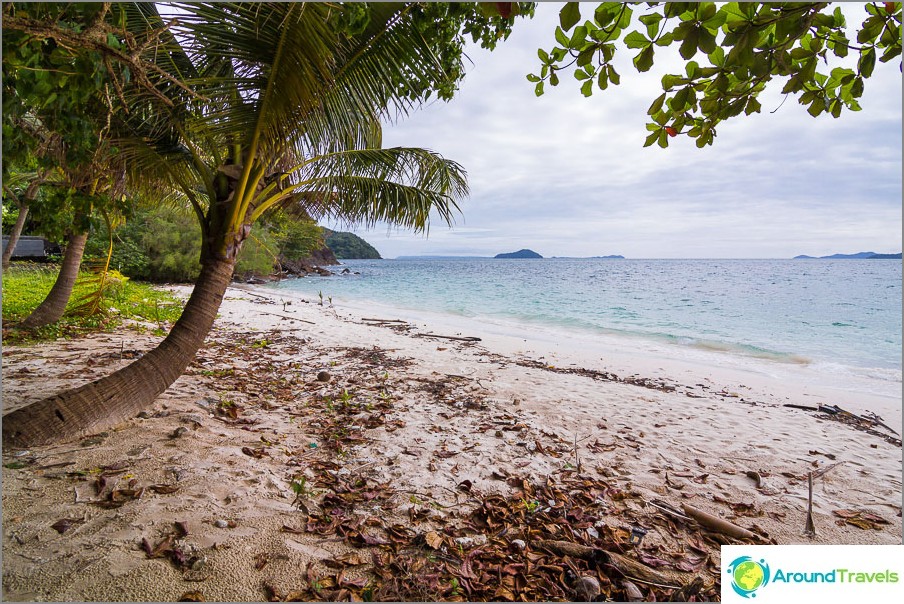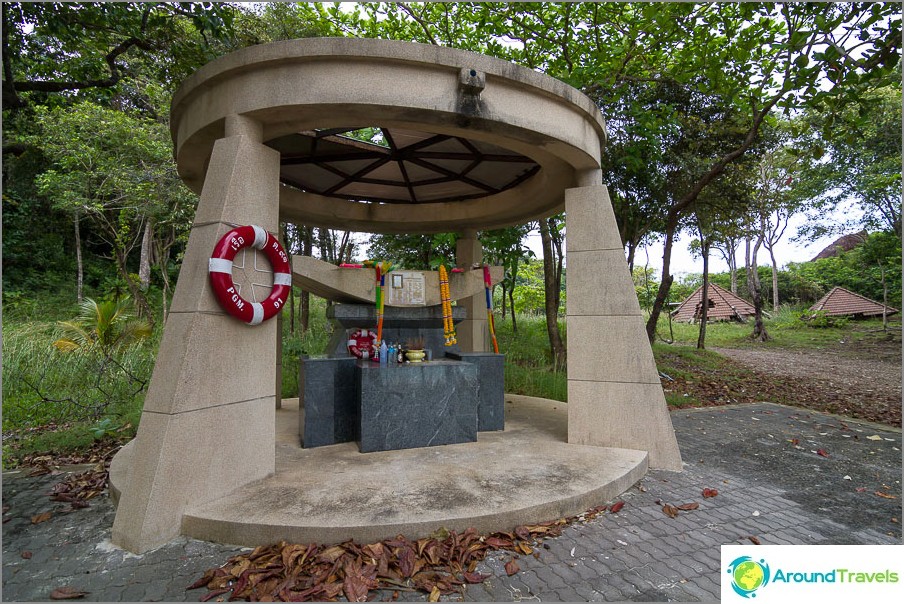 Beach Wai Check beach
This beach is also called Secret Beach, becausevery few people fall on it, and I was not on it either. Seen on the map, but there was no time to get there. To get to him you need to bike from the bay Salak Pet, and then stomp on foot. Or on a boat to sail from the same Bang Bao. There is no housing there, and therefore, besides the locals, you hardly meet anyone.
Map of beaches of Koh Chang
Here you have a map with beaches, so that it would be clear wherewhich one is. In the article they go in order from north to south, from the pier where the ferry arrives. First, I walked along the western side, where all the main beaches are, and then along the eastern side, where there is actually only one good place for swimming, but almost no one will be around. In addition to this Google card, I also posted scans of paper maps taken on the island, here in this article - Koh Chang map.
Beaches of Koh Chang
Beaches of Koh Chang: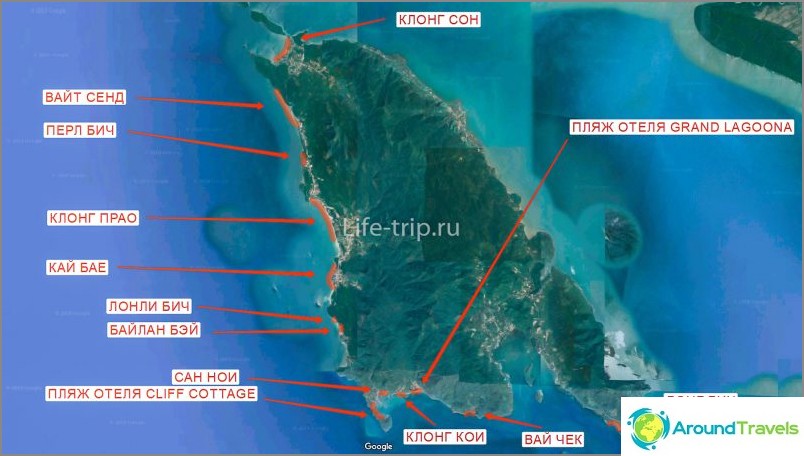 P.S. If you or your friends are going to Koh Chang, then you still post How to get to Koh Chang. I hope you will be helped by my articles. Perhaps I forgot something, but nevertheless I tried to write about all the beaches of the island. I would be glad if you like or share the link, wrote a long time
Life hacking 1 - how to buy a good insurance

Choosing insurance is now unrealistically difficult, so to help all travelers, I compile a rating. To do this, I constantly monitor forums, study insurance contracts and use insurance by myself.

Life hacking 2 - how to find a hotel 20% cheaper

First, choose a hotel on Booking. They have a good offer base, but the prices are NOT the best! The same hotel can often be found 20% cheaper in other systems through the RoomGuru service.

Discount hotels