There are beach reviews on the blog. Phuket. Samui. Phangan. Pattaya. Koh Chang. Krabi. Phi Phi. Koh Lanta and Hua Hin.
In this article I will briefly outline my visionPhi Phi Island beaches and give links to a detailed description of each beach, with photos and coordinates. At the end of the post you will find a general map of the beaches of the island and do not be surprised that there are two islands of Pi-Pi, and the beaches are described only for one of them. The fact is that the second island, Phi Phi Le - is a reserve and I have a separate article about it - Maya Bay and Phi Phi Island Tour.
The content of the article
List of the best beaches of Phi Phi
I will not consider the beaches in terms oflong-term stay and wintering, because I don't really understand what to do here longer than one or two weeks of vacation, and especially with children. Phi Phi is a young, noisy island, the main charm of which is beautiful beaches and a party. There are no large stores, hospitals and banks, and the entire infrastructure is aimed at a short-term outburst of energy and money. So let's talk about the "best" beaches of Phi Phi Don from the point of view of a vacationer.
Ideal for infrastructure is Lo dalam. It is located on the central isthmus of the island,close to pea pi town, has a good choice of accommodation (including cheap hotels) and entertainment, as well as close to the main piers of the island. But silence will not be there, all the parties here too.
More quiet and well suited for holidaysthe left side of Tonsai is also a capital building, high stone hotels (remember the tsunami, right?), even if it's a small but not very crowded beach. Up to 10 minutes to the entire infrastructure, no more, in fact, this is the edge of Phi Phi Town. It is also convenient that from here you can walk to 10-20 minutes Viking beach and Long beachwhich is already quite suitable for beach relaxation.
And under the third number, I would call the far right Tone Saya - there is a good sea of ​​cubables, a very small building and just 10 minutes to Ppi Towna on foot.
If you are only interested in relaxation and you have enough hotel services, then I would have gone away from P & P Town, on Lam Tong (local ruble) and Lo Ba Bao. A complete detachment from civilization, few tourists, plague beaches with excellent sand and a cupy sea. Lam Tong has a bonus in the form of its pier, and Lo Ba Khao is close to two beaches. Lo lana and Well - also an option for entertainment and variety of leisure.
The hotel is best to look through RoomGuru. This is a very useful service, shows discounts in all reservation systems, and you can book a hotel cheaper.
Main beaches
Thon Sai Beach
Tonsai Beach is the meeting beach of Phi Phi Island.Don. It is here that the main (but not the only) pier on the island is located. The beach is beautiful, long, but suitable for swimming only on one half, which stretches to the rocks on the far right, if you are facing the sea. The central part is a technical beach with a bunch of boats and boats, and the left edge is parked with longties and stones. Tonsai is considered a beach for "seeing" rather than swimming. More about the beach - Thon Sai Beach - Phi Phi Don Island's main beach.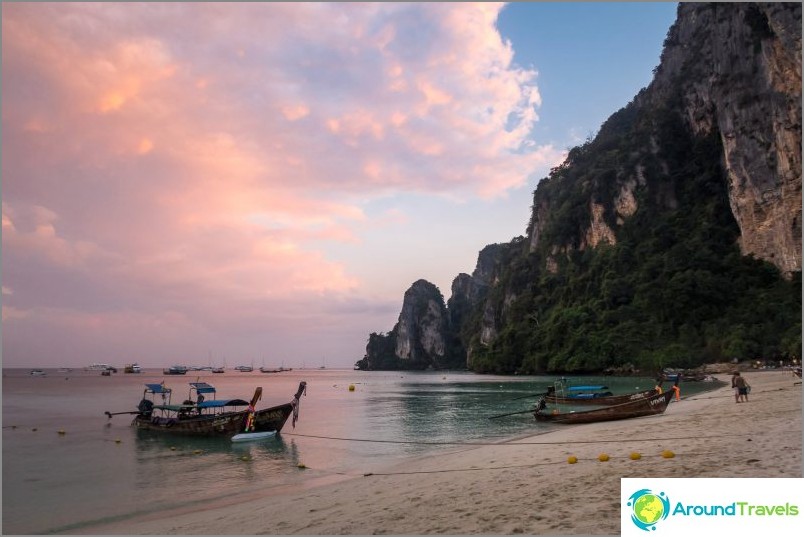 Lo Dalum Beach
Lo Dalam is the second main beach on the isthmus.Phi Phi Don Islands. Unlike the deep-sea Ton Sai, Lo Dalam is a shallow beach where you can swim only at the peak of the tide. It is very beautiful, it looks gorgeous in pictures both from the shore and from the height of the PB point. But for a quiet stay, I would not recommend it - this is the edge of P & P Town and its parties, it is always very lively and noisy here, except for its farthest edges. more about the beach - Phi Phi Don Island's Lo Dalum Beach is the longest but not the best..
Lo Ba Kao Beach
Beach Lo Ba Kao and its surroundings are located onnortheast of Phi Phi Don. The beach is considered one of the most remote on the island, where it is difficult to get but it is very cool to rest. Lo Ba Kao is distinguished by its beauty, comfort in terms of beach holidays and a decent (for Phi Phi) choice of accommodation. In the left edge of the area there are mangroves and flooded lowlands, next to which it is better not to settle. More about the beach - Lo Ba Kao Beach is the best choice for a long holiday on Phi Phi Don Island..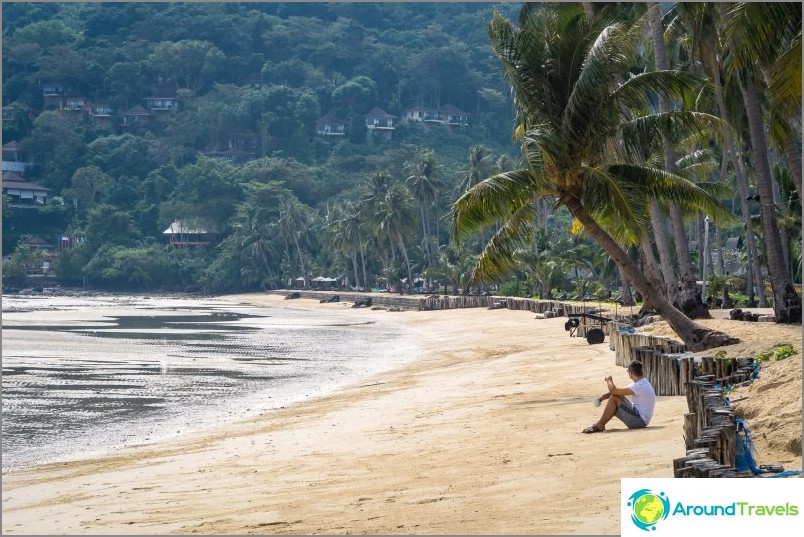 Beach Lo Mo De (Lo Mo De Beach)
Lo Mo Di - this is a wild beach, which is locatedclosest to Pi-Pi Town. Wild in the sense that he has not yet been tasted by a mass tourist and it is not so easy to get here. It is possible to walk on foot, but this is a dubious pleasure in the heat, and on the boats the expense of the holiday budget immediately increases. A beautiful bay, palm grove, coral sand is a great place for bounty tylening. More about the beach - Lo Mo De Beach is the most beautiful beach on Phi Phi Don.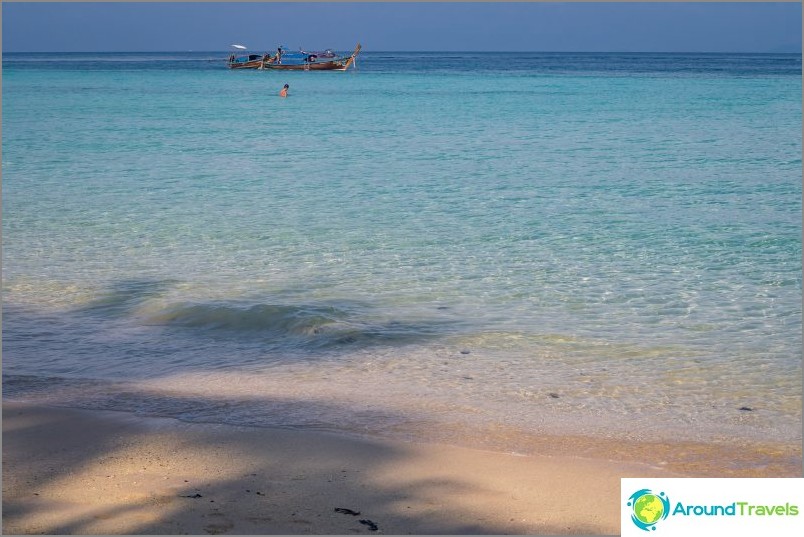 Long Beach
Beach Long Beach is not the longest "long beach" onPi Pi Doné. Long Beach is located in the south of the island and is the closest normal beach in relation to Phi Phi Town, where you can safely swim without scratching your feet on the rocks at the bottom. A characteristic feature of Long Beach on Phi-Don Don is its unaesthetic bluntness, as if it was made specifically for tourists. But as a whole, it is a perfectly normal, regular beach for full-fledged seals. More about the beach - Long Beach on Phi Phi Don is a standard tourist beach.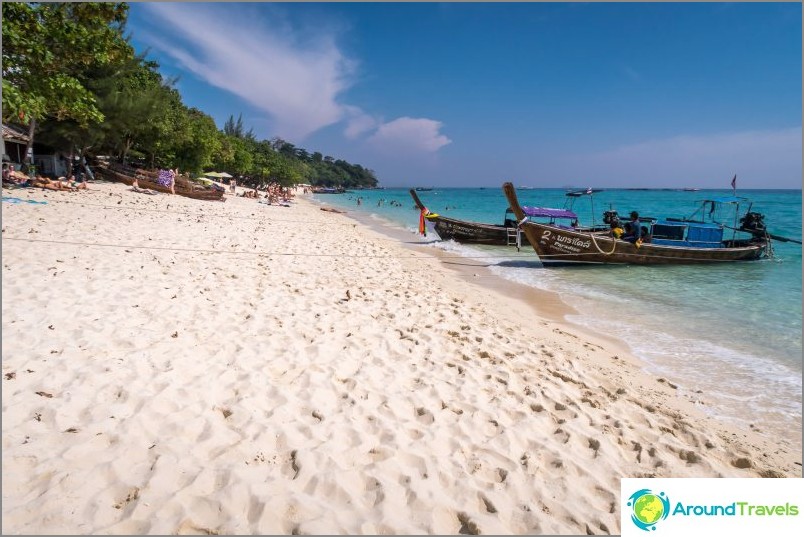 Ao Hin Kom, aka Viking-1 and Viking-2 (Viking Beach)
Despite its small size and privaterelated to the eponymous resort, Viking beaches are considered major on Pi-Pi Doné due to their well-known and popular nature. Well, they are really cool, hidden in the thick of greenery and stones, with excellent sand and photogenic exterior - they look great in pictures and live. Out of inconvenience, it is difficult to get there, and people who need to go to Long Beach are constantly passing by, so you have to hide things on the beach or keep an eye on them. More about the beach - Viking-1 and Viking-2 (Viking Beach) - private beaches of one resort on Phi Phi Don island.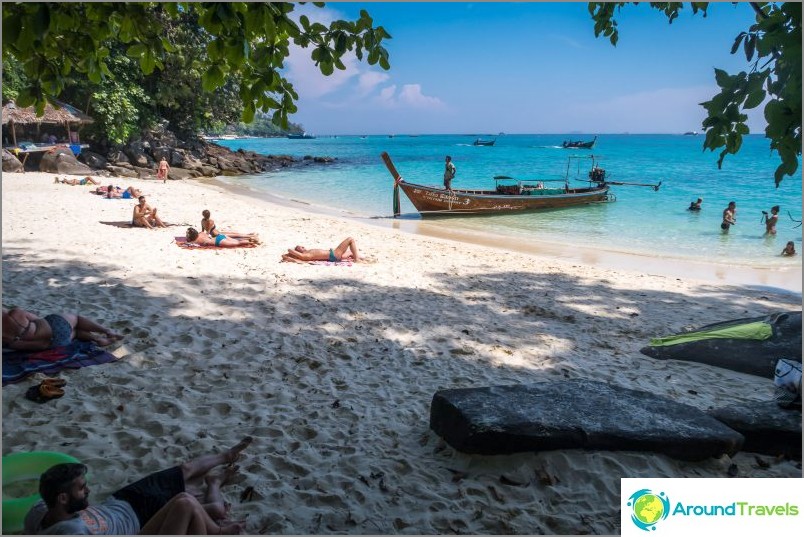 Other beaches
Beach Wang Long Bay
Bay in the depths of the inaccessible rocky part of Pi-PiDon, which can be reached exclusively by sea. At the end of the bay there is a tiny beach, which is almost hidden during the peak of the tide. Behind the beach there is still a continuation of the corridor in the rocks, where you can walk and gape, but nobody usually comes to swim in this place. Only in a group, on a longtail, with a mask for snorkeling.
Monkey Beach Beach
Cool place with monkeys that are already accustomedto tourists, insolent and their behavior pretty spoil the mood of these same tourists. Periodically (and even systematically) bite the most careless, steal things and fight for food. The beach, as you know, is not for swimming, but for walking package guests. At peak times on the beach is not crowded from people, which obviously does not add autism to the place. More about the beach - Monkey Beach Beach is a monkey paradise on Phi Phi Don.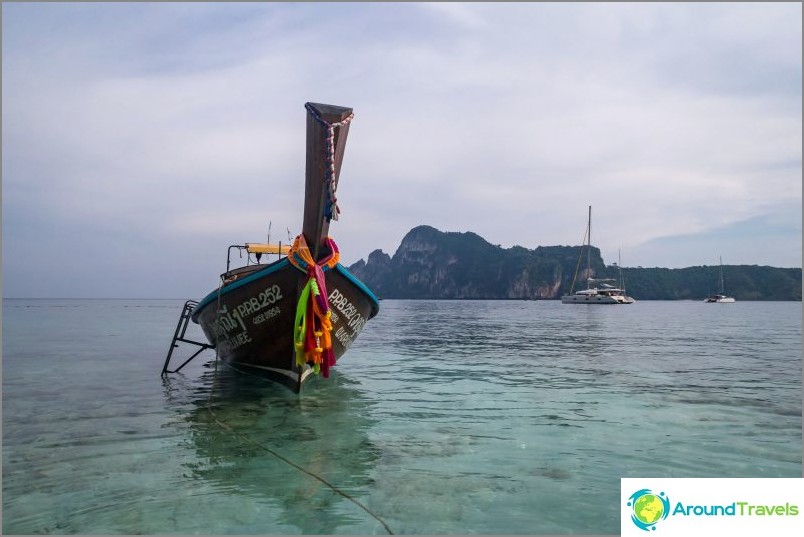 Nui Beach
Nui Beach on Phi Phi is the farthest, furthestbut very nice and clean beach with decent depth, because of what it turns out to swim even at low tide. It can be reached on foot (option for living next door, desperate, and those who have too much time). And it's better to get here by boat and at the same time grab a mask and ltsy with you - this is a good place for snorkeling. More about the beach - Nui Beach on Phi Phi Don is a wild snout in the jungle.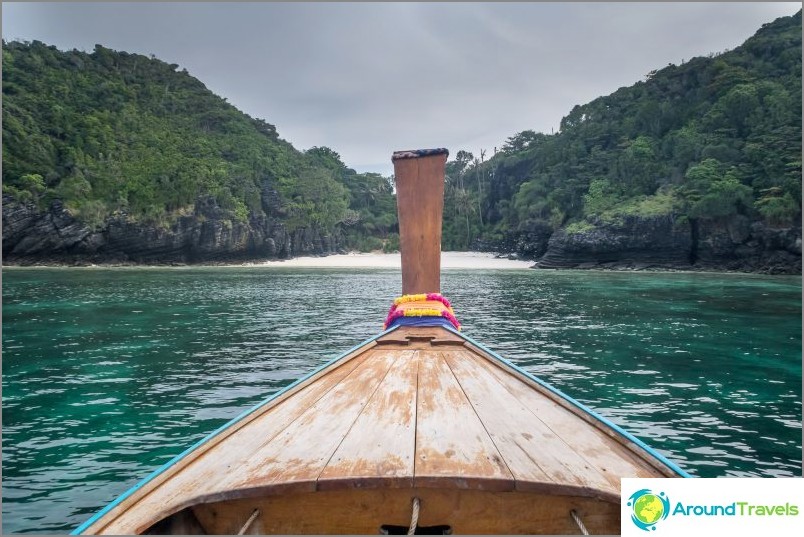 Laem Thong Beach
The farthest from civilization, the large beach of Phi PhiDon You can get here by land, but the sea is much faster and more interesting. The beach is beautiful, uncrowded, with its own infrastructure and even its own small pier. Laem Tong, I have not yet fully examined, and you can read a partial description of what I saw - Laem Thong Beach - a far paradise on Phi Phi Don
Lana Beach (Lo Lana Beach)
Lo Lana is located literally across the hill frombeautiful Nui, but different from him drastically. On the shore here are the abandoned houses of some resort, the beach itself is terribly filthy with what was caused by the waves. The place is completely uncomfortable, although it is possible that I got on it in February, when seasonal storms had not yet subsided and the beach appeared to me not in the best light. Read more about Lana Beach - Lana Beach (Lo Lana Beach) on Phi Phi Don - an abandoned beach.
Ranti Bay Beach
The once quiet beach on the outskirts of Phi-Phi Don, and nowquite lively and popular among snorkeling enthusiasts as a place where you can snorkel perfectly near the shore. It is shallow, with a mass of stones at the bottom, with not the most beautiful sand, but a cozy beach hidden in the bay with its tiny infrastructure. The name of the beach was named after the Rantee Sunrise Hotel located here, which can only be called a hotel by mistake.
Phi Phi Beaches Map
Phi Phi Beaches
Phi Phi Beaches:
P.S. Likes and reposts are welcome.
P.P.S. I will also be very happy to express your opinions on various beaches on Koh Lanta, where you rested. What and what you liked.
Life hacking 1 - how to buy a good insurance

Choosing insurance is now unrealistically difficult, so to help all travelers, I compile a rating. To do this, I constantly monitor forums, study insurance contracts and use insurance by myself.

Life hacking 2 - how to find a hotel 20% cheaper

First, choose a hotel on Booking. They have a good offer base, but the prices are NOT the best! The same hotel can often be found 20% cheaper in other systems through the RoomGuru service.

Discount hotels