Short post. I want to share, well, or boast, who like more, they wrote about me in a magazine. Yes, this is not some kind of National Geographic, but only the magazine of the Yakutia airline, which lies in the back of the seats, but still. The reader sent the photos, well, how can I not put them on the blog
Journal Note
Quote:
"Long-term practice of traveling, meticulouslyreworked by the author, formed in orderly rows of icons. All materials are laid out on the shelves of the countries of the world. Oleg shares not only beautiful landscapes, but also useful information for tourists. For example, a blogger conducted an experiment that resulted in a selection of bank cards for travel and a visual display of cashbacks; tested the transfer service in Thailand and not only; I made a rating of insurance companies and step-by-step online guides with easy navigation. Subscribers write sincere words of gratitude: "... we planned the trip on our own ... most of them were according to your guidebooks. Thank you, everything is very useful! "While on a tip from a blogger, tourists drink fruit necks in the best reggae bar on Samui, the author moved to Haifa. It seems we were lucky again - waiting for a guide to Israel. "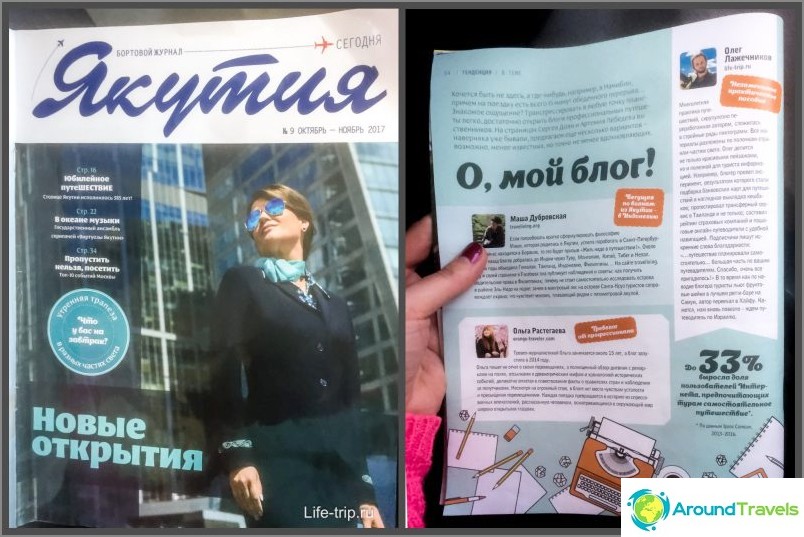 With Israel, they got excited, of course. But sometime, yes
In general, in general, it is surprisingly well written. And it happened in different ways. They just usually asked permission and then gave another draft for approval.
Some thoughts
When I first started a blog, I really wanted to light up wherever possible: on other blogs, in newspapers, on television, on radio (by reference examples). Therefore, I was always glad to any interview. But time passed and the understanding came that such things, of course, are pleasant, because thousands of people will see / hear you, but it doesn't affect my project at all. I mean this site. Does not affect its development and does not add readers.
Probably, if the 1st channel had told me, yesnot in the form of a 5-minute video, but in a half-hour transfer format, then maybe it would make sense. But the trick is that now TV space does not really intersect with the network. And they understand this on television, so slowly they also get on the Internet. So the sense of interview on Youtube would be much more than from TV. On the other hand, I have an information project, and by default it will not attract readers from similar sources, a maximum surge of interest for a while.
Why did I write this? I don't know myself
Just shared thoughts. Over the past couple of years, I was called 5 times on TV and I refused. They also called me to speak in front of the audience in person, to talk about travel, and so on. But since there is a lot of work, and there is little interest in such events, I give up everything, so here I am, an introvert. For some reason, lately, I want to spend time on useful guides and travels themselves, and not on PR. Something like this.
Life hacking 1 - how to buy a good insurance

Choosing insurance is now unrealistically difficult, so to help all travelers, I compile a rating. To do this, I constantly monitor forums, study insurance contracts and use insurance by myself.

Life hacking 2 - how to find a hotel 20% cheaper

First, choose a hotel on Booking. They have a good offer base, but the prices are NOT the best! The same hotel can often be found 20% cheaper in other systems through the RoomGuru service.

Discount hotels