Surely all bloggers know about the counterFeedburner subscribers. Usually it is put first thing after they start blogging. Naturally, the essence is not in the meter itself. Feedburner is a service that allows you to visually create an RSS and subscribe by mail related to your RSS feed. This is where all the features of the service end.
Analogue feedburner
I used Feedburner from the very beginning creating a blogbut apparently ripe to give it up. Or more precisely to switch to another service, more flexible.
First, I want to be able to sendannouncements of articles that are not tied to RSS. This is convenient when you can write a letter at any time and send it to readers. In Feedburner, however, only automatic feeds tied to RSS, they can not be managed. Secondly, Feedburner periodically falls and does not send letters, and it is impossible to start the repeated mailing. Thirdly, I realized that the counter from Feedbrener is complete bullshit, it shows no one knows what, and in general I have doubts about whether he will ever lose the base.
I think, about Justclick.ru ... Does anyone use it? What can you say about him? I saw that there is a transfer of subscribers from Feedburner, a useful thing.
What the feedburner counter shows
Counter from Feedburner often measured against each other, saying that someone has more subscribers. They look at these counters in order to understand how popular a blog is, no wonder 90% of ratings are based on it.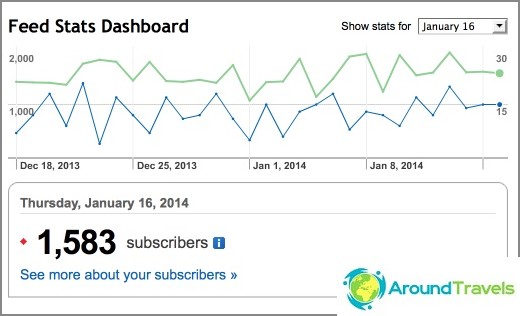 So, for 4 years, I have seen many times how the values ​​of this counter jump. For example, recently on our blog from 500 readers and up to 1800. Aha, run away and then resort again.
Also last poll really showed how many readers actuallywe have on the blog: ~ 700 people. And of these, only 300 are signed by mail, and 60 via RSS. That is, only 360 people actually read us through Fibderner. Not so weak he lies, right?
In general, it became clear that this counter is generally farfrom reality, and it is completely incomprehensible where it comes from. And since even I myself can not figure out my counter, but what for is it really needed. Moreover, as I understand it, very many people (who have thousands and tens of thousands of subscribers) have a lot of control, which can be done if desired.
Life hacking 1 - how to buy a good insurance

Choosing insurance is now unrealistically difficult, so to help all travelers, I compile a rating. To do this, I constantly monitor forums, study insurance contracts and use insurance by myself.

Life hacking 2 - how to find a hotel 20% cheaper

First, choose a hotel on Booking. They have a good offer base, but the prices are NOT the best! The same hotel can often be found 20% cheaper in other systems through the RoomGuru service.

Discount hotels