The Volga River ... How many poets and writers sangher in her works. Since ancient times, the inhabitants of immense Russia have sought to relax in the delta of the Great River. Therefore, today there are many tourist bases that offer tourists comfortable accommodation in cozy houses with all the conditions and tours for fans of wild tourism, with directions: beach and ecological, fishing and hunting. In any case, each recreation center of Astrakhan Region was built in beautiful, clean and environmentally safe areas of the Volga River delta. You can get to the selected base on an organized transfer: a minibus, a motor ship, a boat, or you can use your own transport.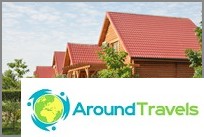 The staff of tourist baseswill offer you the most elite vacation in the Volga delta. You are waiting for travel on the enchanting water expanses, you will feel the delight of the kind of winding channels and small islands. And what an unforgettable impression will leave the ships in the Volga Delta. You will be charged with positive energy and vigor for a long time, as well as take a lot of exclusive memorable pictures. At the service of all the guests, an escort of experienced rangers is organized, real professionals, who will be shown to the fishermen the most comfortable and beautiful places full of fish, and the hunters - game. They will be able to prepare a real Astrakhan fish soup according to old recipes at the sites. Thus, your vacation will organically combine tanning on the gorgeous sandy beaches and an exciting hobby.
For lovers of beauty will be offeredfascinating excursions to lotus fields. It should only take into account that the lotus blooms from July to September. During this period, the royal flowers have huge, almost two-meter leaves and gently pink flowers. Water droplets on leaves and flowers seem to be a scattering of diamonds, and the delightful alluring scent captivates and fascinates. Only in these heavenly places truly enjoy the beauty and harmony of nature! Here you can relax with family and friends, celebrate a birthday or organize a corporate holiday.
Life hacking 1 - how to buy a good insurance

Choosing insurance is now unrealistically difficult, so to help all travelers, I compile a rating. To do this, I constantly monitor forums, study insurance contracts and use insurance by myself.

Life hacking 2 - how to find a hotel 20% cheaper

First, choose a hotel on Booking. They have a good offer base, but the prices are NOT the best! The same hotel can often be found 20% cheaper in other systems through the RoomGuru service.

Discount hotels