Upon arrival in Russia wrote about positiveand now I dilute it a bit with negative. Well, this is in addition to the fact that the doctors are merging us again ...
I really don't want to pay attention to this, butIt is, striking. This is me to the fact that nothing specifically need to seek out. I went to Auchan, I took Egor to the doctor, and the harmony with balance disappears somewhere, you want to overlook, but you can't. It's about driving on the sidelines.
The content of the article
Where does this aggression come from?
In Moscow, a very aggressive driving style, horror,how unusual after a relaxed Thailand. There, too, is not sugar, but at least not stupid from evil. And we fly, cut each other, nervous, honking at the slightest alien misstep or delay. I didn't start with a traffic light for a second, already beeping, blinking headlights and almost trying to change lanes trying to drive around. Worse, probably, only in Rostov-on-Don, from those cities where I was, they go there without any rules (no one will be offended by Rostovites, but it was very hard to ride around the city).
God, what is a person's life, if he isvalues ​​these seconds. And I am very sorry for these fast, half of them then lies in the cuvette. Moreover, perhaps in fact there are not as many as it seems. It's like trash, you come into the forest, and if there is only 1 litter for 100 people, the forest is still dirty, and you think that everyone is like that.
You can't ride along the roadside.
Now about the curb. I don't know, maybe it only hurts me, but I'm really sick, some swear words come to my head when I see it. I tried to stand on the side of the road to stop the flow, but it helps weakly, or rather it does not help. Though direct movement Antiobochina organize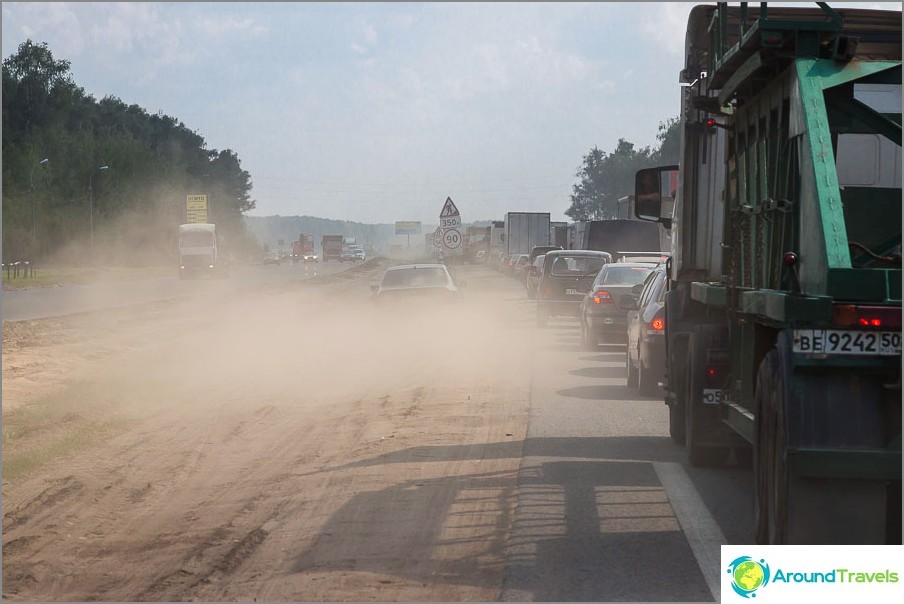 Three reasons why this is wrong:
As a rule, our roadsides are out of townasphalted, so after you stand in a traffic jam, you have to wash the car. I am silent about the fact that it is necessary to breathe these and clogged air filters. And that's nothing, on the forums they write that because of the stones, some, honestly standing in a traffic jam, headlights lost or got dents.
Due to the fact that someone is very "smart" (althougha rougher word suggests itself), in a traffic jam one has to stand much longer in time. As it is true, someone noticed, you like to drive along the side of the road, just go only by it, and do not poke back to the strip. But no, wedge in front of the entire traffic jam ahead.
When you get right, you essentially signan agreement on the use of the road, which states that it is prohibited to drive along the side of the road. The obvious thing, but apparently, we need more fines and tracking them more strictly. As in Singapore, broke - pay XXX bucks, did not pay - the punishment is more serious. Now the fine for driving on the side of the road is 1,500 rubles in total, and no one catches violators!
I wish everyone who loves to ride along the roadside, kindly, sincerely: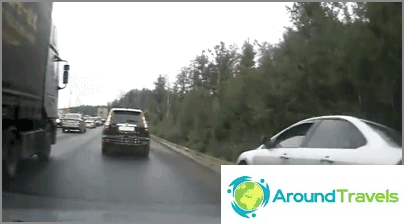 Antiobochina
As it turned out, the thoughts of different people converge. While I was writing this article (back in May it was, in contrast, after the arrival), in June 2014 a site and a Vkontakte group appeared dedicated specifically to this topic. I am glad that there are drivers who also do not like it, to the extent that they have even drawn stickers and laid out a useful article on how to complain to the traffic police.
True, I don't have a DVR, but forsuch goals can be purchased. Although always in such cases, I have a question why ordinary citizens should deal with such nonsense, write complaints, register violations, go to the thresholds of instances. True, all the cases are full of their own, the money must be earned, children should be raised to their feet, and so on. Sadness
P.S. If you do not agree, your right. But in my opinion, in order to be like Europe, it is necessary to stop violating, as in Europe.
Life hacking 1 - how to buy a good insurance

Choosing insurance is now unrealistically difficult, so to help all travelers, I compile a rating. To do this, I constantly monitor forums, study insurance contracts and use insurance by myself.

Life hacking 2 - how to find a hotel 20% cheaper

First, choose a hotel on Booking. They have a good offer base, but the prices are NOT the best! The same hotel can often be found 20% cheaper in other systems through the RoomGuru service.

Discount hotels