Aquarium KLSS (Aquaria KLCC) Kuala AquariumLumpur is one of the brightest and most interesting sights of this city. Maybe he made me so delighted, because, to my shame, for the first time I visited such an institution where huge fishermen and other sea creatures swim right overhead and some centimeters from you. But the very realization that the same meeting could have happened under different circumstances, and we would not have been separated by thick glass, and scared, and pleased me at the same time. But it was not immediately, let me tell you in order.
For starters, we got lost and did not immediately findsuccessfully disguised entrance to the Oceanarium, as it turned out later, we managed to enter the building just from the wrong side. We bought tickets from nicely smiling girls in deer horns in honor of the new year and went for a visit.
Unfortunately, I was sitting on my camerathe battery and I took care of it for the video, and Oleg's camera did not like too dark lighting, so the photos from this amazing place turned out not so much. The flash is convincingly asked not to use, so as not to frighten the living creatures, and as I understand it, do not harm it. True, sadly, many ignore this request. It is not surprising that many inhabitants of the aquarium are clogged in the far corner of the aquarium and they are not even always visible.
The content of the article
Kuala Lumpur Aquarium
At the very beginning of the exhibition are severalsmall pools in which we found mating (if I understood correctly) large crabs, starfish and some kind of black "sea caterpillar", the size of a finger. You can touch and hold these animals in your hands without getting them out of the water. I always thought that the starfish are firm and rigid, and they, it turns out, after spending a little time on the arm, start to lightly embrace it so gently. I must say that it is even nice
Sadly, despite the warning signs, people still pulled animals out of the water. Maybe, of course, they cannot read Thai or English ...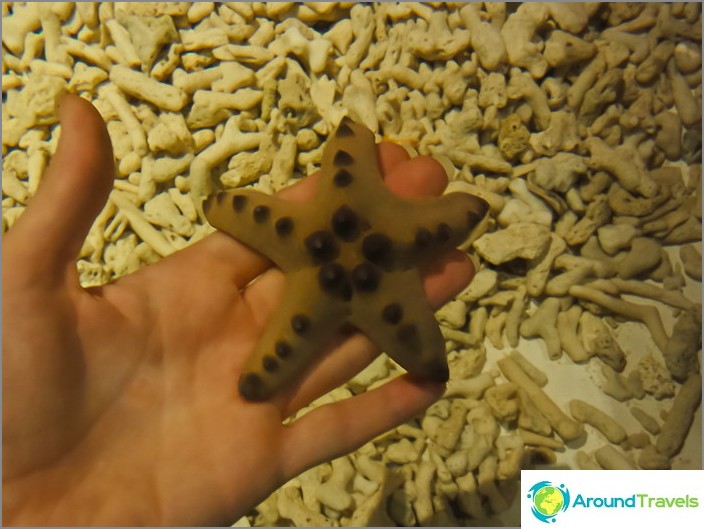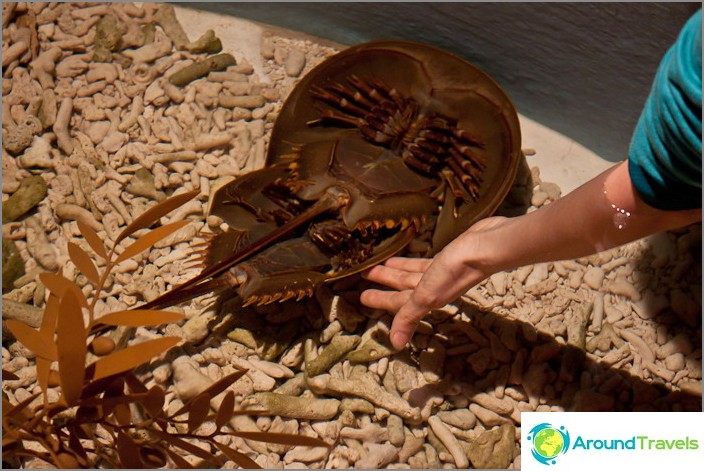 Many different inhabitants we saw in the Oceanarium,and marine, and freshwater, and reptiles, and even all kinds of spiders and scorpions. But only some of their most prominent representatives remember especially strongly. There is a large aquarium, under which you can climb and be like in it, prodding into a convex dome-shaped bottom. At first, I thought that this was done simply to take pictures of children who look from the outside as if inside an aquarium. But when I understood why the bottom was actually constructed in this way, I myself climbed inside. It turns out that in this large aquarium there are charming and too nimble otters to be immediately noticed! And when these cute creatures swim up to the dome, you can watch them swim and tumble in the water right above you, around you, so close! Awesome sight! But these comrades are so fast that it is almost impossible to capture them on a camera! At this aquarium, I think we stood the longest. I would have got one at home! And in front of this aquarium hangs a large poster calling for help to save these wonderful animals, without buying products made from their fur and skin and without polluting the water ...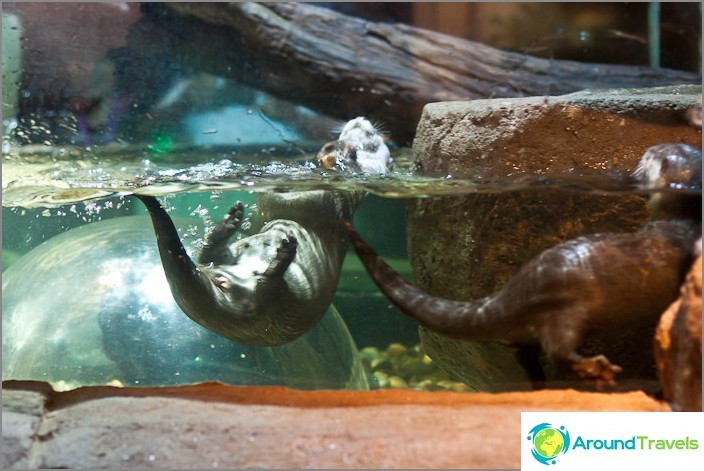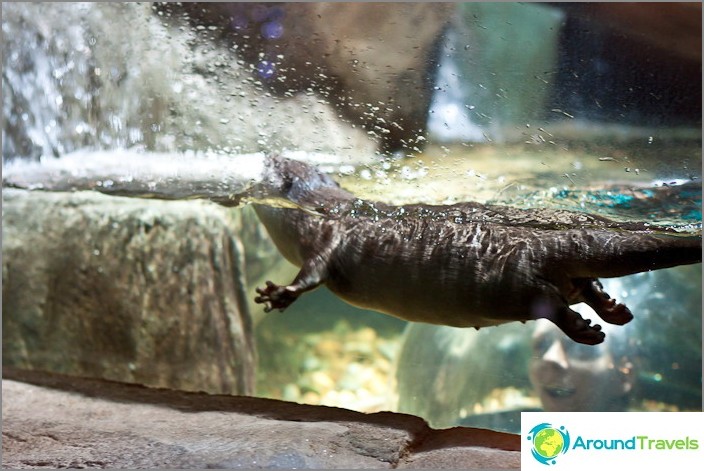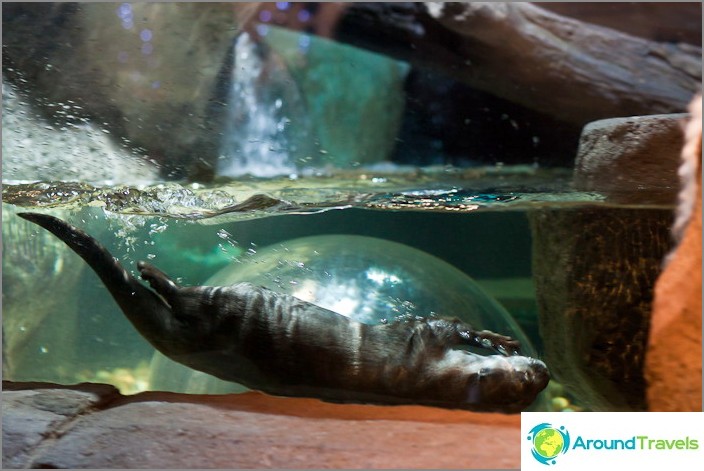 There is such a word "long-necked", but there is,It turns out that such an animal! And you will not believe who it is! Turtle! Although small in size, it is simply impossible to pass by calmly! Whoever was there, I think, immediately understands what kind of bug I'm talking about, it fascinates everyone. For the first time I saw a turtle with such a long neck and with such extraordinary activity. With what zeal she beat all the paws on the water and wriggled her neck! Straight turtle dance of some kind! There was a feeling that she was trying in vain to get out of the water (I hope it is not so, otherwise it is no longer funny, but sad).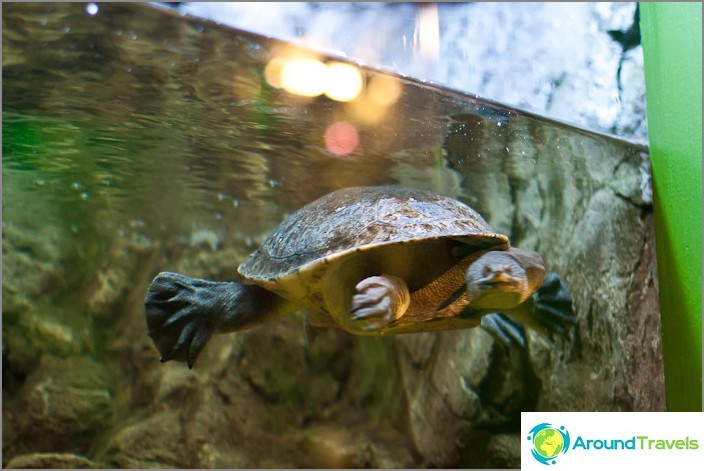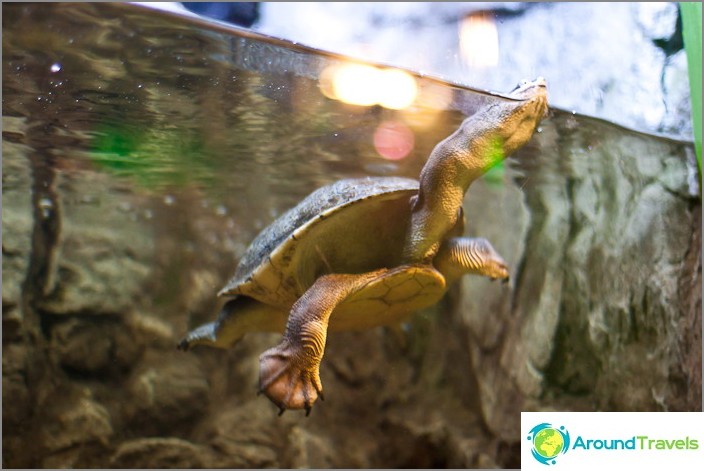 Another highly remembered place is openabove the low aquarium with ramps. There were, besides them, there were still some fish, and even, it seems, the dwarf shark swam (experts, don't throw stones at me!), But one skilled craftsman scattered all the attention of the public, which with a certain periodicity rose vertical glass or wall of the aquarium up, almost touching with his "nose" curious people leaning towards him!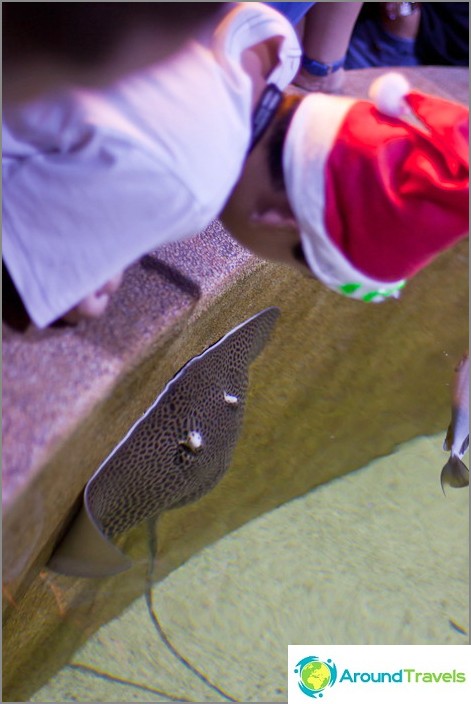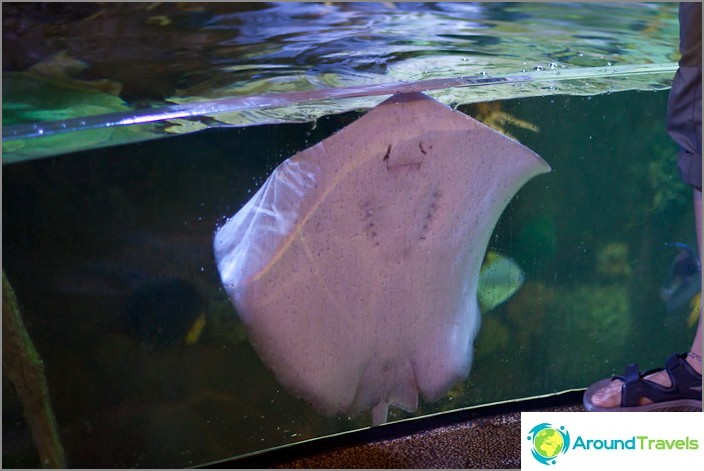 And in the same aquarium there was a funny little fish with bulging eyes, almost half out of the water all the time.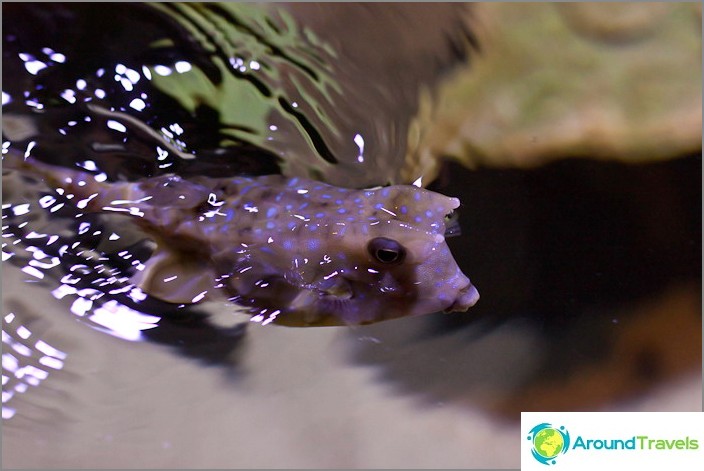 On every (or almost every) aquariumhours are written when the inhabitants of this dwelling are fed, which is convenient if you want to wait and see how piranhas, for example, are attacking food (do they attack?). But we didn't get into this feeding clock.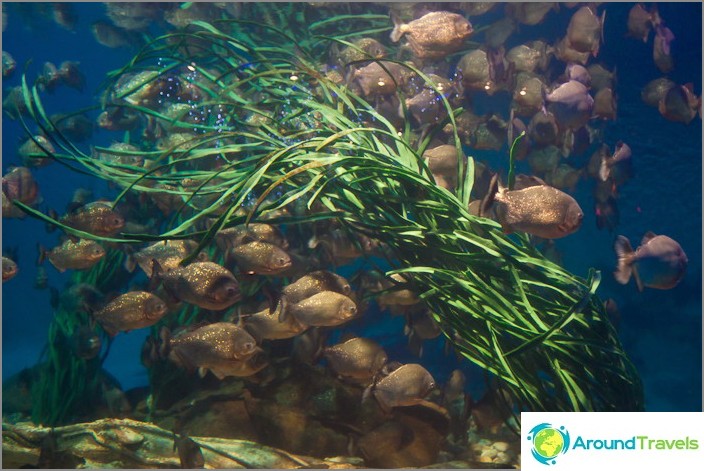 All visitors, especially children, watched with pleasure and simply for the daily life of the inhabitants of the Kuala Lupmour aquarium, and there were many of them and they are all very different.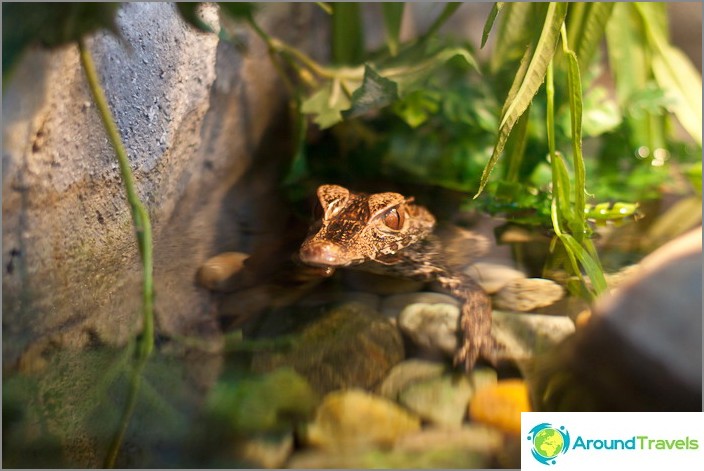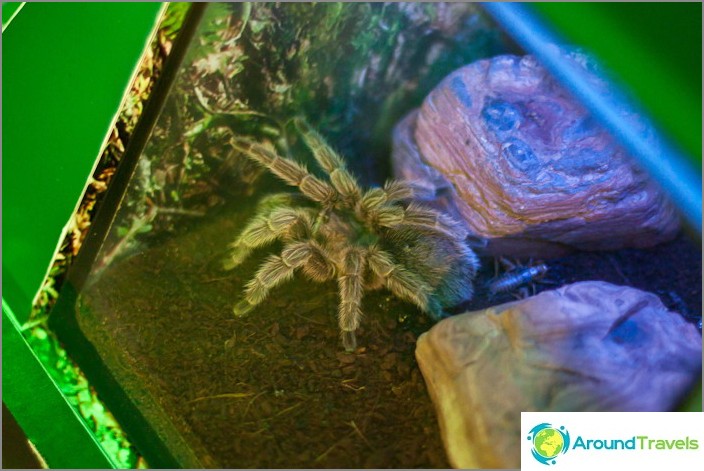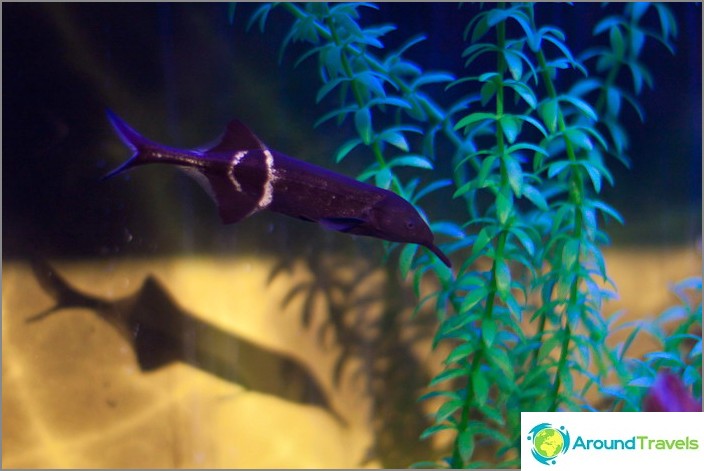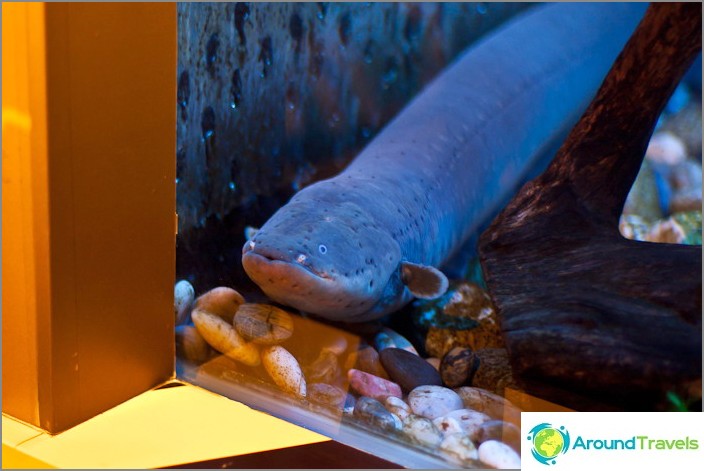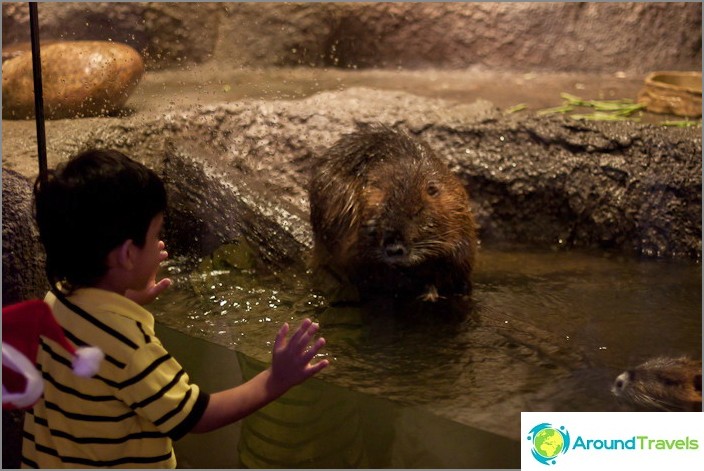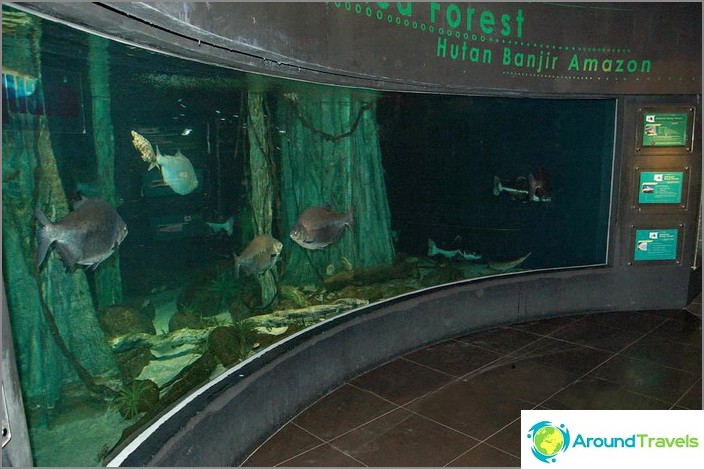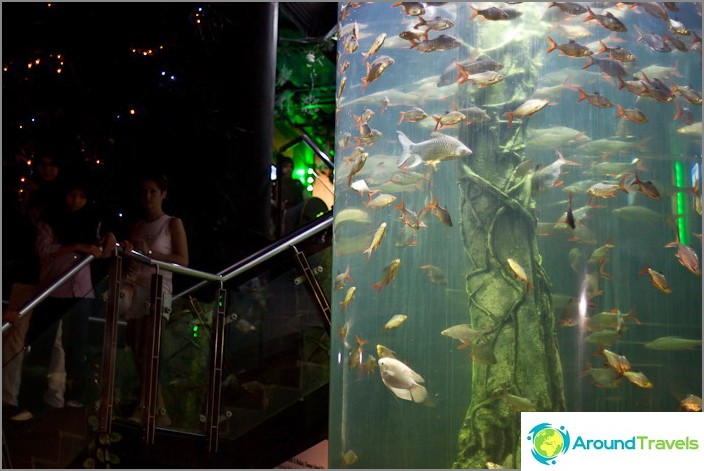 Well, and of course, that the highlight of the program wasthe longest glass tunnel, above and around which huge stingrays, turtles and, most interestingly, sharks dwell. It was especially interesting to look at them closer after all this news about Sharm el sheikh.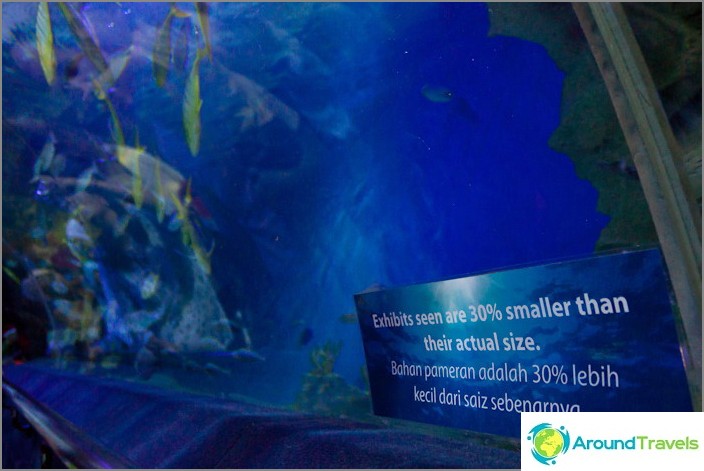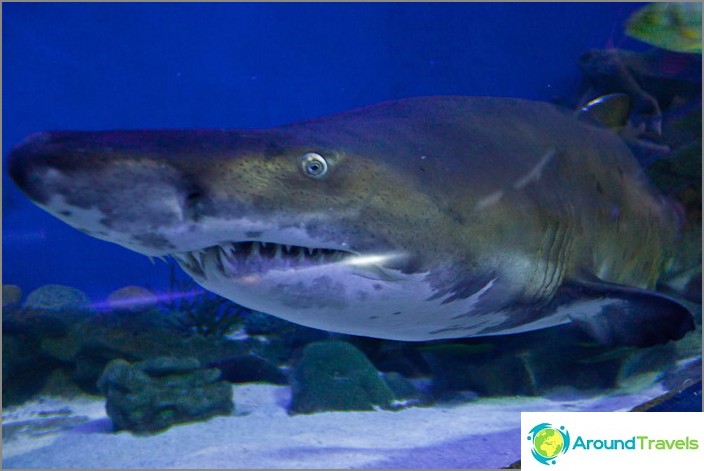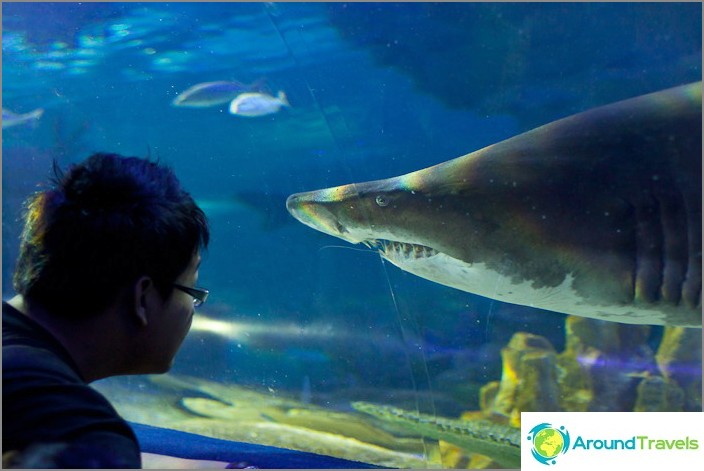 These creatures are healthy, these creatures ... And these huge teeth are not teeth that are bent inwards, a huge, jawed mouth, horror in general. Even behind the glass did not feel safe!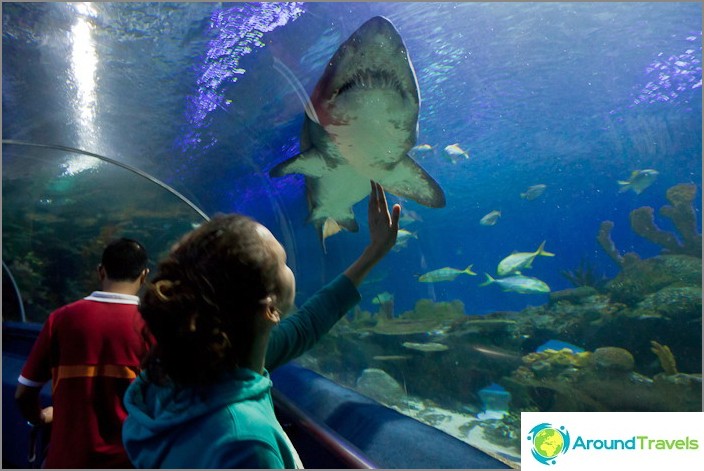 </a>
But when you move away from them and see how aroundvarious beautiful fishes are swimming you, gracefully, as if a huge ramp is flying over you, or a giant turtle is swimming in business, and you realize that you are, in fact, walking along the bottom of the ocean and you have a unique opportunity to observe from the inside what is actually a person watching not given ... And there is some strange, irrepressible desire to reach out and touch well, at least to the glass, which, in general, almost everyone does. I can describe all these delights for a long time. Probably, this place made such an impression on me, also because my element is water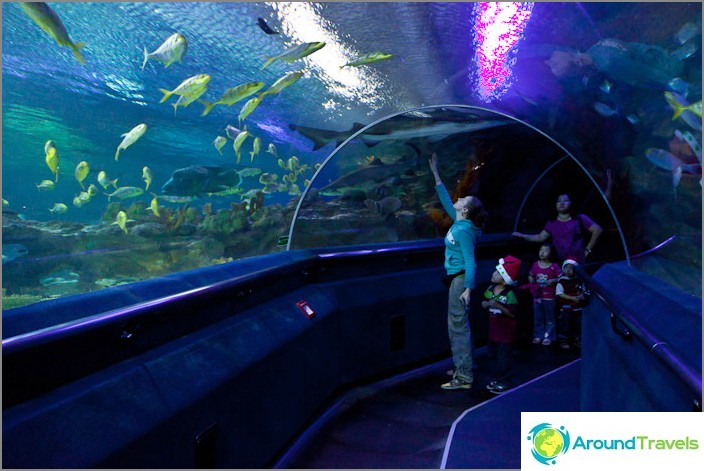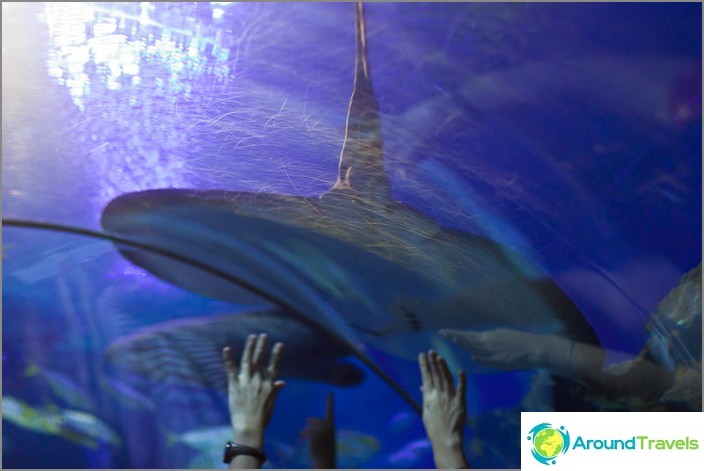 Even through the tunnel floated such wonderful"Smiling" creation, which we ourselves called "emoticons". It seems that they are very friendly, maybe it's just because their mouth (even with its mouth can hardly be called) looks like a smile. This animal loves to swim just above the tunnel, so with your head thrown back, you can see how a smiling creature almost flies over you and so much fun from it!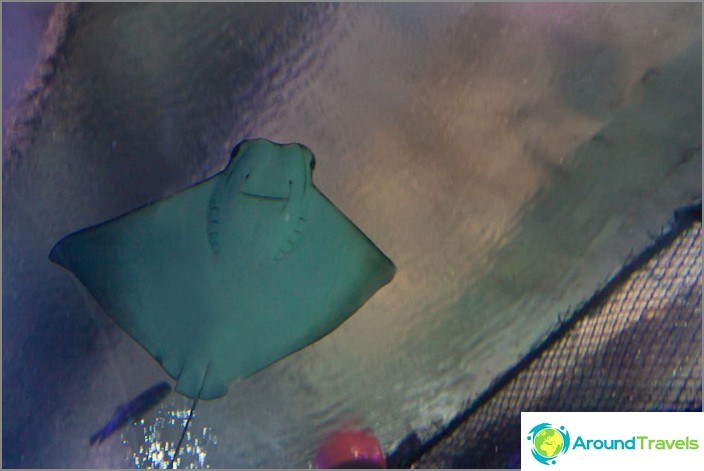 And other animals stuck at the top of the glass for a long time did not move, giving the opportunity to see and capture yourself. Up close, she looks like a stranger on her face.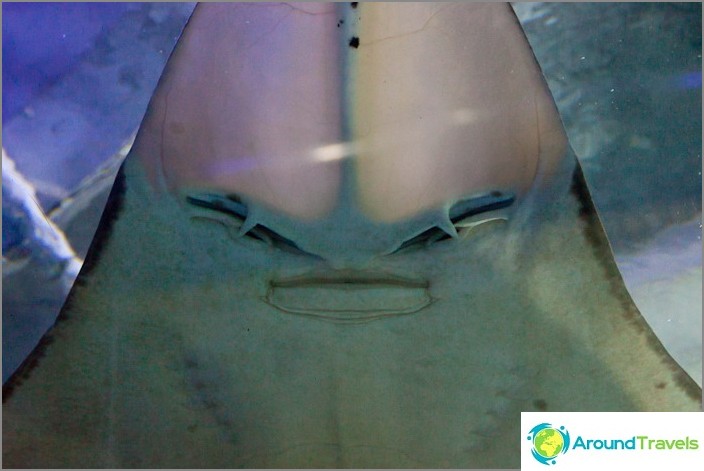 We went through this tunnel several timesback, looking, studying, trying to realize where you are, what is the water column above us and who surrounds us. Well, of course, capture all these wonders of nature on the figure, which is not so easy in the dark.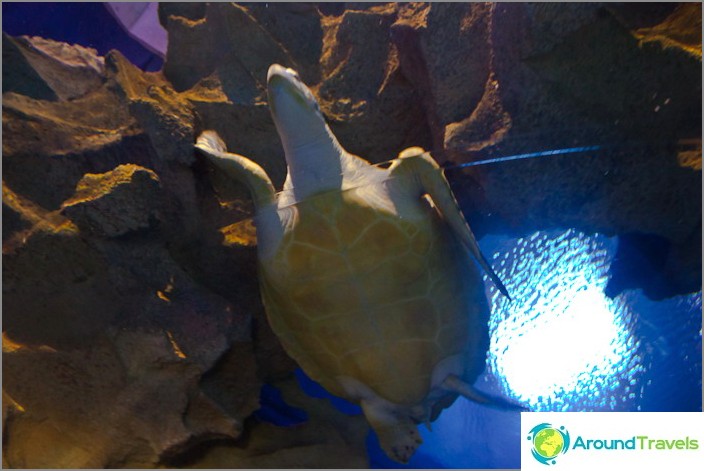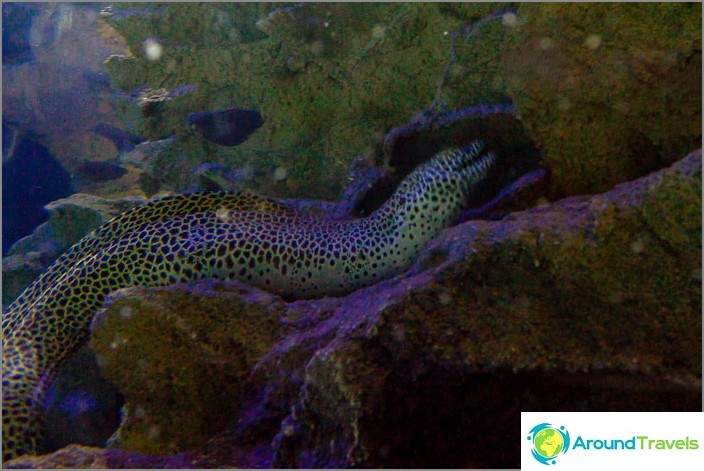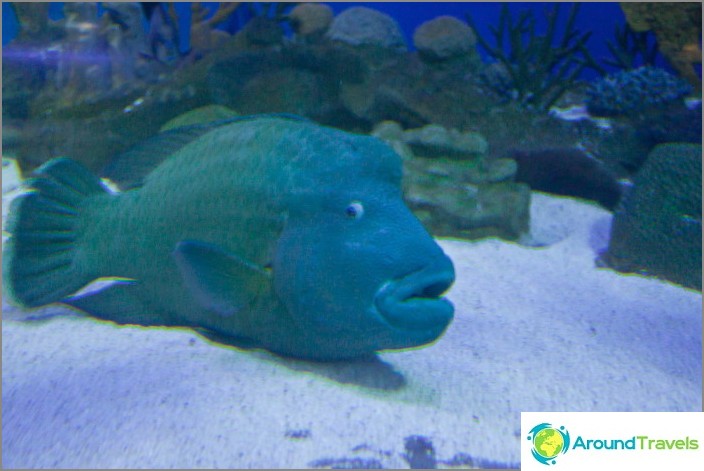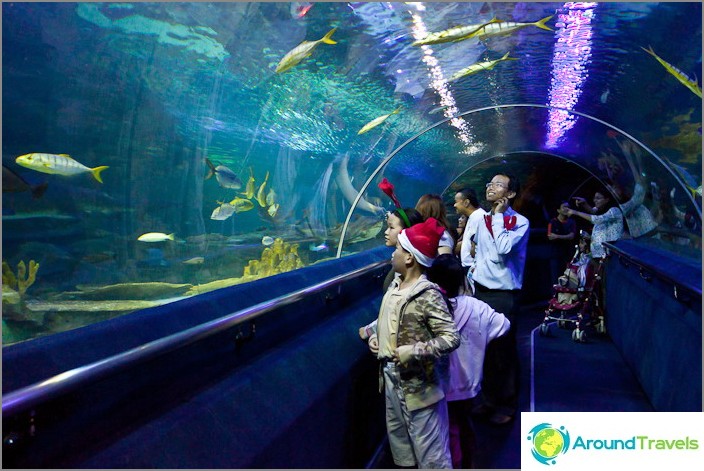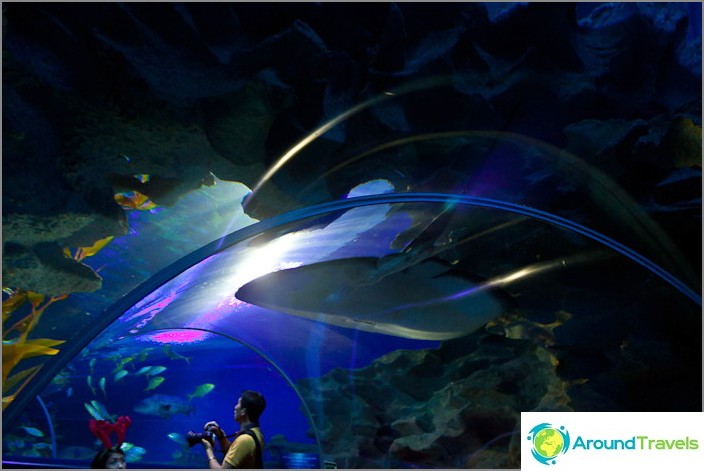 Useful information on the Kuala Lumpur Aquarium (Aquaria KLCC)
? This Kuala Lumpur landmark is located on the lower floor (level C) of the Convention Center KL, next to Petronas towers. Entrance through the parking lot.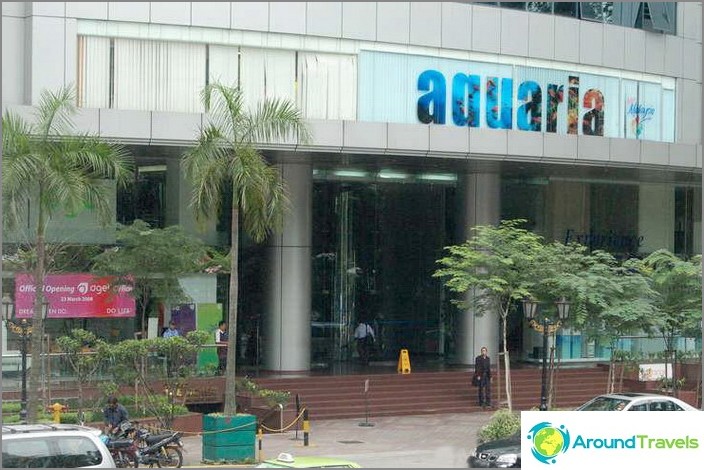 If you made a mistake and went to the exhibition center without standing, follow the signs.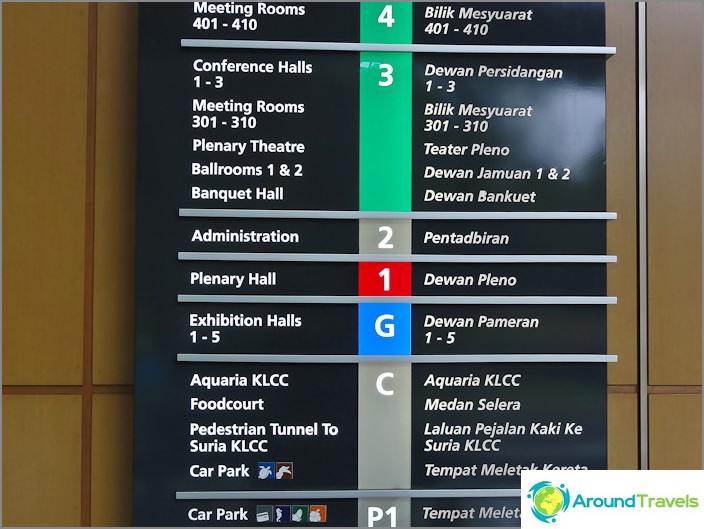 Information to visit
Tickets are purchased at the box office of the aquarium. An adult costs 69 RM, children - 59 RM.
Ticket prices at Kuala Lumpur Oceanarium can be viewed on their official website.
Short video
Life hacking 1 - how to buy a good insurance

Choosing insurance is now unrealistically difficult, so to help all travelers, I compile a rating. To do this, I constantly monitor forums, study insurance contracts and use insurance by myself.

Life hacking 2 - how to find a hotel 20% cheaper

First, choose a hotel on Booking. They have a good offer base, but the prices are NOT the best! The same hotel can often be found 20% cheaper in other systems through the RoomGuru service.

Discount hotels