The Phuket Aquarium is located at the south endCape Phanwa, ten kilometers from Phuket Town. Next to the naval base and the pier, where a research vessel is permanently moored, which belongs to the aquarium. The full name of the attraction is the Phuket Aquarium and Marine Biological Center. That is, they not only keep sea animals and fish for the spectators' fun (well, there's not without it), they also conduct scientific work - they carry out research and assessment of the marine and coastal flora and fauna in the Andaman Sea and the Gulf of Thailand.
The content of the article
Phuket Oceanarium
From Phuket Aquarium, as well as from Phuket Zooyou should not expect anything special. And the reviews about him, as a rule, are not very good, and I personally understand why. The aquarium itself is made qualitatively, civilized, modern, all the rooms and interior details are illuminated, nothing is broken anywhere, there are cool fish and there are some interesting examples in places, in general, there is something to see. But he is very small! That is, in fact - this is one floor and you can pass it well, on the strength of twenty minutes.
If you set a goal and read all the inscriptions, bya few minutes to examine and photograph each submitted instance — then it will take minutes ... well, forty, not more. In my opinion, Phuket Aquarium is a landmark, which is better to watch "along the way", that is, quickly jumped in, looked and went to look for really interesting places.
The entrance to the aquarium, of course, is inexpensive, butStill, for an attraction here there are not enough items of admiration. For me this way, here it was possible to make everything somehow more interesting and catch more living creatures, the benefit that the sea is near by. When comparing immediately remembered aquarium in bangkok and in Kuala Lumpurwhich are really huge, are veryfor a long time and there are a lot of things, but here - like a cat wept. Probably, if you have already visited Phuket Zoo, where there is a small aquarium, then there is no sense to go here. It is clearly better than at the zoo, but not to such an extent as to pay for a ticket - you will not see anything fundamentally new here.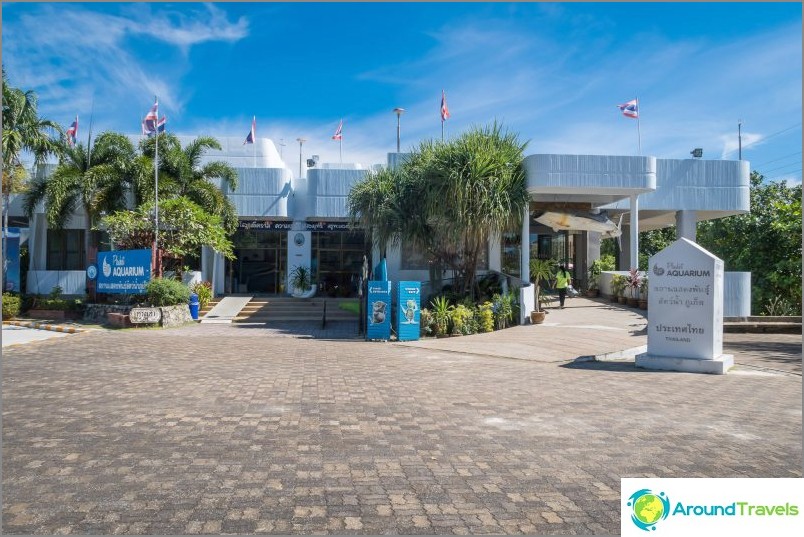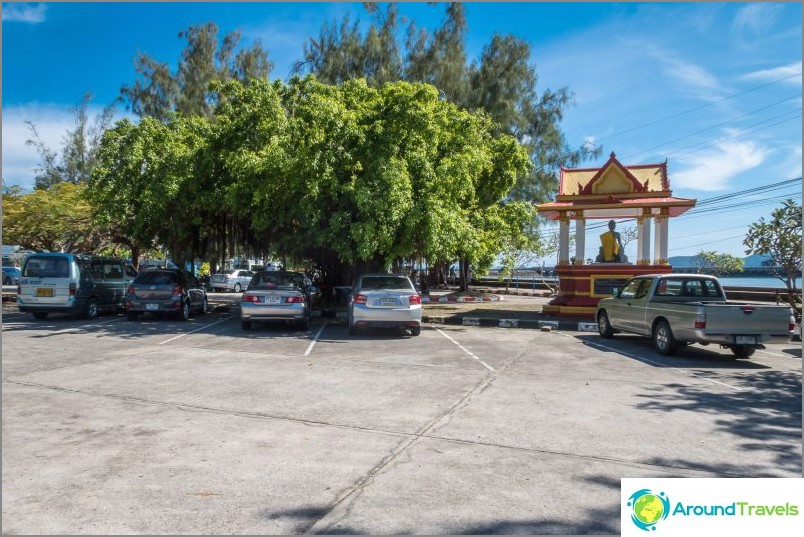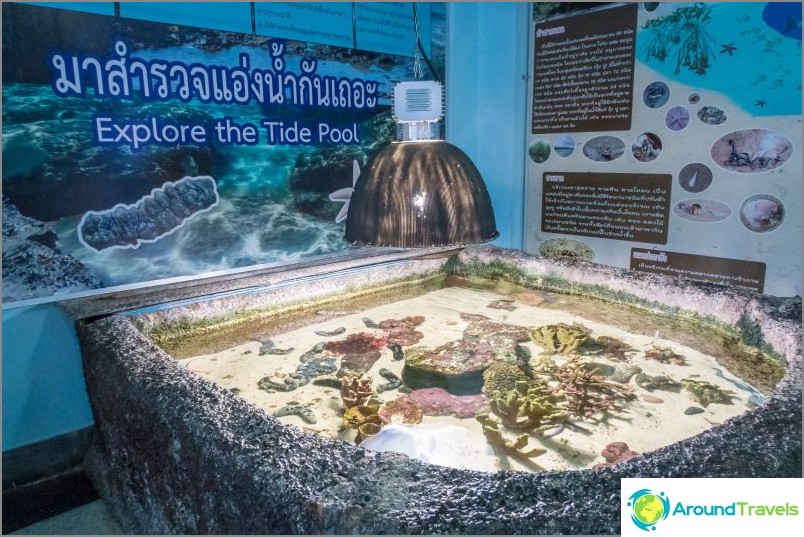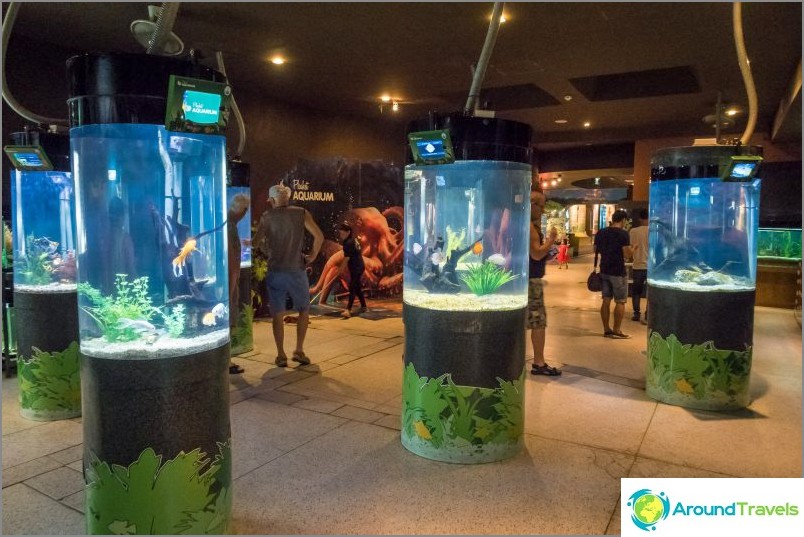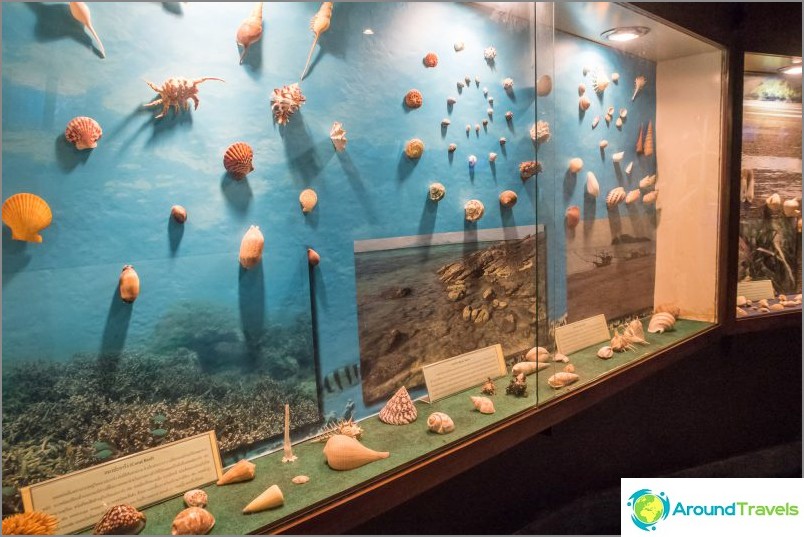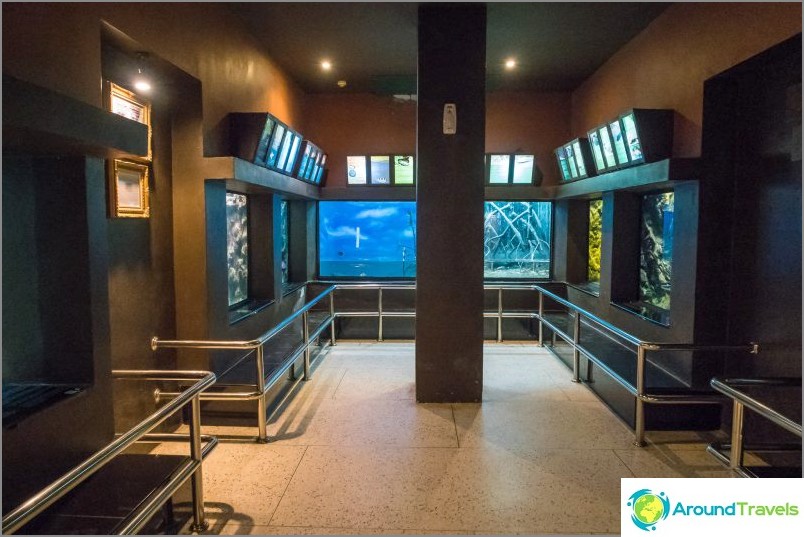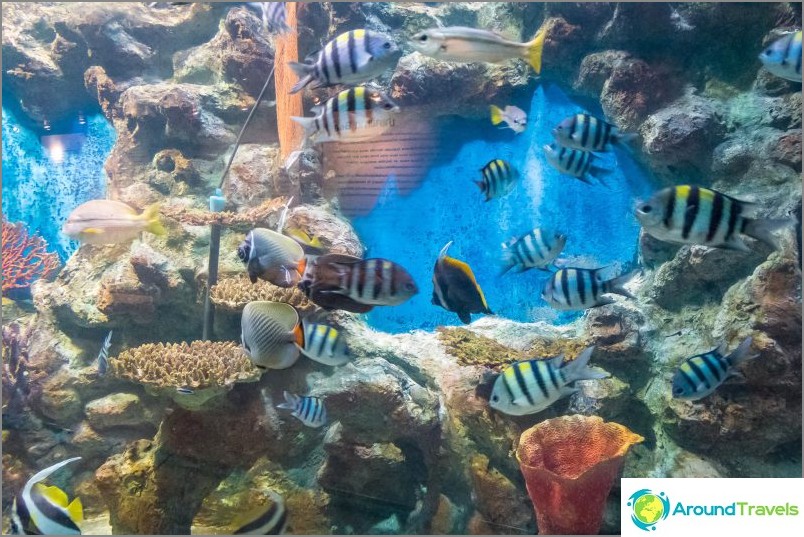 Inside the room plays nice music, there isa cinema hall, where movies are shown in Thai with English subtitles. The animated mermaid is commenting on something, everything is cool, but foreign children will not read the subtitles, especially non-English-speaking children.
In general, this whole place looks more like a scientificinstitution, rather than a tourist attraction, which is likely true. It is possible that the aquarium is an additional project of the marine research center for the amendment of the financial situation.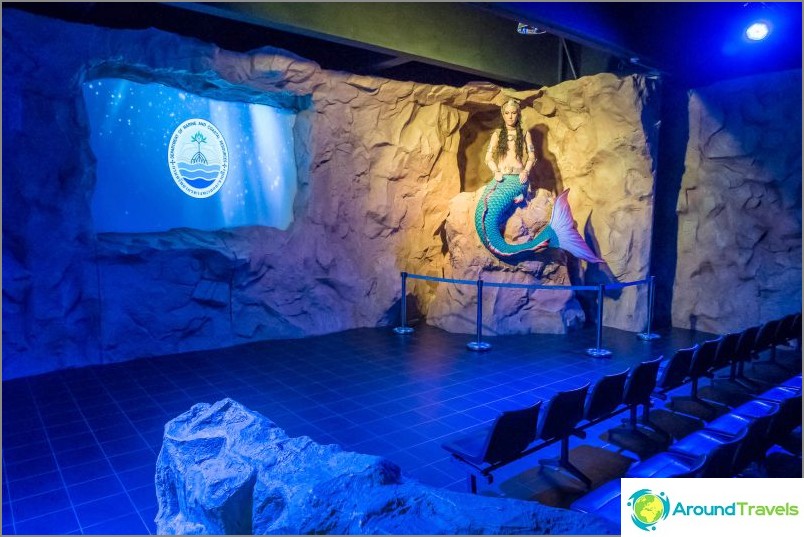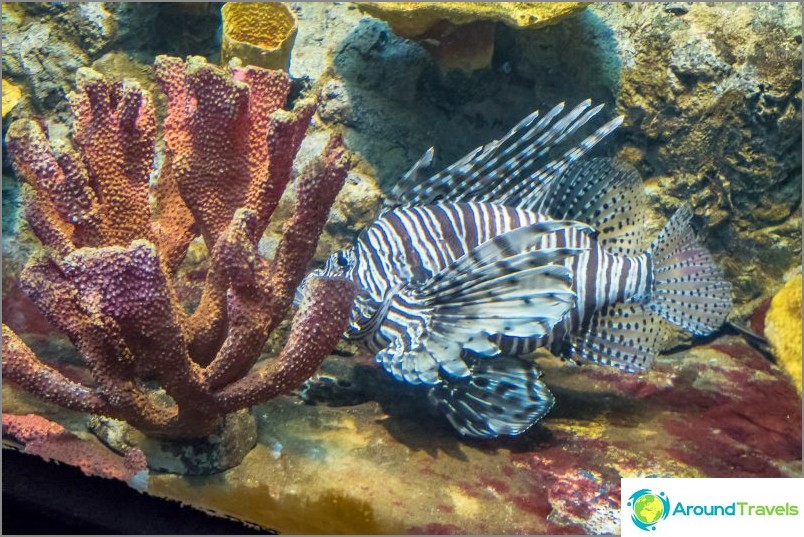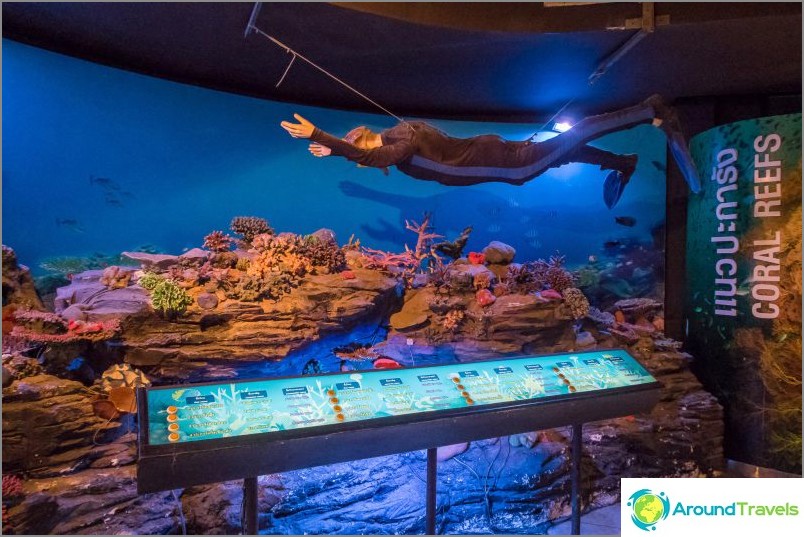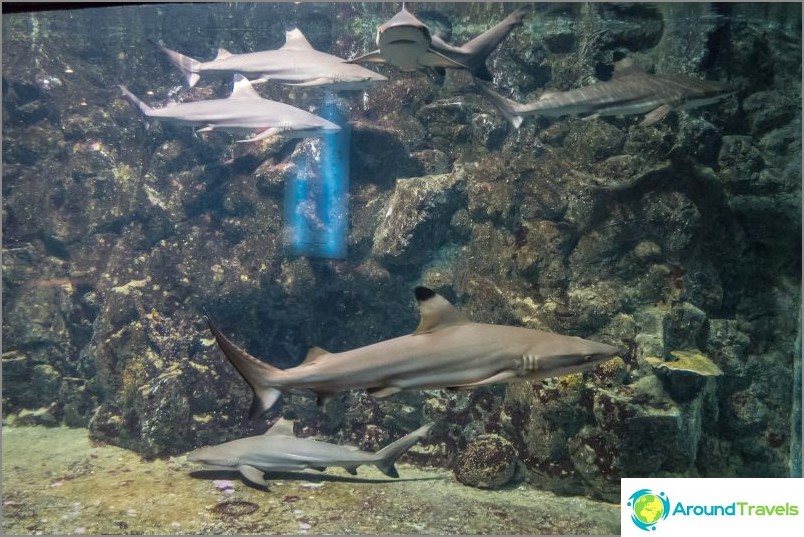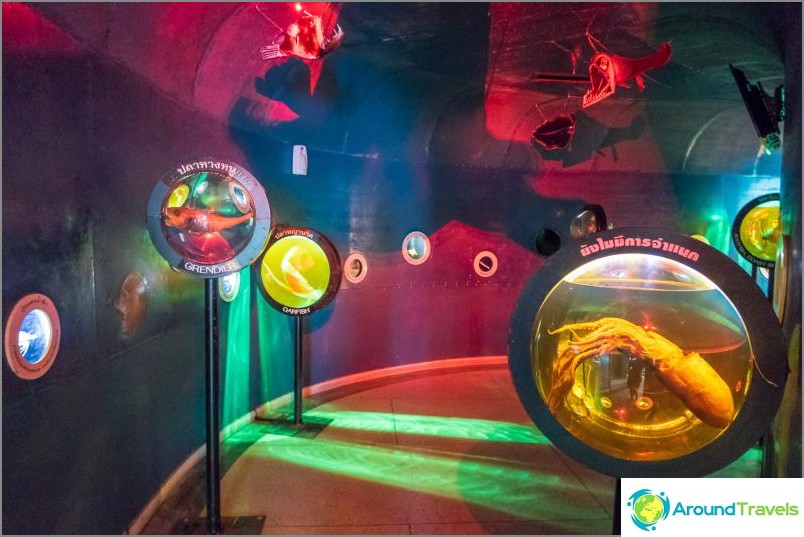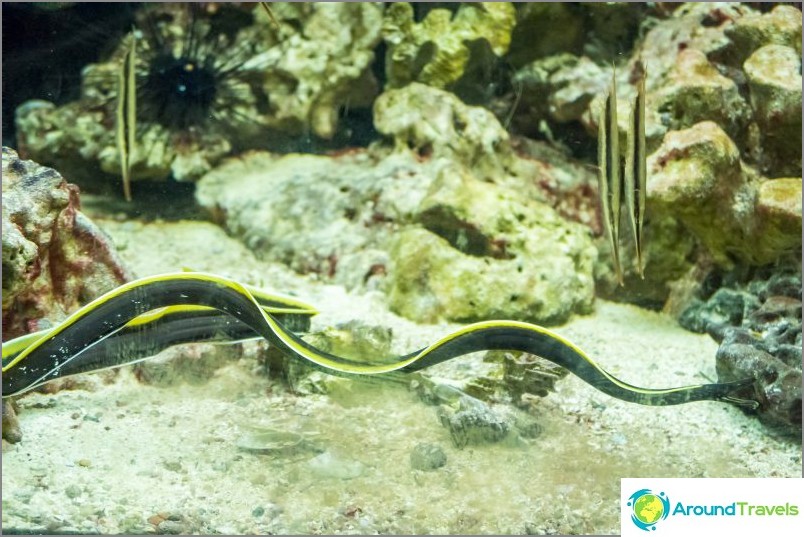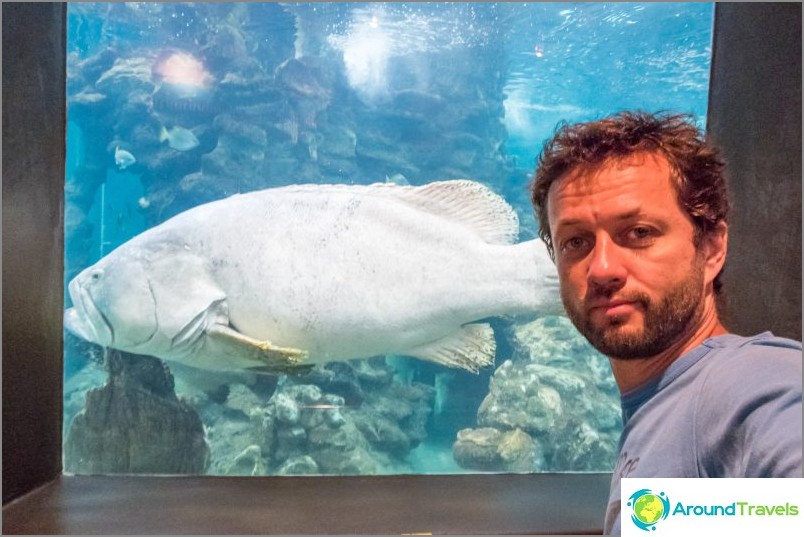 In the Aquarium there is a "type of underwater tunnel" -a glass tube, but this tunnel is only five meters long. At the same time they shoved there, for some reason, a traveler, as if these five meters were something irresistible for a tourist.
I suspect that this was done tothe people did not crowd and did not create traffic jams on peak days of visits, which is understandable - the passability here is quite high and the people find themselves quite dofiga. And it would be fine with all this, but - under the water there is no one. I did not see the promised stingrays, nor the fierce sharks, driving through a five-meter tunnel at cosmic speed. The most interesting thing that I managed to see there was a turtle and some kind of fish trifle. I do not know, maybe I was just unlucky and there was some hour of sleep or feeding, but the fact remains that there was no life in the water.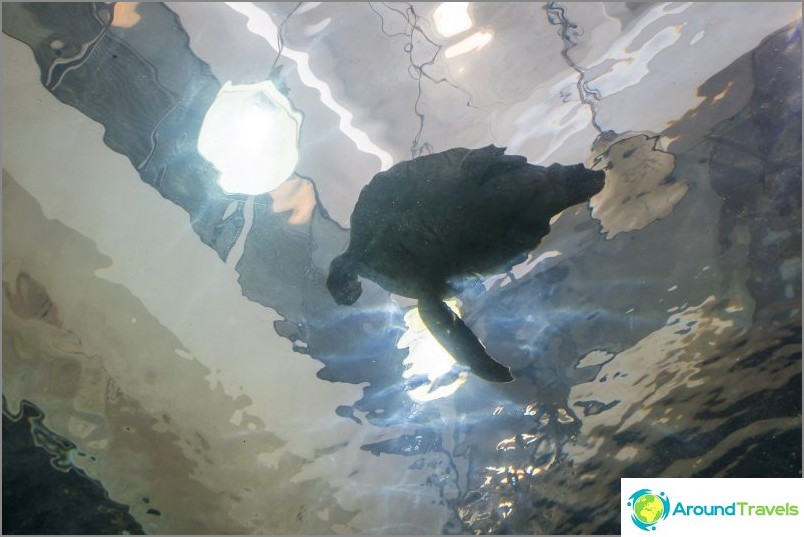 On the path to the pool with turtles
The exit from the attraction is organized through souvenira shop, and if after the gift shop you didn't go straight to the exit, but turn left from the glass door, then there would be something a la "natural trail" with different plants. A walkway along the sea, equipped for pedestrians, with eerie placards with a tortoise rupture and various signatures like "trash kills turtles".
After about 150 meters at the end of the track youfind a pool with turtles, it will be right after the pier. And here it is already worth seeing, because the pool is open, and at arm's length there are huge turtles of half a meter length swimming. I would say that I liked these turtles more than the rest of the aquarium. Moreover, you can see this pool for free - it is marked on my map.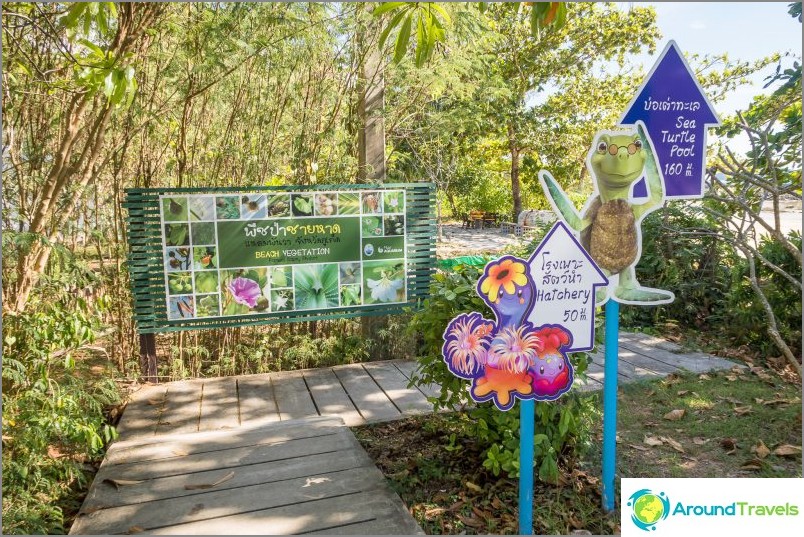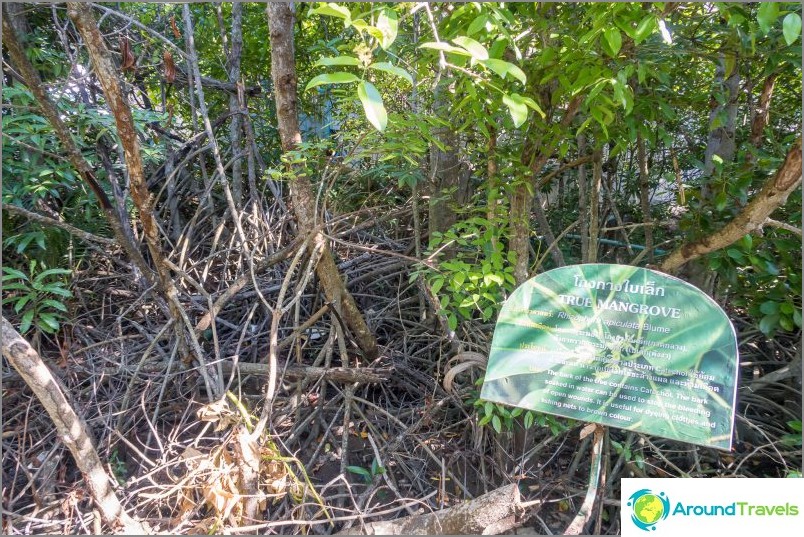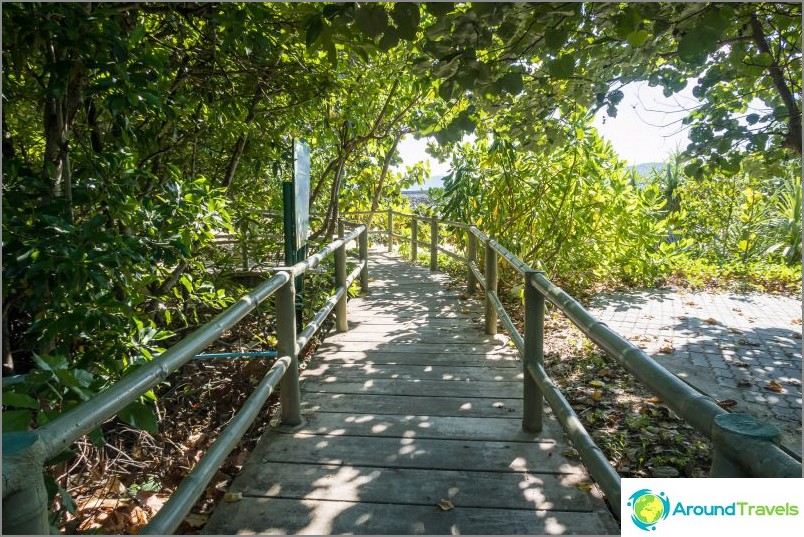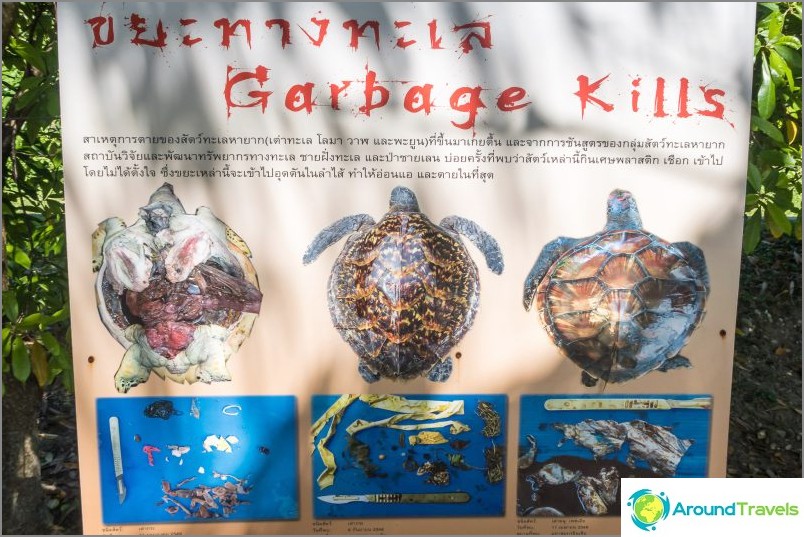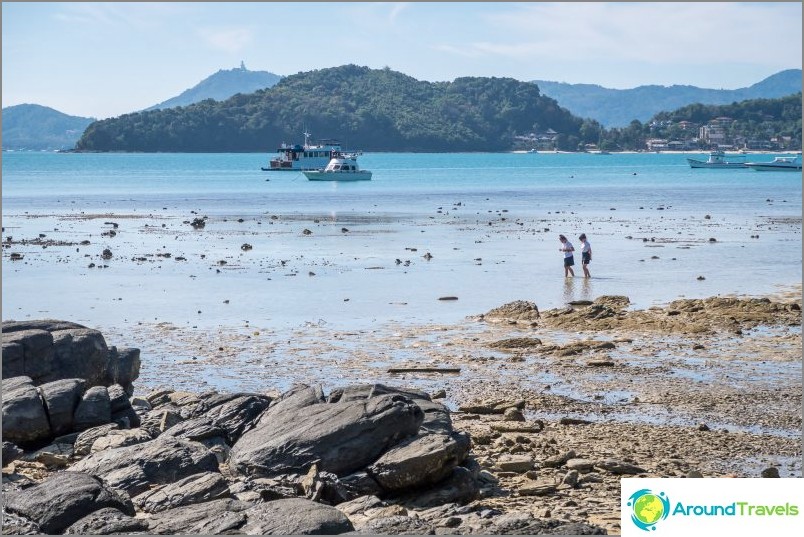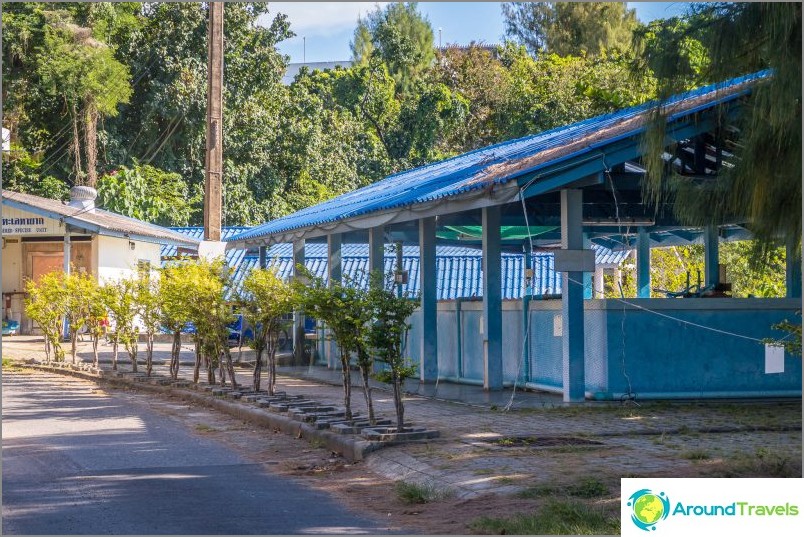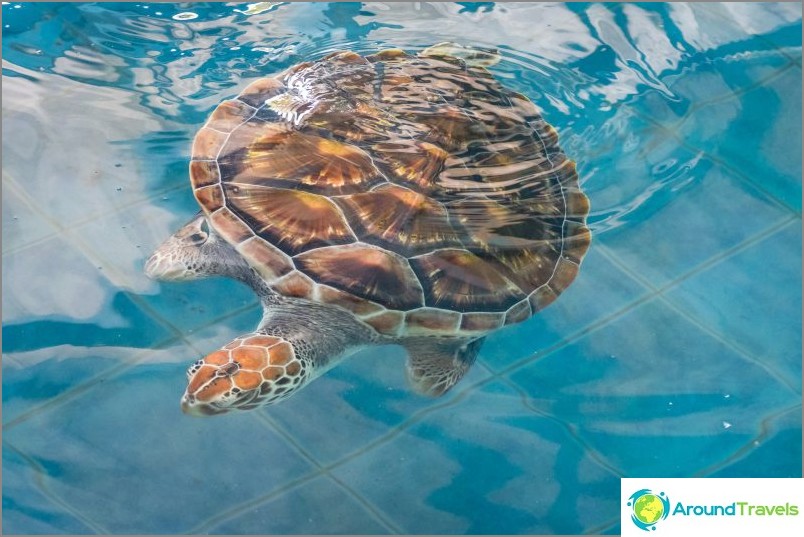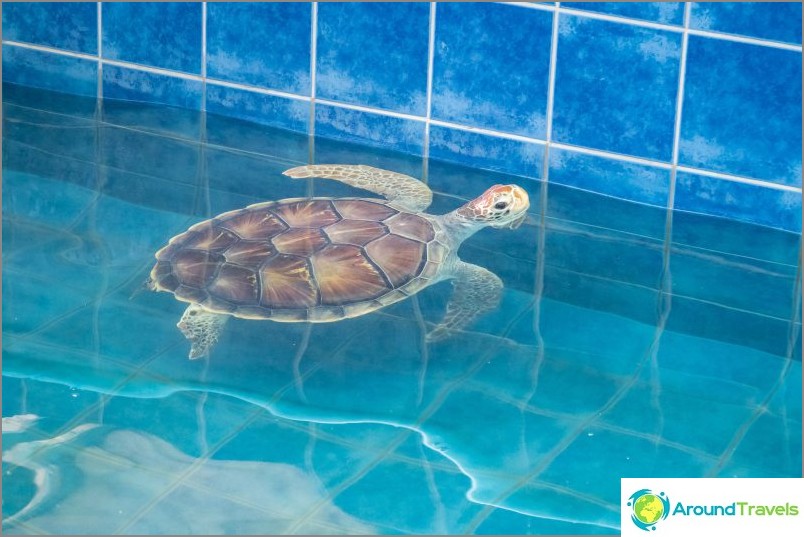 Cape Panwa Embankment
If you are in the aquarium, it will not be superfluous to walk along the embankment. The beach is so-so, but the place is pleasant, atmospheric is. Plus there are cafes.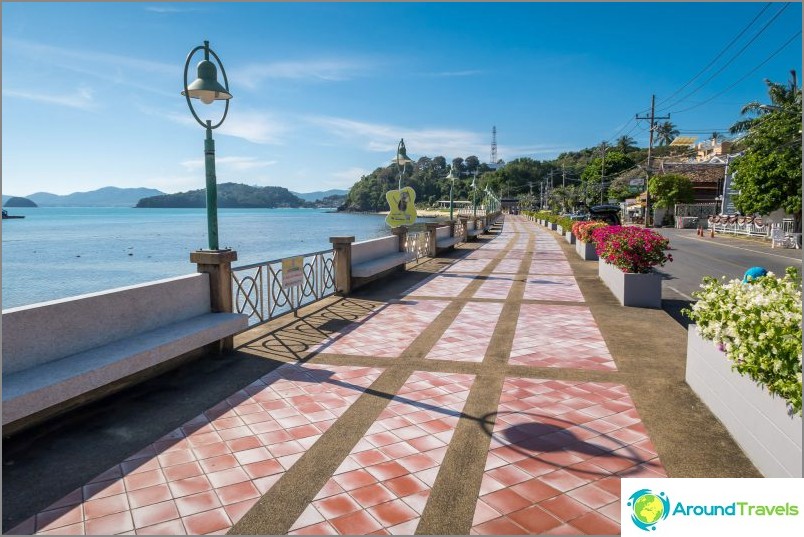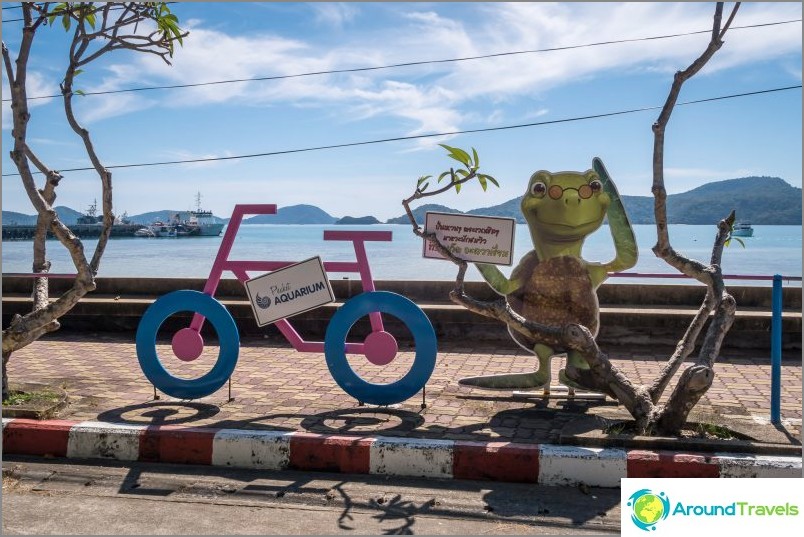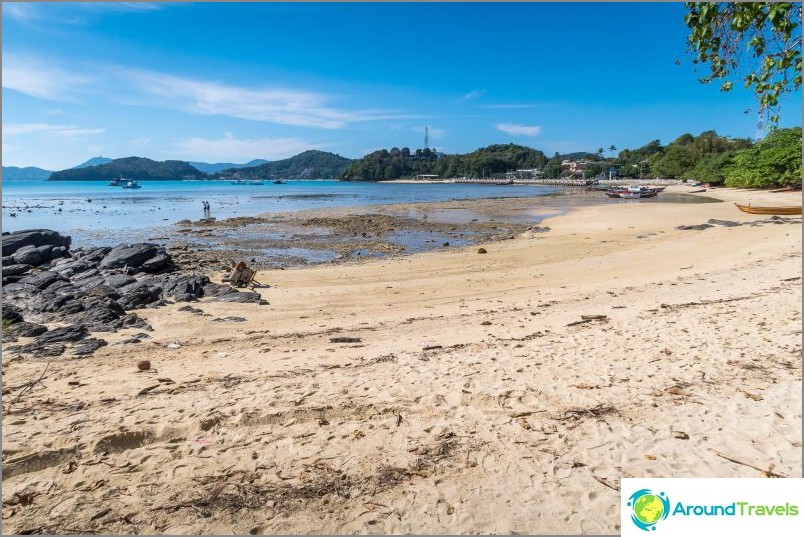 Information to visit
Entrance fee - 180 baht per person, child - 100 baht.
Opening hours of the Phuket Aquarium: from 8-30 to 16-30, but the cashier closes already at 16 o'clock, so you should not be late. At 11 o'clock feeding the inhabitants, which was called the fiding show. Every half hour in the cinema hall they begin to spin a ribbon about fish. There is a fish spa for 150 baht in 20 minutes. I recommend to come here closer to closing, just have time to slowly examine everything, without a crowd. Although it may, on the contrary, it is worth focusing on the time of feeding, it may be more interesting.
Before entering the aquarium there are some good cafes where you can meet the sunset. From the neighboring pier, you can rent a longtail to the neighboring satellite islands.
On the map
Phuket Aquarium and around
Phuket Aquarium and around:


Life hacking 1 - how to buy a good insurance

Choosing insurance is now unrealistically difficult, so to help all travelers, I compile a rating. To do this, I constantly monitor forums, study insurance contracts and use insurance by myself.

Life hacking 2 - how to find a hotel 20% cheaper

First, choose a hotel on Booking. They have a good offer base, but the prices are NOT the best! The same hotel can often be found 20% cheaper in other systems through the RoomGuru service.

Discount hotels