I am writing to you from the distant 2554 year. How are you doing there in your 2011? Do you still drive cars? Is Medvedev still a president? Okay, kidding, we are not from the future, just this year we celebrated the New Year in Thailand. We started with the one that is older, good, he was the first in time. In order to meet the new year in Thai most in Thailand, we decided, so to speak, to merge with the crowd, and for this we went to the fireworks festival at 700 Year Stadium.
But we were not so smart, hugethe number of cars on the street an hour before the new year also decided to go somewhere, so we stuck in a huge traffic jam, and from some point we even started to mentally prepare that we were destined to meet the New Year in Thailand in a minibus. But the driver, having felt something was wrong, quickly bypassed us to the stadium, so five minutes before the New Year we flew among Thais and farangs looking at the sky with hope of the sky and Khom loi flashlights soaring everywhere. And as soon as we managed to install the equipment, the countdown began, and immediately at the time of the New Year, beautiful music burst out, people happily applauded, and the sky lit up with beautiful fireworks! And I felt the long-awaited magic, which for some reason did not feel before, while I was walking preparation for the New Year holiday.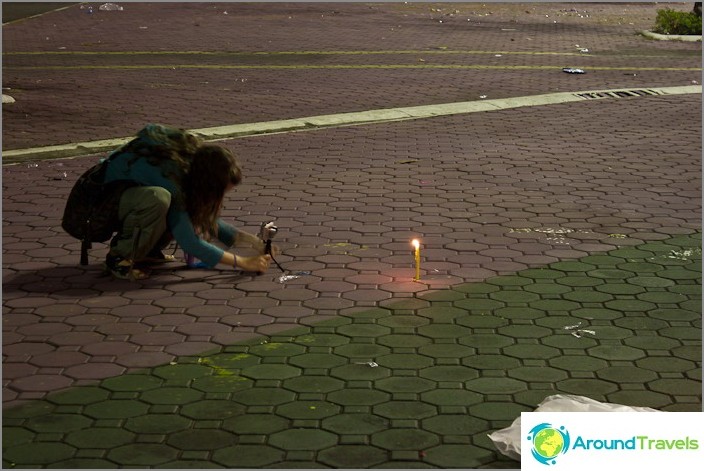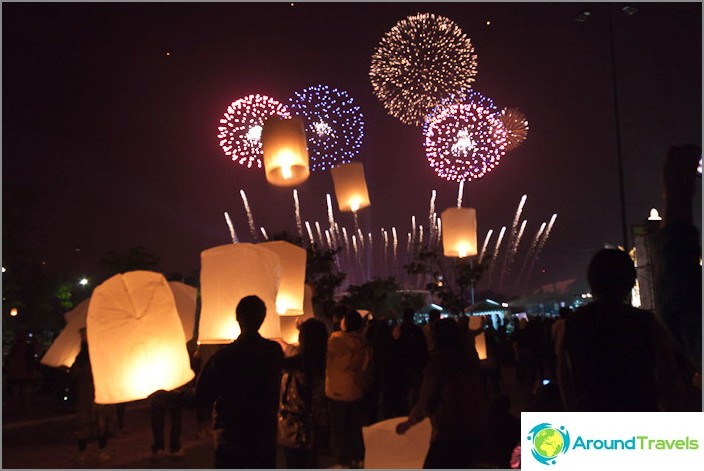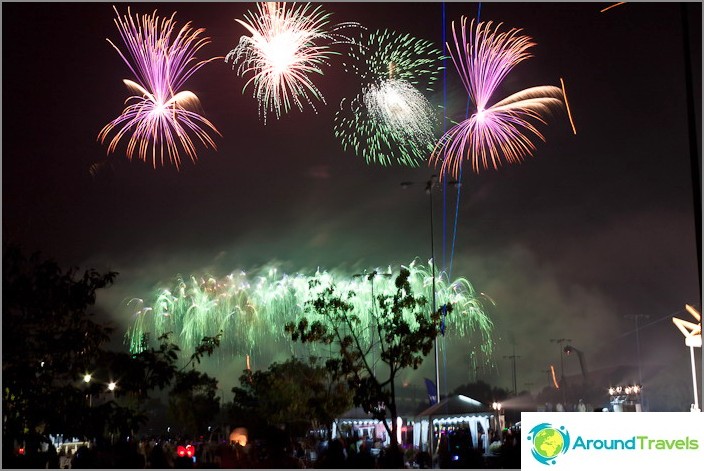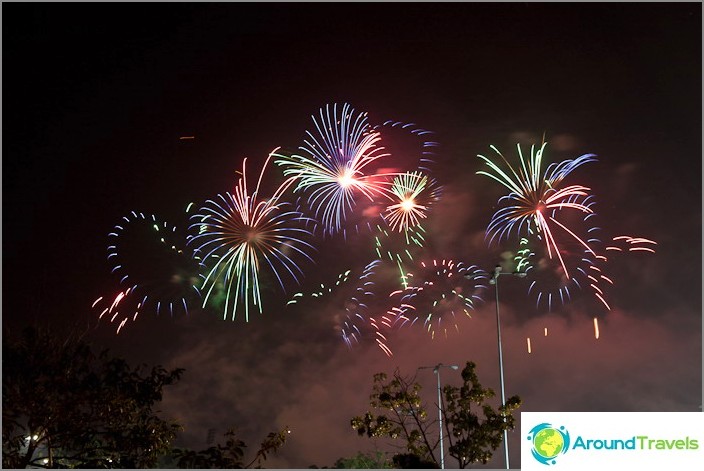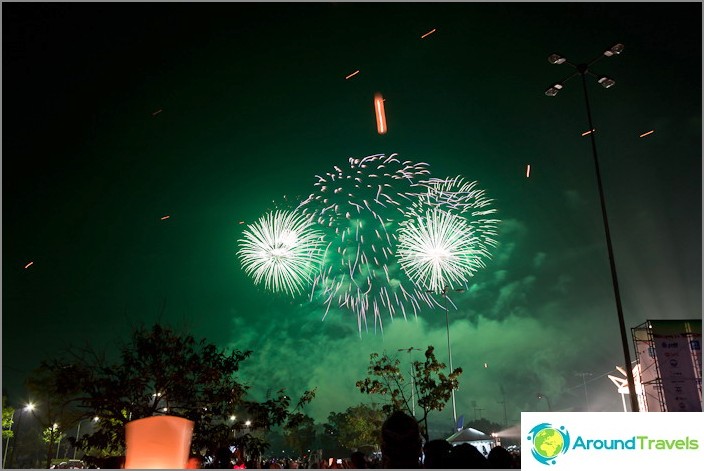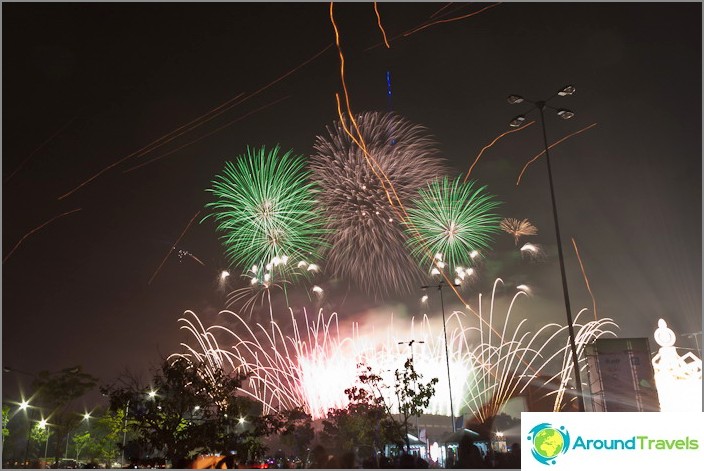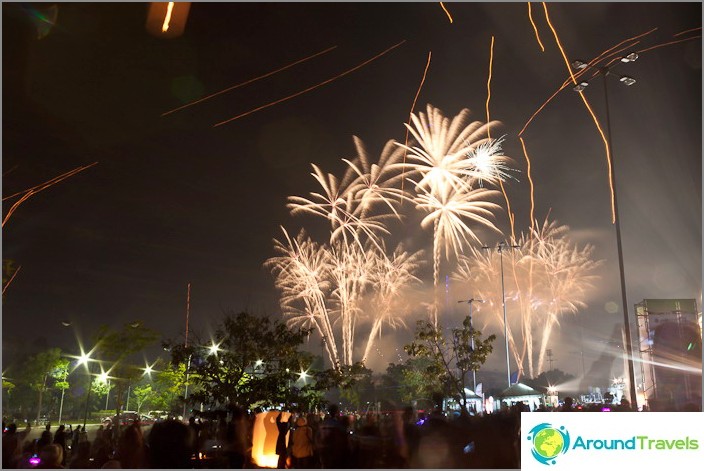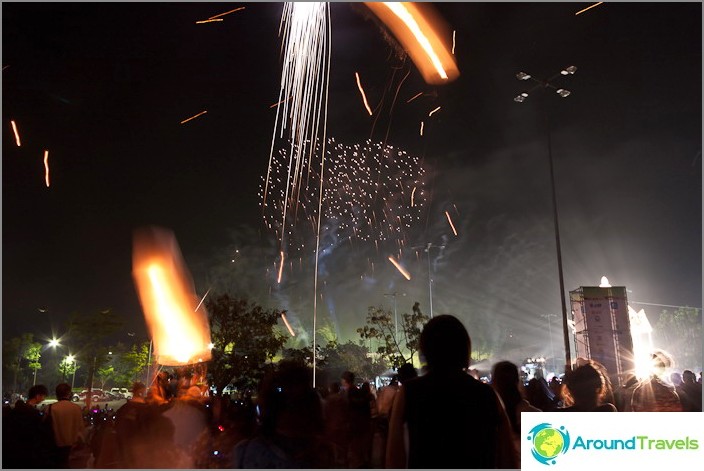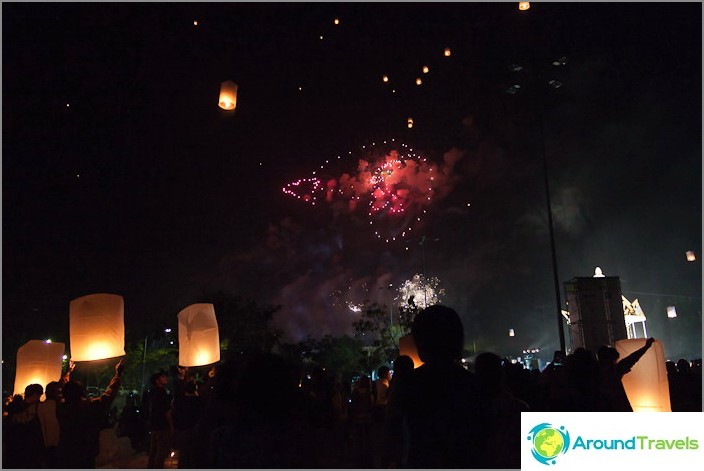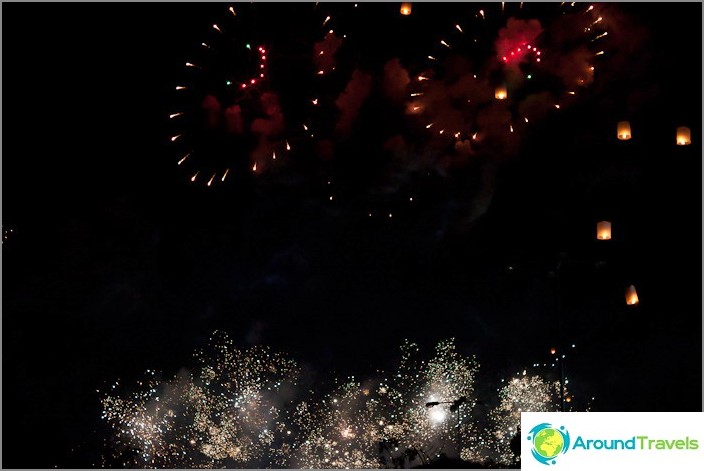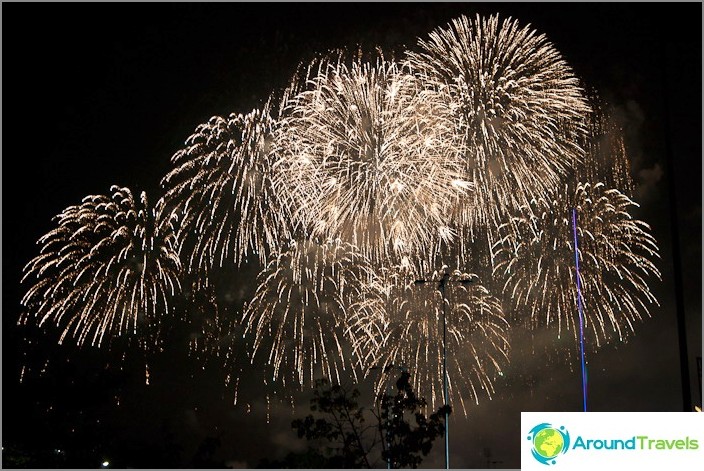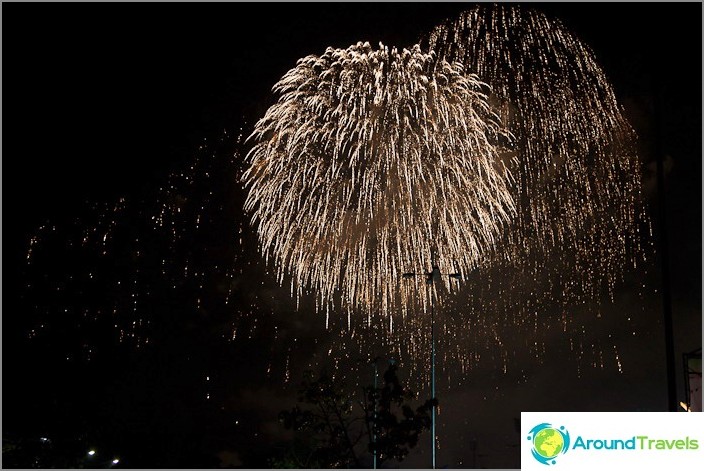 When the first wave of euphoria was asleep, it turnedfinally my long-awaited wish - Oleg and I launched Khom loi (flying flashlight) into the sky! It turns out that this has become a tradition in Thailand and in the New Year holidays. I cannot explain in words why this is so great and this action makes me so enthusiastic, but it is so extraordinary and wonderful! The smiling salesman, who helped us do this, explained in "Thai" English that with a flashlight you need to let something go to the sky, and ask for something. We made a wish and our Khom loi briskly soared into the sky! And around, and everywhere, such big and small luminous flyers flew up, from which the holiday seemed very colorful and was very joyful!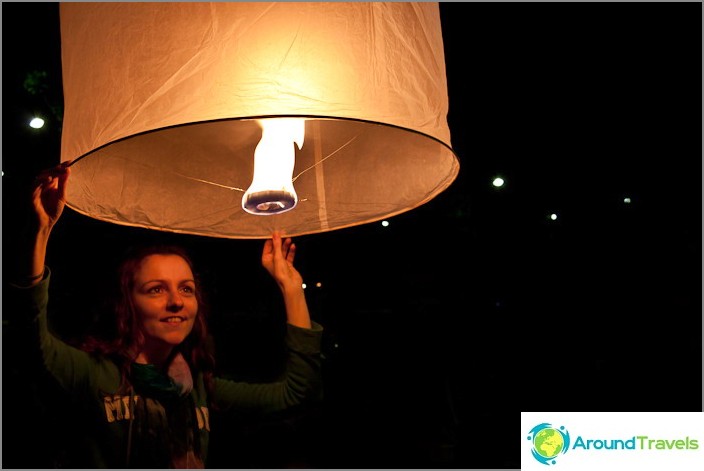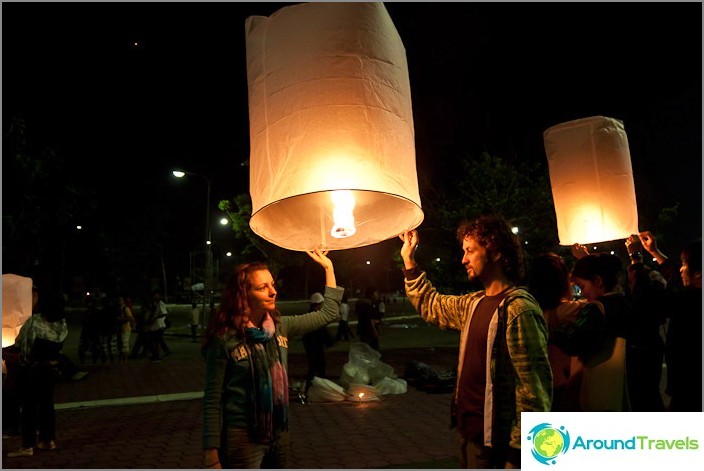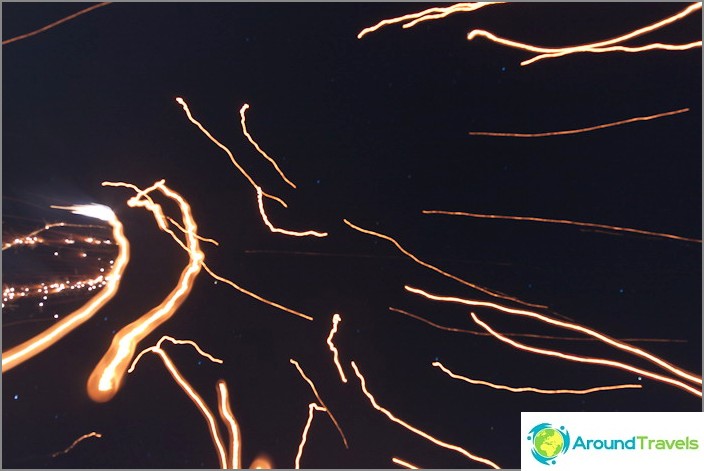 After admiring the salute, absorbing allthe atmosphere of the New Year mood and almost scoring both flash drives on cameras, finally got through to our friend, and decided to move home to get ready for the second New Year's celebration. They caught a minibus taxi at a very reasonable price and drove home alone in the cabin. Although I drove almost all the way to the rear of the car, just like a real Thai.
Well, at home we have prepared a modest holidaythe table (they decided to do without Olivier), downloaded the President's speech to re-create the atmosphere, talked on Skype with their parents, and officially celebrated the Moscow New Year in Thailand for the chiming clock, as befits.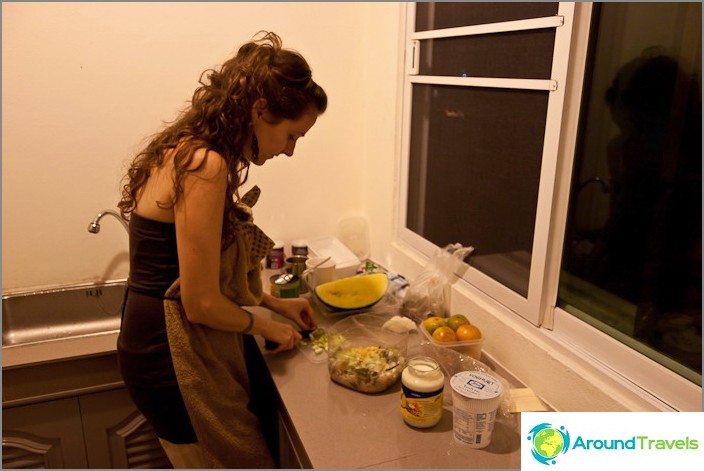 And at the end of the program we went to the street.mastering new entertainment for us so far - freezelight ("drawing" with flashlights in the dark). But dawn was catching up with us, as it was already earlier morning. The city was waking up, the Thais in a nearby cafe could not understand why three foreign farang were huddled in a dark nook and light from all the silos with flashlights. They even came up and asked what we were doing, we explained, showed the resulting photos, and they calmed down and withdrew. I wonder what they thought we were doing? ..
This time we had a little time, but most importantly, we now know what it is, we will try again, there is a whole new 2011 (or 2554) year ahead!
Congratulations to all with the coming New Year! Suppose that this year, and indeed in life, everything is going your best!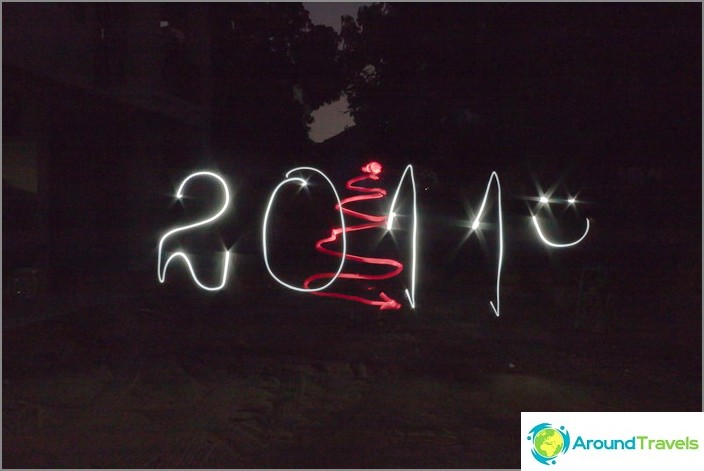 And 3 minutes of video, as we celebrated the new year in Thailand - salutes, launches Khom loi, Russian new year.
Life hacking 1 - how to buy a good insurance

Choosing insurance is now unrealistically difficult, so to help all travelers, I compile a rating. To do this, I constantly monitor forums, study insurance contracts and use insurance by myself.

Life hacking 2 - how to find a hotel 20% cheaper

First, choose a hotel on Booking. They have a good offer base, but the prices are NOT the best! The same hotel can often be found 20% cheaper in other systems through the RoomGuru service.

Discount hotels