This post will be with my impressions andinformation, that is, without a story about the Auschwitz concentration camp itself (I don't know if this is necessary at all) and what happened there. Also there will be few photos. So you can safely read this post, there is nothing heavy in it.
But a little later I'll post the photos separately.concentration camps (or more precisely, two concentration camps) in another post, here they are impressionable, perhaps you should not look. Although, of course, photos, this is not at all ... I recommend to go on your own if you find yourself in Poland or somewhere nearby.
The content of the article
Impressions from the concentration camps
Initially, it was Daria who really wanted to get to Auschwitz, since, for no reason, she began to take an acute interest in this topic after seeing Berlin Wall. For several years now this interest has not disappeared,therefore, it is she who knows much more than me in this matter. Unfortunately, in time she managed to go only to Majdanek (closer to Warsaw, in which we then lived), and I went to Auschwitz. It was impossible to miss this opportunity, especially to the usual sights, I am rather indifferent, and here the trip with meaning.
Moreover, the meaning is likely to be for everyone. The official version says that about 1.4 million people were killed in Auschwitz. Just think about this figure, this is the population of a fairly large city, or several small ones, including old people and children. The concentration camp is the quintessence of human cruelty, a place that can only be thought out in a fevered imagination, a place that cannot be understood ... Therefore, for some, visiting Auschwitz will be a reboot, for others just an unusual attraction. One thing is clear, it will leave few people indifferent and not make you think about something, well, if, of course, a person came here voluntarily.
Honestly, I had some otherexpectations from visiting a concentration camp. I thought that there they would cover me, restart me, I would understand something very important, or something else would happen in that spirit. However, nothing. Some other visitors cried (women mostly), but I have nothing inside, emptiness. That is, I knew with my head how terrible it was, but it was once upon a time, thank God it's not with me, and in general, it doesn't concern me. It may have affected the cheerful sun in the blue sky, warm weather, crowds of tourists with guides, creating an atmosphere of carelessness, security guards, inspiring security. But personally, it was quite hard for me to feel what was there. They say in Majdanek easier, because there are few people there, and crows of crows fly everywhere, whipping up the atmosphere, if you want, you don't want to imagine. However, the trip remained in my memory for a long time, various pictures in my head still pop up and from time to time there is a desire to read something about the camp.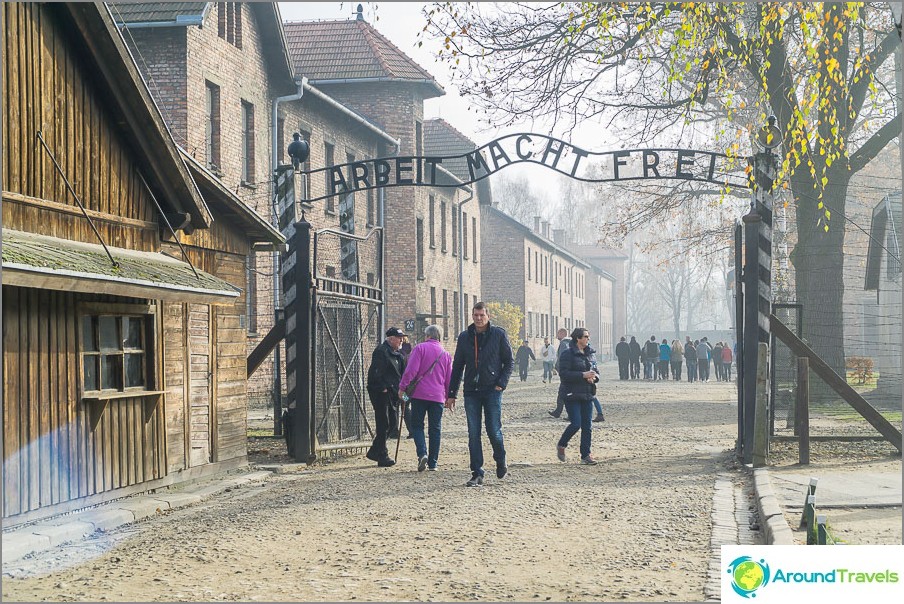 But you know, I really didn't want to allow eventhe idea that suddenly I will stay here now, and the past will come back, it becomes scary from such thoughts and I want to drive them to hell. Before the closing of the museum, when it was almost dark, I was alone near one of the barracks (on the outskirts), I could not go into it, somehow I did not feel at ease. This is me to the fact that there is some kind of internal protest against total immersion. That is, I do not know how to let this fully into myself at all, how you can take and allow the reality of what happened, how can you believe it and try it on yourself.
However, when you look at some thinga prisoner, for example, a fork, then the thought begins to spontaneously spin the plot. That some concrete real person used this thing, he had a family, he had experiences, had plans for the future, he wanted something and dreamed about something, he had a life in the end. And then once, and there is nothing, once crossed out, and only the desire to survive remains, most likely not fulfilled. For each such subject is the story of human life, and sometimes not one.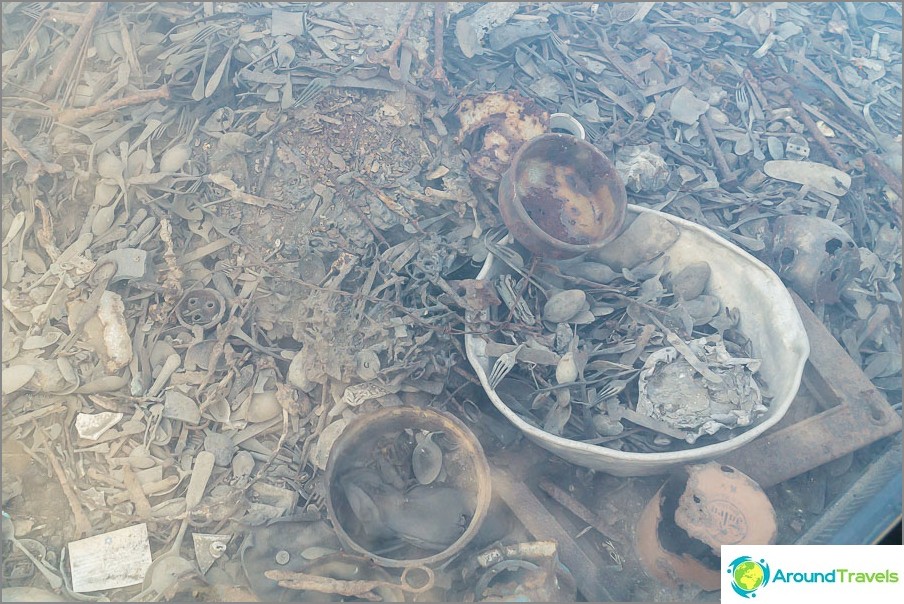 On the other hand, is it necessary to plunge so deeply? Yes, and is it possible in principle? Maybe it is enough just to come, see, draw some conclusions for yourself (even if logical) and go back home? I do not know. In the end, you can not live with a constant eye on how it happens, more importantly what is now. Ideally, one should learn to live, being able to appreciate what is, even small, but at the same time strive to set goals relative to one's current situation, and not how it could be in the worst possible scenario.
I will not tell historical data aboutgas chambers with crematoriums and stuff, all this is enough now in the network (maybe I will add later), so I'll just give links to my photos from the trip. It also makes sense to say that there are those who deny the Holocaust. But for me, in concentration camps, in any case, a lot of people were killed (the nation is not important) and they survived there in inhuman conditions, this alone is enough to talk about, remember, and conduct excursions for the edification of future generations.
Information to visit
Of the site in English
Names Auschwitz, Auschwitz, Birkenau
To avoid confusion I will tell the main thing. Auschwitz is a Polish city, next to which are two camps Auschwitz I and Auschwitz II. Auschwitz is a German name, so the Germans renamed the city of Auschwitz when they captured these territories. When they talk about the Auschwitz concentration camp, they mean this complex of two camps Auschwitz 1 and 2. Also Auschwitz 2 is often called Auschwitz-Birkenau or simply Birkenau. There was another camp Auschwitz 3 (a group of about 40 small camps at the plants), but I did not see reports of their visits (perhaps they did not survive).
Concentration camp Auschwitz 1 has a small territory andconsists of two-story brick barracks. Concentration camp Auschwitz 2 has an area 4 times larger (it's impossible to cover everything with an eye), and most of the barracks in it were wooden, therefore there is not much left (only brick one-storeyed ones and wooden renovations remained). It makes sense to see both camps. Because the first one is impressive with the prisoners' things and exhibitions, and the second is the magnitude of everything that happens, as well as the reconstruction of the barracks where people lived (you can go inside and try to feel what it is like to live there).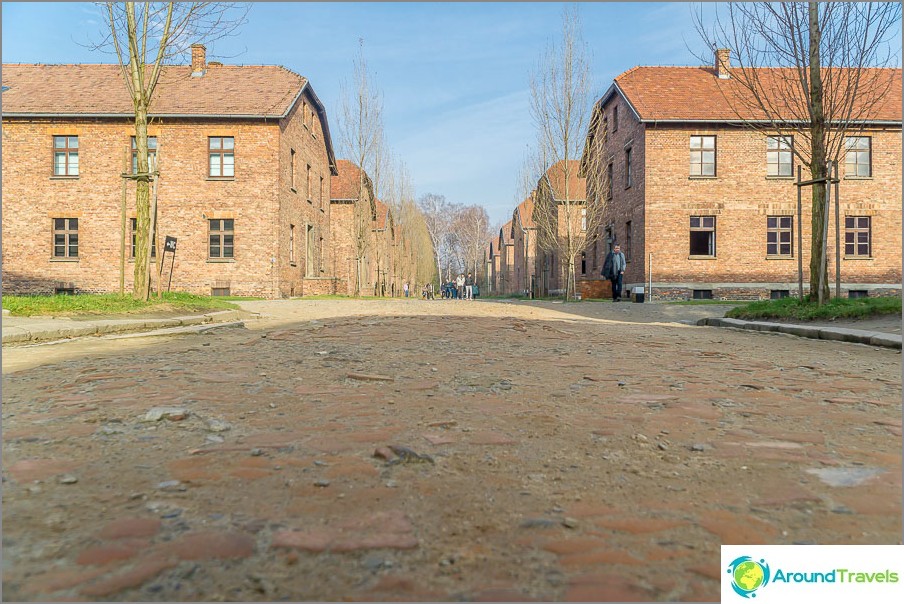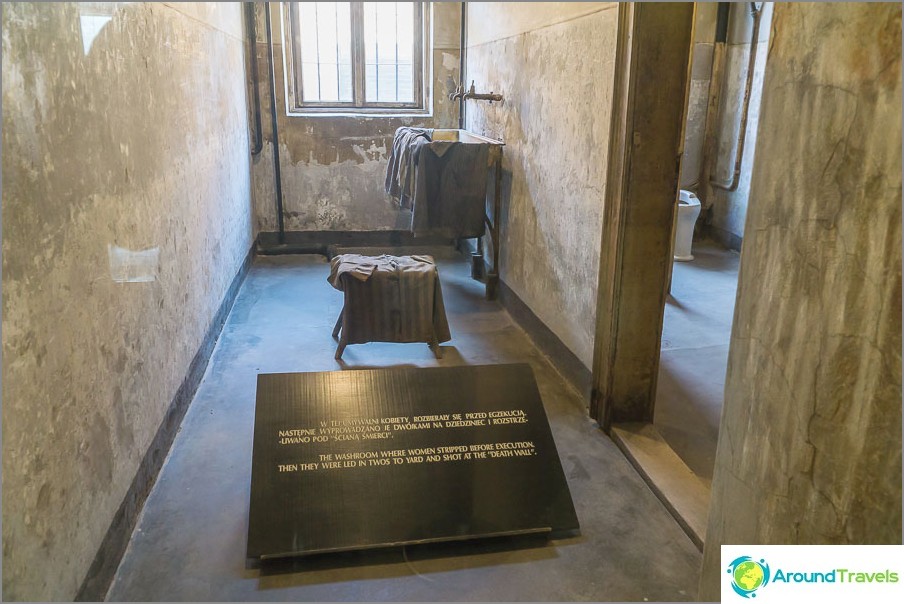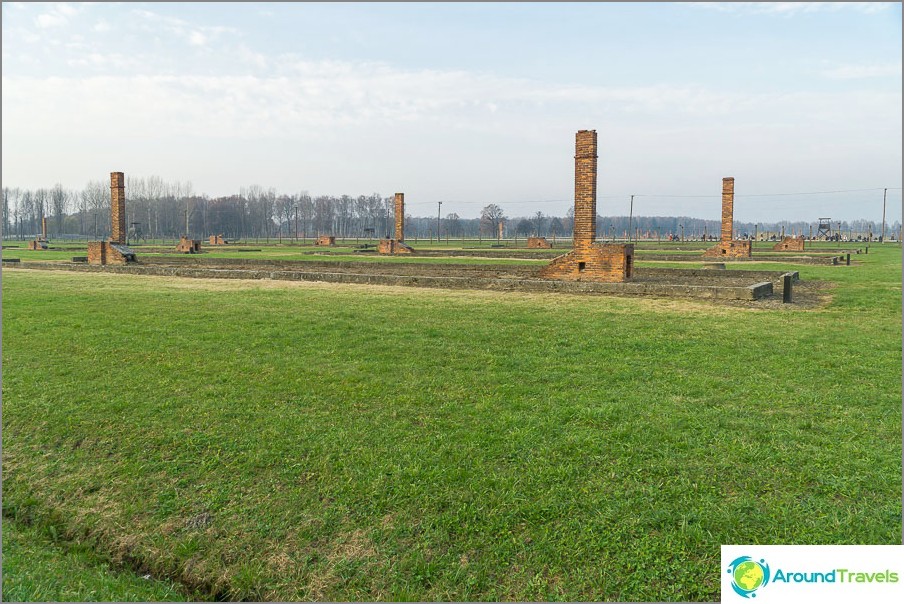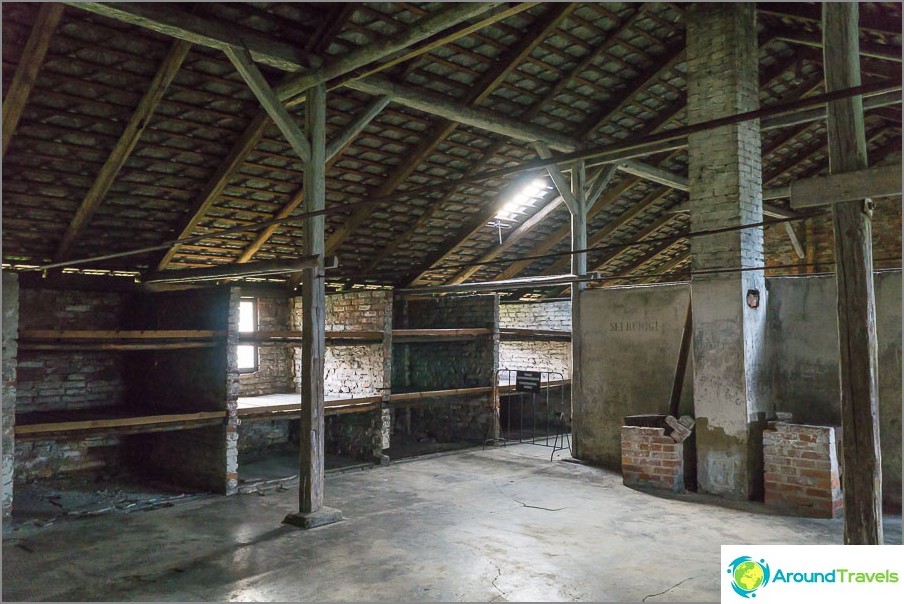 Where to stay in Auschwitz
Near camp Auschwitz 1 (opposite the entrance) there is a good one. Hotel Oleckiwhere you can spend the night or to visitconcentration camps, or after. It is also convenient because it has free parking, you can leave the car there, and you can easily wander around the sights (if you can call them that).
Working hours
The opening hours of the museum Auschwitz-Birkenau varies from time of year, or in fact from darkness. When it is dark, there is nothing to do in the camp, and there is almost no lighting there.
From April 1 to October 31 from 10.00 to 15.00 entrance to the territory of Auschwitz 1 only as part of excursion groups. Apparently too many people come ... And to enter the territory of Auschwitz 2 there are no such restrictions.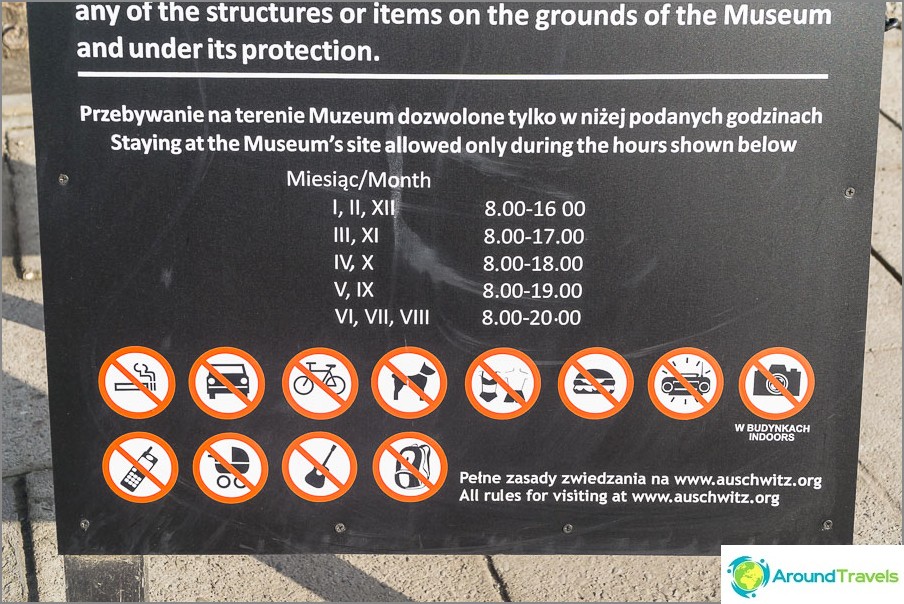 Auschwitz Tour
Time for everything about everything should be laid no less4-5 hours, and even more, if you want, really, to see everything. I spent about 6.5 hours and I almost had enough. Despite the fact that the first camp is smaller, I was there longer in time, because there is more to see. In the second camp I walked more, overcoming distances. Take comfortable shoes, you will have to walk a lot (especially if you go to the second).
With a guided visit, it will turn out muchfaster, because the guide only leads on some objects. Also, you will learn many interesting things, that is, you will not have to read the Internet in advance. But during the excursion, it seems to me, there are much less chances to penetrate, because everything is pretty fast. In a good way, either read in advance and use the map on the spot without taking a guide, or take a guide, and then also take a walk without him.
Group tours are conducted mainly onEnglish and Polish, every half hour / hour depending on the time of year (from November to March less often). In Russian there is only one group excursion at 11.30, it is held from May to August, costs 40 zł per person. However, you can order an individual excursion (in advance on the site already for 2 months), costs PLN 250 per group, time can be different, you can be up to 10 people. The tour takes about 3.5-4 hours. During the tour, you will be given headphones, through which you will hear everything that the guide says, even if he is walking ahead of you and not facing you, it is convenient.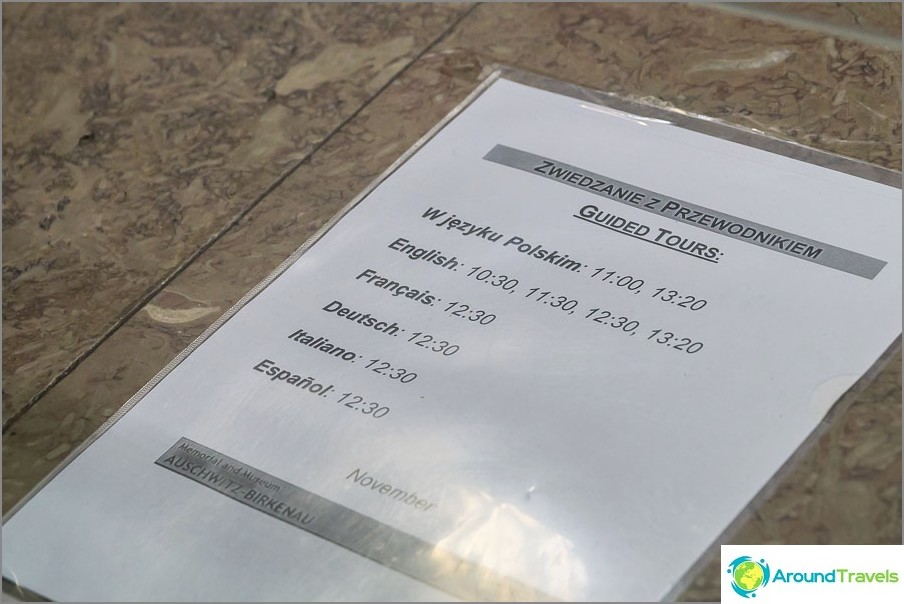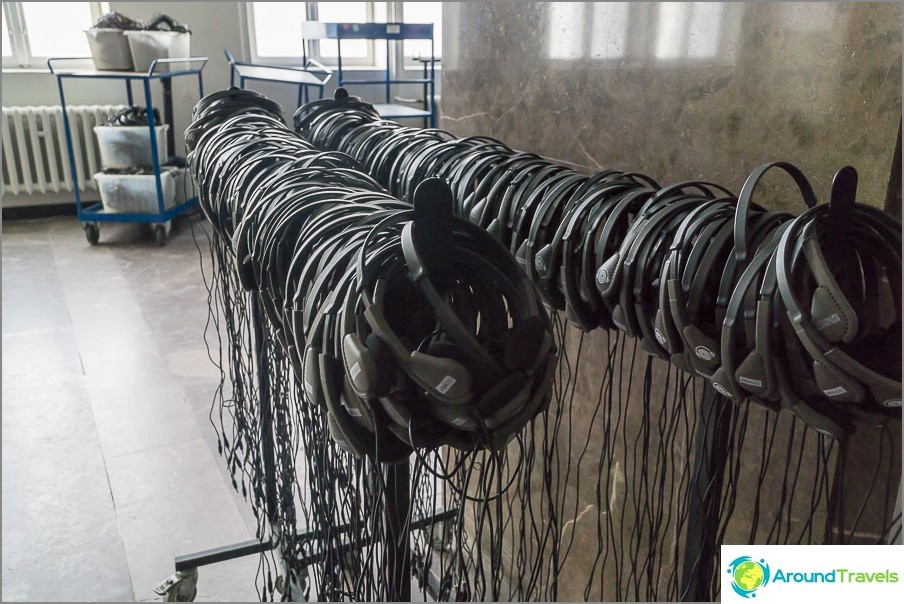 Cost of attendance
Entrance to the museum is free, that in the first camp, that in the second. But paid parking near each camp, toilets, luggage storage, excursions.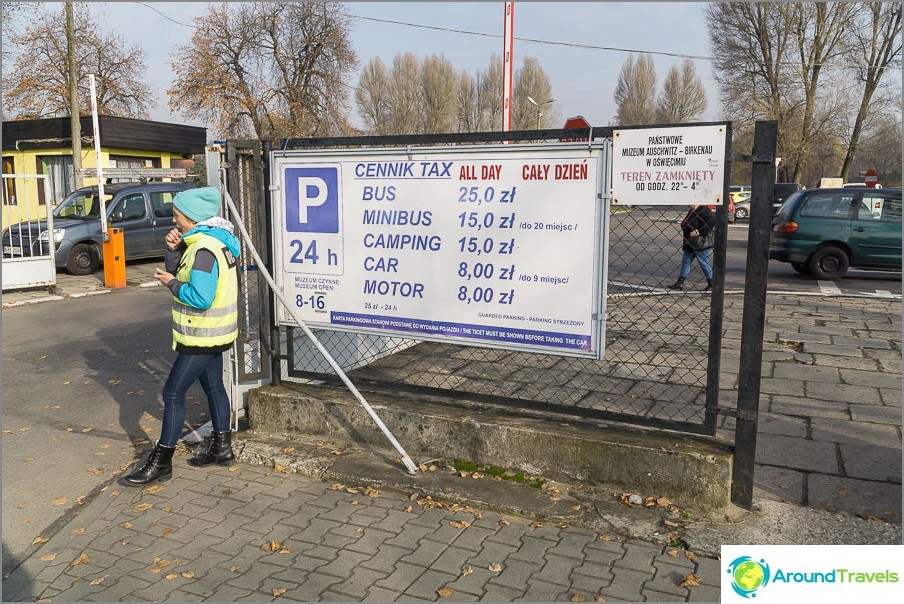 Luggage storage costs 3 pln. You can't carry anything more than a handbag (30x20x10). And with backpacks are not allowed even with the city, you can only go if you do not notice. Luggage storage is located in Auschwitz 1, that is, it makes sense to start from this camp, leave things there, then go to Auschwitz 2, and then return. In November, the luggage room worked from 8 am to 5 pm, I suppose it works longer in other months, like the museum itself.
Between Auschwitz 1 and Auschwitz 2 there is a free shuttle bass. The journey takes about 10 minutes, runs every 15 minutes during the day, and every 30 minutes in the morning and evening. Go about 2.5 km, that is, you can walk.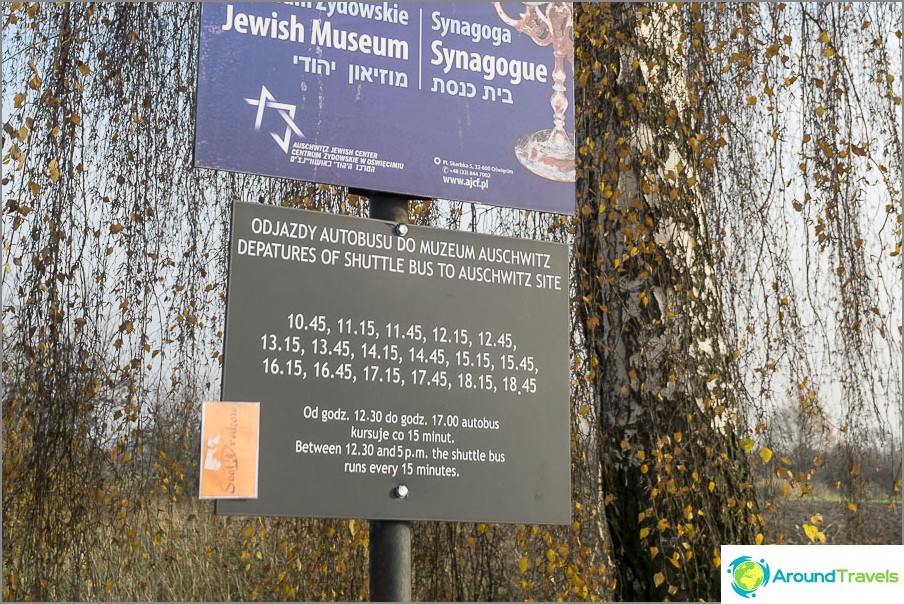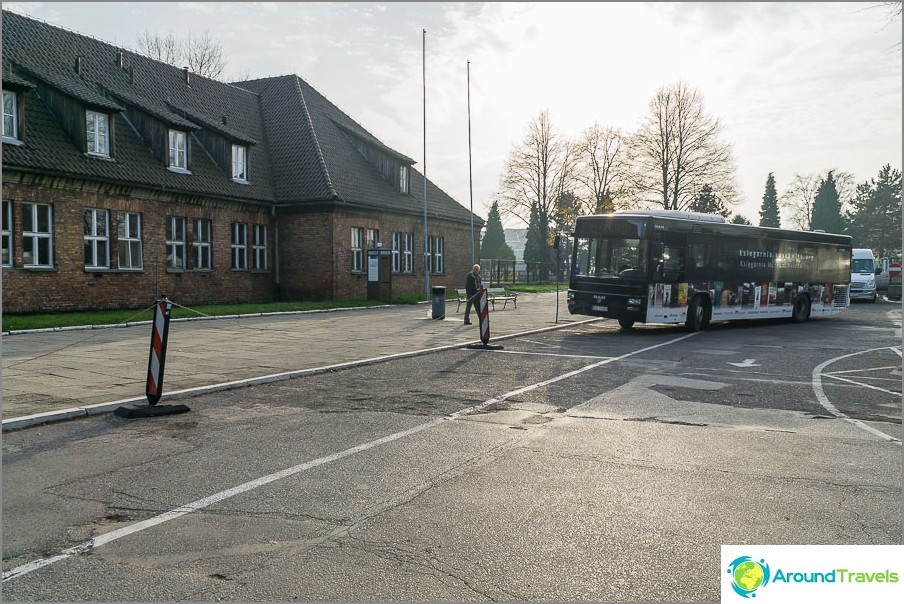 Where to eat
At the entrance to Auschwitz 1, water, sandwiches andother snacks, in Auschwitz 2 there is a cafe in the parking lot. Although I would not say that there is really really want. There are also a couple of grocery stores and cafes right in front of the railway station Oswiecim. And not far from it in 10 minutes walk there is a large shopping center with Carrefour.
Auschwitz Map
Maps are clickable, open large images.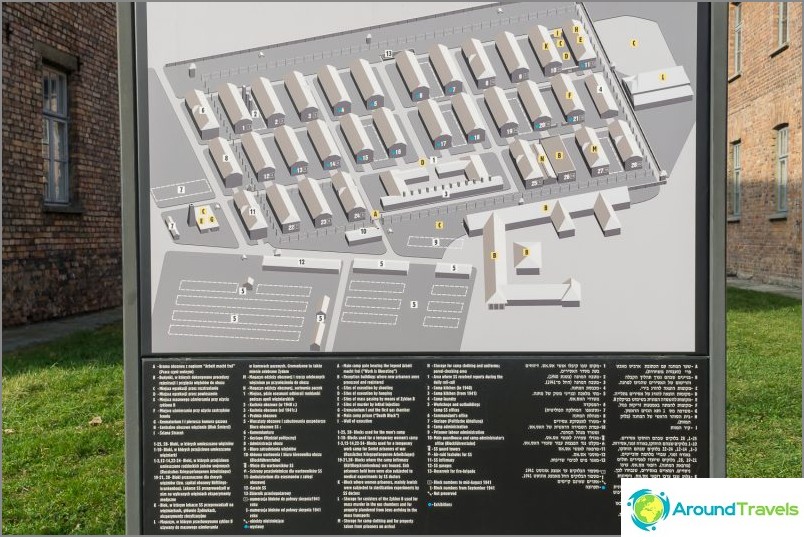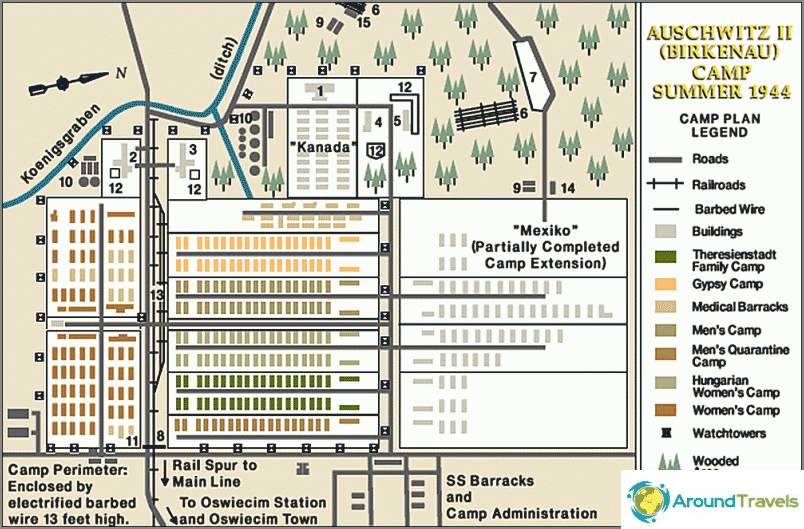 How to get to Auschwitz
In order not to repeat just give link to postwhere I painted several options, how candrive to Auschwitz on your own. Naturally, if you are by car, then this is not relevant to you, just put a point in the navigator and drive. Map below to help.
Where is Auschwitz
Concert Auschwitz 1:
Concert Hall Auschwitz 2 (Auschwitz-Birkenau):
Railway station in Auschwitz:
Railway station in Katowice:
Railway station in Krakow:
Bus station in Krakow:
Bus station in Katowice:
Bus station in Auschwitz:
Hotel Olecki:
P.S. One of the longest writing posts, but not because the text itself was written for a long time, but because it read various stories about Auschwitz, autobiographies, watched videos and movies.
P.P.S. When I wrote "nothing" and "emptiness" I meant that from this I want to automatically shut out. But in the end, all these pictures are still in front of your eyes for a long time, and the thought itself returns to what happened.
Life hacking 1 - how to buy a good insurance

Choosing insurance is now unrealistically difficult, so to help all travelers, I compile a rating. To do this, I constantly monitor forums, study insurance contracts and use insurance by myself.

Life hacking 2 - how to find a hotel 20% cheaper

First, choose a hotel on Booking. They have a good offer base, but the prices are NOT the best! The same hotel can often be found 20% cheaper in other systems through the RoomGuru service.

Discount hotels