C search engine tickets Aviasales.ru, I think everyone knows. So literally a couple of months ago they launched their own search engine for Hotellook.ru hotels. Let me remind you that earlier the search for hotels was carried out on the hotels.aviasales.ru subdomain, and not their bases were used, but from the Hotelscombined.com affiliate program, which meant the search results were output from a third-party intermediary service, but in the Aviasales interface. Now it's your own website, your own agreements with reservation systems and some hotels directly.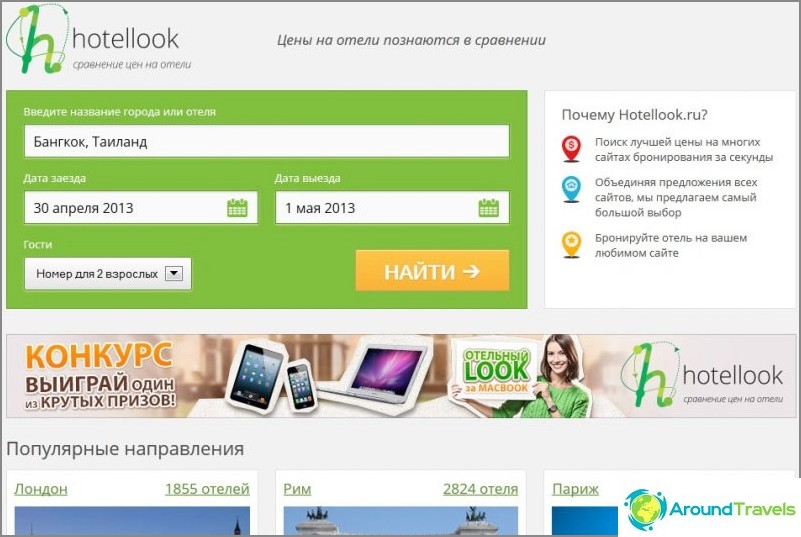 What does this mean for the average user?
An ordinary user will be able to compare prices onhotels from multiple reservation systems in one place. Now there are about 15 of these systems, and then there will be even more. The scheme is the same as with air tickets: nothing is sold, but only sought. A good kind of service assistant for travelers.
Although I often look for hotels on site, but suchI also use services. It is much more convenient than to take turns at various sites of booking systems, such as Agoda, Booking, LatestRooms, etc., and compare where the same hotel or guesthouse will be cheaper. Prices may vary by 20-30%.
In fact, such convenient search engines onRussian language is quite a bit. Therefore, now there will be a choice what to use. The site is still new, and all possibilities have not yet been used there, but I would like to believe that Hotellook will offer something new.
What does this mean for an affiliate program from Aviasales?
As I already wrote, in the case of affiliateAviasales program they are for us intermediaries when searching for hotels, and their charges are directly dependent on Hotelscombined, which at any time can find that searches occur without bookings, and therefore you can reduce commission. And those who have worked directly with Hotelscombined know that they often love to block accounts when the payment threshold is approaching and they start checking traffic for the number of bookings. It seems to me that even Aviasales has had problems because of this, because in statistics I have often seen earnings from hotels fall, and then rise again.
Many called blocking accounts fromHotelscombined scam, although it is not. Judge for yourself, hotel search engines do not pay partners a percentage of the booking (as they have no relation to the booking), but a certain amount for switching from their website to the website of the booking system. And if it turns out that for a long time a partner leads only those users who make transitions, but then do not book anything, then why are such partners needed. Although I would in place of Hotelscombined, I would check the traffic much earlier than the payment threshold of $ 200, so that the partner would not keep their code on his website for a long time if he does not like them. So it would be more honest.
So, when Hotellook search a bitand all the necessary functionality will appear in it, Aviasales will switch to it, having refused Hotelscombined, and then the revenues from hotels for partners (that is, for us) should probably increase slightly, because there will be no more mediation. I also hope that Aviasales will be more loyal to partners and will take into account some of their requirements.
Life hacking 1 - how to buy a good insurance

Choosing insurance is now unrealistically difficult, so to help all travelers, I compile a rating. To do this, I constantly monitor forums, study insurance contracts and use insurance by myself.

Life hacking 2 - how to find a hotel 20% cheaper

First, choose a hotel on Booking. They have a good offer base, but the prices are NOT the best! The same hotel can often be found 20% cheaper in other systems through the RoomGuru service.

Discount hotels