The trip to Ayutthaya was rather strange. From the most vivid memories - as I lay in a stuffy gueste with a high temperature in half-forgetting, but not temples. But I managed to see them, too, and the famous head of the Buddha, too, so I don't regret anything, the place is interesting. However, first things first.
Having enjoyed week in chiang maiI decided to go to Bangkok via Ayuthaya. All transport still goes through it. I bought a Chiang Mai - Bangkok ticket for a night bus, explained to the driver that I didn't need an endpoint, but Ayutthaya and set off.
The content of the article
From highway to Ayutthaya
Early in the morning, it was still dark after they threw me right onhighway, but not at the bus station. The navigator suggested that it's about 5 kilometers from here. At the landing site were motosai and taxis. Taxi wanted 200 baht, although there is something nonsense to go there, and I didn't recognize the price of a motorcycle where I was going with my hiking backpack. Passing over the pedestrian bridge to the other side (again, I glanced through the navigator to cross the road), asked the Thai how to get there. He replied that the 7% baht songteo runs from here. Literally 10 minutes later I was driving in a minibus. Not a sickly difference, 7 baht or 200?
Songteo brought me straight to the bass station, hereIt's convenient to settle down: minivans leave for Bangkok every hour, there are bike rentals of 200-250 baht, a few guesthouses to choose from, a market, and the oldest capital is not far away. Therefore, I did not even choose a particular place or area, but immediately found a guest and settled. About budget hotels in Ayutthayaread the link. A full list of hotels in Ayutthaya can be seen at RoomGuru search serviceand book there. During the season it is better to do it in advance, and then there will be few numbers, I almost succeeded, took the last one and waited for a long time until it was released.
Ayutthaya - the ancient capital of Siam
Once upon a time, from the 14th to the 18th century, Ayutthaya wasthe capital. They say it was a big beautiful city with a population of one million, but then the civil war broke out and the Burmese captured, burned and destroyed it. After that, the capital was moved to Bangkok. Now Ayutthaya is a small provincial town with a bunch of ruins, which in 1991 were added to the UNESCO list.
Personally, I like more Sukhothai, as it is more spiritual, more abandoned andmysterious than Ayuthaya, so I usually advise everyone to go there. On the other hand, Ayutthaya can be reached in just one day, for Bangkok is very close (how to get from bangkok to Ayutthaya), only 60 km.
Despite the crowds of tourists, it's not so bad here.you can wander, sit and think, and enjoy the views of the ancient ruins. The territory of the ancient capital is large, there is, where to hide from the eyes, it is enough just to get away from the main temples, and then there will be no one there.
In total, I looked at 4 temples, although on the map in GuesthouseI was surrounded by 5 pieces of must see. But there are many more temples here, dozens, if not hundreds. Simply, many of them are a bunch of stones or similar to each other, so they do not cause any interest. But this does not mean that nothing else to watch. Entrance fee (50 baht) only in the main temples, the rest for free.
Each temple has its own territory, and these territories are sometimes adjacent to each other, and sometimes not. Between these territories you move along asphalt roads, for example, on rented scooter (200-300 baht / day) or bicycle (40 baht / day),but the territory itself can only be on foot. The temples are separated by ponds, bridges, walkways, beautiful. We just need to remember that in the intense heat (and it's very hot there, as a rule), you don't hurt a lot on a bike, and sometimes it was hot on the bike. Especially because the bikes there are so-so, ordinary city ones.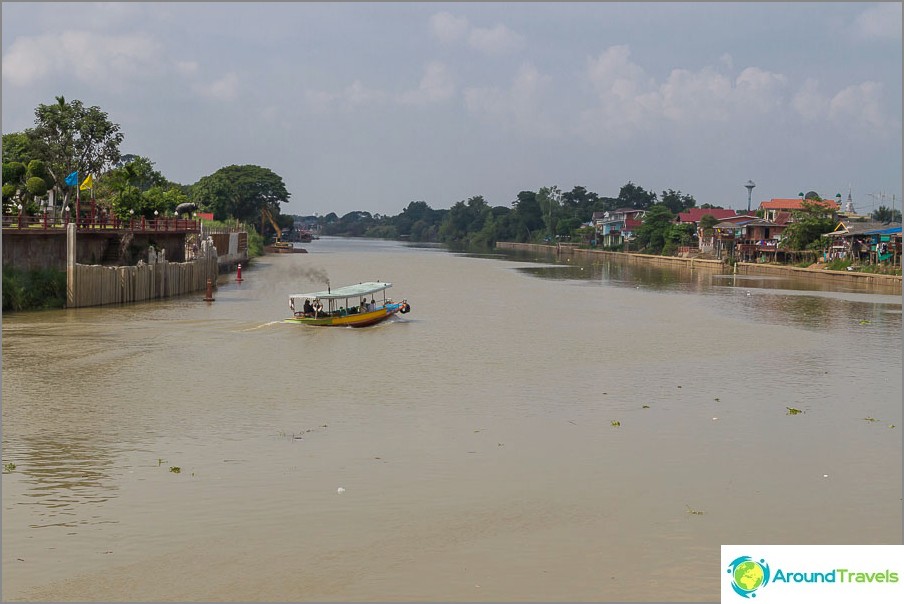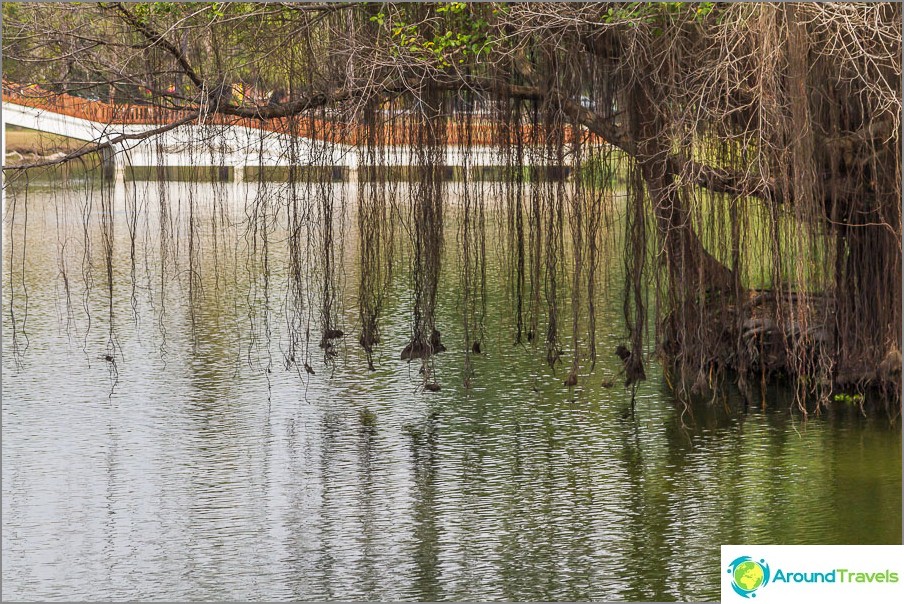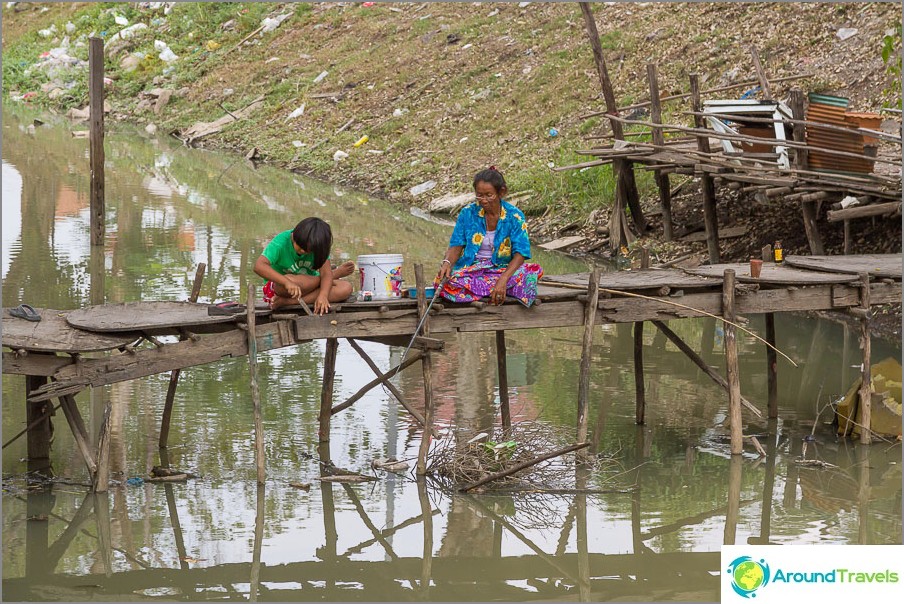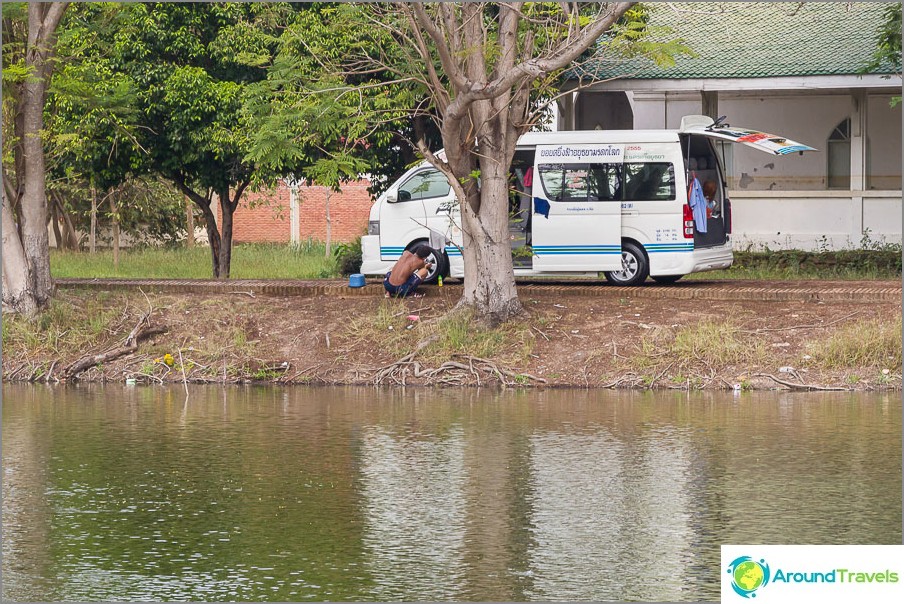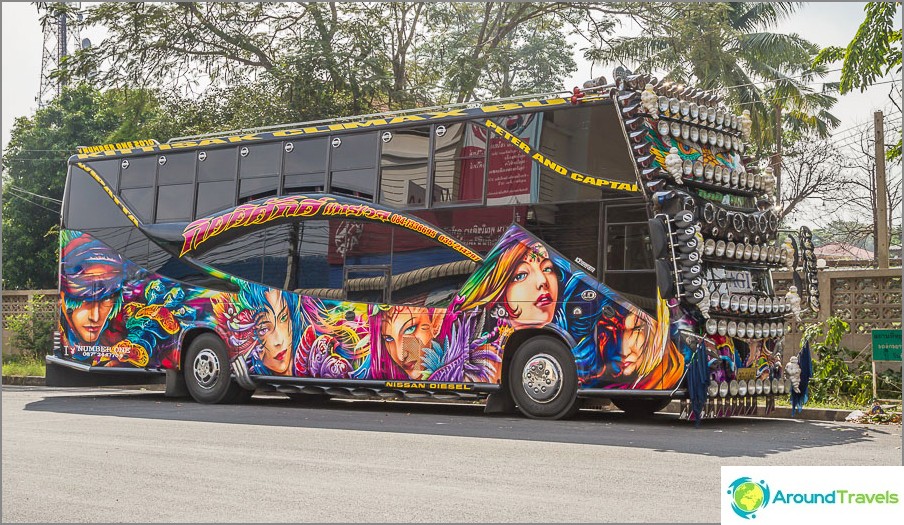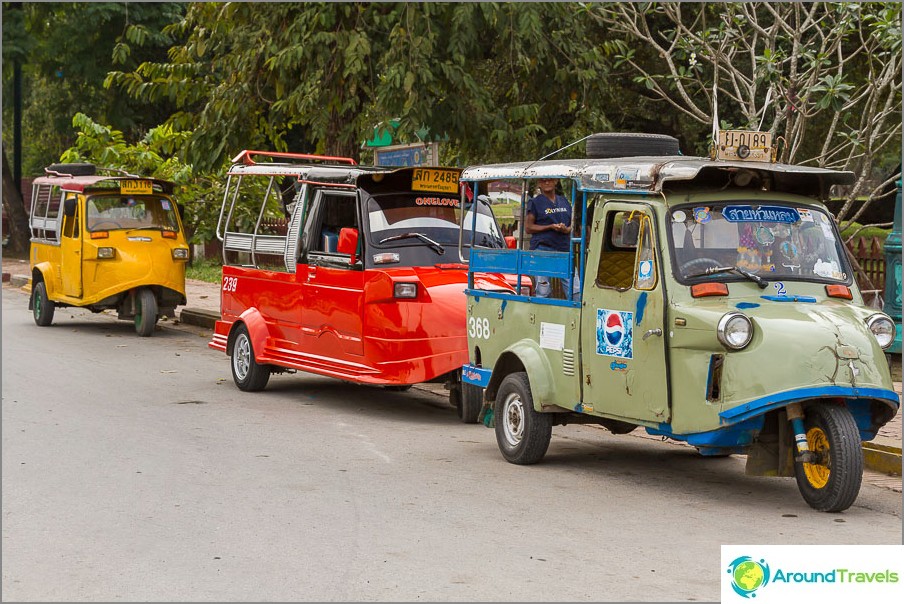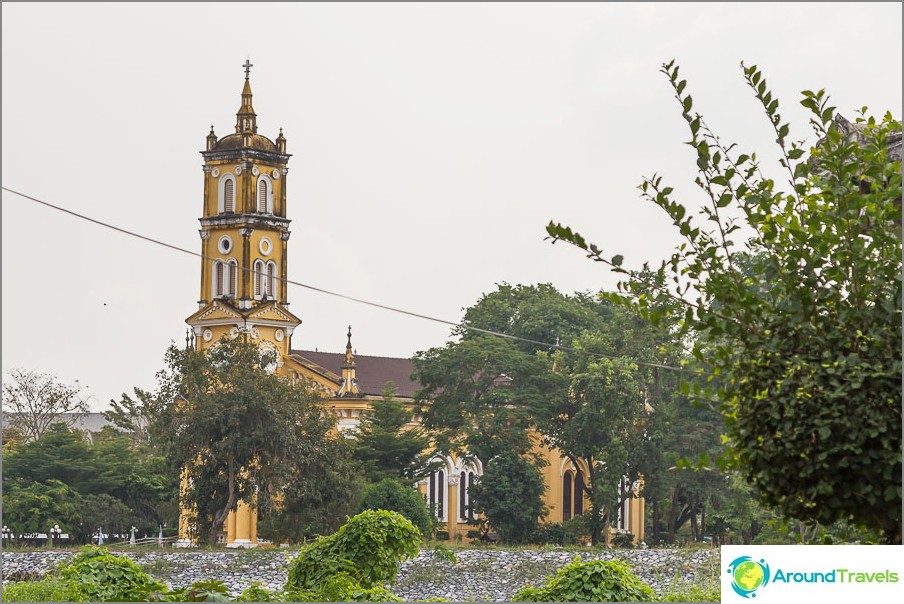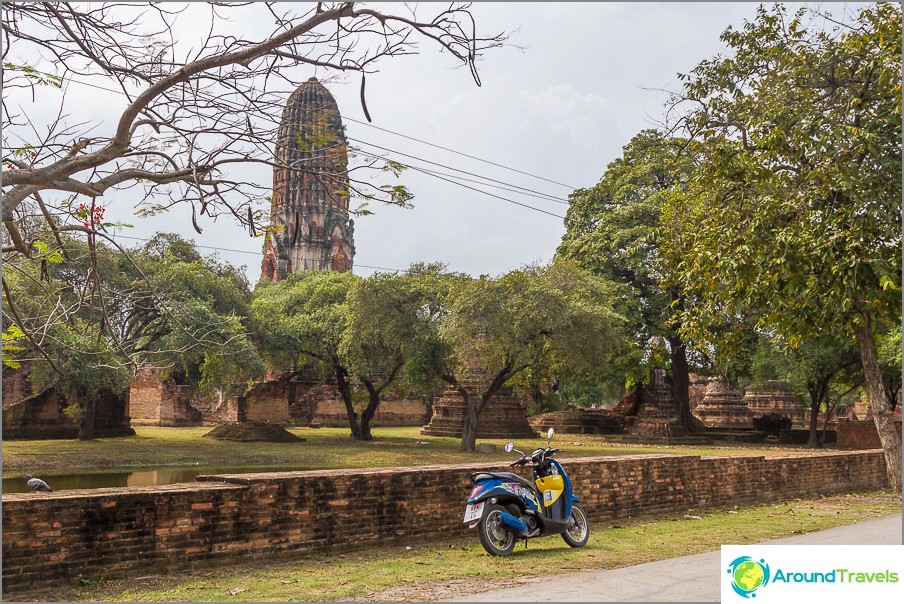 Wat mahathat
One of the most popular temples, for allThey come to look at the head of the Buddha, braided by the roots of a tree that has already become a symbol of Ayutthaya. As I understand it, when the temple was destroyed by the Burmese, the statues were broken and tumbled into the ground. And since the temple stood about 100 years abandoned, trees grew there, and one of them pulled this head out with its roots. In addition to the head, there are only ruins, little has survived.
The entrance is 50 baht.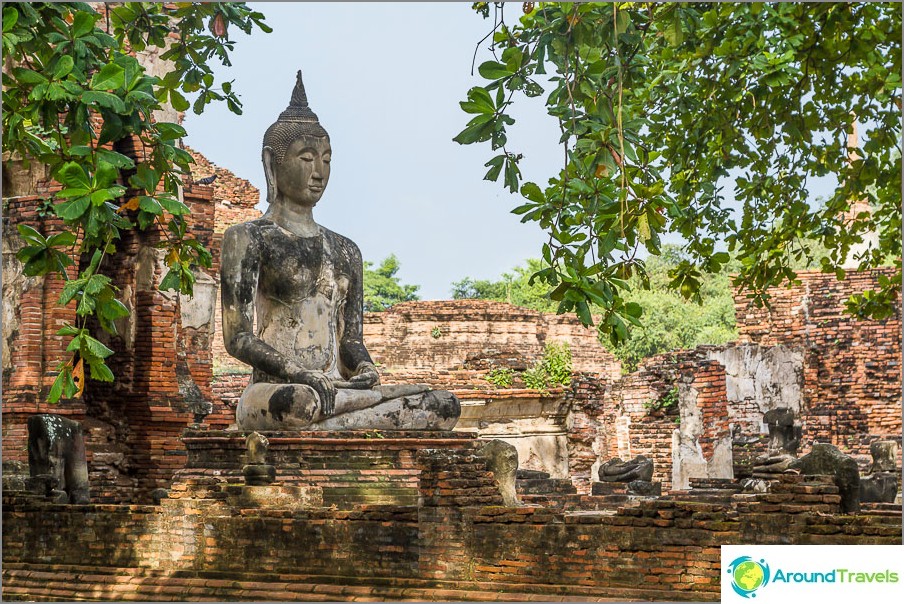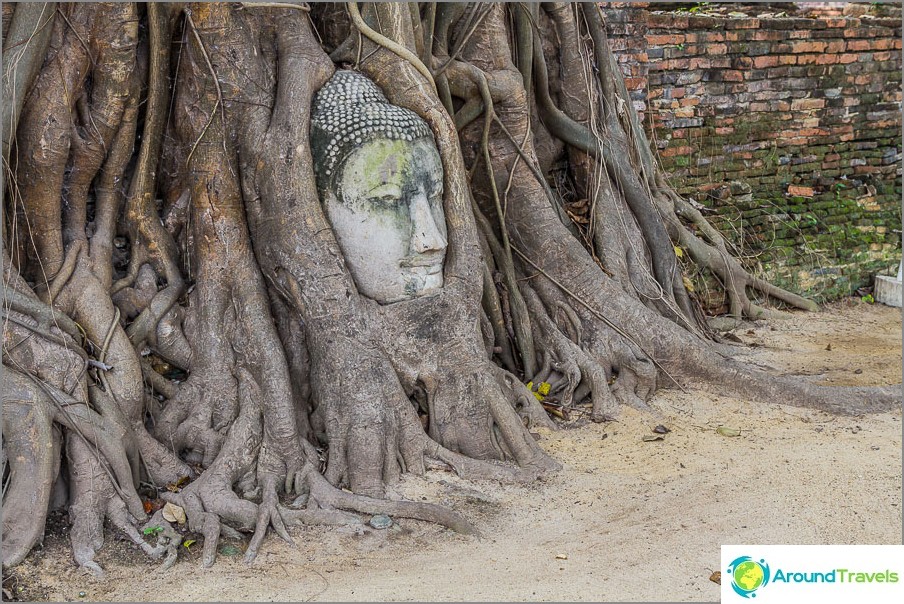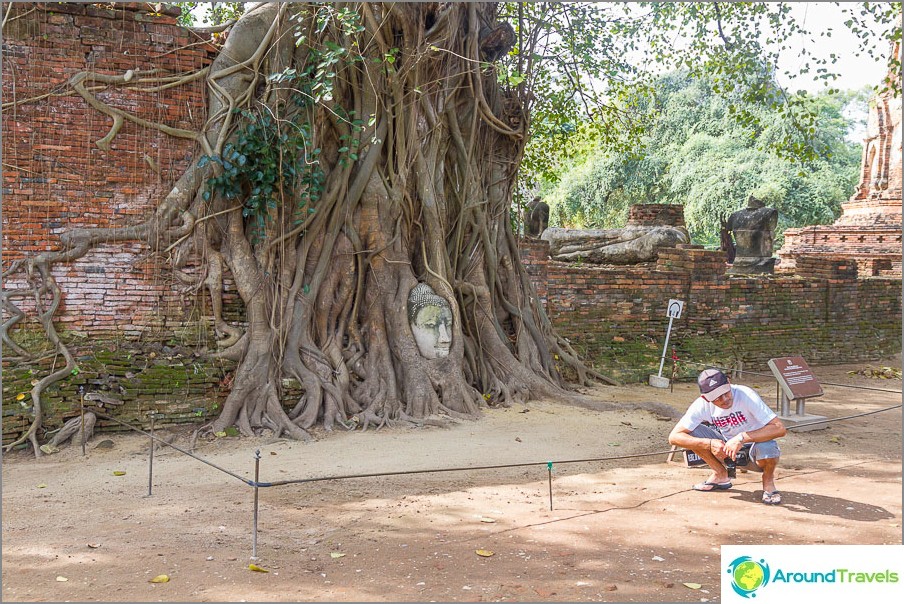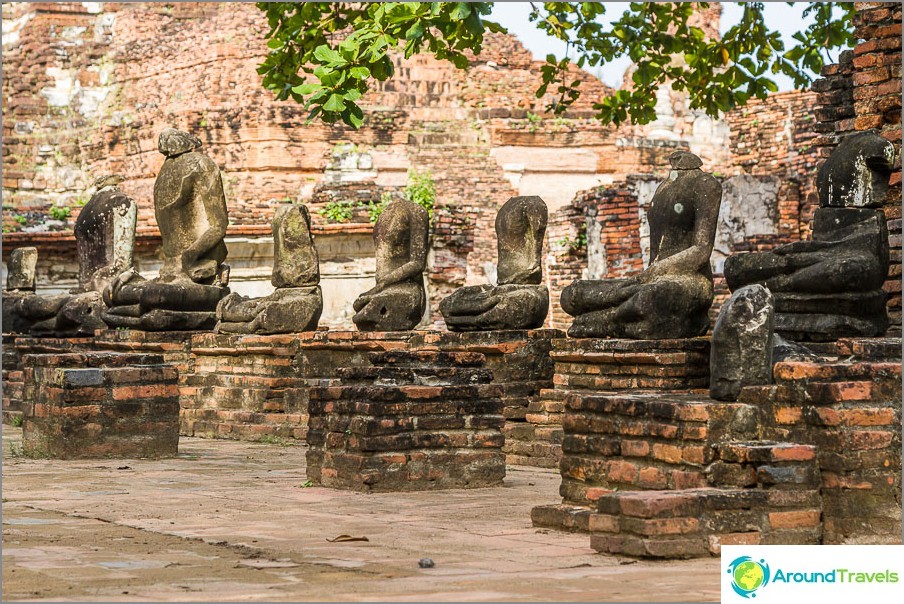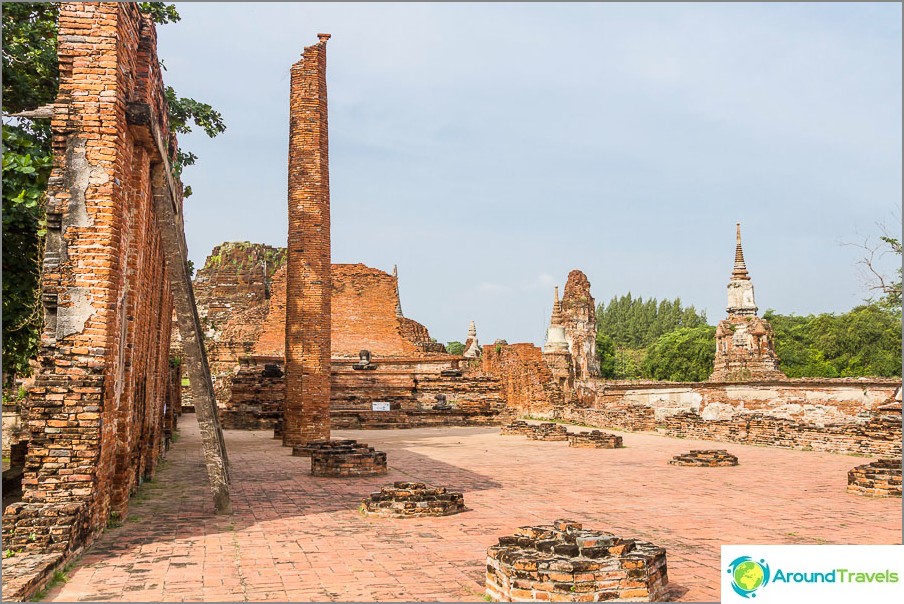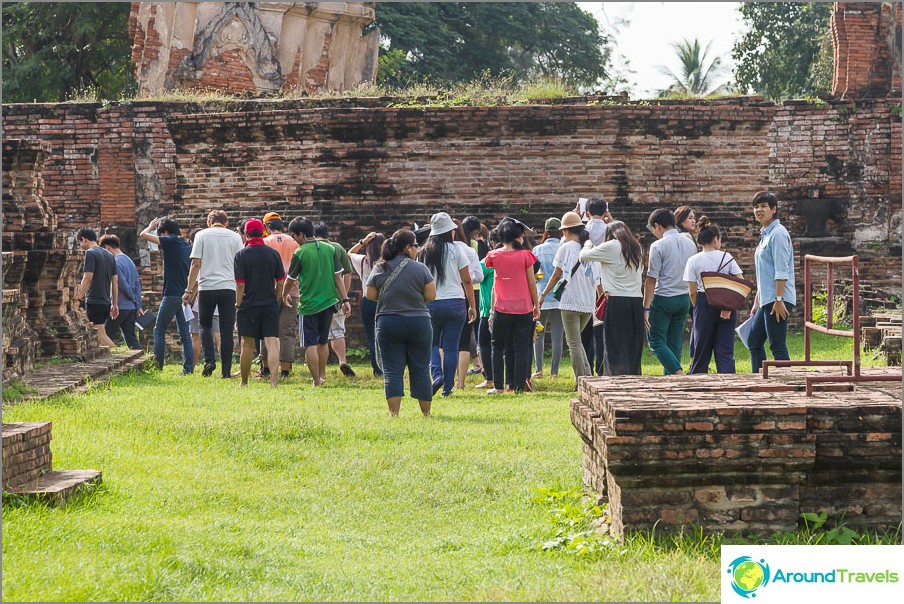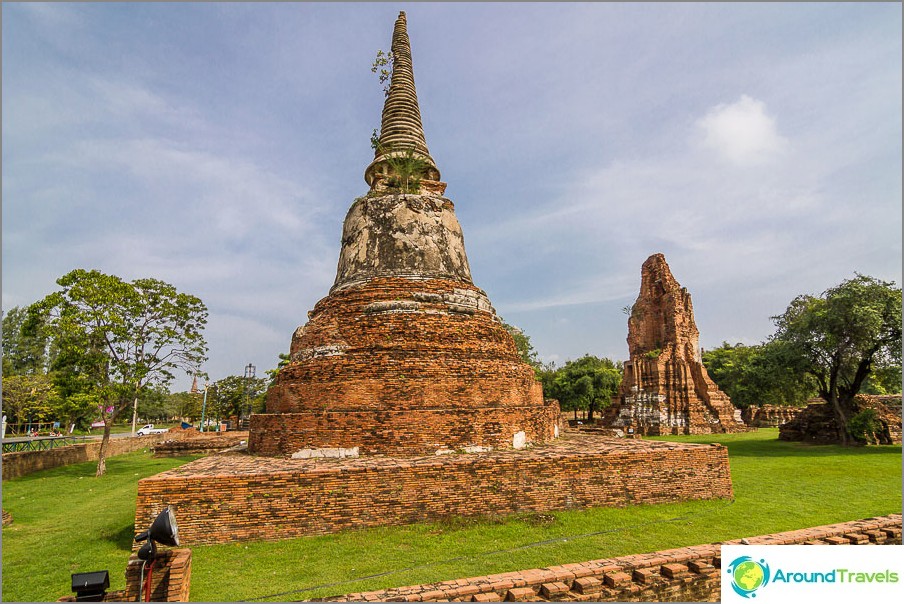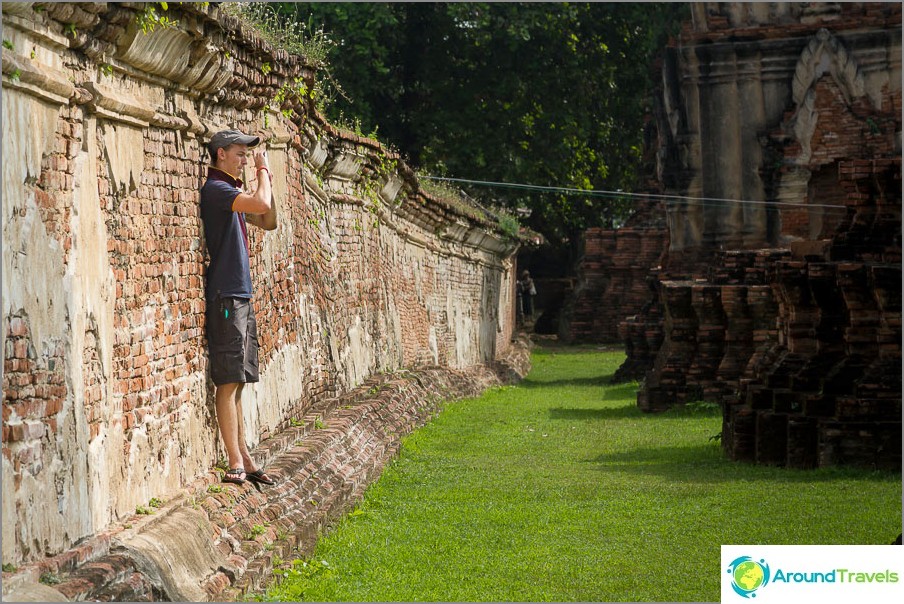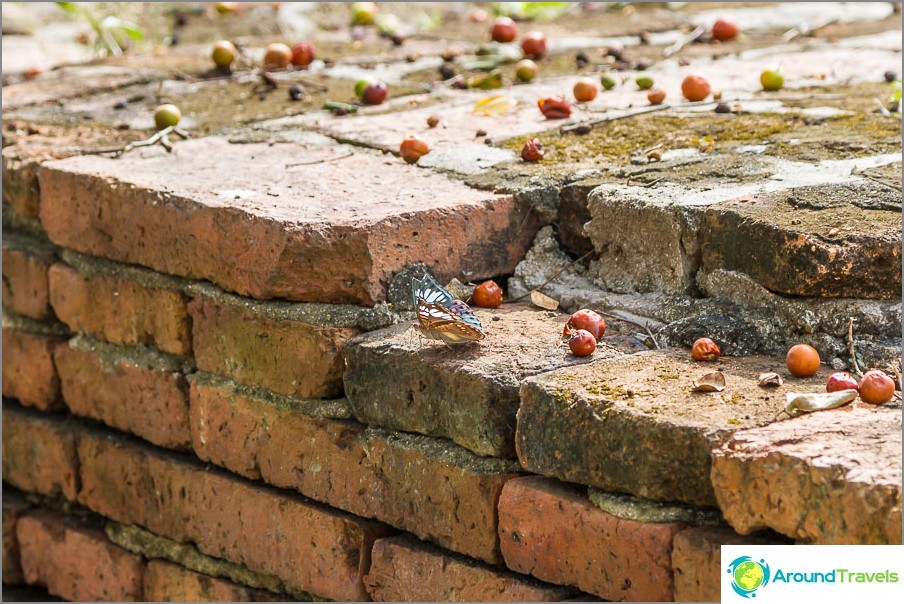 Wat ratchaburana
On Google maps, it is designated as Wat RatPraditthan, but this is a mistake. He remembered to me that it was possible to go inside to prang. Usually they are either closed or there are no voids. In Wat Ratchaburana there is a small hall inside, from which a steep narrow stairway goes down. Of course, I came down, but there is a dead end.
The entrance is 50 baht.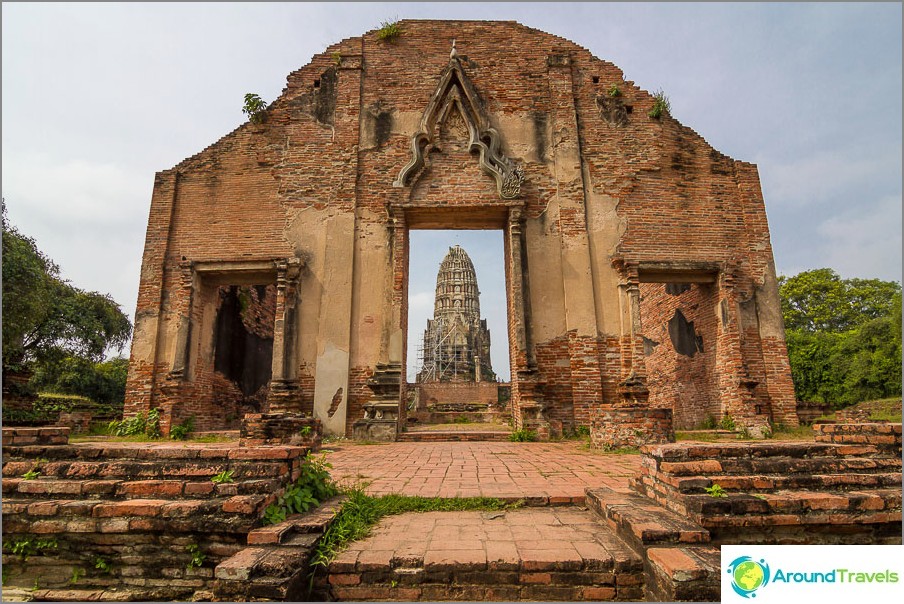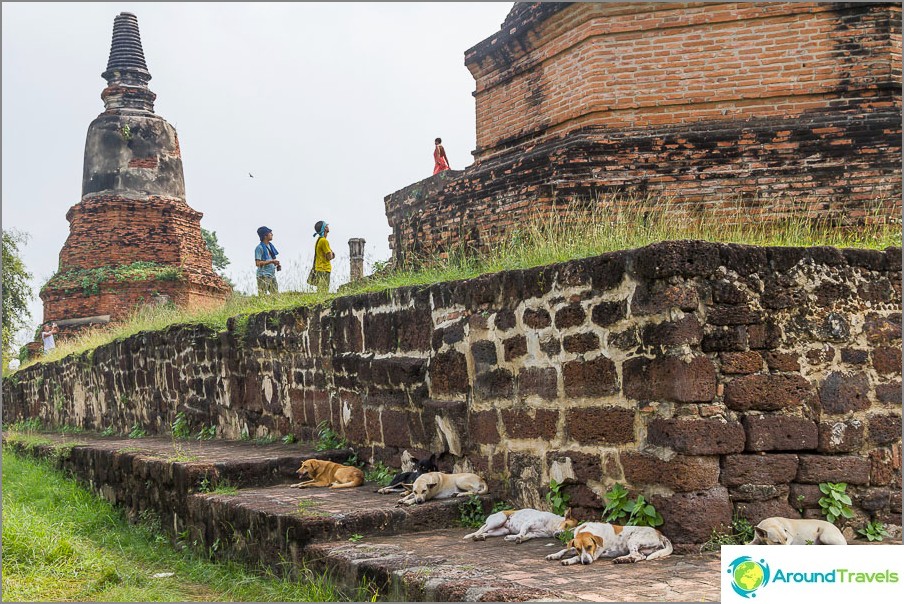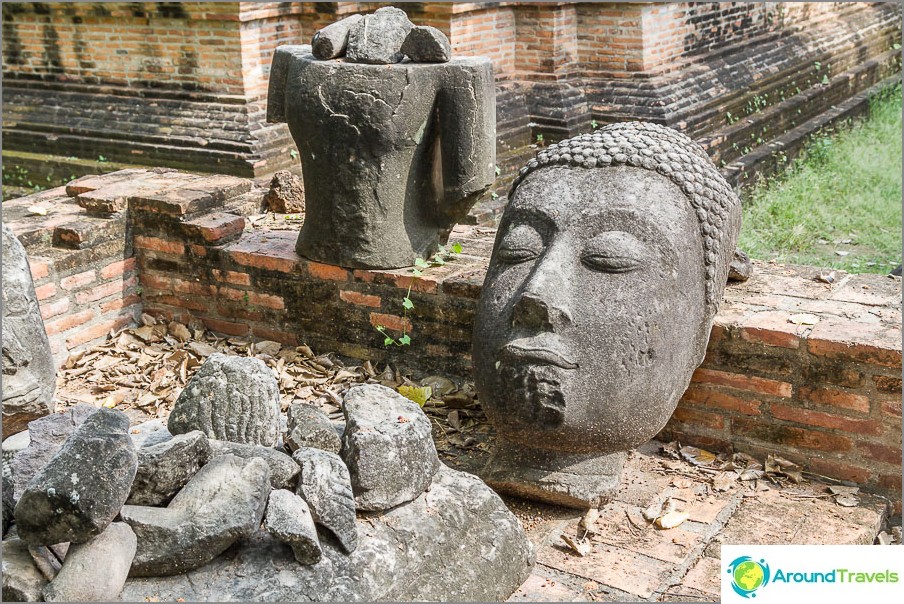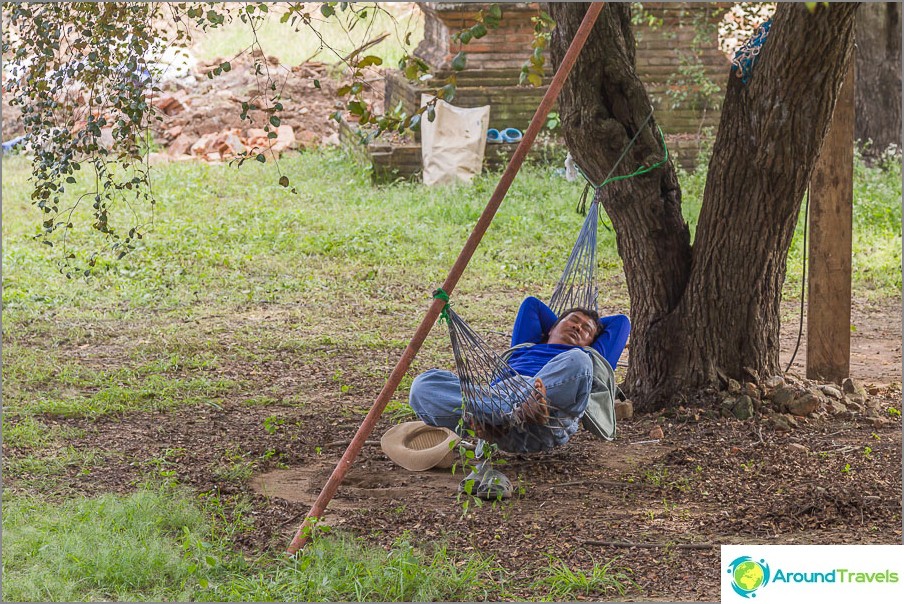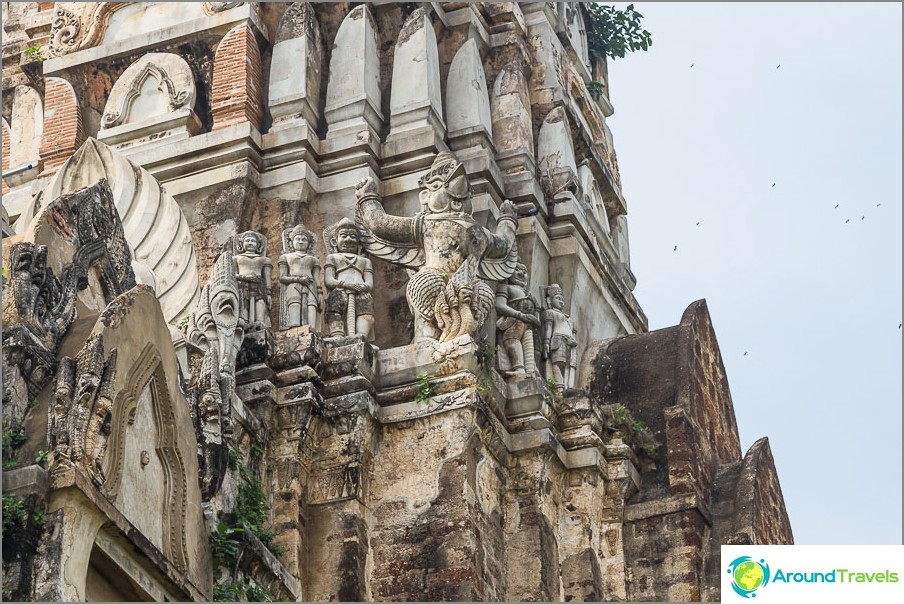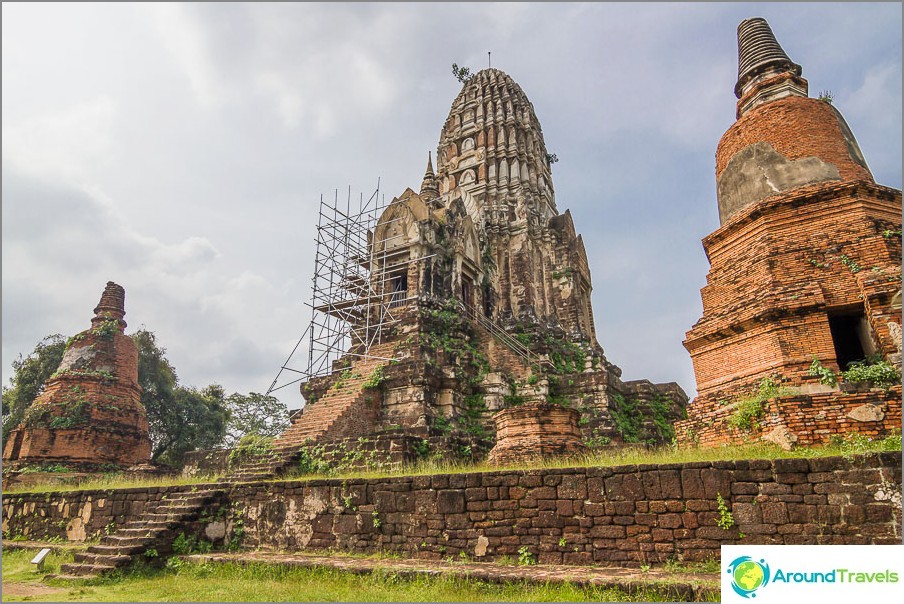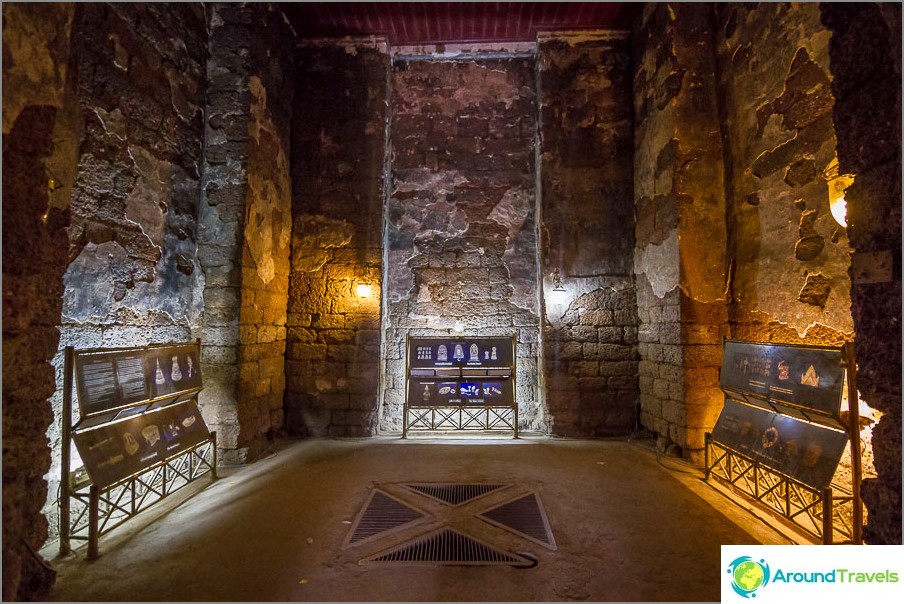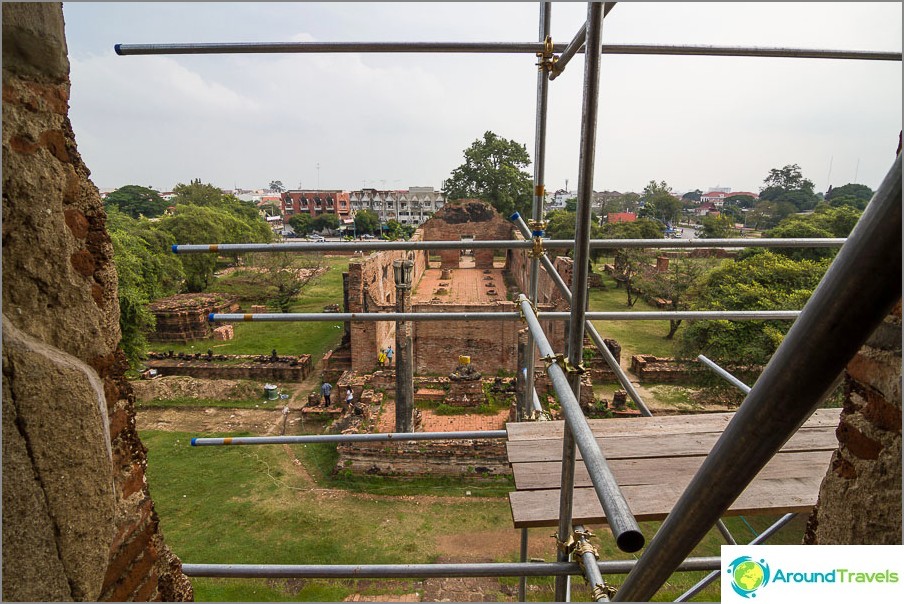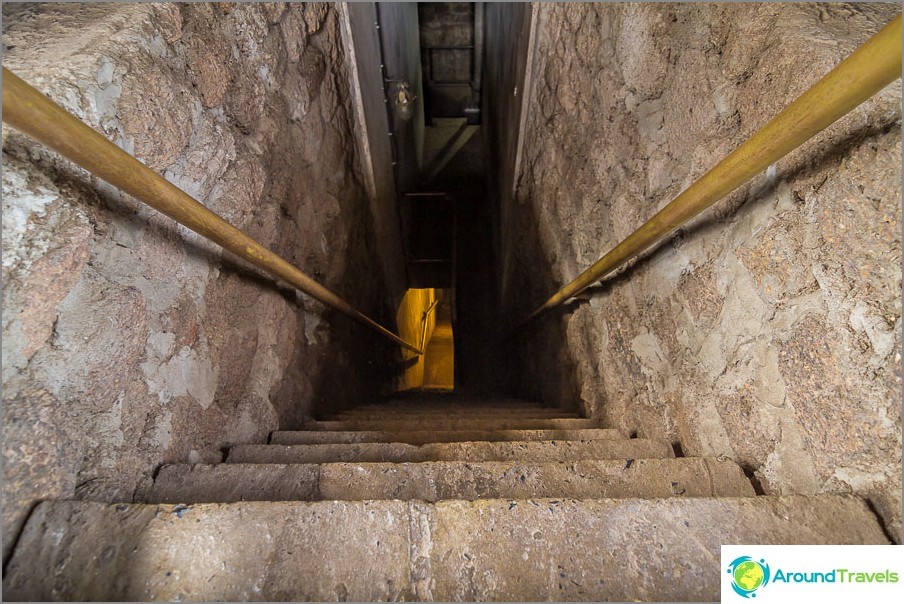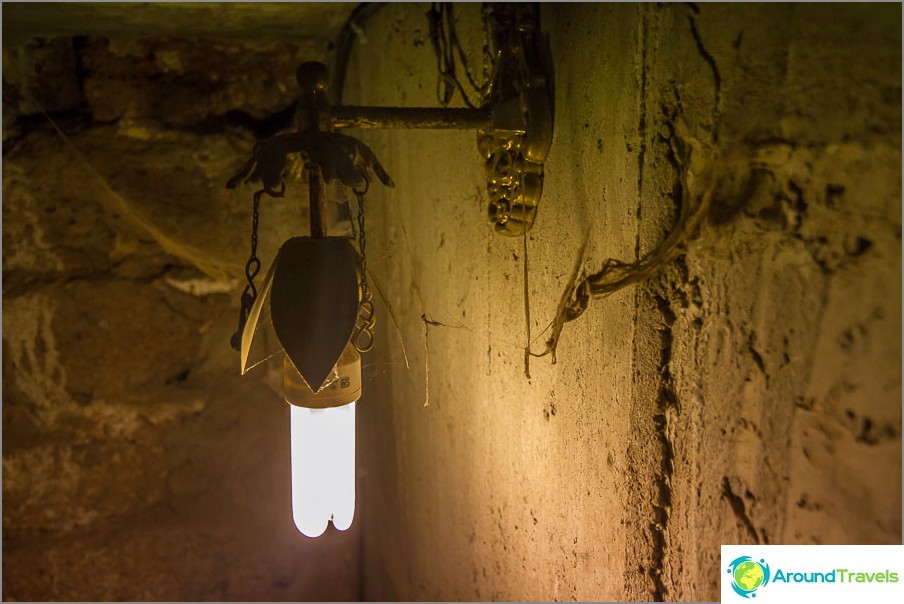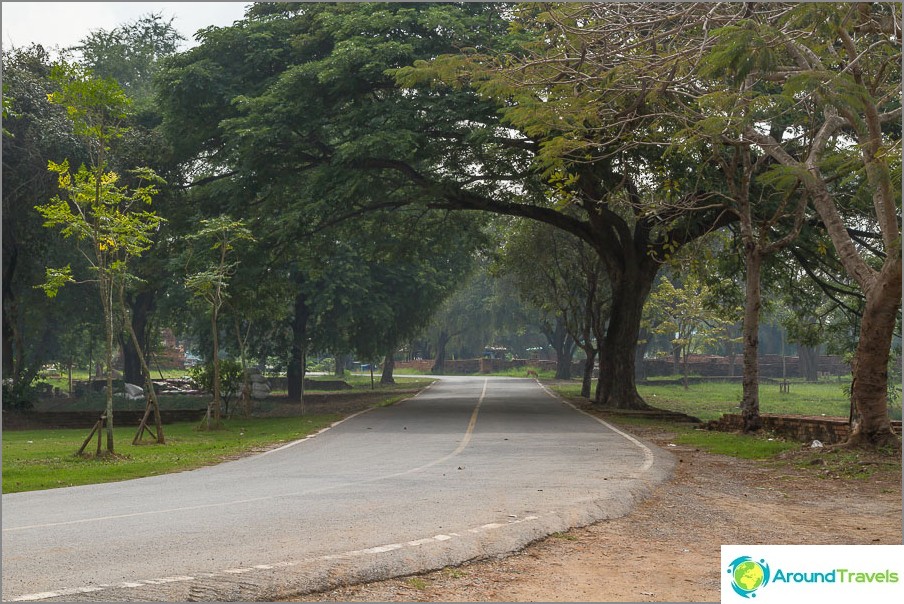 Wat phra si sanphet
The largest temple in Ayutthaya and here is the mostpeople. Known for its three chedi, standing in a row. They were badly damaged, and now we see them restored. Around the formless ruins, you can imagine how it all looked not so long ago.
The entrance is 50 baht.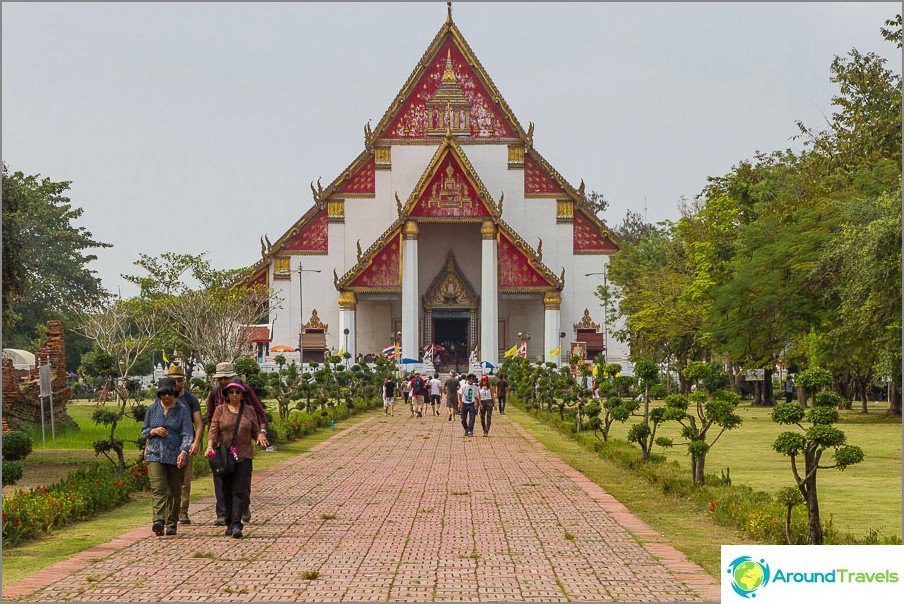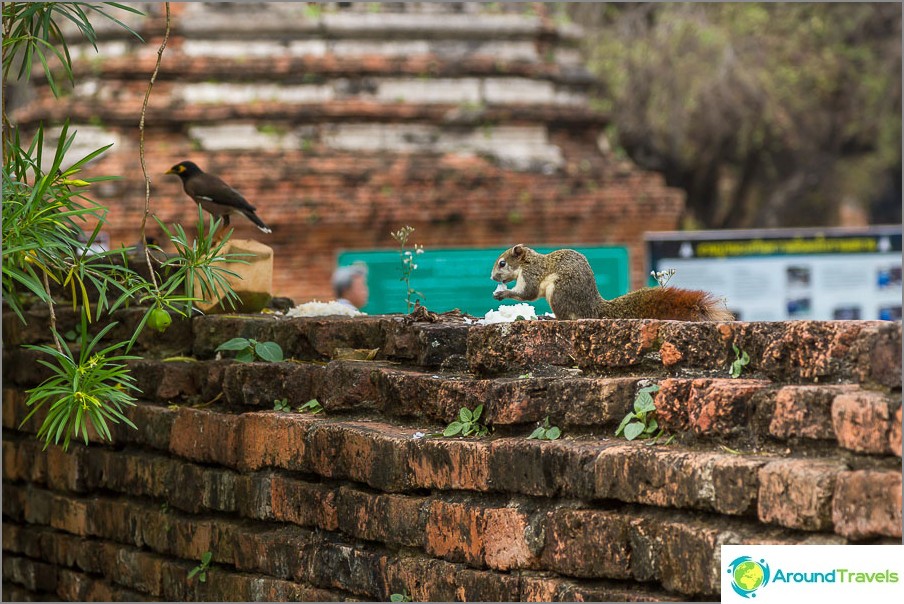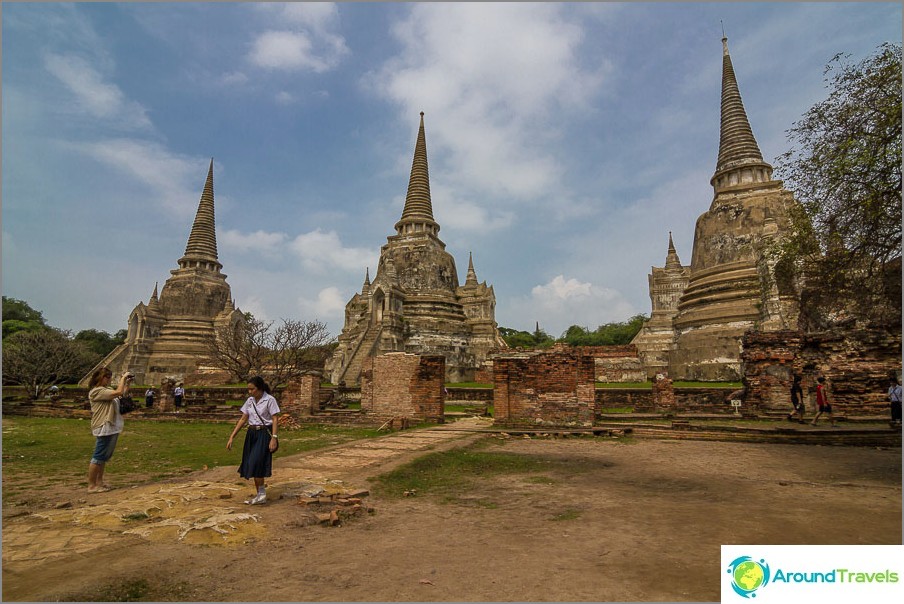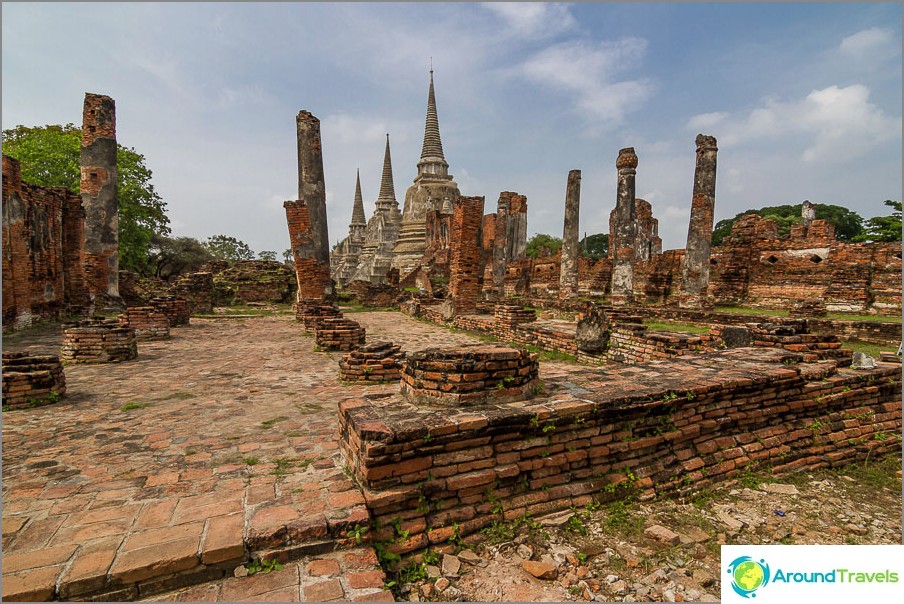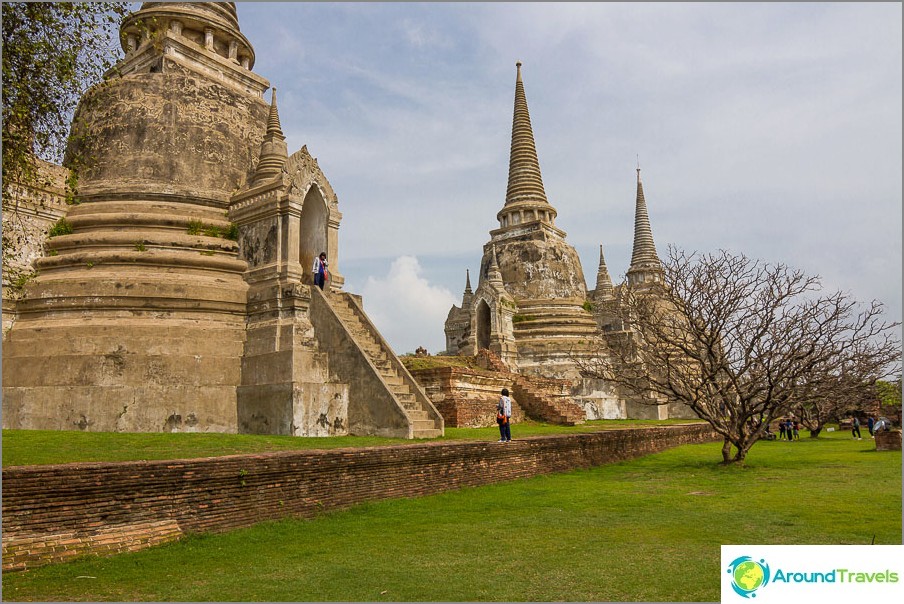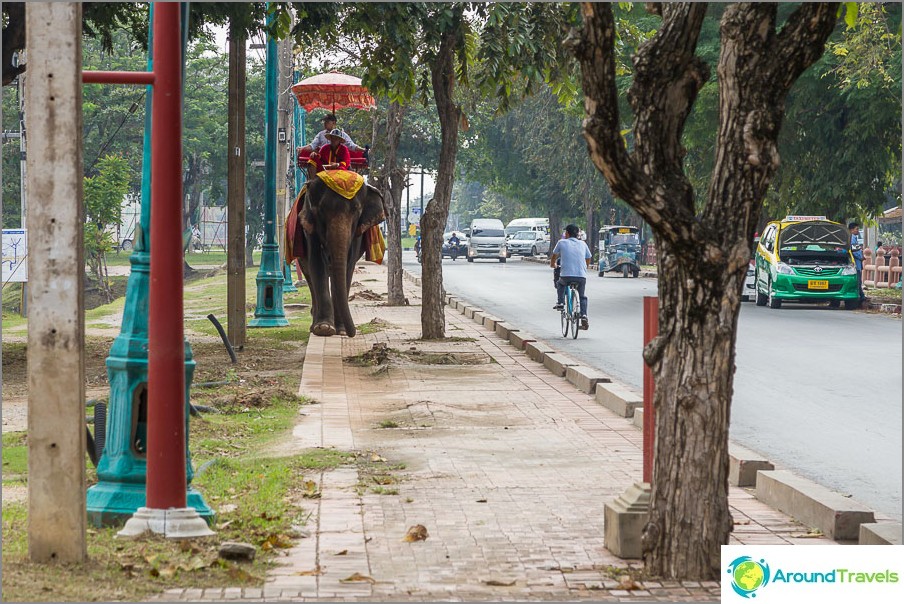 Wat lokkayasutharam
All that remains of this temple is a statue.Reclining Buddha. There is nothing more here, neither stupas, nor other buildings. Well, more precisely, behind the statue there is a brick and "maize" playground, small, but this does not count. I noticed how Thais do business here - they sell lotus flowers, and as soon as the worshiper leaves for Buddha, they take the flowers back to their stall.
Free admission.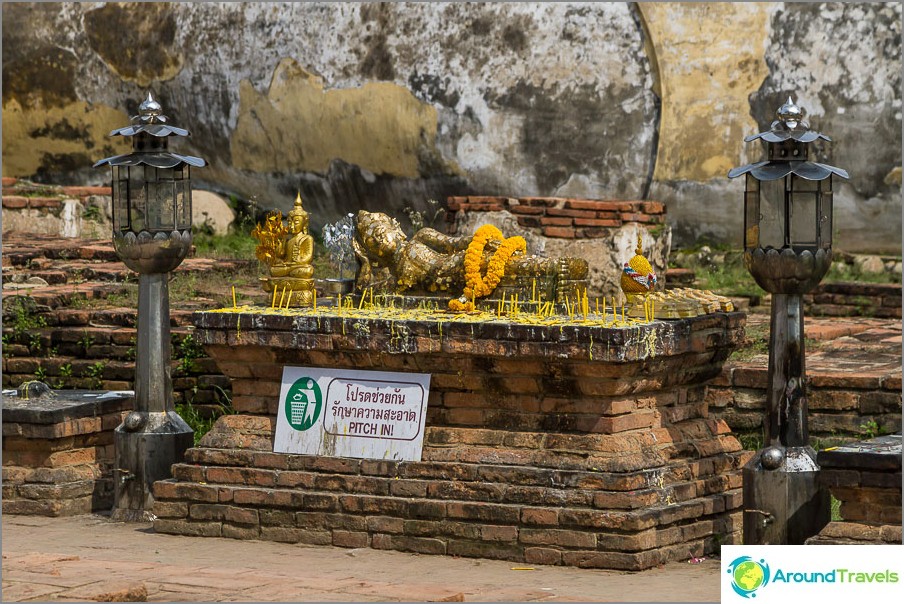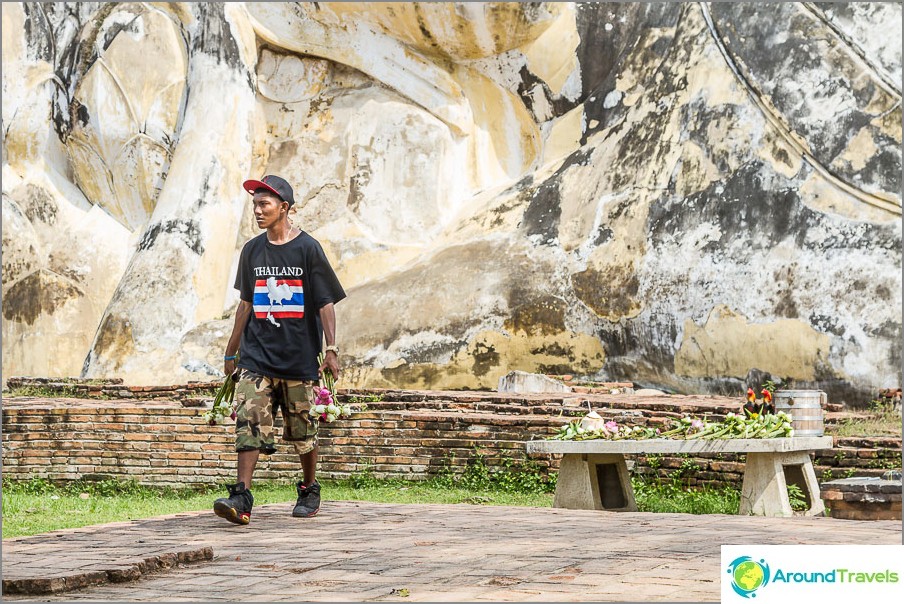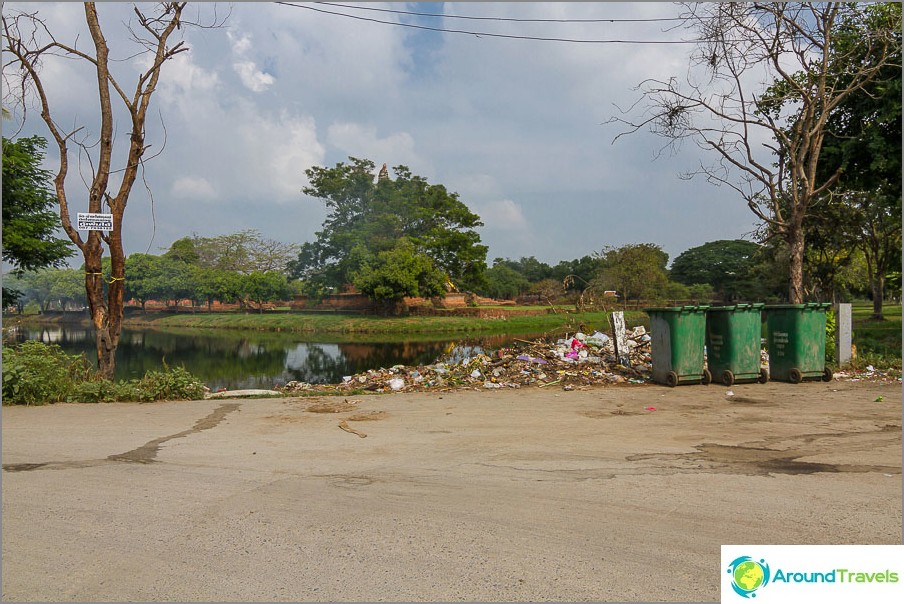 Initially, I came here to see live onfamous head of Buddha, braided roots. Her picture is something sunk into the soul. And in principle, except for the temples described above, there can be nothing more and not to look. So all about everything you just have enough of one day. And if you use the transport, then you can still have time. On the other hand, why the extra haste, you can all stretch for a few days, penetrating the place.
I, unfortunately, had no choice. I arrived here already, and on the first day, when on the way to the next temple I realized that the world was swimming before my eyes, I immediately retreated to the guesthouse, where I spent the next two days, almost without getting up. Only went for water. By the way, once again I checked that hunger + water + lime + ginger, quite quickly puts on his feet, much faster than drinking medicine.
Ayuthaya on Thailand map
Ayutthaya: Attractions
Ayutthaya: Attractions: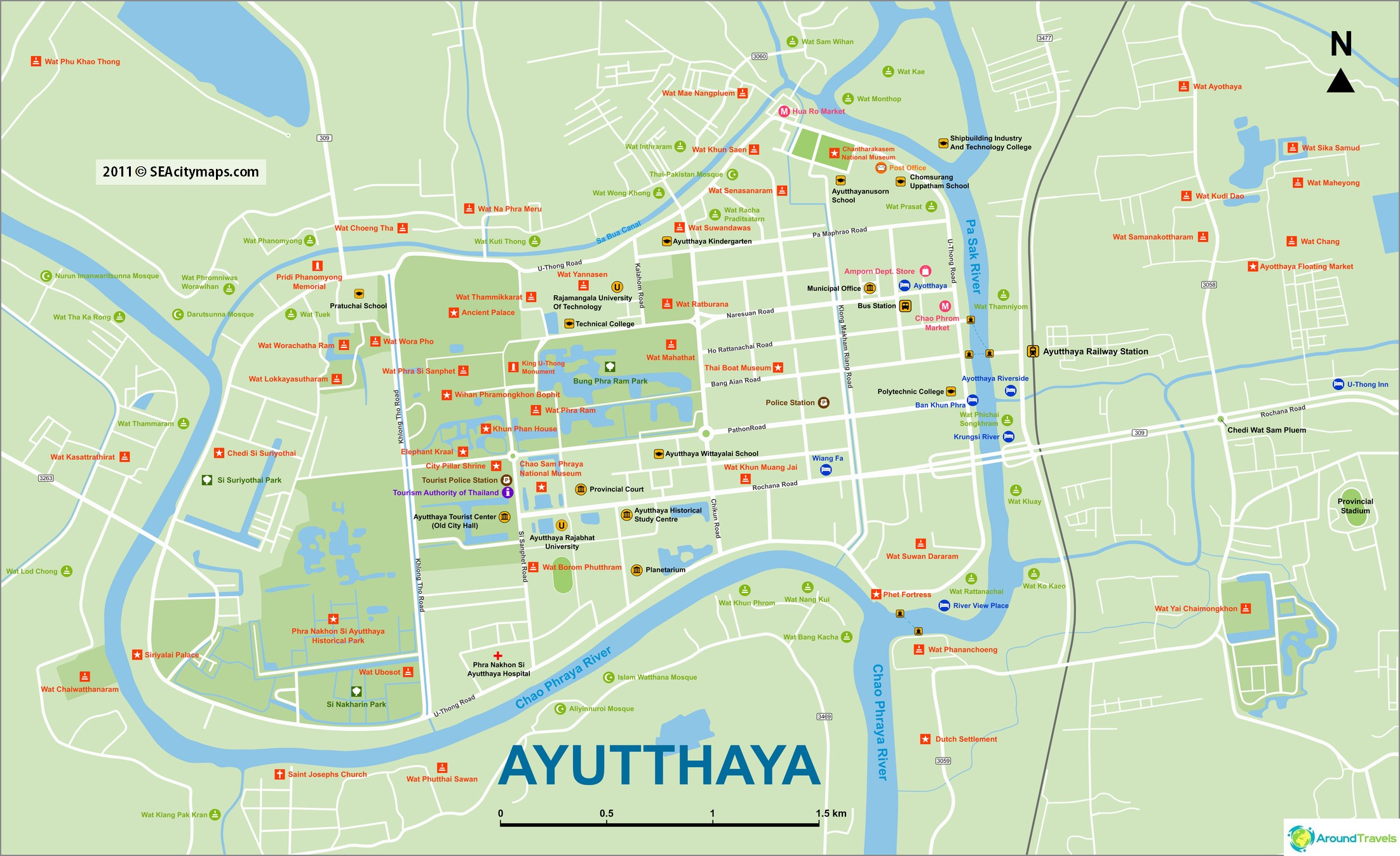 Life hacking 1 - how to buy a good insurance

Choosing insurance is now unrealistically difficult, so to help all travelers, I compile a rating. To do this, I constantly monitor forums, study insurance contracts and use insurance by myself.

Life hacking 2 - how to find a hotel 20% cheaper

First, choose a hotel on Booking. They have a good offer base, but the prices are NOT the best! The same hotel can often be found 20% cheaper in other systems through the RoomGuru service.

Discount hotels