I ordered here a backpack on Aliexpress, boasted insocial networks, and found out that this is bobby. Somehow this sensational backpack passed by me, so I ordered it without a second thought and not really choosing it, I mean among other Bobby. I also now know that I have a fake, not the original, since I bought it for only $ 27 and in the description from the seller on Ali there was not a word about the fact that he has at least some relation XD Design Bobby. Now I will tell you the whole truth about this craft from China.
The content of the article
Fake VS Original XD Design Bobby
I will begin, perhaps, with the most burning,comparisons and conclusions. I specifically looked at comparisons and reviews on YouTube as I didn't have the original in my hands. Only the conclusions I will have are not quite the same as those of reviewers.
As I understand it, so many fakes divorced. And to me, although I simply pointed my finger at the sky (stupidly wanted a yellow one), apparently less fortunate. My fake Bobby from Ozuko is not so bad. Maybe someone was lucky too, but more often in the reviews there are quite trash fakes that fall apart in a month.
Similarities
Outside, he does not have thin oilcloth, but a dense piece of some kind of rubberized material. Again, I think it looks like the original. Does not look crumpled.
My one has a rain cover, but it is not stored at the bottom, but at the top of the backpack. Both backpacks have a waterproof fabric.
The back is exactly the same as the original, including a zipper pocket.
On pockets there are no zippers like the original.
Inside, everything is about the same as the original.
Differences
My backpack is medium in shape, its side walls are elastic, but no more. The original has a plastic inside, so it is generally hard.
If the original provides any antiTheft due to plastic in the side walls and from the front, then the fake has plastic only from the front. But in the original, the bottom and the top are also plastic-free and easily cut through with a knife. But the bottom - this is the most important thing, it is cut more often.
My do not have outside side pockets (but there are side inside).
My No XD Design inscriptions, and the reflective stripes are slightly different.
The halves of my backpack are only taped together, and the original has rivets.
Now more detailed review. Outside, my fake Bobby from Aliexpress looks great, it feels really nice to the touch, as if you were holding a good and expensive thing. The original also looks great and with external materials, he, too, is all right. But inside both backpacks there is some kind of Chinese shit: the materials are so-so, nothing is thought out, there is no design anyway.
As the original XD Design Bobby can cost order.$ 130, I will not put my mind. Red price is $ 30-40, not more. Just when you take a backpack for 130 bucks, it should look inside these 130 bucks. You may not agree with me, because the insides provide the functionality embedded in them, but I personally would not take the original. Yes, the original is better, no one argues, but not $ 100 better.
I want a fake Booby for $ 32>
Of course, it is worth considering whether to take a fake or not. Just in case, here are a couple of alternative links for you, also inexpensive backpacks, I myself think Tigernu should try to order. So on Ali backpacks are much more, these are the ones I chose among.
Alternative Tigernu for $ 29-31>
Alternative Kingsons for $ 43-46>
Fake XD Design Bobby
I remind those who are interested in various kinds of cashbacks. Buying on Ali, you can also get a return of up to 11%. All told in detail in the post about cashback with Aliexpress.
And now a brief review. The difference between fakes and originals only in details. And they look about all the same, especially in the pictures. I have a smaller backpack, like the Bobby Compact. I don't know why I ordered one, didn't see that there are 2 sizes.
The first thing that surprised me was why no one anywherewrites that in order to use the power bank, you need a power bank with automatic switching on when connecting the wire. I'm not the same here, which means I need to climb into the backpack every time and turn it on. And if the backpack is full, it will be terribly inconvenient, the meaning is then lost.
About the viscera, I already wrote. I did not like them, they look too cheap and are somehow not thought out. I somehow ordered a backpack for a quadcopter on Ali (also not branded), there was the same trash inside.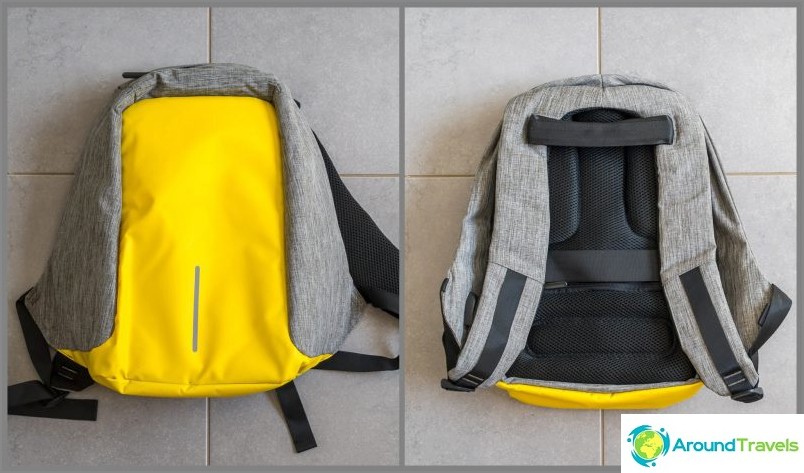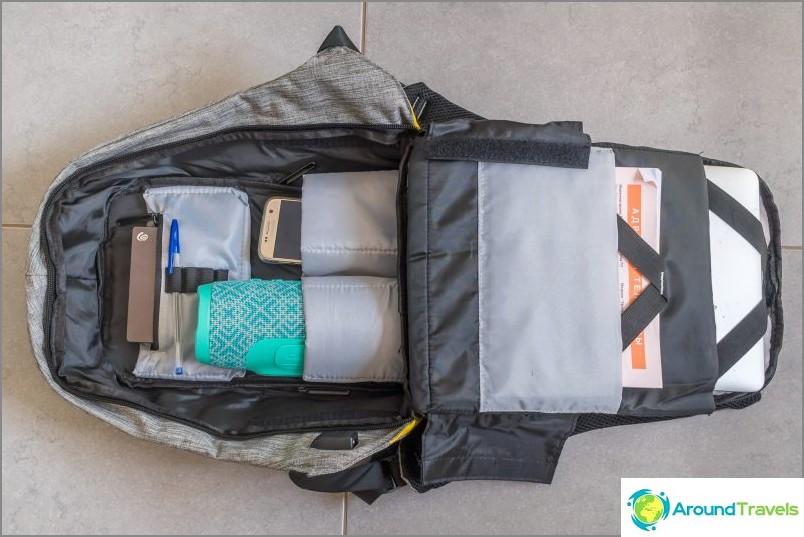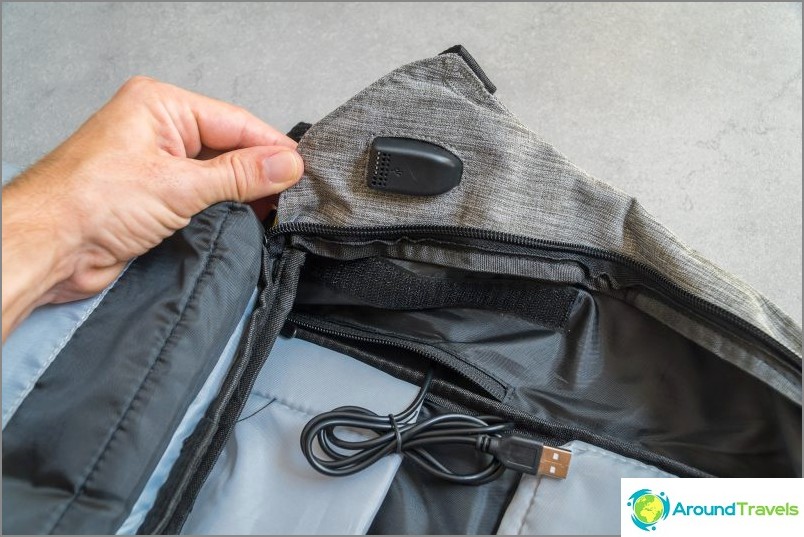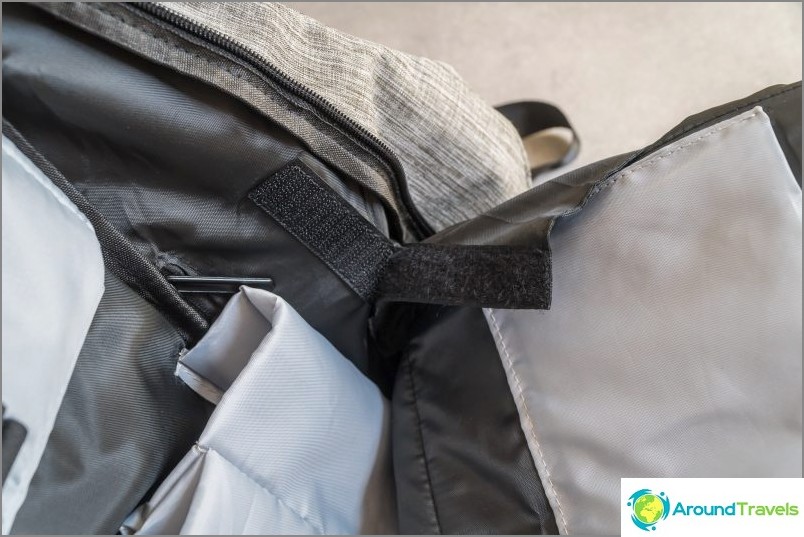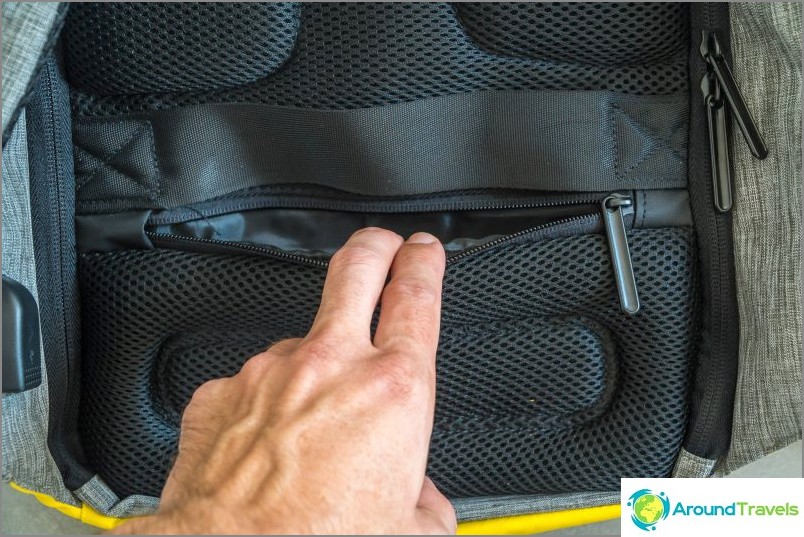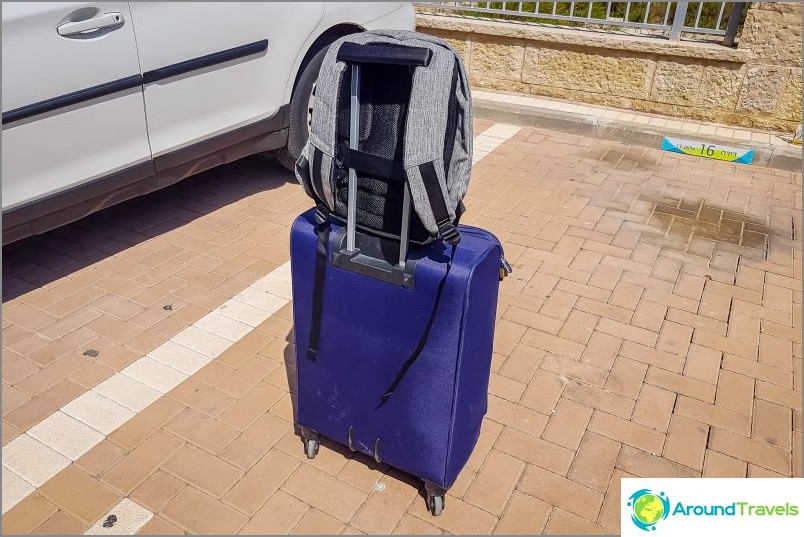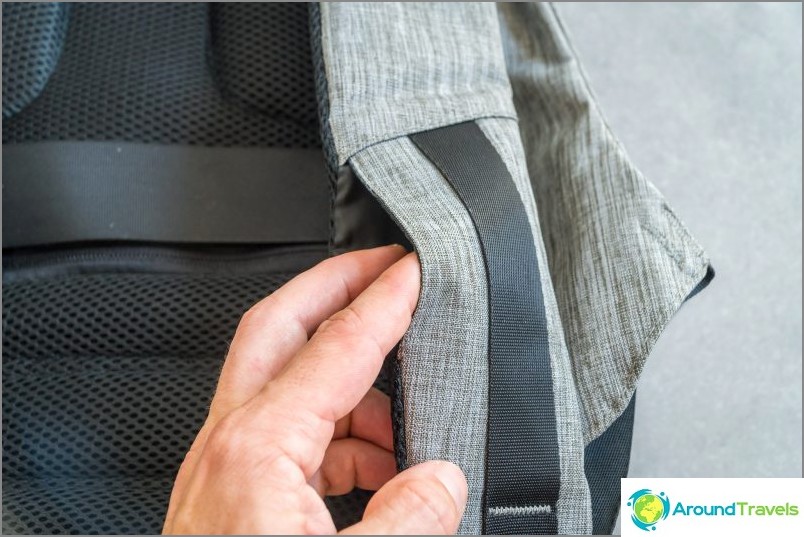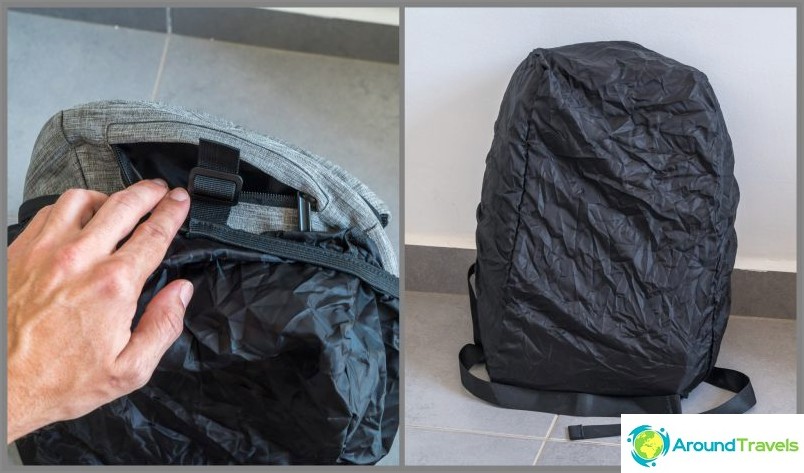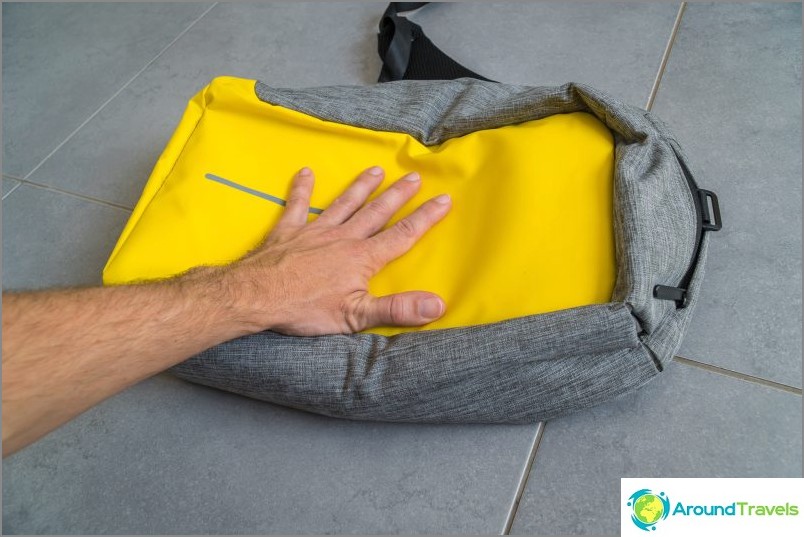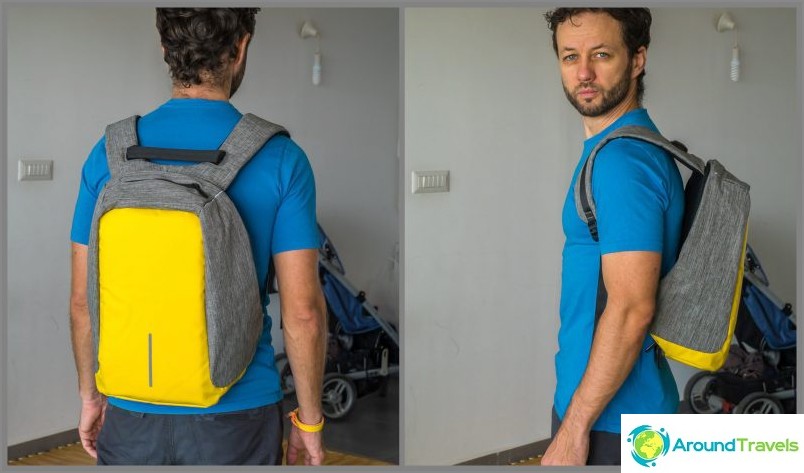 Noticed such a moment on all Bobby pics orpseudo-bobby stand on small suitcases, holding their sling by the handle. And you know why? Because on a large suitcase it will be difficult to deliver, since such a suitcase is too small a handle.
Another fake has no rubber bands at the ends of the lines. Well, you know, when the straps adjusted and tails dangling, which could be wrapped and secured with an elastic band. In vain the Chinese are not copied. Although in principle, no one bothers to cut.
Specifications
Waterproof. But it should not be lowered into the water, it will leak at the seams. Also, in heavy rain you need to wear a rain cover.
Small: height 40 cm, width 26 cm, thickness 14 cm. Place for laptop 13? -14 ?. My macbook 15? this did not fit.
Large: height 44 cm, width 32 cm, thickness 10 cm. Place for laptop 15 ?.
Thinking out loud
Honestly, I don't understand such a rush around this Bobby. Pretty ordinary backpack. The rigidity of the body is not always a plus. I once went with Kata's hard backpack, and in transport he begins to interfere decently. But in the case of photographic equipment, this can still be justified, since the entire backpack is packed to capacity. And Bobby is designed for laptops and small things, that is, by and large, such protection is not needed. On the other hand, it cannot be cut from the sides and from the front, this is a plus. However, if you specifically bother with Anti Theft, then it will not work, it cuts through from below and above. Also, I rather prefer soft Anti Theft backpacks, they have a metal cable in the walls (like PacSafe).
The fact that it decomposes into 2 parts is veryuseful stuff. I have already seen such a construction. It is convenient not only during the folding of things, but also for flights. After all, when inspecting things at the airport, you should always get a laptop and put it separately. In this case, you can not do this, but simply unbutton the backpack into 2 halves. But! There is not enough for the second half to be closed with something, otherwise from it, everything can fall out of an open suitcase.
The USB connector is good and useful, although the power bank can be put in a side pocket backpack and connected in case of anything. But in general, I am for the more chips there are, the better. I still have Thule like built-in hard boxes for glasses.
P.S. And I will order another backpack, as I need for 15 inches. And Bobby for 15? (original or fake) is big already.
Life hacking 1 - how to buy a good insurance

Choosing insurance is now unrealistically difficult, so to help all travelers, I compile a rating. To do this, I constantly monitor forums, study insurance contracts and use insurance by myself.

Life hacking 2 - how to find a hotel 20% cheaper

First, choose a hotel on Booking. They have a good offer base, but the prices are NOT the best! The same hotel can often be found 20% cheaper in other systems through the RoomGuru service.

Discount hotels