Oh, I was tormented here with the withdrawal of funds fromAgoda's partnership program, so while I'm impressed, I decided to immediately share some observations about hotel partners I've been experimenting with over the past six months. I can not say that the experiments are straightforward serious, but it's long time ago it was time to do something in this direction.
Initially I had widgets and links fromHotellook (TravelPayouts affiliate), then I replaced all the links to Booking, then to Agoda, and finally to RoomGuru (formerly Hotelscombined). All this turned around while the season was in Asia, so statistics can be considered indicative.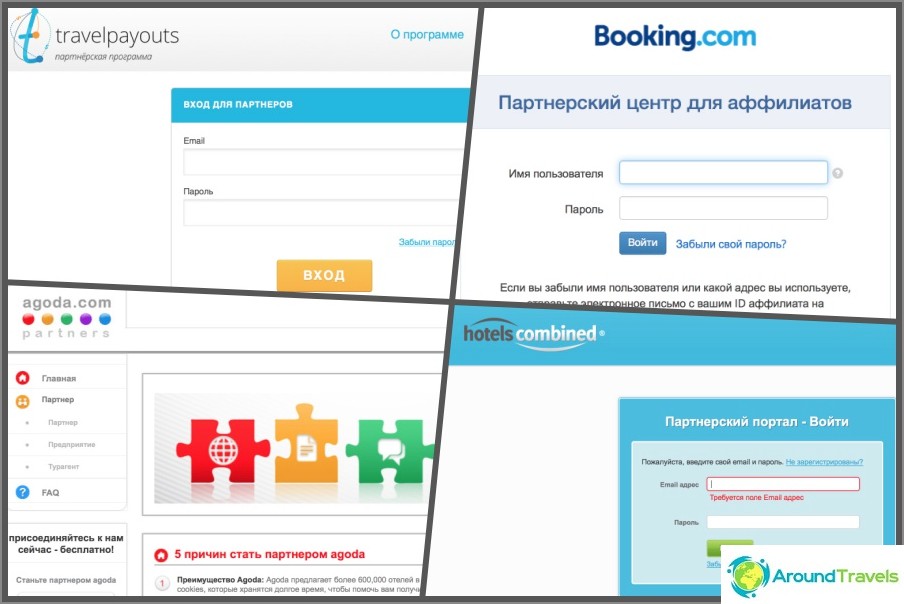 The content of the article
Affiliate Program Hotellook
Six months later, I switched back to Hotellook, the conversion is no worse than in RoomGuru, more tools.
Cookies are stored for 30 days.
Payment for booking.
Affiliate (registration) was already a very long time,a couple of years for sure, maybe more. As you probably know, the payment is made for the booked reservations, so you need to wait until you go to the mode. After all, a person can book a hotel in six months, and earnings will also be in six months. With my attendance, he brought in an average of 100–200 bucks a month at the old rate (then he had not yet risen), that is, 1,500–1,000,000 rubles, respectively, more in season, less in summer. Toward the middle-end of 2014, earnings were quite small, no more than 100 bucks, the crisis affected, after all, the hotels I have here are mostly Thai.
At Hotellook, I really like the hotel widgets inmap view. Logically, they should show excellent conversion, but I did not have time to use them. If anyone knows, tell me how they go on blogs.
Affiliate Program Booking
Cookies are not stored at all.
Payment for booking.
The first in line was the Booking. I braced myself and replaced all the links on the blog with the bookings, I spent the day on it. The logic was simple, Booking is very popular among Russians, it seems to me that most of the travelers use it, so they will not hesitate to book on it, the main thing is to give them the correct link, that is, to advise the hotel. Links were 3 months, waited until "I go to mode." It turned out about 50-80 euros / month. Not much. I think it would have gone up to 100 euros, but withdrew the links. The course of the dollar has just changed, but it still worked a little in rubles, about the same as RoomGuru did. I suppose it affects the lack of cookies, if it were not for this, it would be more. Need much more targeted traffic.
In terms of the widgets for Booking, there is nothing original, only standard banners and Search Box.
Agoda Affiliate Program
Cookies stored 365 days!
Payment for booking.
It has long been heard that Agoda works very wellOn sites dedicated to Asia, and cookies are stored for a whole year. Straight tidbit, huh? Zamorochilsya, again changed links, only now at Agoda. They cost about 2.5 months. Agoda's statistics are the worst, which I have just seen, it is very difficult to evaluate something from it. Those support is also so-so, I corresponded with them for a month before I could withdraw the reward. It feels like bots are responding, not real people (they don't answer plainly questions). The funny thing is that their personal account is buggy along the way, and already after a long correspondence and replacement of bank details in the account and via email, they still wanted to transfer money in the wrong place
And that was not the end of it, because the can (after all, as usual, withdrawn to the account of PI) required an offer in Russian, andAgoda only in English, had to translate. Well, that is not all, but only a part. By the way, on cards like Epayments, the remuneration cannot be withdrawn in the usual way, it is necessary to write to tech support and submit to search for payment, because the payment goes without a note, in which you can specify ePID, not a problem, but still.
So, it turned out in Agoda about 100-200 bucksa month already on the rise rate. That is the most profitable option among the previous ones. And if you "go to the regime," then I think it would be a little more, after all, 2.5 months is not enough, and at the end of the season there was already a deal.
Agoda has no partner tools either, only banners and a search form.
Hotelscombined Affiliate Program
Cookies stored 365 days!
Pay per click.
Well, the last option, which I especially evenand did not hope, because there is a payment for clicks, not for reservations. It seems to be generally not profitable. I've put this affiliate program a long time ago, it was first on the blog, and only then it was replaced by TravelPayouts with its hotels. So, not having had time to replace all the links (I mainly wanted to potent on the sidebar banner), already somewhere in a week I got into a ban. The same ban, for which many are scolded by this affiliate program. Because the ban is such that even the funds can not be removed any. Moreover, they slyly do it, wait until you accumulate 200 bucks (min amount), and only then do your traffic check, and get banned if it does not match their parameters (no bookings, only clicks). On the one hand, they can be understood, what for them partners who do not bring them profit and through which there are no bookings, on the other hand, why wait for the minimum threshold? Not fair somehow. As a result, I wrote to the Russian-speaking support (it's useless to English-speaking, they won't even answer), and they gave me a second chance. Like, if there is a reservation, I will be banned back. I finished changing all the links, added new ones, removed the banner, replaced it with a widget.
RoomGuru now brings 300-500 dollars. Not bad, I think, given that the season has already ended. The main thing now is not to grab the ban again, because there are no statistics on reservations in the personal account, just clicks. In vain they are so partners could control this process themselves.
With affiliate tools at Hotelscombined-RoomGuru is not thick, the usual banners and more or less normal search form.
P.S. Consider that on your blog any affiliate program may show completely different results, since everything depends on the specific traffic. I propose to share in the comments of their experiences / thoughts. What are you using?
Life hacking 1 - how to buy a good insurance

Choosing insurance is now unrealistically difficult, so to help all travelers, I compile a rating. To do this, I constantly monitor forums, study insurance contracts and use insurance by myself.

Life hacking 2 - how to find a hotel 20% cheaper

First, choose a hotel on Booking. They have a good offer base, but the prices are NOT the best! The same hotel can often be found 20% cheaper in other systems through the RoomGuru service.

Discount hotels