Bangla Road Walking Street Phuket - the solemn name of the street debauchery on Patong Beach. A place where you should not bring children, and notevery adult will want to stay there longer than half an hour: noise, din, crush, transvestites of all sizes, degrees of beauty or horror, and also barkers, grasping hands, policemen and pimps - all this is Bangla Road in Phuket.
The content of the article
Bangla Road in Phuket
Bangla Road is the street on which there is no daythere is nothing supernatural and half of the roller shutters on the buildings are closed tightly, and after 18 hours it is transformed beyond recognition. Here begins a seemingly not very legal and completely unwelcome government of Thailand, a paradise for those who are banned. The whirlpool of people who dance, smoke, smoke with a hookah, stick to transvestites, run away from transvestites, take pictures with transvestites (come across normally made), leave with shouts to bars and erotic shows.
Bangla Road is a Ping Pong Show, a streetmusicians, street magicians, dancers, dancers, artificial boobs, tons of makeup and meowing voices with hoarseness. And also pristavuchie distributors of crookedly printed flyers, signs with prices for drinks, special offers and laminated menus, music in each bar and dragdalers. With the latter - do not get fooled by any means. In crowded places, you will come across only police scammers who will later receive a share of your repurchase, and the size of it twice the budget of your vacation.
Bangla Road in Phuket helps those who are bored. There are well-adrenaline and sexually anxious people, companies of young "game hormones" and testosterone terrorists. Although many may dispute such a conclusion. Nevertheless, once I go, I think it's worth it, just to see what kind of street it is and what is happening there. So let's say it is an integral part of Thailand and its landmark. And so, by and large, Bangla Road is just an enlarged copy of any other Walking Street in any resort in Thailand. It's just that there's a wider street and more bars where young girls from distant provinces of Thailand and even from other countries are bored and do not particularly actively demonstrate their charms. All this is fascinating, surprising, and sometimes averts. In scale only Walking Street in Pattaya is bigger and grander.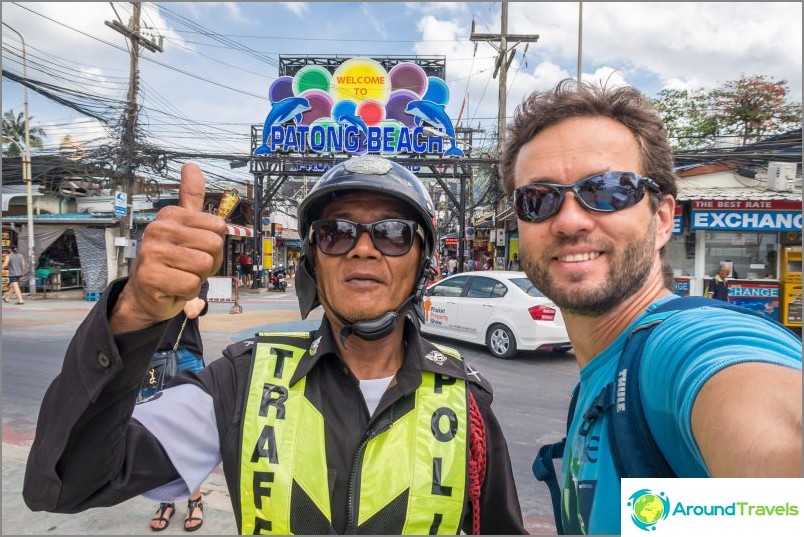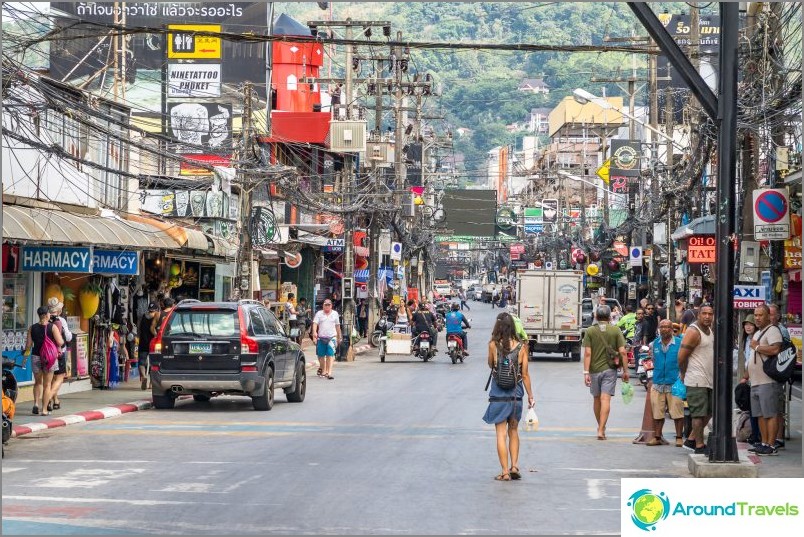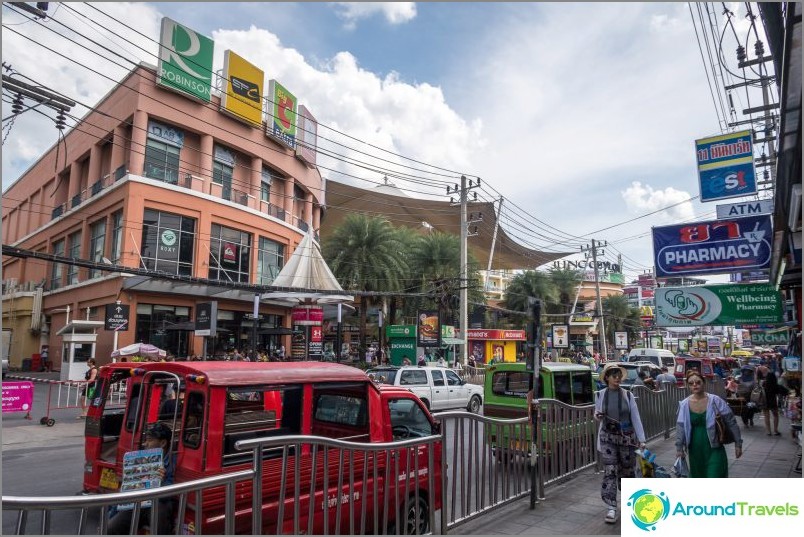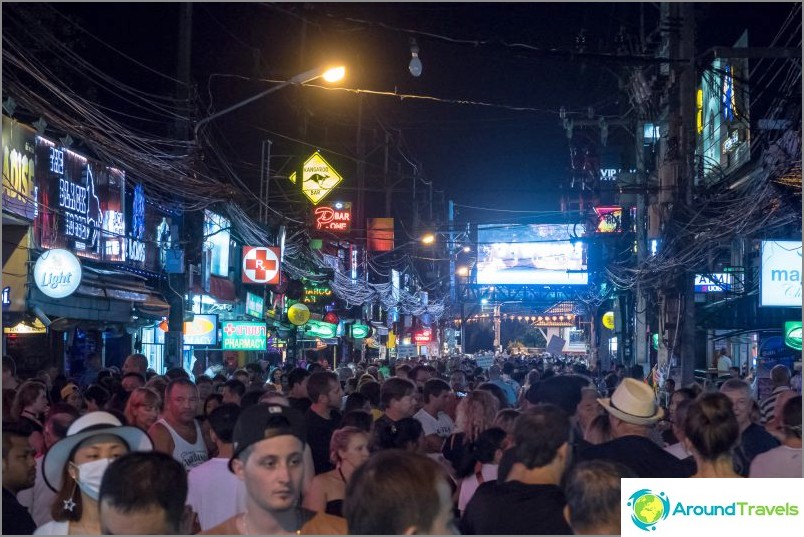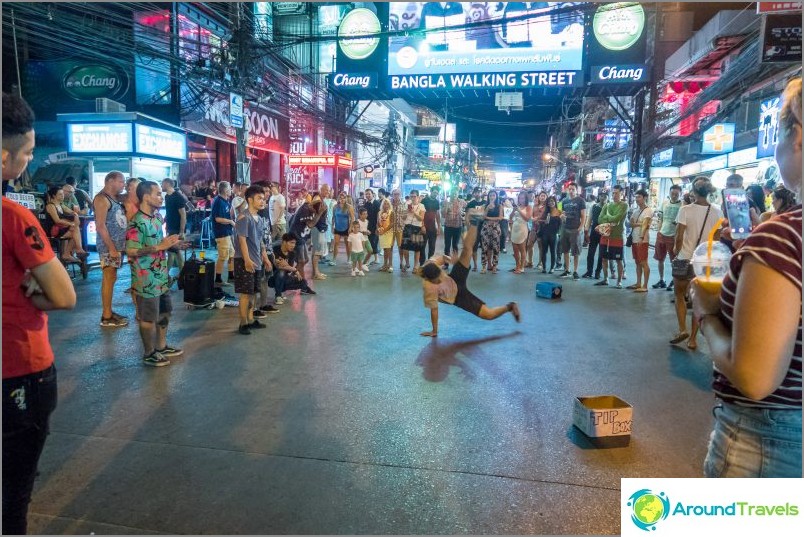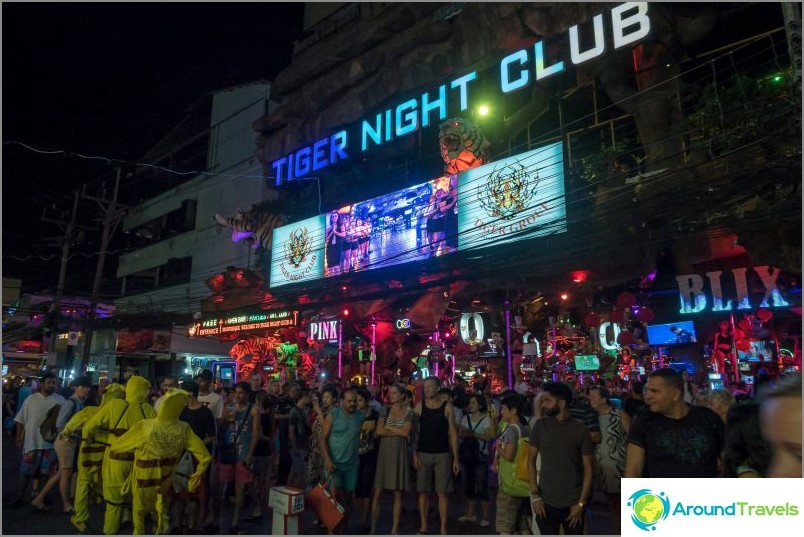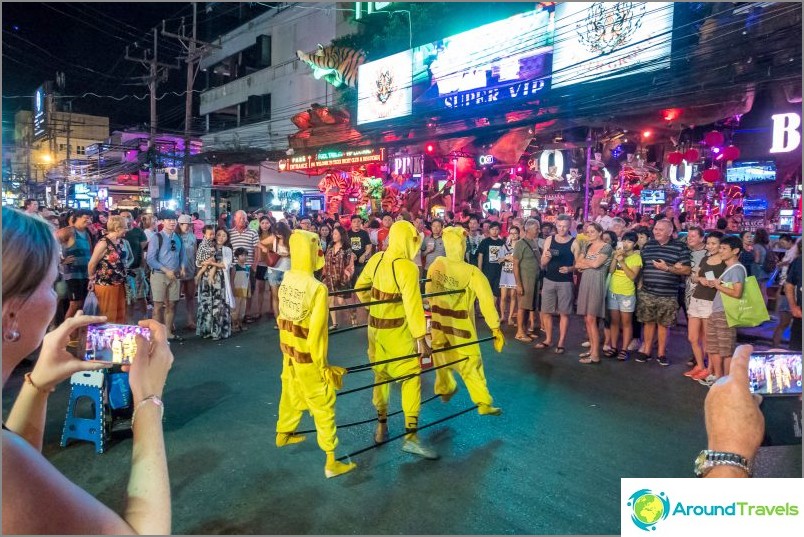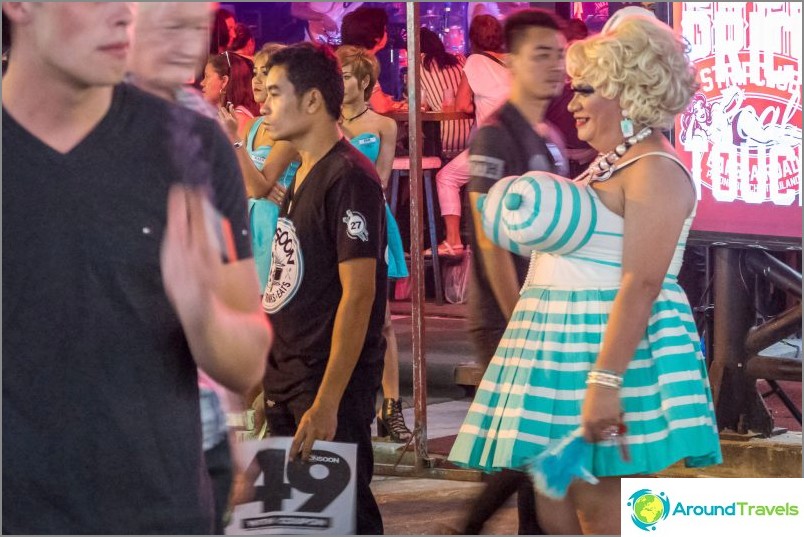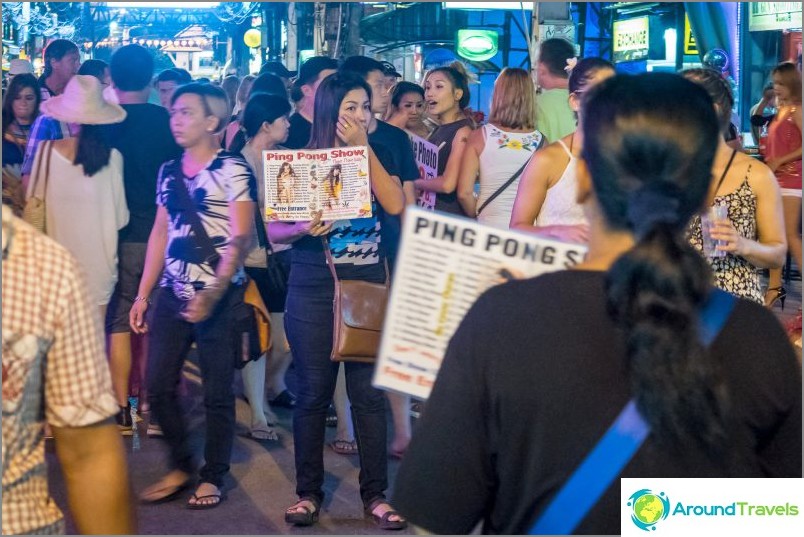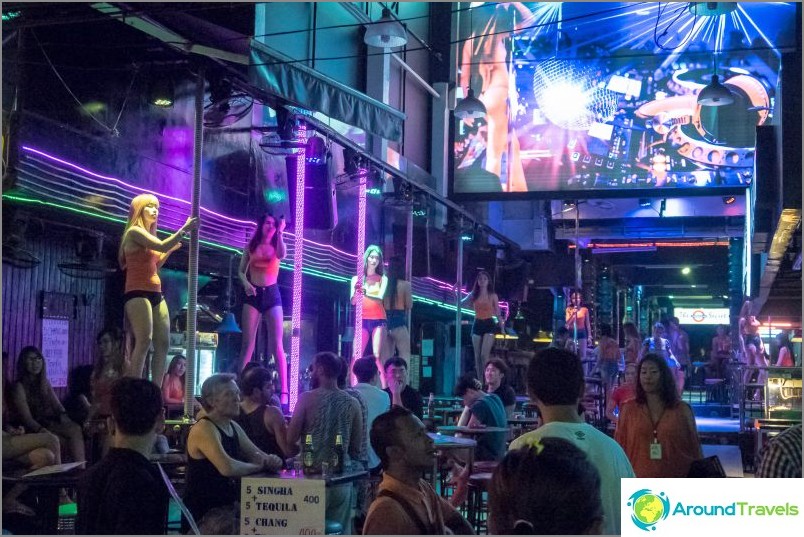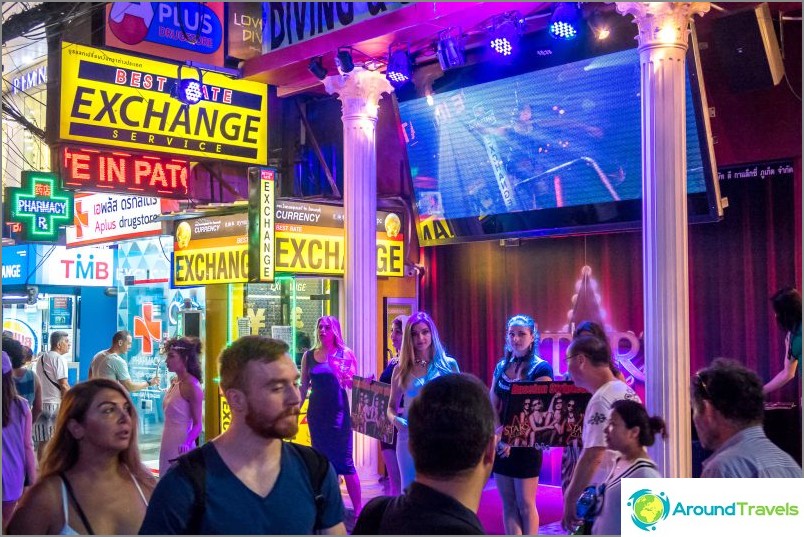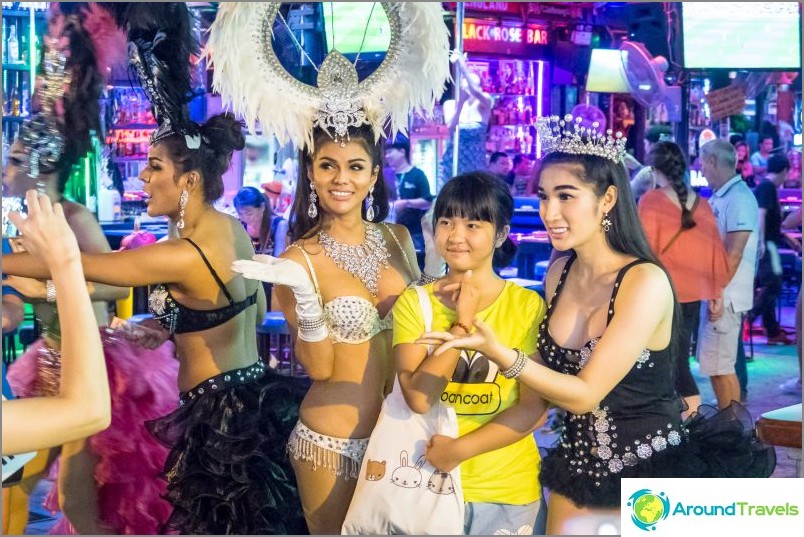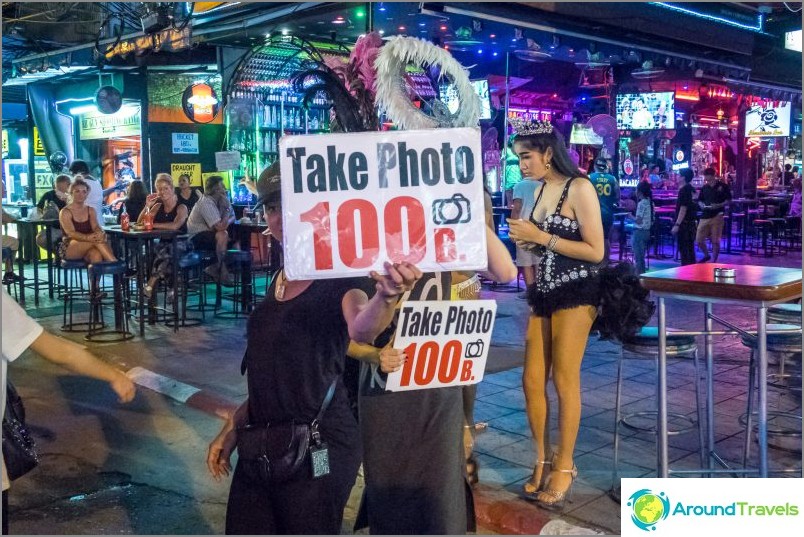 Information to visit
Starts daily from 18 hours. The street is blocked by portable fences and temporarily becomes pedestrian, and people have problems with parking nearby. With the onset of darkness, the lights and music become more intense, and the number of people grows with each passing hour.
Bangla Road - short, so walk on ityou can slowly. The side streets that are adjacent to Bangla are also not very clean, it's where the hot spots and taverns are concentrated, where a booze costs 20-30 dollars per cup. Be especially careful with Ladyboy - very nervous creatures, thanks to their hormonal disorders. They are in Phuket frequent heroes of news about beatings and robberies of tourists.
On the map
Bangla Road Map in Phuket
Map of Bangla Road in Phuket:


Life hacking 1 - how to buy a good insurance

Choosing insurance is now unrealistically difficult, so to help all travelers, I compile a rating. To do this, I constantly monitor forums, study insurance contracts and use insurance by myself.

Life hacking 2 - how to find a hotel 20% cheaper

First, choose a hotel on Booking. They have a good offer base, but the prices are NOT the best! The same hotel can often be found 20% cheaper in other systems through the RoomGuru service.

Discount hotels