I really like Bangkok despite itminuses. I tried it out, though not immediately, but from the second or third visit. And in particular, I like to go to the observation platforms of skyscrapers. I have several times been in the well-known Bayok Skye and wanted something new. Actually, you know, it is my omission that I have not visited other places, because there are plenty of observation buildings, like high-rise buildings, in Bangkok.
To catch up, I decided to go to 2 places at once: Vertigo Grill & Moon Bar and Lebua skybar (post link about it). Looking ahead, I will say that most of the sites in Bangkok are restaurants and bars, which is why the place is wasted.
The content of the article
Vertigo Rooftop Bar & Restaurant
Immediately I say - really liked it. Indeed, a good place, as they wrote in the reviews. The building itself is the Banyan Tree Bangkok hotel.

where you can stay for a couple of days if there is such a desire. The hotel is also good, though not cheap.
A Vertigo Moon Bar is located on the roof of this skyscraper at the height of the 61st floor. On the 59th you arrive at the elevator, and then another couple of floors you go up the stairs.
The roof is not very big and is divided into 2 zones: bar and restaurant. Moreover, the restaurant is located on two levels: a little lower, and a little higher. The bar is at a high level, so nothing prevents the 360-degree view. Visible Bayok Skye and the tallest building in Southeast Asia MahaNakhon. And what else I liked - there is no roof and no windows, you sit like that blown by all the winds of Bangkok directly on the street. True, it is good only in clear weather, if it rains, you will have to leave.
Despite the fact that many restaurant tablesthey were busy, and there was almost no free space in the bar either, the impression of a crowd that exists in Lebua doesn't seem to be there, it's really like a metro at rush hour. Though the people come to the bar not so much for drinks, how many for photos of themselves against the background of the night Bangkok, but there is no rush, everything is calm and measured. Also, the comparison is not in favor of Lebua, in Vertigo - no one "grazes" you, does not follow what you are doing.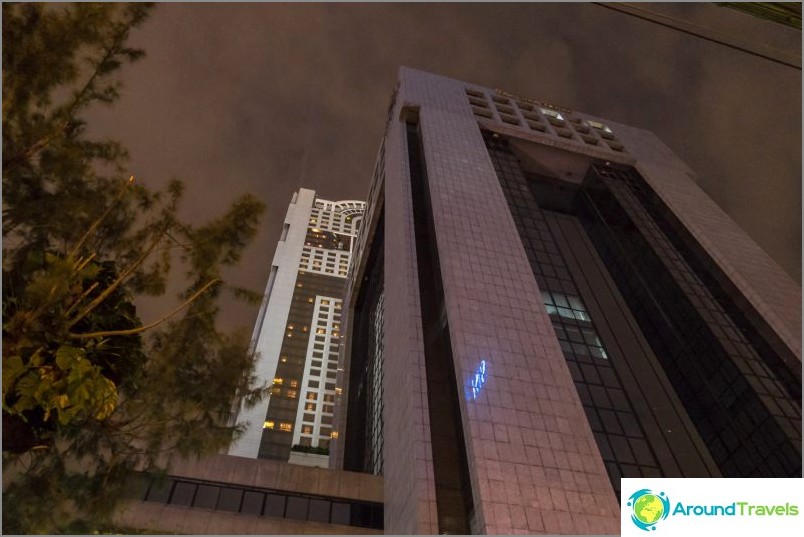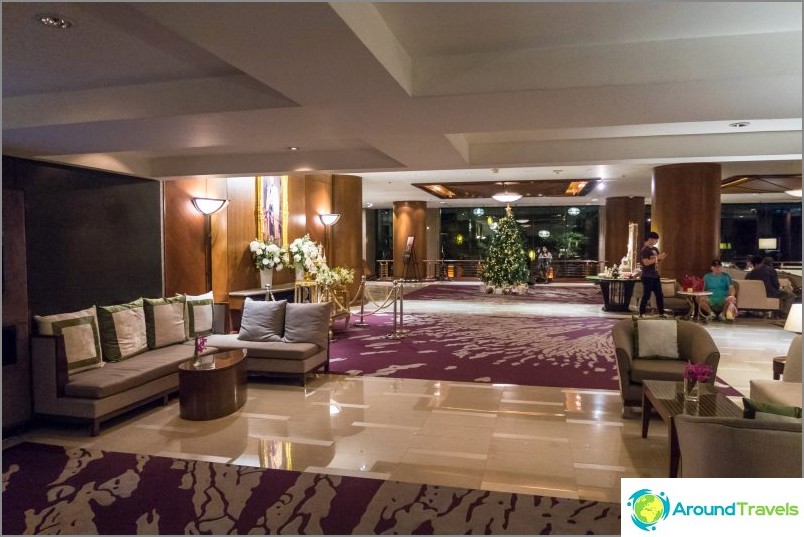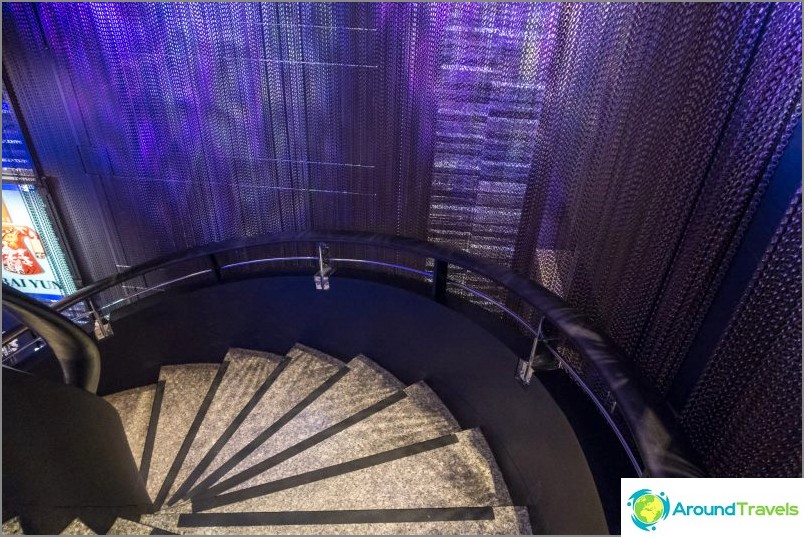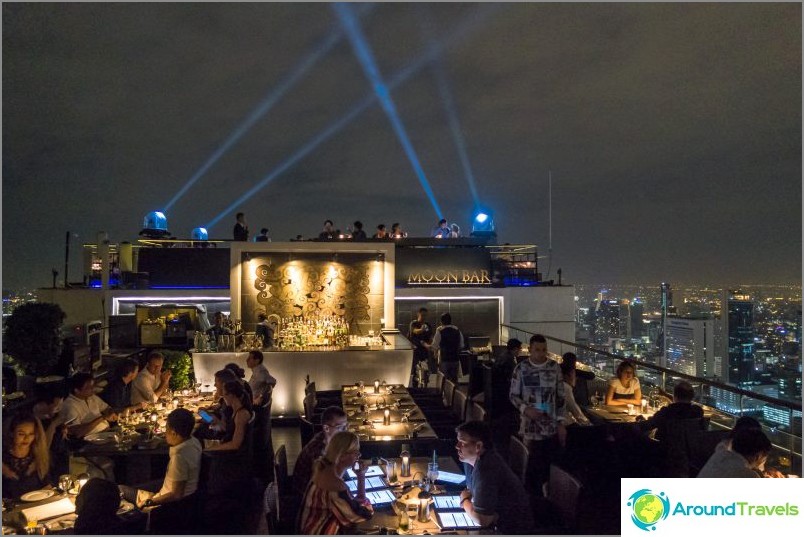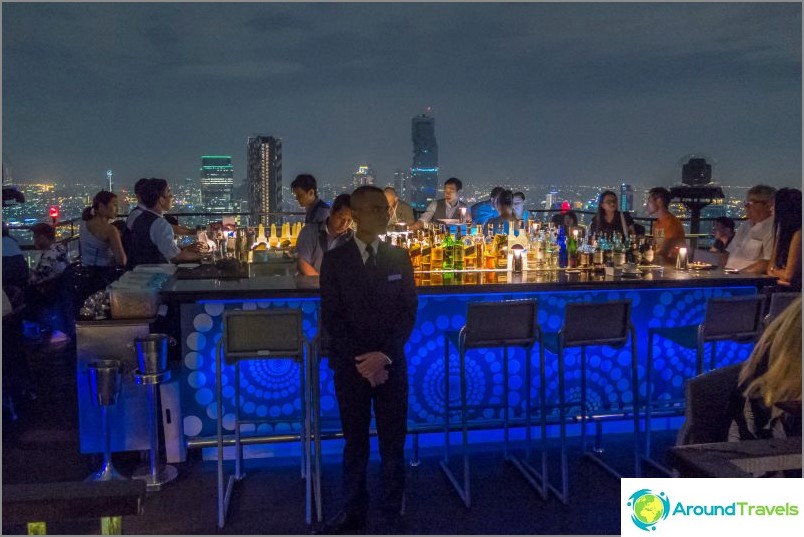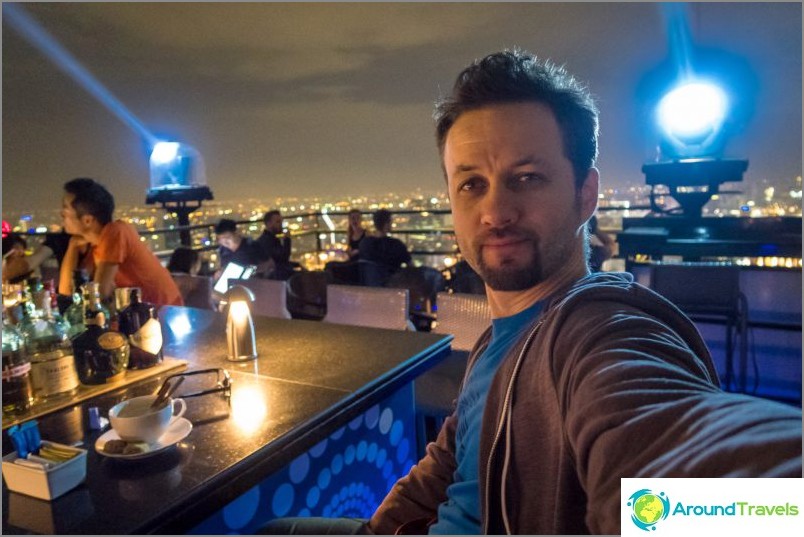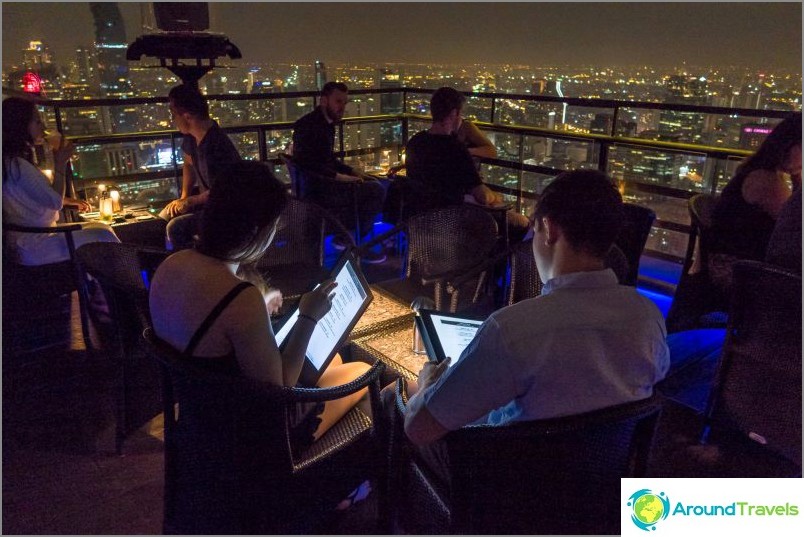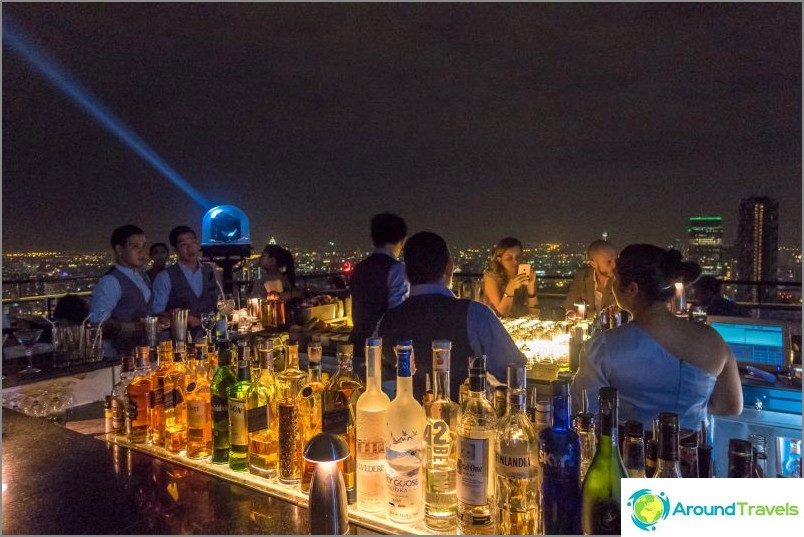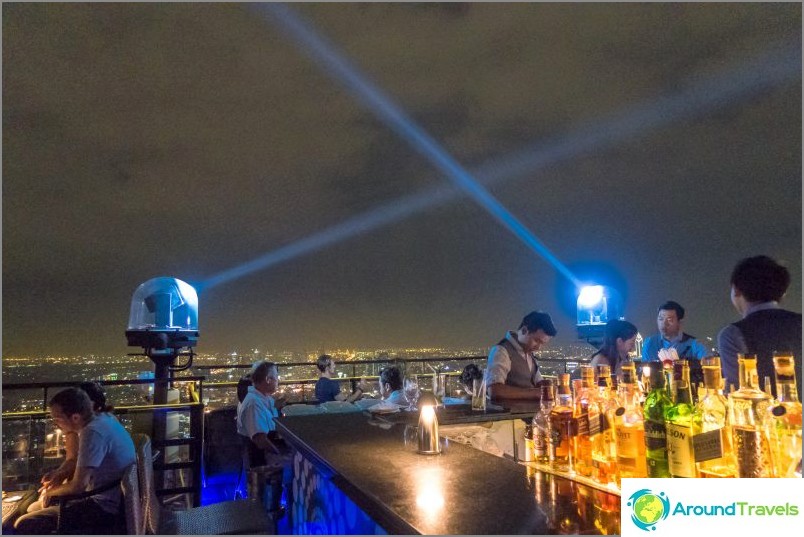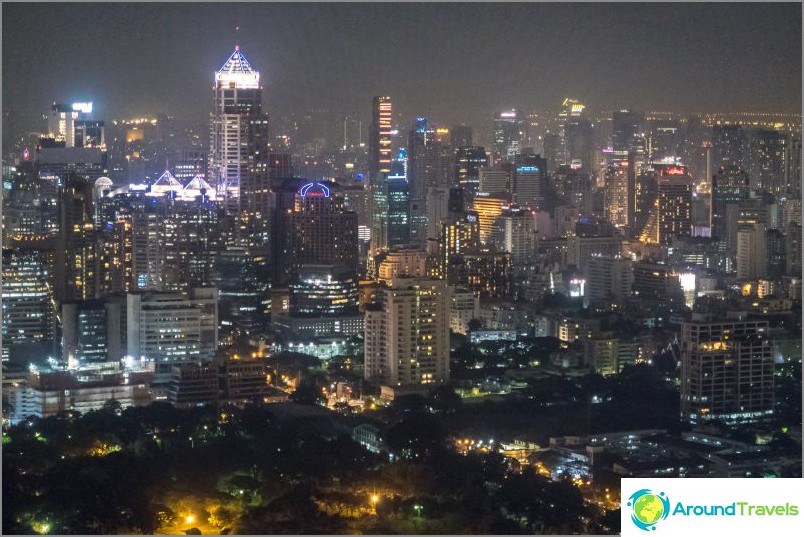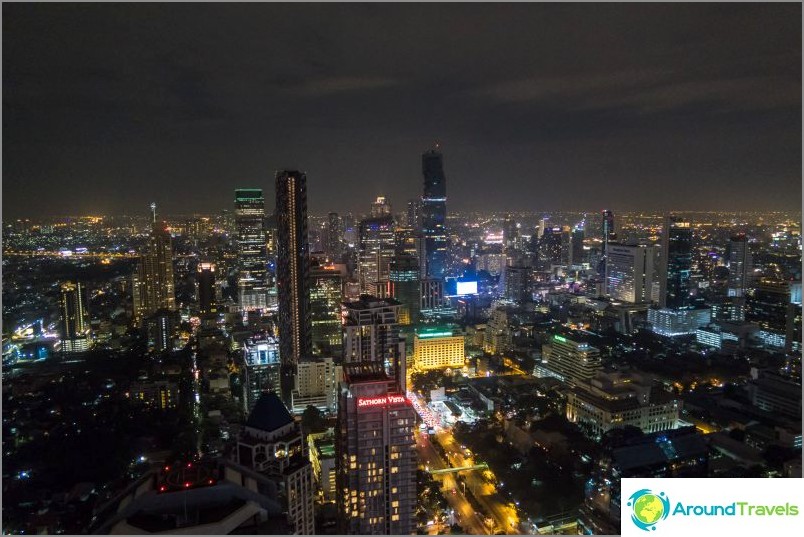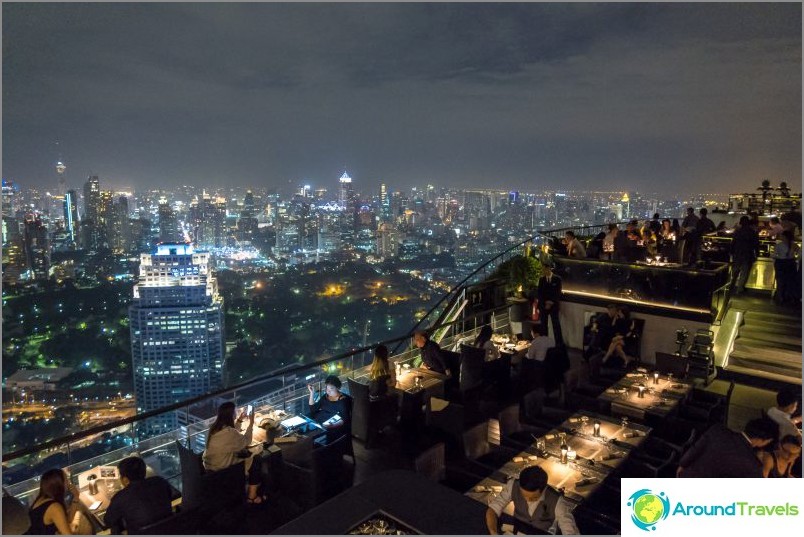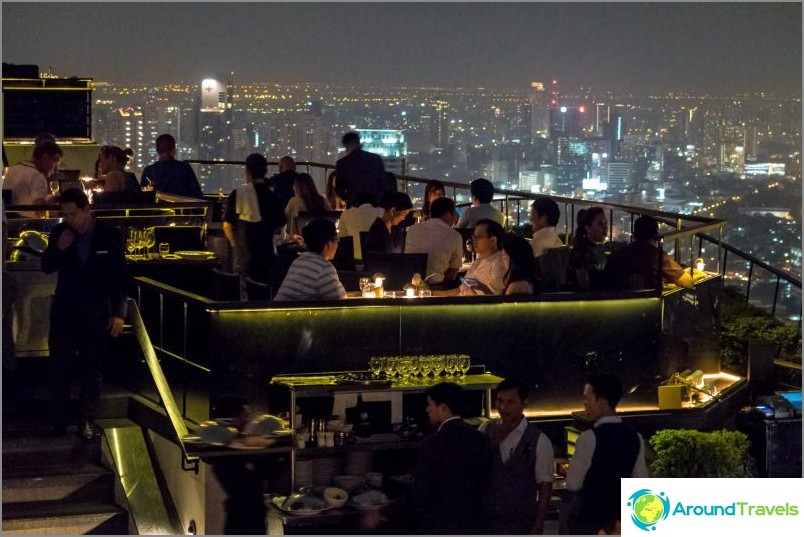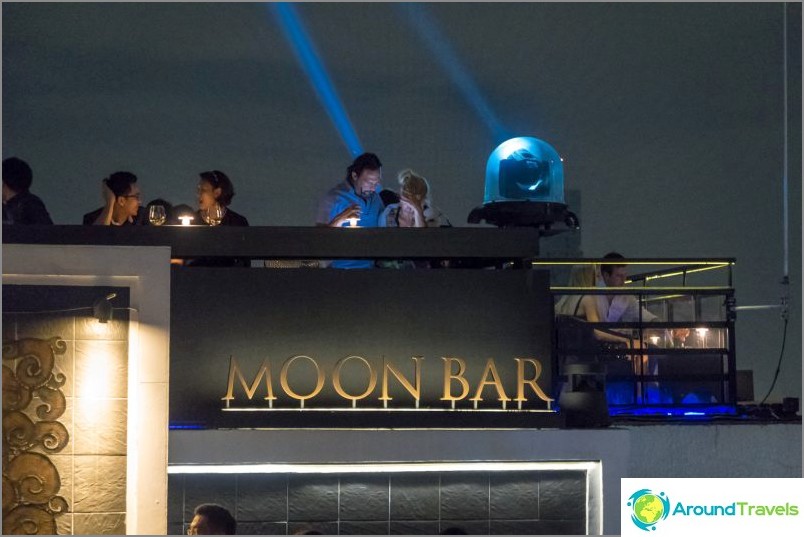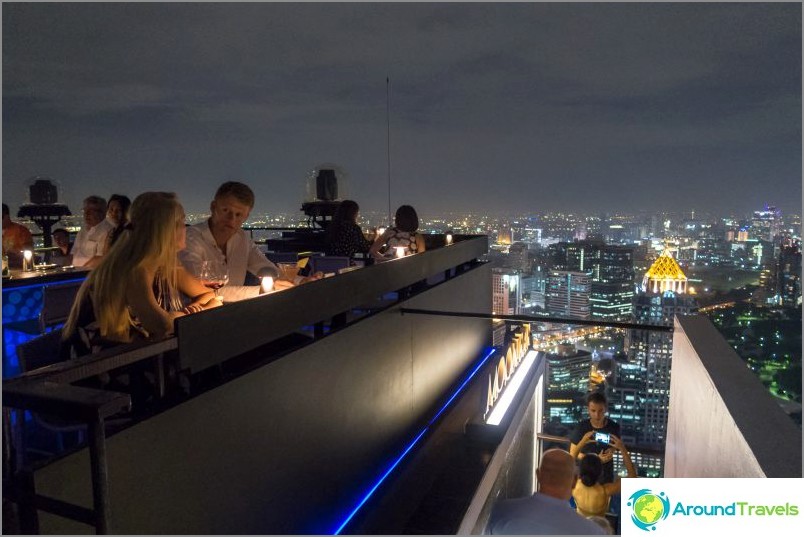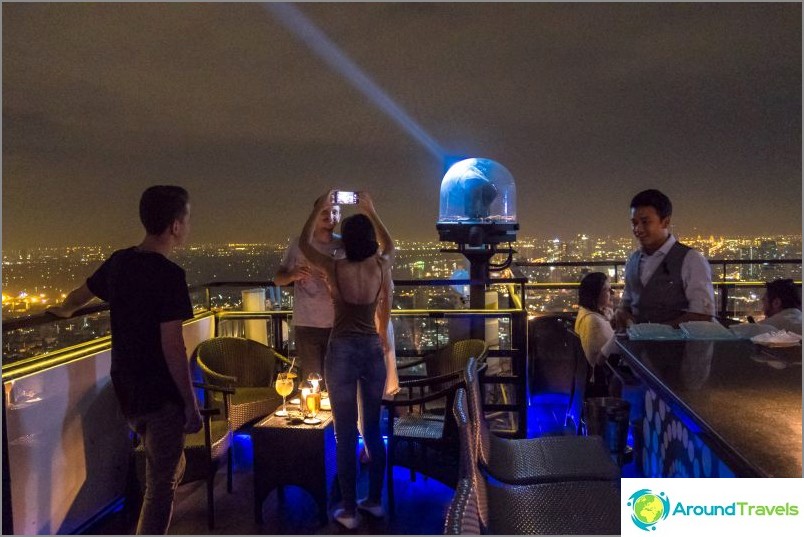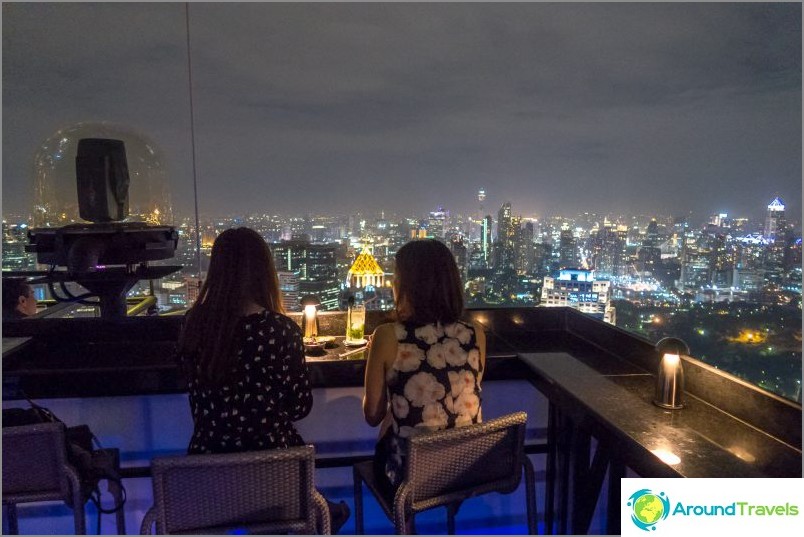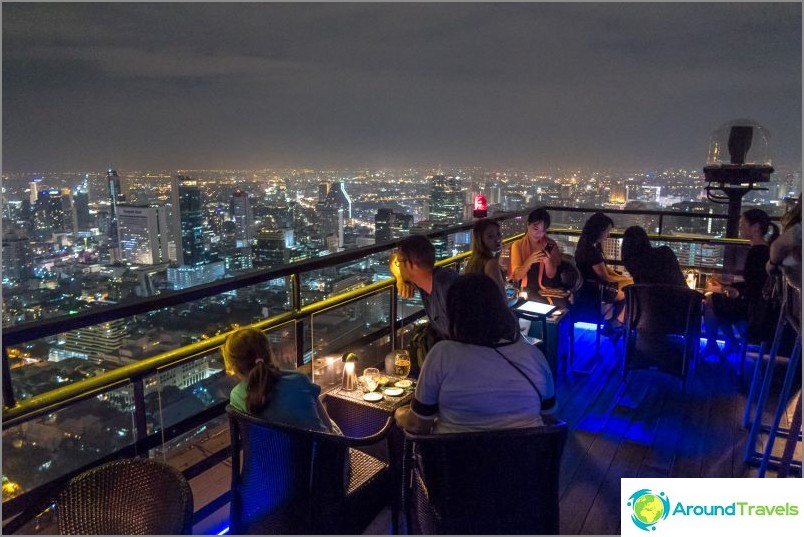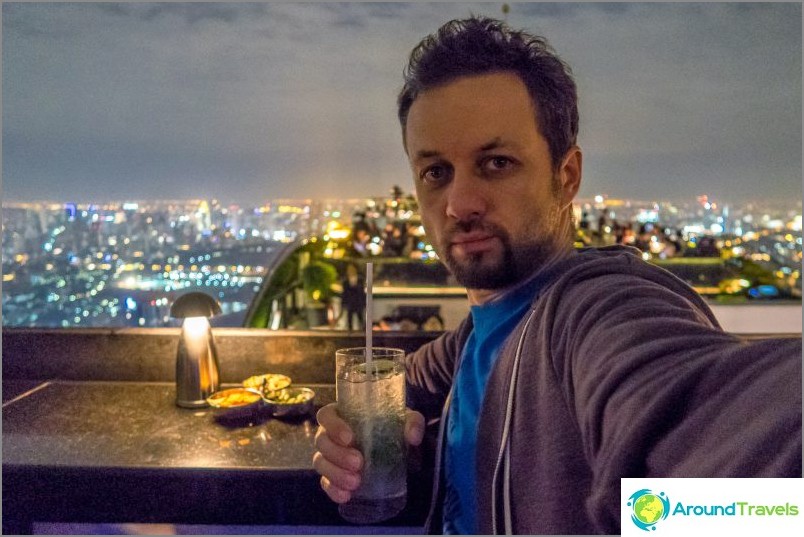 Well, of course, talk about prices. Here is a little expensive for Thailand. On the other hand, this is still an unusual place, the roof of a skyscraper after all. And if you do not go here every day, it is quite acceptable. You can come with a girlfriend, or with friends on her birthday, to diversify places for gatherings. So, I first ordered a cappuccino for 300 baht, then a non-alcoholic mojito for 385 baht. The coffee is normal, and the mojito something concentrated painfully turned out. To any drink give a free plate with nuts and chips.
It seems to me that at least onceworth it. If I want to be at the rooftop bar, I'll think about the Vertigo moon bar first. Even more I will say, somehow, on occasion, I must eat here and eat. Food prices I did not watch, but again, not every day here for dinner. I basically like the idea itself, got into a taxi and in half an hour you are already sitting on the roof, drinking coffee and enjoying the views. You can take a break for an hour between work or visiting the sights of Bangkok.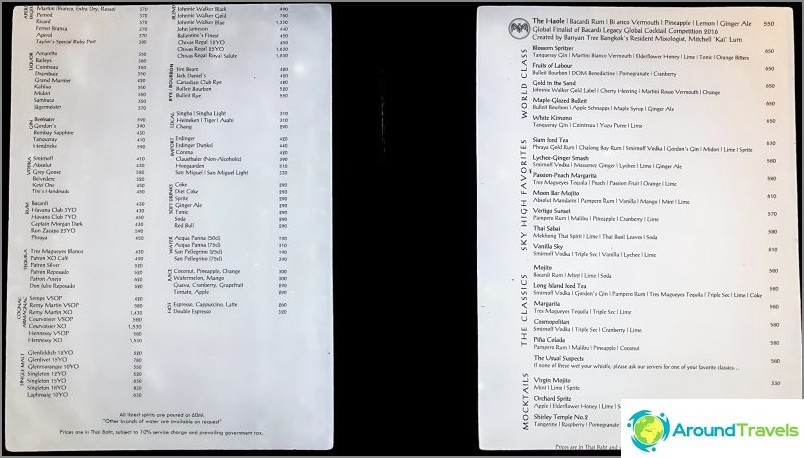 Information to visit
Bar opening hours from 19 to 1 am.
Attendance is free. Theoretically, you can not order anything at the bar, walk around to take a photo and retire down, but I didn't check, I decided to sit.
7% VAT and 10% service charge are added to all prices. In the menu, of course, all prices are drawn without these surcharges.
It is possible to order online visitrestaurant (not bar) for a romantic dinner. Food will be available from a specific menu, such as a buffet. Given the prices in the restaurant, not bad. You need to book through Klook, a very useful service, if you did not know.
Dinner at Vertigo>
The bar and restaurant has a dresscode, whattestifies to inscribe at the entrance to the lobby, as well as reviews on the Internet. I dressed maybe too closed. In fact, it is not necessary that the shoulders are closed, you can wear a regular T-shirt. The main thing - pants and closed shoes, no slippers or sandals. Girls easier, open sandals without problems. Judging by the visitors.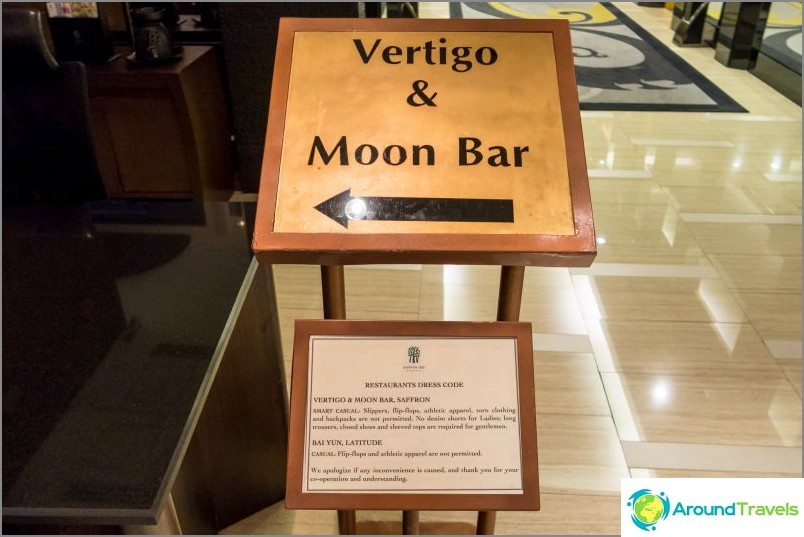 Hotels in Bangkok>
Be sure (and I insist) check availabilitydiscounts or special offers on the excellent Roomguru service. It will quickly and simply show you discounts in all existing reservation systems. In Asia, for example, there are lots of offers on Agoda.com that are much more interesting than on exactly the same hotels on Booking.com.
For example, here is a direct link to the hotel: Lebua at State Tower

On the map
Located near the MRT Lumpini metro station. Ibid next to the same name Lumpini Park.
Viewpoint at Vertigo Restaurant
Viewpoint at Vertigo Restaurant
Banyan Tree Bangkok, 61st floor bar and restaurant. Called Vertigo Grill and Moon Bar. Nice place.
Read more
Banyan Tree Bangkok, 61st floor bar and restaurant. Called Vertigo Grill and Moon Bar. Pleasant location. Read more
P.S. In general, see for yourself whether you want to go to a similar place or not. But if you really go, then definitely not in Lebua! Vertigo is much nicer in my opinion. And someone generally considers him the best in Bangkok. I myself also want to go to MahaNakhon when it is opened.
Life hacking 1 - how to buy a good insurance

Choosing insurance is now unrealistically difficult, so to help all travelers, I compile a rating. To do this, I constantly monitor forums, study insurance contracts and use insurance by myself.

Life hacking 2 - how to find a hotel 20% cheaper

First, choose a hotel on Booking. They have a good offer base, but the prices are NOT the best! The same hotel can often be found 20% cheaper in other systems through the RoomGuru service.

Discount hotels