In my opinion, full-blown attractions on Phangan Little. The waterfalls here are tiny, the mountains are so-so, and from the really beautiful here there is only that beaches. Everything else on Phangan is very simple, small and parochial. Comparing with Samui, where the situation with the sights is a little better, I would say that in general the islands are very similar. But if there are only bars, restaurants and a couple of clubs on Koh Samui, then there are party places on Koh Phangan where events are held that can be fully considered separate pastime. The best parties - on Phangan!
Though some experts say that PhanganIt is not necessary to consider a rave island, but it's just for parties and get-togethers that you should go. And now I'm not talking about the well-known Full Moon Party, but in general about the whole set of propulsion on the island. I have not met another place in Thailand where there would be such a dense concentration of assorted parties, specific bars with viewing platforms (where the parties are also regularly lit) and iconic cafes. I do not think of another resort in Thailand, with such a number of entertainment venues, which (according to old residents) is steadily increasing, and their quality is increasing.
The content of the article
Bars Phangan, where they hold parties
There is a separate category of bars on Phangan, where notthey only offer drinks and menus with a set of dishes, but they also regularly hold parties. Moreover, in some places, the organizers are absolutely not attached to the time of day, and people can hang out here literally around the clock. Below I have listed the main, cult specific bars where most of the farang on Phangan flow into and that should be paid attention to those who appreciate such a plan of things.
Amsterdam Bar and Top Rock Bar
Legendary place, known to absolutely everyonetherefore, at dusk, there is stupidly not overflowed. A trip to the Amsterdam bar and meet the sunset is a mandatory part of the program when visiting the island. Although I can say that in fact the view there is not the best. But the place is pleasant, if you are young, broad-minded, you like techno-style music, and you don't mind that someone near you will smoke weed. No wonder the name of the bar Amstardam is consonant with the famous smoking city in Holland.
The bar has two sites: one is lower, with a pool and music in the style of techno, and the second one is taller, with sitting and lying places and more calm music. Usually, it is on the second site that the people have the most, as the view from there is better. And it is there that you can lie down on the pillows and slowly smoke a joint in the company of friends, well, or in splendid isolation. If you want to take a better place, then go there an hour or even two hours before sunset. Watch the sunset - the minimum program for this place. The atmosphere is bekperskaya, slightly rastamanskaya, although many people just drink beer. And on the lower platform, there is already more movement, here the people are stunned by the dances and the drunk is consumed stronger and in large quantities. Details from the photo and how to get - Bar Amsterdam on Phangan - a cult place with sunsets.
Next to the Amsterdam bar is the Top Rock Bar. It is simpler, smaller, but also with a good view. It can fit on the strength of 20 people, I think. The atmosphere here is different, maybe because of a completely different contingent, and maybe due to the interior of the bar. This is not a modern stone structure, like the Amsterdam bar, but a wooden, in some places reminiscent of the style "of which they found, of what they did,". Contrary to the opinion of some experts who argue that smoking in Pangan is possible only at certain points, here you can definitely buy and smoke a joint. That is, in this regard, Top Rock Bar is slightly different from Amsterdam, and here you can also meet rastamans. Details from the photo and how to get - Top Rock Bar in Phangan.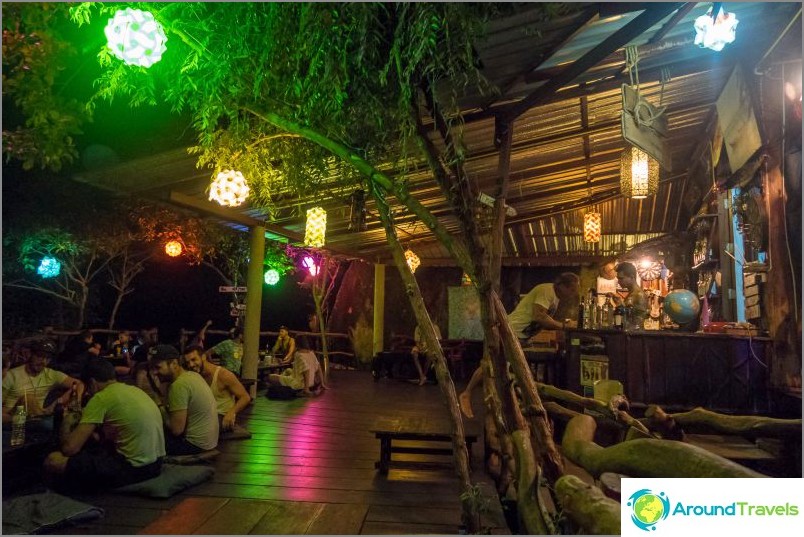 Bar 360 and Restaurant Utopia Resort
"Bar 360" is probably the best viewpoint onthe island. Located on the roof of a building built on a mountain, and the view from it opens, if not 360 degrees, then 270 degrees for sure. Previously, there was an abandoned hotel that was idle for a long time. Now the hotel has remained, but a bar has been made on its roof. As far as I know, the place belongs to the police and is controlled by it, but at the same time on the spot you can buy not only standard drinks, but also smoke. True, not every day, but only during parties that take place a couple of times a month.
The rest of the time, it's just quiet and calm.a bar where there are practically no people. And yes, it is better to come before sunset, so that at the same time also the sun to spend. Below is a nice beach Had Mae Hut with a sand bar (ford) to the nearest island of Koh Ma, which is exposed during low tide (just in the afternoon). You need to go under the arch of Utopia Resort and then follow the signs. The road is mostly concrete, not difficult, albeit uphill. All details with photos, and how to get there - Bar 360 on Phangan.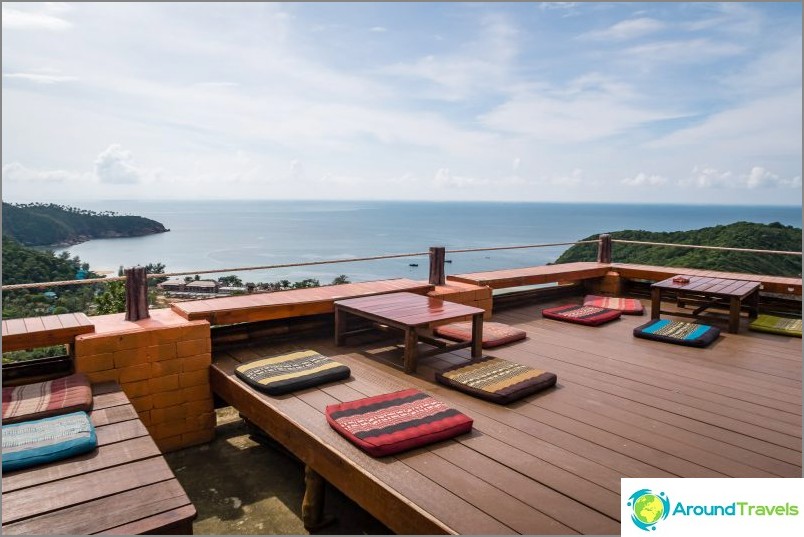 Another viewpoint restaurantHotel Utopia Resort is right there next door. From Bar 360 you can walk a few minutes along the path to the building, or vice versa, from the restaurant to the bar. Utopia Restaurant is not distinguished by the best cuisine, but a very pleasant view, albeit with a much smaller viewing angle than at 360. But you can dine at sunset, with all the amenities and good music. Prices are average, as in all places of this kind. More details, photos and how to get there - Utopia Resort on Phangan - a cult hotel and restaurant with a view.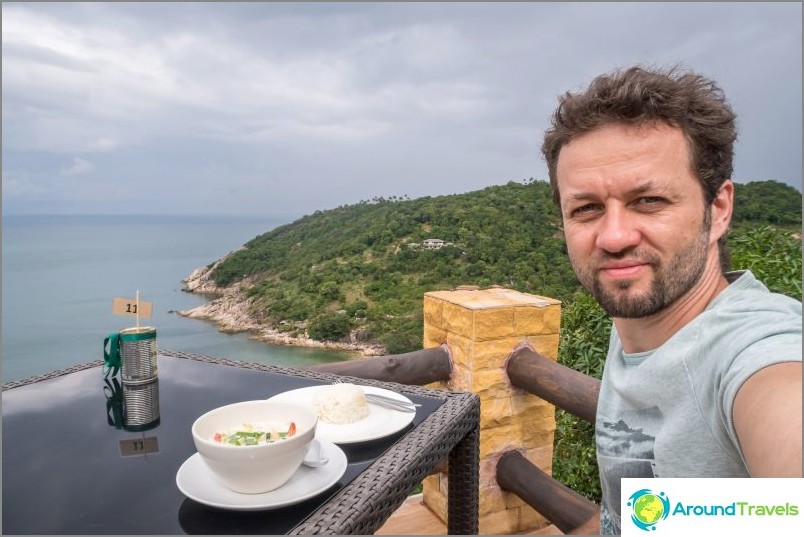 Lighthouse - techno parties, bar and bungalows
At the very southern edge of Phangan, behind the beaches Haad Rin Nye. Haad Rin Nok and Lila beach the cult place of fans of "techno" is located. Phangan itself is a young island, reckless and energetic, so that among young people Lighthouse has a positive reputation and is always in demand among local residents. It is located on the outskirts, at the foot of the mountain, right on the rocks along the edge of the sea. On the cliffs there is a small bar with a courtyard, in which events are held in a techno music format. Under the club there are rocks from which you can jump into the water, and behind the club there are bungalows in which you can live or spend the night. More details, photos and how to get there - Lighthouse - techno parties, bar and bungalows.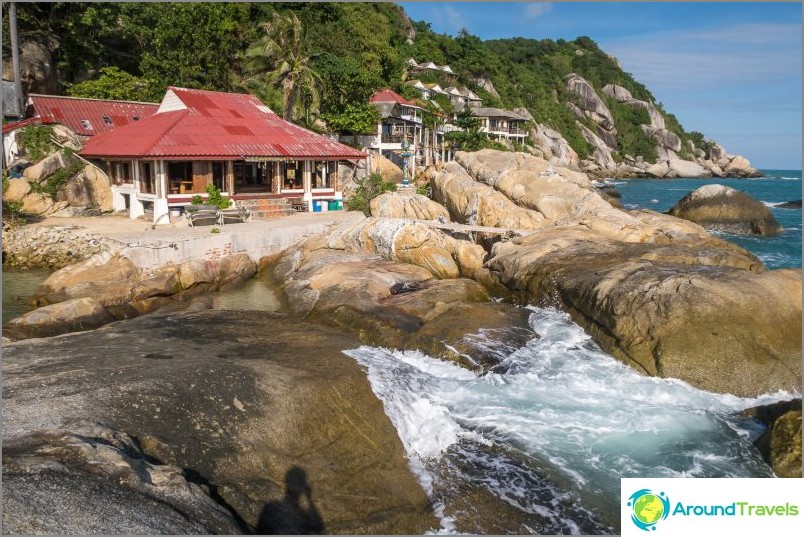 Guy's Bar and Eden Bar
Haad Tien is the middle one in a group of three beaches on this edge of Phangan: Wai Nam. Haad tian and Haad Yuan. Haad Tien is known for a wide range of tourists.Guy's Bar is deservedly considered a cult place and one of the most interesting viewpoints on the eastern edge of Phangan. The peculiarity of the place lies in its inaccessibility, so to come here by land is problematic, and by sea is not cheap. From 8 pm to 9 am every Friday (Guis Bar) and every Saturday and Tuesday (Eden Bar) local parties are held here for those in the subject. Although local tabloids on fashionable places have long been adding these two bars to the general list of parties, so there is no special authenticity and secrecy here for a long time. Twist the house. Details with photos and how to get - Guise Bar on Phangan and Eden Bar are places of worship for parties.
Restaurant Koh Raham
Another iconic restaurant (or rather a bar) onwest coast of the island of Phangan. With strong storms during the monsoons, it sometimes decently flushes and destroys it, but given the materials used - the restoration does not cost the owners a lot of money. The bar seems to be made of marine debris, the fact that the sea washed ashore. Wood, boards, snags, ropes and cords, bamboo and palm leaves are a lot of natural material that creates a very warm and cozy atmosphere. Well, if you add a great view of the sunset sky and music - you can safely record a place in the top ten best places in Phangan. More details, photos and how to get there - Koh Raham on Phangan - authentic restaurant of marine litter.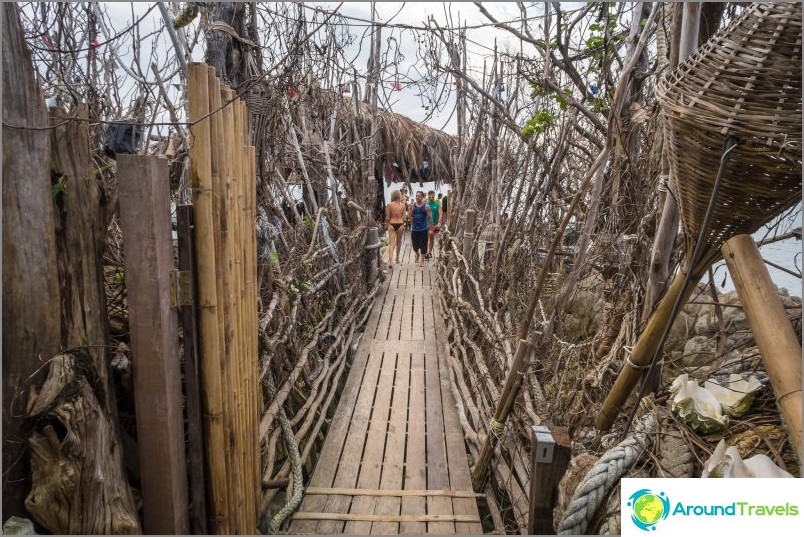 Mountain secret bar
Good place on the mountain with a viewpoint and panoramicoverlooking the south of Phangan. Earlier parties were held there, but something didn't grow together and they were no longer on my arrival. Maybe they will resume, maybe not, write in the comments if you go. The road to the top is not very good, but it is still dirt. That is, you can drive, but if you are completely new and after the rains, it may not be worth it. The restaurant stands on the mountainside, in the form of a building on stilts. The lower floor - parking and hozblok, and the top - a bar, cafe and swimming pool, with two specially equipped observation platforms. In good weather, there is a stunning view.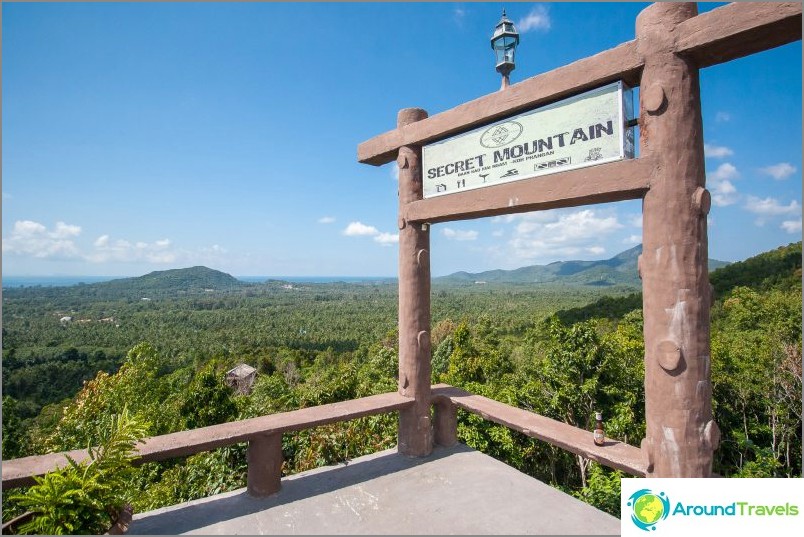 For body and soul
Orion Center
Orion Healing Center on Phangan - this placeTusovka supporters of yoga, healthy lifestyles and healthy eating. In general, all that concerns the purification of the body and all sorts of practices - this is here. Orion Center is located between the beaches. Ao Hin Kong and Sritana. There are no swimming beaches nearby, exceptindicated, and directly near the center - shallow water and stones, that is, the sea for contemplation, and not for entertainment in the water. More details, photos and how to get there - Orion Pangan Center - vegetarian cafe, sauna, yoga and detox.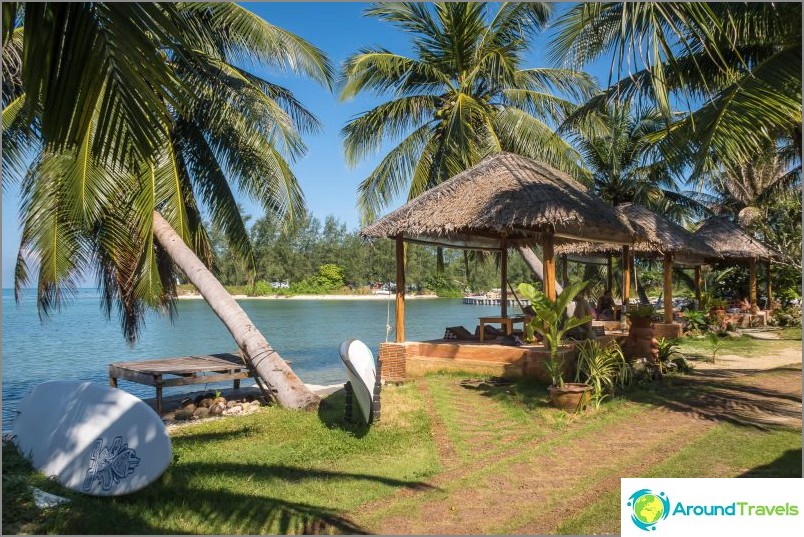 Bathhouse The Dome
Unlike its neighbor, Samui - on PhanganThere is a good selection of saunas, most of which belong to Buddhist temples. However, there are quite popular places among private establishments that enjoy the attention of connoisseurs of this type of recreation. The Dome is one of those. The best time to visit is after sunset. A special feature of the sauna is the dome of the sauna and the interior in the style of a wild island. In the evenings, there is a bonfire here, lighting lights and lighting for relaxation. More details, photos and how to get there - The Dome on Phangan - one of the best, or a bath, or a sauna.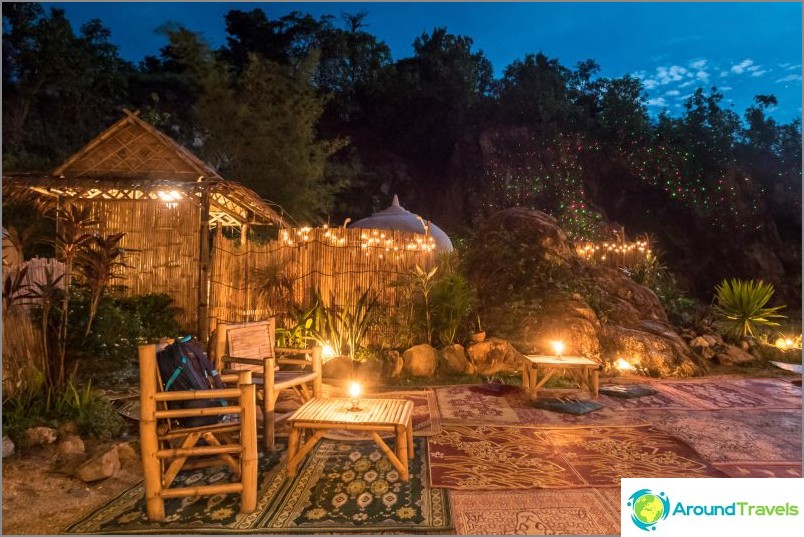 Coffee houses and healthy food
Cafe Sweet Shell
Cafe Sweet Shell I would call Sweet by FreudHell, because it's really hellishly tasty, you can get blasted with cake. Shell is translated from English as "shell". It was meant, apparently, that here you can hide in your sink from the whole world and, in principle, have guessed with the name: it is cozy, pleasant, comfortable and tasty in a cafe. The owners of the restaurant are Russian-speaking, and the café's chip is excellent desserts. Very suitable place for gatherings with friends after sunset. More details, photos and how to get there - Sweet Shell Cafe on Phangan - for sweet teeth and lovers of Russian cuisine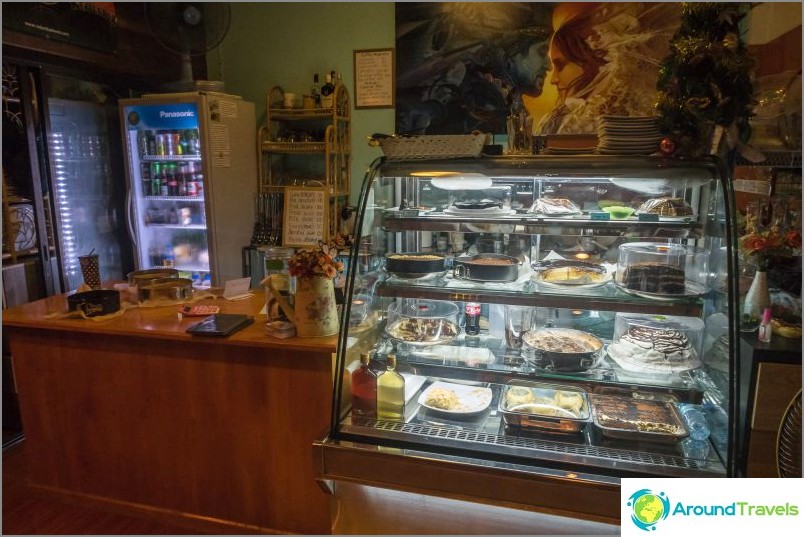 Coffee Shop Dot's
The best coffee on the island, but here at one time werelaptops are banned, as the owners of the establishment did not want to turn it into a co-working place. They say that now it is already possible with a laptop, maybe there are many who want it. One of the most suitable cafes in Tong Sale. Chip places - European style and the bestcoffee on the island. The owners speak Russian. The place should definitely be in the top ten of the best cafes on Phangan. More details, photos and how to get there - Coffee Shop Dots Coffee - the best coffee in Phangan.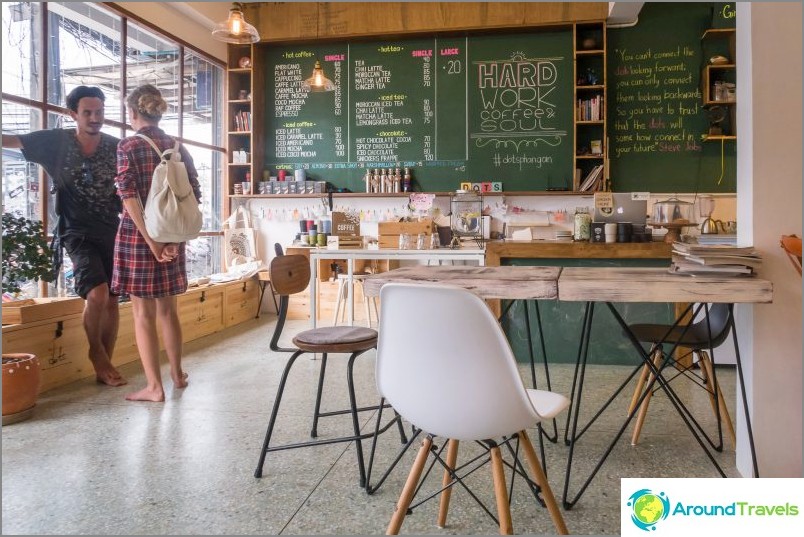 Doppio Coffee Shop
Place across from Dot's coffee shop, where bothsince everyone is sitting with their laptops - there are no bans on office equipment, but they also make coffee here - so-so. Right in front of Dots, it will not fail to notice. At the same intersection there are two banks with ATMs, that is a great location between money, food and ferries Tong Salynear the main pier of the island. More details, photos and how to get there - Cafe Doppio on Phangan is a good place for a freelancer.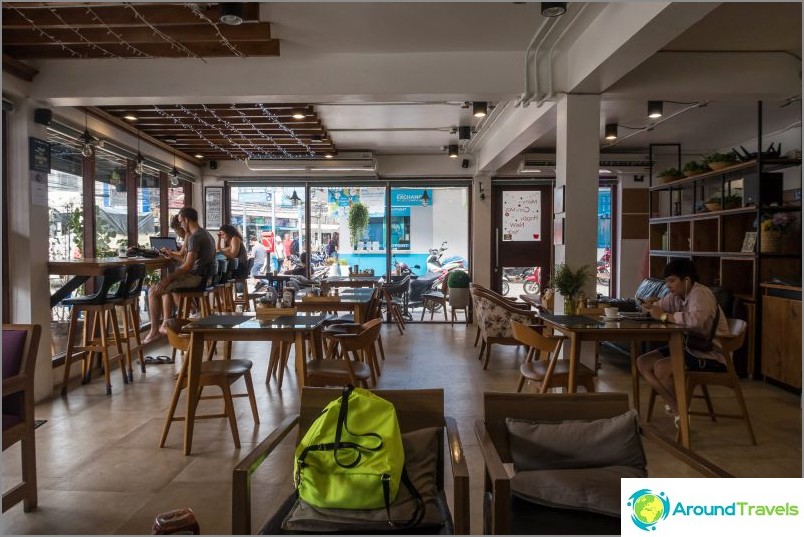 Nira's Home Bakery
Nira's Home Bakery is also a famous placeYes, and located directly next to the piers of Tong Sala. Near the port, people usually hang out in anticipation of their ferry and often stay in Niras Home before leaving. Or vice versa, upon arrival they come to drink a cup of coffee. The place is rather ordinary, there are a lot of people, it has a big cross, so in my opinion it's better to go to Doppia or Dot's. But if you are still in Nira, then try the best ice cream on the island - Coconut Mam IceCream. More details, photos and how to get there - Nira's Home Bakery - coffee, breakfast and comfort.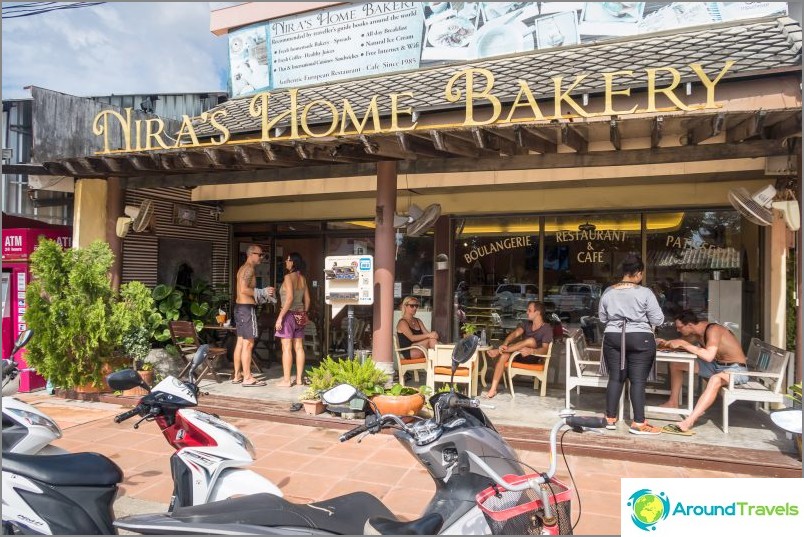 Vagga bar
Vagga Bar is located near the resort with trickytitled See Through. It looks like an ordinary cafe on the beach, but there many people come to order a drink or sit for a smoke, glancing at the sea. Be sure to take the coconut shake, here it is the best, he has a lot of coconut pulp inside. The place for the bar is chosen very well - on the beach Haad Yao beach. In sunny weather it is very photogenic here. More details, photos and how to get there - Vagga bar on Phangan - coconut shake overlooking the sea.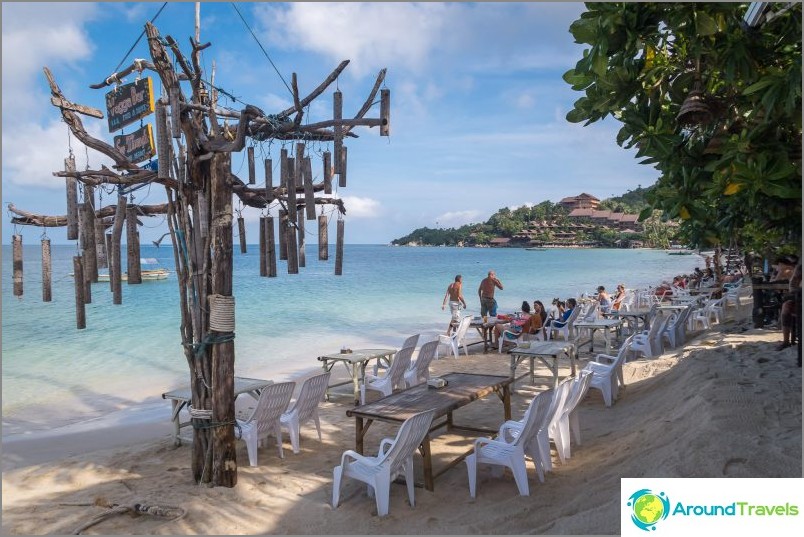 Vegetarian Taboon Restaurant
Taboon Restaurant - a restaurant serving Israeli cuisine, andanother cafe with homemade pastries and a hand-made shop, three in one. Located on the beach Sitana, which is valued by admirers of esotericism, yoga and healthy lifestyles, including vegans. Tabuun is just a vegan restaurant, in my Israeli opinion it's very worthy. More details, photos and how to get there - Vegetarian restaurant Taboon on Phangan - Israeli cuisine.
Akasha Home or Macrobiotic
Akasha Home is a small vegan restaurant thatuntil recently, it was called Macrobiotic (Macrobiotic World). It is located close to the sea, on the beach of Sritran. The place is quite popular, well-known and in high demand even in the low-life. More details, photos and how to get there - Vegan restaurant in Phangan - Akasha Home or Macrobiotic.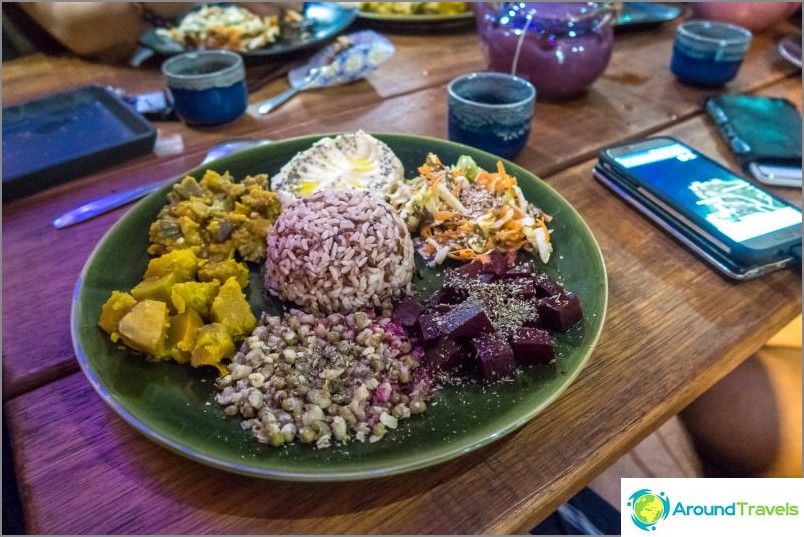 Purely parties on Phangan
If in the distant eighties on Phangan onlythe very idea of ​​the Phangan Party was beginning to take shape, and all the seichenes were reduced to the wild dancing of a small company around a fire on the seashore under the full moon, but now everything has changed. Phangan - this is one solid tusa, where there are global parties like the Full Moon Party, and there are smaller events that tie their schedules to the main party of the island.
The best party Pangana: Full Moon Party, Half Moon Party, Black Moon Party, Shiva Moon, Jungle Experience, Sramora, Waterfall Party, Original Pool Party, Moon Set Party and Reggae Party. In addition to them, there are a dozen more events on a smaller scale, but to go into such details is for fans. Stock descriptions and prices of parties you can see in a separate article - Top 11 parties Phangan.
On the map
Sights of Phangan
Sights of Phangan:


Life hacking 1 - how to buy a good insurance

Choosing insurance is now unrealistically difficult, so to help all travelers, I compile a rating. To do this, I constantly monitor forums, study insurance contracts and use insurance by myself.

Life hacking 2 - how to find a hotel 20% cheaper

First, choose a hotel on Booking. They have a good offer base, but the prices are NOT the best! The same hotel can often be found 20% cheaper in other systems through the RoomGuru service.

Discount hotels