This trip was finally accomplished, albeit in a verya small company - me and my friend Alex. I have long wanted to go to the Beautiful Sword, but everything was somehow postponed, the weather is not the same to go with Egor, then we had no car at all. And then it rained in August and early September, that I was immediately frightened that the summer was ending and I did not have time, especially since I didn't like wet weather too much, and my car didn't like it much. Therefore, it was decided not to postpone and go harsh male company and without youngsters.
And it's very good that we all abandoned and drove,since then, there has never been a warm and sunny weekend in my opinion, and the Indian summer has already ended, before it could begin. Lancer showed himself from the good side, almost never caught anything, only on the day of departure after the rain on the wet black soil refused to go. The only thing that upsets me is that I was already in these parts of the year, so in 2007, I walked with a backpack along the Beautiful Swords, and on Niva I was on the move, but then I did not have a camera or a blog. And accordingly, everyone has already written about these places, and although I have been to many before, no.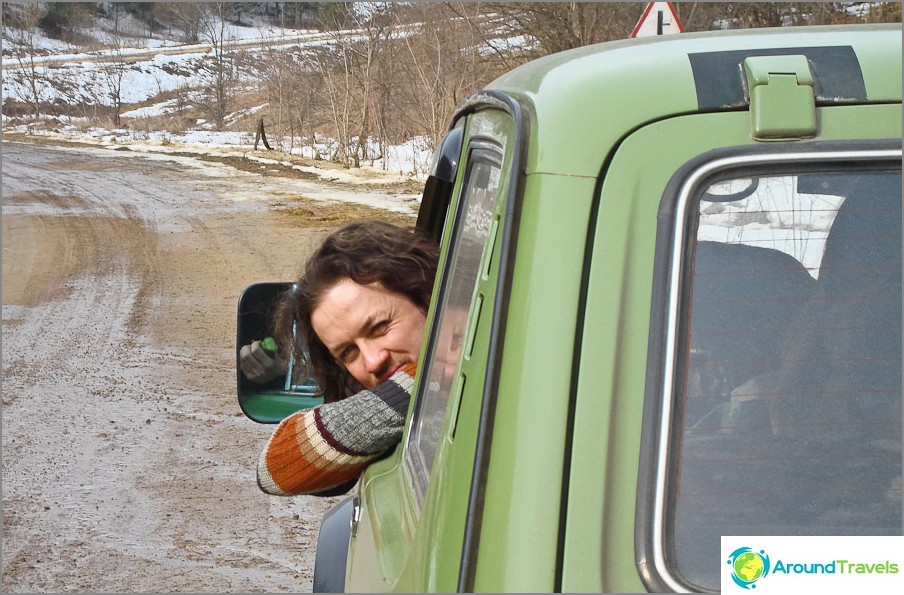 The content of the article
Overnight in career
We moved to the side late FridayEfremov, in the Tula region, but drove away from Moscow on the M4 somewhere around 100 kilometers and spent the night in a tent in some kind of career, because I really wanted to sleep. In the morning we moved on, had breakfast on the way, and then all Saturday we climbed over stones and fields, and by evening we reached Ishutinsky settlement, where we spent the night at the top. Half of the resurrection walked and waited until the road dried up, and then returned to Moscow. This is what I wrote to all that two days should be enough for this weekend holiday route.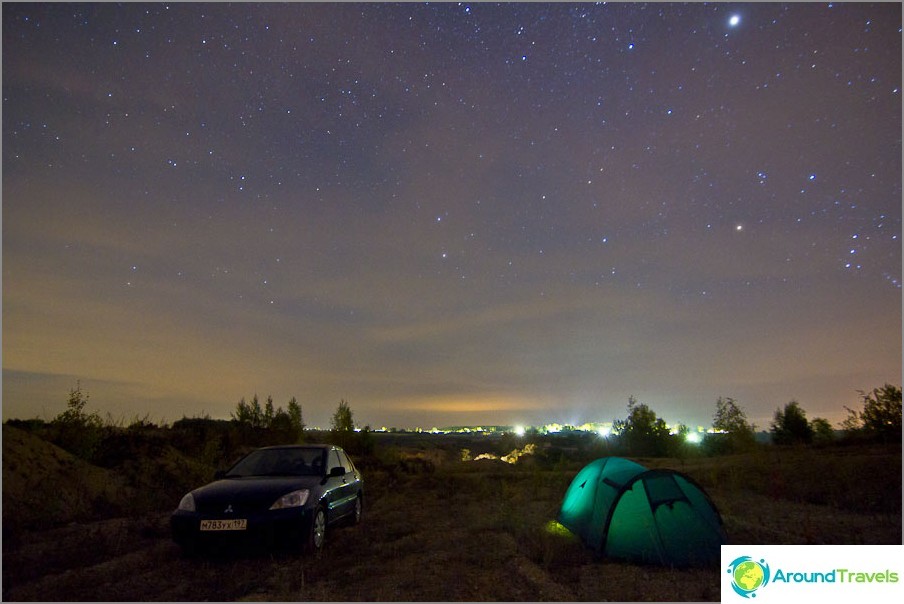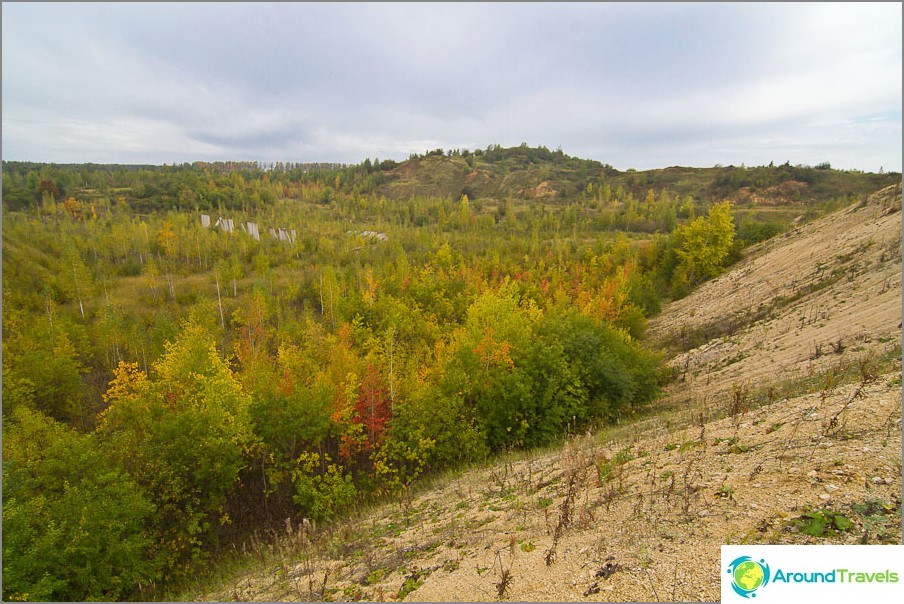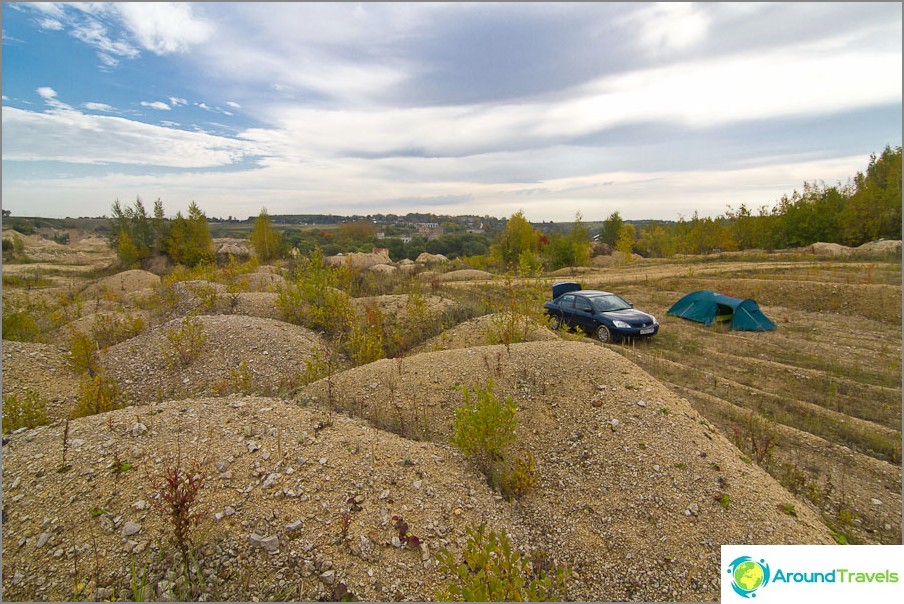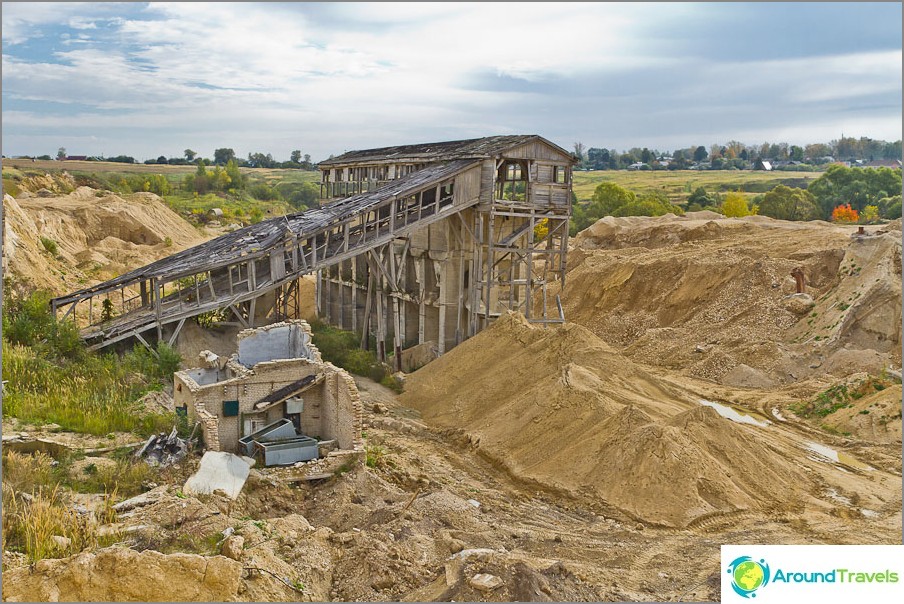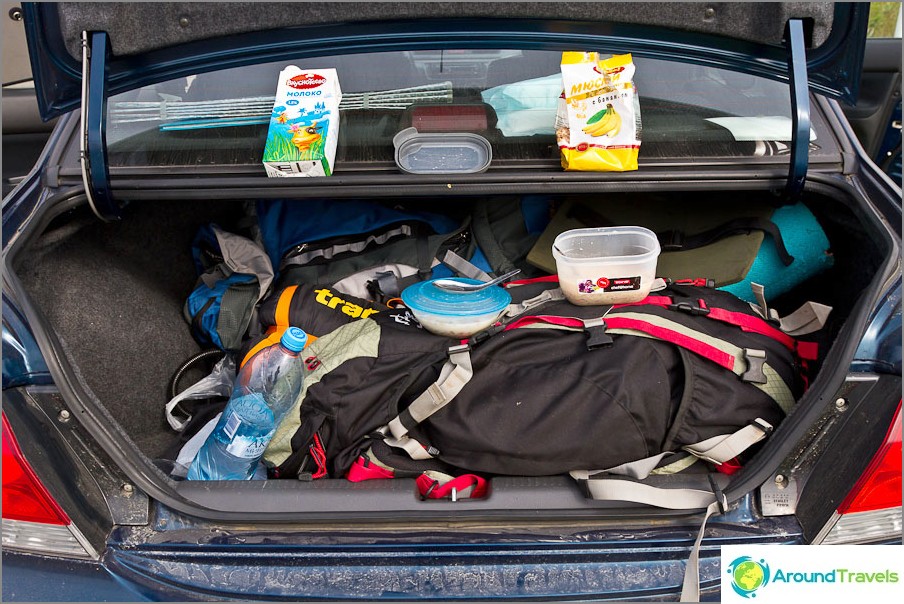 Horse stone
It is located near the village of Goat, and if you gofrom asphalt through Vyazovo, then immediately after Soldatsky, you need to turn right onto a dirt road. And driving a little across the field, this stone will be visible on the opposite slope. Find it is not difficult.
The horse-stone is a strange stone standing onthe other three, both on their feet, and brought here a long time ago by the glacier. They say that it resembles the head of a horse, but I apparently have something wrong with my fantasy. There is also an opinion that the groove on its upper plane is not accidentally oriented to the southeast. In general, various legends are associated with the horse-stones, and perhaps it was once some kind of altar. Honestly, a stone is like a stone; rather, you pay more attention to what nature is around, and how beautiful the Sword River is beautiful (I apologize for taftology).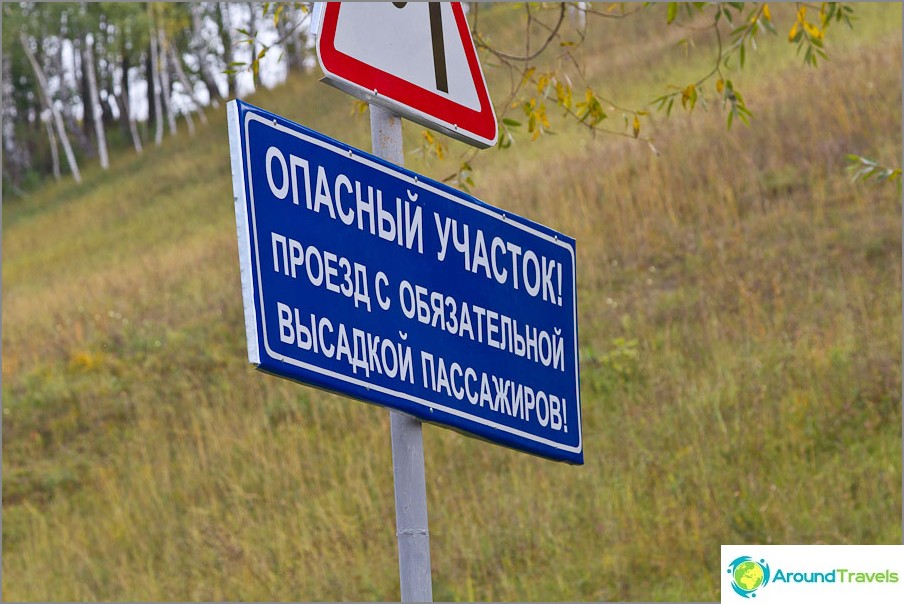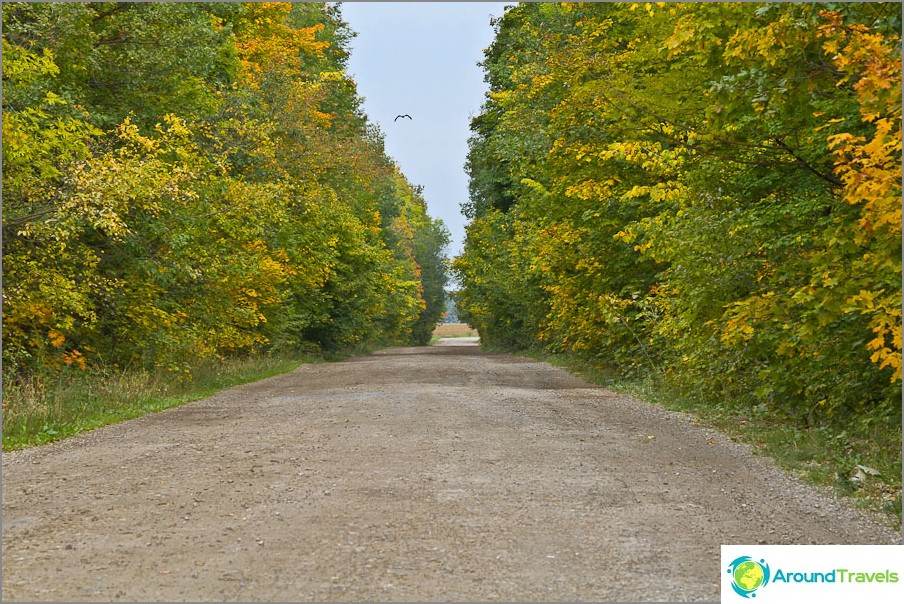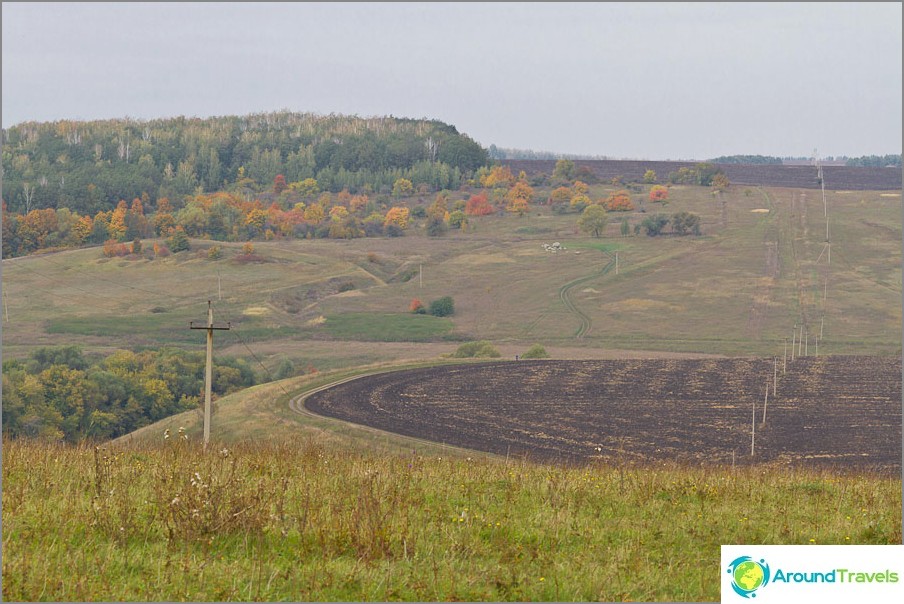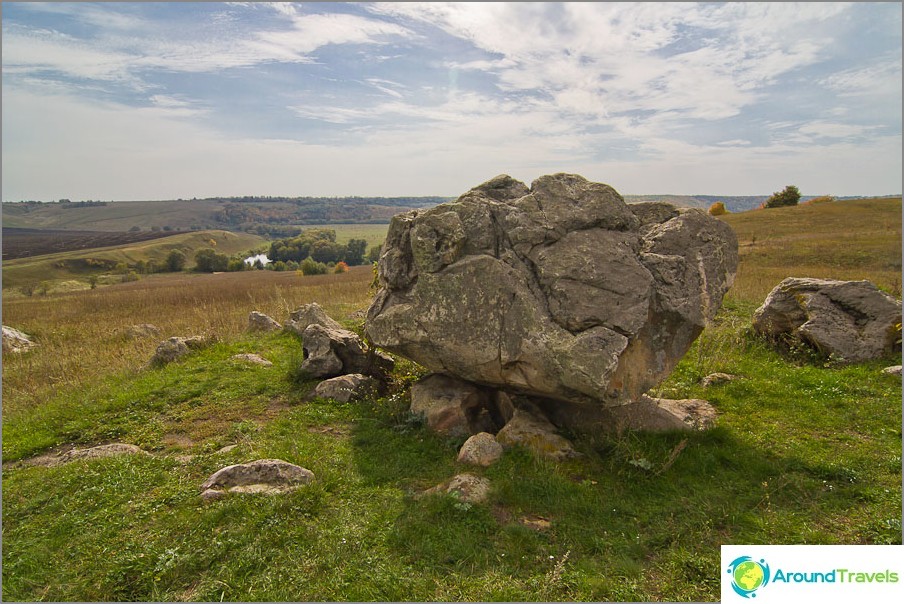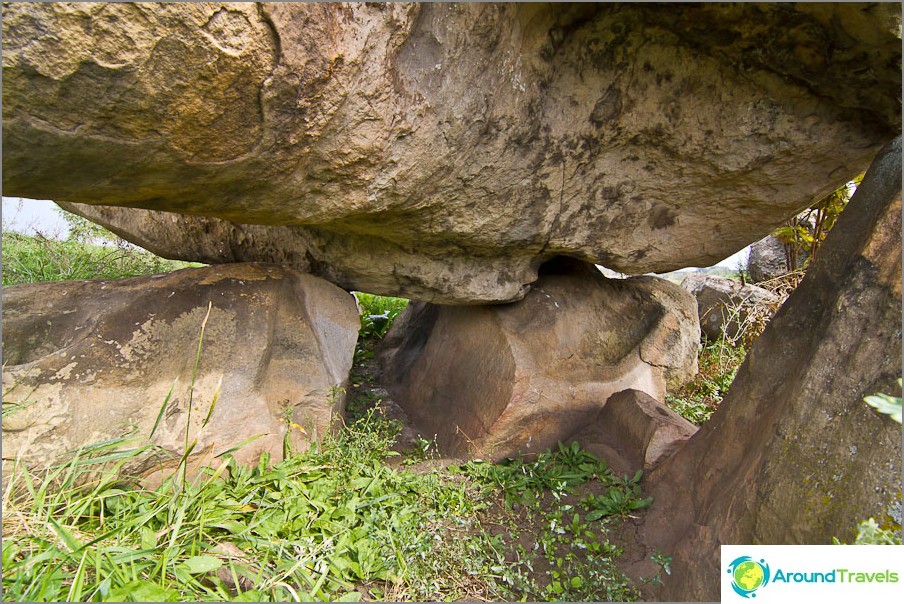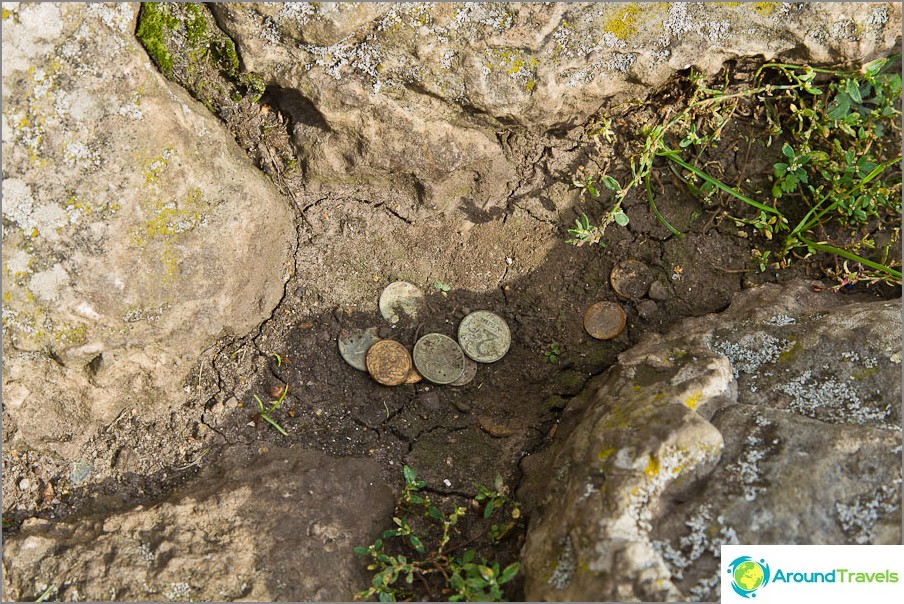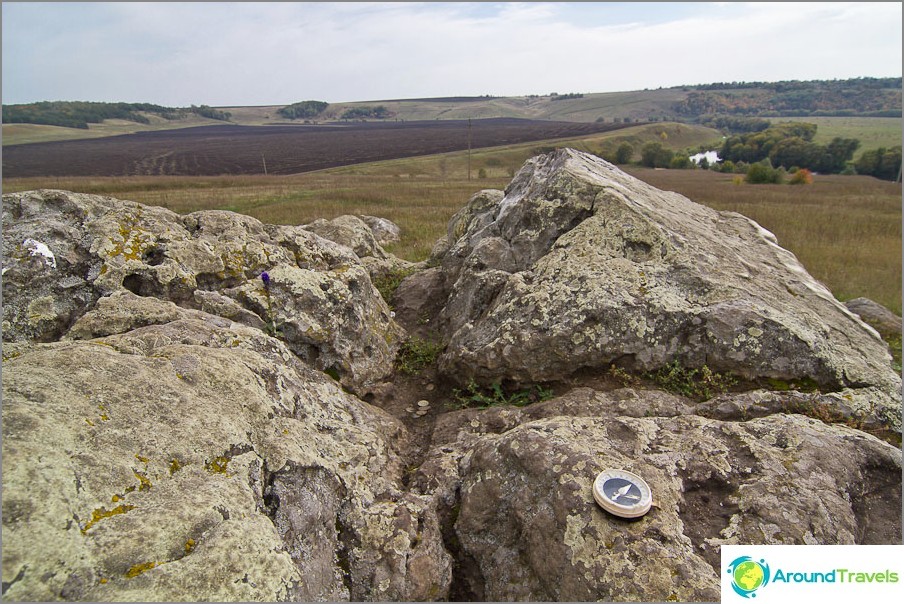 Valley of megaliths
From Horse Stone we drive through the village of Kozie and at the fork inside the village we turn right. We reach Krasnogorsky and right in front of it we leave to the left along the houses. There are stones and see.
Very nice place and beautiful scenery! Perhaps my love for the mountains is having an effect, as there are high hills and 'rocks' here. True, the rocks are very small, and in fact are just stones, but it is surprising to see them in our strip in such numbers. We probably climbed there for about an hour, I looked for views and enjoyed the views, Leshka went swimming and then joined me. In the stones, such washouts are funny, and in one of them there was a large cavity, where the hornets made a nest for themselves.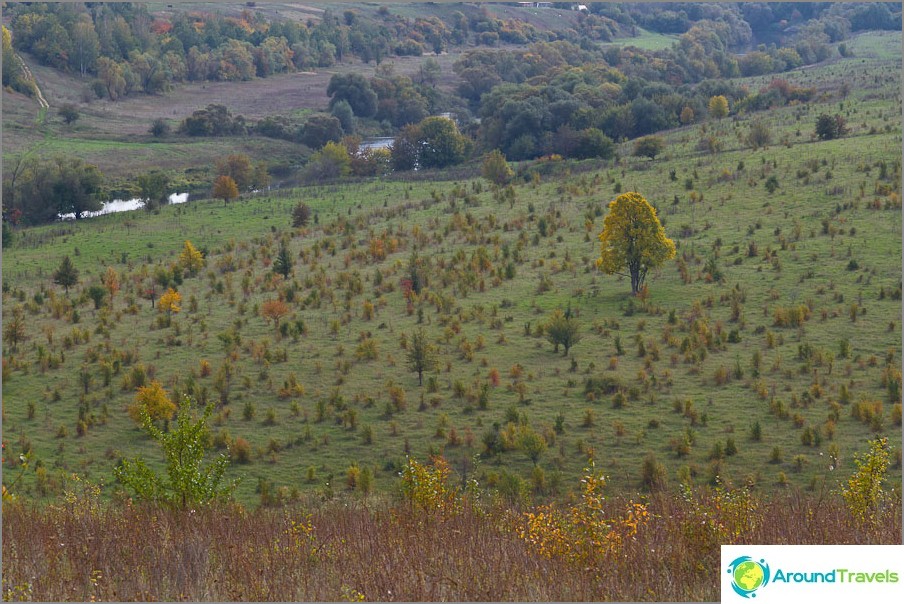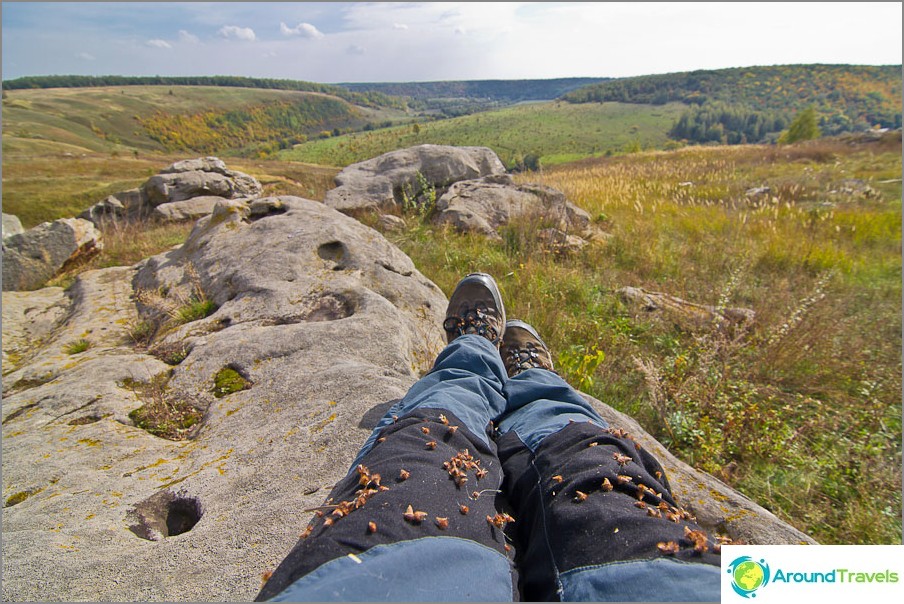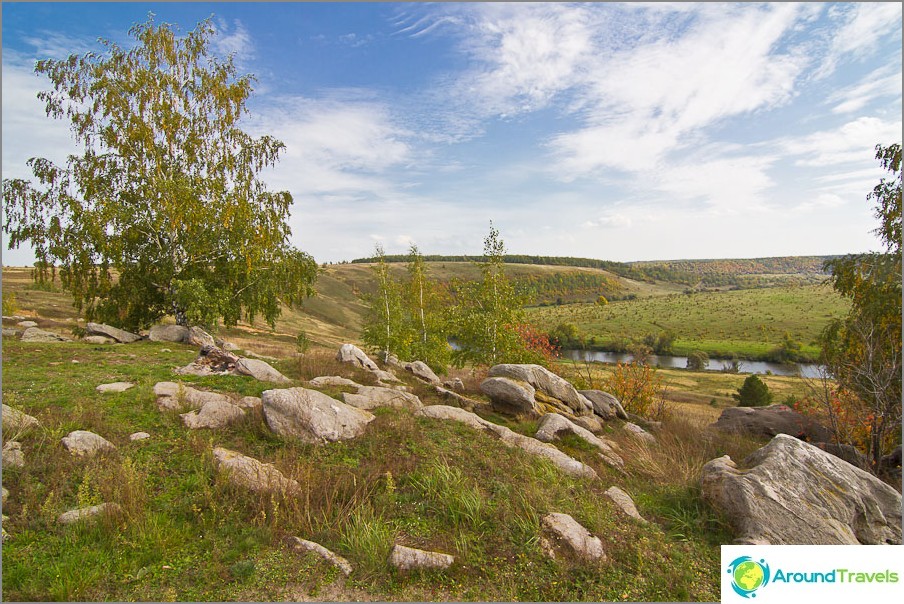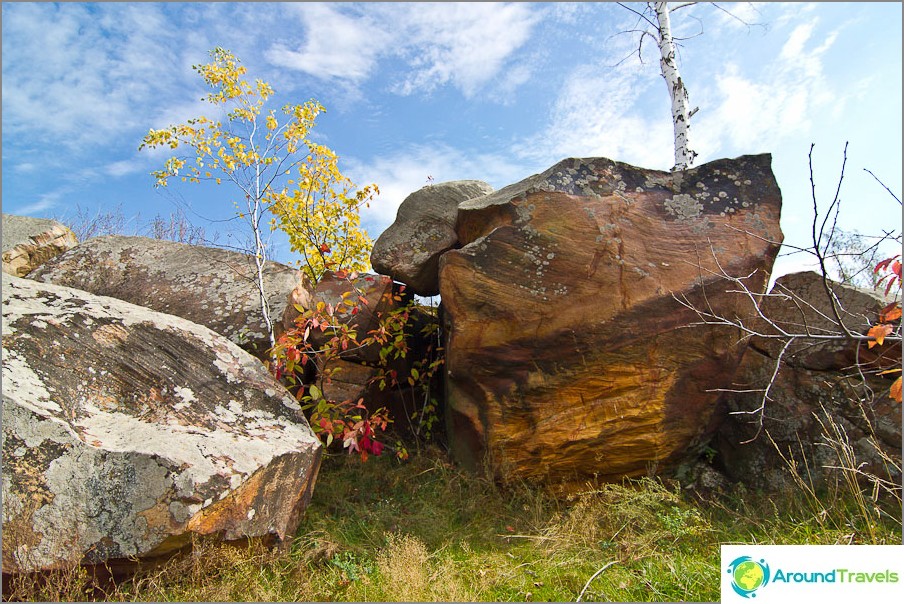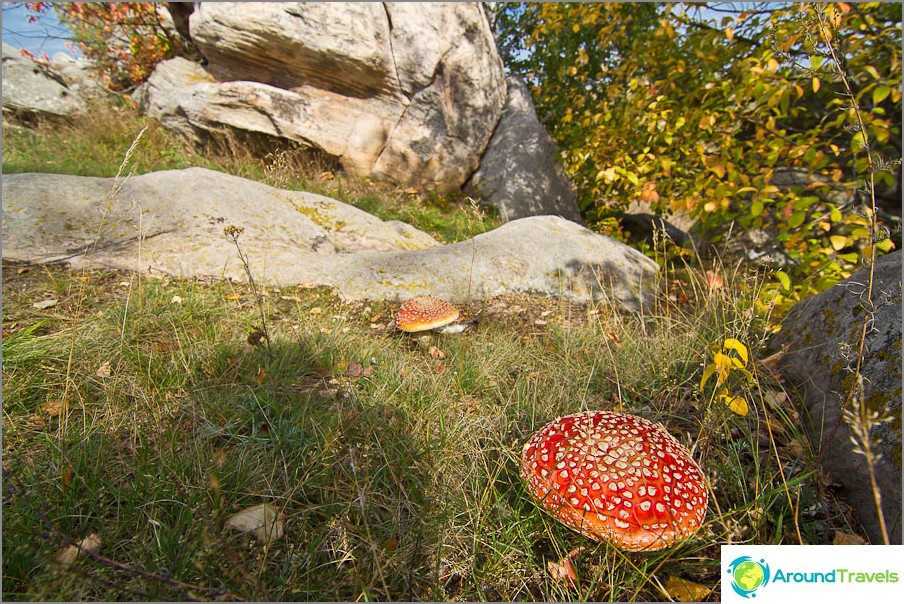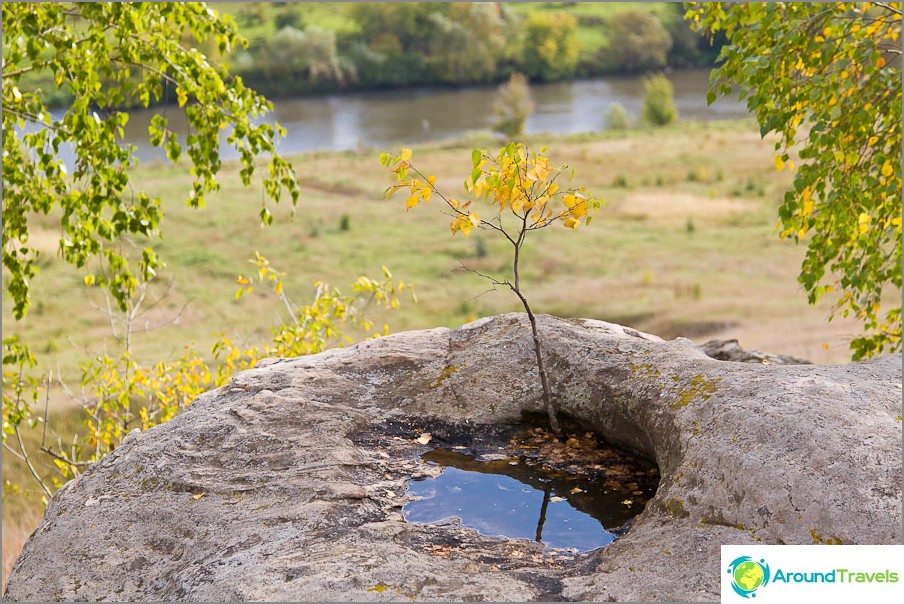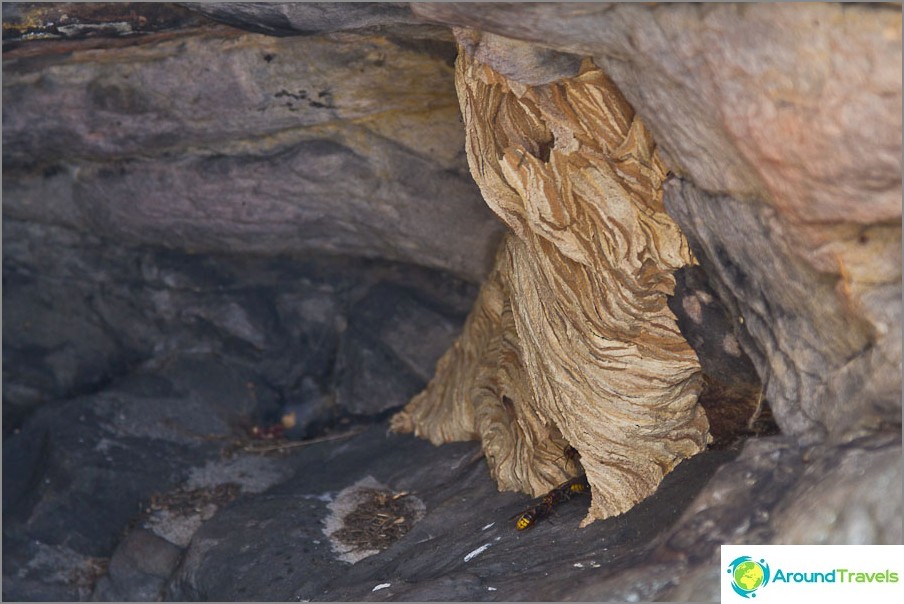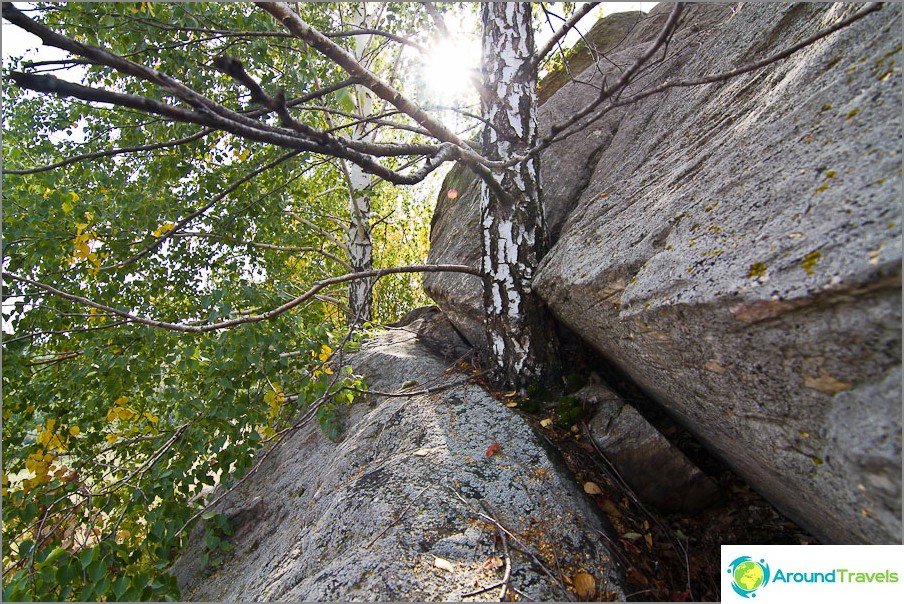 Ruined church near the village Kocherginka
From the stones along the road we go down and go alongRiver Beautiful Sword to the west. We were able to drive just a little bit, since the first deep puddle stopped us and we went on foot. It was possible to ride a horse, but we did not try. Go there for a short time, about 20 minutes. Don't miss the church, it stands right by the river.
I do not know why, but I like shatteredarchitecture, from it blows some mysterious antiquity. There is only one drawback in this - the century at such a building is short and, if it still stands today, it is not a fact that it can be seen tomorrow.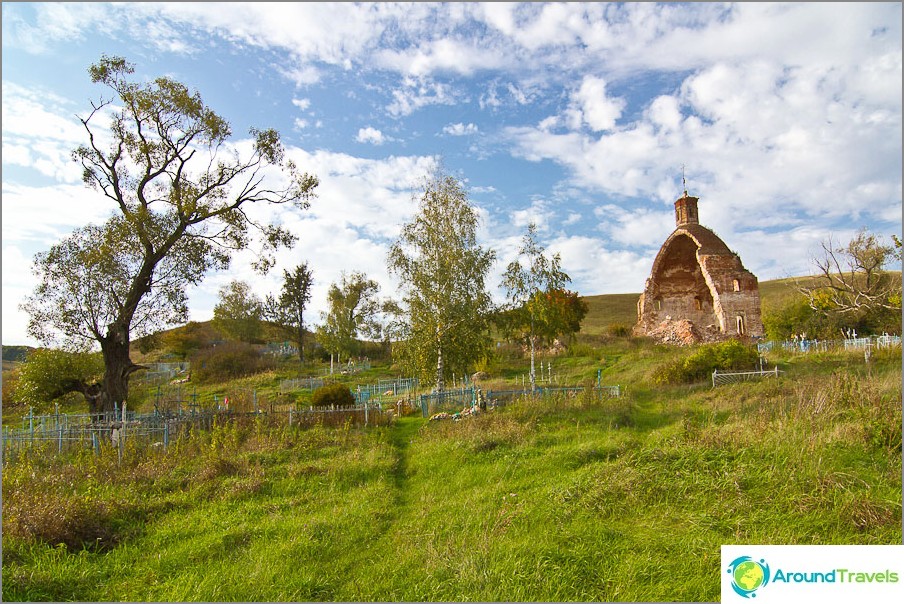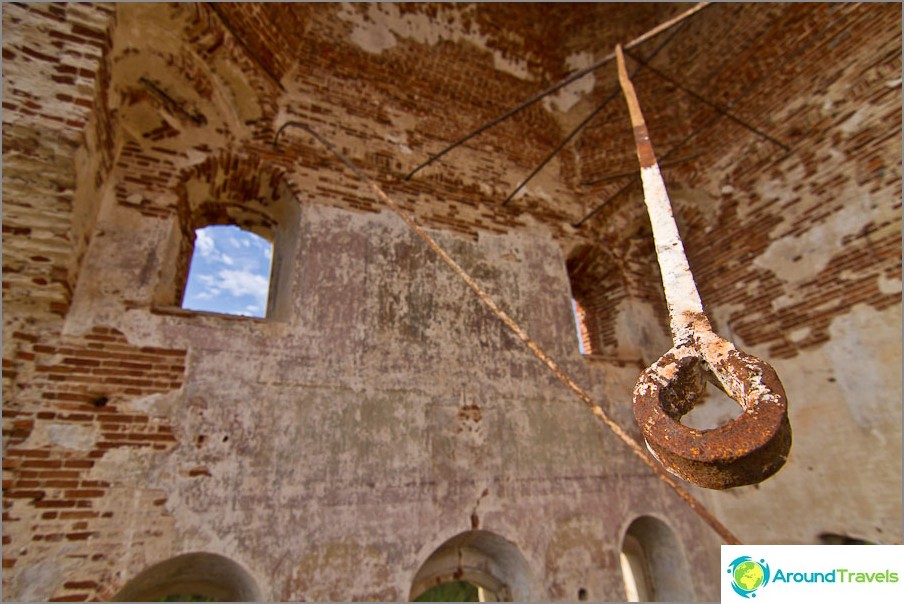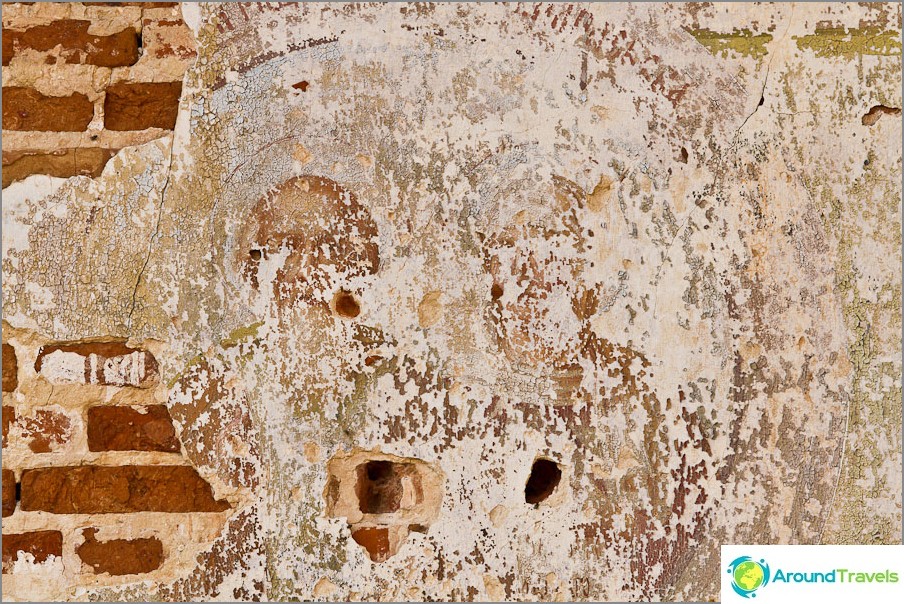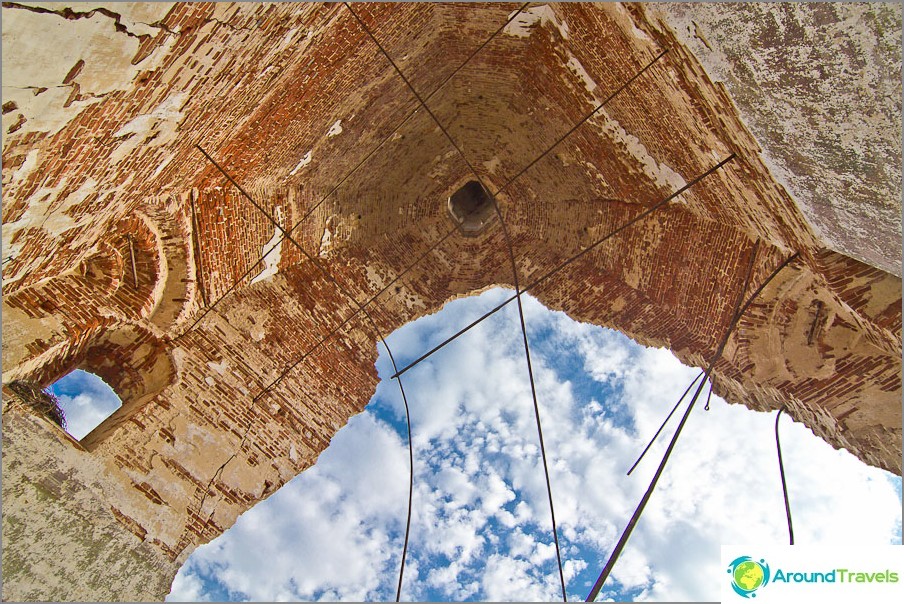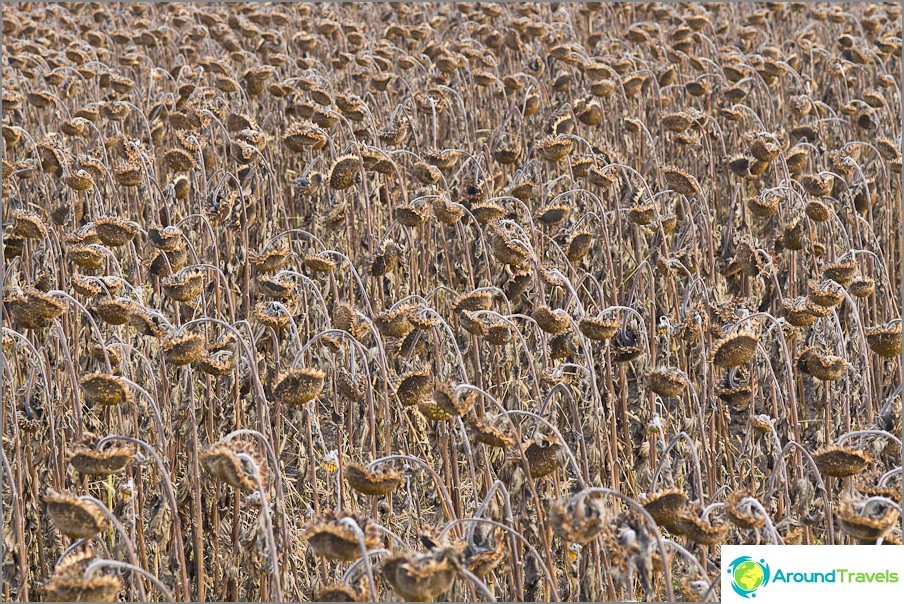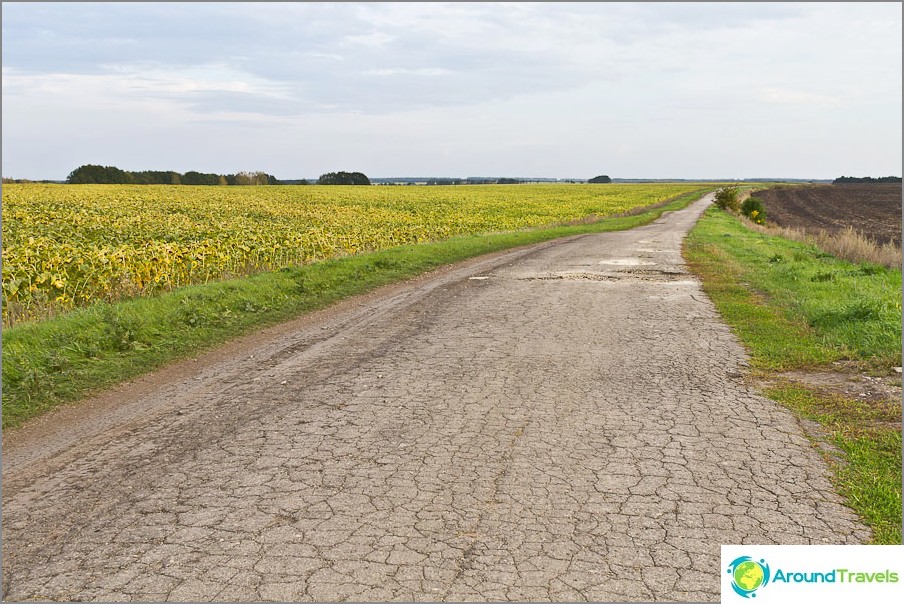 Ishutinskoye settlement
Here we were only in the evening, almost alreadyit got dark when we started to put up a tent. There are two options for spending the night: on the settlement itself, which is a hill or near the river below. We chose the first option.
If there is no rain, then the road here is excellent, fromtracks literally 10 minutes to go. From asphalt, you need to turn onto a gravel road to Slobodskoye (it is marked on Yandex Map) or to an unpaved field road, which, before reaching 500 meters, to gravel road, they then converge. When approaching the Ishutinsky settlement, the first turn to the left will lead you to the hill, the second turn sharply dives down and leads to the river bank. True on this descent, I would not dare to go in a normal car. Therefore, if you just need to go down, you can go even further along the dirt road without turning anywhere (skirting the field and going to the right) and you will see later after the plantation you will see another slope more gentle.
There are no reliable pro Ishutinsky settlementsdata. Here, probably, there once was a city, but no one knows who lived in it and what became of it. Only one thing is clear - they chose a good place for themselves, with a beautiful view; Although in the summer the people here have already become a bit too much due to the fact that the places have already been described by many people, and fishing on the Beautiful Sword is popular, judging by the forums.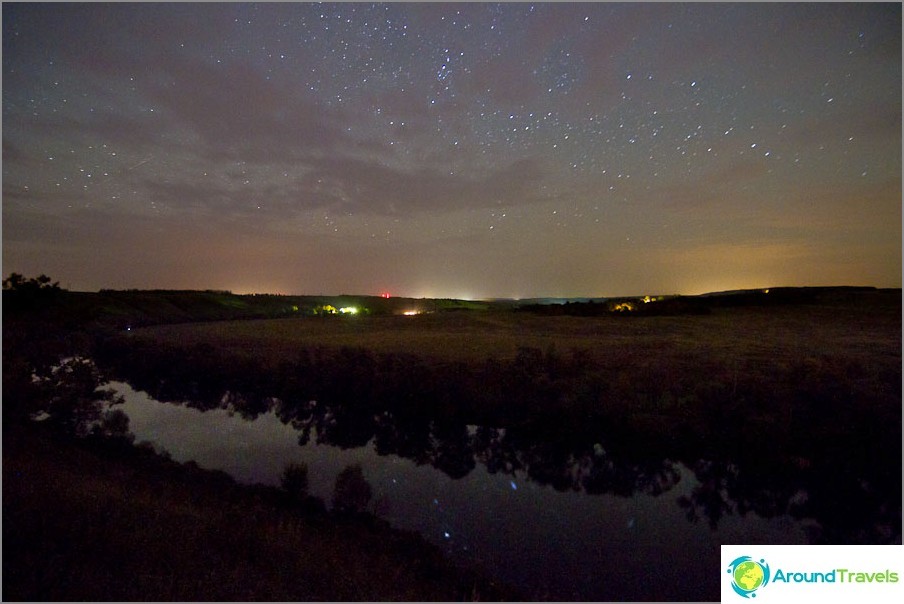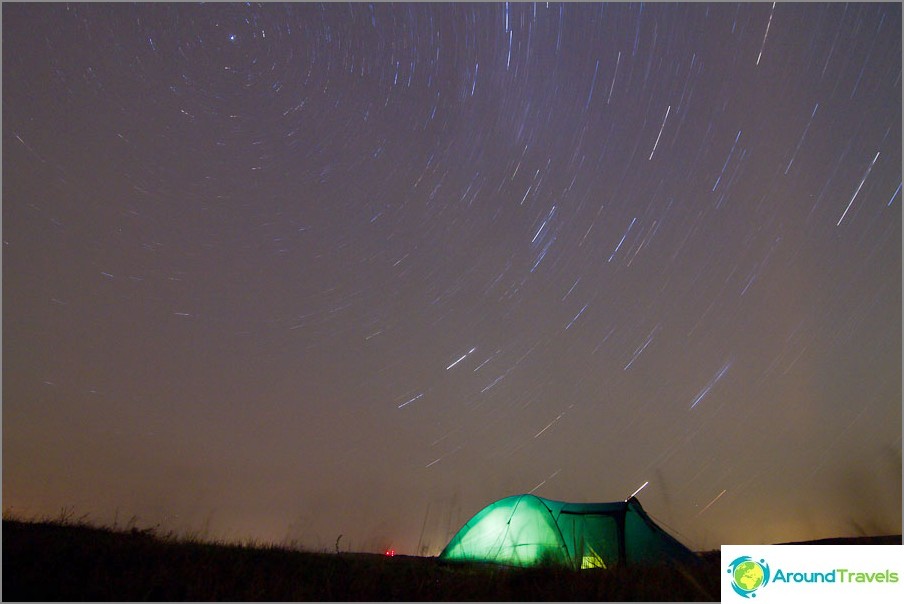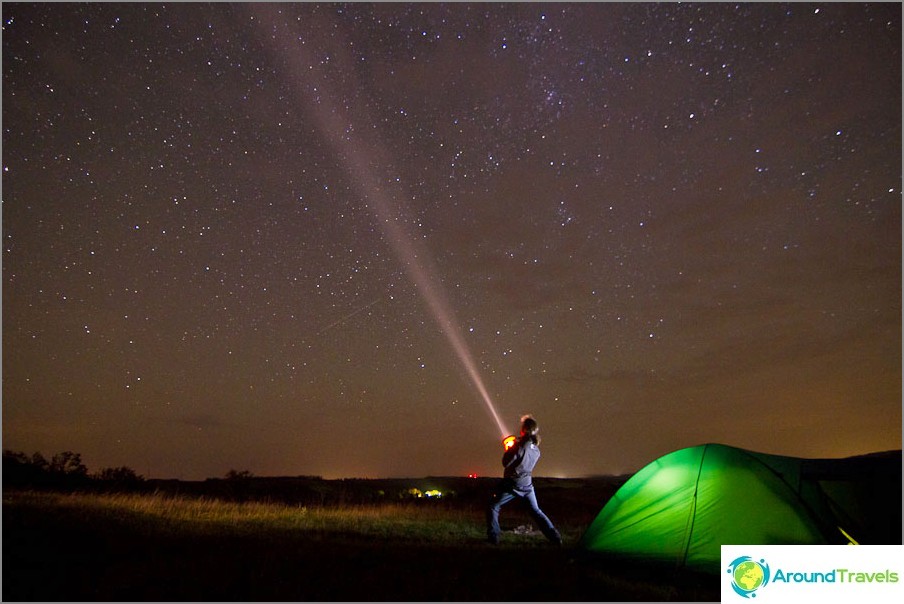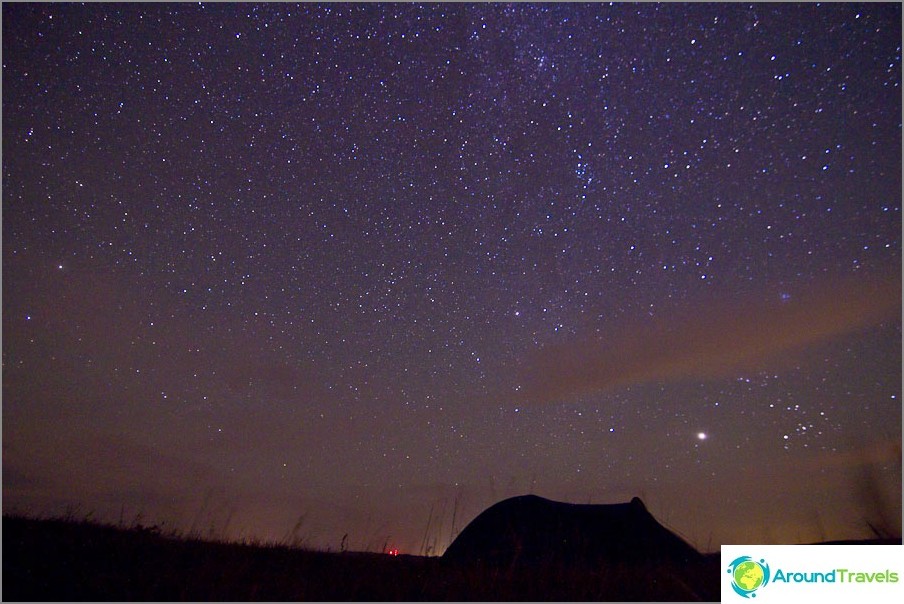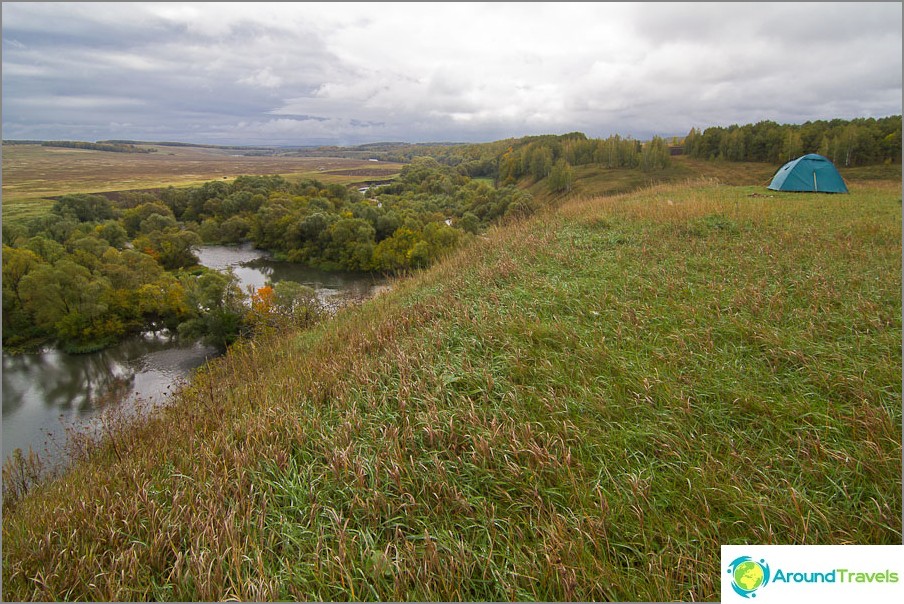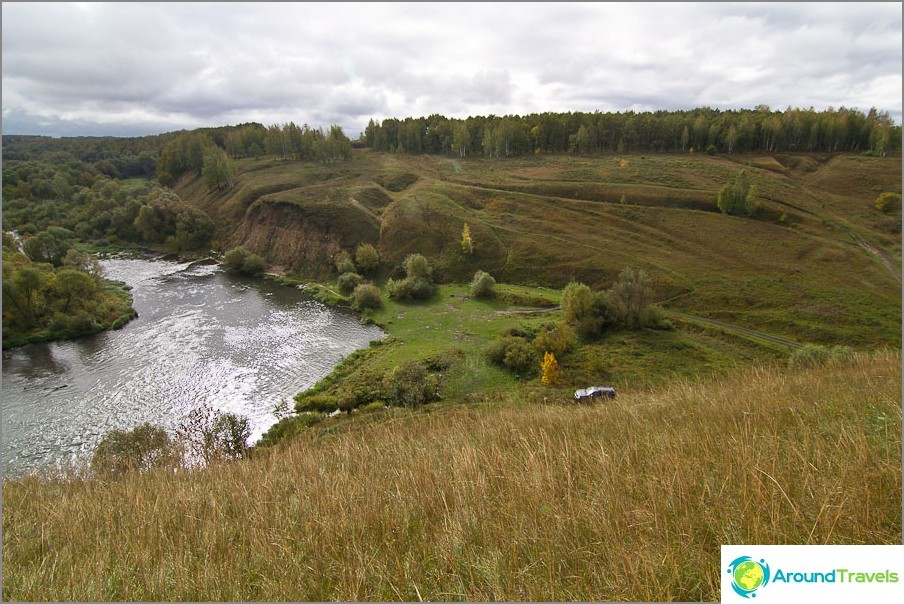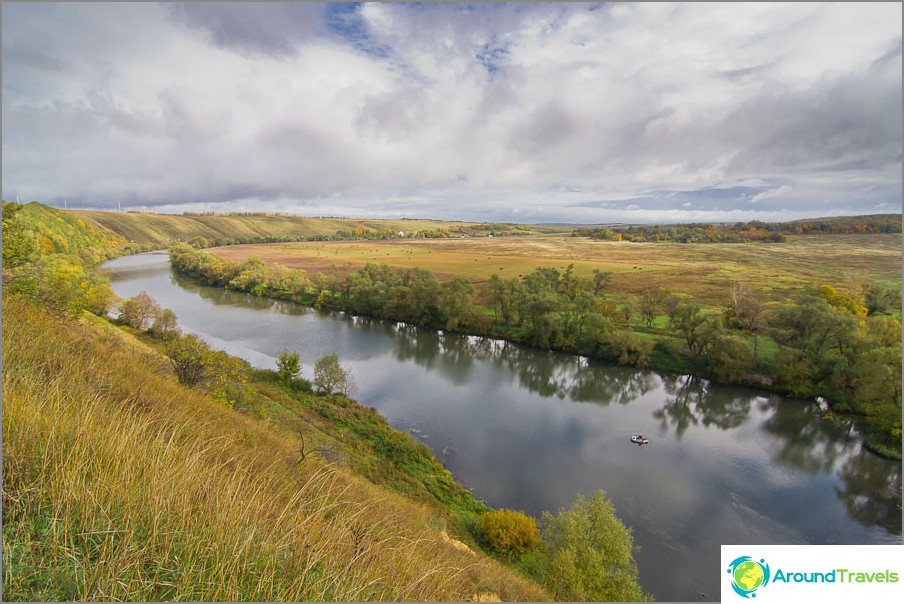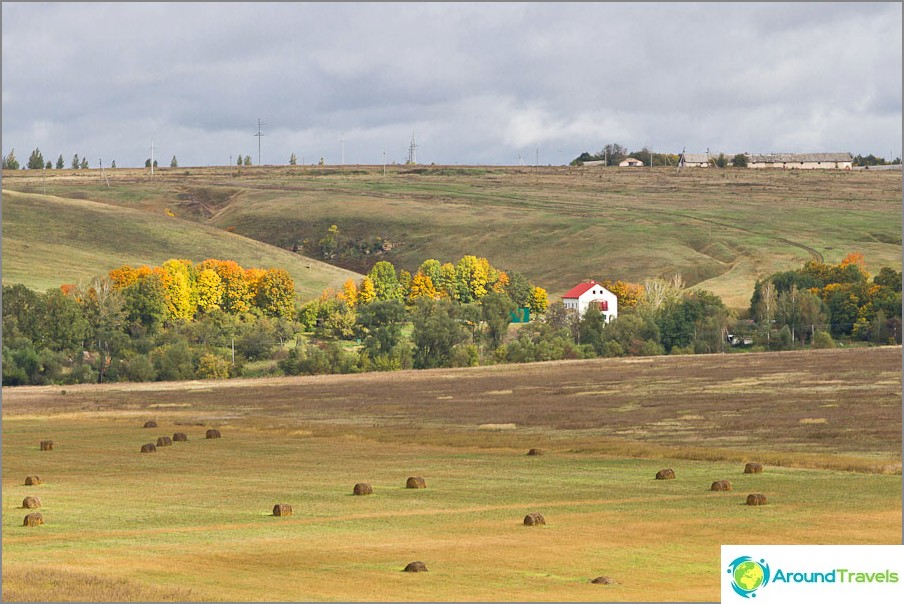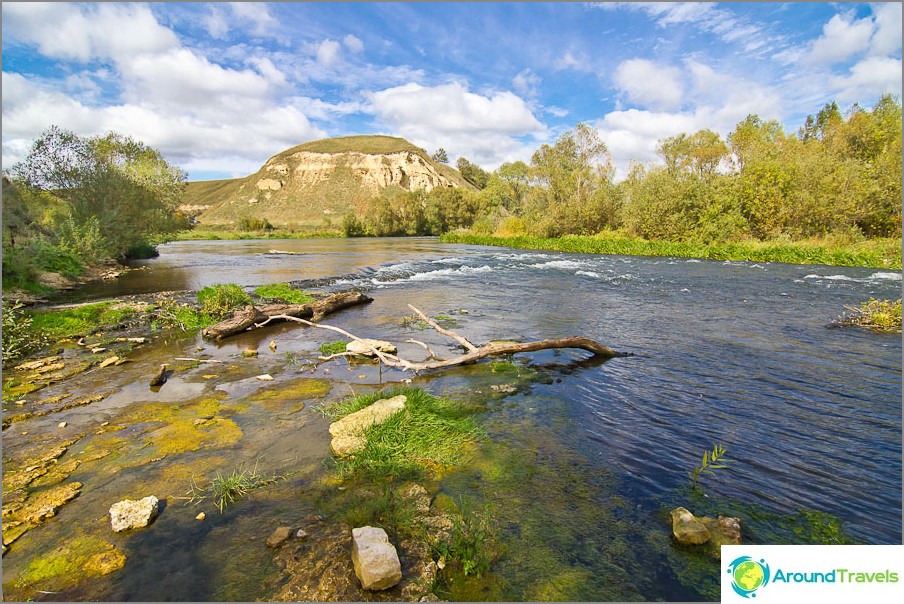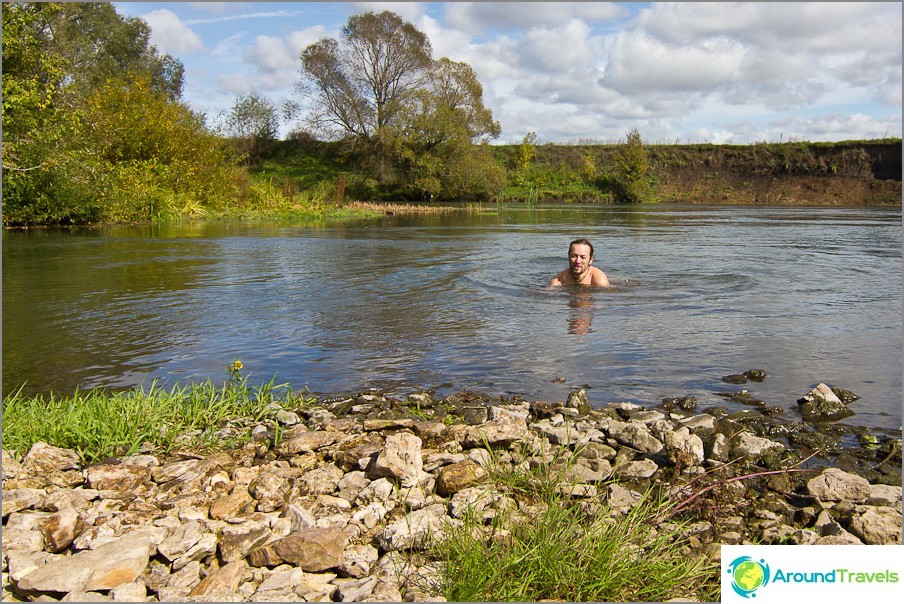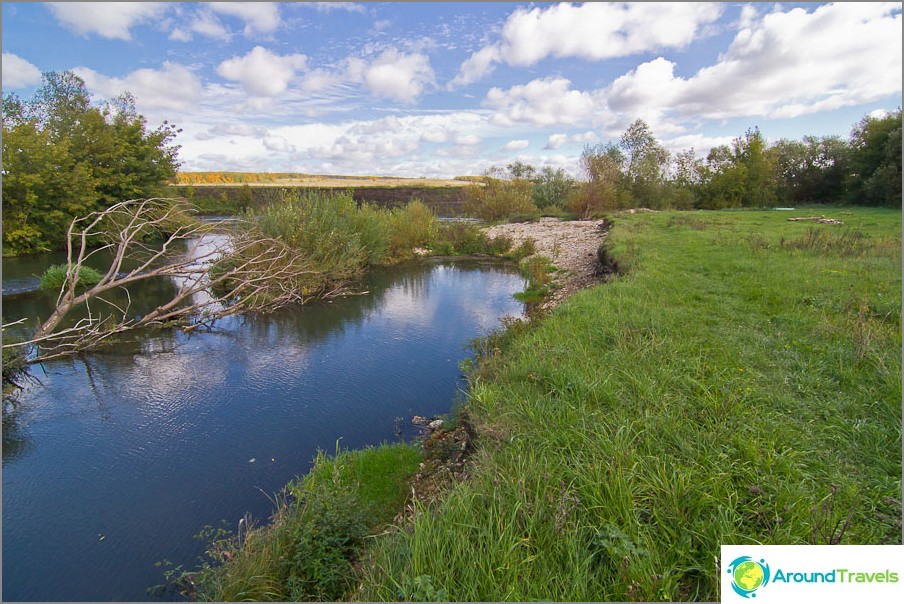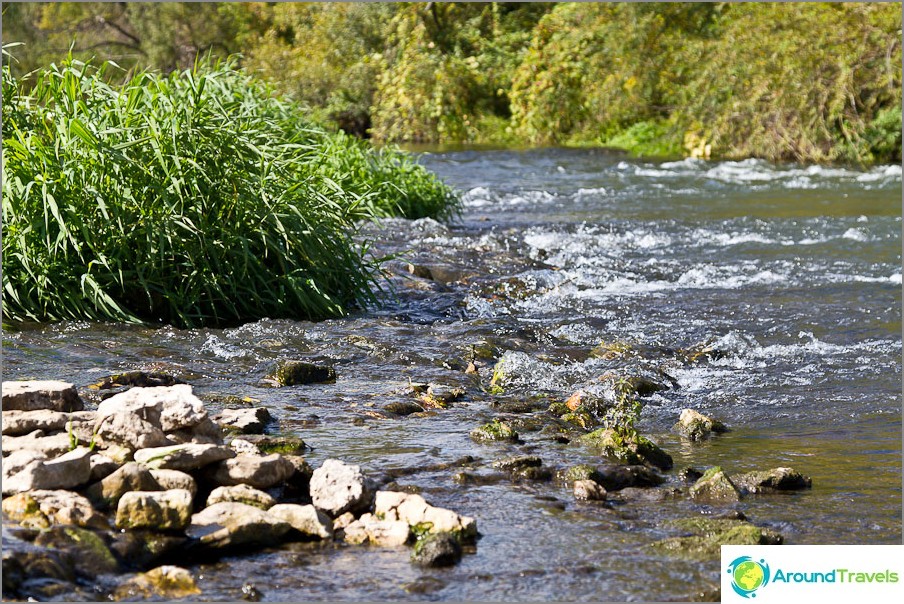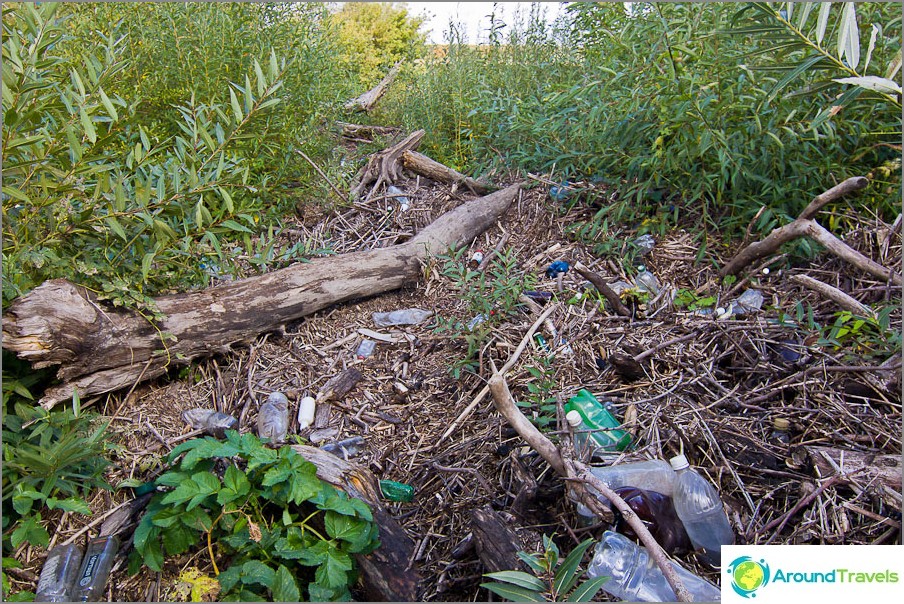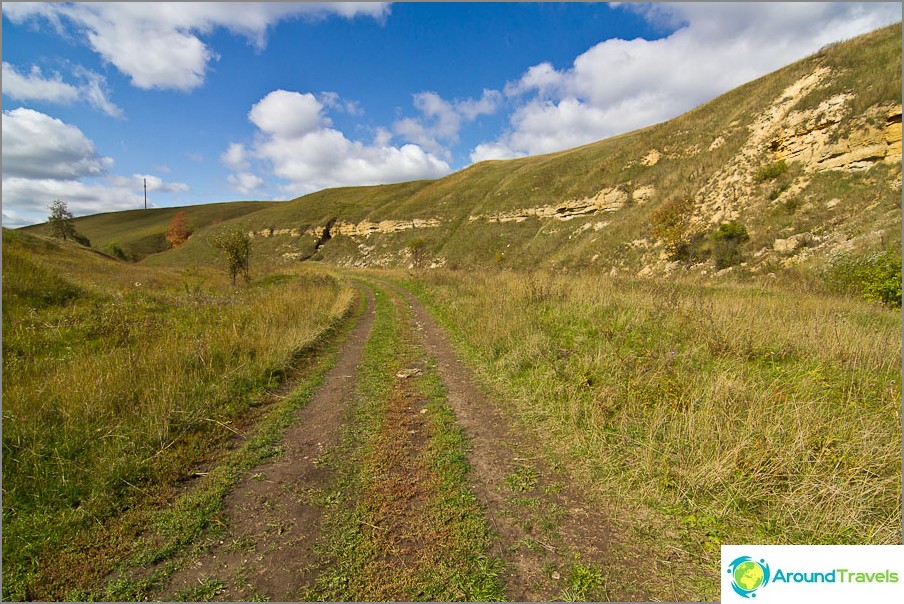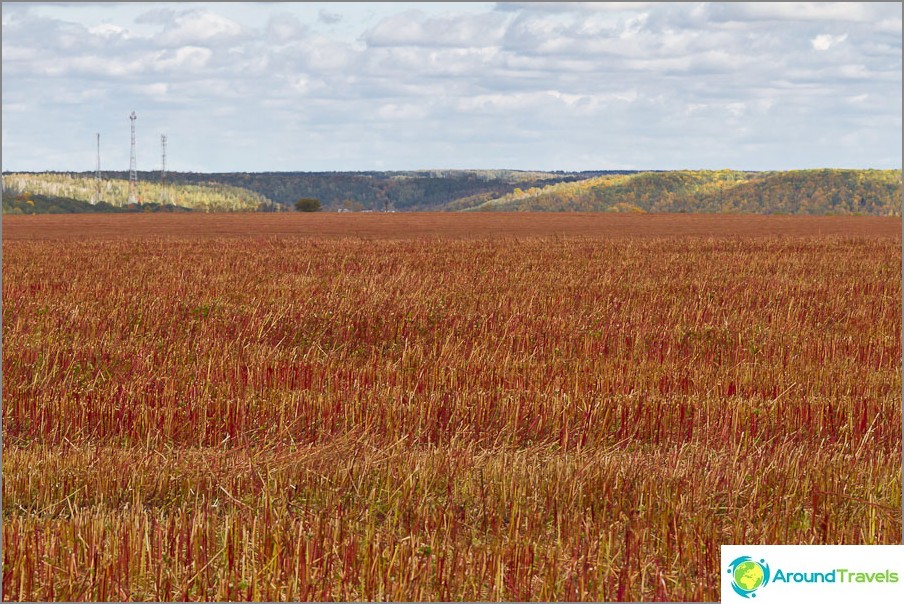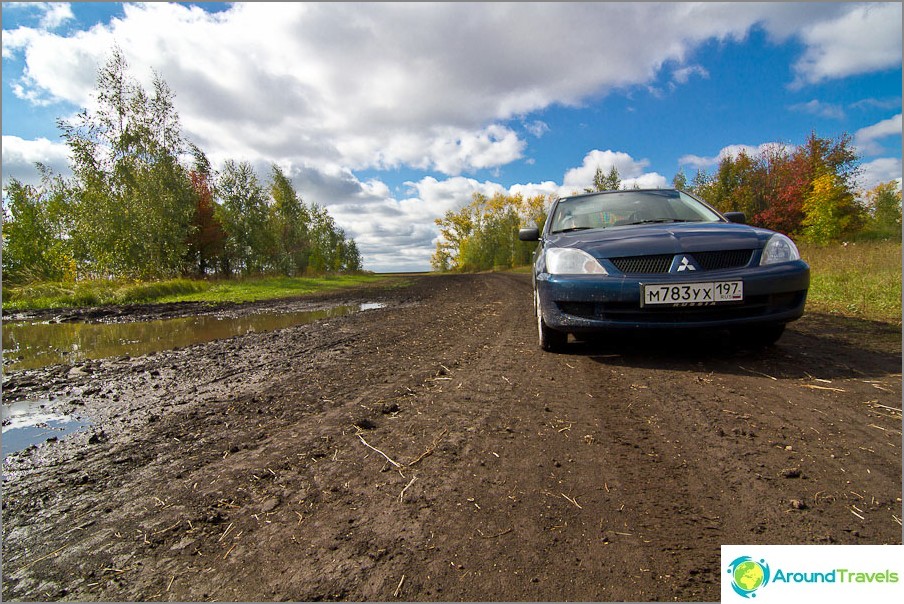 Beautiful Sword neighborhood map