We live on Hainan Island in Lingshui City. However, we also went to the resort city of Sanya, where it was also necessary to spend the night somewhere. Prosperous RoomGuruHaving studied the ratings and reading reviews, I think thatFound a very good hotel for the money it cost. It is called Sanya Tropical Island Hotel, and is located in the center of Sanya, 10 minutes walk from the sea, and relatively close to a pedestrian street. That is perfect for budget travelers who need to spend a few nights between sightseeing.
The content of the article
Sanya Tropical Island Hotel
Price
Worth Sanya Tropical Island Hotel

138 yuan / day. Pre-payment is not required, data entry of a bank card is also not needed.
I think that a very good price for such a hotel. At least in this area I did not find anything better, I looked through options 20. And it's very cool that for this price there is an elevator and windows in all rooms, which is not always the case. I read reviews about other hotels where everything seems to be fine, but, then there is no elevator (and you have to carry a suitcase to the 6th floor), then there are windows in the room. Or windows go somewhere on a noisy street. And here the street is calm and quiet, a dead end alley.
Hotels in Sanya>
Searched and booked traditionally through RoomGuru. Be sure (and I insist) check for discounts or special offers on the excellent Roomguru service. It will quickly and simply show you discounts in all existing reservation systems. In Asia, for example, there are lots of offers on Agoda.com, which are much more interesting than on exactly the same hotels on Booking.com.
For example, here is a direct link to the hotel: Sanya Tropical Island Hotel
.
By the way, I had never before discovered an unprecedented eLong booking system, apparently Chinese, some hotels in it cost twice cheaper than Booking or Agoda.
We were rode a few people, so we tookseveral rooms. We got a room with tatami! He was so called, they want tatami not there. Very cool room, we liked. The mattresses lay on a low ledge, on which a low table for tea drinking with pillows was also located. We always liked this theme, and when Egor appeared, who was trying to fall out of bed, all the more. Sometimes in hotels I even take the mattress off the bed and put it on the floor, and here everything is thought out in advance.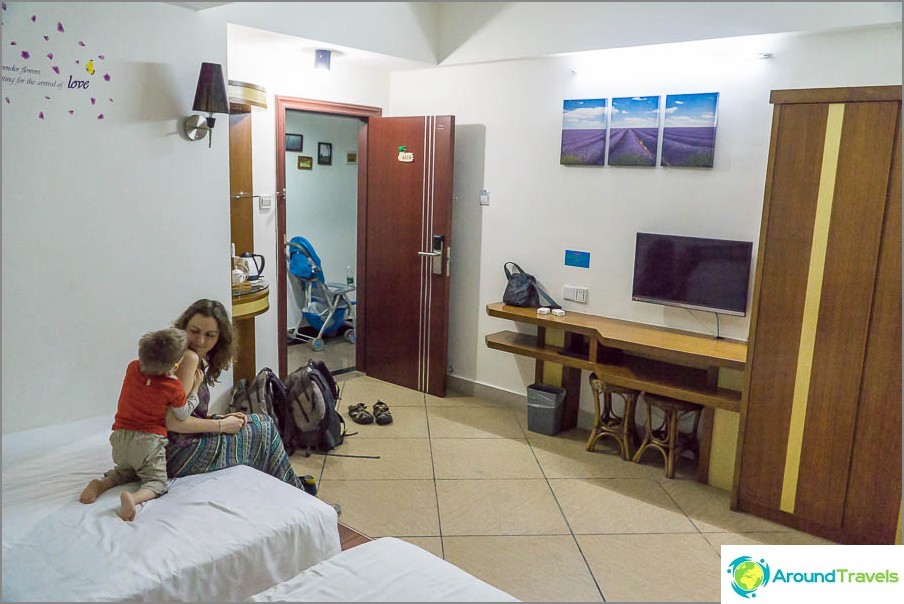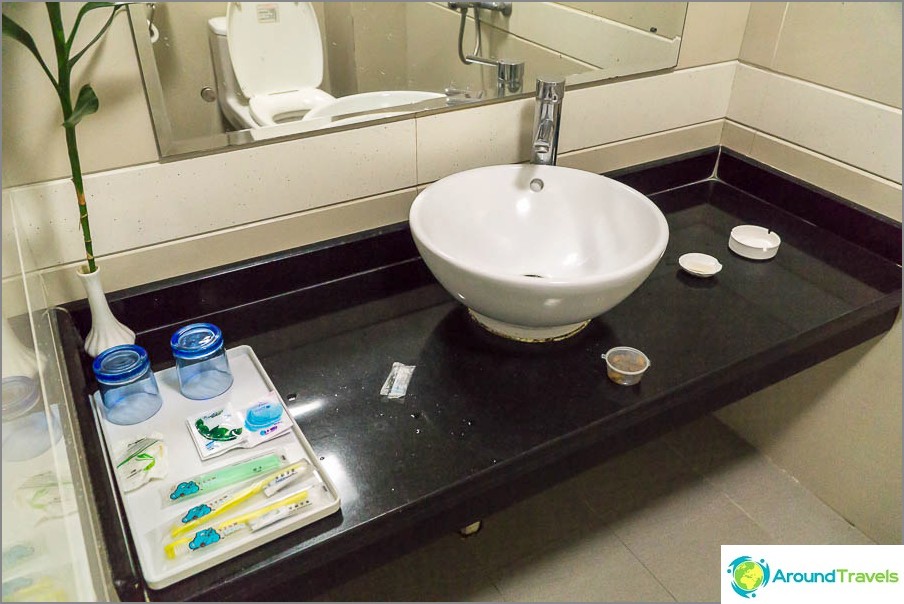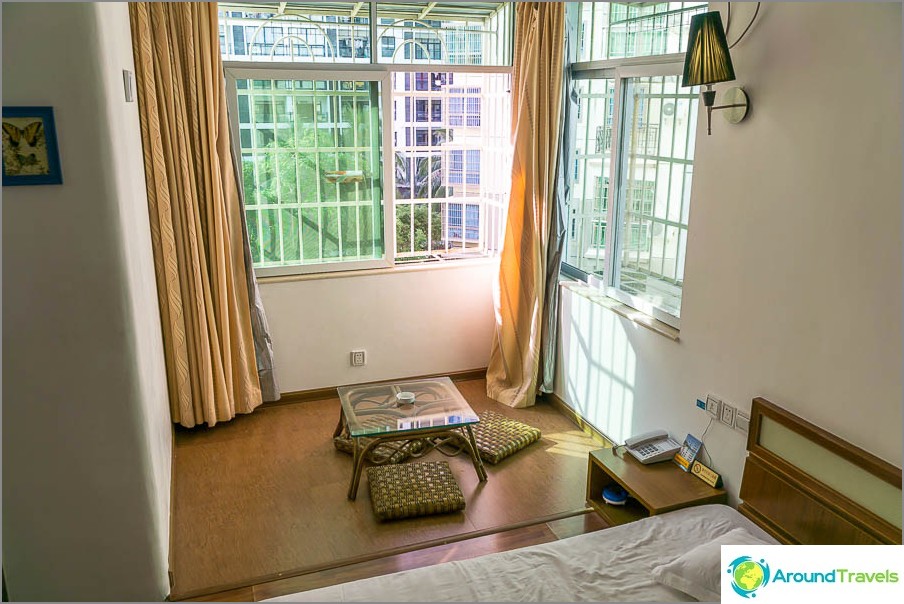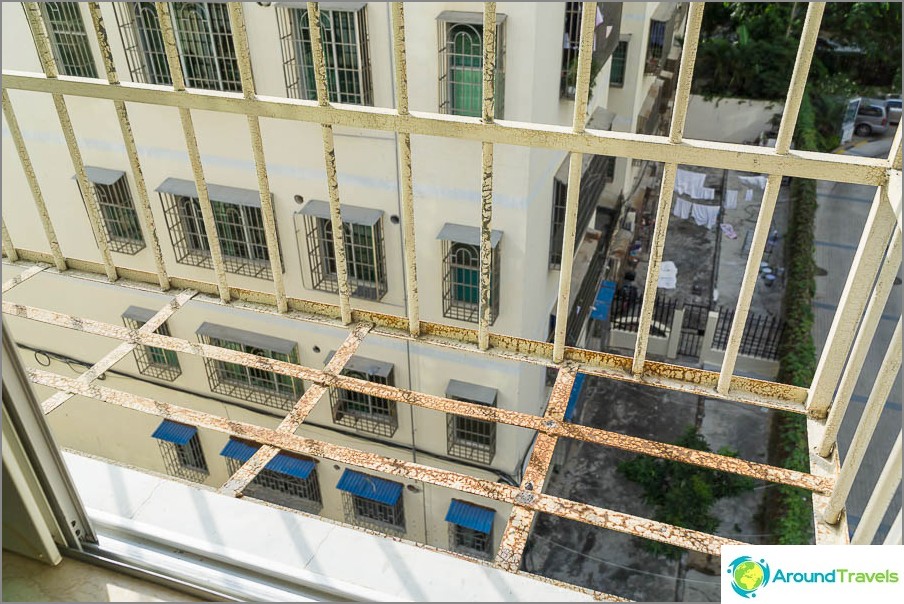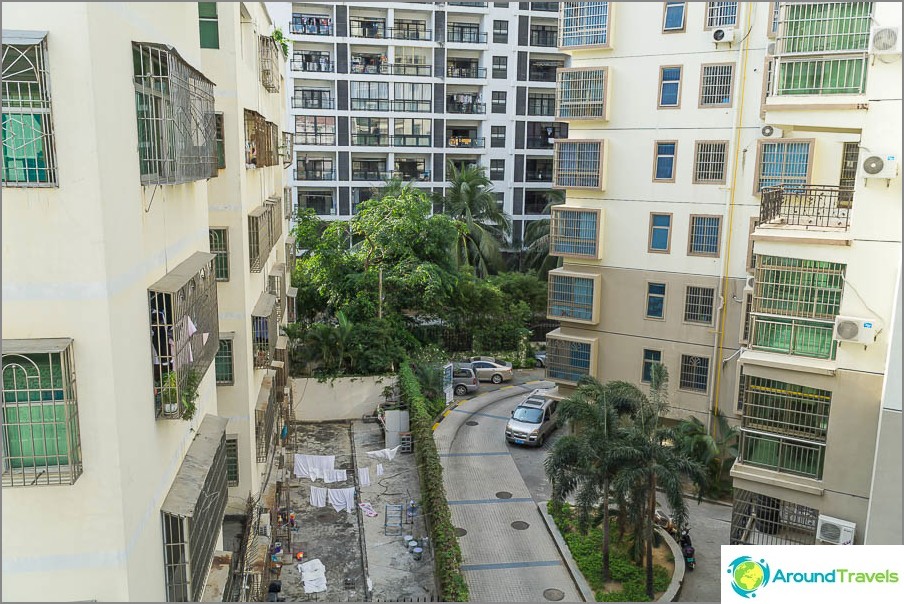 The rest of the rooms are quite ordinary. Except where the toilet connects to the room by the window. Such a romantic room, one is lying on the bed, the other in the toilet, and you can watch each other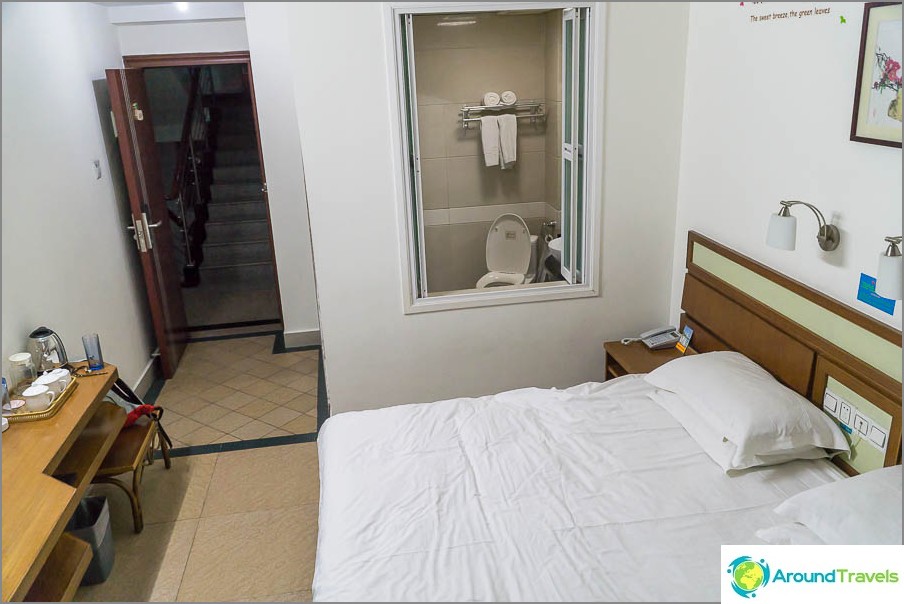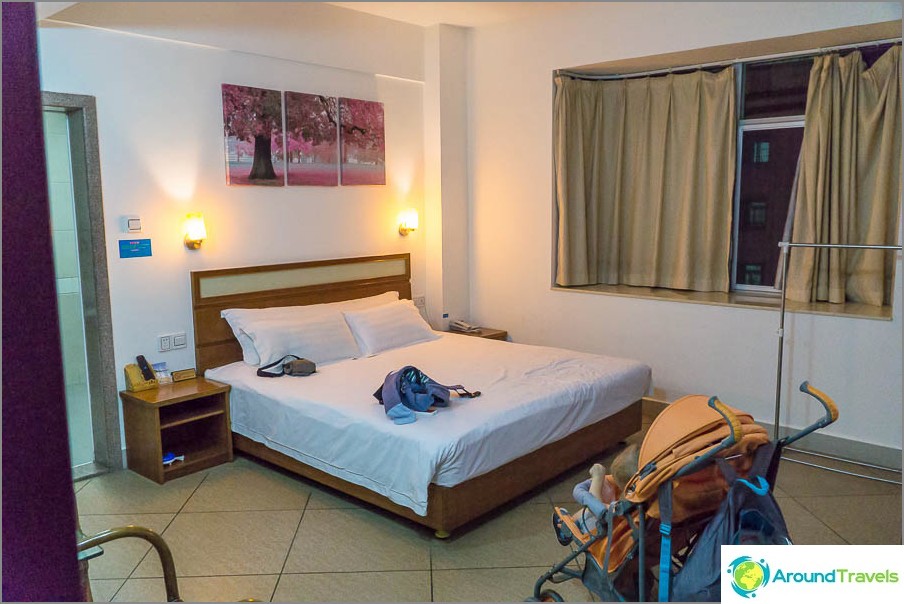 Wifi works so-so in the extreme rooms, theyfurther from the router. The rest of the Internet is Chinese. But in the room but there is everything you need: a towel, dummy-soap accessories, TV, air conditioning. On the ground floor there is something like a kitchen and a fridge.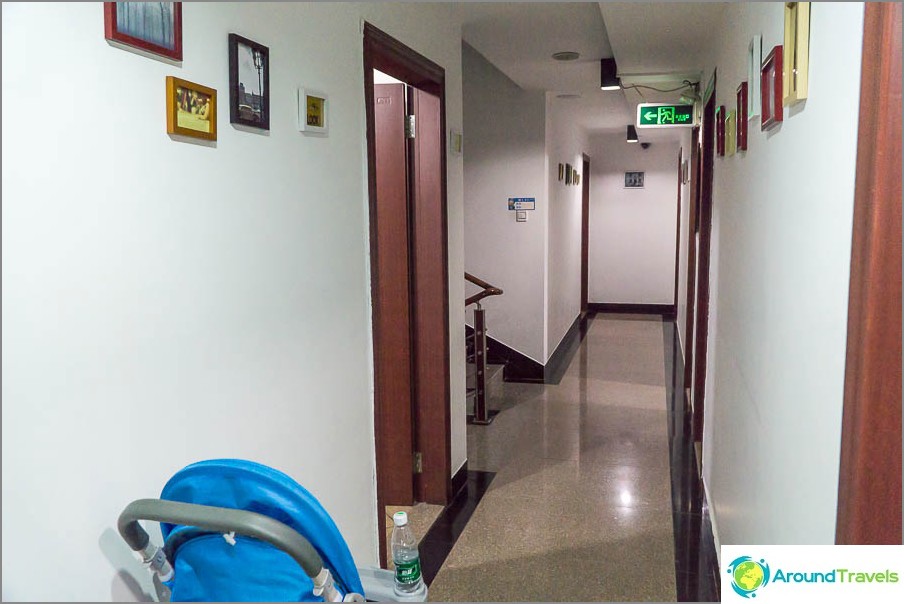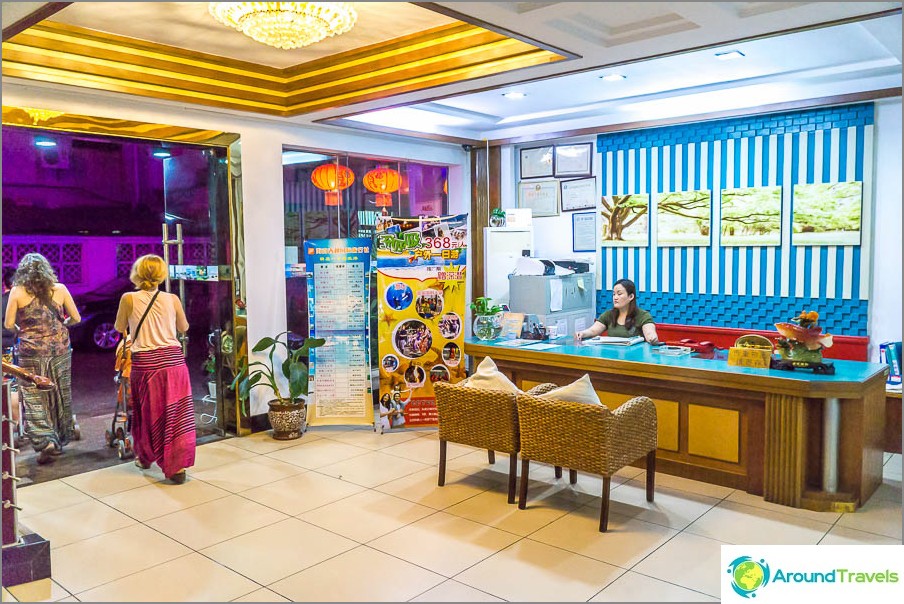 And one more plus is, you can always callEnglish-speaking host, because none of the staff speak a word of English. He immediately called me after booking a room and asked when we would arrive, and call me if you like. And after settling us under the door here are such papers thrown.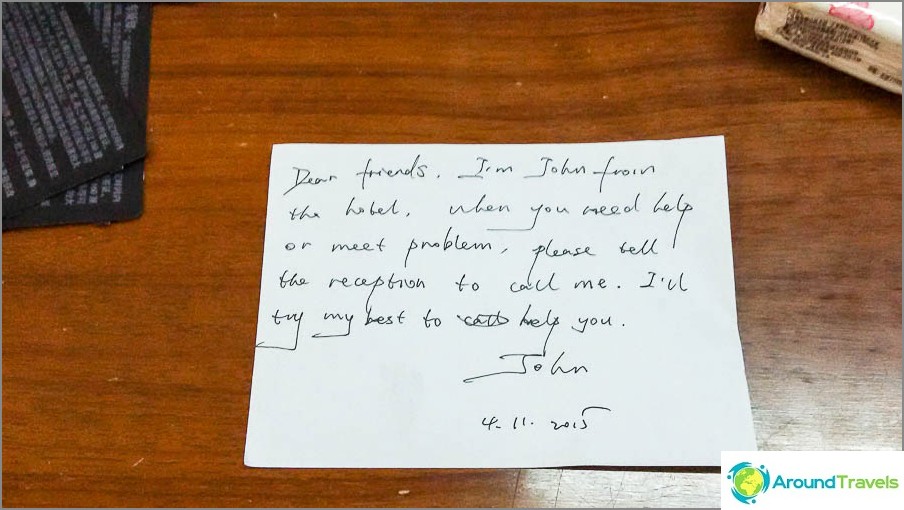 Near the hotel
The hotel is in a side street, so quiet. If you go to the main street and turn left, then immediately to the left there is a cool cafe with green walls, there are Chinese Muslims in it. Delicious food, inexpensive. Actually, there are a lot of cafes here, coconuts are sold, there are fruit necks and all sorts of cakes.
Go to the sea for about 10 minutes, the beach Sanya Bay. He is not very favored by tourists, but seemingly the usual tropical beach. With a shadow, the truth is not very there, or rather it is there, but it is along the road and there are a lot of people hanging out there (dancing, singing, playing cards).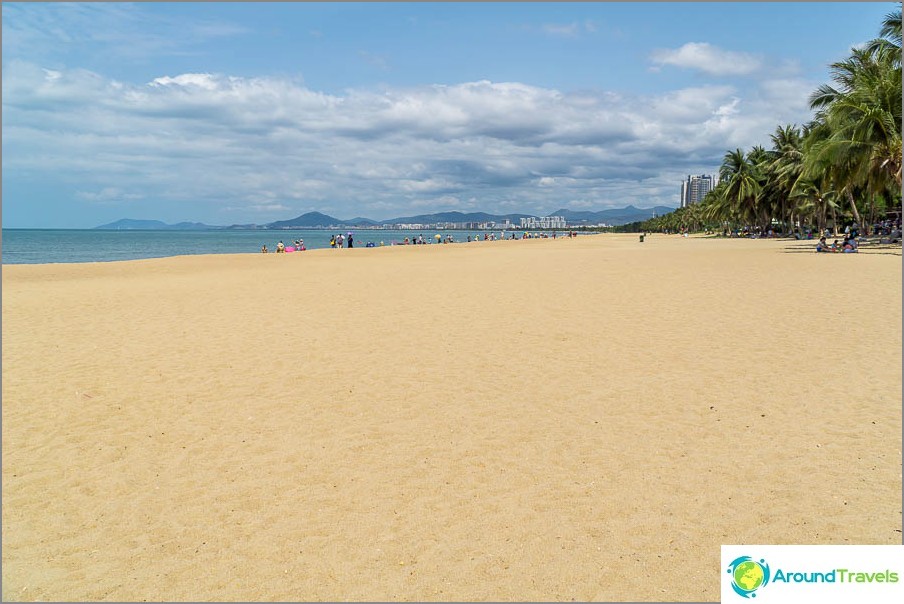 How to find a hotel and a map
Finding a hotel yourself can bedifficult, so just show the taxi driver the address from the reservation (it should be printed in Chinese, not in English!) or this business card. Since we did not have a business card then, we used the help of passersby. The third Chinese, brought us to the door, although they had to spend about 20-30 minutes on us.
Sanya Tropical Island Hotel
Sanya Tropical Island Hotel
The point is indicated on this map correctly. But on the satellite, it will not stand correctly. Also GPS coordinates will not be correct. The hotel is good and inexpensive.
More about the hotel
The point is indicated on this map correctly. But on the satellite, it will not stand correctly. Also GPS coordinates will not be correct. The hotel is good and inexpensive. Read more about the hotel
P.S. Now again we are going to Sanya overnight, and here again
Life hacking 1 - how to buy a good insurance

Choosing insurance is now unrealistically difficult, so to help all travelers, I compile a rating. To do this, I constantly monitor forums, study insurance contracts and use insurance by myself.

Life hacking 2 - how to find a hotel 20% cheaper

First, choose a hotel on Booking. They have a good offer base, but the prices are NOT the best! The same hotel can often be found 20% cheaper in other systems through the RoomGuru service.

Discount hotels