My second favorite beach on the island is Lonley beach. He is in contrast to White Sanda, on the contrary,quiet and calm. Well, this is if we are talking about the beach itself. Since the main location of hotels is about 10 minutes from the beach, this is where the village is located and it is quite noisy, as there are a lot of youth and music.
But if you live in one of the hotels right onthe shore (there are only a few pieces), then there will be silence. One of these hotels is Bhumiyama Beach Resort, which is considered by many to be the best on the island. I lived to figure it out.
And the more I like Lonely, the beach itself is great! Deep sea, good sand, there is a shadow. And on it, it seems to me, there is never a lot of people. True, for the entire infrastructure will have to go to White Sand or Klong Prao. Although, depending on what you need, there are cafes and massages on Lonely.
The content of the article
Price and reservation
At Bhumiyama Beach Resort

I had a superior sea view, that is, a room inbuilding and overlooking the sea. It is a bit more expensive than the Superior Garden View (the cheapest), but in principle I would not say that in fact there is a big difference between them. Still, in my room the view of the sea was not straight front, but through the pool.
Paid for 3500 baht / day (breakfast included). In low season, the price falls somewhere up to 2500 baht. There are bungalows, they are also with a view and without, but more expensive, since they are practically separate villas.
Hotels in Koh Chang>
Be sure (and I insist) check availabilitydiscounts or special offers on the excellent Roomguru service. It will quickly and simply show you discounts in all existing reservation systems. In Asia, for example, there are lots of offers on Agoda.com that are much more interesting than on exactly the same hotels on Booking.com.
For example, here is a direct link to the hotel: Bhumiyama Beach Resort

on hotel booking.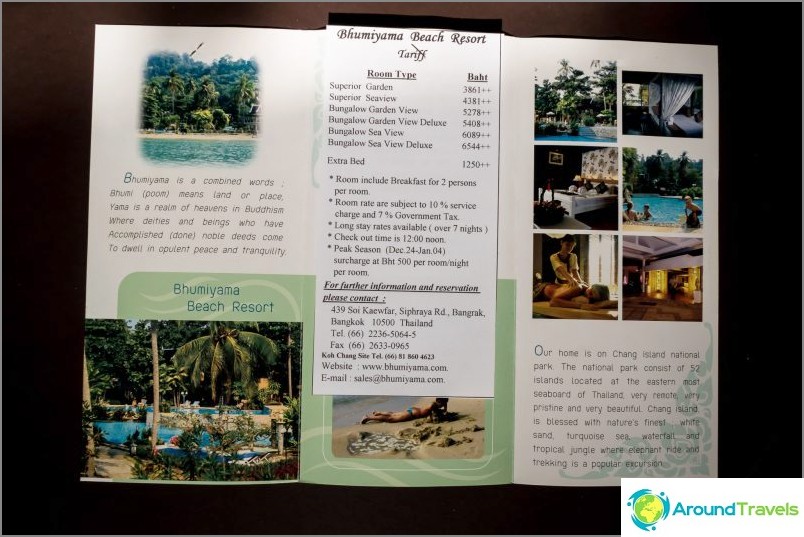 Interior
Hotel Rating 8.2, 4 stars. In my opinion everything is as it is, although a little expensive. Good hotel, real four, everything is fine. But, naturally, in the framework of the island, because here you can safely take away one star from each hotel everywhere, as often the number of rooms is old, and the price does not quite match the quality.
So, my room was large in size and immediatelystruck by the design. I do not know what else to call it, maybe more correctly - finishing. Not just painted in a single color of the wall, but some sort of ryushechki and decorations. I personally was pleased and pleased with the eyes. The room is not tired, all the furniture is in order.
Only perhaps, there were 2 beds, I would like one big one, but apparently there were no other rooms left. Separately, I note a soft mattress, in contrast to previous hotel, he was right that necessary.
From the technology here condo, flat TV,instead of a kettle, a thermopot, a hairdryer, a mini-fridge with a minibar for a fee, and a safe in the closet. There are also umbrellas, bathrobes, tea and coffee, napkins, separate towels for the beach or pool, and a few free bottles of water. And yes, something like a bible. Well, right most important. If you find fault, then condo noisy. It seemed to set the airflow speed to a minimum, but it was still loud.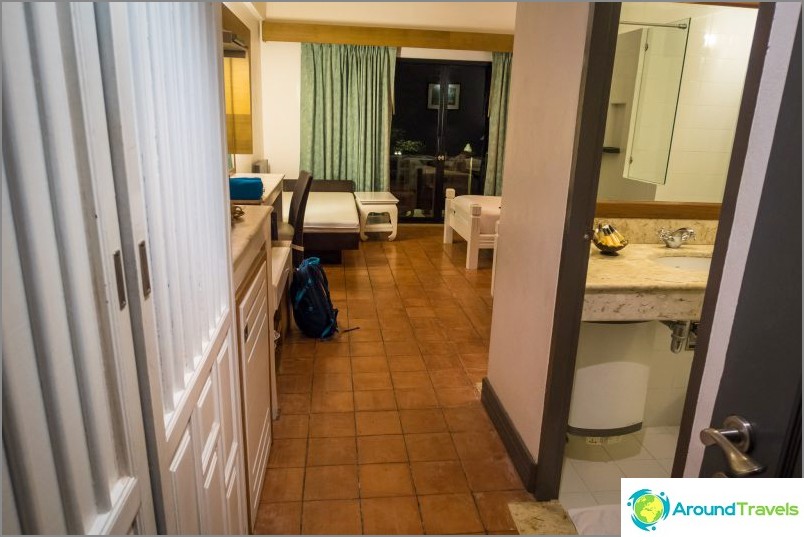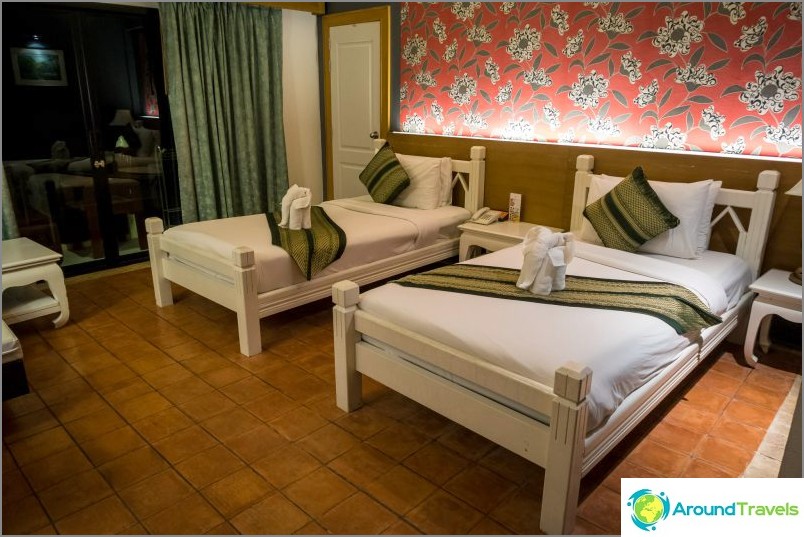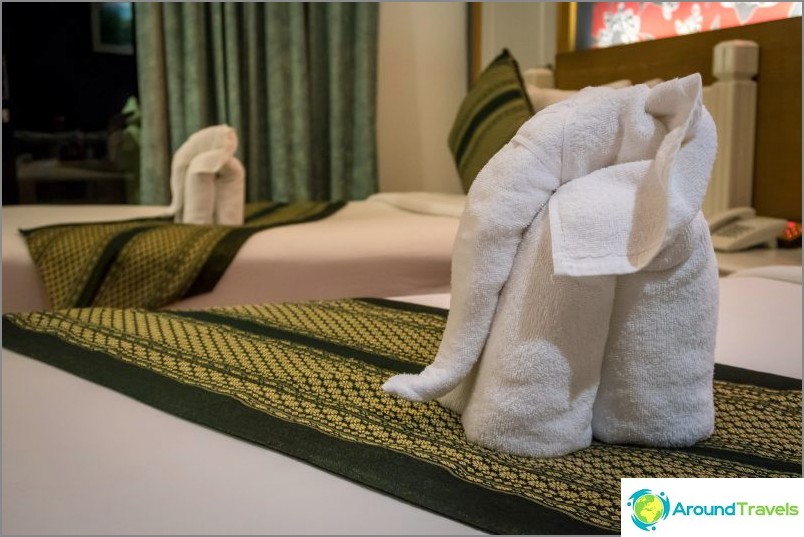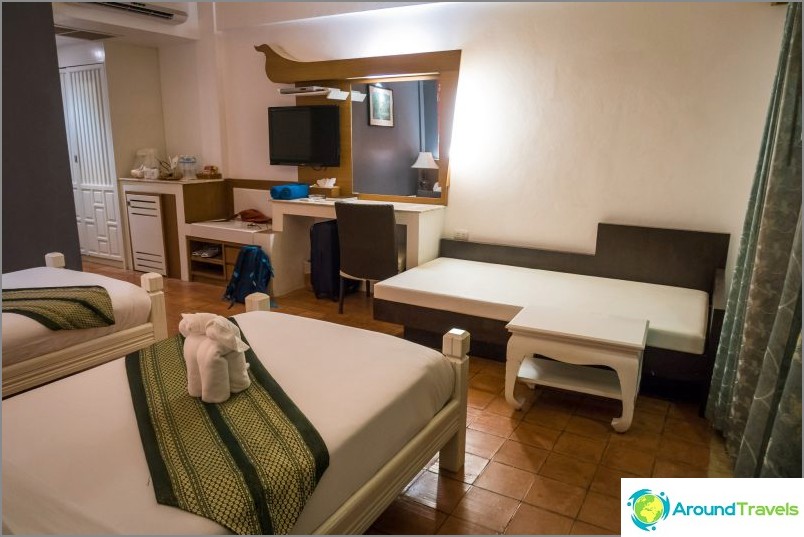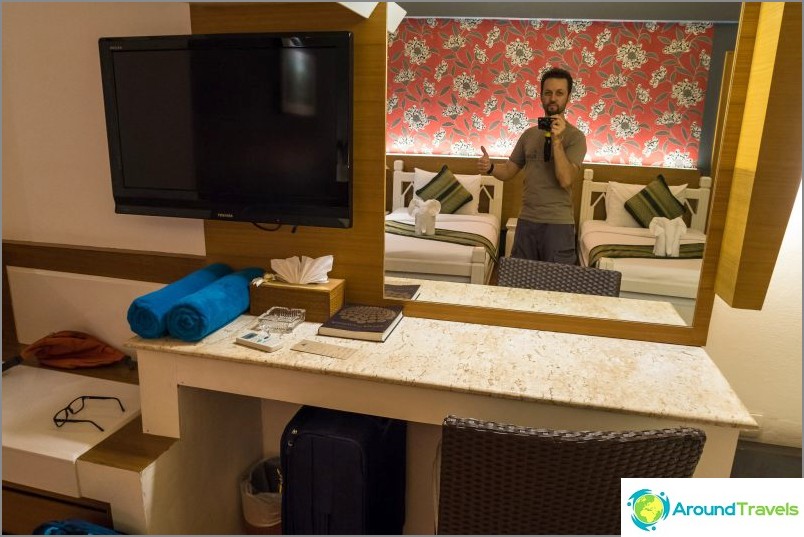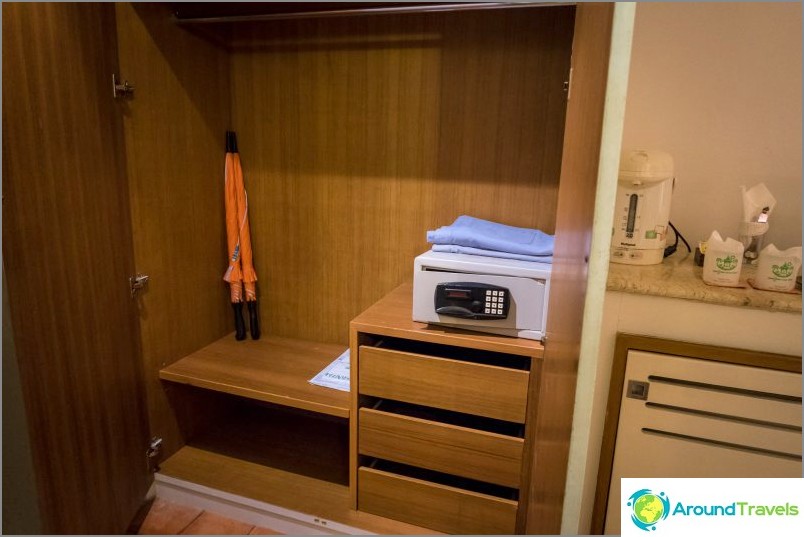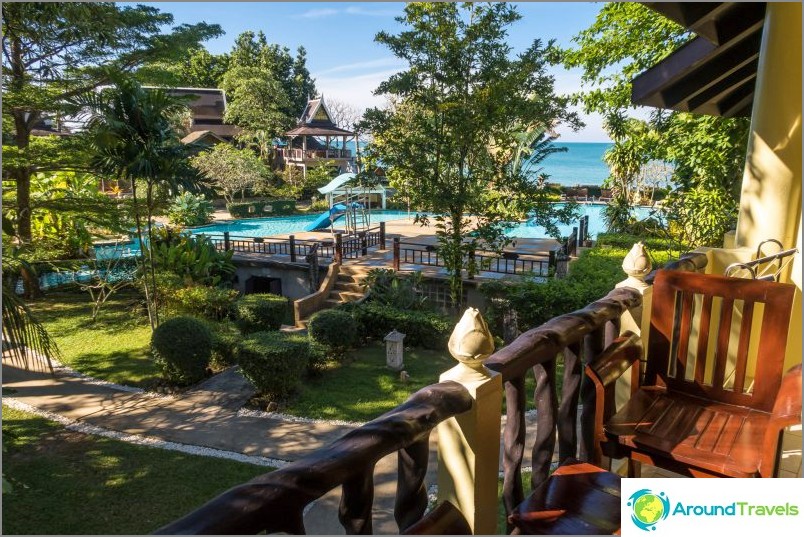 The spacious bathroom was not only a shower, but alsobath. There are not stingy at all and have issued all very well. Pebbles in the corner looked pretty nice. Design, I'm talking! Soap supplies in full.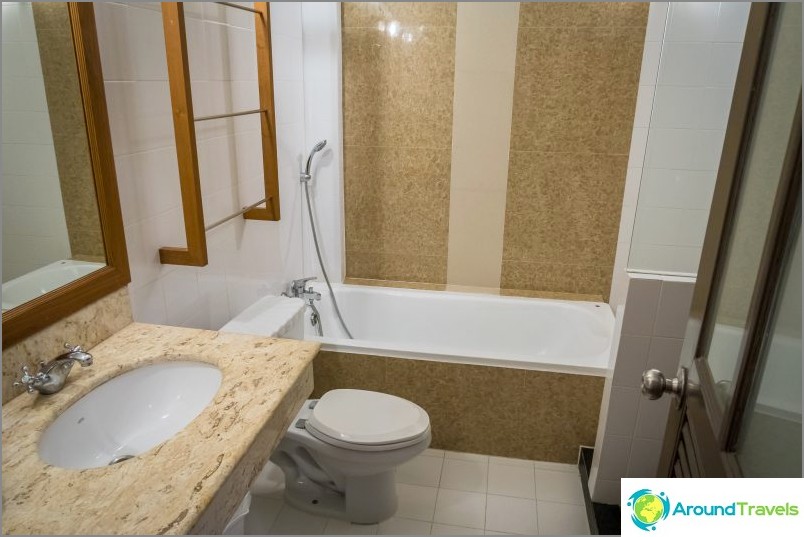 Internet is also good. Everything worked fine. I don't know if this is the case all the time, but during my stay I had no complaints.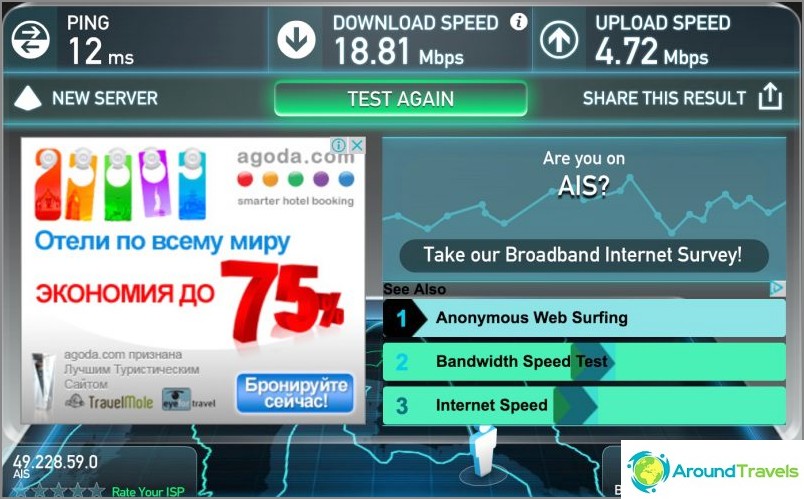 Exterior
The territory of the resort is well-groomed and green, walking onThe paths are very nice. Some corners are straight jungle. There is a bridge over the stream, and there all kinds of vines hang from above. In general, the territory is small and half the area is occupied by a large pool, even two (they are next to each other).
Also noticed that there were few people in the hotel, whether the season on Chang was already over, or I just didn't go around the hotel at that time.
As the hotel is located on the first line, its swimming pool and restaurant directly go to the sea. You can sunbathe and alternate while swimming in the pool, then in the sea.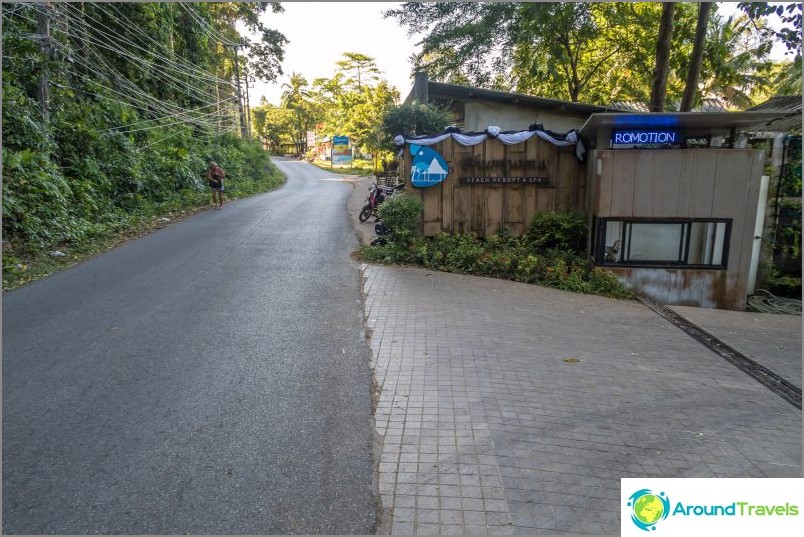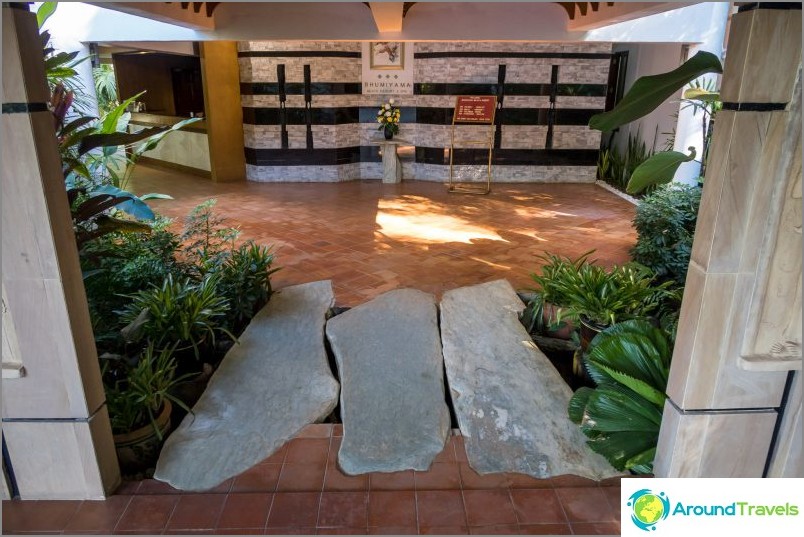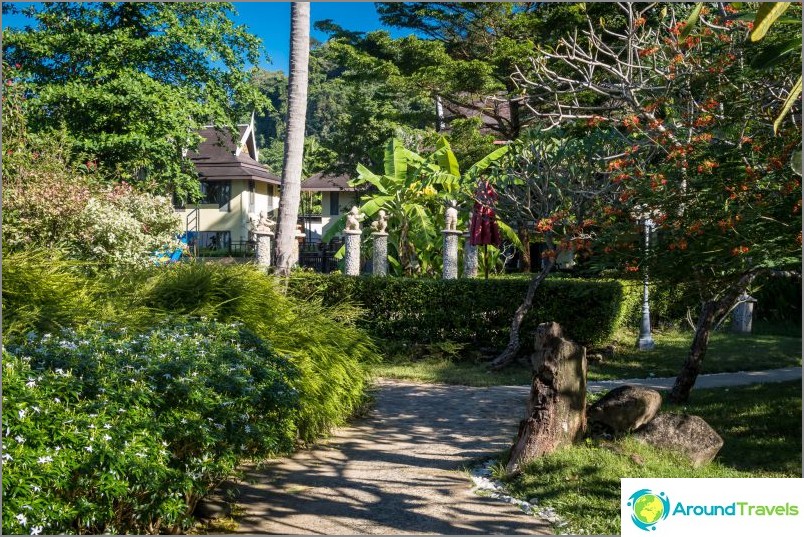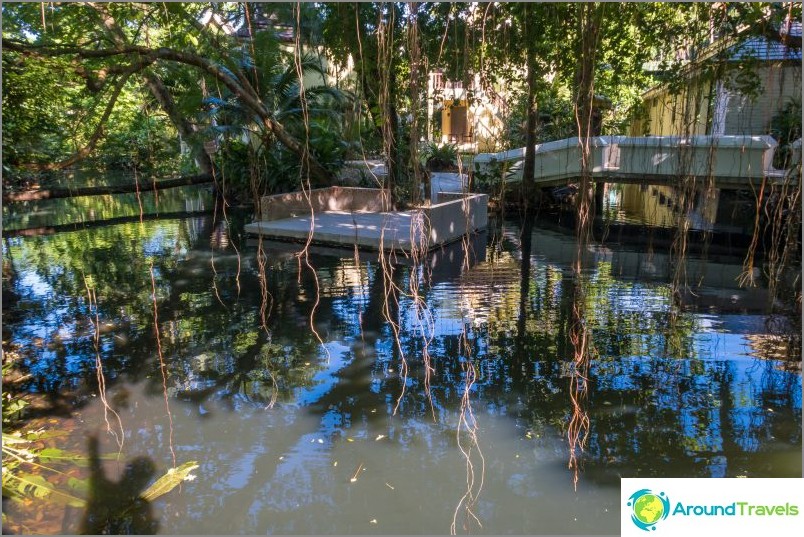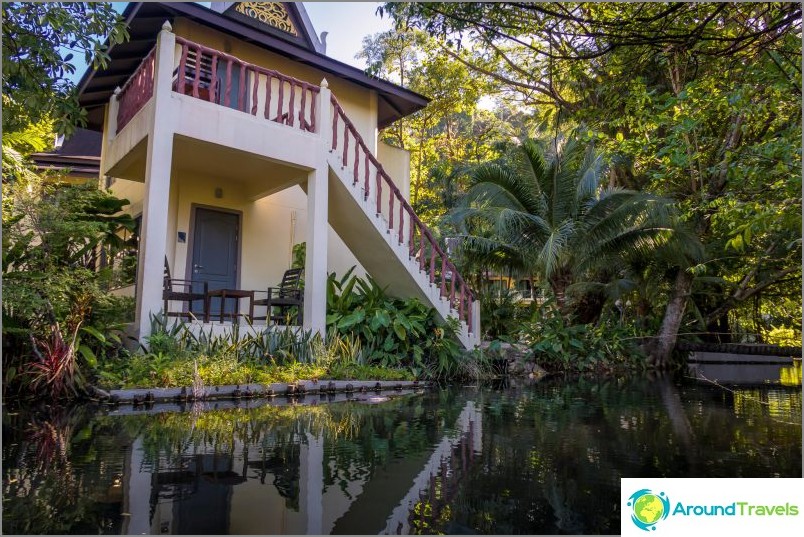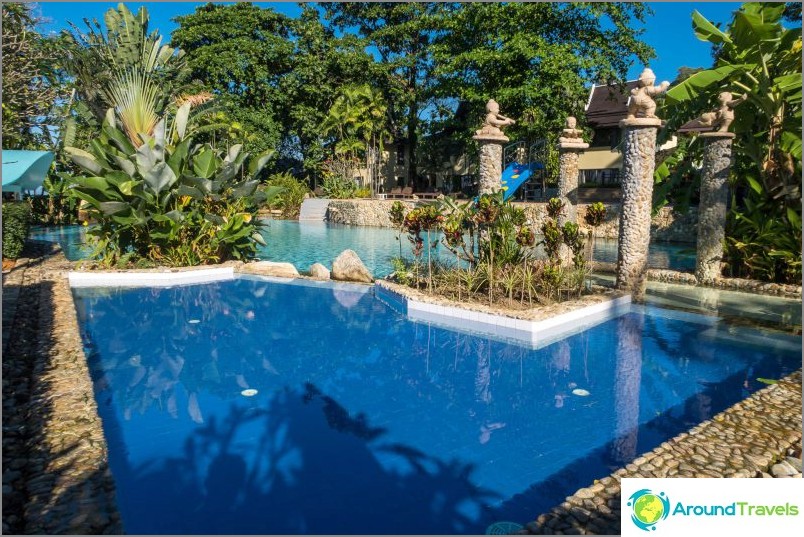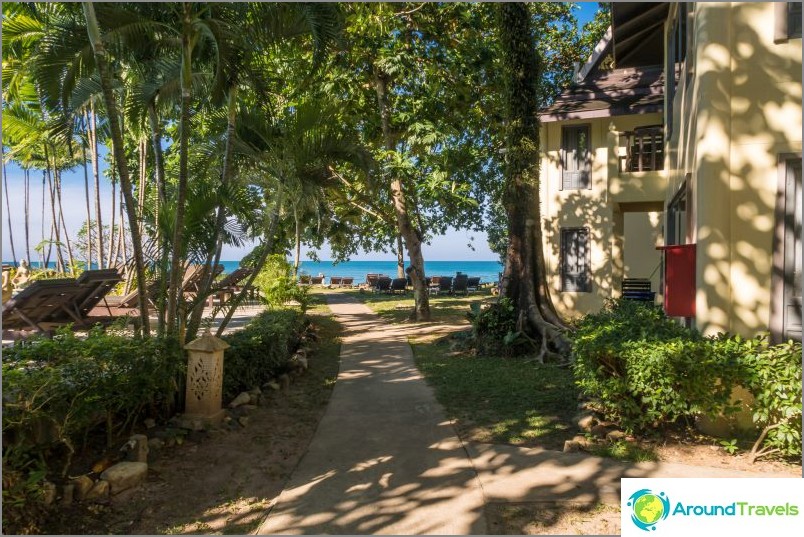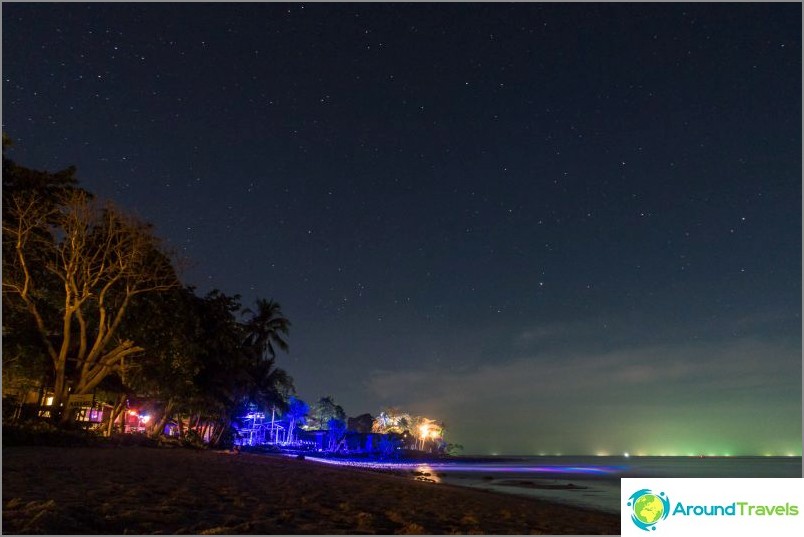 Breakfast takes place overlooking Lonley beach, sitting 10 meters from the shore on the second floor. Moreover, there are always a few people in Lonely, so in the morning it seems that you are generally alone here, creating a feeling of separation from civilization.
Returning to breakfast - for 4 stars a rather modest, the choice is small, in Kacha Resort was more. Omelette, fruits, vegetables for dressing salad, toast with butter and honey. Fried vegetables, fish steak, fried potatoes, bacon and sausages. Tea, coffee, juices. Breakfast is served from 7:30 to 10:30 and is included in the room rate.
Also at breakfast you need to be careful. There lives a brazen bird (s). When she arrives and sits right on the table, you are happy, you take pictures, but you should turn away for a second, as she is already dragging something from your plate
No kidding, she dragged scrambled eggs from me.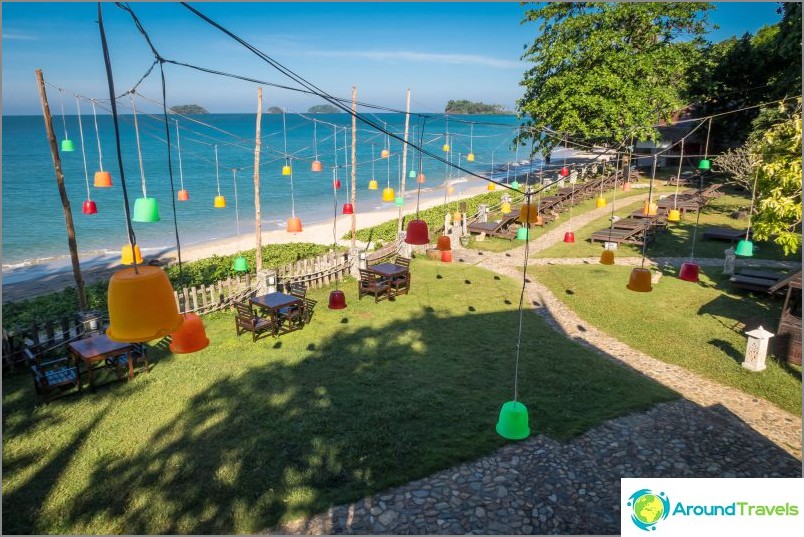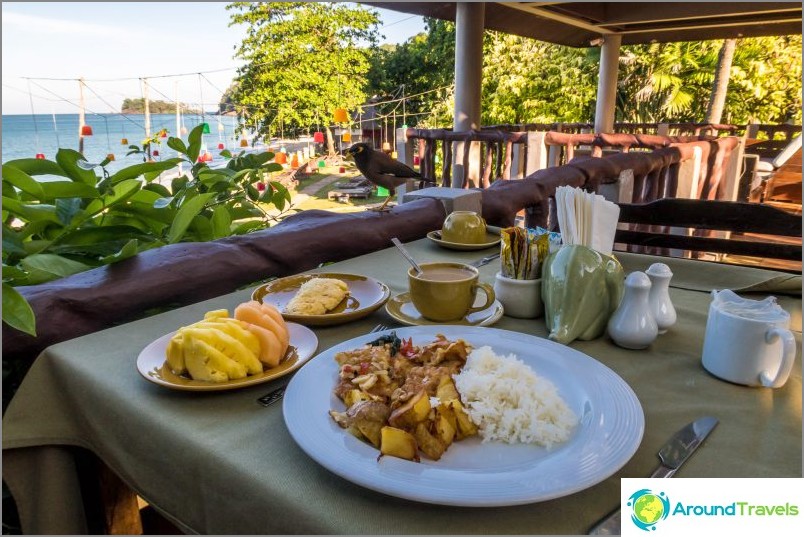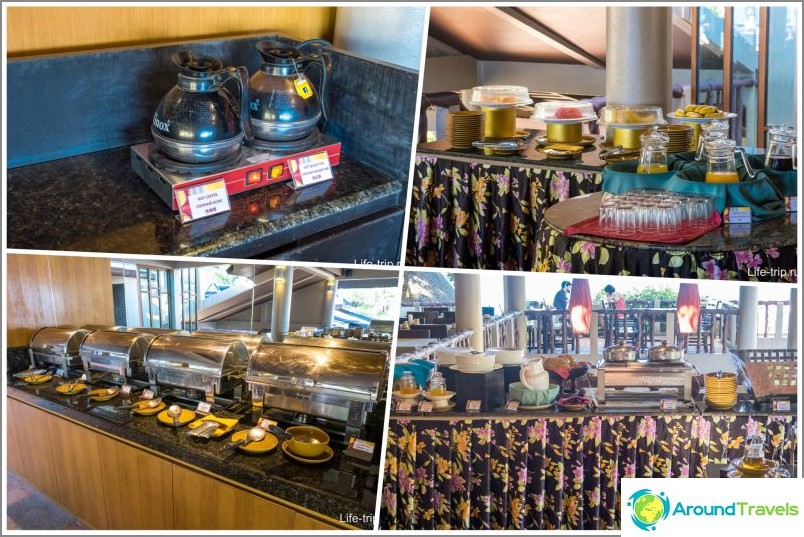 On the map
Bhumiyama Beach Resort is the leftmost hotel (iflook face to the sea), after it the normal beach ends and the stones begin. That is, if you go somewhere along the beach, then right. But from him closest to the village with cafes, literally 5-10 minutes, no more, on an asphalt road.
Bhumiyama Resort - the best at Lonli
Bhumiyama Resort - the best at Lonli
Dear, but the best resort on Lonely Beach. And someone thinks it is generally the best on the island.
More about the hotel.
Dear, but the best resort on Lonely Beach. And someone thinks it is generally the best on the island. More about the hotel.
P.S. Nearby is still Siam Beach Resort

, it is a bit cheaper, and the location is excellent (it is the first one at the entrance to the beach, if you go from White Senda), but a little old already, judging by the reviews and appearance.
Life hacking 1 - how to buy a good insurance

Choosing insurance is now unrealistically difficult, so to help all travelers, I compile a rating. To do this, I constantly monitor forums, study insurance contracts and use insurance by myself.

Life hacking 2 - how to find a hotel 20% cheaper

First, choose a hotel on Booking. They have a good offer base, but the prices are NOT the best! The same hotel can often be found 20% cheaper in other systems through the RoomGuru service.

Discount hotels