Visited Bang Krachao (??????????) in Bangkok, where tourists usually do not drop off. Basically, here you can meet either Thais who came to ride their bike on their weekends, or foreigners who are constantly living in Bangkok. This place is also called the "lungs" of Bangkok for its vegetation and ecosystem. Although, looking ahead, I will say that the jungles and forests are not so direct there, as the imagination can draw.
In general, if you are in Bangkok, youIf you want to breathe fresh air and stretch muscles a little, then it makes sense to roll here. But don't expect any special sights here, such as gilded temples or viewing platforms from the 85th floorThis is a slightly different entertainment format.
The content of the article
Bang Krachao Island
Just in case, I will write that the island is not at allmeans the sea around it. No, in this case the island was formed due to the fact that a piece of land was surrounded by a river (Chao Phraya) from all sides. Look at the map, it will be clear. Although it is very similar on one side that a channel was dug, so it didn't happen by itself.
So, the island is rather big and in fact it is a wholearea of ​​Bangkok, where many people live. True, this is quite a suburb and I even think that administratively it is no longer Bangkok, but among the expats it is called Bang Krachao Island. In any case, this is not so important, because we need to ride a bike and get some fresh air, right?
To bypass all the tracks of this island,It will take more than one day, but this makes no sense. Do not rush, for the first time just visit the most basic places: the park, the gallery of fish, and the cafe Tree House. At least try to visit. At the rental point you will be given a map, but it's so, you know, typical of Tai and symbolizes Thai logic. In other words, you will understand practically nothing from it, unless you know some names. So Google Maps to help, to complete the quest "find something, I do not know what"
Yes, I must say that not all tracks on Google (andMapsMe) correspond to reality, and there are very few English-speakers among the locals, but all this adds to the adventurism of this cycle. The main thing, do not forget to put a point on the map where you took the bike, so that it would be easier to return later.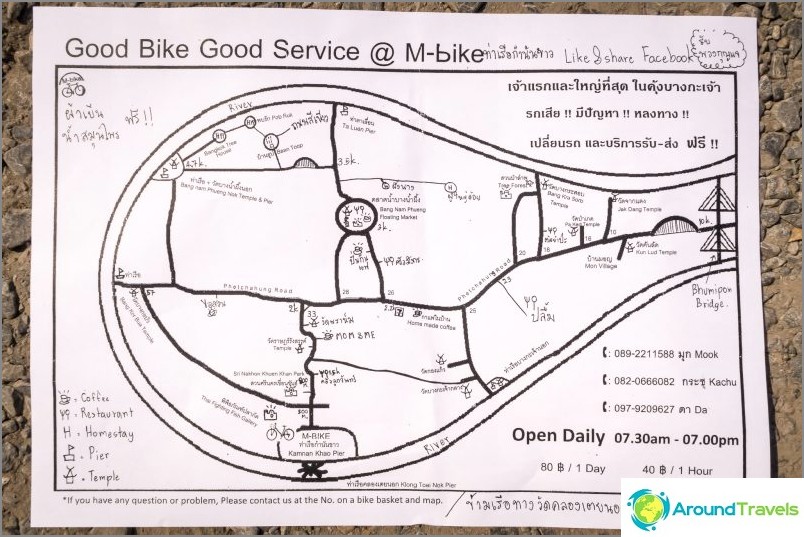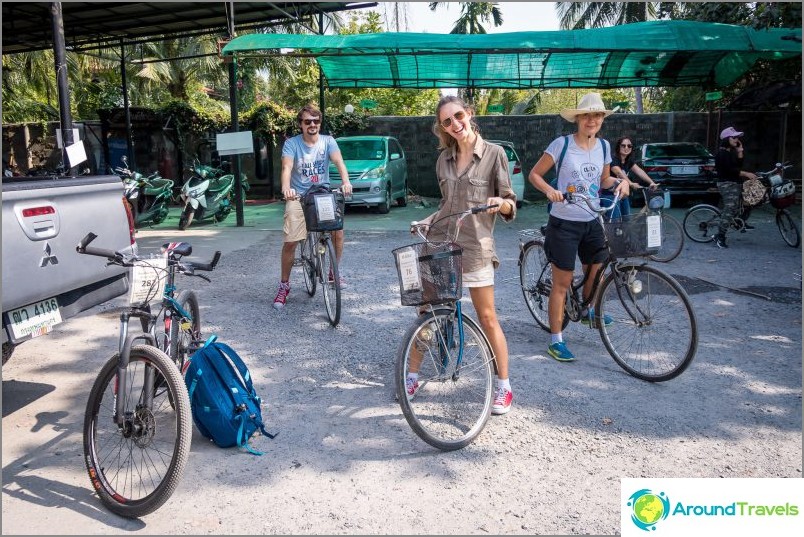 Riding through the back streets of local villages you cansee authentic Bangkok, see how ordinary locals live. Despite the fact that the place is popular only among Thais, there is no tourist atmosphere anywhere. On the contrary, the locals both lived and live. A number of cyclists, coming mostly on weekends, seemed to have no effect on their lives. Take a trip, I recommend.
When I went there, I thought that there was everythingfestooned with water channels, but in fact it is not. Enough ordinary asphalt roads where cars drive or people walk. However, it is the channels and concrete paths laid above the water and among the vegetation - the most gusto. This is the very eco-system and the "lungs" of Bangkok. True, if you feel insecure while driving a bicycle, then go along these paths carefully, if you fall down, it will be at least unpleasant and wet. Local, by the way, there is a great cut on the bike, they are not afraid at all.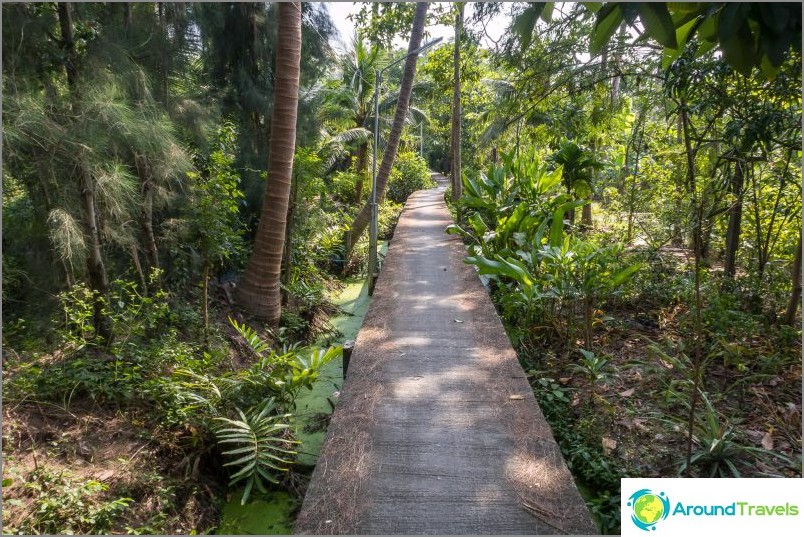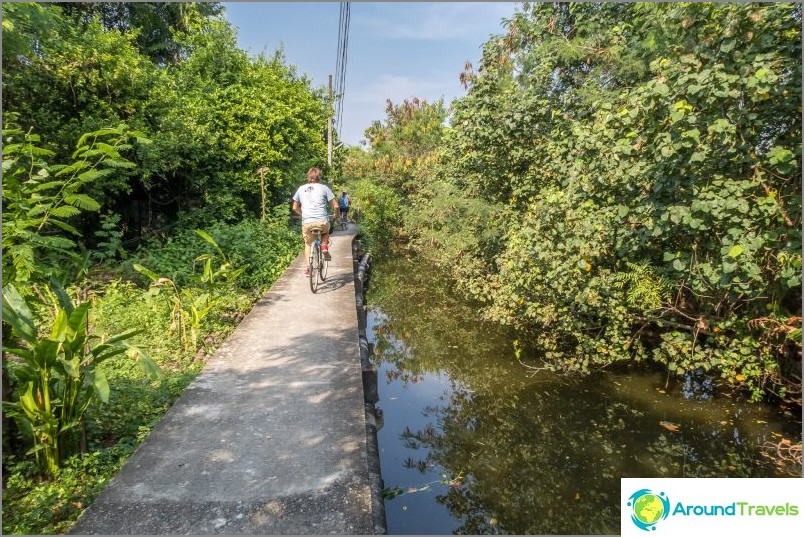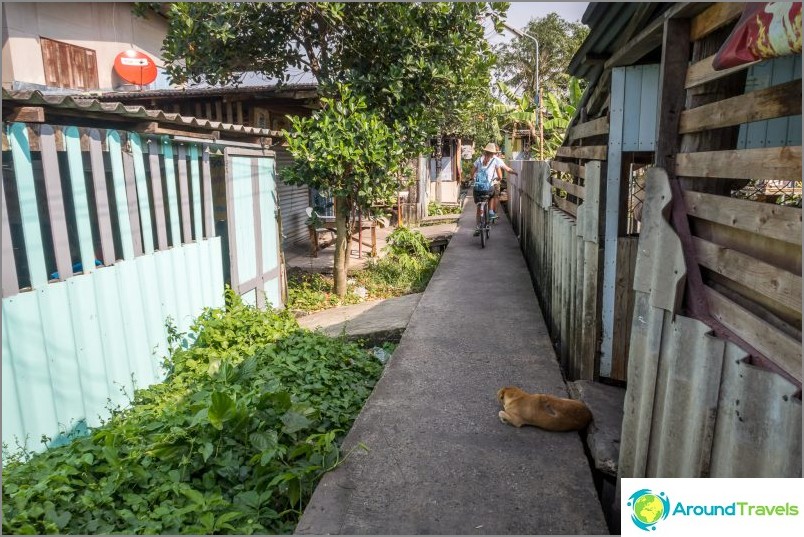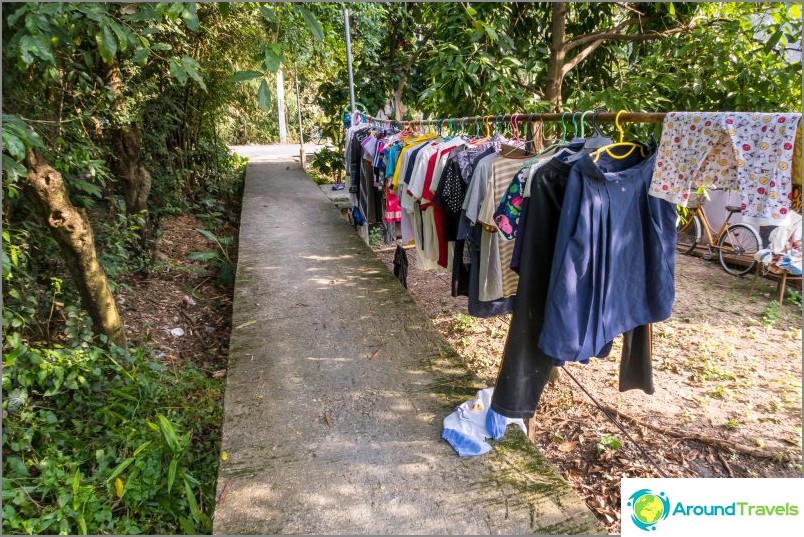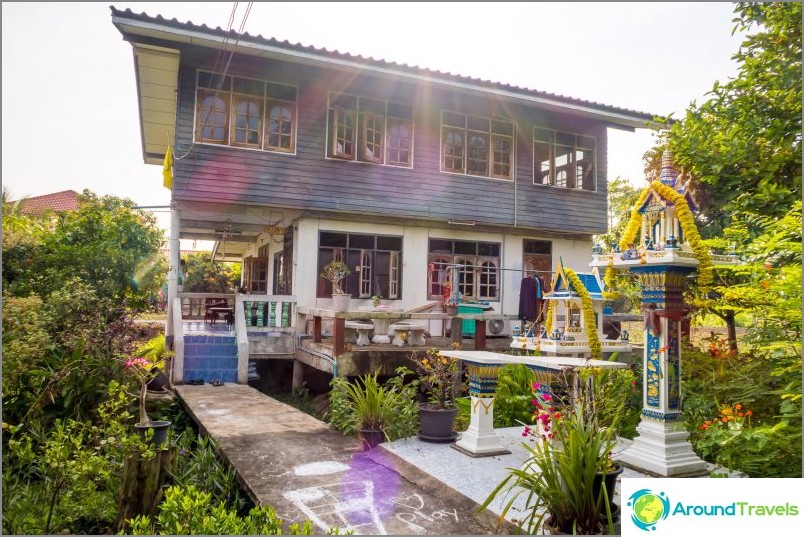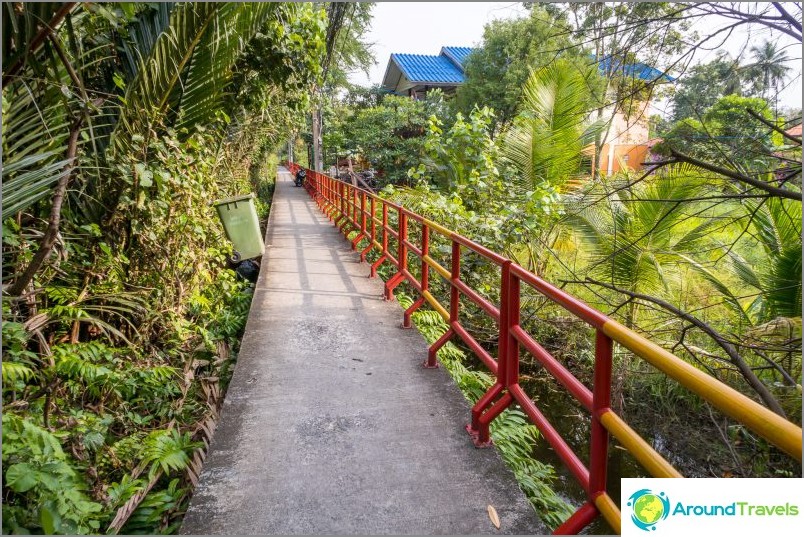 Gallery of fighting fish
Called "Siamese Fighting Fish Gallery". Fish there, really, fighting. But no one fights here. Rather, it is they have here such a sanatorium, in anticipation of the battle. There is even a hospital for fish, where they come to their senses and are treated. Since there was no one to ask, I basically just had to go and look at the aquariums. Visually, all are similar, but for sure, there are some differences. All the fish are small, the part is inconspicuous, the part is variegated and cute.
In the same area where the gallery is located, there is a small park with a lake and a Thai-style building. In the heat there is not the best idea to walk here, the building should be inspected, it is quite interesting.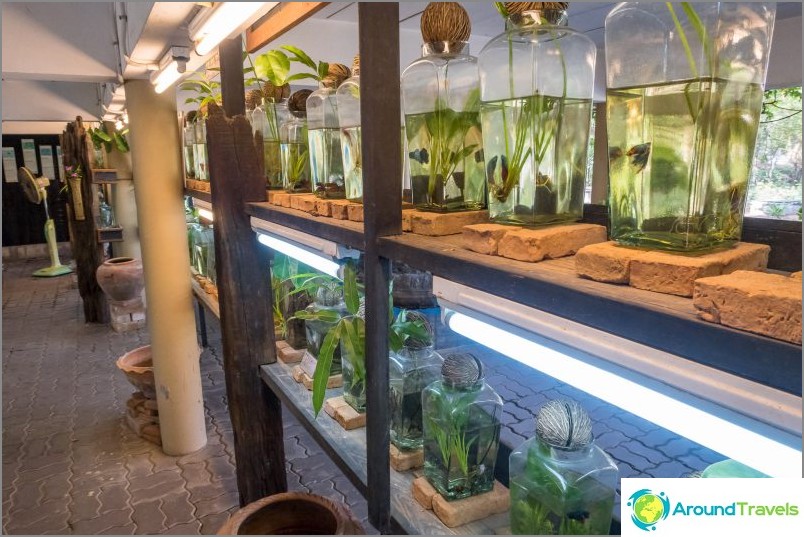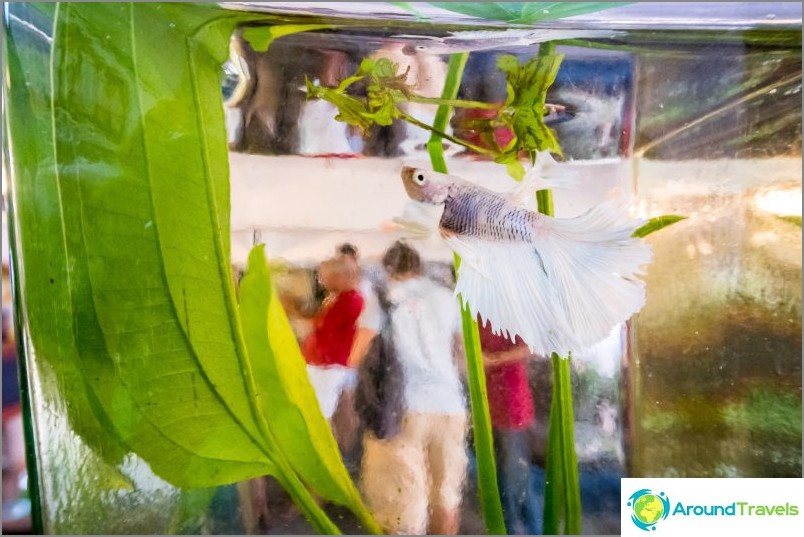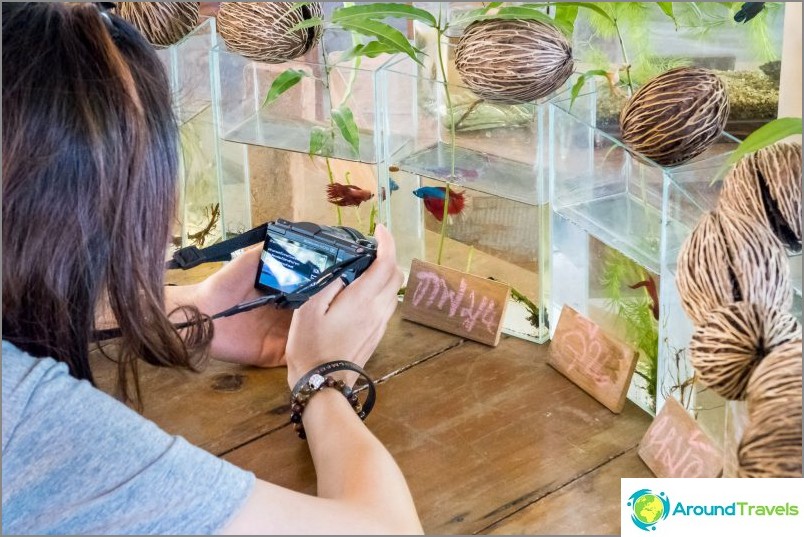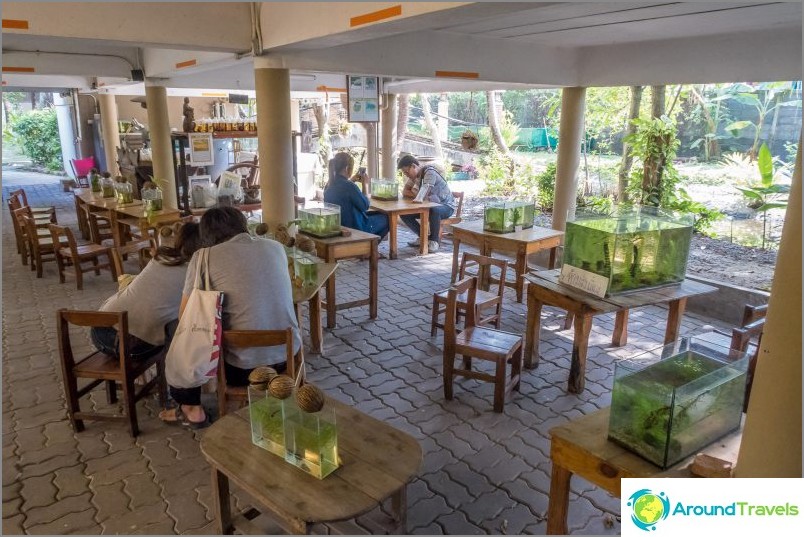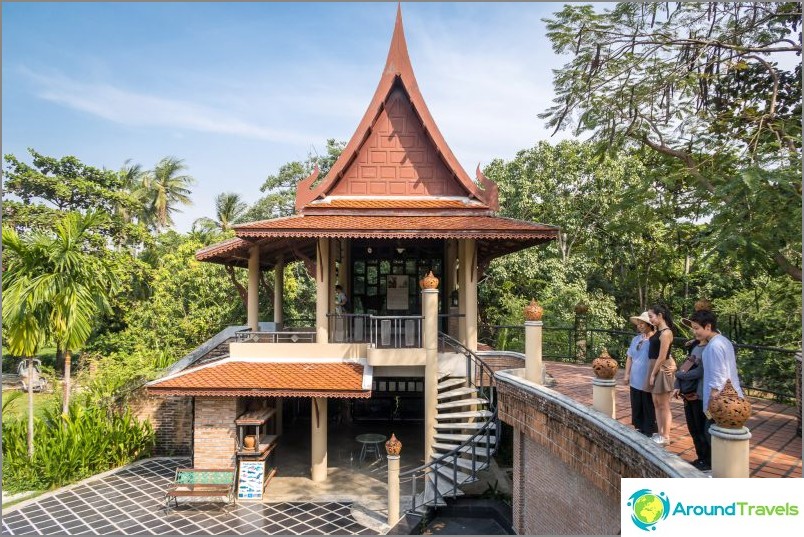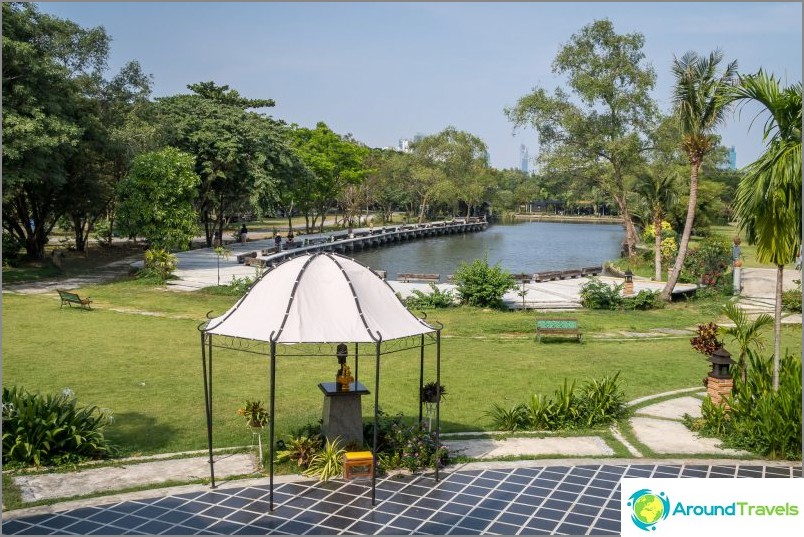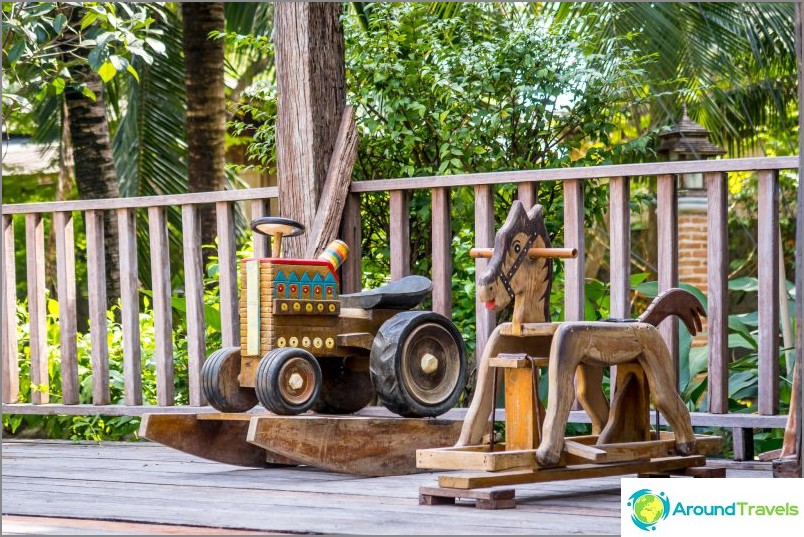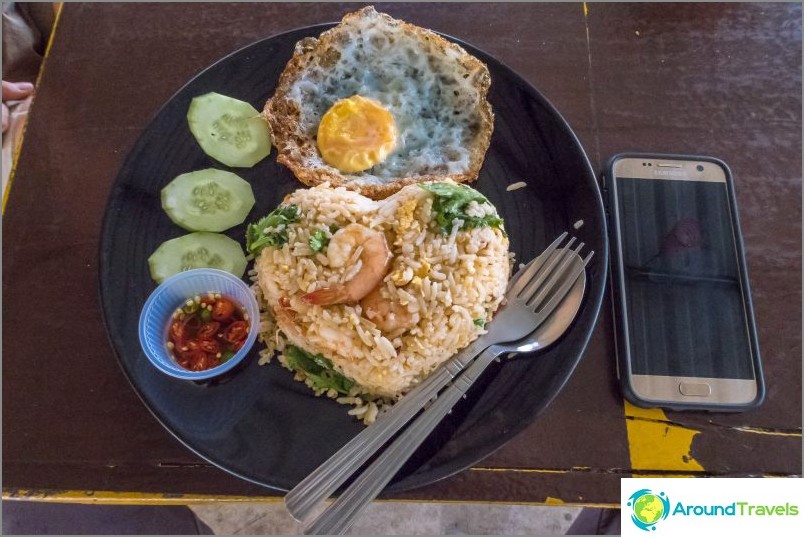 Srinakorn Khuaen Khan Park
One of the points where you should jump -botanical park. There may be a lot of people there, but it's a pleasure to drive along the tracks. There is a circular route, it is not at all long, here it is. On the way, an ornithological tower of 3 floors will meet, go up there too, look at everything from a height, even if it is small.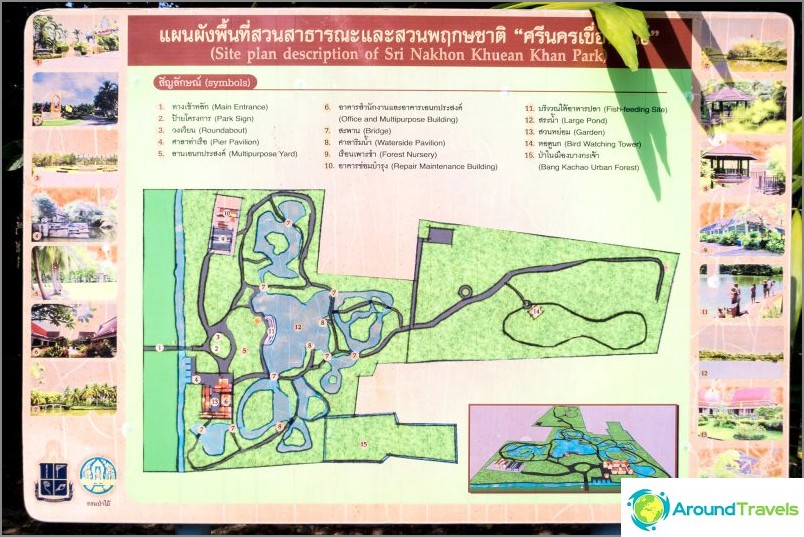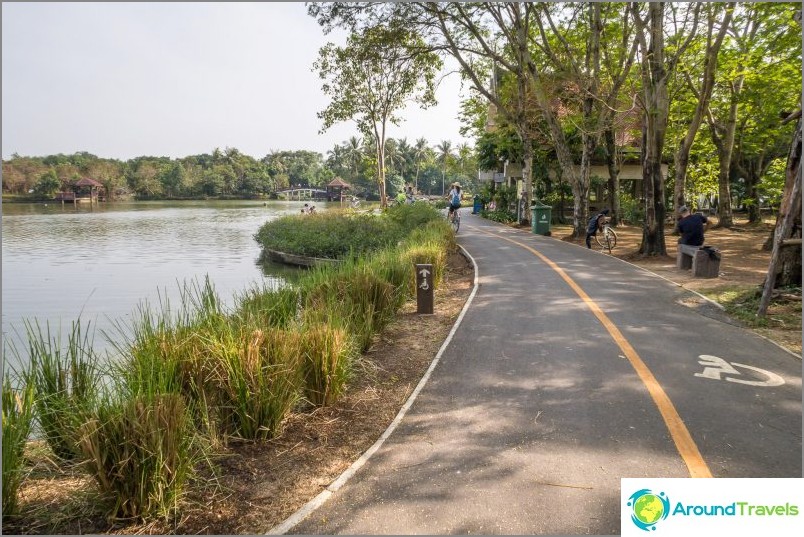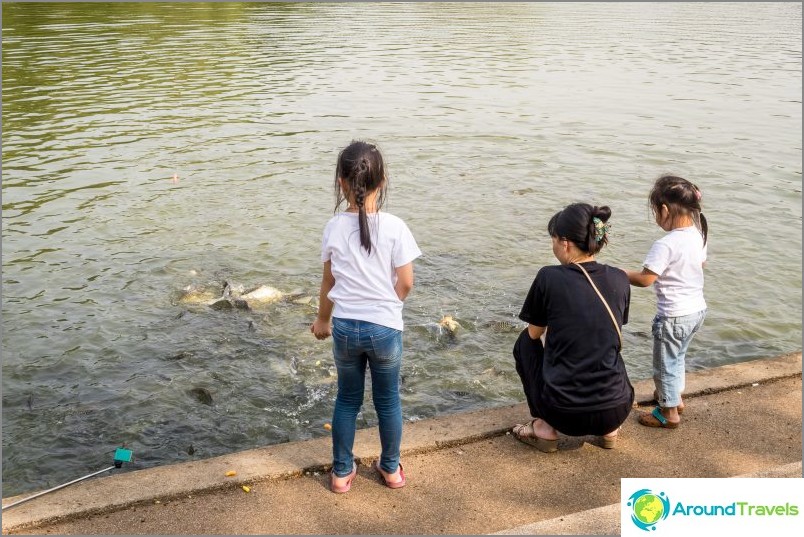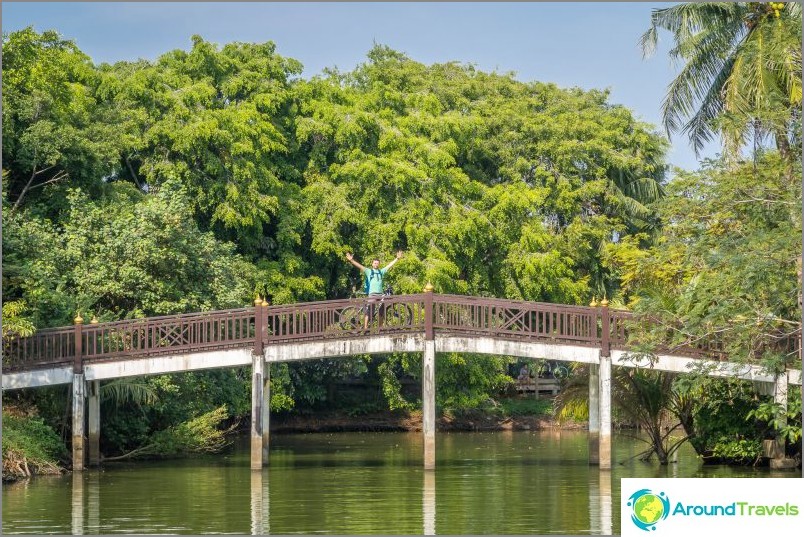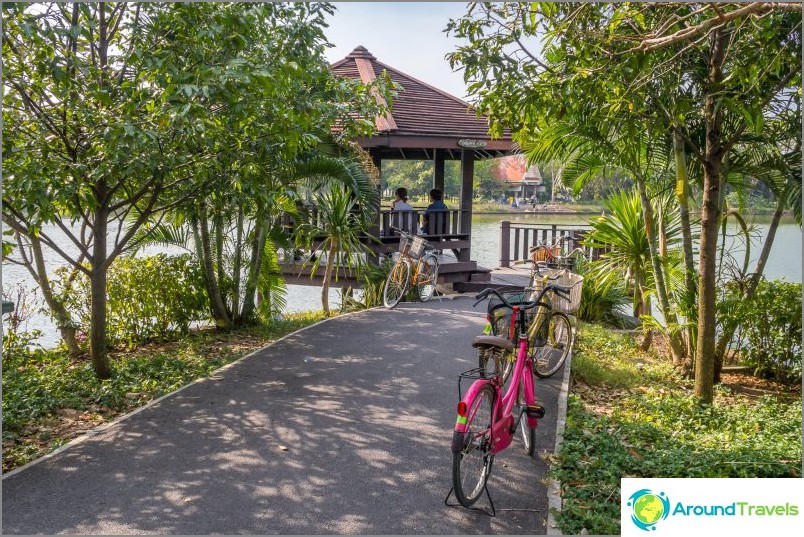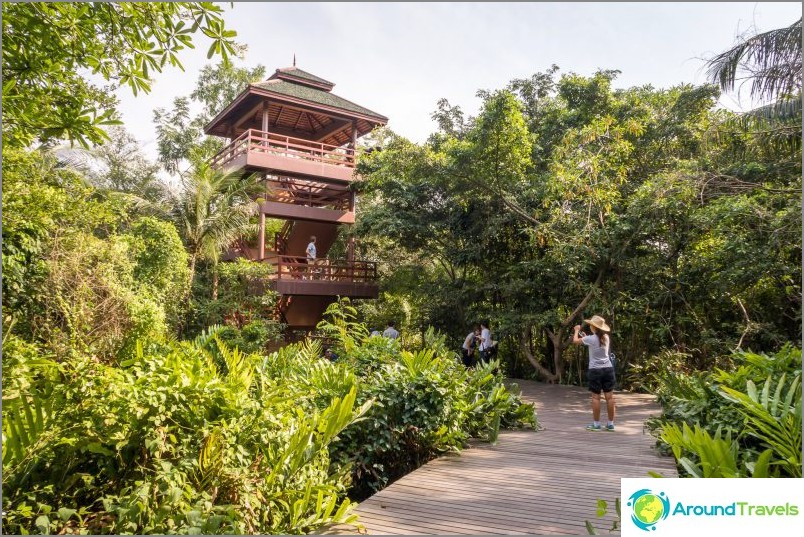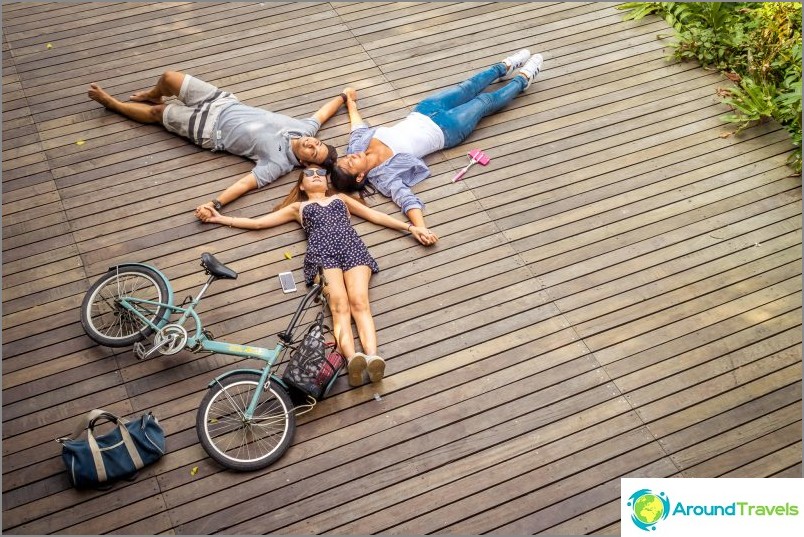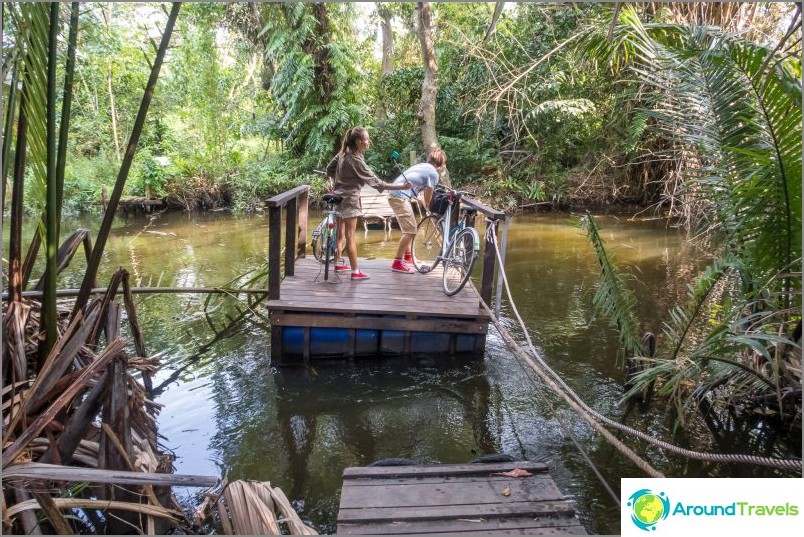 Bangkok Tree House Cafe & Hotel
Specifically, in my case - this cafe has becomecompletion of the route. You know, it's good to sit and drink a fruit shake after pokatushek and heat. If there was an opportunity, I would stay at the hotel, which is right there next to me. Visually looks very even. Well, if you like eco-style, interior permeated with plants, open spaces and everything in this spirit. Here is link to hotel, look at the photos. A little expensive, for an amateur, but I personally like these hotels. The eye is resting. If only mosquitoes are not devoured, as in the comments swear.
True, the location is uncomfortable at all. Only if you come here like this with a backpack and a bicycle, take a rest and back 1-2 days, that is, combining the cycle walk and overnight. Otherwise, if you drag along with a suitcase, but take a taxi, and then drag it along narrow paths, no. Well, and probably, I would be better for such a relaxation in nature, somewhere far from the city drove off.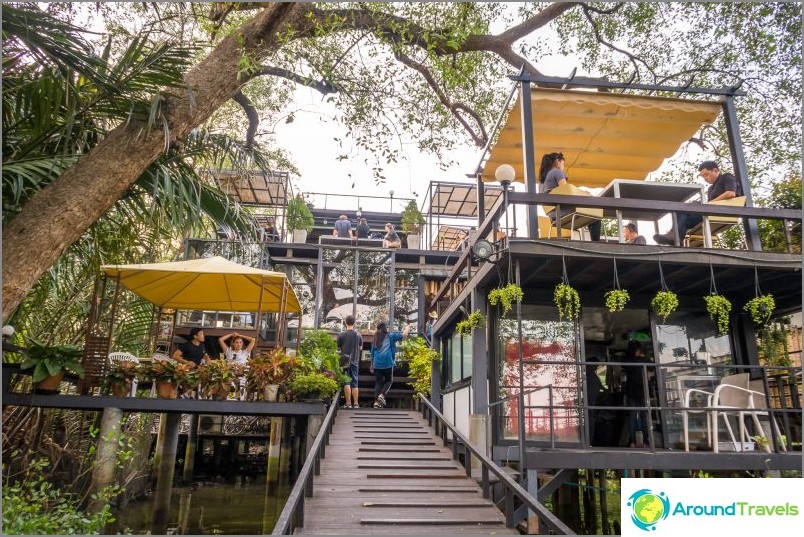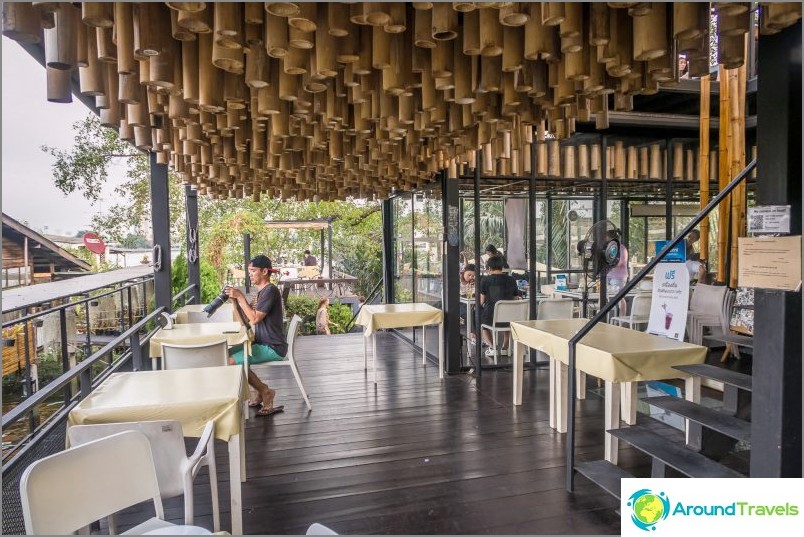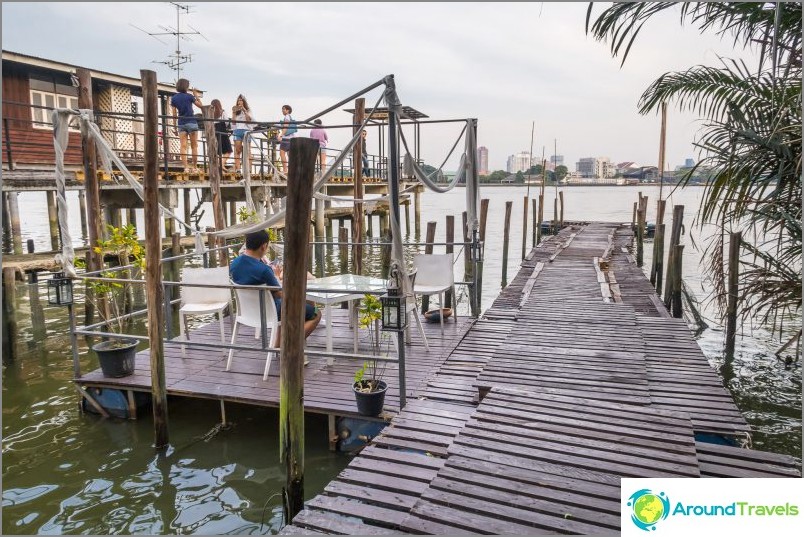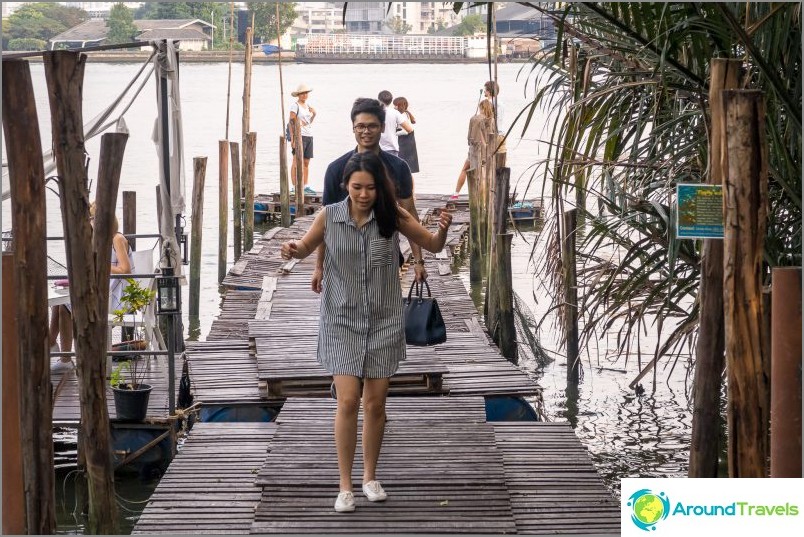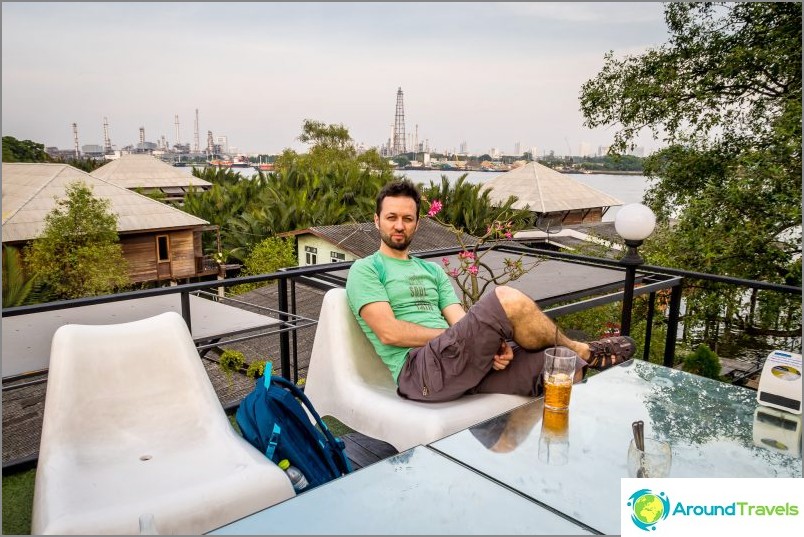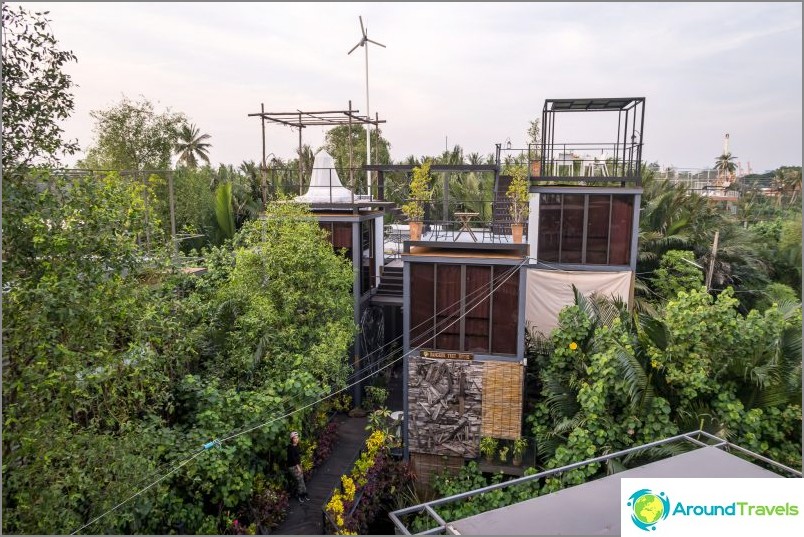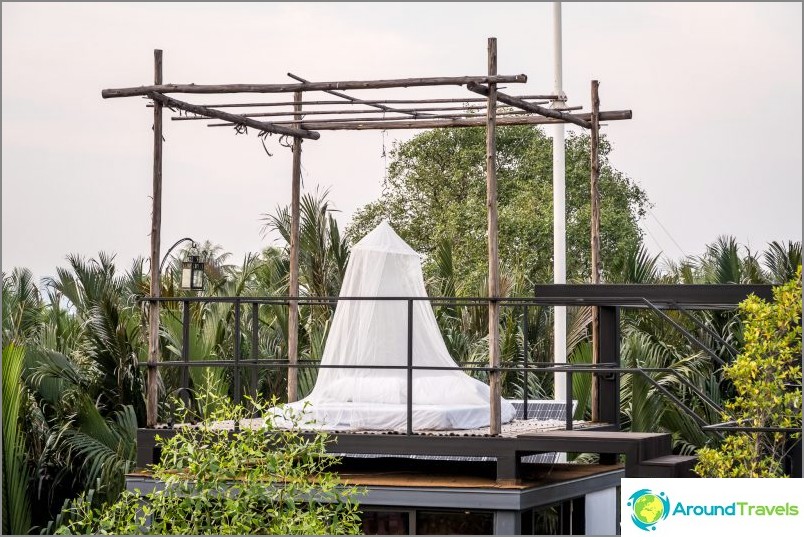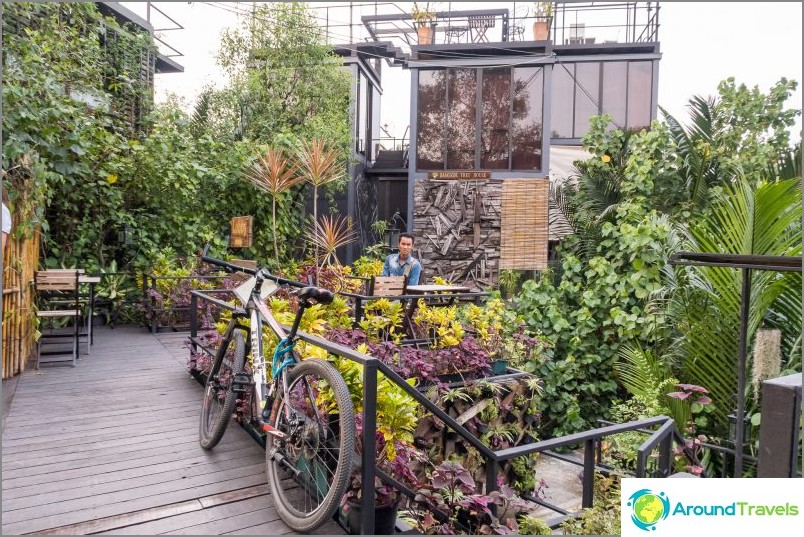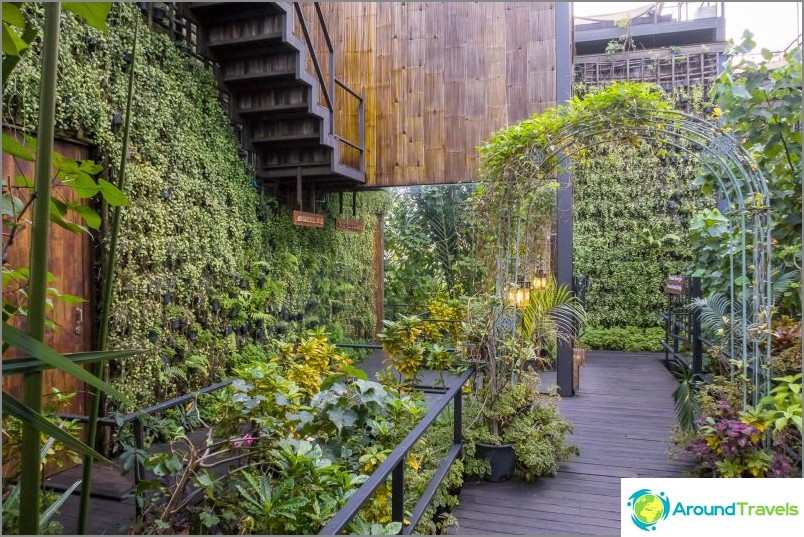 Price and information to visit
Taxi from BTS Asok to the pier will cost about 50-70 baht.
Boat across the river in one direction 10 baht (in both directions 20 baht).
City bike rental 80 baht / day
Mountain bike rental 120 baht / day.
Bicycle rental is available from 8:30 to 19:30. But after 18 hours there is nothing to do on the island, it becomes dark.
Map and how to get
Pointed on the map point - pier Khlong Toei Pier,where you need to come by taxi. The nearest metro is BTS Asok and MRT Khlong Toei. But a taxi, as you know, can be taken from anywhere. Also from these metro stations you can walk, if you suddenly want, there is only 2 km from the MRT. There is some difficulty with a taxi, because the taxi driver may not understand where you need (as was the case in my case). I think he did not know the word Pier (pier), in the end he called someone English-speaking, and we explained in English that we needed a pier from which we would take a boat to Bang Krachao. Alternatively, you can show this Thai inscription ???? ???????, it is her Google gives out in place of the pier. Or this one ????????????? - this is how a temple is written in Thai (Wat Toei) near which this pier.
Then from the pier you are transferred to the boats onthe other side of the island. There literally a few minutes to sail, boats go from morning to evening, that is, during the working hours of bike rental on the other side. Right on the pier on the island you rent a bike and ride around the island as you like.
Also on the island can be reached by taxi from Bangkok, but this is not the closest path, as you have to make a decent detour.
Bang Krachao Map
Khlong Toei Pier:
Srinakorn Khuaen Khan Park:
Gallery of fighting fish:
Cafe and hotel Tree House:
Bicycle rental:
Bang Nam Phueng Nok Temple:
P.S. Just in case, I will clarify, the point Khlong Toei Pier is correct! And then Google offers another place.
Life hacking 1 - how to buy a good insurance

Choosing insurance is now unrealistically difficult, so to help all travelers, I compile a rating. To do this, I constantly monitor forums, study insurance contracts and use insurance by myself.

Life hacking 2 - how to find a hotel 20% cheaper

First, choose a hotel on Booking. They have a good offer base, but the prices are NOT the best! The same hotel can often be found 20% cheaper in other systems through the RoomGuru service.

Discount hotels