With some frequency I do reviews of apartments and hotels in Thailand. Before doing overview of 30 cheap apartments in Chiang Mai. small overview of apartments in PhuketNow here is Bangkok on the line. But this time the apartments will not be very budget, because we were initially looking for a large apartment with 2 bedrooms. Actually, that's why we didn't even enter small condo hotels. Guide that how to rent an apartment in bangkokI already laid out.
The content of the article
Bangkok Apartments & Apartments
I have stayed in Bangkok many times and in different hotels. I will not give links to all my reviews, I will give only a few. Nasa vegas - convenient for stopping near the airport and metro, Rajata - a good place to spend the night near Khaosan, S3 residense located in the center near the park.
Also I can still recommend to look for hotels inBangkok via RoomGuru. For a short stay very useful. If you need to rent a house in Thailand, my booking instructions can be found at the link: How to book a house in Thailand - 5 ways.
V.P.Tower
Cost: from 11,500 baht for 1 bedroom and 33,000 baht for 2 bedrooms
Description: We did not look at the largest apartments, those that are called Junior Suite (in the photo), and they were considered to stay in Bangkok. In fact, a large area, a large balcony, a full kitchen, there is, in principle, everything that is needed. Two small bathrooms with bath. Probably recently a repair was made and it looked all new. But apparently the repair was not done everywhere, because then we looked at the Senior Suite and it turned out to be worn. So, if you take an apartment here, be sure to look at several options. Another plus is the location, very quiet and not passing jay.
Contact: http://www.vptower.com/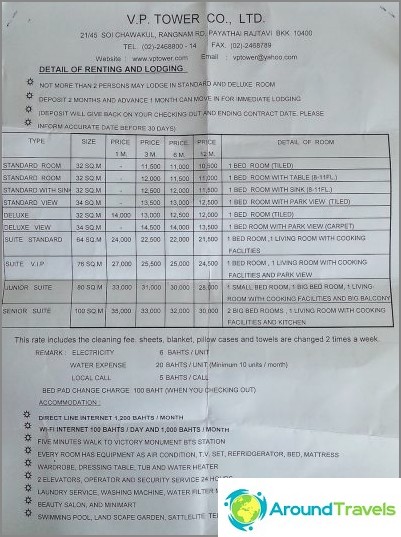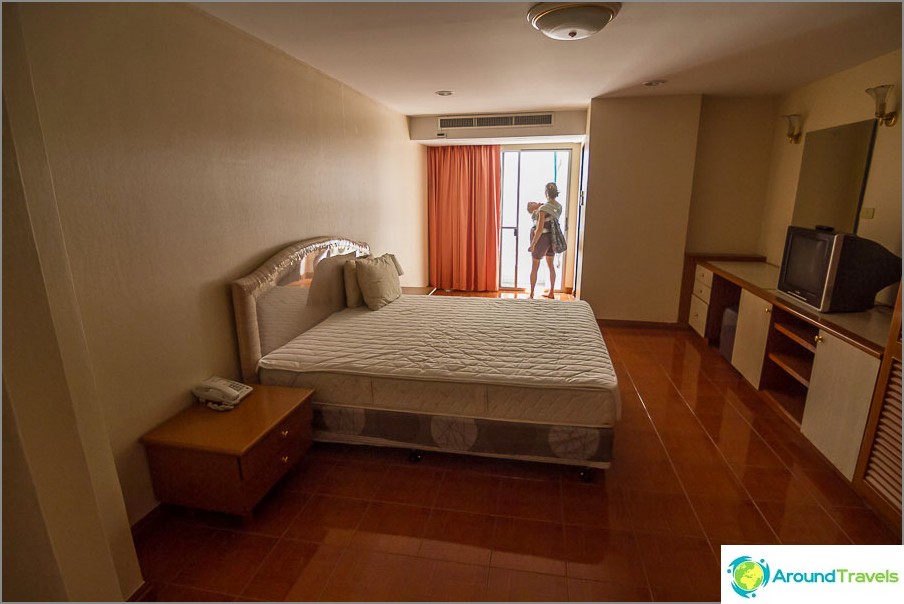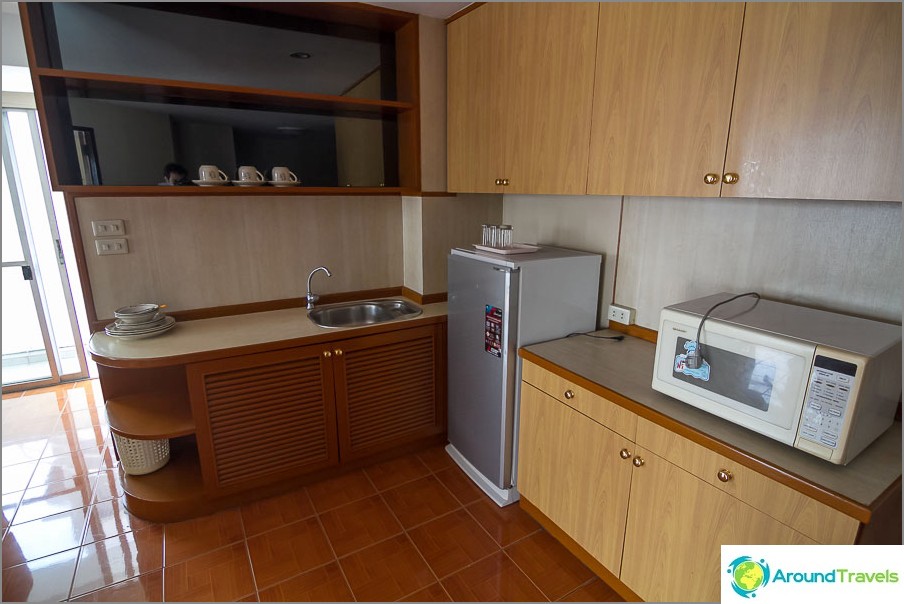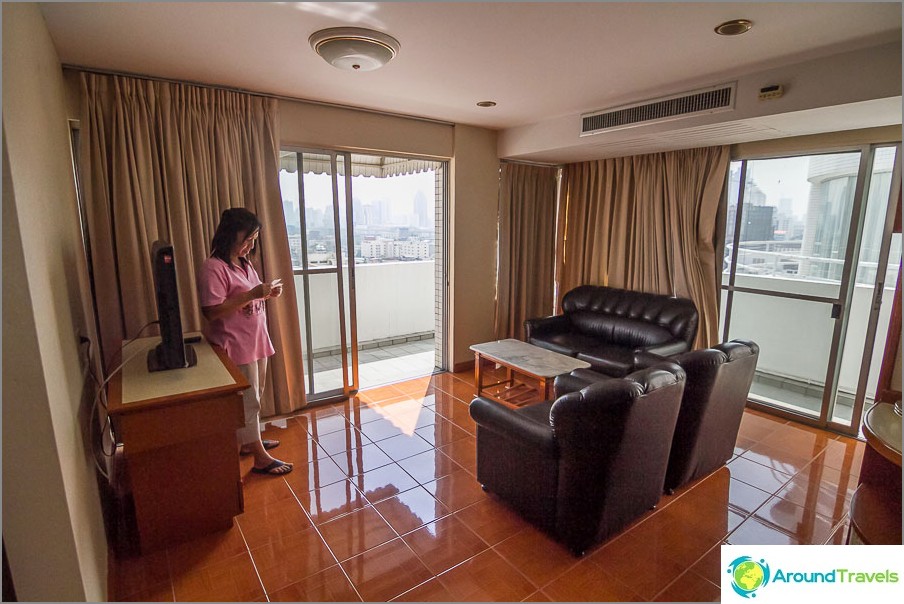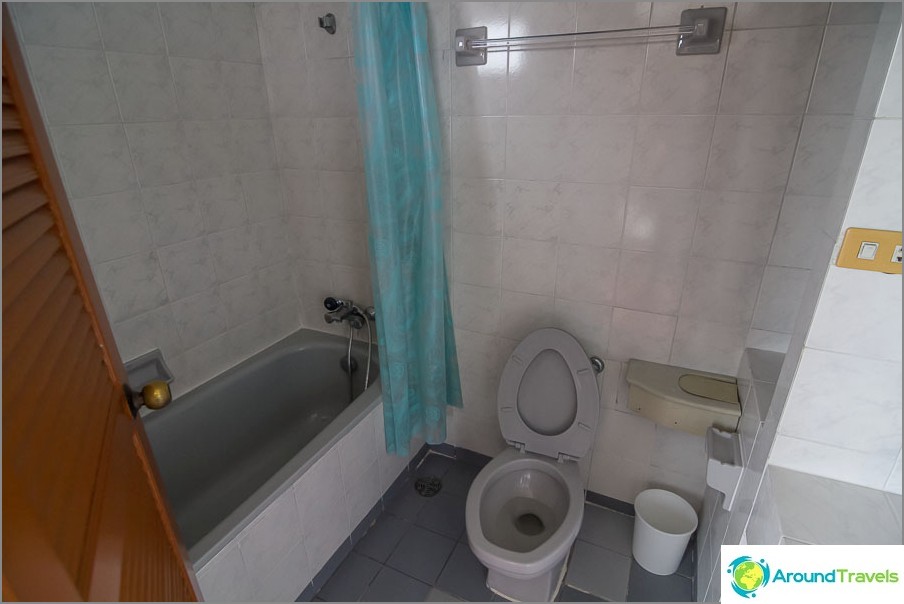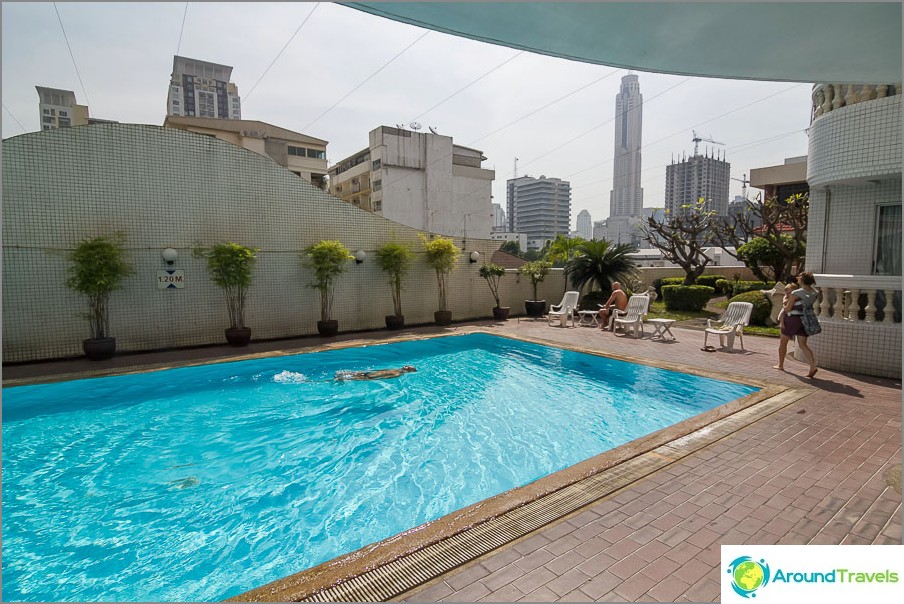 PT court
Cost: from 20,000 baht for an apartment with 1 bedroom
Description: We watched a one-bedroom apartment for 22,000 baht, the rest were all occupied. A bit of darkish rooms, everything is not very new, but overall the impressions are pleasant, we could live here. What else is good, the floors are wooden, not concrete. There is a full kitchen.
Contact: http://www.ptcourt.com/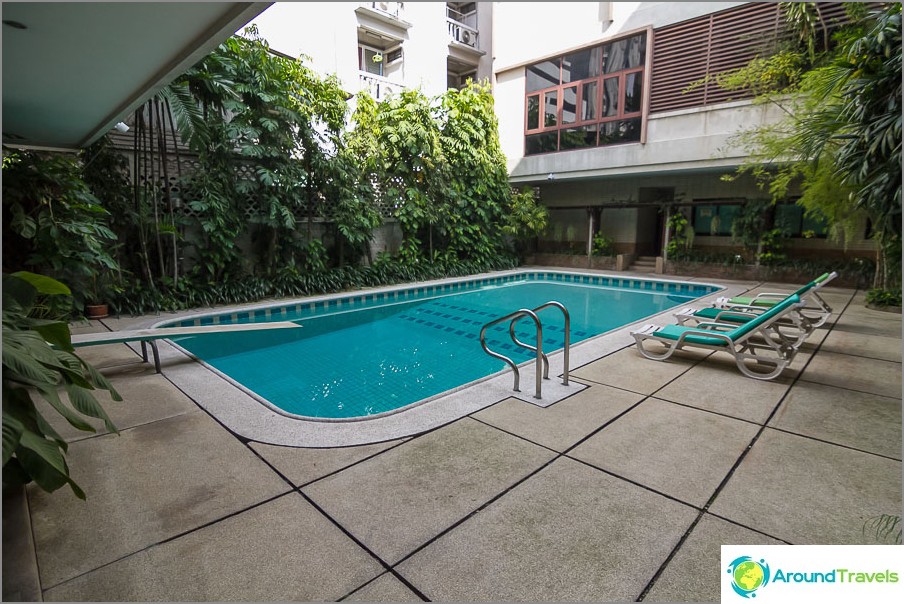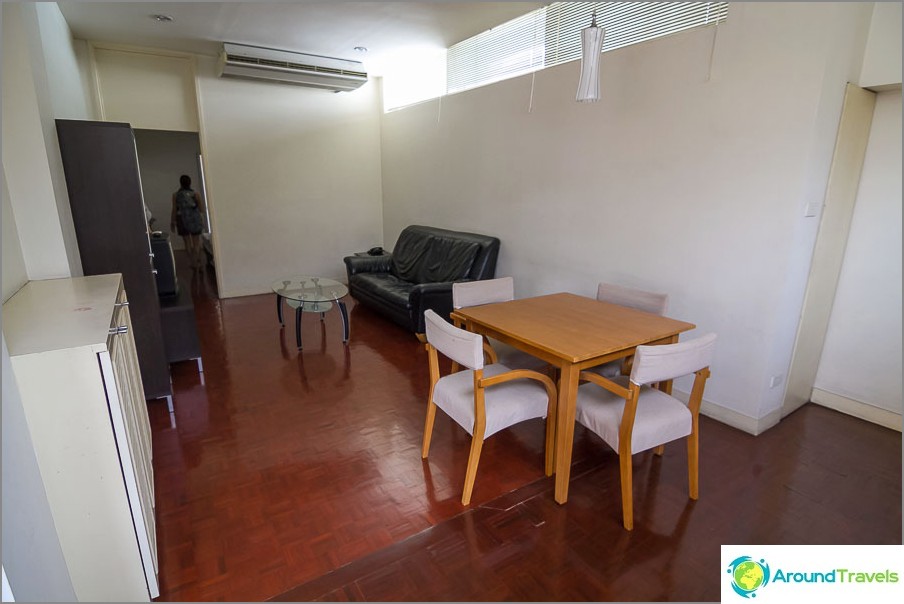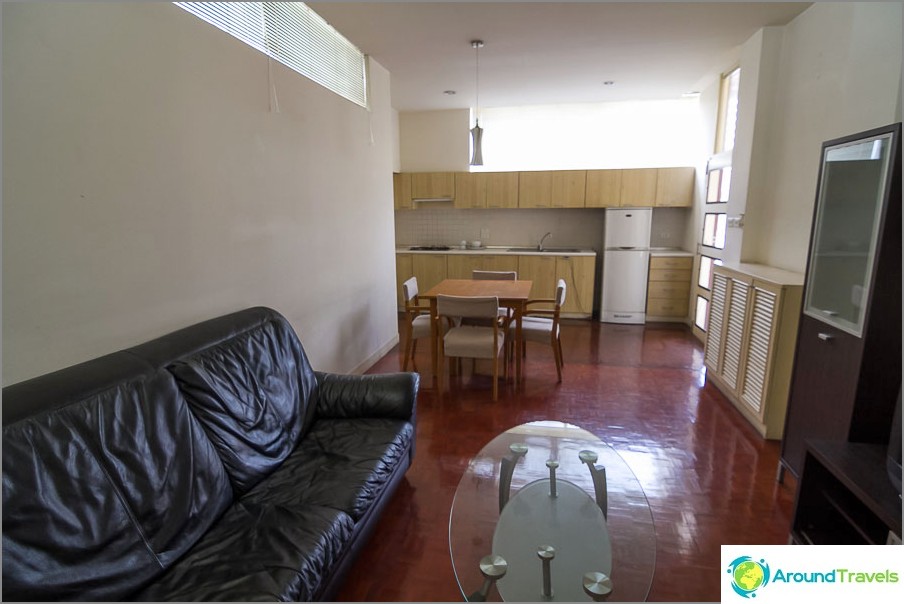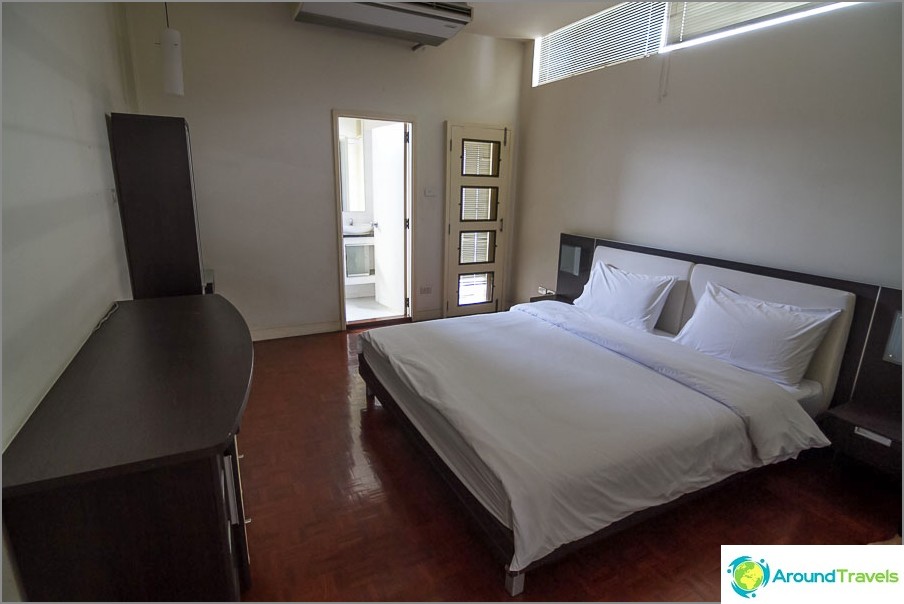 Victory Residence
Cost: from 25,000 baht per studio
Description: A big building, like some cool hotel (you can live here, too). But inside everything is pretty old, albeit clean. We looked at the largest apartments with two bedrooms and two bathrooms. The kitchen is, but very close. At the reception price for them already 50,000 baht per month, but we immediately made a discount and were ready to pass for 40,000 baht. It seems to me that they are breaking too much price for their apartments; in them, besides the square, there is nothing more for such a price. Although there are many services here, there is a swimming pool, a gym, a sauna, and a tennis table. Everything is free, of course. But still expensive. Below is a washing machine.
Contacts: http://the-victory.com/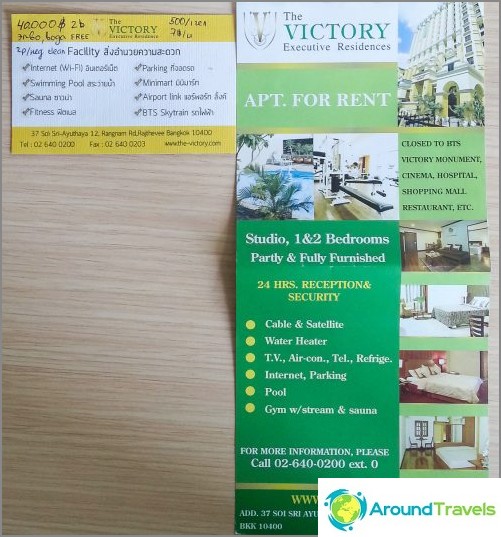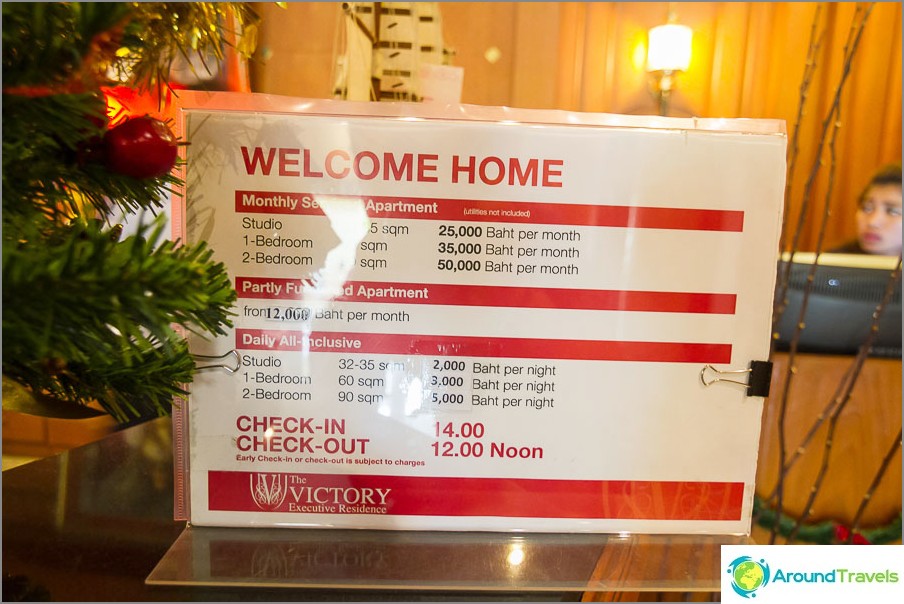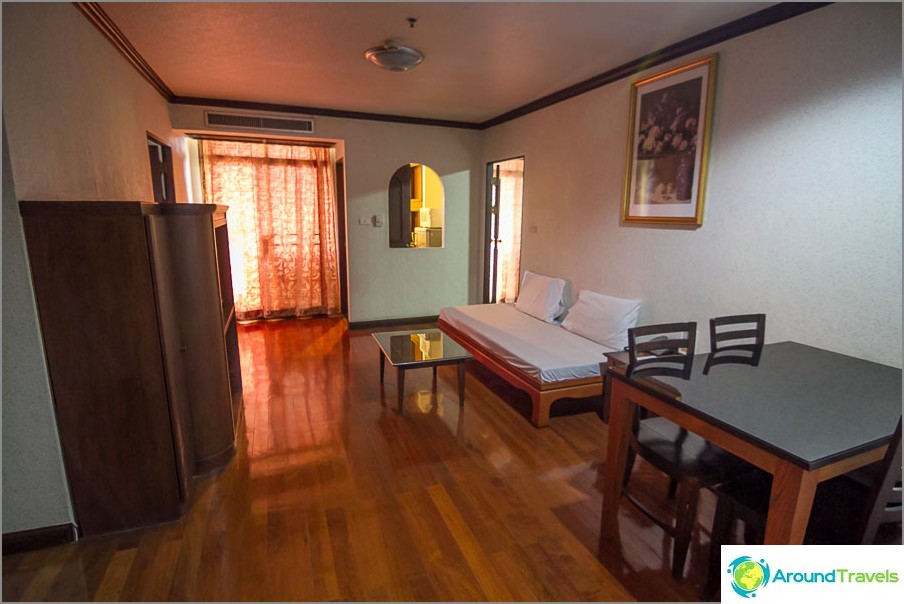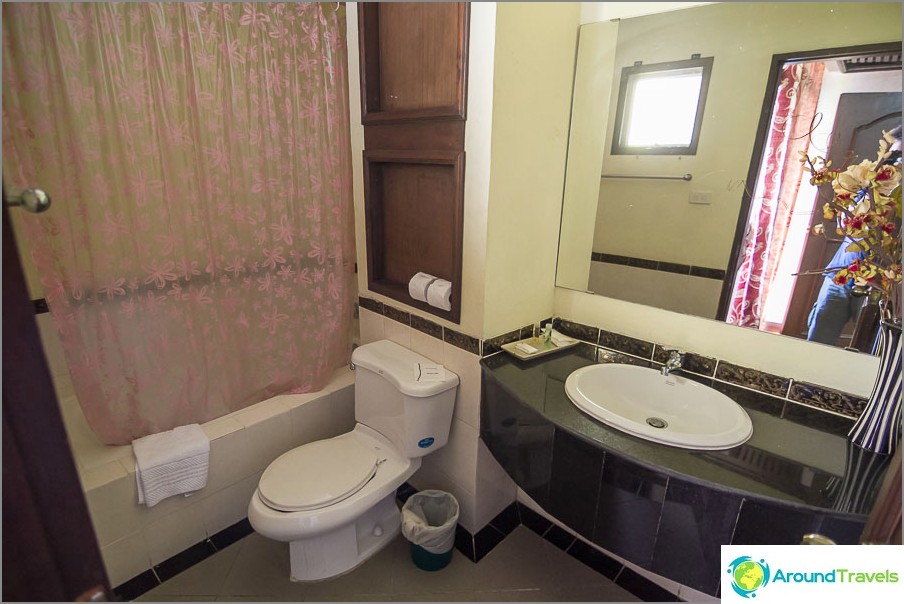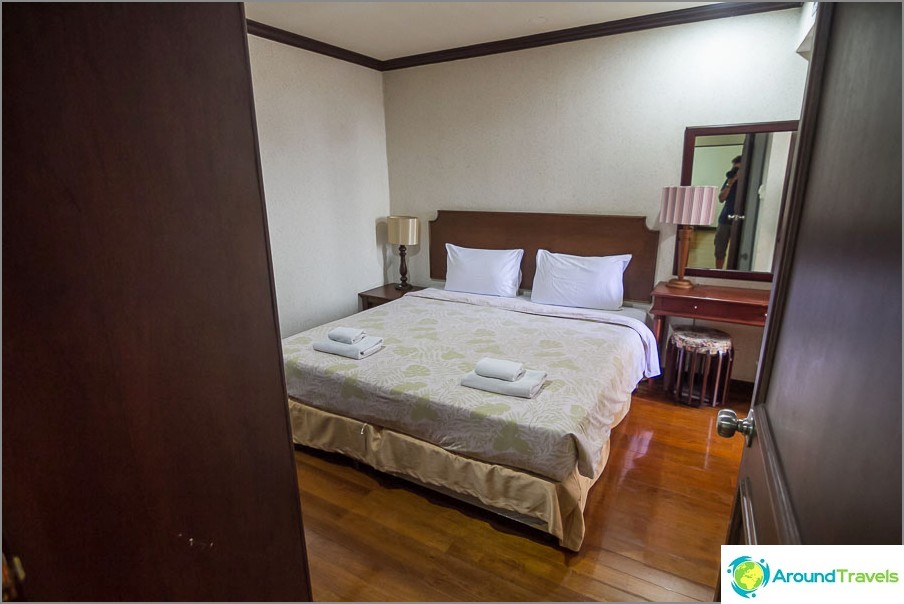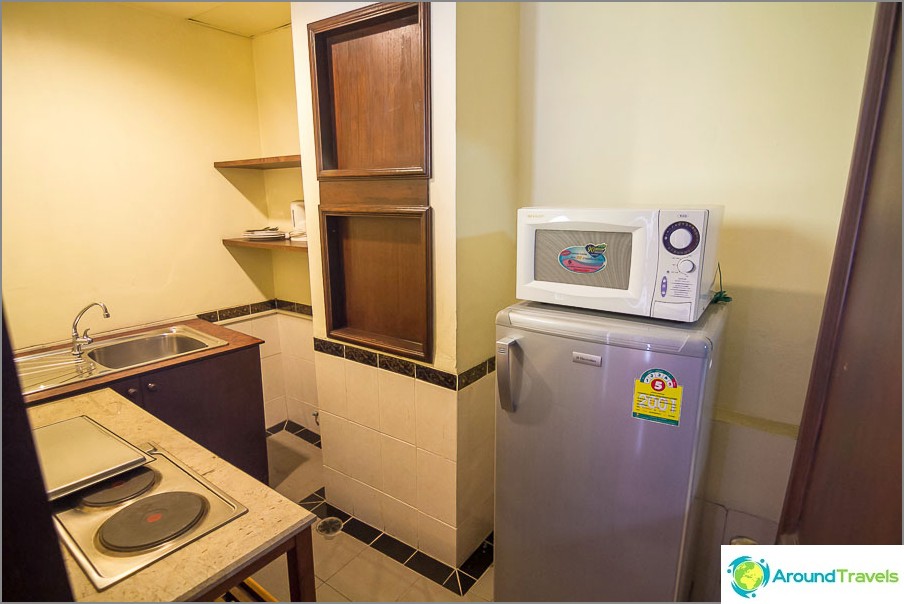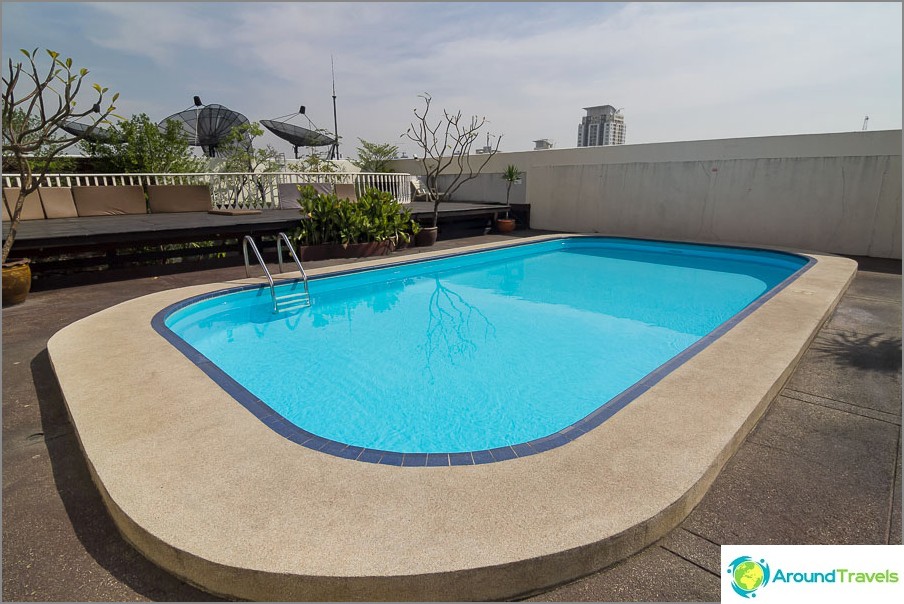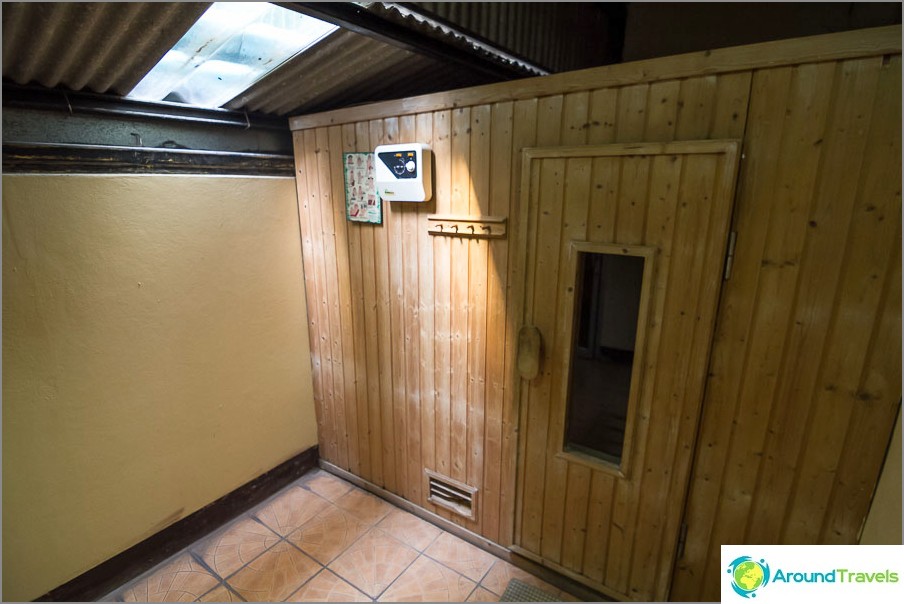 21 livingplace
Cost: from 14,000 baht per studio
Description: A small and new condo hotel. Accommodation here is new, clean, with normal furniture, but only studios, and small in size. The price, it seems to me, is a bit overpriced, considering that no services are offered anymore. There is daily accommodation at 1200 baht / day, a good price compared to hotels in the area. We lived for 1,500 baht / day in something similar, and there is nothing cheaper near here. Another plus is the location, very quiet and not passing jay.
Contact: http://www.21livingplace.com/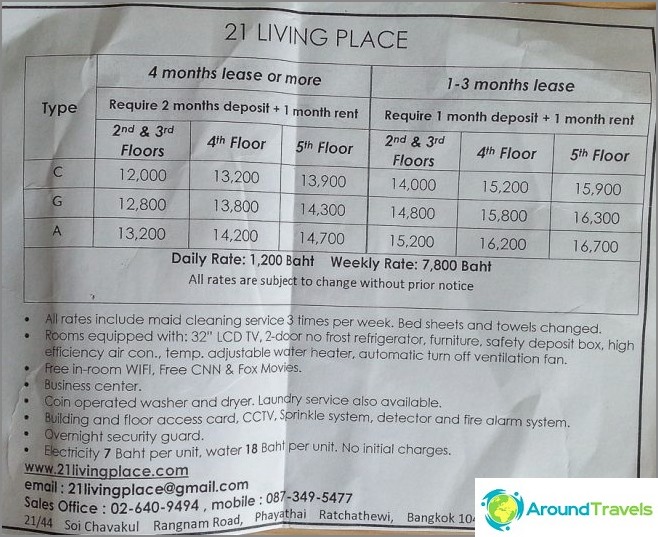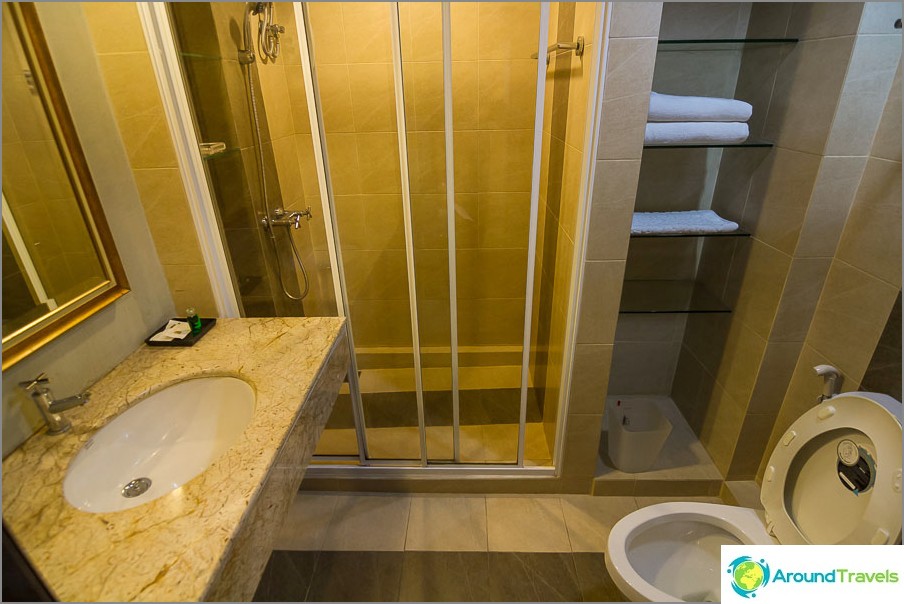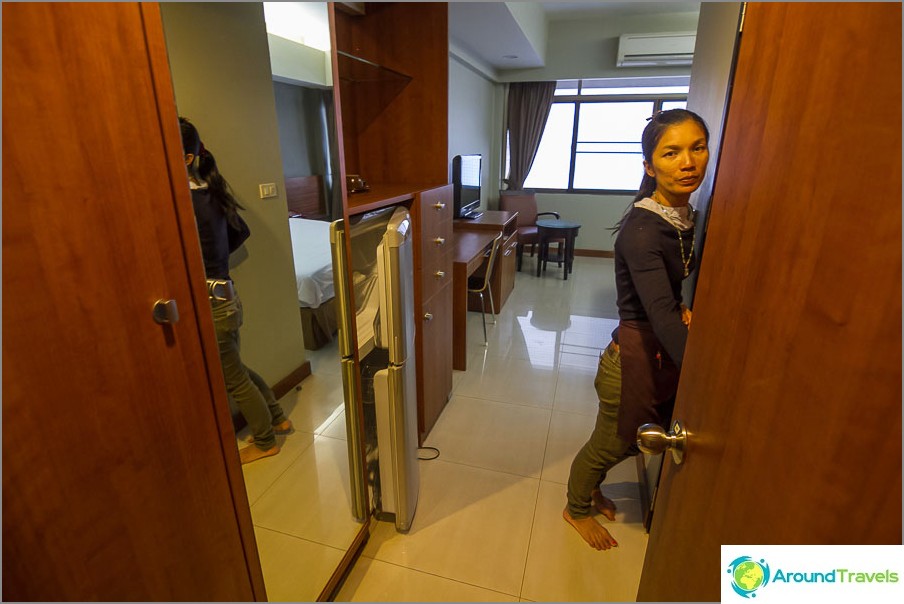 Laurel Suite
Cost: from 18,000 baht for 1-bedroom apartments and from 30,000 baht for 2-bedroom.
Description: Quite expensive apartments, but everything is very new, you can say with the design. I looked only 2-bedroom apartments (3 types), which have two identical bedrooms, bathroom and kitchenette, and all their difference is only in the living room area. In the photo the most expensive and largest apartments for 32500 baht. Of the minuses - a small refrigerator, no cooker and a ban on cooking.
Contact: http://www.laurelsuite.com/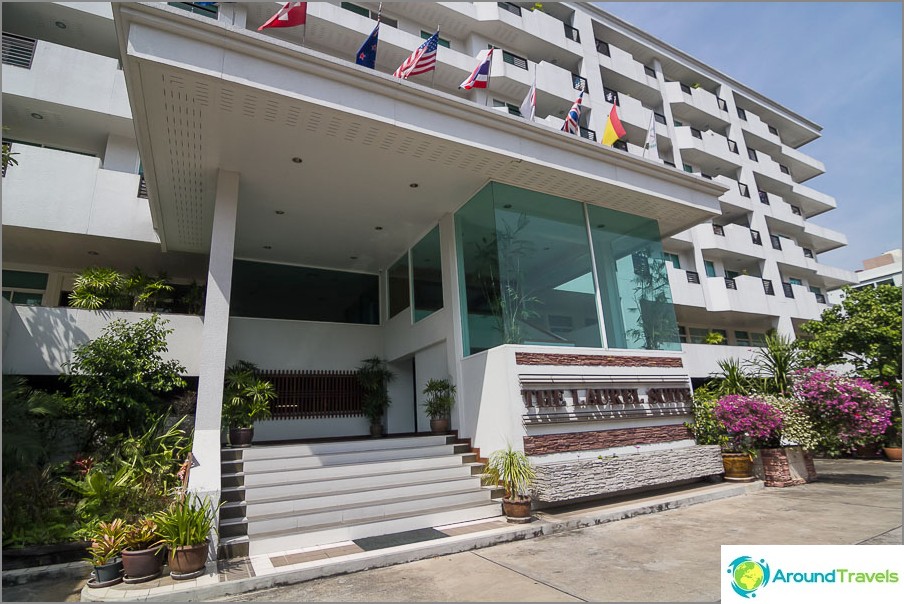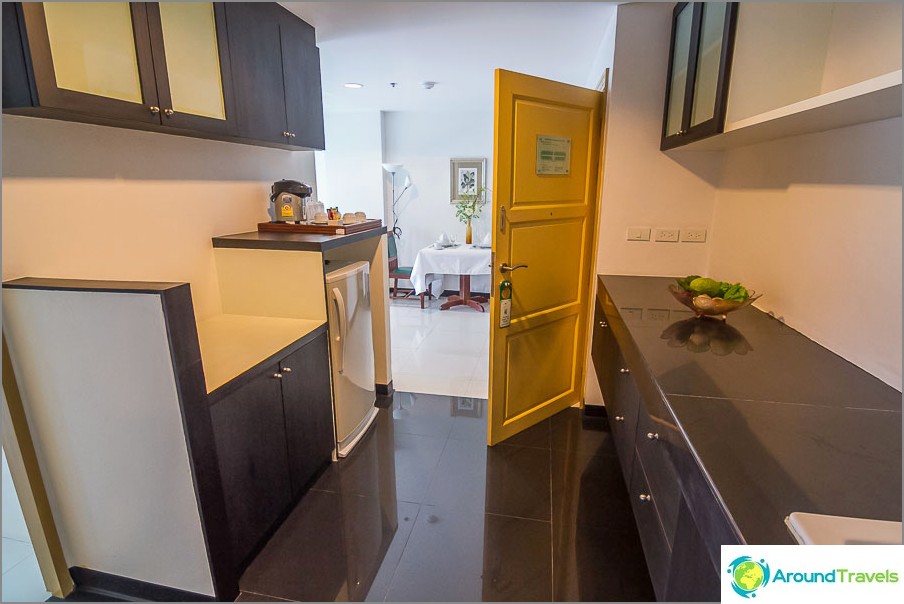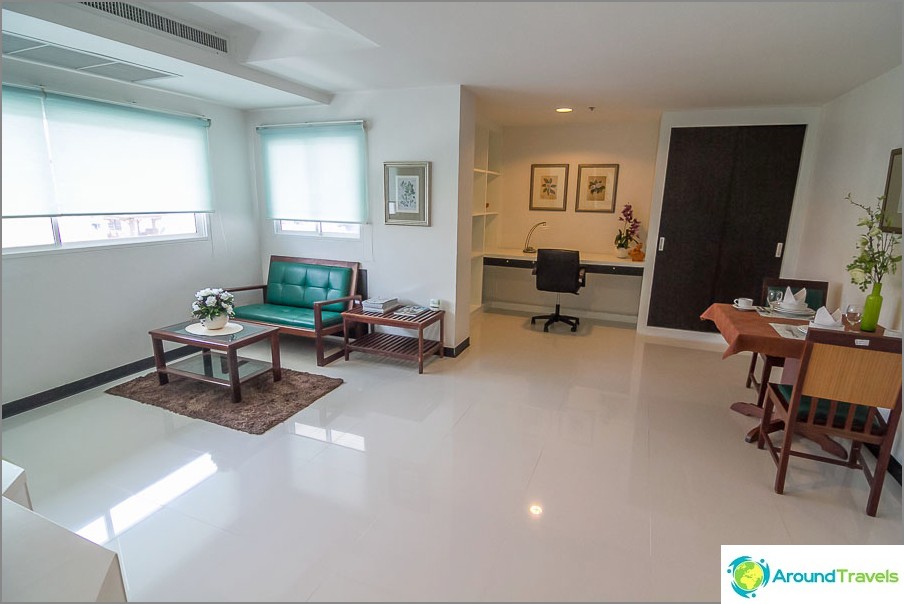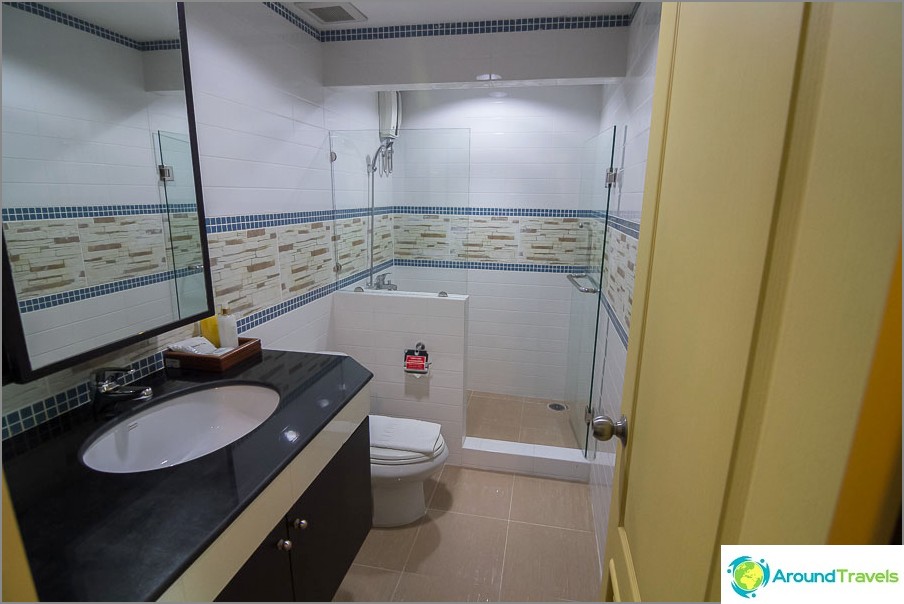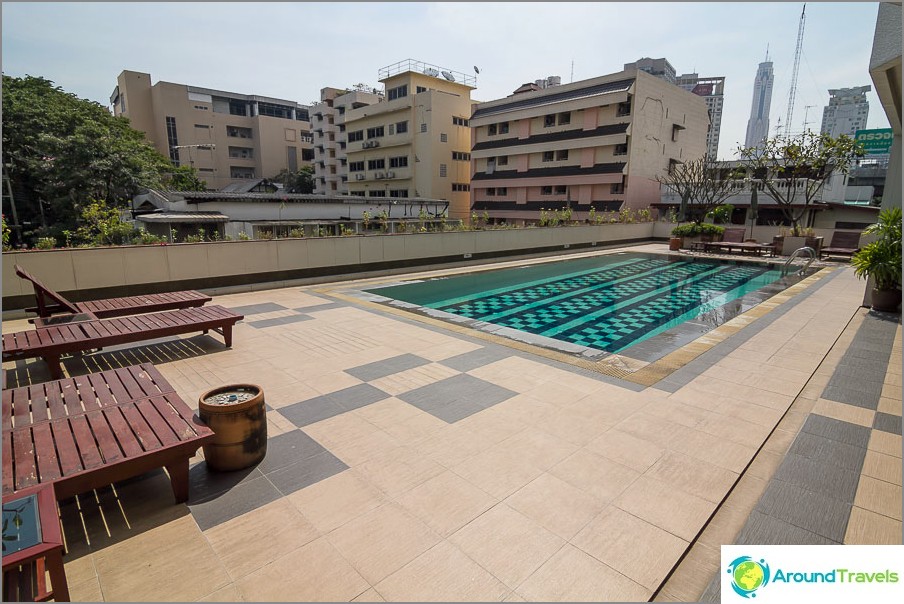 Toronto
Cost: from 15,000 baht
Description: Toronto and Star Place belong to the same owner and are located opposite each other across the road. In Toronto, I did not go, because there are only studios.
Contact: https://www.facebook.com/torontobkk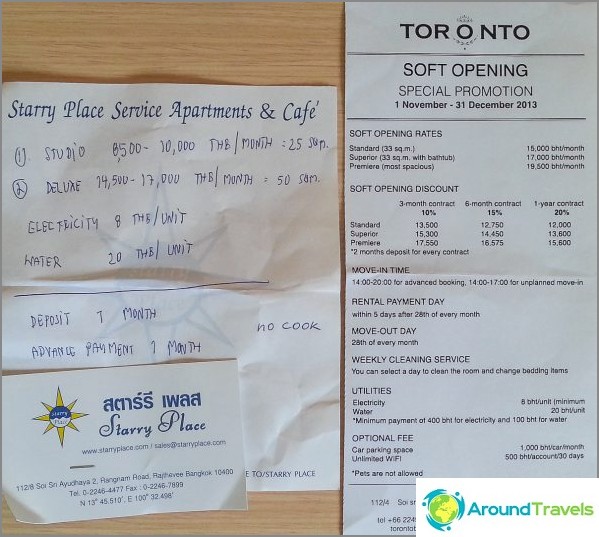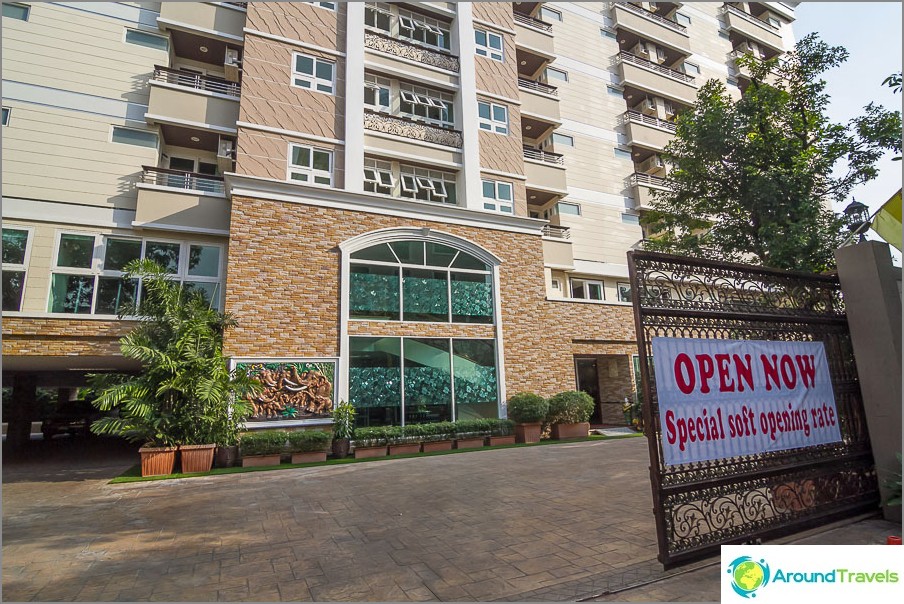 Star place
Cost: from 8,500 baht for a studio, and from 14,000 for a 1-bedroom apartment
Description: Toronto and Star Place are owned by the same owner and are opposite each other across the road. I watched one bedroom apartment for 16,500 baht. Everything is relatively new, the furniture is typical, dark. There is no kitchen, not even a kitchen corner and cooking is prohibited.
Contact: http://starryplace.com/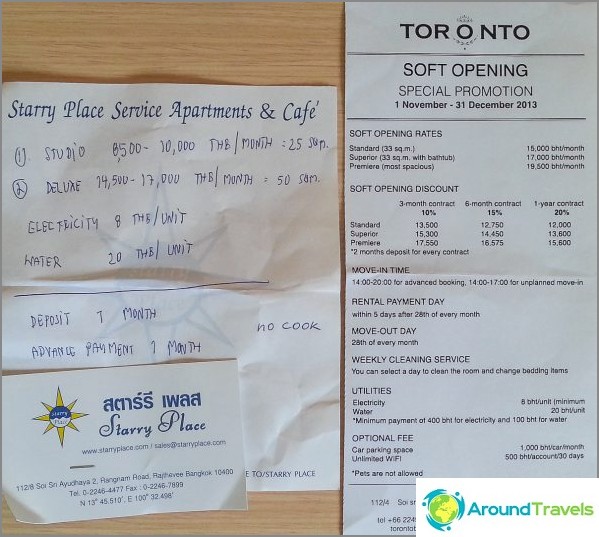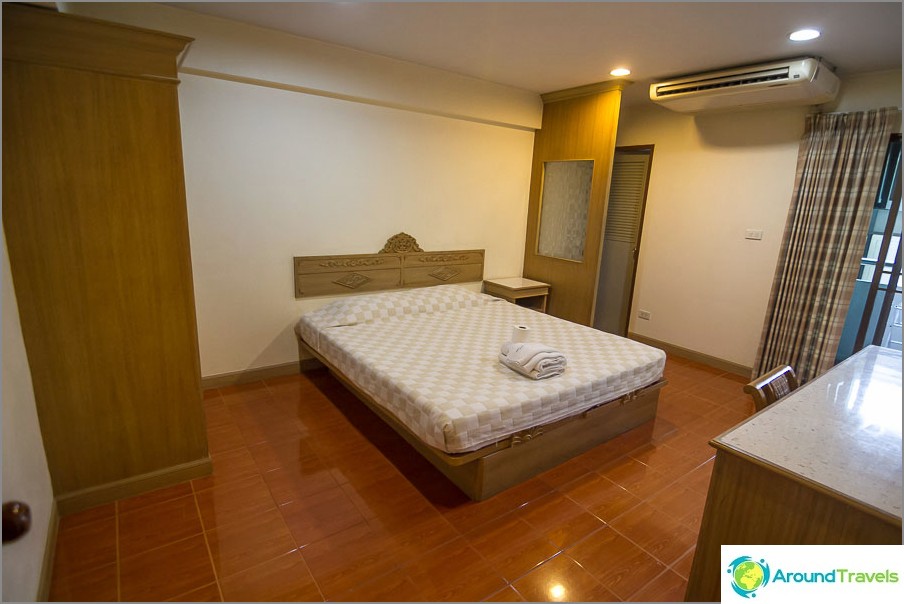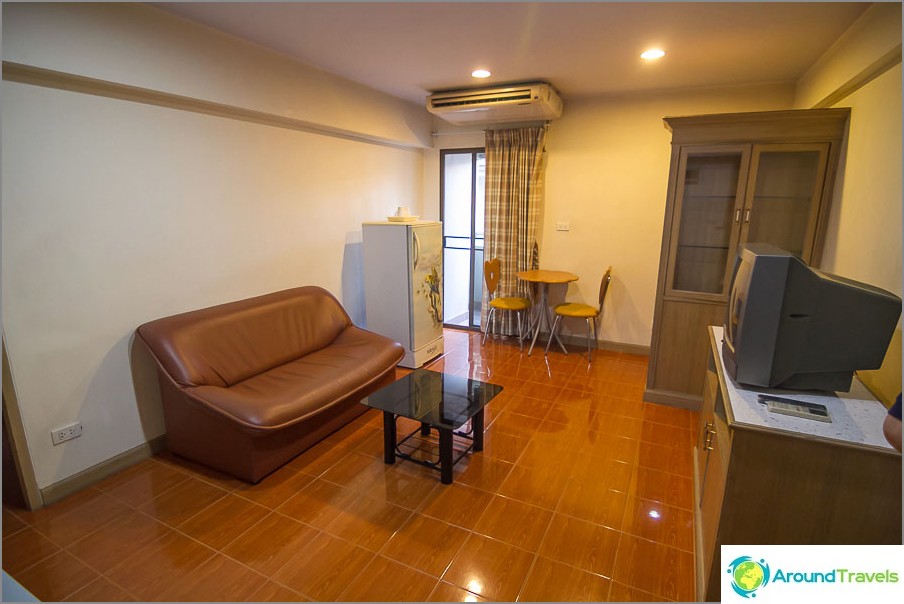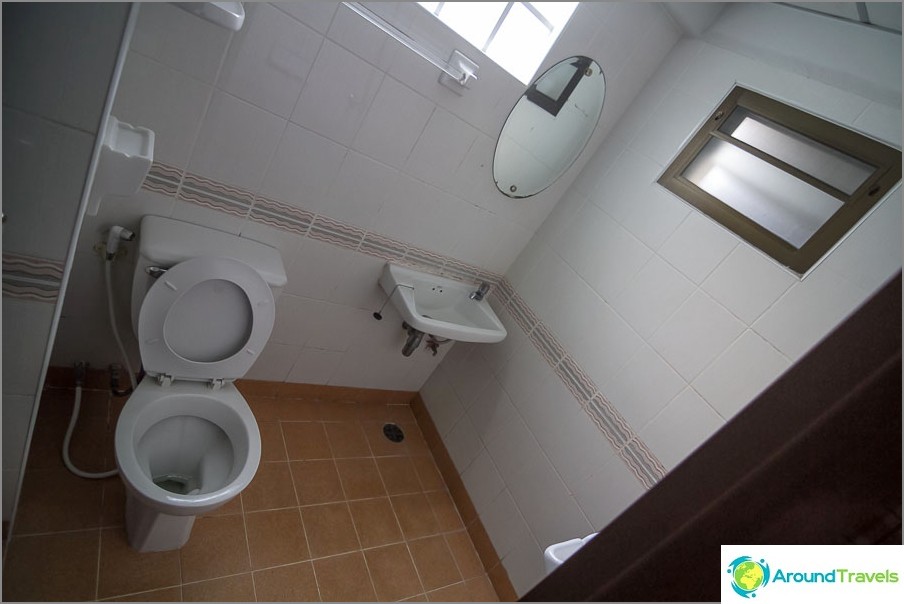 Supan Mansion
Cost: 9,000 baht studio, 18,000 baht for 1-bedroom apartments
Description: Ordinary Thai housing. Tiled floor, unpretentious furniture. The studio is quite spacious, 1-bedroom apartments (pictured) also with a normal area, and even with two bathrooms, one of which has a bath. The kitchen is on the balcony, but there is nothing besides the mini-table, you need to buy tile yourself. I still do not like dermatinovye mattresses. The price for a studio is normal, but for a 1-bedroom apartment is expensive.
Contacts: there is no site, the phone in the photo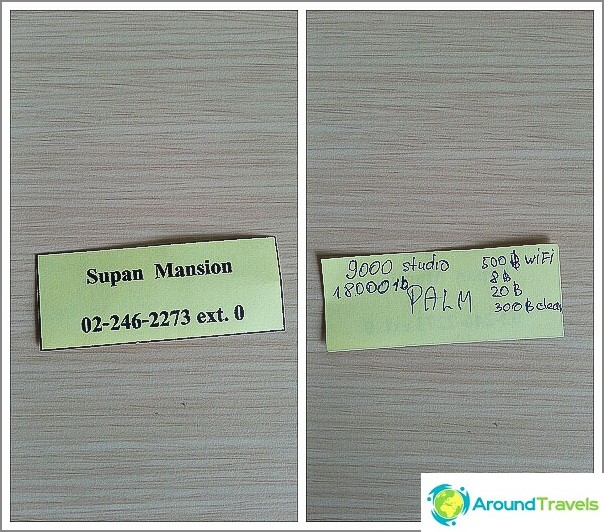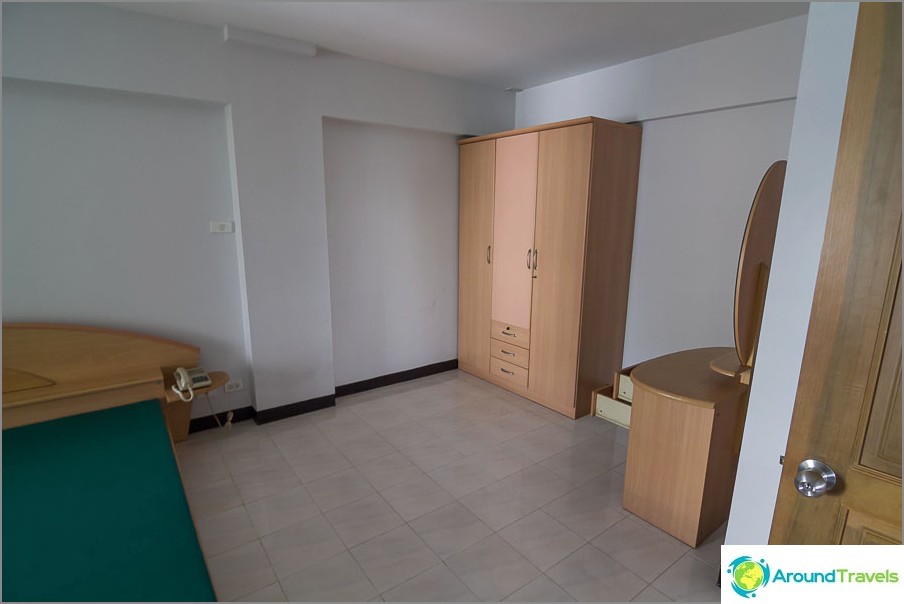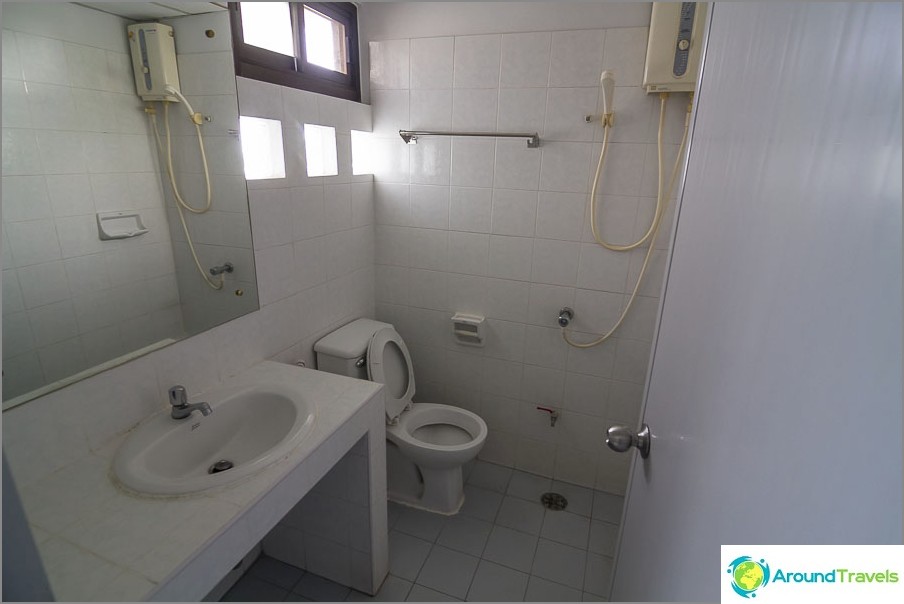 Royal View Resort
Cost: from 24,500 baht
Description: This is a hotel, but it has apartments with a monthly surrender. On the site, however, not a word about it. I looked at the largest Royal Suite apartments and overlooking the garden for 31,500 baht. Everything is new, the furniture is normal, the area is less, but the layout is terrible, half of the area is occupied by a corridor. There is a kitchenette, but there are no tiles and it is impossible to cook.
Contact: http://www.royalviewresort.com/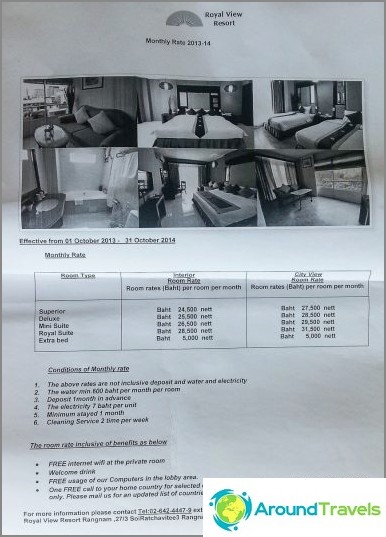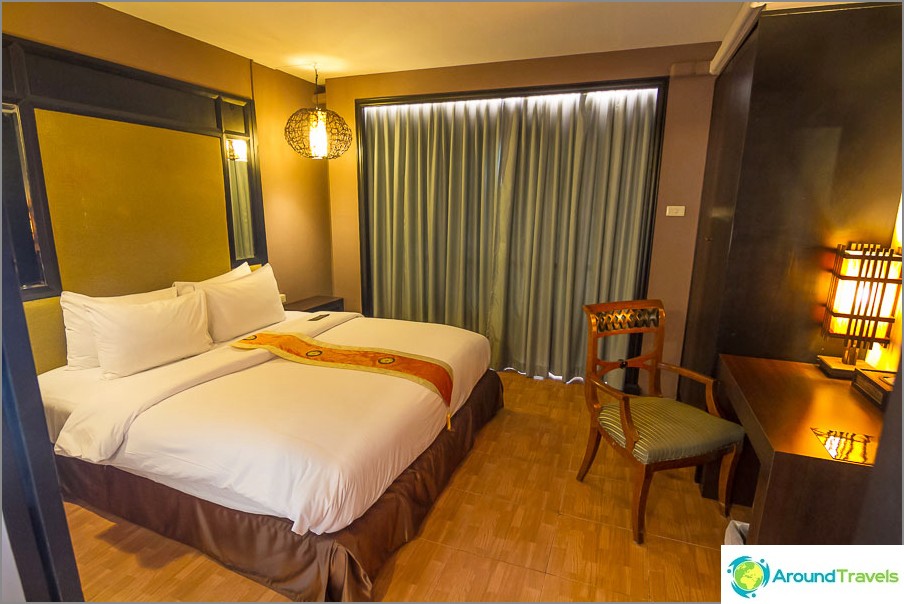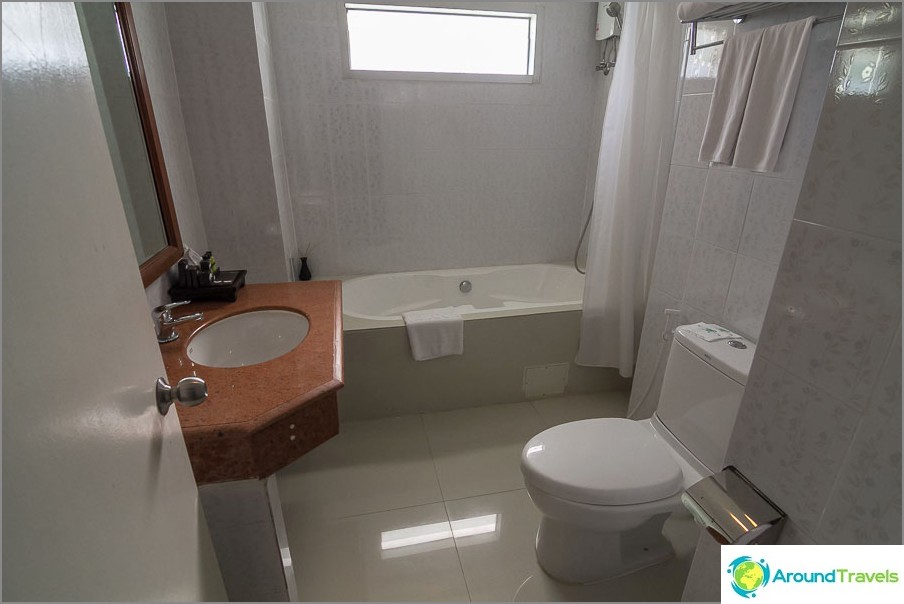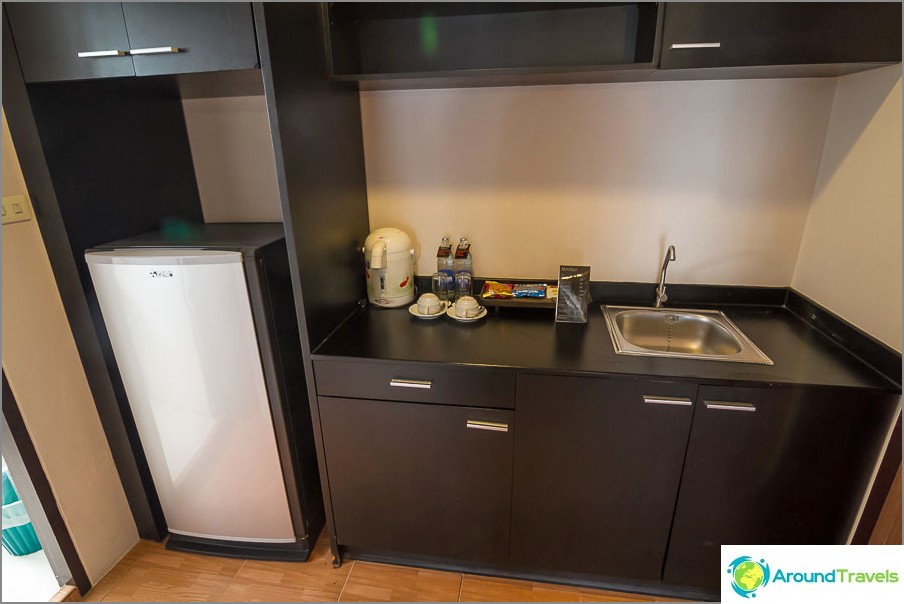 The complete rajaparop
Cost: 20,000 baht for a 1-bedroom apartment and 25,000 baht for a double.
Description: This is the condominium where we live. Here apartments are rented only for a long time, from 6 months. But we managed to persuade for 2 months to pass, although it was possible that we did not quite rent the housing that is rented for everyone, because it had all the equipment, more furniture, all sorts of pictures on the walls, as if someone had left here for a while. Read more about our apartment I wrote in a separate article. The photo below shows the apartment just for a long time, with one bedroom. With two bedrooms the same, just plus one more bedroom.
Contacts: there is no site, contacts on the photo. But this is from the agency, for sure there are owners who rent apartments here and are not connected with this agency.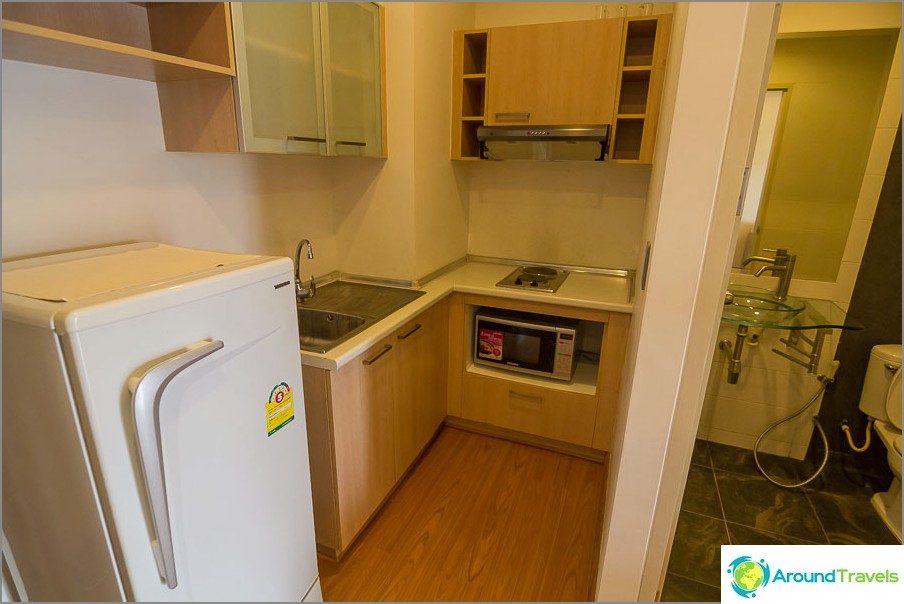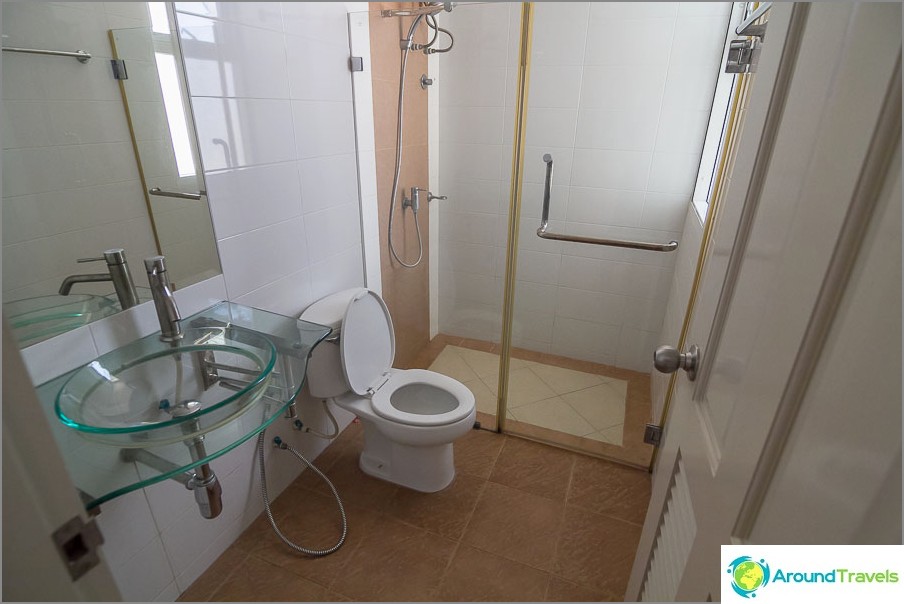 Saabai place
Cost: from 6500 baht per studio
Description: Minimum contract 6 months. Ordinary Thai apartments, only studios. I watched the biggest for 14,500 baht. The situation is spartan, for some reason, a pillar in the middle of the room. Furniture minimum.
Contacts: there is no site, contacts on the photo.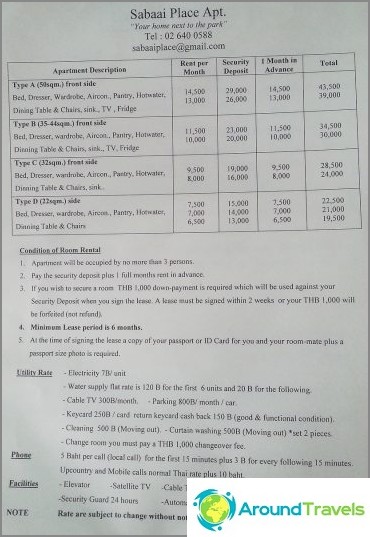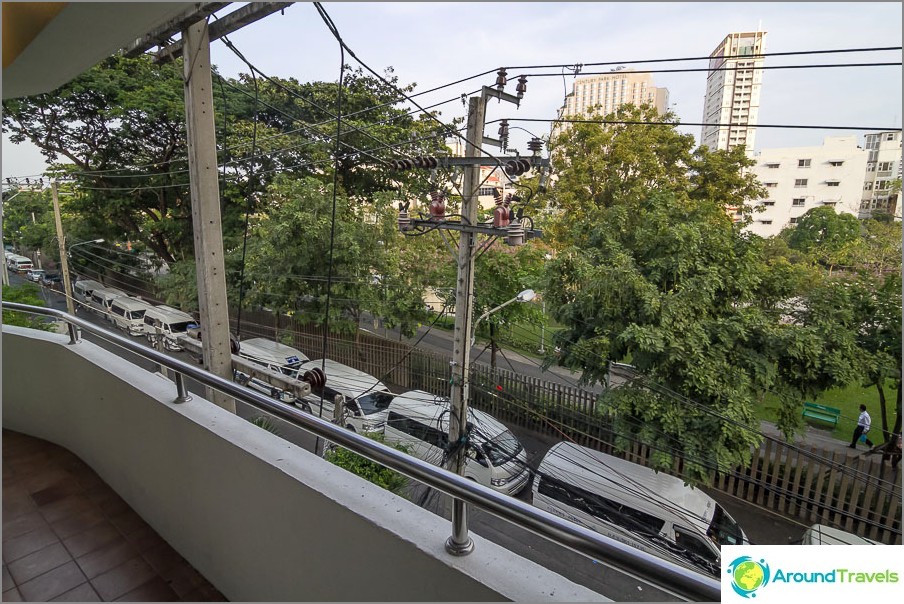 Montmas mansion
Cost: called 7,500 baht, but there seems to be cheaper rooms
Description: inside was not, everything is taken
Here are some more links to condo hotels that I stumbled upon during the search:
http://www.interchangetower.com in the same area
http://www.bangkokliving.co.th/en/ around BTS Ari
http://www.baan-sabai.com/ near Lumpini Park
Map of Bangkok apartments near Victory Monument
Apartments in Bangkok
Apartments in Bangkok:
That's the whole review
In fact, the neighborhood is full of condominiums, butas I said, I did not go into small ones. So if you need the usual and inexpensive studio, then you will find it here without any problems, especially if you need it for a long time.
P.S. If you lived in Bangkok and posted on your blog information about your housing, or made a review like this, do not hesitate to leave a link to your post.
Life hacking 1 - how to buy a good insurance

Choosing insurance is now unrealistically difficult, so to help all travelers, I compile a rating. To do this, I constantly monitor forums, study insurance contracts and use insurance by myself.

Life hacking 2 - how to find a hotel 20% cheaper

First, choose a hotel on Booking. They have a good offer base, but the prices are NOT the best! The same hotel can often be found 20% cheaper in other systems through the RoomGuru service.

Discount hotels