No, no, we didn't go anywhere and still we live on Samui. And this is just a guest post from a person impressed with the island of Burano, and advising everyone who is nearby to go there.
Burano is a fantastically beautiful littleislet located near Venice. If you have at least 2-3 days in Venice, then Burano, along with the island of Murano, is included in the mandatory list.
Murano Island is on the road to Burano. Murano is a fairly large island, famous for Murano glass. Burano is a very beautiful houses and, of course, world-famous Burano lace. Ordinary tourists travel first to Murano, then to Burano, in order to see both islands in one day.
We were not attracted to Murano glass, so wewent immediately to Burano. It was decided to go closer in the evening to return to Venice in the evening and sit down for a cup of crazy, expensive cappuccino at the oldest café on Piazza San Marco to the enchanting sounds of one of the orchestras. This decision played into our hands. In the evening there were almost no tourists to Burano; locals began to meet, who immediately after the departure of tourists poured into the streets.
Burano is a stunning island. We avoided it from all sides and tried to find a touch of fake in it. The island remained true to itself - still the same cheerful, colorful and infinitely attractive.
The content of the article
What to do in Burano
one.To wander around the wonderful island, carefully choosing the routes that no one went exactly. Well, or did not go at least the next hour. Getting lost in Burano is not realistic. Pass the entire island through the embankment to the embankment in any direction in just 7-10 minutes.
2. Sit on the seaside promenade, enjoying the view of distant Venice. This is especially wonderful to do at sunset.
3. Visit the world famous lace museum. If you are a fan of lace, then you will be able to collect souvenir snowstorms from 1 euro to several thousand euros for a subject. The main thing is to see that there is no "Made in China" inscription.
four.Find the monument to Galuppi Baldassare ("Buranello"), a famous Italian composer, who in the 18th century staged court opera performances in St. Petersburg for several years, and also created a significant number of choral works for the Orthodox church at that time.
5. Find the most unusually painted house on the streets of Burano. Hint, this house is multicolored.
6. Find swans swimming in the canals of Burano.
7. Taste sweets in the family confectionery, which does not hide at all and is located directly on the central channel.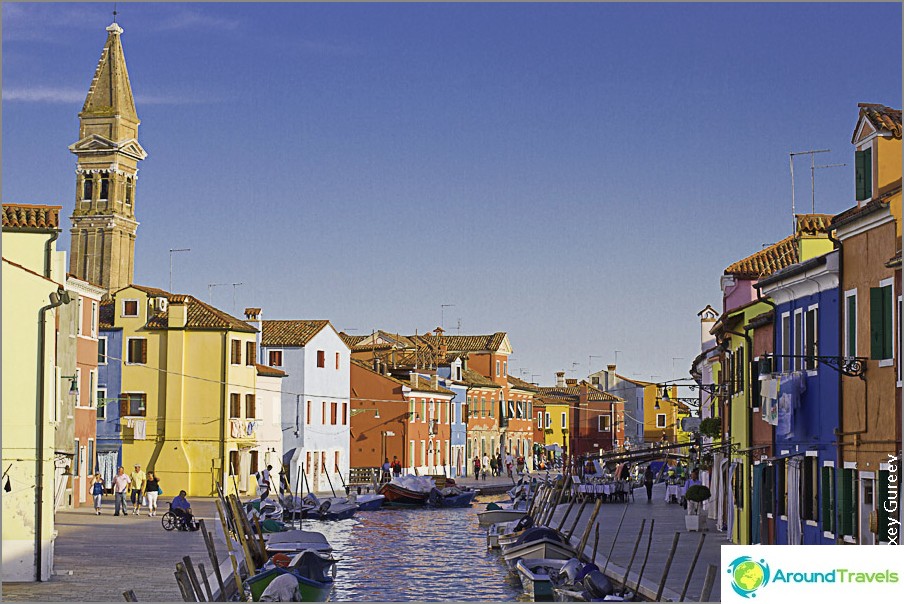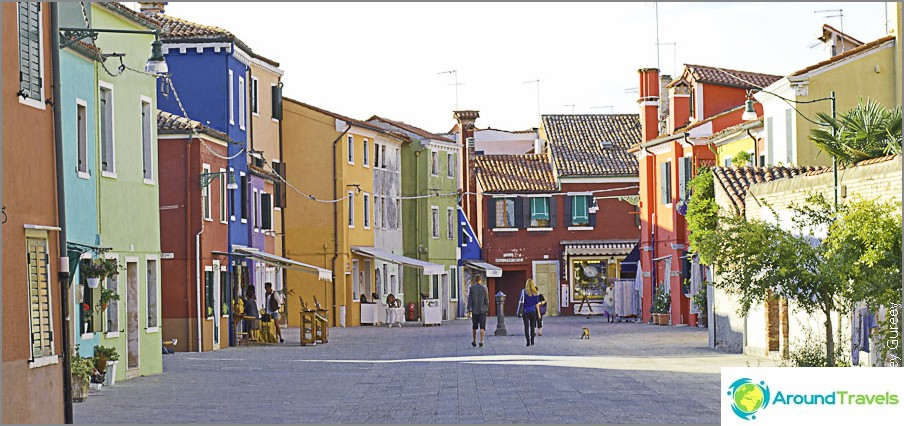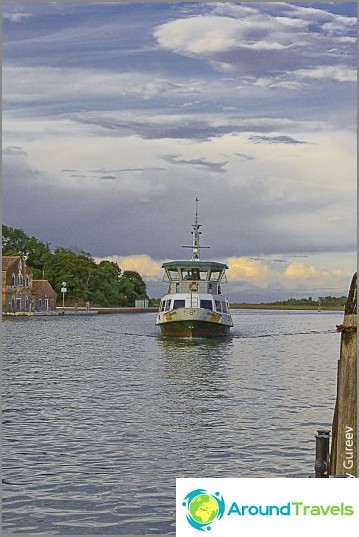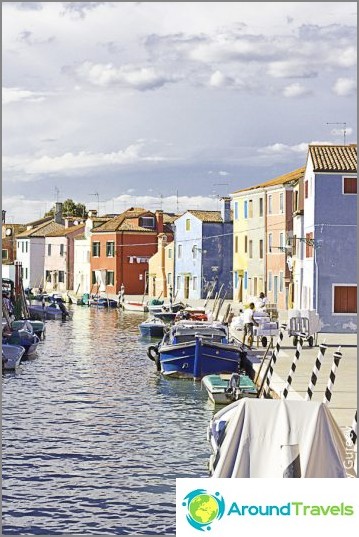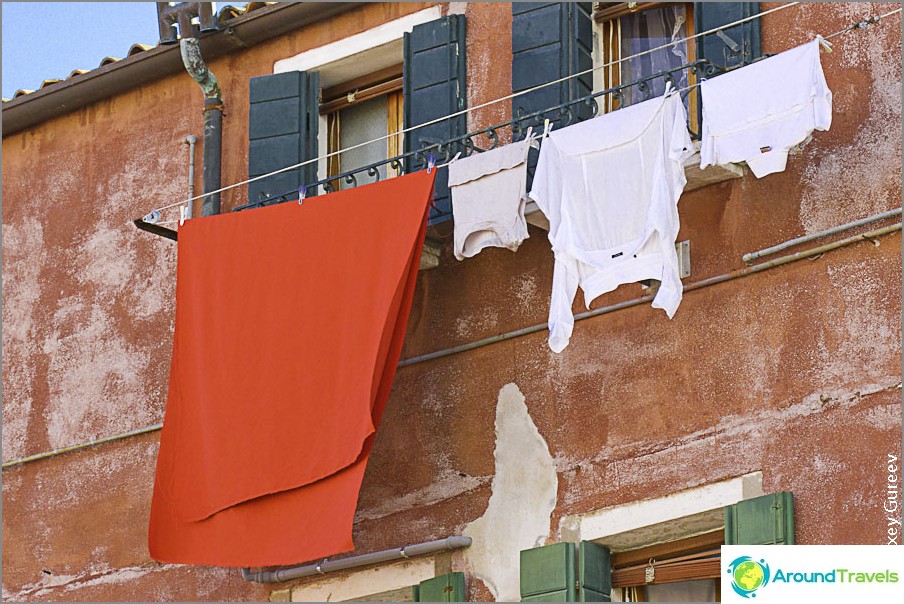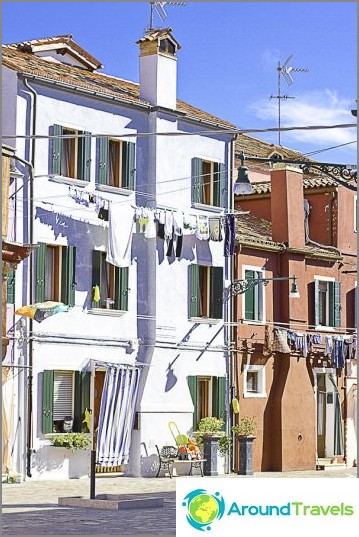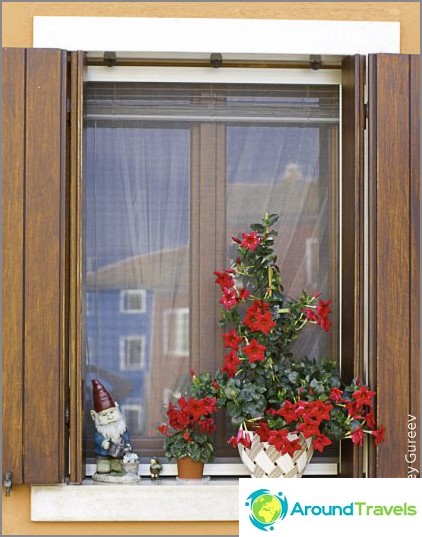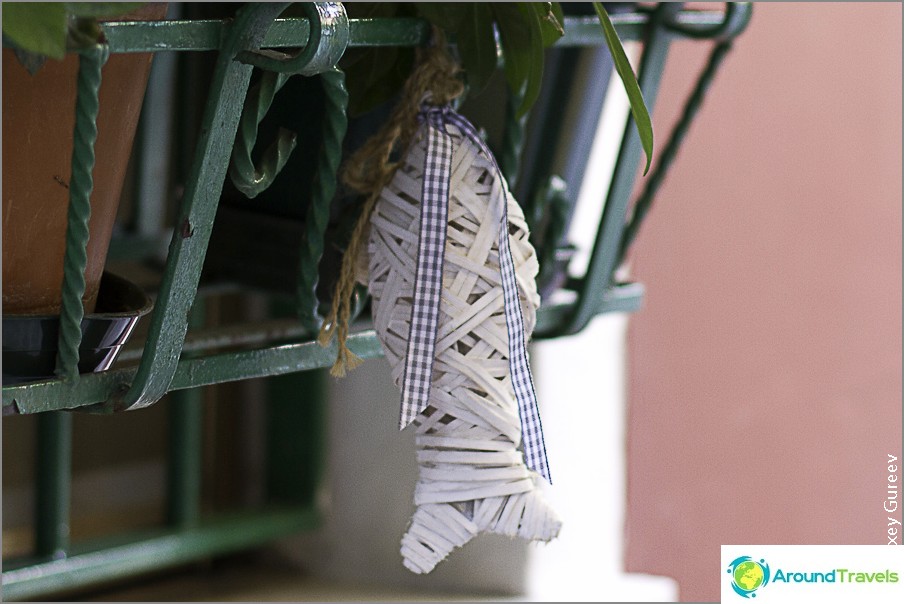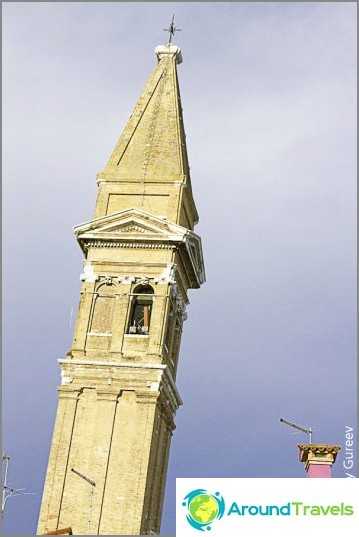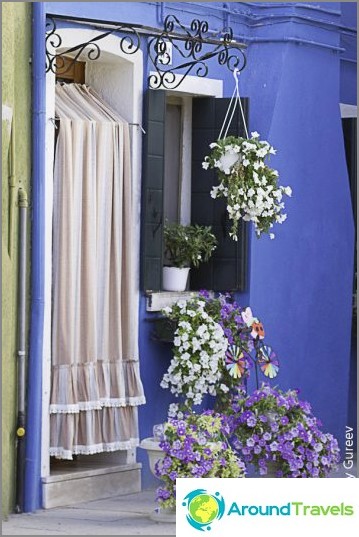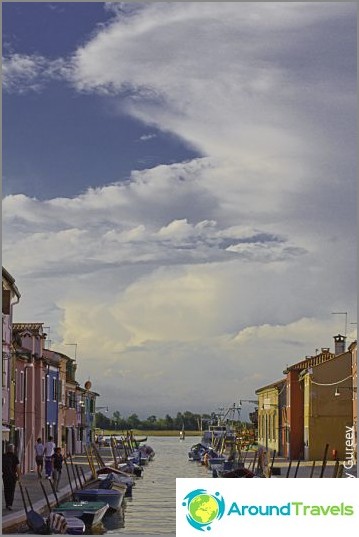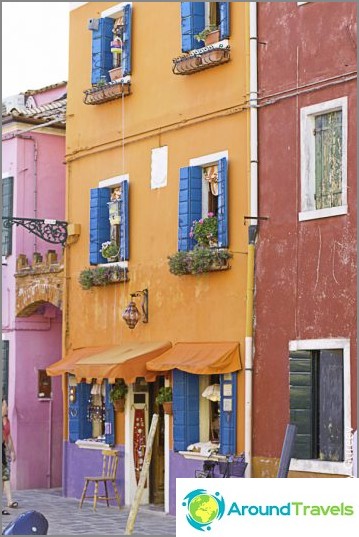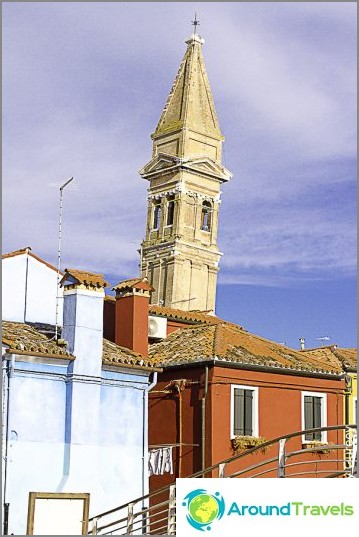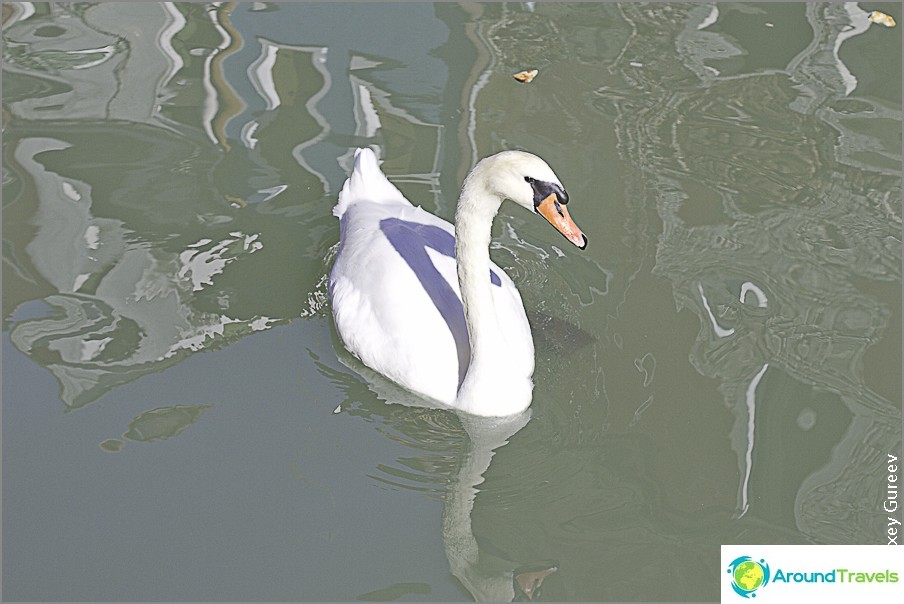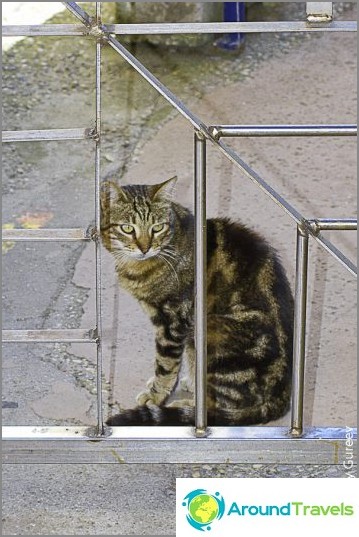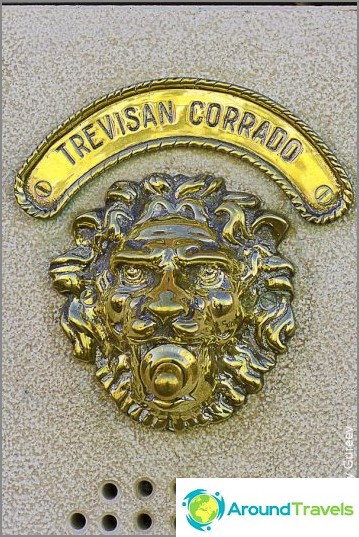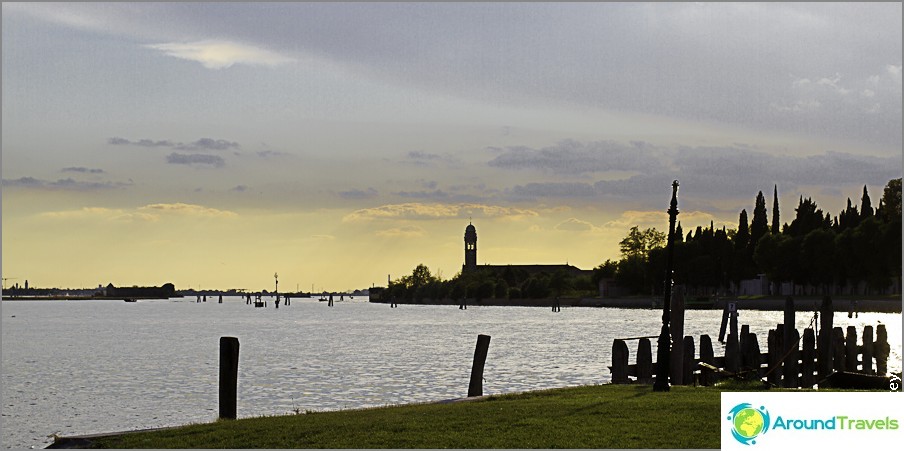 Where to eat in Burano
Strategy of finding places of food that usually itselfjustifies, it is to retire a little from the tourist streets deep into the neighborhoods, and then how lucky. At Burano, this strategy does not work, since the island is quite small. One or two rows of houses - and here it is, the sea.
Walking along the main street of Burano, we discoveredmany cafes with ... not very tasty smells. We have tasted Italian cuisine for several weeks by this time, so we trusted our scent 100%.
But here we met a cafe with a beautiful-looking ice cream. But prices were close to the space. That only costs a small bottle of water for 4 euros.
As a result, I found a homemade candy store,in which angrily-friendly (exactly) an elderly gentleman sold by weight very tasty sweets and, as a result, confidently entered his top-3 best desserts in Italy with his desserts. By the way, a 1.5 liter bottle of delicious water cost him only 2 euros.
The conclusion is simple: on Burano, you need to arrange picnics right on the seaside promenade, buying homemade sweets on the spot or bringing something with you.
How to get to Burano
Burano can only be reached by sea. With a guided tour or on the river tram, vaparetto.
Waparetto on route 12 leaves the stationFondamenta Nuove. A 60 minute ticket costs 7 euros. Or it will be free if you bought Venice Card. If you bought a ticket on the beach, be sure to bring it to the magnetic reading on the beach before boarding, otherwise the ticket will be invalid. A green light will come on - everything is in order. It is better to buy a magnetic card for each person, since only one trip is charged, how many times do not bring the card to the reader.
How to write off two trips at once we didn't understand - all instructions are in Italian.
You can buy a ticket on vaparetto itself. The cost is the same. In this case, it is desirable to have small money with you, as a steward is still not a cash desk on the shore.
Fines for ticketless travel, as they say, very impressive.
Waparetto go about twice an hour. Burano is the 3rd stop, which will be in 40 minutes. Time flies by instantly, because the picturesque Venetian Lagoon is around you. Do not worry, as the steward diligently shouts that here he is, Burano.
We came to Venice to the bus station. From the station you can reach the pier in a quick step of 25-30 minutes. If you go there by vaparetto, then it may take longer and one ticket to Burano is not enough (Vaparetto routes No. 4.1, 4.2 and 5.2 until the stop Fondamenta Nuove). And you need to buy additional tickets for 7 euros.
How the lace museum works
The museum is located on Gallupi Square.
Museum opening hours from April 1 to October 31: from 10-00 to 18-00 (tickets are sold until 17:30).
The museum is open from November 1 to March 31: from 10-00 to 17-00 (tickets are sold until 16:30).
The museum is closed on Mondays, December 25, January 1, May 1.
Tickets - 5 Euro. 3.5 Euro for children 6-14 years old, students under 25 years old, citizens over 65 years old.
If you are a citizen of Venice, then entrance will be free for you.
How to leave Burano (a small secret)
Next to Burano is the Mazzorbo islet,which connects with Burano bridge. If there is a long waiting list for boarding on Vaparetto in Burano, or you just don't want to be in a crowd of people waiting, in less than ten minutes you can reach the pier in Mazzorba (marked on any tourist map) and take Vaparetto all alone.
Alexey Gureev, author of the Land Surveyor Blog
Life hacking 1 - how to buy a good insurance

Choosing insurance is now unrealistically difficult, so to help all travelers, I compile a rating. To do this, I constantly monitor forums, study insurance contracts and use insurance by myself.

Life hacking 2 - how to find a hotel 20% cheaper

First, choose a hotel on Booking. They have a good offer base, but the prices are NOT the best! The same hotel can often be found 20% cheaper in other systems through the RoomGuru service.

Discount hotels