Many times traveled to Thailandbuses and always good buses come across, even second-class. Apparently I am not picky at all, I do not need much space, and I wrap myself up in full from air conditioners. But once it so happened that the first-class bus turned out to be nothing at all, the only advantage in it was the toilet. This is due to the fact that the tickets were only on the most rear seats, which, as it turned out, are not laid out! Imagine a night bus, and the seat only in a sitting position can be. Plus, the top of the barrel was mercilessly and there was nothing to close this stream of icy air, although this is often the case, and therefore I always have a sweatshirt with me, but this time it did not save either. To be honest, I didn't pull this bus to the first class, maximum to the second, and some old one. Sorry for the name of the bus company did not remember ...
In order to avoid such punctures in the future, II tried, as far as possible without the knowledge of Thai, to learn about the classes of bus companies in more detail at the bus station, and how and on what it is worth driving. It is clear that everything flows and changes, but still.
The content of the article
Buying a bus ticket
How to buy a ticket online online
There are sites of some bus companies, whereYou can book a ticket, but it's not convenient and incomprehensible at all. For example, a well-known Nakonchai Eir bus company has a website in Thai, figs will figure it out. Therefore, most often go to the bus station and buy there. Although it may be difficult for someone, since you have to explain on your fingers what you need (if you don't know English). Especially, this is relevant when you need a ticket not to Phuket, but somewhere, where you really can not pronounce, or say, but you do not understand. Here you will walk from the ticket office to the checkout and try to explain where it is necessary.
Recently there was a site (Russian, English),where you can book and buy a bus / train ticket - 12GO.asia. Now it is the only service where there is such an opportunity. It is very convenient, it's a pity that not all directions exist yet, only popular ones. Payment by card or PayPal. Electronic bus ticket.
Bus Tickets>
Algorithm for buying a ticket on the spot
I selected a certain algorithm for myself if I wanted toride as comfortable as possible on night buses. But in general, buses in Tae are generally excellent, especially after our killed long-distance Ikarus in some directions. I will never forget how in Altai on a wreck (standing!) For 10 hours we drove among a crowd of people, or how water flowed to the head on the way to the Crimea and the seat did not lean back.
In principle, this algorithm is also suitable for purchase.via the Internet, but when you personally see in the ticket office a picture of the bus and the location of places, it is somehow easier to navigate. I draw your attention to the fact that the scheme is conditional.
We try to buy a ticket with a minimum amountseats in the bus, approximately 24 seats (may vary slightly depending on the company). The class can be both the first and the VIP, again depending on how the company called it. I will tell you about the classes below. If there is an opportunity, we come to the station and buy tickets the day before departure, so the choice of seats in most companies will be guaranteed.
If there are no such tickets anywhere, then we go around the neighboring ticket offices in search of a lower class. That is, we are looking for tickets for any VIP bus.
If there are no VIPs anywhere, then we are tryinggo to the first class and then to second. Here it is necessary to pay attention to whether there are seat numbers in the bus and whether they will be indicated on the tickets. Usually, you are shown on a computer before buying which places are free, and you can poke a finger and choose. If this does not happen, then this is the first reason to worry that the places will be engaged in fact. And I would not recommend to go without a specified place on the ticket, since you will have to make your way to the bus in the front row and take a seat not at the very end. Actually, this is a problem - you should not go to the rear seats, because you can get, as I already wrote in the first paragraph of the article.
When you pass the same thing several timesthe same direction, you can remember a certain algorithm with the names of the bus companies. For example, for the direction Bangkok - Chiang Mai, I have this: Sombat tour (Vip 24, Vip 32) => Nakonchai Air (First, Gold) => Transport 999 (Vip) => other companies.
About buses in Thailand
What are the buses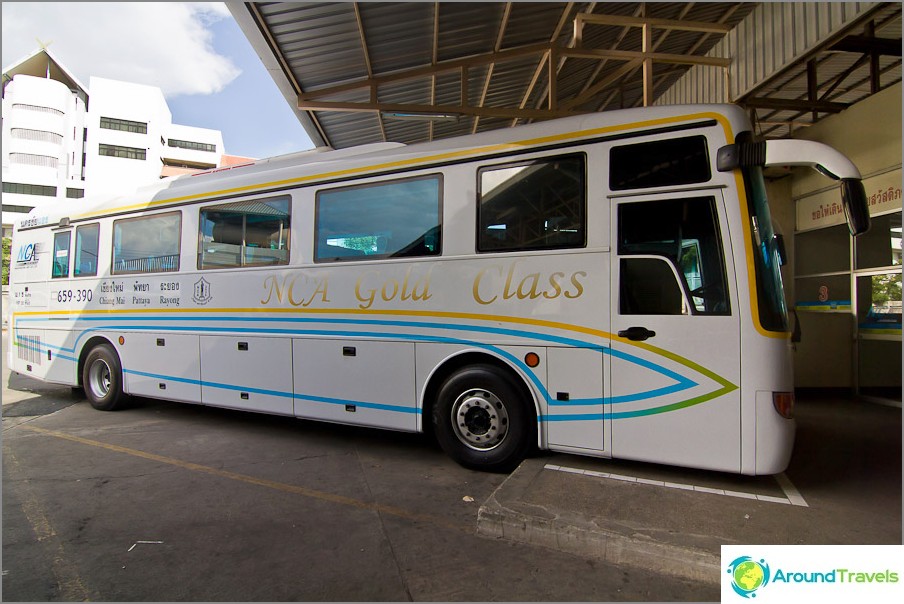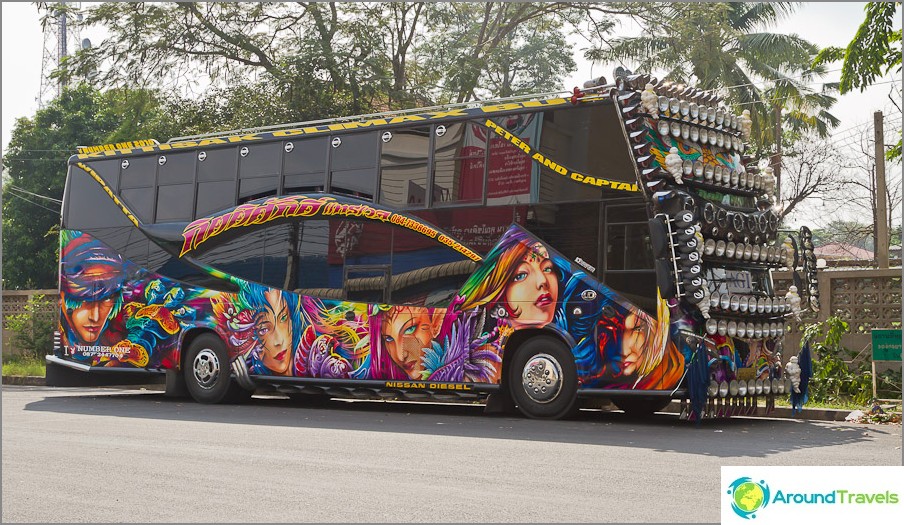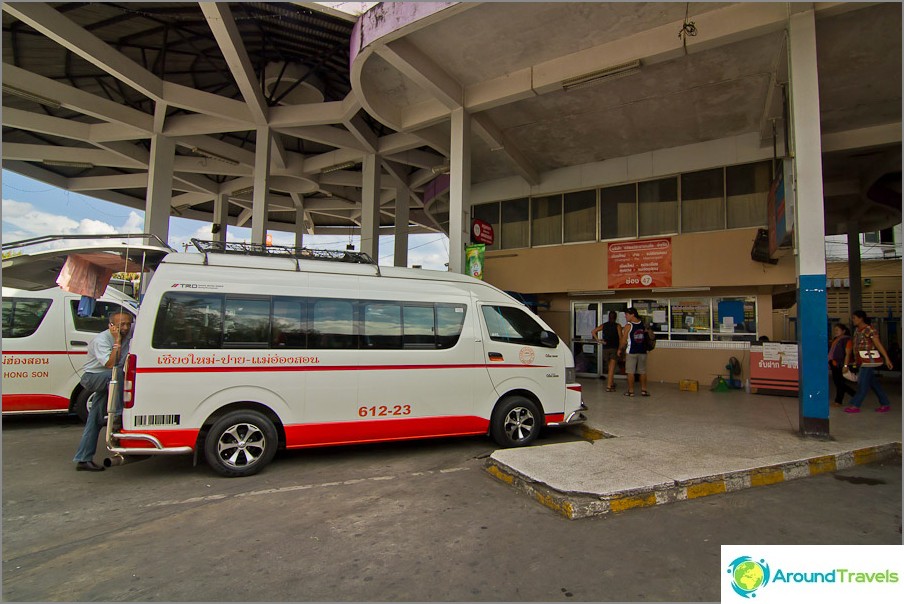 Classes of bus tickets
I myself once wrote that there are three classes: VIP, First and Second, according to the degree of comfort reduction. Air conditioners are everywhere, but the toilet is only in the first two, and yes, the buses of the last class are closer, as a rule. However, not everything is so simple and obvious with classes. Firstly, because bus companies may have their own gradations (examples below), and secondly, because the VIP-First class is very different from just First.
For example, such gradations can:
- First class vip 24 seats (3 seats in a row, wide)
- First class vip 32 seats (4 seats in a row)
- Second class 40 seats (as well as more than 42.47, 50), usually simply referred to as second.
Or:
- VIP-24
- VIP-32
- First
Or:
- First (1st)
- Second (2nd)
Based on the list, the easiest thing would be to clarifythe number of seats on the bus before buying a ticket, this should always work, no matter how the bus company called its class. Often, they can simply write, they say, First class, which, as it were, does not speak plainly about anything. But if you know the number of seats in the bus, then the picture is clearer. If there are 24 or 32 seats in the bus, then there will not be a closely sized average person and the class will correspond to the level of comfort. The main difference of the highest class (24 seats) from the rest is 3 seats in a row (2 + 1), not 2 + 2.
It is also sometimes at the window of the bus companyglued picture of the bus, for it, too, can draw conclusions. Thus, for maximum comfort, choose: the minimum number of seats (about 24), the most expensive ticket, VIP prefix to the class. By the way, VIP buses usually include a meal at one of the stops in the ticket price.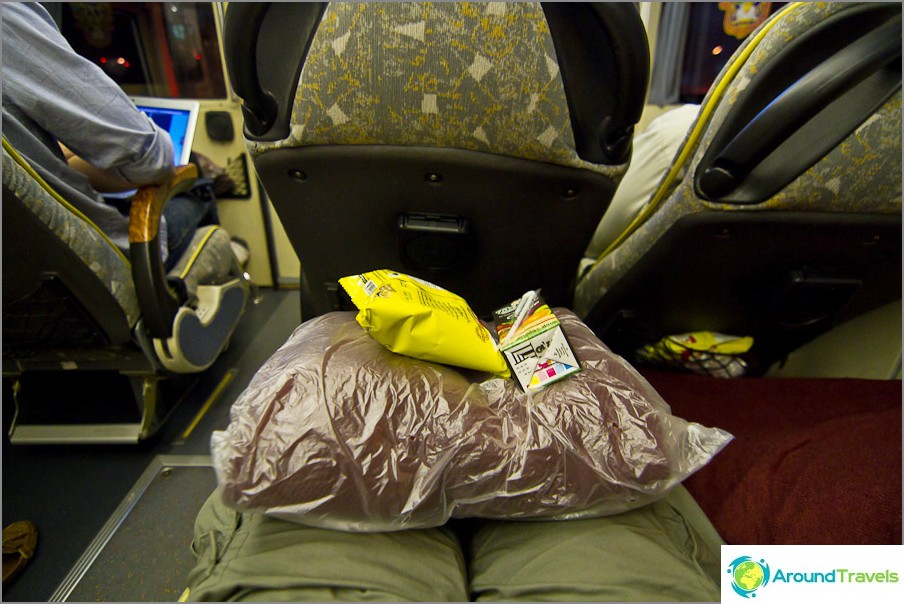 Specific bus companies
A few specific examples, with prices, classes and descriptions. Prices are for reference purposes only. Bangkok - Chiang Mai, path length 750 km, 1 baht ~ 1 rub. In other areas, such as southern, bus companies will be different.
Nakonchai Air (NCA)
First Class (21 seats) - 876 baht
Gold class (32 seats) - 657 baht
Silver class (40 seats) - does not take the BKK-FM route
Economy class (47 seats) - does not take the BKK-FM route
http://www.nca.co.th/
Tickets to the first class, really buy only for2-3 weeks before departure, and I personally do not like this option, so only Gold went. So, I personally liked the Gold class too, even though there are no massage chairs in it, as in the first one, and the seats are narrower (4 pieces in a row). There is a toilet, there is enough space, the seat unfolds almost horizontally, each has a blanket, water is distributed, snacks and bottles. Silver and Econom did not try, it seems to me that they are offered only to short destinations, when it's not so long to go.
This company has its own bus terminals, but, as a rule, the bus station also has their ticket offices, if the terminal is far away, and they also call at regular bus stations to pick up passengers.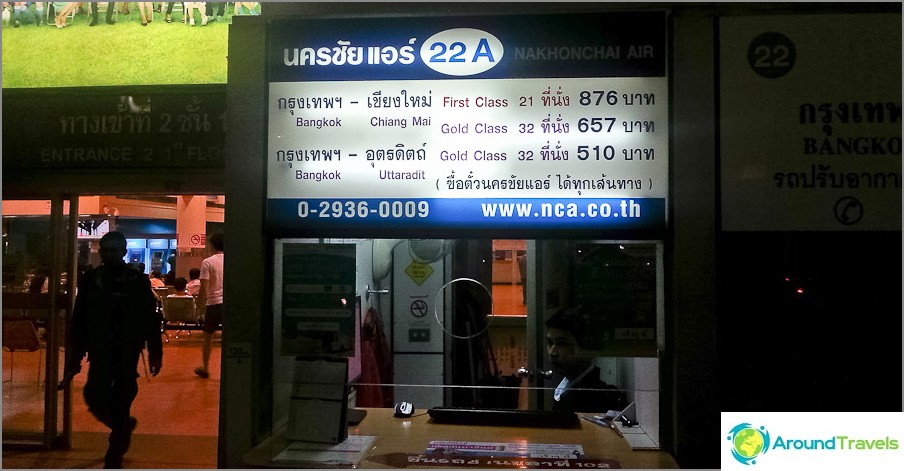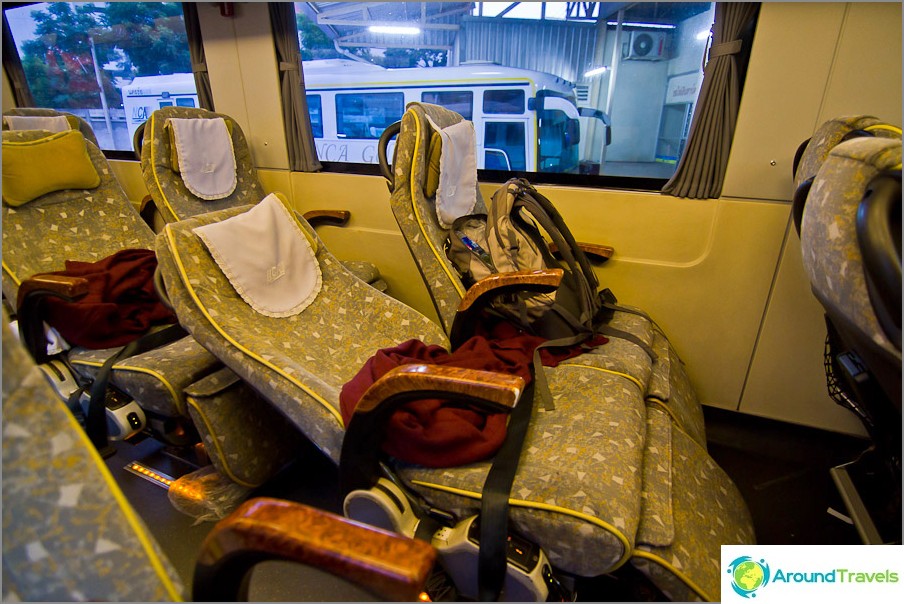 Sombat tour (The Psombat tour)
Vip-24 - 789 Baht
Vip-32 - 657 baht
First class (40 seats) - 563 baht
http://www.sombattour.com/
Judging by the responses of the Thais at the box office bus, they havemany more flights than Nakhonchai Air, and therefore their tickets are much easier to buy. From personal experience: on the day of departure there were all classes on the Bangkok - Chiang Mai route, while Nakonchai Eir had no tickets at all. Eyewitnesses say that he is not inferior to something more popular Nakonchay, only the seats are not leather, and this is even a plus, since you do not slip on them at night. And in the VIP class just as in the first from Nakonchai there are massage chairs.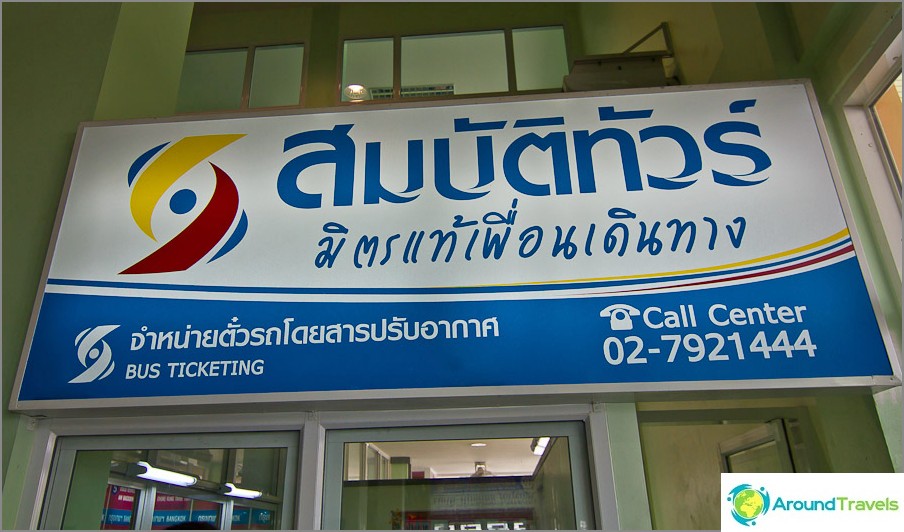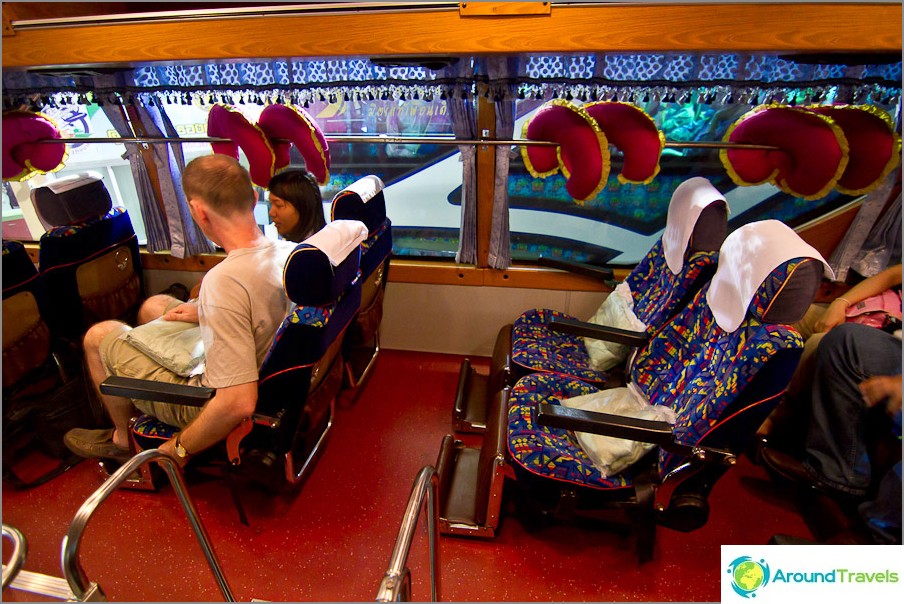 Transport (Goverment) 999 - state buses
Vip 876 baht (20.00, 21.00)
First class 563 baht (18.30, 21.40, 23.00)
Second class 438 baht
State buses, and I used them more oftenTotal. I went to all classes except VIP, everything suited me. In the first two classes give water and snacks, and there is a toilet. For me, one of the best options, the more they go in all directions in Thailand.
Transfers from Khao San
Many people write that buses from Khaosan rideIt is impossible, since these buses are purely tourist and you can arrive at your destination without your luggage or only with its part. I'll say it myself, I didn't check it, because I always drive from bus terminals, although even until recently I didn't know about these horror stories. Only once I drove from the railway station of Hua Lamphong, since there were already no train tickets in the lying car. There was only one of the jambs - an overpayment of 1.5-2 times for a bus ticket, although the bus itself was good and no one had any problems with the luggage. But I have such a rule; I never hand over anything valuable in a bus's luggage; a laptop, a camera, and all accessories come with me in the cabin.
I also want to note that this problem is in theoryshould not touch the mini-bus from Khaosan, since the luggage is all visible there, well, they wrote on the forums only about stealing in night buses. Also, everything is in order with the company Lomprayya, which sells tickets for the bus + ferry from Chumpon (this is for those who need to Koh Samui, Phangan, or Tao), she has her own buses and no complaints about her.
They also write that logistics suffers, especially whenmoving includes ferry. Some travel with 10 transfers with many hours of waiting at the transfer point. Sometimes part of the way on a good bus, and part almost on a pick-up songteo, and so on. So I wouldn't trust buses selling flights to Khaosan. And in general, I recommend everyone to always go to the state Bangkok bus terminals.
Travel Agency Transfers
Again, horror stories go only about travel agencieson Khaosan, it means that if you buy a bus ticket not there, but somewhere in another place or city, then it is not a fact that problems arise. In any case, it is worth knowing how some of the travelers have already traveled in this direction. But I am in any case for state buses in most cases. Although I myself recently traveled with Koh Chang to Bangkok by transfer and was pleased with everything. The bus was good, comfortable, the place was enough, things arrived safe and sound, there were no extra transfers, we arrived very quickly.
P.S. And you can read on the blog of our friends - How to use the railway of Thailand, a very good and detailed article. Or you can have here on the blog to see, I also wrote about the classes of cars, the cost and purchase of tickets.
Life hacking 1 - how to buy a good insurance

Choosing insurance is now unrealistically difficult, so to help all travelers, I compile a rating. To do this, I constantly monitor forums, study insurance contracts and use insurance by myself.

Life hacking 2 - how to find a hotel 20% cheaper

First, choose a hotel on Booking. They have a good offer base, but the prices are NOT the best! The same hotel can often be found 20% cheaper in other systems through the RoomGuru service.

Discount hotels