Very glad that recently startedquestions appear in the comments regarding insurance for long journeys. So traveling-living exists and it's not for nothing that we bloggers have popularized this idea. In reality, a very interesting experience is to live in different countries for at least a couple of months.
So, I decided in this post to collect allinformation on insurance that you can buy while already traveling, as well as partially suitable for long trips. I already had the information on the blog, but a part was scattered about the posts, something answered in the comments. It is better if everything is in one place. I hope you can add useful information in the comments, as I do not know everything. The basic information on insurance is in this post., be sure to read, here I will not explain this again.
The content of the article
List of insurance companies (upd. 01.2019)
I know of several insurance companieswho sell insurance policies if you are already on a journey. I wrote here only those conditions that are associated with the purchase of a policy NOT from Russia. I would choose among the first 3, but you yourself see.
And yes, if someone does not know, touristinsurance cannot be renewed. And sometimes they ask. You can only buy a new policy, if suddenly you decide to travel a little more. Therefore, be sure to buy insurance, while still in Russia, the options will be much more.
Allianz (Mondil)
One of the best asistensov on the market. With him because of the price almost all stopped working a few years ago. In fact, now they sell themselves, as all this is now Allianz Global Assistance. It should be considered first.
Sold through Cherehapu and Polis812, conditionsthe same, the price plus minus is the same, so you need to check the cost on both sites, on Polis812 by the promo code LIFETRIPRU you will be a 9% discount. At Cherekhapy, the site is much more convenient, with a bunch of useful filters, and tech support responds very quickly, but in terms of the insurance itself, no matter where to take it.
Allianz on Polis812>
Allianz on Cherehape>
ERGO (Savitar)
Sold only through Polis812, that is, suchconditions can not be found on the site itself insurance. Actually, even with AXA now in Russia there is generally no more insurance to buy, which is a pity. AXA is an excellent asistnes, at the level of Mondial, although I personally like the latter more. In general, I would not take ERGO with other asistencies, especially if we are talking about Thailand and Asia. Do not forget when ticking "I travel." Insurance will be valid on the 6th day from the date of purchase. On promo code LIFETRIPRU discount of 9%.
Price ERGO discount>
But this insurance has one drawback - they insure dengue fever (relevant for Thailand). There are different opinions as far as it is necessary, since Dengue in the same Tae is not so common. But on the other hand I want to insure myself from everything at once. My opinion is that the shorter you travel to Tai, the less you need to insure this risk.
Tripinsurance
My detailed post about Tripinsurance
The policy is for sale if you are already intraveling, and in this case he will act on the 6th day after the purchase (like many others) and will have a deductible of $ 50. Their assistance - Tripinsurance, but they have entered into contracts with many, including with Mondial. The insurance will be from Absolut Insurance, but this is not important, since here Tripinsurance is an intermediary and it is from them that you need to buy insurance, an exclusive product. On the website of the insurance itself, you will find very different conditions. For promotional code LIFETRIPRU discount of 11%.
Tripinsurance discount>
One-time policies - policies for specific dates. It can be issued even if there is a residence / dual citizenship in the country of travel, but in this case the country of residence should be the RF, i.e. most of the year of residence is in the Russian Federation. The only restriction on their purchase from abroad is the purchase for permanent residents. If a client has not been in the Russian Federation for more than 1 year and has spent most of the year in one country, then it becomes for him a country of preferential residence and then the policy will not be valid.
Annual programs of the 365 days series - policy withoutrestrictions on the number of trips, but with a limit of 91 days each. The problem is that if a given policy is bought during a trip, then the countdown of 91 days of the validity of such a policy starts from the moment of crossing the border with the Russian Federation, and not from the moment of purchasing the policy. Therefore, it makes sense to take it only if the current trip is shorter than 91 days. That is, in the country of travel you can be no more than 91 days.
Annual program Multitrip - can not be bought during the trip.
Liberty (Class)
When you purchase a policy will be temporaryfranchise 5 days. That is, only on the 6th day after the purchase of the policy can it be used. So they are protected from those who first got sick, and only then ran to buy insurance. There is a deductible of 30 dollars for Asia.
Also there is a limit - a maximum of 182 days peryear you can stay in one country. If you come to the same Thailand and decide to stay there for a longer period, or you are already there for more than six months, then such a policy does not suit you. Thus, you can use Liberty insurance for years without returning to Russia, but changing your host country every six months, at least. Just leaving the country for a while and getting back will not give anything, you need to wait until a year passes.
Liberty on Cherehape>
Liberty directly>
Liberty can be bought directly (asistens will be the same), although I would still take in Cherehap, they can play a positive role.
Alpha Insurance (Best and Class)
In Alfa Insurance there are no restrictions at all: acts immediately, there is no franchise, you can be in the country as you want. But I have a suspicion that if you buy a policy and immediately refer to it, there will be close attention to you. Otherwise, everything looks too tempting - it got sick and immediately bought insurance. Hm But I have not used this insurance yet, so I don't know for sure how everything will happen.
Price Alpha (Best or Class)>
Alpha Price (3 for choice)>
When buying through Cherehapu will be Class Assistanceor Best Assistance (depending on the country), I don't recommend taking insurance directly at the website, there will be a GVA, there's too much negative on the network.
When buying through Polis812 you can choose: Class, Savitar and GVA. Better to take with only the first two.
Renaissance (Class Assistance)
Renesanas also has no time limit,like Alpha, only a $ 50 franchise, which is not good. Honestly, I don't have much confidence in them ... Yes, and it's expensive, I'd take Allianz or Tripinsurance for that price.
Renaissance price>
And I do not recommend buying Renaissance directly through the official website, there will be GVA asistents, better again through Cherehap, then get Class Assistance. For Europe, a good price, just like everyone else.
Ingosstrakh (Balt Assistance)
Insurance is a little expensive for them. Therefore, I'd rather consider Allianz or Tripinsurance. Although I know, some people trust Ingosstrakh and do it, why not. In general, the mass negative reviews on them did not see. For Europe, a good price. The policy must be purchased 10 days before its commencement. For Asia, there will be a $ 50 deductible.
Price Ingosstrakh>
Consider the insurance can be a maximum of 50 thousandyeah, no more. If you want 100 thousand ye, you need to take another insurance. Asiser Assistance will be in Andorra, Spain, Italy, Cuba and the Dominican Republic. Remed Assistance will be in Turkey, Bulgaria, Egypt. Balt Assistance in other countries.
Tinkoff (Europ Assistance)
Despite some confusionsometimes Tinkoff call center operators themselves, insurance can be bought while already traveling. The main thing is not to be on the territory of insurance. For example, you are in Montenegro, and buy insurance for your next country in Spain. That is, to purchase a policy does not have to be directly in the Russian Federation! Specially found out with them in the chat this question for an hour. Remember, Spain is Schengen, and the insurance is done immediately for the whole Schengen, from Spain it will be impossible to buy insurance for the Czech Republic, the insurance territory is the same.
Prices at Tinkoff>
If suddenly what, see paragraph 4.5.1 in the contract, everything is clear about this and not a word about the Russian Federation. Because of the restrictions - you can not be more than 90 days in the country, she then becomes a country of residence. Insurance is good from the budget, you can take.
Buying insurance from abroad
Where to buy insurance
Cherehapa
I still recommend Cherehap service, about which I wrote separate postWhy it is needed and what are the advantages, as well as how to use the service.
Briefly repeat: on one site with a convenient calculator, you can compare prices with the most popular insurance companies. No need to wool insurance sites or call them. There you can buy an insurance policy, at least at the same price as on the insurance site, or even cheaper (all large brokers have the opportunity to dump or improve conditions). By the way, many insurance still do not have online purchase of policies, you need to go to the office, which is inconvenient. Also, this mediation will play a positive role in any disputed case, since Cherehapa's clients are in a privileged position compared to the others.
To understand what insurance you can buy, you need to go to the site Cherehapy and put a tick in the filters I travel. The results will remain only those insurance policies that sell such policies.
Polis812
Another broker is Polis812 and also withexclusive offers. Now it is not uncommon to sell insurance from insurance companies with better conditions. Such improved programs themselves insurance can not draw, apparently in view of weak marketing and a small number of sales. And judging by the insurance sites and their promotion channels, it is exactly that. Therefore, while you can and should buy insurance from such services.
The promo code LIFETRIPRU for readers will be a discount of 9%.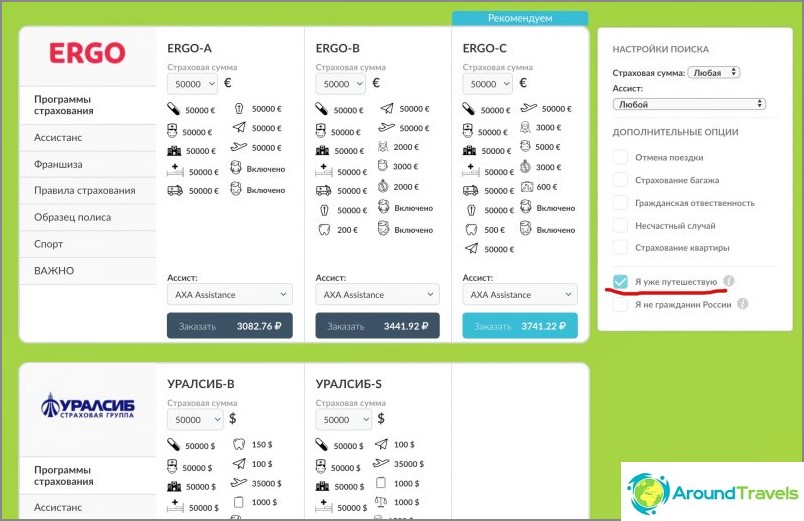 Tripinsurance
Also quite good and very clear programs are inTripinsurance. Right on the site there are tips and brief descriptions of these programs. This is almost never seen, usually everyone hides. I also contacted tech support and asked them various questions regarding these programs. Answers and I want to share with you.
By the promotional code LIFETRIPRU especially for blog readers, you can buy this insurance at a discount of 11%!
Insurance problem already traveling
Unfortunately, such insurance is now very small. You understand that this is all business, and the insurance company needs to keep a certain balance between the cost of the insurance policy and the losses incurred when dealing with an insured event. The fact is that insurance carries more risks when it sells insurance for an already traveling person.
The same with long trips, policiesstand for them like a plane. Obviously, if a person lives in the country for several months, then in any way he will get sick and take advantage of insurance. The most non-risky policies are those purchased for holiday trips for 1-2 weeks, with a minimum of referrals.
With the crisis, insurance conditions have worsened. The rules have changed, all insurance companies have made a limit on the minimum insurance amount of $ 40,000 for trips to Asia (previously there were $ 30,000), all prices for insurance have risen, especially to Thailand and SEA. Still need to insure. I already somehow got to pay for treatment of $ 40,000 in Thailand and I know what I'm talking about.
Non-Russian citizens and a residence permit
Just put a tick in "Cherehape"citizen of Russia "and the results will be filtered. Almost all insurance sells foreigner insurance. But it would be necessary to leave his country and buy insurance from his country, otherwise it will also be "I travel" (tick in the calculator Cherekhapa).
And now, regarding those who have citizenshipRussia, but lives in another country on the basis of a residence permit. If there was a passport of another country, then it would be possible to buy insurance, if not a citizen of Russia, by checking the appropriate box. But a residence permit is not equal to citizenship. Therefore, in most cases it will be classified as "I am traveling".
But there are 2 more nuances.
1) An insurance policy may have a limit on how much a Russian living somewhere in a residence permit has not been to Russia in time.
2) You can not buy insurance for the country where there is a residence permit (there is no longer a tourist in it).
In particular, Liberty and Alpha insurance are suitable. Zetta is also suitable, although it is not issued by the "I am traveling" filter, it should be bought without this checkbox, since they have a different classification in this case - leaving the temporary residence (there is no such check mark in the calculator), and this place of residence is not a journey. In any case, check everything in the Cherehapa chat before you buy, they are smart guys, they will tell you everything, otherwise everything changes quickly.
Long journeys
Separately, I want to write about long journeys. If you buy insurance while still in Russia, then there are not 4-5 options available, as for those already traveling, but all the insurance presented on the Cherehapa website. But! It all depends on the duration of the trip. It is necessary to set the date and see what the calculator will give, usually the price is large, since. Also, there is usually a limit - stay in the country for no more than a year.
P.S. Also, Uralsib and VSK sell insurance when traveling, you can buy them through Polis812. But I personally do not consider them for myself, very muddy insurance.
P.P.S. If there is any other information on insurance companies, write in the comments.
Life hacking 1 - how to buy a good insurance

Choosing insurance is now unrealistically difficult, so to help all travelers, I compile a rating. To do this, I constantly monitor forums, study insurance contracts and use insurance by myself.

Life hacking 2 - how to find a hotel 20% cheaper

First, choose a hotel on Booking. They have a good offer base, but the prices are NOT the best! The same hotel can often be found 20% cheaper in other systems through the RoomGuru service.

Discount hotels