Cafe "Cucumbers" on Lamai - perhaps the best place toAn island where you can eat Russian cuisine. I had such an opinion not for one visit, but it was not only for me. If you ask a question in any of Samui's communities about the rating of tasty Russian restaurants, then Cucumbers will be in the lead by a majority vote. This is a modest cafe, with no claim to status and without pathos, but with an intelligent chef who cooks so that a rare guest leaves without praising, and without shaking hands. Cafe owners Cucumbers are a married couple from Omsk who do their favorite thing.
The content of the article
Cafe Cucumbers on Samui
Cafe Cucumbers is located in the center of Lamai, throughthe road from the Indian restaurant Tandoori Nights, next to the offices of SamuiDays (realtors), the Robinson Tour company (excursions) and the Italian restaurant Tropicana (Italians), over which there is a bright orange sign in the form of the sun. Café Cucumbers is not at the very road, but in the depths of the courtyard, so the noise of the beach street Lamai does not reach here so intensely. In the same courtyard there is parking for 10 motorbikes, but cars can not be put here, alas. But across the street from Ogurtsov there is an inconspicuous passage between the houses, which takes you to the parking lot near a large one-story building with Thai apartments of 3.5 thousand baht per month.
Cucumbers has three dining spaces: places in the room with air conditioning, places under a canopy on the street and places with umbrellas in the open air, near the barbecue. In the afternoon, there are usually not very many guests, and you can always hide from the sun in the shade and coolness, and in the evening, when people pull themselves up from the beaches and excursions, you can sit outside on the street under a darkening sky. The place is generally cozy, despite the abundance of concrete around.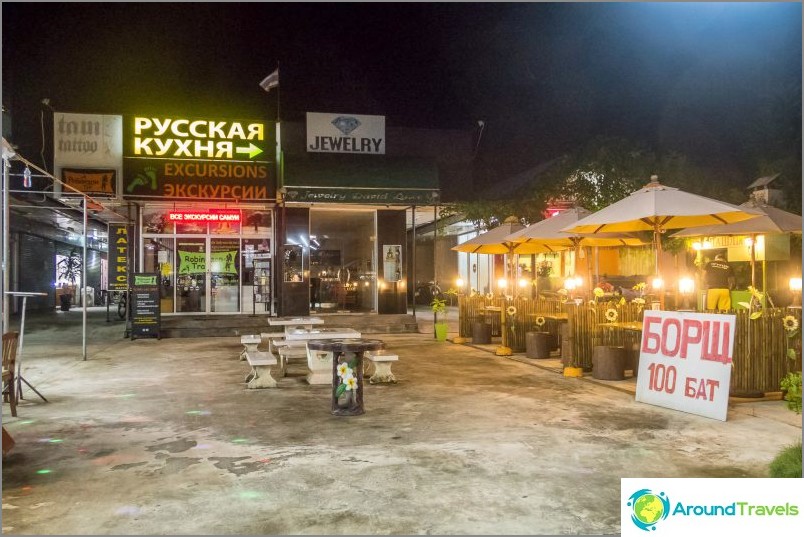 Chef "Ogurtsov", Boris, served in the fleet, whereand discovered in himself a culinary talent, which fascinates people. The menu in the cafe is not complicated, mostly the most popular dishes familiar to people from the USSR. In addition to borscht, pancakes, ravioli and solyanka, they make lagman, shurpa and khinkali. There are things that Boris does well, but there are some that make you squint with pleasure. I know it sounds enthusiastic, but guys, when you miss Russian food and arrive in Cucumbers - you still remember everything that you have just read.
I know there is an opinion that they say, why go toThailand, if you want Russian cuisine. Do not quite agree. I personally, too, sometimes have a desire to eat something familiar. Yes, I love Thai cuisine, but sometimes I want diversity, and therefore I go to various non-Thai cafes. This time I went to Cucumbers and ordered myself mors and dumplings. As always, everything is delicious, at home.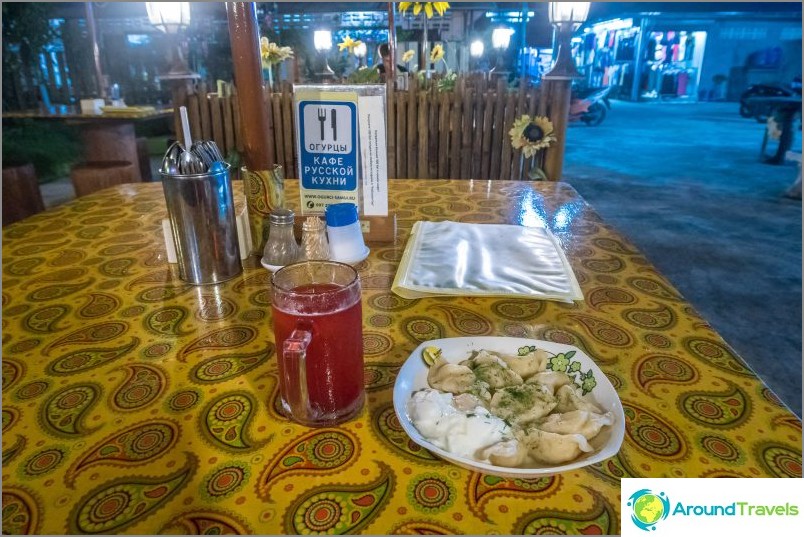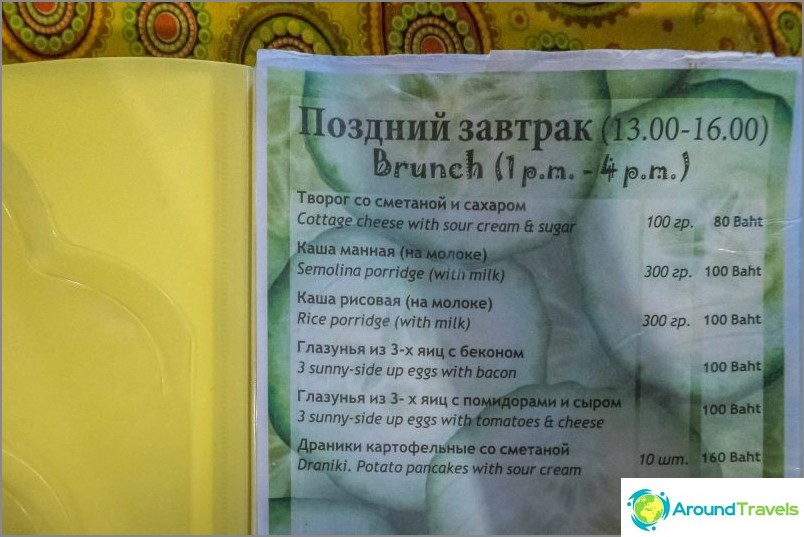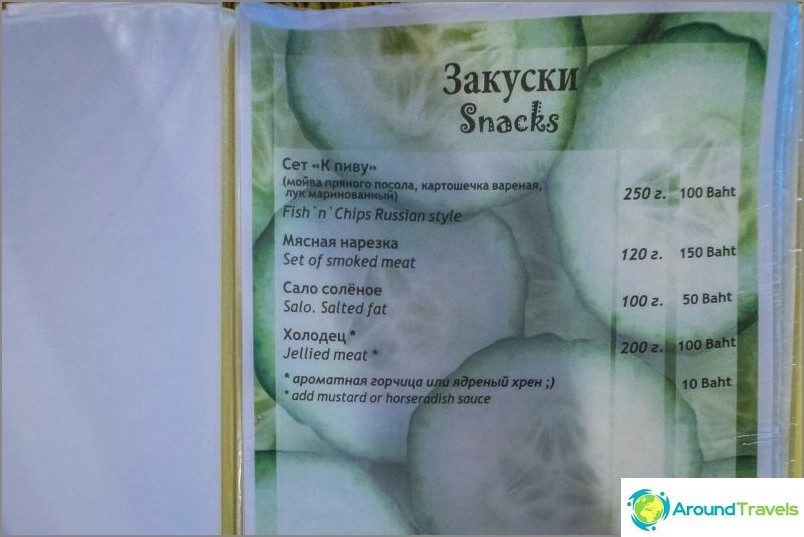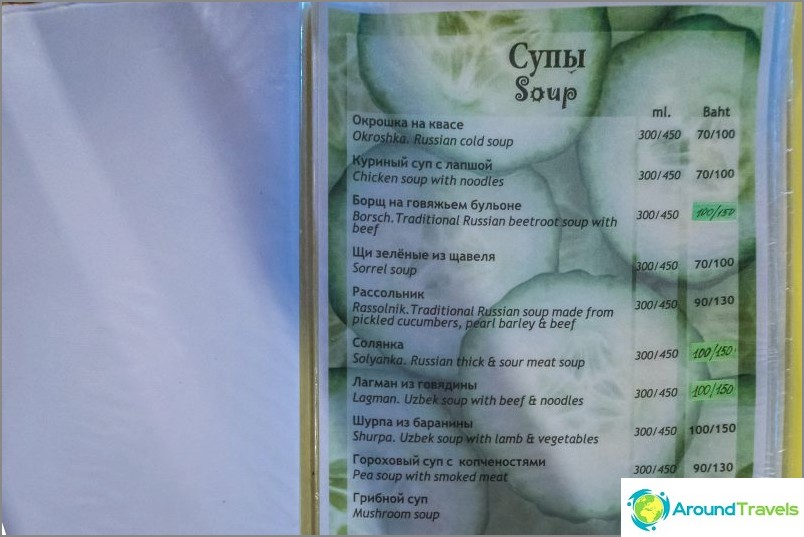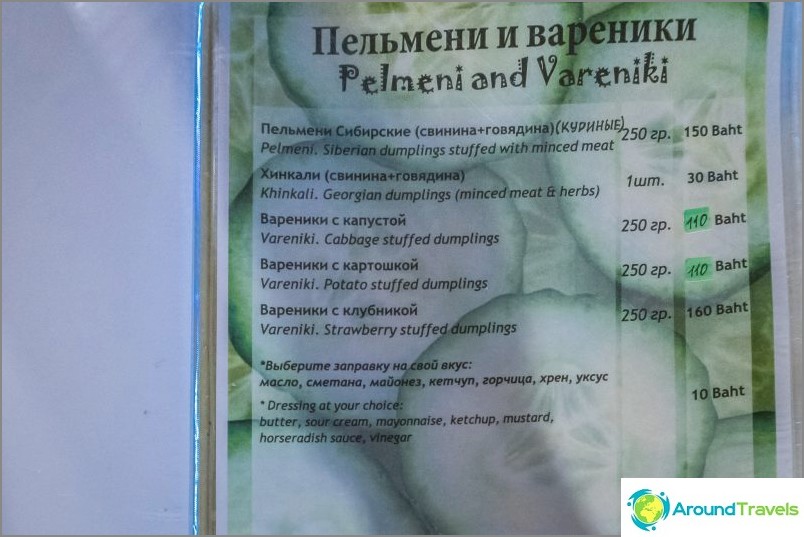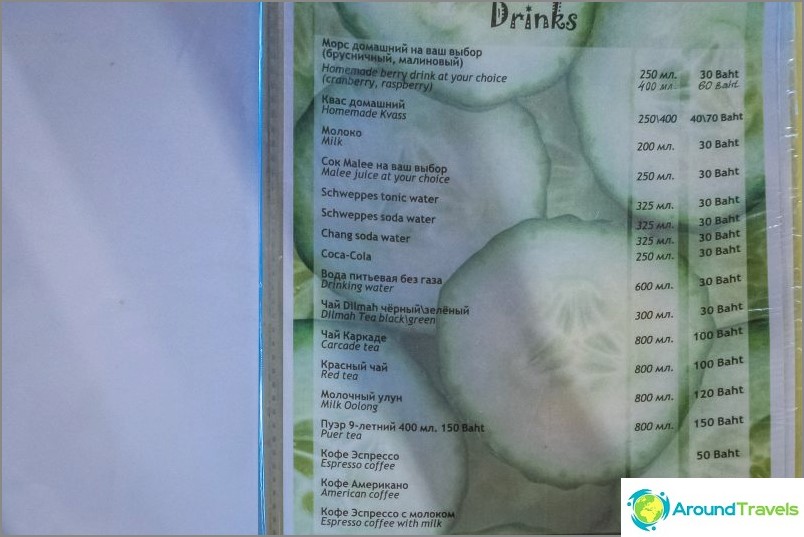 Information to visit
Work from 13 to 23, during the low season schedulemay vary. Parking is free, motorbikers more convenient than motorists. When entering the building, you need to take off your shoes - inside there is a children's corner, children crawl on the floor, well, in principle, this is a good Thai tradition.
Meals can be ordered all without fear of beingupset or poisoned. Kvass - real, not sweet bottle. Be sure to try the soup, pancakes, solyanka, lard, belyashi and ask if they are still making their liqueur with the taste of various tropical fruits. Do not order a lot at once, they have very large portions. Food can be taken away.
On the map
Cafe Cucumbers
Cafe Cucumbers
The best Russian cuisine on Koh Samui.
More about Cucumbers.

The best Russian cuisine on Samui island. More about Cucumbers.
Life hacking 1 - how to buy a good insurance

Choosing insurance is now unrealistically difficult, so to help all travelers, I compile a rating. To do this, I constantly monitor forums, study insurance contracts and use insurance by myself.

Life hacking 2 - how to find a hotel 20% cheaper

First, choose a hotel on Booking. They have a good offer base, but the prices are NOT the best! The same hotel can often be found 20% cheaper in other systems through the RoomGuru service.

Discount hotels