After my post about alternatives to thailandwhere I collected approximate schemes, how canTo travel to different countries for quite a long period for wintering (or just to change the situation), one of our friends, readers, the programmer doctor, wanted to share his recent experience of traveling to Cambodia. Eugene went there a couple of months ago to explore.
Trip to Cambodia. Intelligence for the upcoming (possibly) wintering. The situation with visas to Thailand has changed, many are looking for alternatives, I am not an exception, the comparison of Cambodia will be with Thailand, specifically with Samui.
Travel time - June 2014.
Well, let's go ... More precisely flew, daughter for 2 weeks incamp, it's boring for one to practice, let me think I'm exploring Cambodia (all this against the background of a change in visa policy in Tae). Tickets were able to buy good, regular Aeroflot flights - to Bangkok and back, the price for everything - a little more than 20,000 rubles. Regular flight, this is not a charter for you (fully clogged), many foreigners, a lot of free places, there were no passengers near me, a freebie, in a word. I flew to Bangkok, stayed in some dismal guesthouse for several hours and to the airport to Siem Reap. I also bought tickets from AirAsia Bangkok-Siem Reap at home, and the cost of the action was 1600 rubles one way (a taxi to Sheremetyevo airport is more expensive
).
The content of the article
In siem reap
Besides Tay from Asia, he was nowhere else, he fussed a little on the plane, as he had been there with a visa (although about the process of obtaining and the necessary actions onforums carefully read). It turned out that it was easier and faster even to stamp a stamp in Tae, filled out a couple of cards (arrivals, departures and "give a visa" type of application) - almost the same, as in Tae, I took a photo taken from home. Upon arrival in Siem Reap - the airport is small, basically there is no place to get lost, I got into the only place, wondering if she had visas ... Then you give away what you filled in, a photo and 20 bucks. And you become from the other end of the queue, where the names (and sometimes just the names) of the people who made the visa are shouting out. Next to the border guard - get a couple of stamps and everything ... no adventures. The border guard only alerted, no, he didn't try to somehow sort me out or something like that, he just pointed his fingers at the sorting sign and grumbled something, then I didn't understand (I'll understand at departure) what he wanted. He showed him at the counter with the visa-issuing officials, explained as best he could, saying that he paid there, if anything, everything was ok, and he went further.
Then I bought a local SIM card, SMART provider -Immediately at the airport in a cell phone shop, the seller set up an Internet for me, the cost of a sim card is 10 bucks, with this provider calls to Russia, a little more than from Russia itself (of course I joke, but close to that), you can dial without distorting with ip telephony + 7 and_further_number.
I leave the airport, at the yard at ten o'clock at night,Asian darkness ... Immediately they meet one of the most frequent phrases in Cambodia - "TUK-TUK SIR"
). All the cunningly tuk-tukers agreed to transport into the city for a terrible price of 5 bucks, and if you agree, in their eyes there is complete satisfaction, you can guess the look on the face of the Moscow bomb, who has torn off your triple price to the metro. Well, I think to walk so to walk ...
Gestah nor any advance booked, surely inAsia has nowhere to spend the night, and if there is no place for me to see such Asia :). I opened the application on the phone, toli "booking", toli "agoda", looked at the map - showed the tuker - I say, let's try the opposite direction from the city, there is a pond and probably beautiful ... It's beautiful or not, I don't understand There was no side, it was pitch dark, the hostesses in a guest house at the pond came out in nightgowns (really - the eleventh hour, and here you look around).
Let's go to the city limits, the situation is the same - "allare sleeping, but worse, I began to want to sleep. This is fraught with a lack of strength for detailed searches and trades, so I collapsed somewhere to sleep for 20 bucks a day, room, condo, shower — well, as usual, even breakfast is on (I really overslept him).
In the morning, a different guest, for 15 buckson the day, in the city itself, but the number is much better than in the first one, even the pool was (bathed). The order of prices for guest houses in Siem Reap I think is understandable from 5 bucks (apparently with a fan
), after 10 - rooms with kondey begin, everything is clean, normal.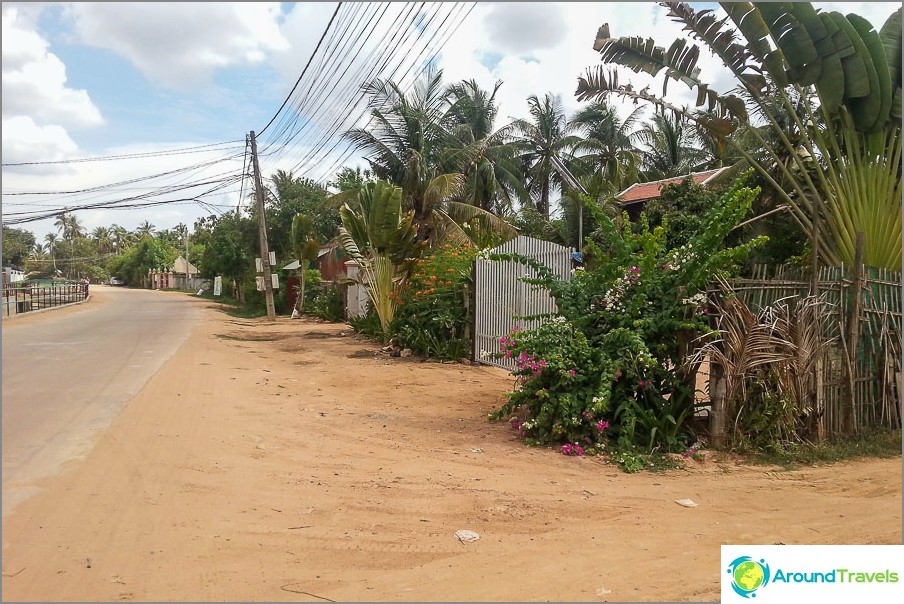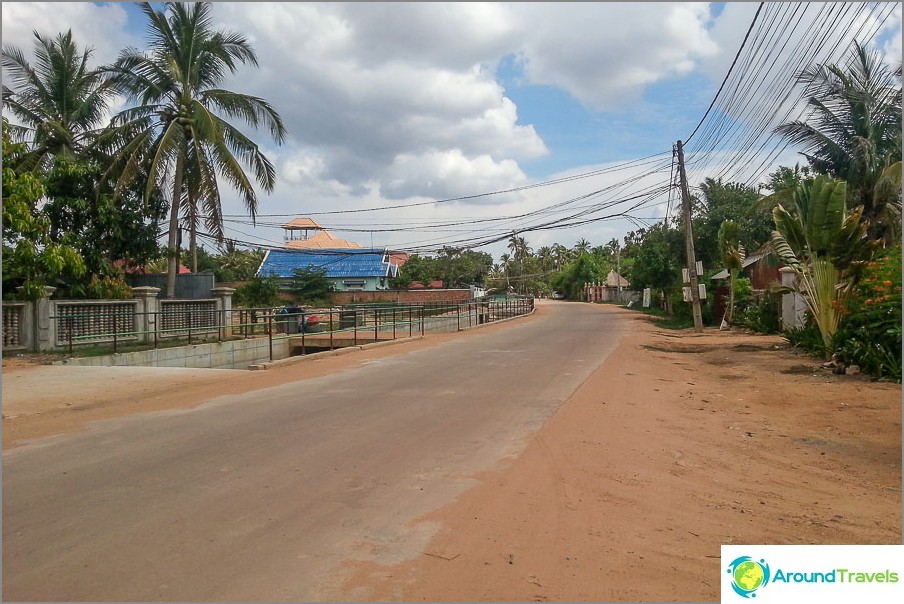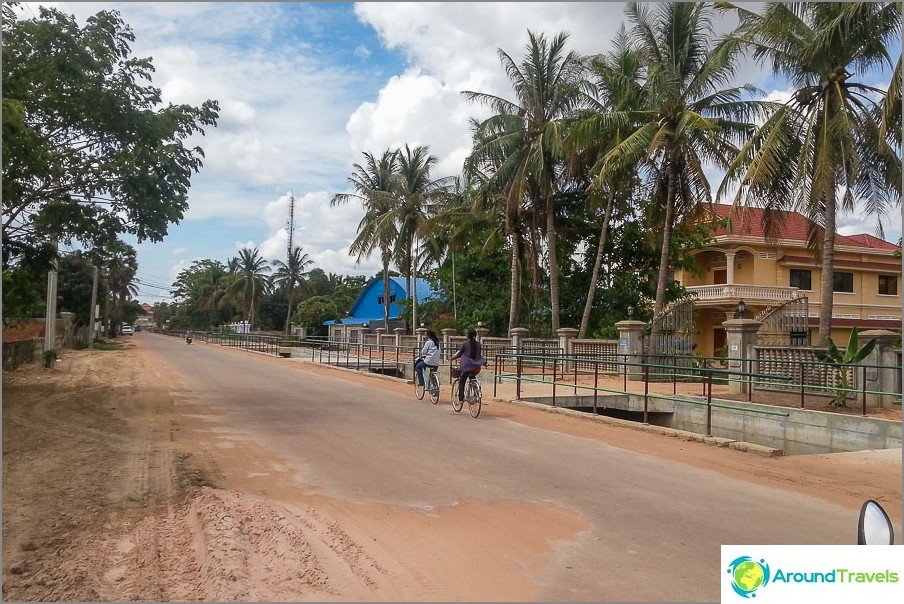 Further targets were as follows: see how much it costs to rent a house (payment per month, utilities, etc.), conditions for working on an Internet (actually read - the quality and cost of an Internet), what's on nutrition - shops + eatery, well, not unimportant item - where with my daughter boxing and fizuhoy engage. Egyptian pyramids, Angkor, temples, sights and everything like that does not interest at all, I would not go even if I paid extra. Although all taxi drivers-guides strive to take you to Angkor (and for a long time they raise their eyebrows when they hear that it is NOT INTERESTING).
I got acquainted with the tuker, he called meMr. Cobra (well, well) - took me to eat, at the same time and see what, how much, in short, he ate himself, fed Tuker, was fed a huge omelet with vegetables, gave for all 10 bucks (okay, I think you can live). In the rest of the feeding establishments, the rates plus or minus one and a half times, in general, and for $ 3 you can eat easily, I usually take fried rice with chicken, plus that the thread is fruit and vegetable and drink. Maybe all the cheapness is still aggravated by the month of June (low season). Have eaten - you can search at home.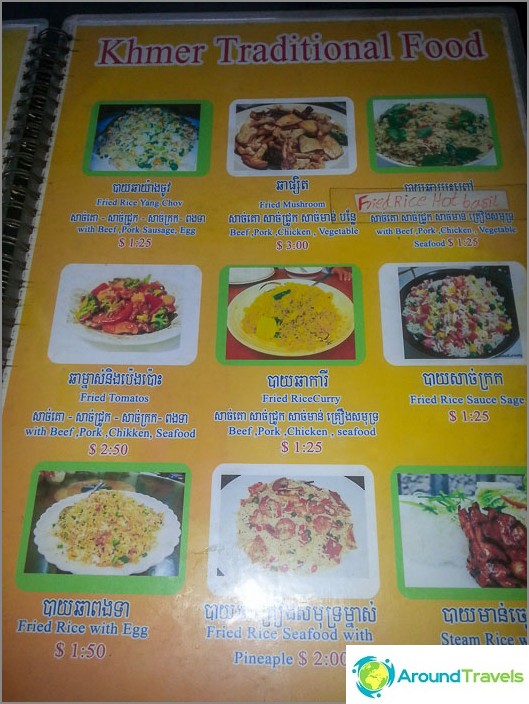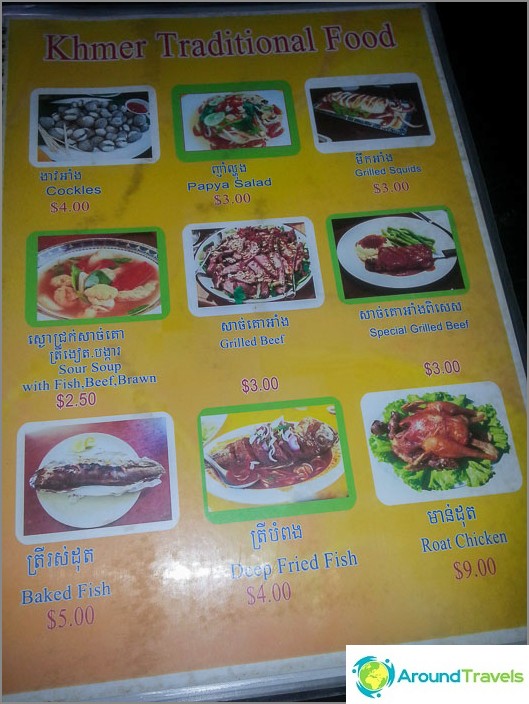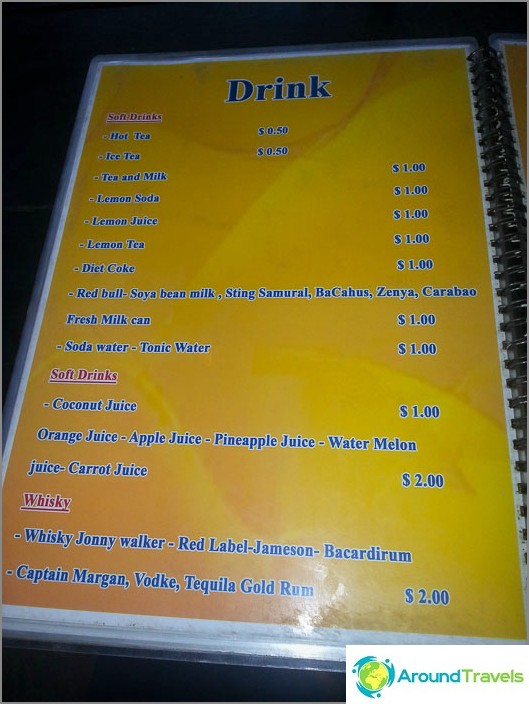 With houses is not quite as easy as in Thailand.Samui, there are no mass signs for "House for rent", you need to find out, search, and use a lot more energy than in Tae (maybe it seemed to me only). For intelligence and taxi drivers get off, Cobra took the first found house, two bedrooms, a disproportionately large kitchen (the size of the rest of the house hmm ...), well, in general, as usual, they announced the price of 500 bucks a month without any bargaining.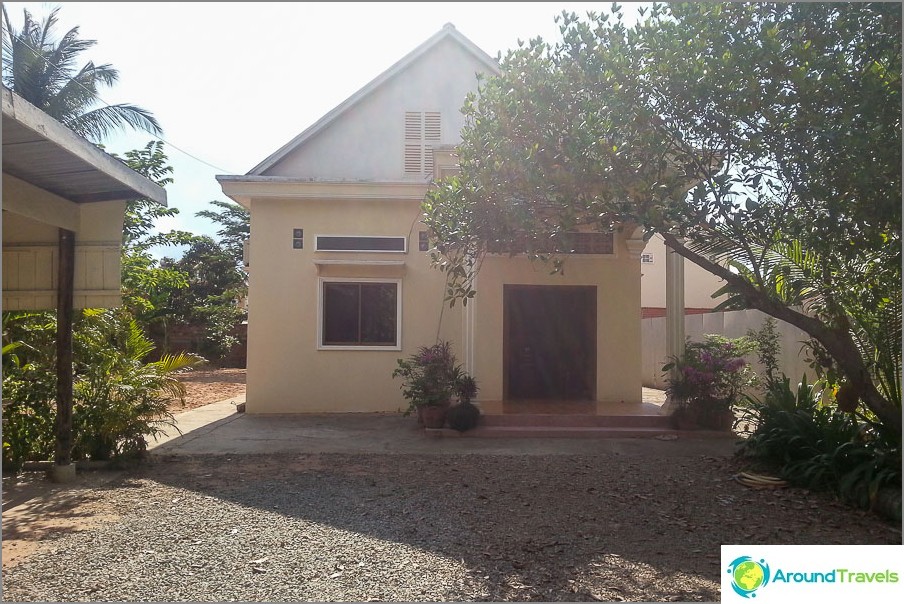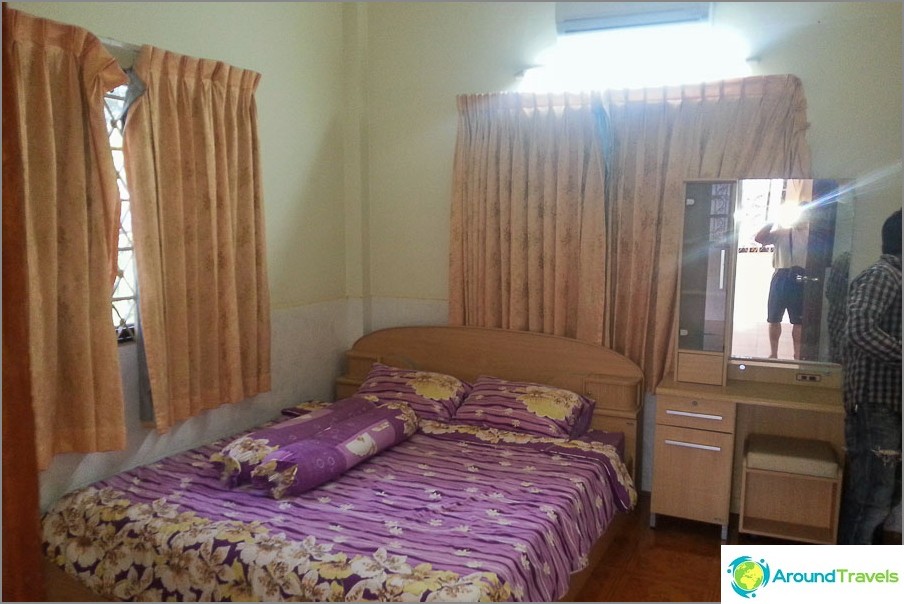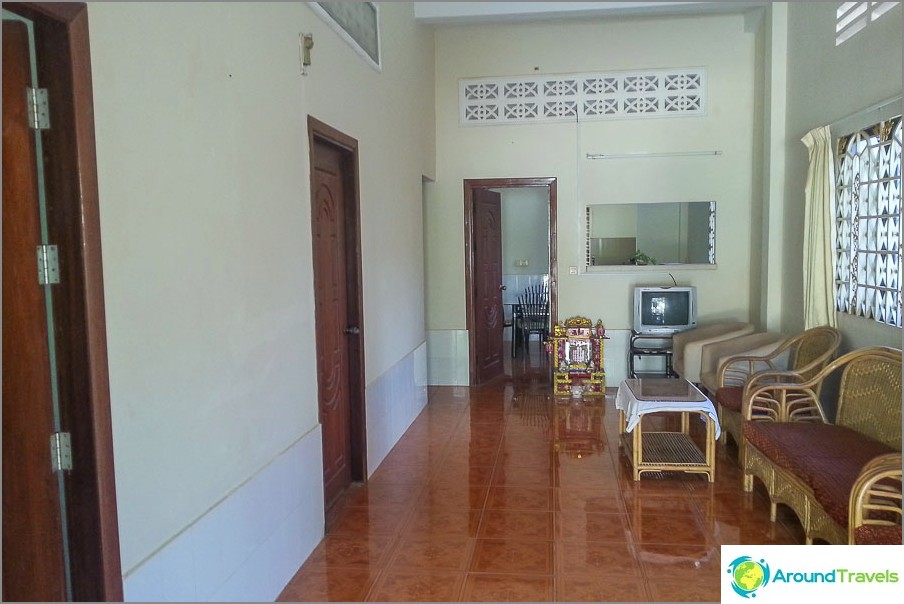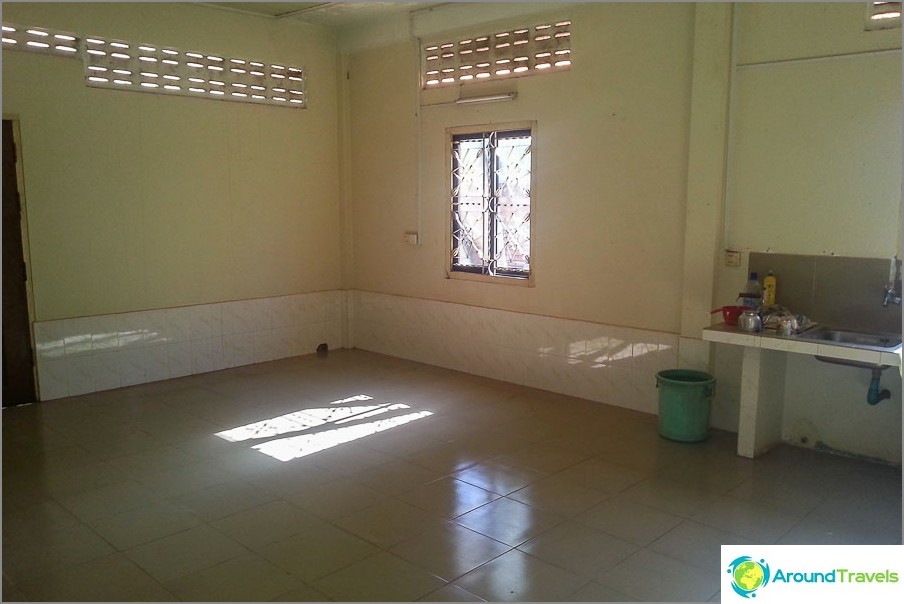 The following two options turned out to be huge.villas with a huge amount of heavy mahogany furniture, 3 floors, more than 10 rooms. What did he take me there I did not understand, I called the price range, but for this fortress they were asked 1600 bucks a month, so where was it :), with 10 rooms? The remaining options, which looked basically similar.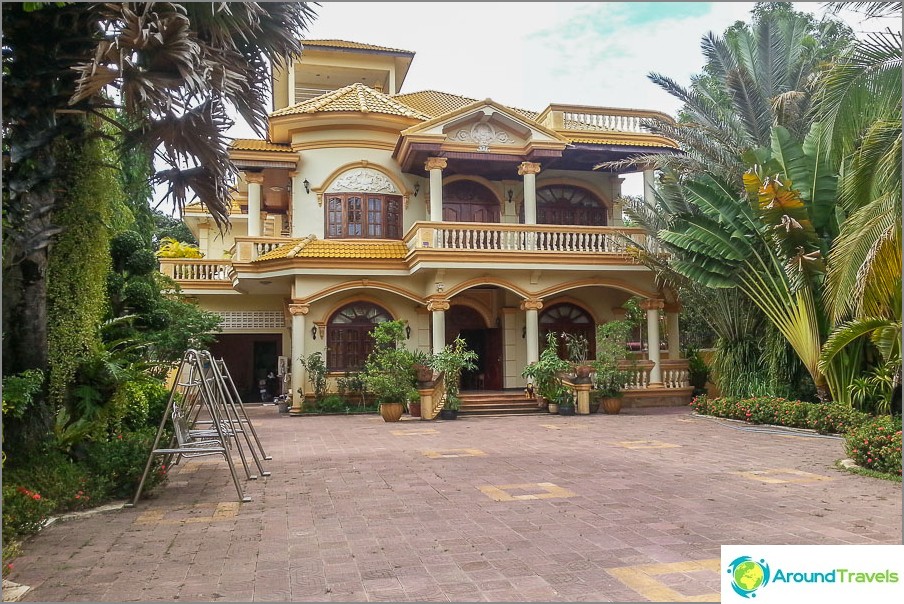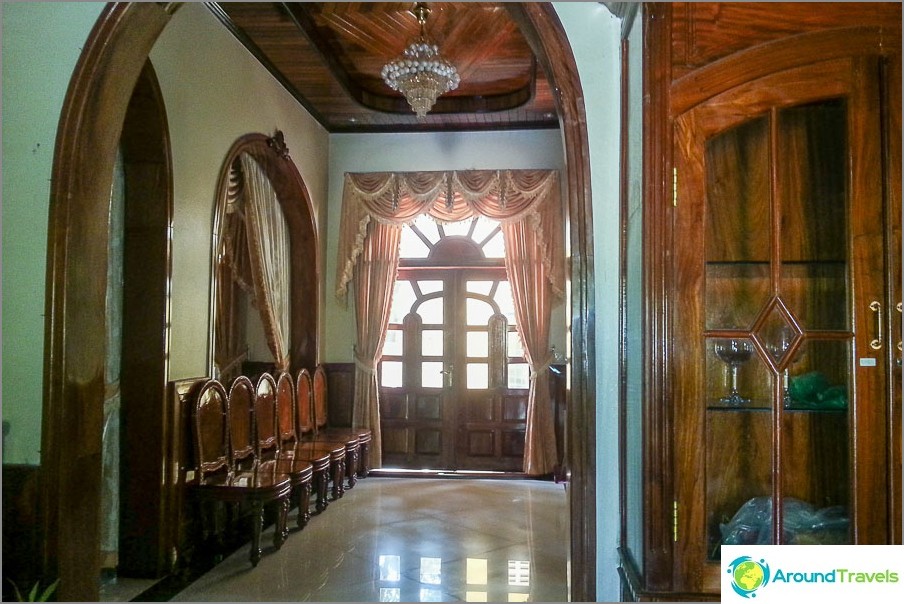 The taxi driver really insisted - "they say you will arrive inSeptember, let me know in advance for a month, I'll pick you up here ... I just didn't know that you would come and didn't have time to get ready, "well, exchanged phone numbers. In principle, as a further trip to Sihanoukville will show, the situation with the houses is the same - less than the "middle class" —or expensive villas (not for the poor
), or quite bad. No, there are medium options too, just to repeat once again - it is harder to find them than in Tae.
Loved the rates for transport services:), so cheaply have not seen. I go to another tuker - I say, "they say I want to go, just like that (I don't need to go to Angkor), I want to look at the area, like what ..." - asks in response, so much time you want to go, when you hear that it is about 3 hours , calls the price at 10 bucks. 10 bucks for 3 hours ride! - well, it's great because in Russia for such money they will not even be sent where necessary (they will be asked to add
). According to the results of pokatushek - in Siem Reap it seemed to me dirty, on the streets just piles of garbage, evenly distributed on the sidewalks. By the way, there are sidewalks, they are better than on Samui, if anyone is interested. The climate, as if to say, a more "steppe" one, is less green.
During the walk I found a big gym, everything is there, there are no people except an administrator, it costs 1 dollar per workout !!! Damn, even stay.
There are no such supermarkets as Samui, shops are much smaller, prices and assortment, in principle, as in Thai 7-11, but here it is necessary for someone, for me so what to do.
Season apparently was really low, in the eveningA bunch of streets with massage pleasures just look empty. The picture is quite funny, empty street, I come up to the third "massage salon" from the beginning, each has 15-20 chairs, for massaging the legs and other parts, the staff is full (well, 6-10 people in each), and the street (I'm not lying) I alone. Even, somehow you feel awkward ... I come up already with a laugh - I say, "that the season is very low?", They say that they say yes, absolutely, well, they offer a foot massage - 1 hour 1 dollar !!! but for 1 dollar, in general, a free massage in the teeth ... But the general massage, lasting one and a half hours, will cost as much as 4 bucks. This is all without sex, of course. Immediately after going out with the massage, in the fifth "salon" on the same street, they offer ISCO, I say - they say it's good, then (the girl won't let up) maybe HEPPY MASSAGE, no, I don't cover it.
Bus ride to Sihanoukville (horror)
I bought a ticket while walking around Siem Reap,Tuker delivered to some ticket office, with his words "the best." Give, I say, a ticket to Sihanoukville;
I took the guesthouse from me, included in those 20 bucks,transfer tuk-tuk and drove to the bus station. There, too, quickly, give a ticket - get on the bus. In the bus, a surprise, I think the majority is our Russian second-class regiment in the car, its dimensions in particular, and so the sleeping bus implies the absence of seats, but only the presence of such shelves in 2 tiers, each shelf as wide as one and a half of our reserved seats (not two ). Well, I think, okay, I'll switch over, no matter how.
Leads to the shelf with the number as in the ticket - saysHere they say your place, climb (2 tier). I raise my eyes, there is a blonde, about 25 years old. I say - there is a type of busy, where are you putting me in ... Politely make it clear that they say this one-and-a-half reserved seat shelf for two !!! N-yes, it is very convenient ... Having apologized to the girl (the German turned out to be) that they say nothing personal, I climb onto the shelf, my place is closer to the aisle. Of course, it's impossible for two of us on this shelf to do anything, I can't stretch my legs completely long (even with my not long growth), I'm generally silent in width. I can't sleep either, well, how can you sleep with an unfamiliar girl?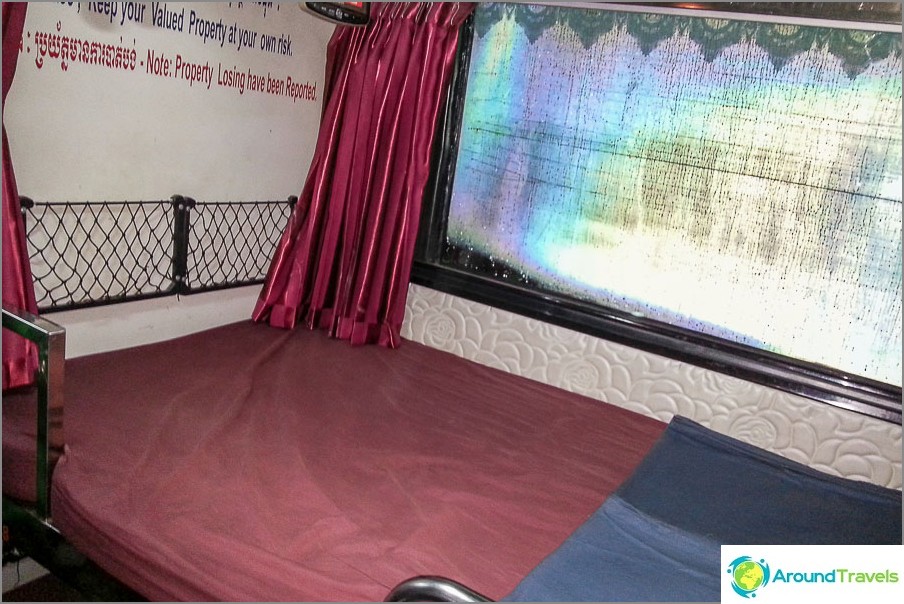 The bus has 4-5 stops all the way."go to the toilet". At the bus stop in Phnom Penh (their capital is like this), the German woman comes out - a pancake arrived, it was already dawn, I was delighted, saying one would go further, sitting on the shelf, learning the space, yeah SCHA. At the stop another one comes, already from England, the same 25 years old, it looks like a typical downshifter, well, this is all in baubles, a specific outfit, etc. With her the truth is better :), talked, talked, slept quietly - not pushed. To study somewhere, travels all the time and all the time, as I understand it, for a penny (what to take from the downshifter
). The time of the full bus journey is around 12 hours, if interested.
During a sleepless night, coming up with an option likego back. I thought to buy 2 tickets and occupy the whole bastard, but the wife who was at home quickly found information on the forums that it's probably useless to buy 2 tickets but not the fact that on the same shelf of course will thank you very much
). Well, after a trip with two females near by, the wife strictly recommended buying a plane ticket from Sihanoukville to Siem Reap. Everything, with the bus is over - I do not advise anyone, unless there is a goal to get acquainted with different "hippie Germans".
In Sihanoukville
A nice Englishwoman prompted a guestDownshifting concepts are quite good. I go - the price is 6 bucks per night, the Englishwoman approvingly nods and remains, I ask you to provide the same, but with kondey - they say "ok", then 10 bucks He agreed, the number is normal, for a couple of days what to do. From it actually made attacks with the same objectives as in Siem Reap.
In Sihanoukville, in my opinion, it turned out significantlycleaner, no debris (at least in such quantity) is found, the climate - it feels softer - the sea makes itself felt, well, there is a huge amount of "greens" - in fact it does not differ from Samui, which is just across the bay.
I'm not going to tell about the beaches in detail, I'm not particularly interested, we won't find where to swim on the ocean :), there are a lot of reviews and holivars on the beaches, but I think there's no problem with that.
As for the feeding brokers, the same as in Siem Reap (and probably in all of Cambodia), even in the famous "Snake House" is not as expensive as it was thought.
Super stores, a la "Tesco" or "Big C"there are still no, there are four main supermarkets, but the size of the largest is like a few 7-11 combined, and of course there is no such assortment, well, here "to whom without what is bad. Reconnaissance of the stores was carried out exclusively on the orders of his wife - to understand what opportunities for cooking at home, etc. Prices, approximately, as in Samui "Tesco". They say in Phnom Penh with this much better, but there was not ...
Found-visited four major sport points, pricesalso acceptable, there is 1 buck training, there are 10 bucks - "super local elite club", but even in it, if you take a monthly subscription - 50 bucks for no limit visits with a sauna and a pool - well, one dime. Also, that for me is not unimportant, except for boxing and the hall with glands, there were 2 points where they play table tennis, and in a special room, the wind does not interfere, new tables, a lot of partners, the price ... well, as usual 1 hour - 1 dollar. He walked, played, but the local Khmer members, who were constantly engaged, "carried out" as a child: (nay, moreover, they managed to pay for me
therefore, it was 0 bucks per hour.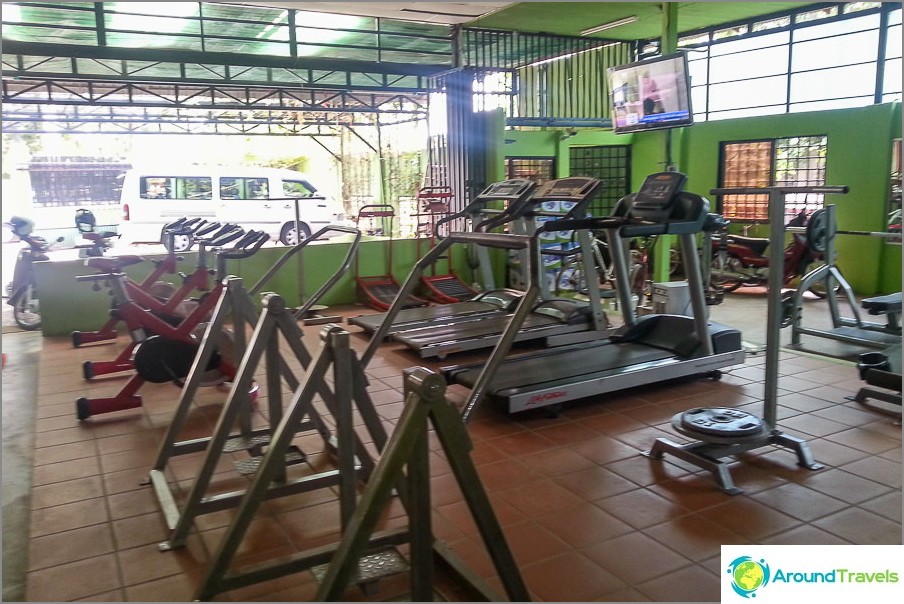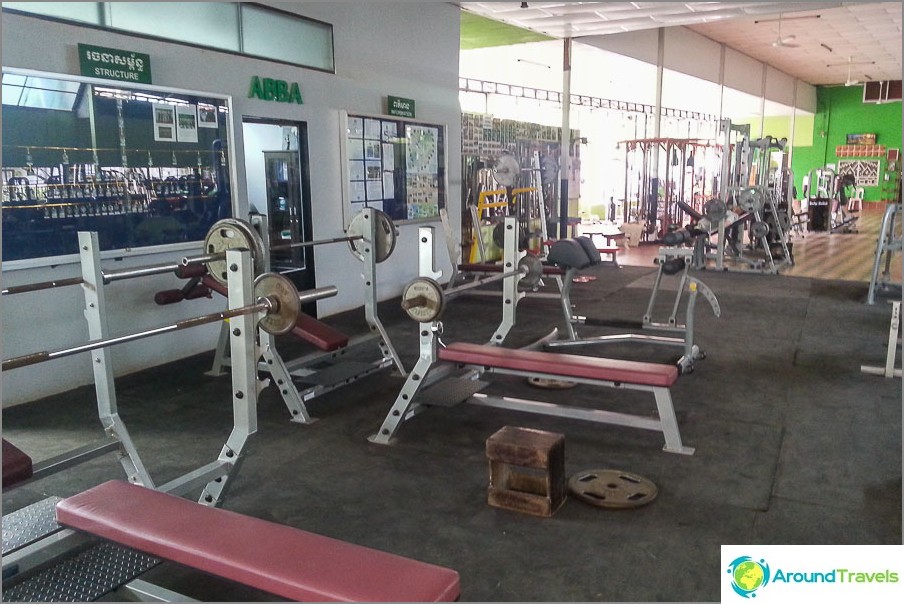 About home. Since Sihanoukville liked more than Siem Reap in general, I looked at more options. At first, as usual with a tuker, I came to a cottage village, with a hundred houses — from what was offered — I liked the 3-storeyed house, on each floor a bedroom, a bathroom - the price is 500 bucks a month. Also houses modestly 350-400 bucks, with two bedrooms. The manager seemed strange, what kind of manager if in English there is not a word? It turned out later (compatriot told) - that this is the head of security
- therefore, prices could be called inflated, I myself have to live :), well, I don't complain - it was important for me to "scout".
The next day, phoned to the Russian-speakingagent named Catherine (in several forums in Cambodia, it is recommended) - made a trip with her. Of course, it was much more interesting here, Catherine is an assistant to the head of the Russian diaspora, she has a lot of information, went for a ride, looked at other options - in general for $ 350 a month - it is quite possible to rent a two-bedroom house. But, they rent it everywhere, usually for a period of around six months, they take a deposit in 2 months, of course, if everything is ok. Utility payments - again, in general, as in Tae.
I liked the house very close tothe sea, but the American (granny) who lives there, didn't know exactly when she would come back, the house was excellent, she even let out the saliva, 350 bucks a month, the American herself said she paid 300 each, but it was at her entrance almost a year ago and for the period of "almost a year", respectively - it seems to be like without deception ... hmm, great.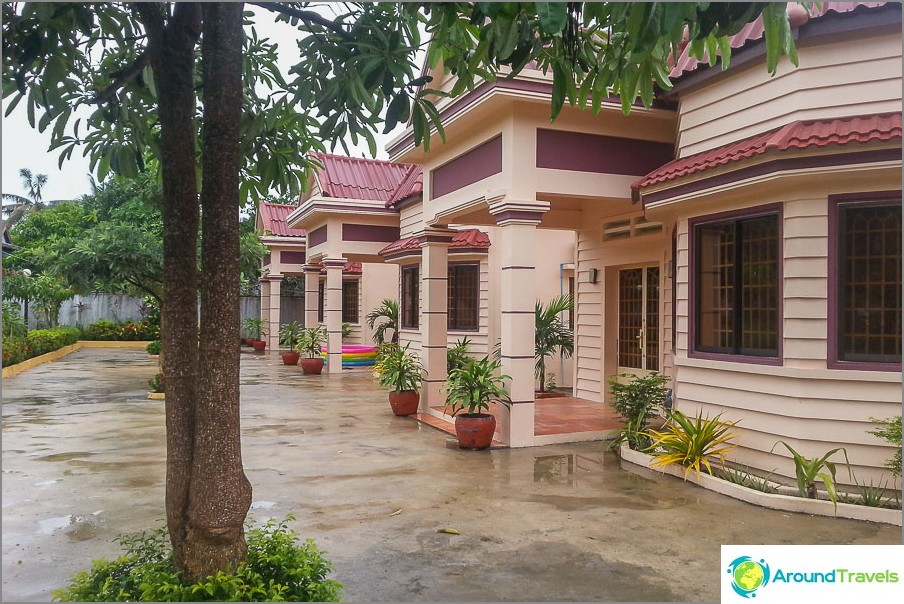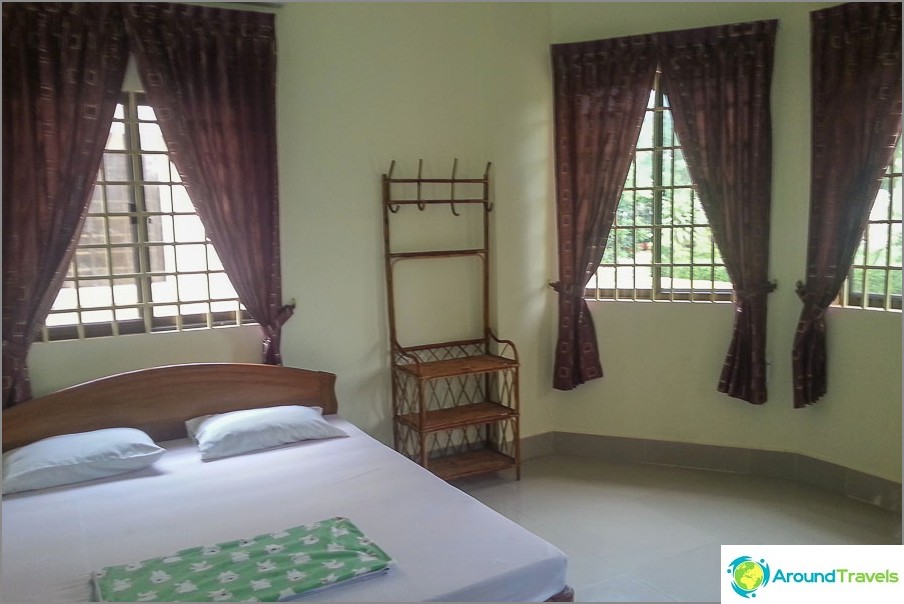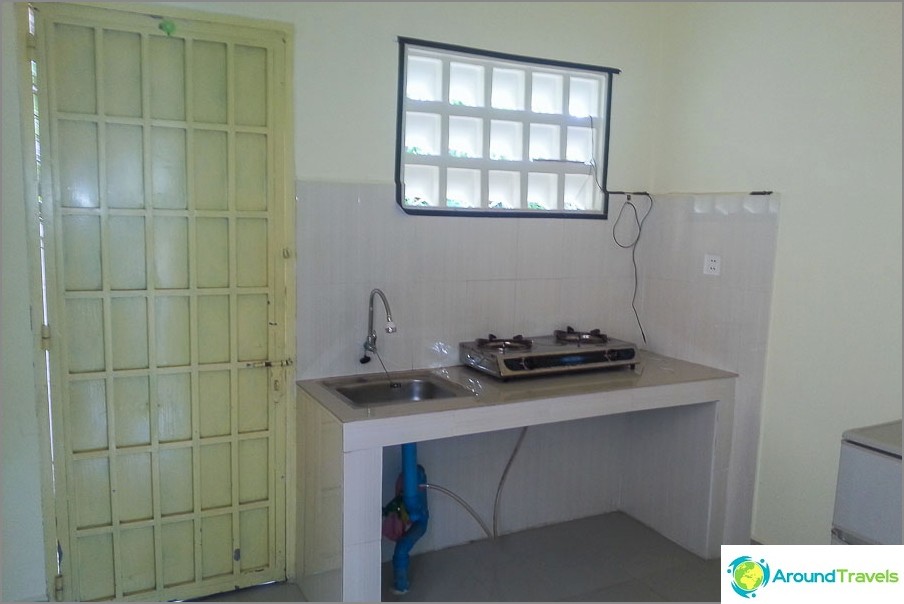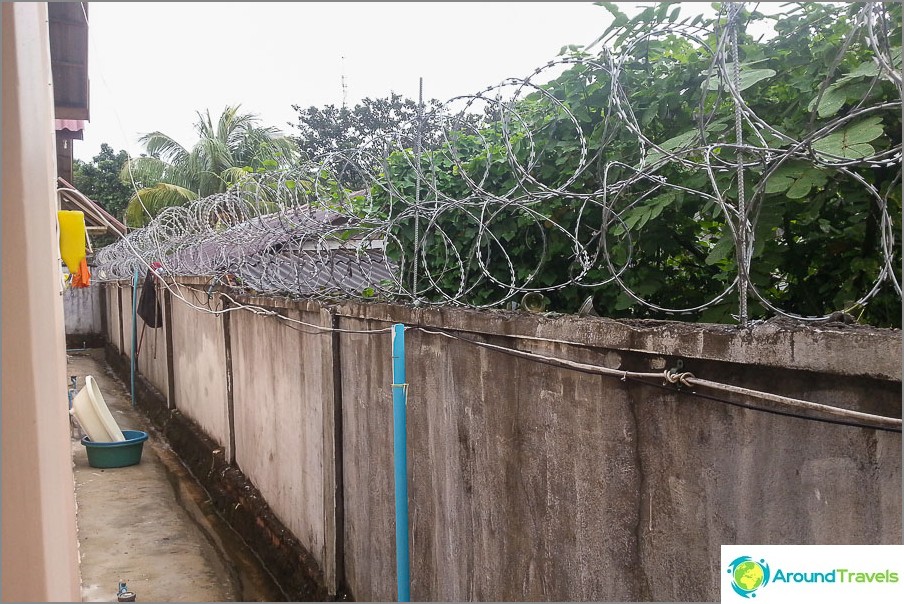 Internet - from 3G used only by the operatorSMART - both in Siem Reap and Sihanoukville, speed in the region of 2-3 megabits per jump, but here it is worth making a reservation about stability, sagging and other adverse factors - there is much more of this, 3G (at least this operator) quite often brakes, falls off, etc. According to all the measurements and pure sensations from trying to do ordinary work - well, 3 times worse than on Samui. But maybe, here you need to test several providers, in the same Tae, 3G began to arrange only after switching to DTAC. The prices for the mobile Internet are again comparable with the Thai ones, at some tariffs cheaper, at some slightly more expensive. WiFi in guest houses - well, so-so (well, like everywhere else in general
) but multi-threaded loading, allows squeezingup to 1.5 megabytes per second when jumping from any file hosting or torrent. According to Catherine, a dedicated line to a rented house is not a problem, it can cost about 50 bucks a month (big plus or minus depending on the need for speed and traffic) - stability and speed speaks much better - in one room the children watch the film, with another husband shakes something, in the third she is on Skype with the video communicates - and everything is fine says.
Trip back
Having received from his wife strict instructions to flyby plane, bought a ticket from Sihanoukville to Siem Reap, price 80 bucks, only one company flies, flights from Sihanoukville only local, you want to Phnom Penh, you want to Siem Reap.
I decided to save on the taxi to the airport, bargained, did not consider that it was located much further from the city than in Siem Reap and wondered for a long time why they didn't want to carry it for 5 bucks, but asked for 9
, and it's already interesting how muchSit in the price of taxi drivers. But I did find one, let's talk for 5, but on a motorbike (that's why I agreed). For $ 5, he decided to cut the road as soon as possible (and even impossible), drove around for some slums, dirt, huge bumps, a bike rides like a goat, I'm behind without a helmet - HORROR, at some site I got down and walked 200 meters behind him on foot (life is more expensive), then hysterical laughter began - I think the slightest drift - I am on the ground, while in the hospital, while insurance, pre-purchased tickets will disappear, behind my back a backpack in which poppy costs more than 100 thousand rubles Well, damn saved 4 bucks (fool
).
After the slums there was a continuation, with the exit to the high-speed one - a dashing tuker cut more than 100 km per hour and the second part began
trips. Upon arrival at the airport - hands ached from tension, my heart was pounding - in a word, as it is not a very
(it's soft).
At the airport, found himself in a situation in which littlewho was - I was the only passenger at that time, the airport is completely empty (none of the passengers at all), only me and the staff at the counters, check-in speaks in half an hour. He waited, the people pulled up, the turboprop aircraft, small, filled one third with passengers - and that's all, back - Siem Reap, Bangkok, Russia.
UPDATE1. About security
About the Khmer Rouge - well, sort of, you can forget ... althoughYes, someone says that in the north in the jungle they saw one, two, etc. etc. - of course, they do not plan a coup and be afraid of them, in my opinion it's not worth it at all, just as no one is already afraid of former NKVD employees, all this is terrible only with the appropriate political system, but it is no longer "red" :)
Probably more relevant is the theft problem,Thai Samui, I often could leave the bike near the store with the keys, as I was told, the rental bikes do not steal, in principle, where to put them from the island. In Cambodia, on the whole, they talk differently, steal, strongly, whites are even stronger :), anti-theft chains and other devices are often discussed on the forums. Theft in houses, I understand the phenomenon is also more common, very often surrendering houses are surrounded by a fence, often with barbed wire - which in itself seems to say - "protection is done for some reason ...", on the same Samui - at home behind the fence , and even with a thorn, "incredibility"
I walked the streets at night and in Sihanoukville and in Siem Reap - I was in crowded and almost deserted places - like no problem (in Russia I would be more
).
Video sketches
Life hacking 1 - how to buy a good insurance

Choosing insurance is now unrealistically difficult, so to help all travelers, I compile a rating. To do this, I constantly monitor forums, study insurance contracts and use insurance by myself.

Life hacking 2 - how to find a hotel 20% cheaper

First, choose a hotel on Booking. They have a good offer base, but the prices are NOT the best! The same hotel can often be found 20% cheaper in other systems through the RoomGuru service.

Discount hotels