I want to talk about one campsite where I goevery year for a week. It used to be called "Pine Paradise", but recently a rebranding took place and now its official name is "Camping Raccoon-Arkhipo-Osipovka". The fact is that camping is now 2 pieces on the coast under a single brand, it turned out to be such a network.
I hope my review and information will be someoneuseful. Camping is located near Arihipo-Osipovka on the right side of it, if you face the sea. And he is almost the very last on a country road, then only Nazarov's camping cottage and all.
The content of the article
On the rest of the savage
He has written repeatedly, but I repeat. Camping holidays and savages on the Black Sea, this kind of holiday is not for everyone. When you travel to different countries, compare, you understand that this format stands alone. Before, I often traveled to our south with a tent, got up somewhere in a wild place and did not pay anyone for anything. But due to the fact that the wild places are becoming less and less, and the flow of people coming to the coast does not dry up, camping is a way out of the situation. On the pros and cons, I already wrote in the article Rest savage on the Black Sea in a tent and laid out there a map of the places I described.
If you say something briefly about it, then you shouldn'twait for Russian autocamps of European service, you only pay for cleaning garbage, water, toilet, beaten track for the car. That is, it is almost the same as if you were standing in a wild place, but with some services and money. On the one hand, where does it suddenly pay, on the other - if you compare it with Europe, then there has long been no drawn land where you can just spend the night for free. Well, in general, we must understand that for the comfort of camping and wild places do not go, rather they go away from him, this is the meaning of this holiday.
Camping Raccoon Arhipo-Osipovka
Our impressions
Information updated May 1, 2018, since I'm inonce again visited this campsite. I am glad that the campsite is developing and much has been done here that sets new standards for the Black Sea campsites. For example, civilized toilets and hot showers, a washbasin complex, reservations, a small shop, recharging for mobile phones / laptops and even free wifi are made.
All season, even in June, the campsite is full, althoughneighboring may be empty. Many come here year after year. If you like the atmosphere of this place and the organization of camping, then it may well be that you will do the same. But this can be considered a minus, if you want to stay at the campsite, where as many people as possible.
What I like the most is thatrules are forbidden to include music and generally make noise. I probably never get used to the Russian mentality to listen to music so that it was heard by neighbors, and to the attitude that I rest here and I don't care about everyone around me. This is manifested not only in campgrounds, but in many places. But the good news is that these people are not the majority. Apparently a little different contingent arrives in Raccoon (Pine Paradise), also for silence. It does not favor those who come to rip on the whole coil and hang out.
By the way, the campsite was very clean, I immediately recall the fitness quitness of anti-dumping - Camping Sail in KabardinnkaWhere srach and the feeling that I got to the construction site.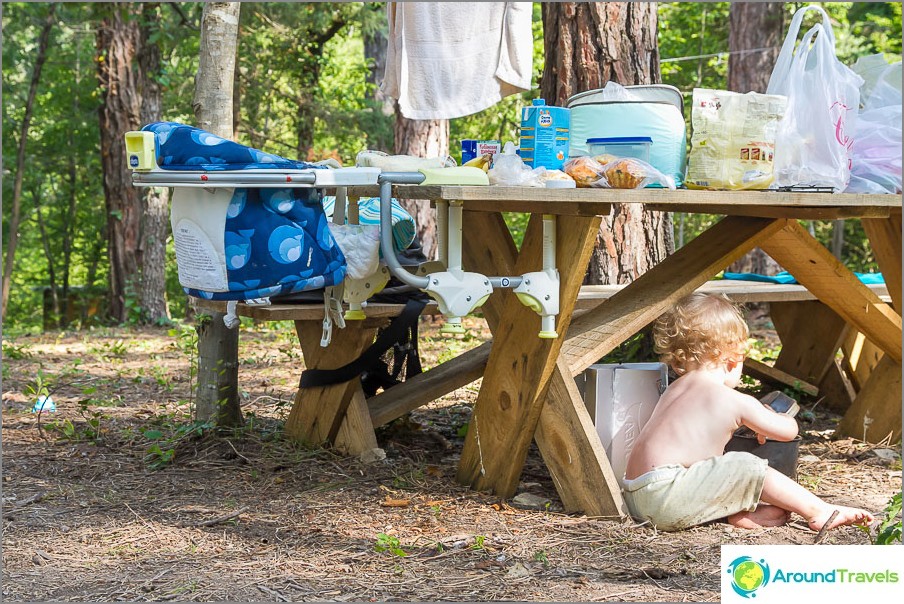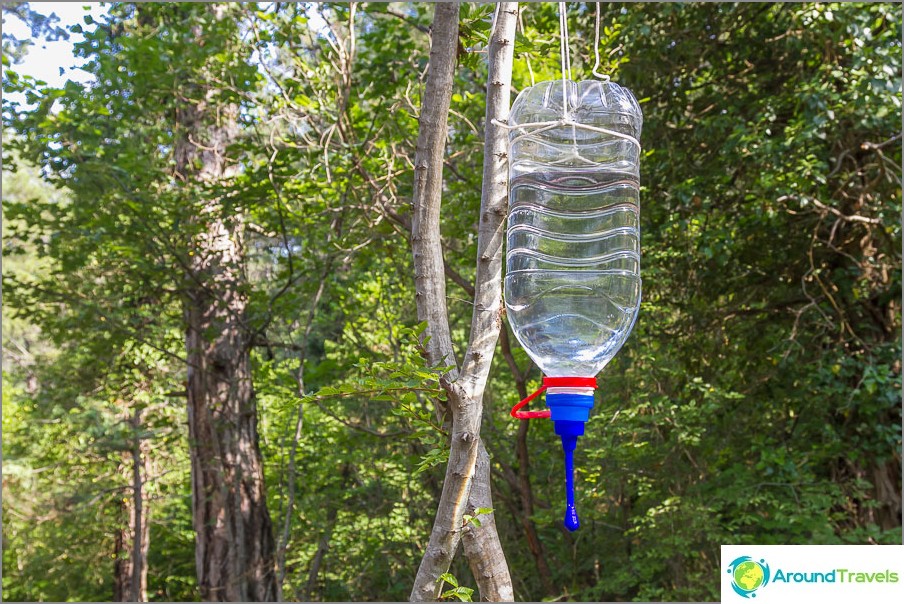 In the camping, we finally tried a hammock. There is something in it! You lie to yourself, swaying, Egor, too, is automatically supposed to be rocked by the idea. The experiment did not have time to finish, because the little boy persistently boycotted the process - he fell asleep, but quickly woke up from light, wind, and so on. They also realized that it wasn't a big rush for him to crawl on needles, they prick, so they tried to walk ashore, there were pebbles there.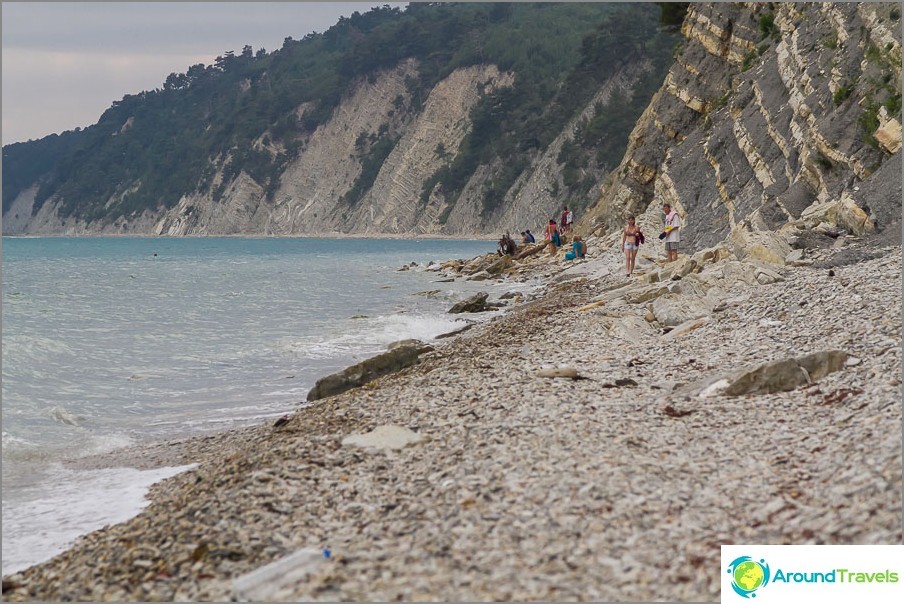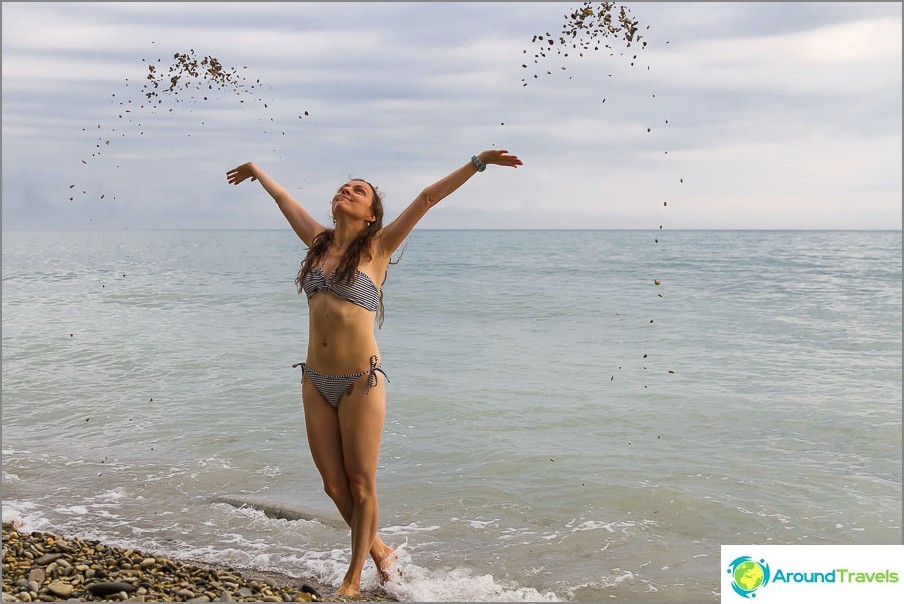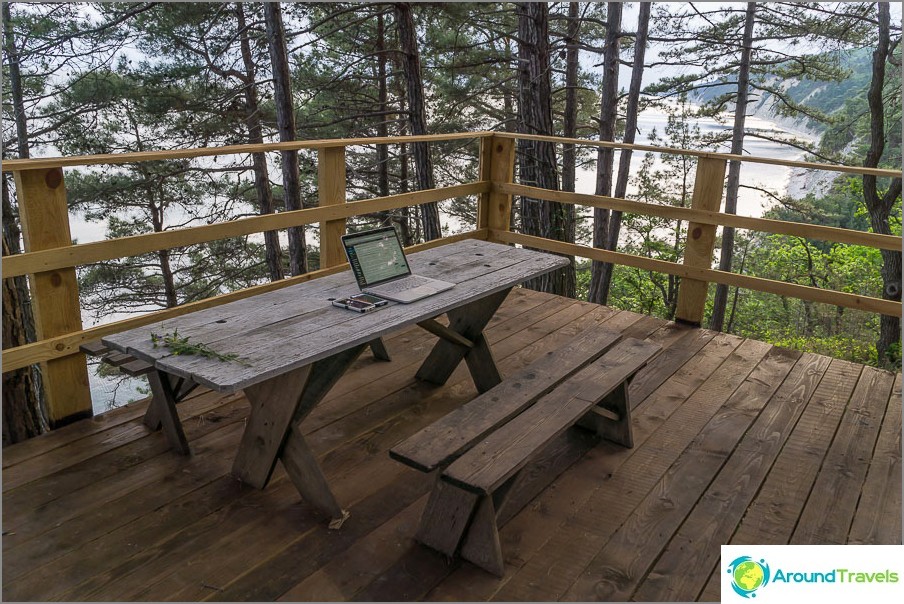 We were at the campsite, as a guest, and managedchat with the hosts. It's great when people do not just business, but also a favorite thing, so the attitude here is different to everything. Travel to other campsites and see the difference. Guys, thank you once again for the warm welcome! I hope we will come to you again.
About camping
The campsite has 6 civilized toilets withtoilet bowls and light inside, and exactly the same 6 hot showers. There are also 3 cold showers, but they only need to arise in extreme heat. Drinking water is supplied from the spring through the pipe, constantly drinking is not boiled, no one was hurt.
Also, Wifi has been in full swing, sincemobile operators there are very badly caught, not to mention the mobile Internet. Now Wifi is available in a separate gazebo, where you can charge a free phone / laptop. A small children's-sports town (bungee, horizontal bar, parallel bars, sandbox) was built near the gazebo.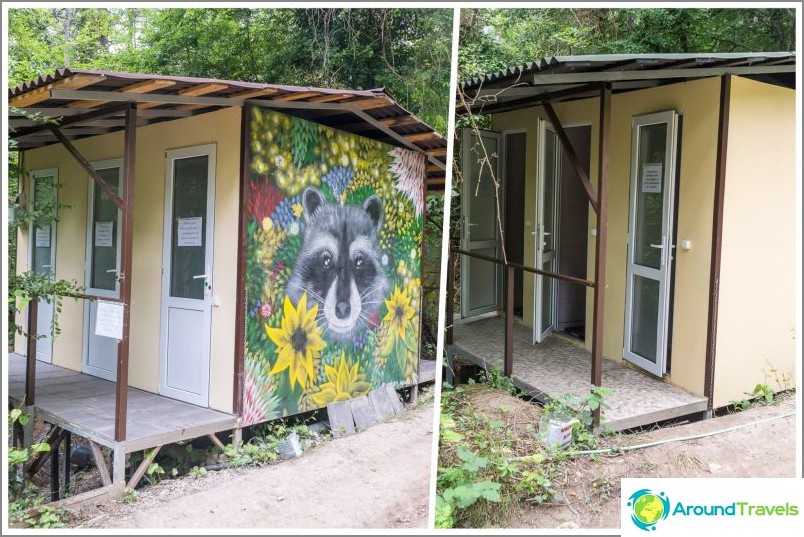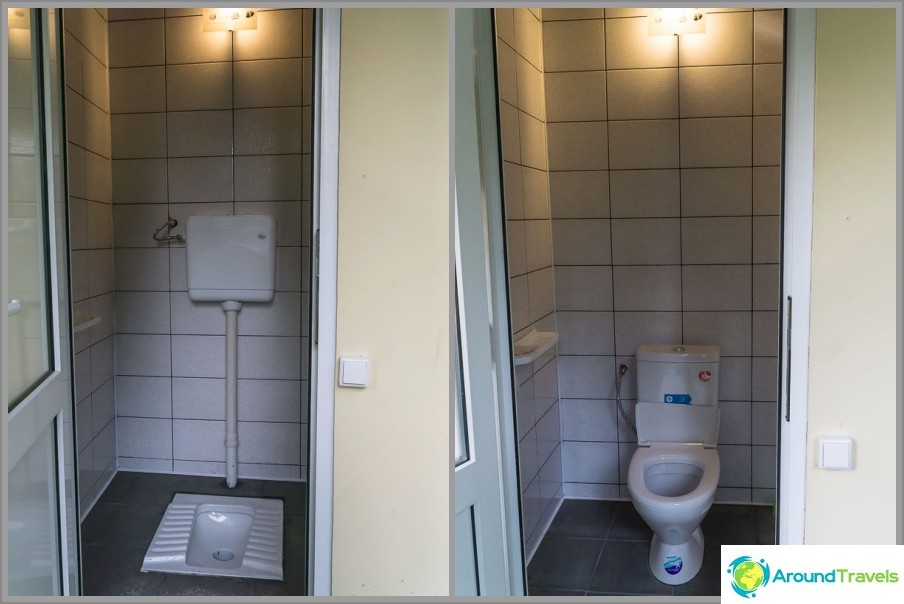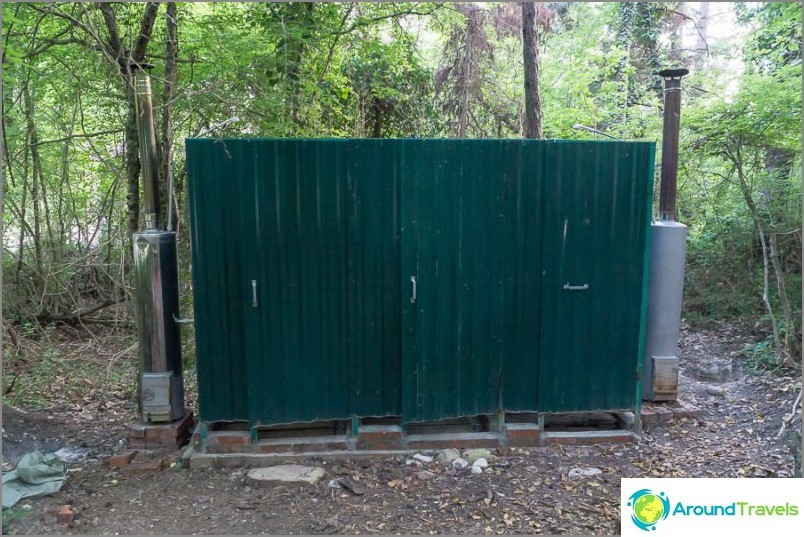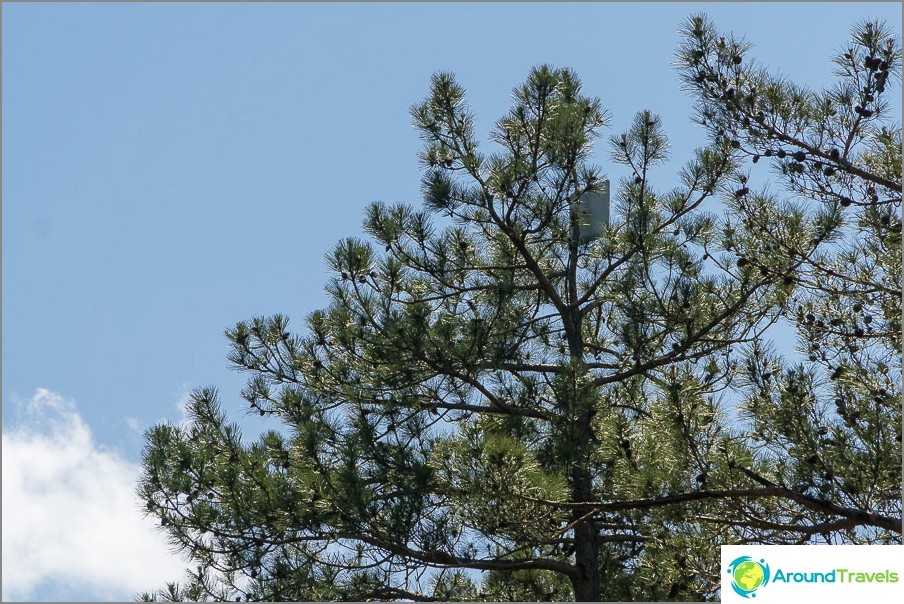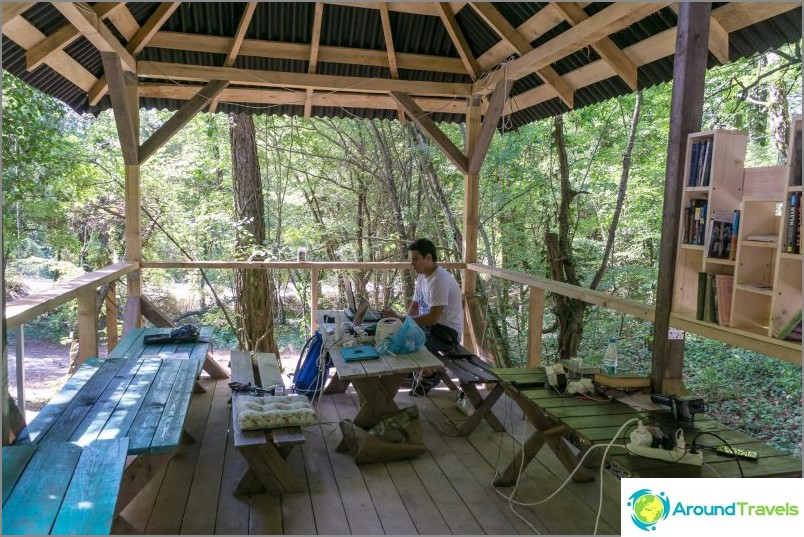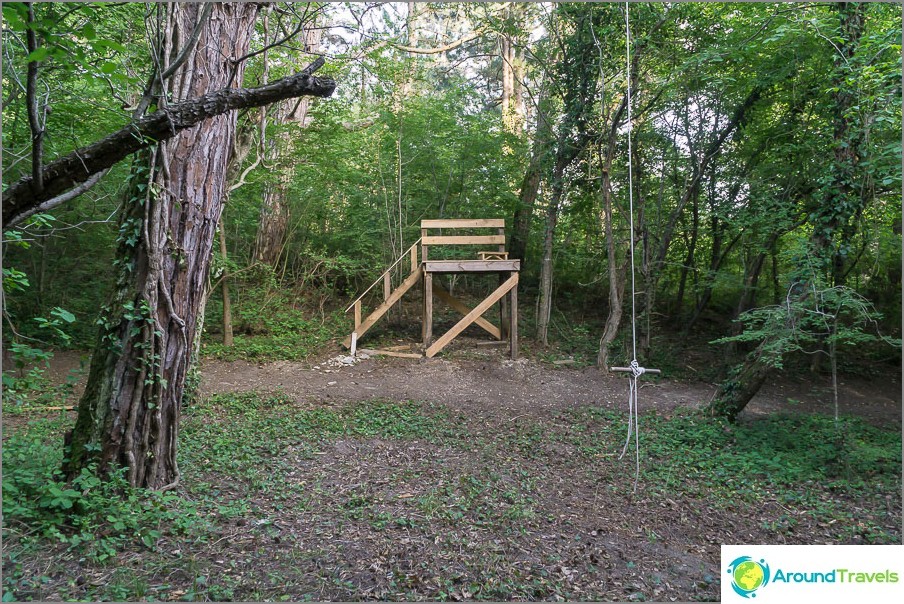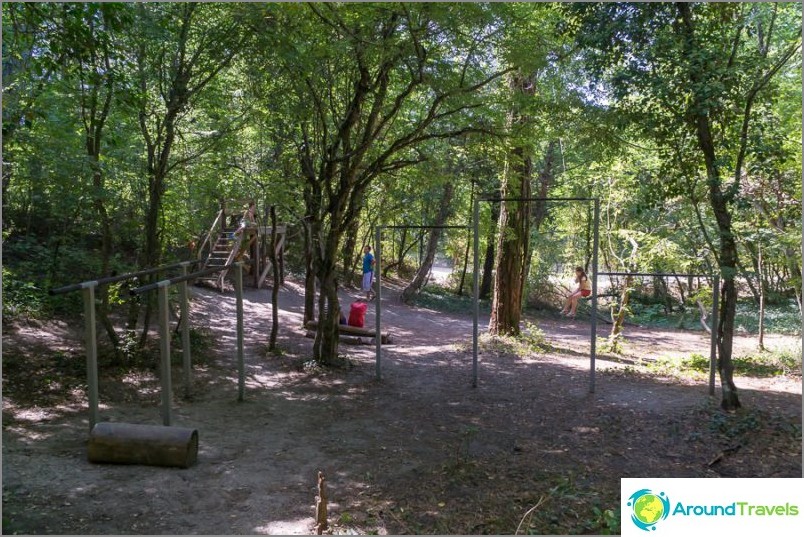 As you already understood, all autocamping sitesPine Paradise is located in the more often pine forest (Pizundian pines). They are equipped with tables and benches that can be dragged, if that. The owners of the campsite supply firewood and barbecue. And the best fire on earth is not to burn, because there are a lot of needles around and they burn like hoo.
Pine Paradise has 6 fields for parking: 2 with large distances between the trees, 2 with a small distance between the trees, 1 at a distance from all the 3 tents and 1 is located directly on a cliff overlooking the Black Sea. By and large, it doesn't matter where to stand, but with a view of the sea is nicer. Not so long ago, 4 steep terraces were made and, due to this, 4 more places under the tent appeared. By the way, terraces are almost always booked, trump seats.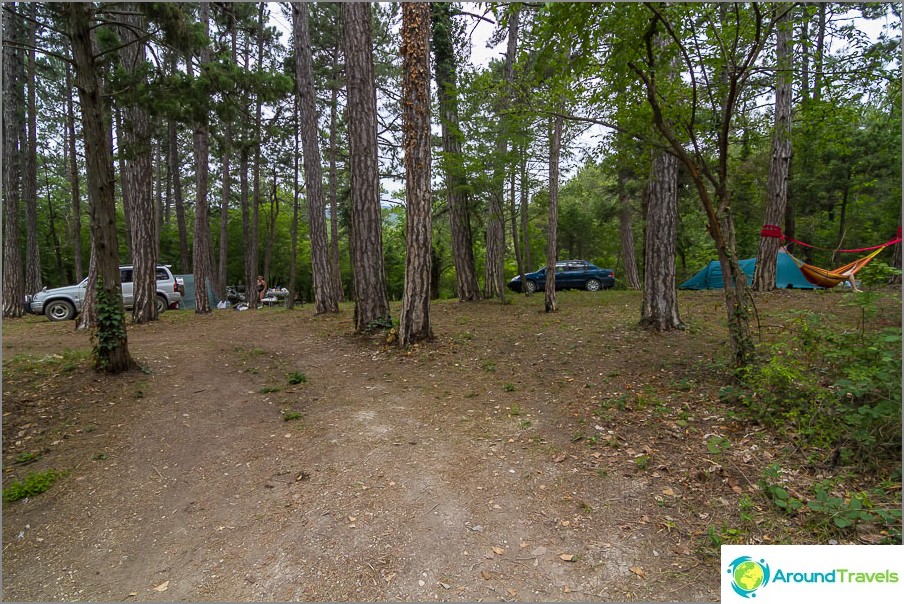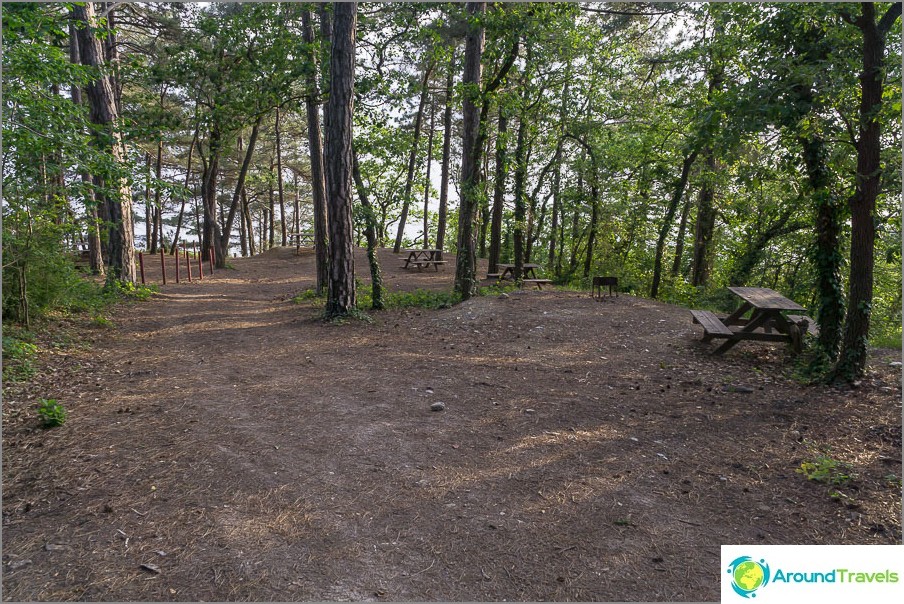 Camping is on the high bank, like manyothers are here on the Black Sea between Novorossiysk and Tuapse. The descent to the sea goes along the trodden path. Going down - going up about 5 minutes, no more, but who is completely ill with the physical form can be hard.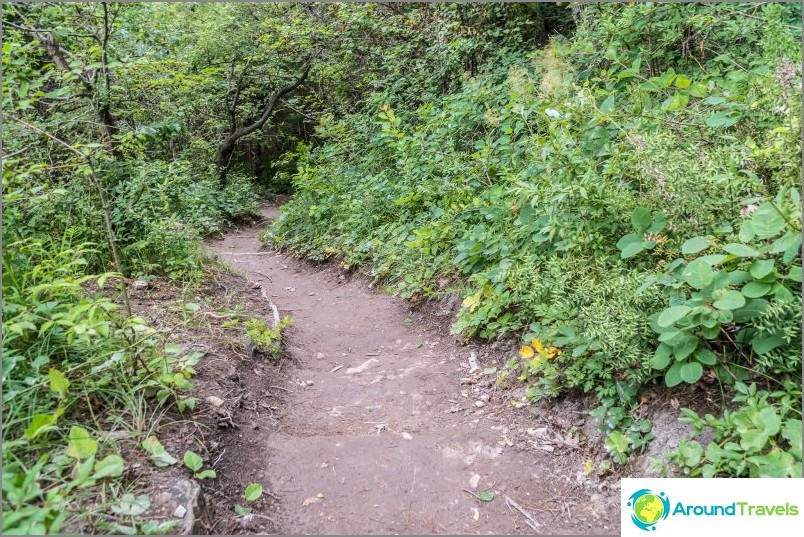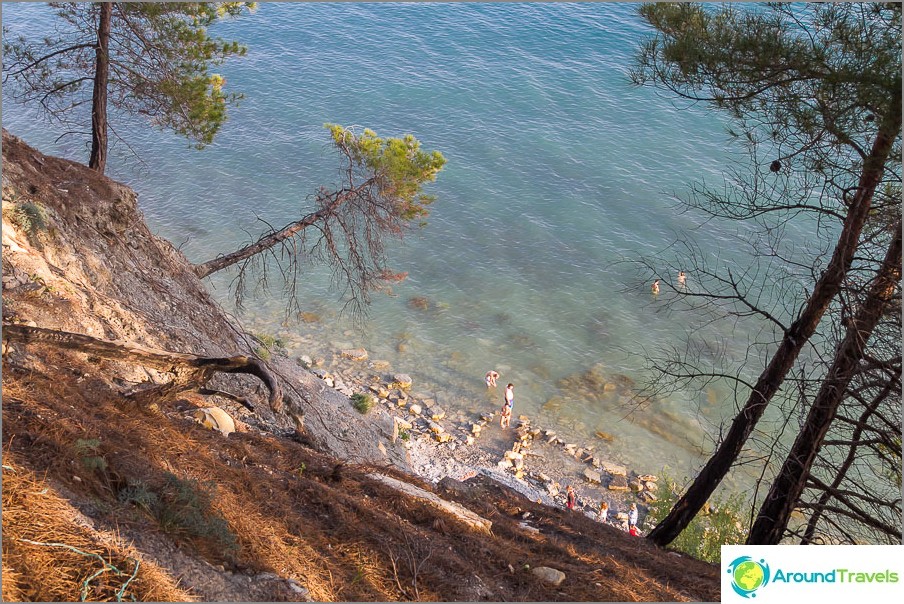 Camping map
There is a camping card with places and you canbook a specific place if it is free. It is planned to make an interactive map with booking directly on the site. Now you need to write in the Vkontakte group to book or call the free hotline 8-800-550-65-64.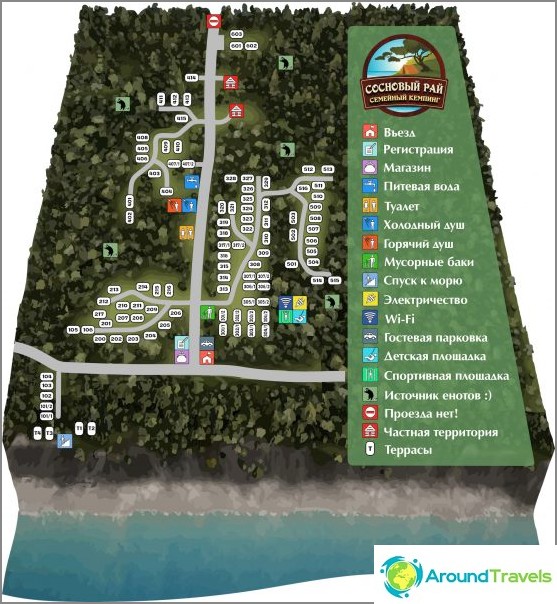 Price and reservation
Bicycle rental 150 rubles / hour. Recharge your mobile, wifi, hot shower, tables with benches and barbecues - for free.
The cost of living in the "low season" (from 04/01/2017 to 06/15/2018 and from 15/09/2018 to 10/31/2017) is:?
330 rub / day - an adult?
230 rubles per day - a child from 4 to 12 years old, children under 4 years old are free.
The cost of living in the "high season" (from 06/15/2017 to 09/15/2017) is:
? 380 rubles / day - an adult?
280 rubles / day - a child from 4 to 12 years old, children under 4 years old are free.
The official group of Vkontakte, camping site - campavto.ru,.
How to get to camping Pine Paradise
I'm going to walk there far, so I'm going to describehow to do it by car. If you are coming from Gelendzhik, then we need the first right after driving into Arkhipo-Osipovka. Then go through the village everywhere along the main road towards the sea. Then you drive a little along the river and the road goes sharply up the mountain, you need to go there, the coating will change from asphalt to gravel. And then so go for another 20 minutes slowly, that is, about 5 km.
Sign Pine Paradise will be right on the road (thenReplaced by Raccoon), it is difficult to miss. As a landmark, camping Pine Beach and Breeze, that's right after them. The whole road is suitable for any car, but right after a heavy rain on the underdrive with bald tires it is possible to podzastryat. But do not worry, there is a UAZ in the campsite.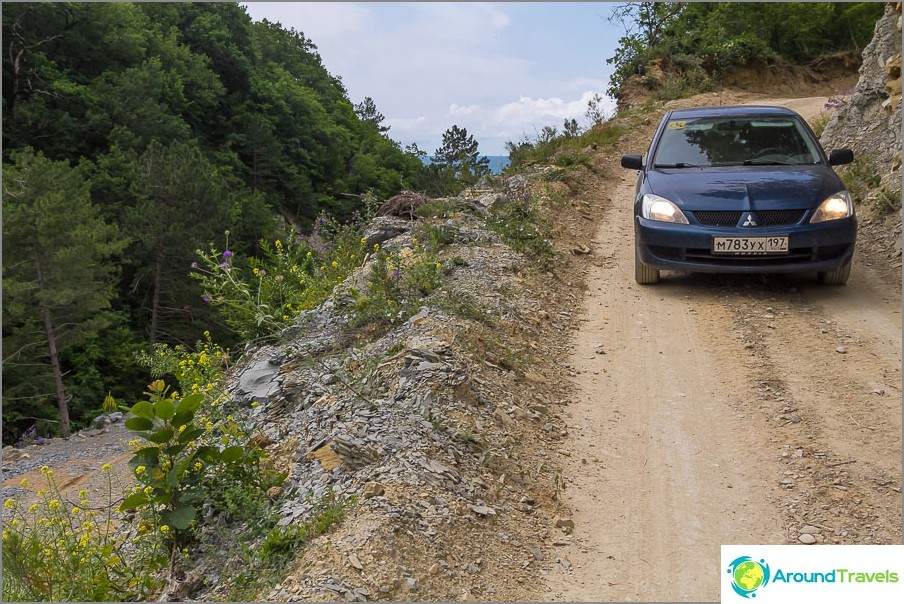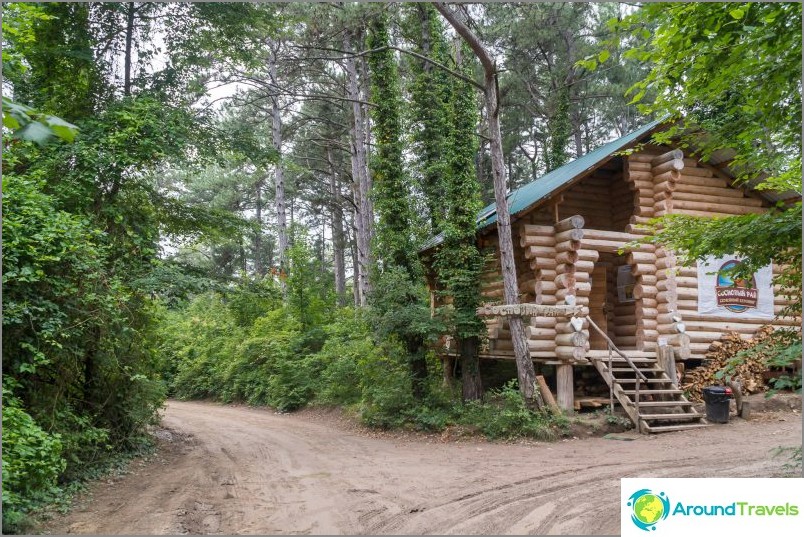 You will also meet with a dozen morebranches. Some of them lead to campsites, others to wild places. I did not have time to explore everything, so you can do it yourself at your leisure. And as I said, the road rests on the famous camping Nazarova cottage, which is located as an exception in the lowlands on the shore, and not on a cliff. But there is a risk that you wash away in the rain.
Where is the map
Camping Raccoon-Arkhipo-Osipovka
Camping Raccoon-Arkhipo-Osipovka
Good camping on the high bank and in the pine forest. Previously called "Pine Paradise". The owners are the same, don't worry, just rebranding. Read more
Good camping on the high bank and in the pine forest. Previously called "Pine Paradise". The owners are the same, don't worry, just rebranding. Read more