Among the compact cameras have their representatives,which have the ability to high-speed shooting. In such cameras, electronic and optical nodes are reduced, due to which the shooting speed has increased. The FS10 camera belongs to such models. It has a fairly small body with a thickness of 16.3 millimeters, a small 2.5-inch display, hidden in the body of a 3-fold lens, which is fully protected from mechanical damage.
The camera has a 9.1-megapixel CMOS sensor, which has a maximum sensitivity of ISO 1600.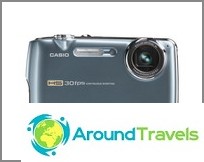 The device is capable of continuous shooting withspeed of 30 images per second, the resolution is 6 megapixels. The photographer can change the burst speed himself: 30, 15, 10, 5 and 3 frames per second, as well as the number of frames per session from 30 to 5. Video filming is also performed at high speed: 1000, 420 and 210 frames per second. In the process of shooting, you can switch the recording speed from 210 to 30 frames per second.
This camera has another special feature - prerecord, up to 30 frames remain in the memory of the device before pressing the shutter release button.
This model is available and high-resolution videoresolution of 30 frames per second (1280x720 pixels). When you press the Movie button during video recording, you can take a photo with a resolution of 6 megapixels.
With high-speed recording you can getgood stabilization of the camera and high-speed night mode, at the same time we get the optimal sharpness of the image, combining a series of sequentially captured images.
Interesting in this model and slow motion modewhile the camera continuously saves the current story to the buffer and plays it on the screen at a slow speed, the photographer at this time views all the events and presses the button with a convenient frame to save the image to the memory of the device. The camera is able to independently select the best pictures from the footage, automatically removing frames, where the model turned out with closed eyes.
In addition to the speed limit, there are more than 20 subject programs in the camera.
Life hacking 1 - how to buy a good insurance

Choosing insurance is now unrealistically difficult, so to help all travelers, I compile a rating. To do this, I constantly monitor forums, study insurance contracts and use insurance by myself.

Life hacking 2 - how to find a hotel 20% cheaper

First, choose a hotel on Booking. They have a good offer base, but the prices are NOT the best! The same hotel can often be found 20% cheaper in other systems through the RoomGuru service.

Discount hotels