Here it is, it happened! I was able to visit another place from my mandatory list in Thailand. Now there are literally 3 more points on the map. I can recommend Phraya Nakhon Cave to anyone who will drive past Hua Hin or spend the winter in it. This is a nearby area, very close. You can go both adults and children, and those who are interested in photos, and those who just love to see. The place is already slightly poppinous, but nevertheless, of all the caves of Thailand I've seen, it is in my rating at the very beginning. And note, not only for me, King Rama 9 was also noted here.
The content of the article
Phraya Nakhon Cave
Located in the Khao National ParkSam Roi Yot, but this park is such that it is "scattered" along the coast. That is, you drive along a normal road, Thai villages pass by, and there are occasional turns to this or that landmark belonging to the national park. In fact, the entire area - this is the nat park, just take money not at the entrance to the area, but around each attraction. Do not worry, getting lost is difficult. You go by signs to the payment booth, and that's where you'll need to leave your transport, buy a ticket, and then walk or take a boat.
The payment box is located in the village of Bang Pu nearshore. A rise uphill to the cave is located on the nearby beach of Laem Sala. There are only two ways to get to this beach: by boat or on foot through a rock. Walk for about 20 minutes, first uphill there, then down. The rise begins right next to the ticket booth. I moved to Laem Sala in 10 minutes, but it was a run. And he took the boat back to save time and effort.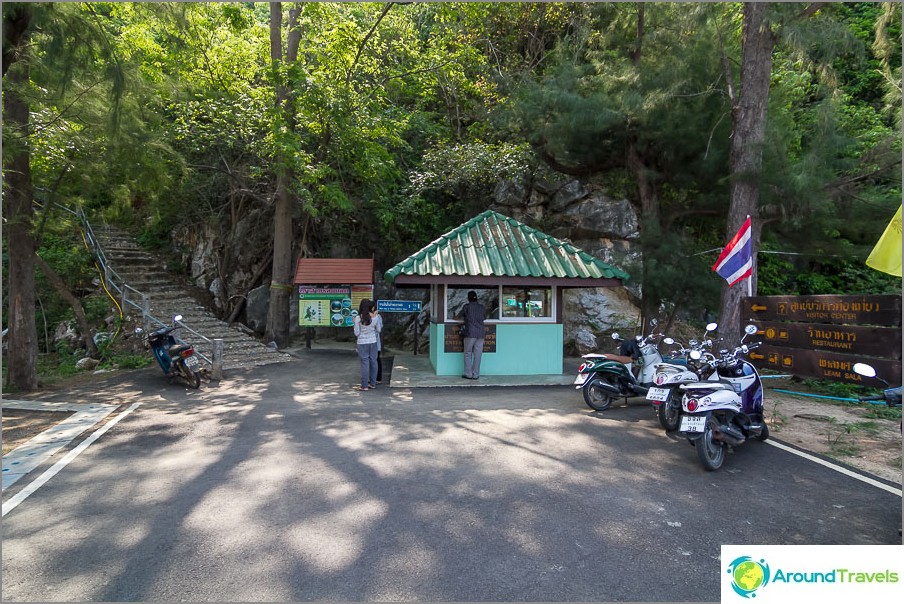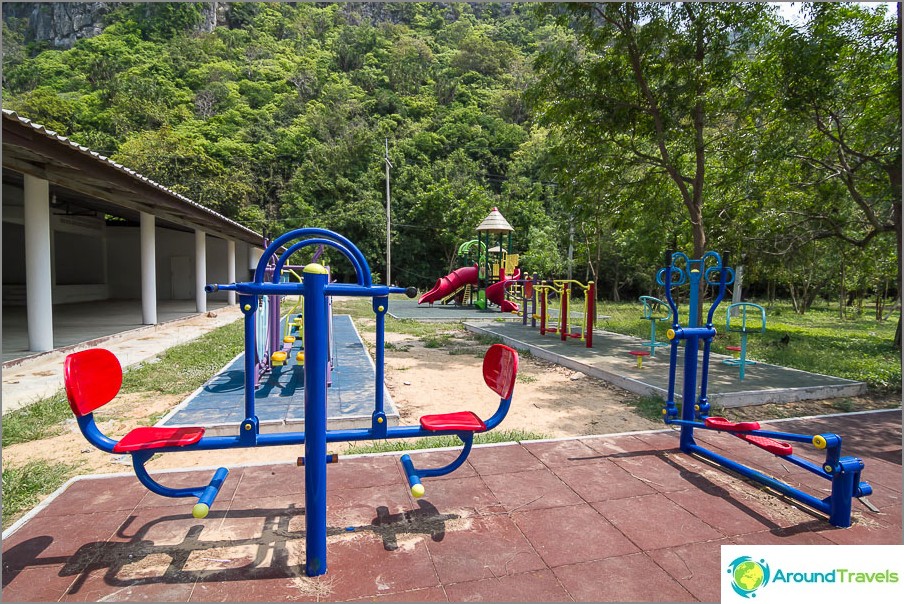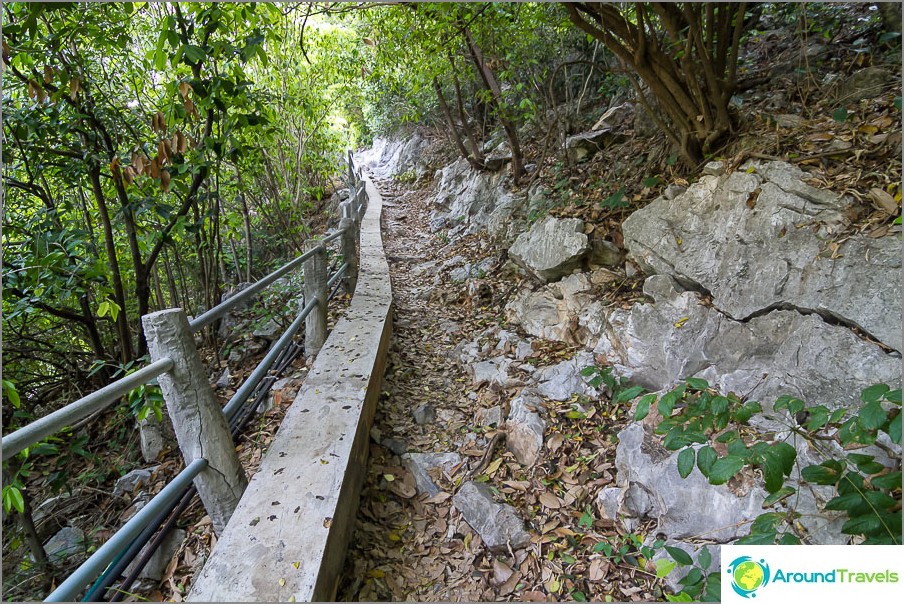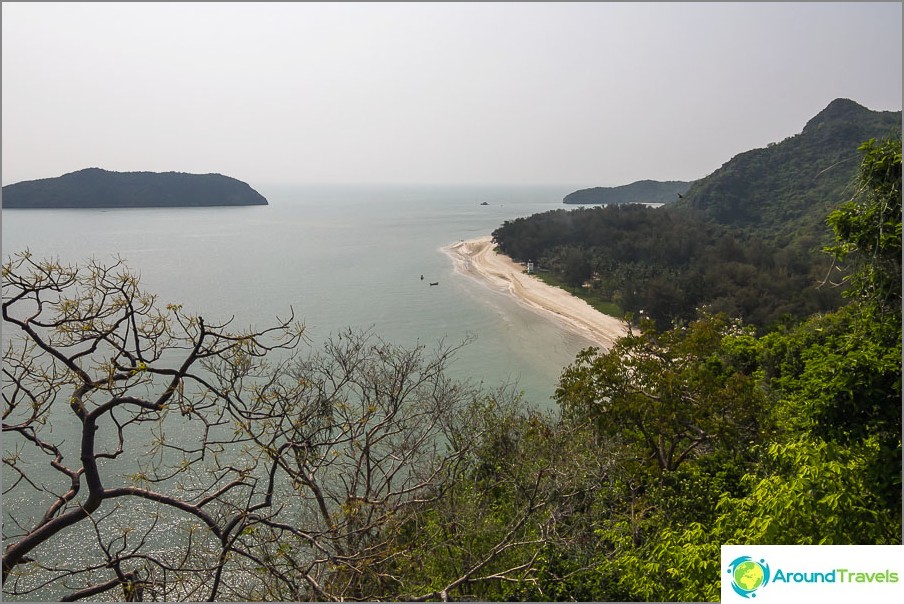 Once on the beach Laem Sala you need to move on. You will pass several houses in which you can spend the night (from 1500 baht / day), as in any nat park, and you will see a pointer to the cave.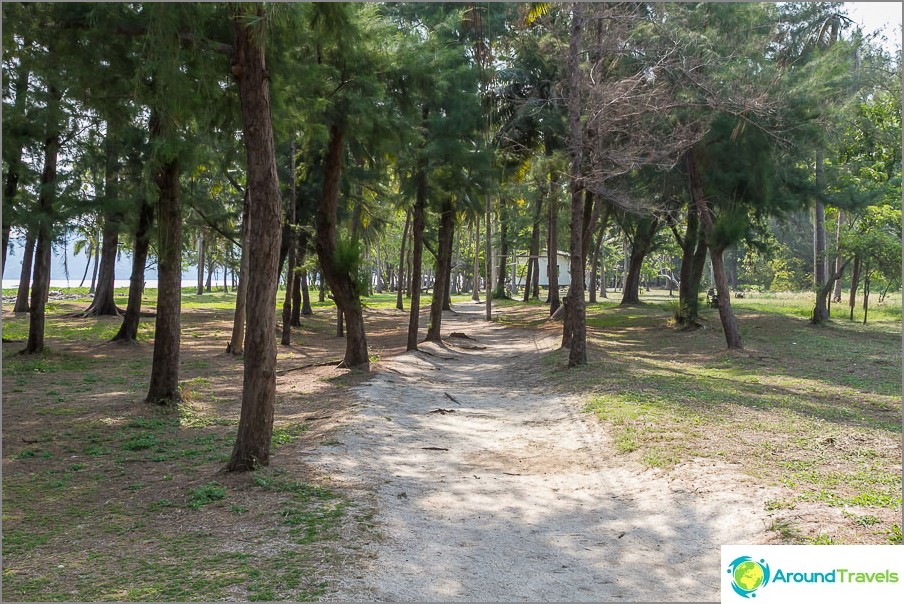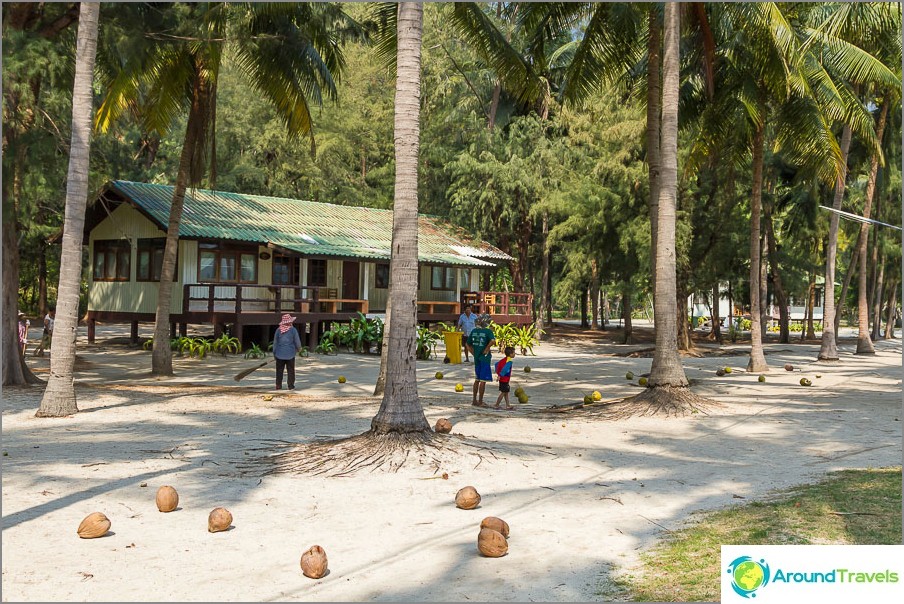 The ascent to the cave is more difficult and takes about 30minutes (430 meters). Running and without rest, I got up in 20 minutes. In principle, any stone ladder can overcome if it is not in a hurry. I saw pensioners and families with children there. Just keep in mind that it is very hot, and therefore you need to take plenty of water with you, well, it's better to go in the morning.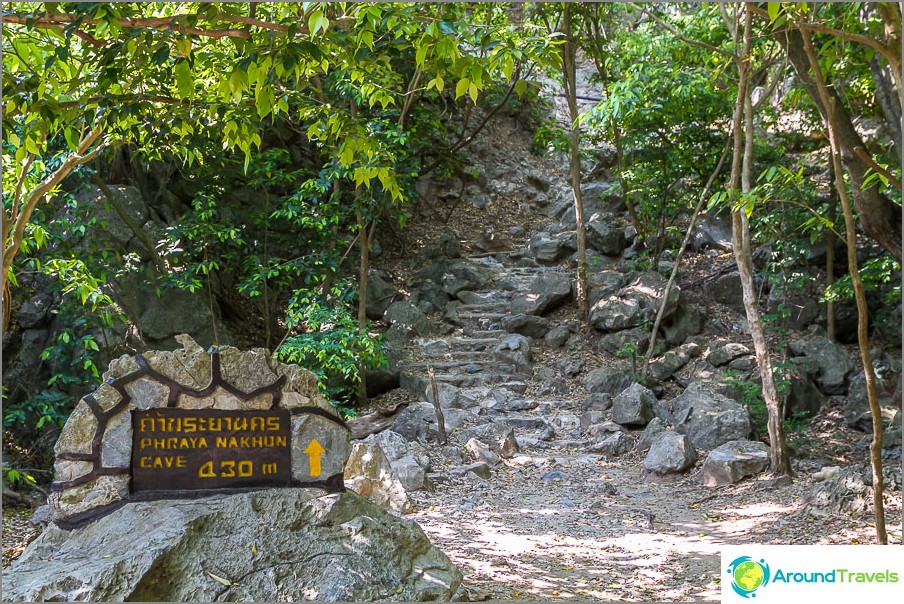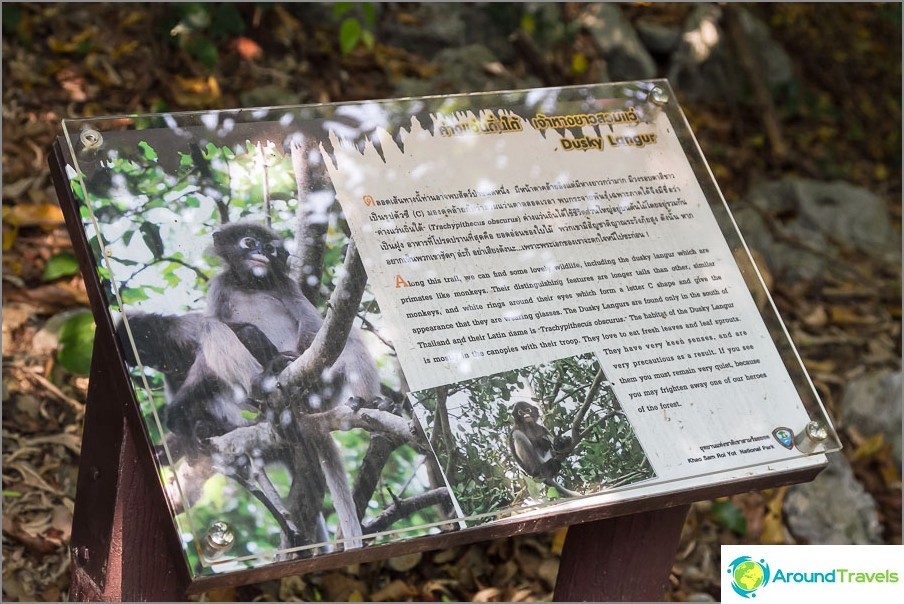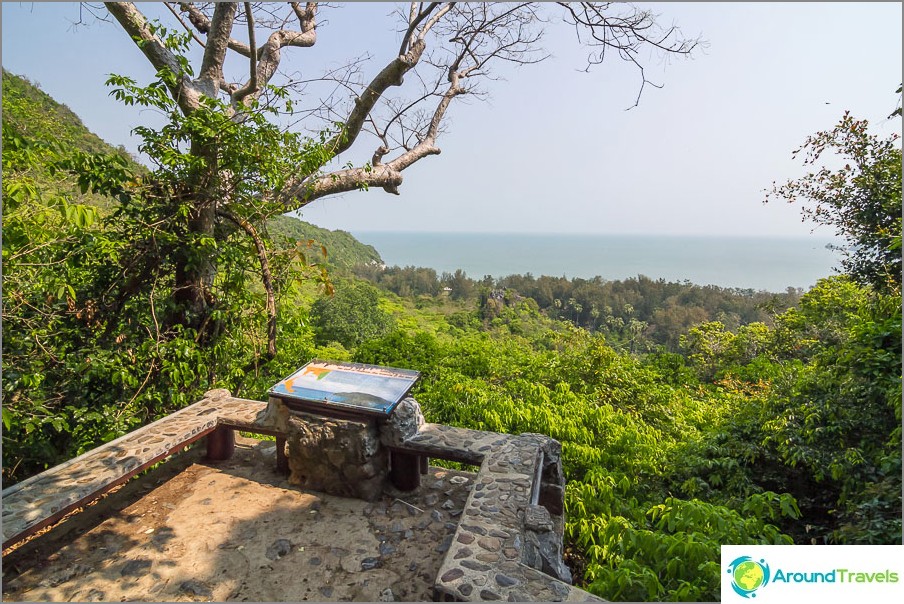 Passing through the jungle, you will see a sign withthe name of the cave. Just go on. Here the fun begins! The cave is huge, its ceiling is as tall as an 8-storey house. More precisely, not the ceiling and gaping holes, as if a bomb had been thrown here. Halls two and both with gaps. Of the interesting things: in the first one there is a stone bridge of friendship (such journeys, it divides the hole into two parts), in the second one stands the famous Kuha Karuhas Pavilion. The first hall just go through and go to the second. We need it, it was you who saw it in all the photographs.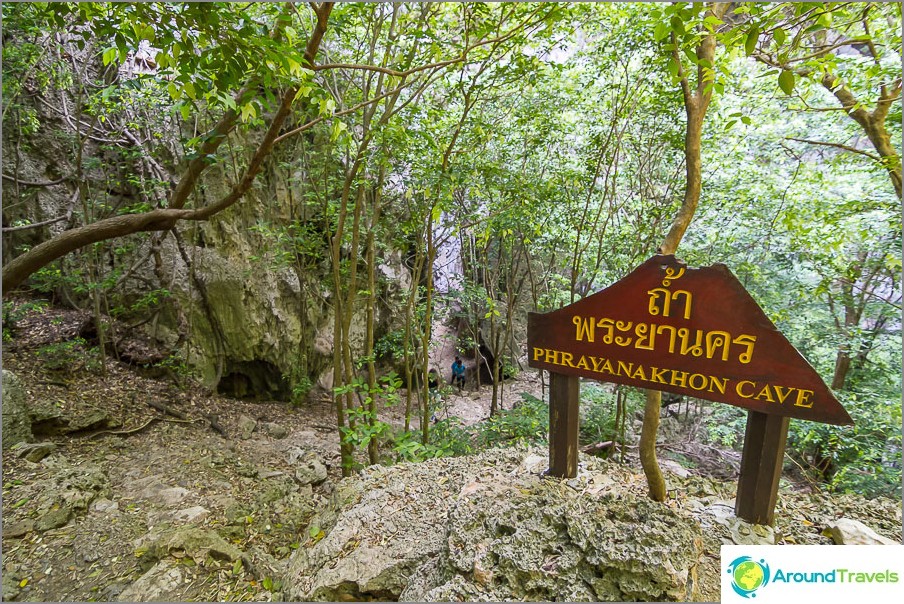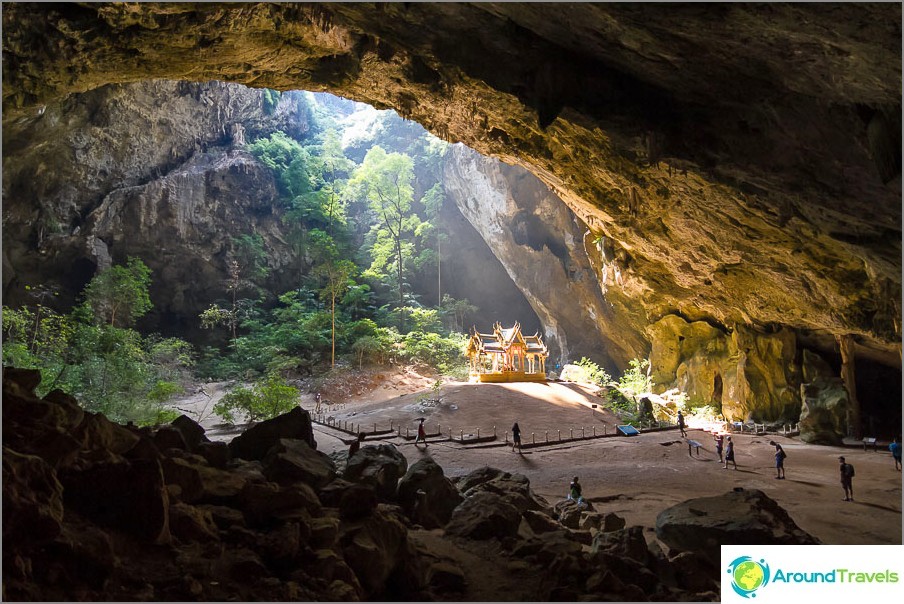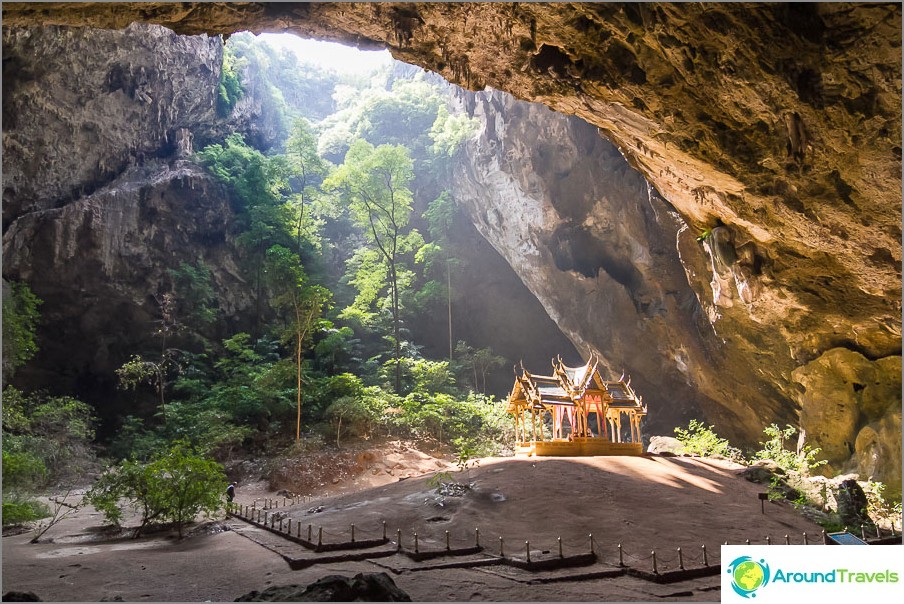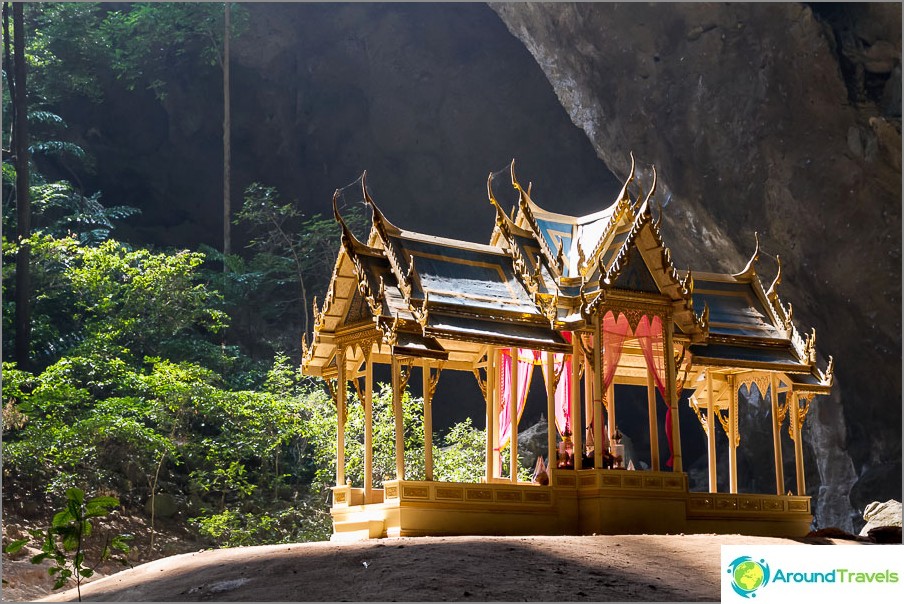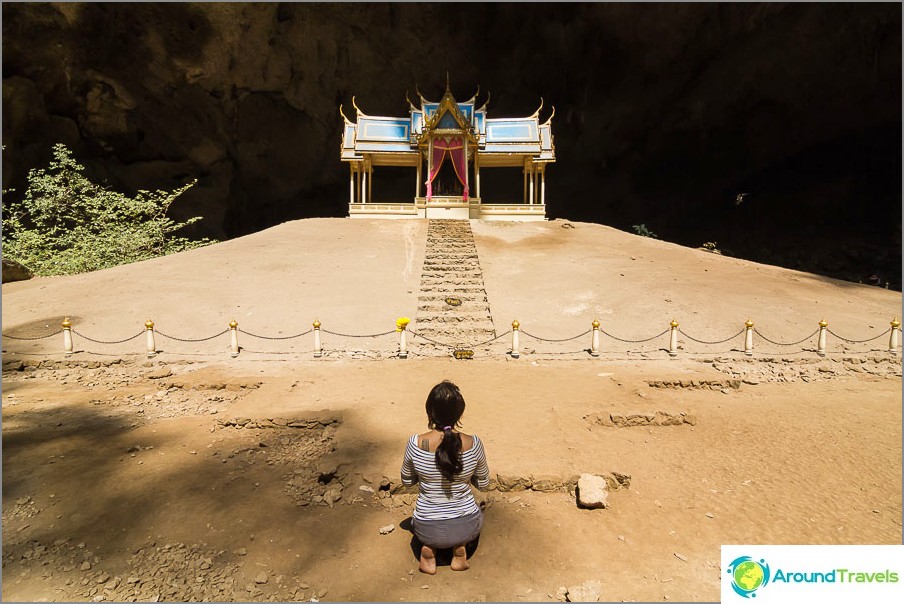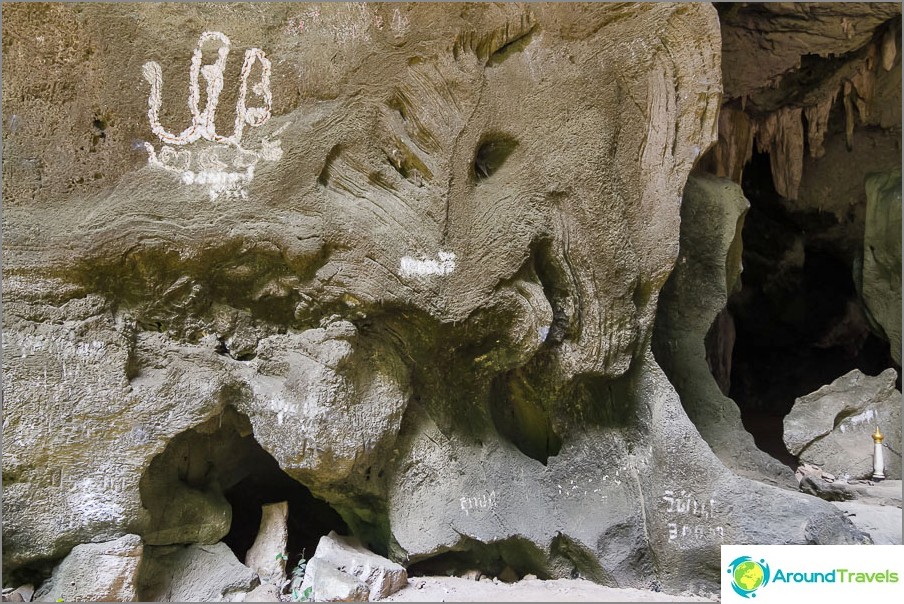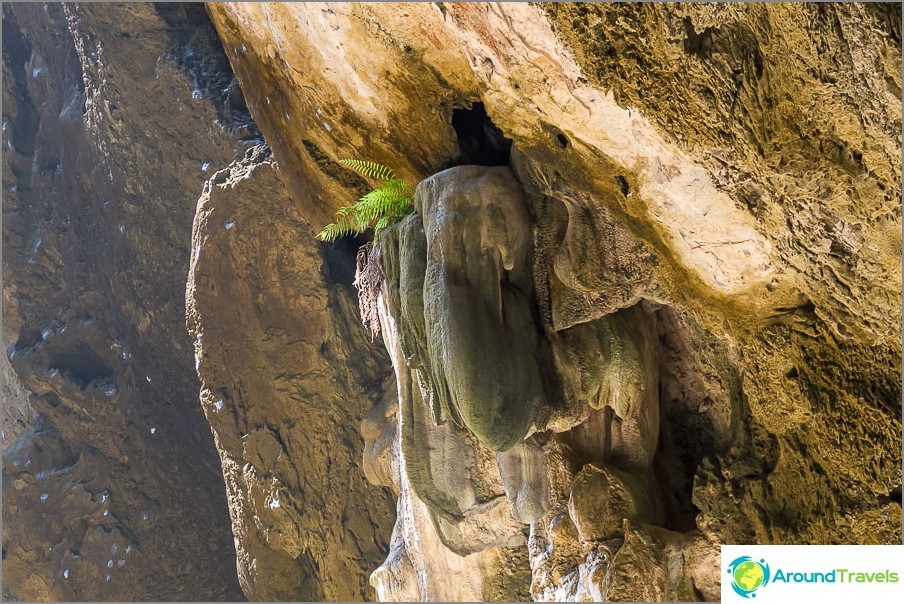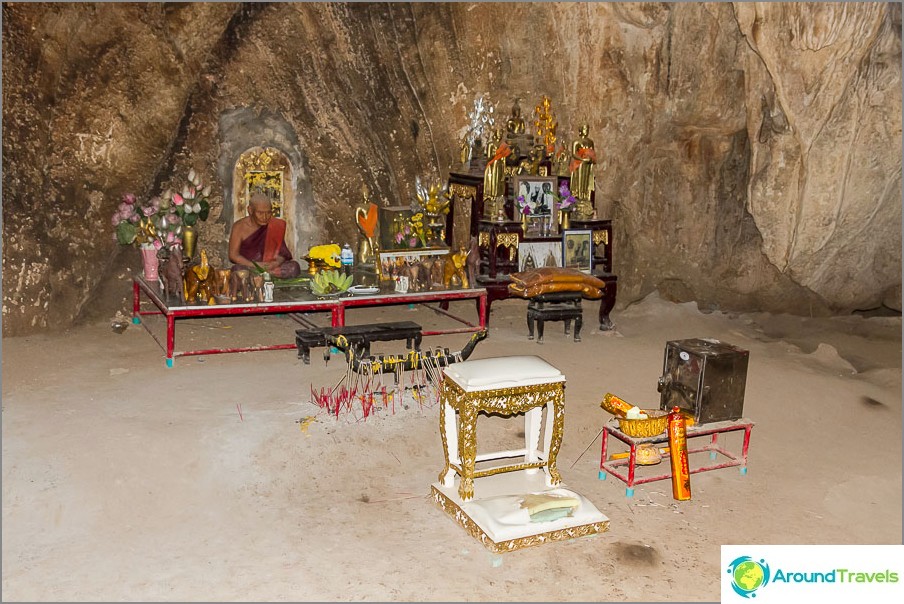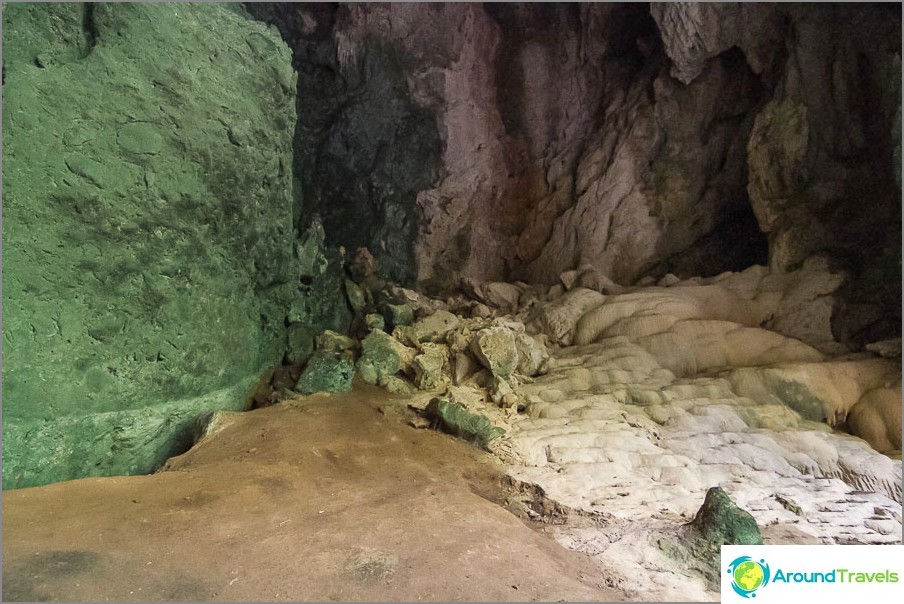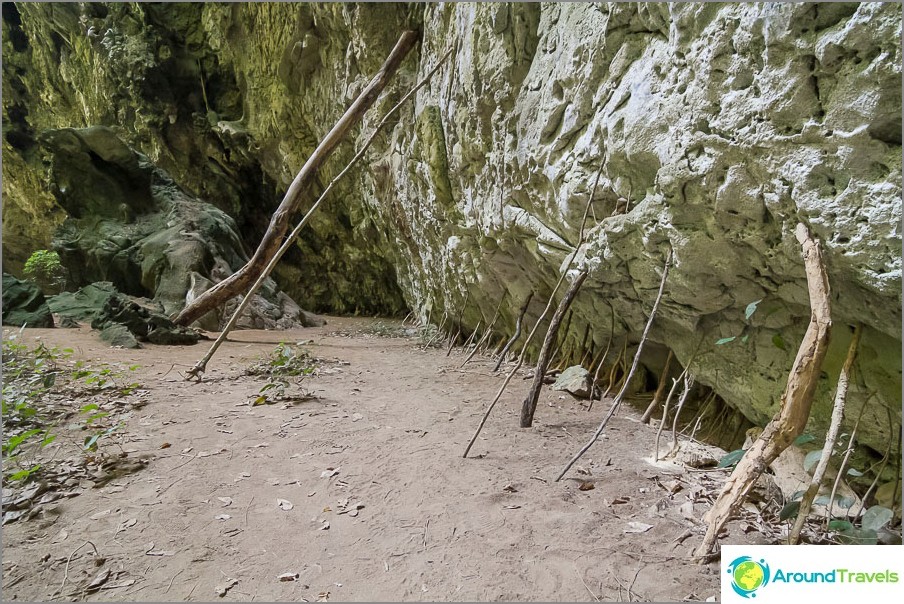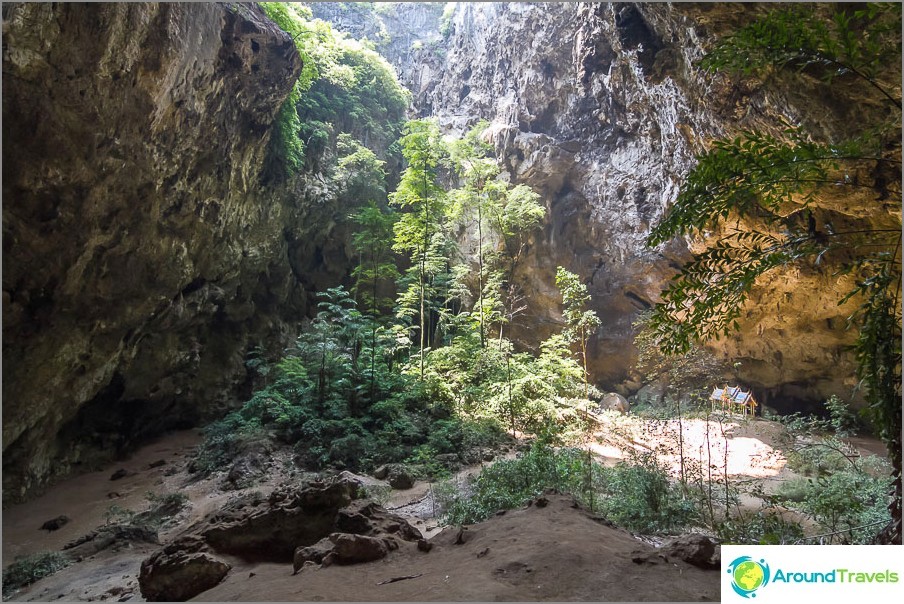 Well, if you are not completely burnedtraveler, then some exclamations of delight will have to fly out of your mouth. I personally experienced something similar when I went to Praia Nakon and saw a pavilion. The play of light and shadows, peace and quiet, light coolness and fresh air. Here you want to stay and just watch. Only tourists break the idyll, although everyone is quiet.
Laem Sala Beach
After the cave, the most it is to return to Laem Sala beach, eat some Thai food (there is one cafe here), swim, and leave full of impressions back.
The beach itself is a little paradise: white sand, few people around nature, the coast is covered in casuarinas and needles from them. Not bounty, but beautiful. Swimming at low tide may not be very comfortable, but when it is hot, it doesn't matter anymore. If you have the strength and desire, you can walk to the right side of the beach, there are small grottoes, as well as two more pieces of beach separated by rocks. And then, and then, you can visit only at low tide, well, or have to go on the water (or even swim).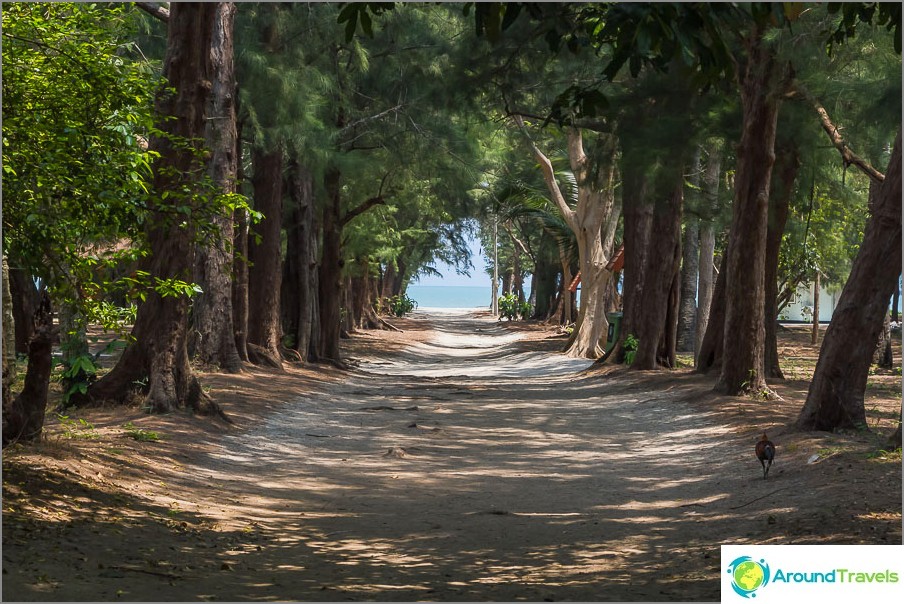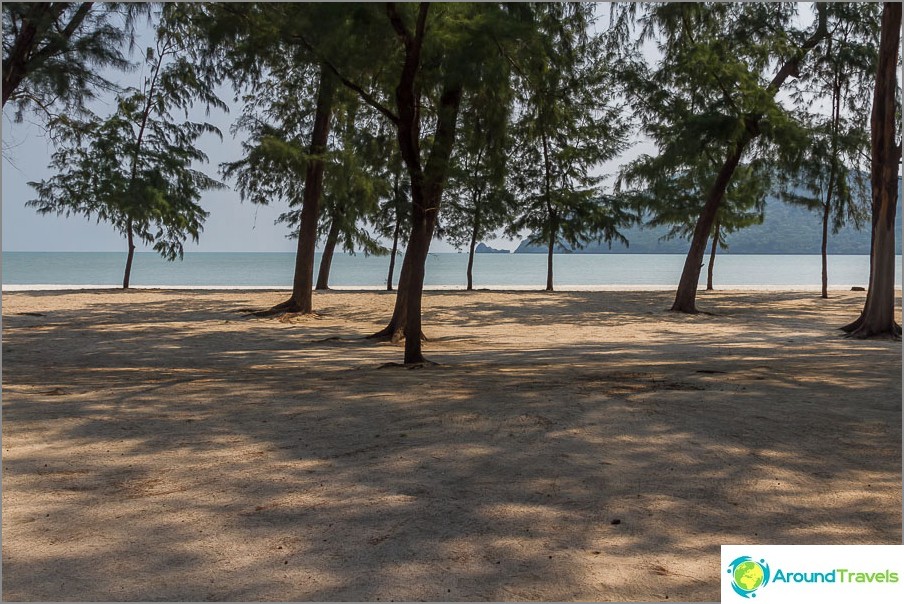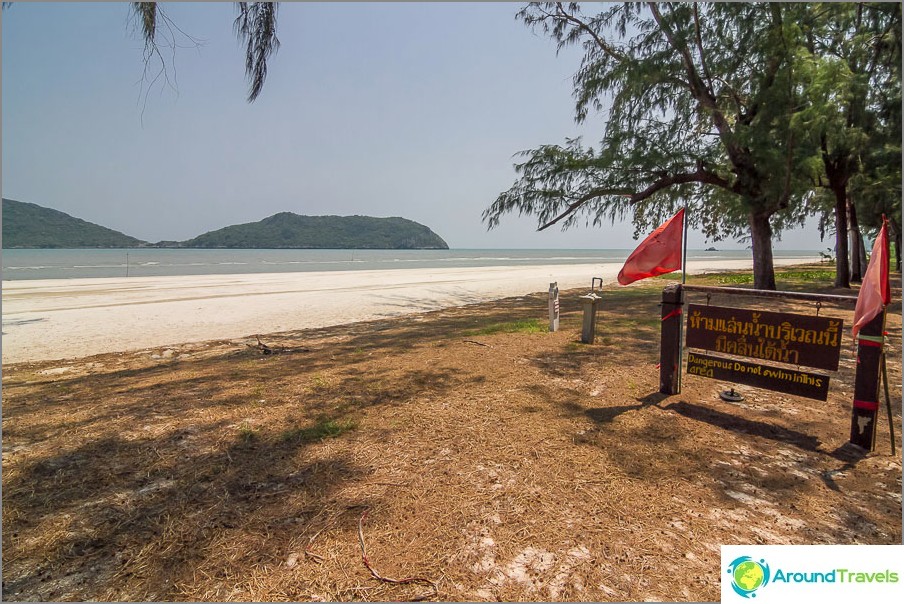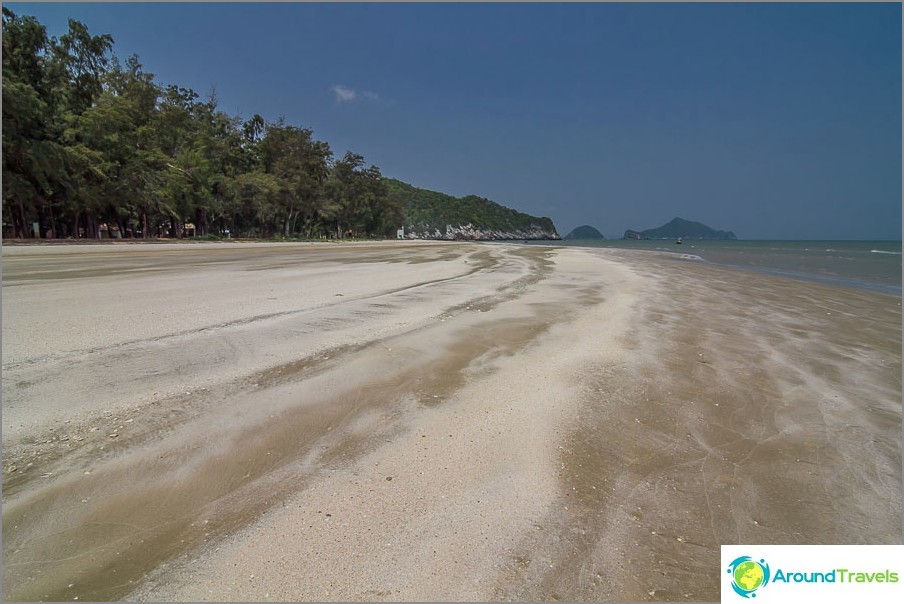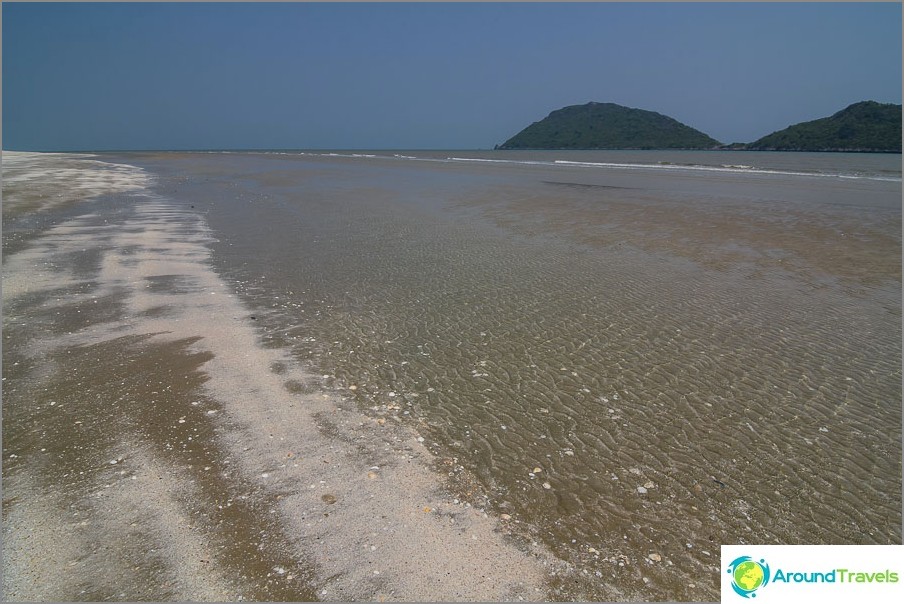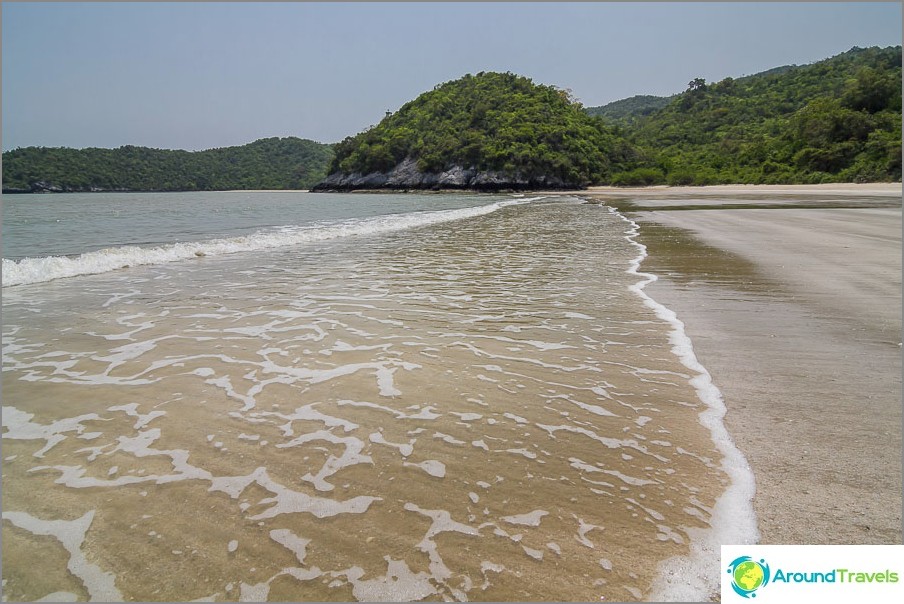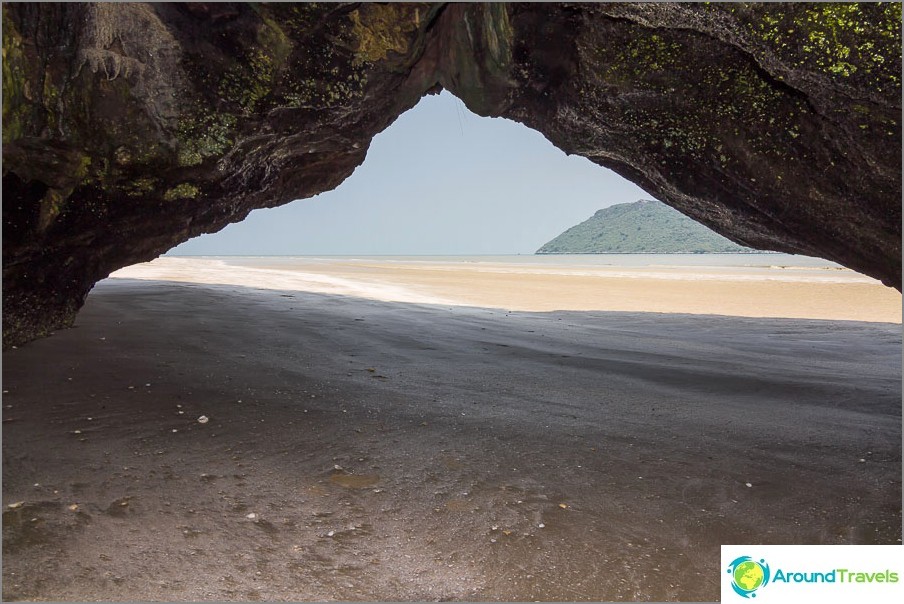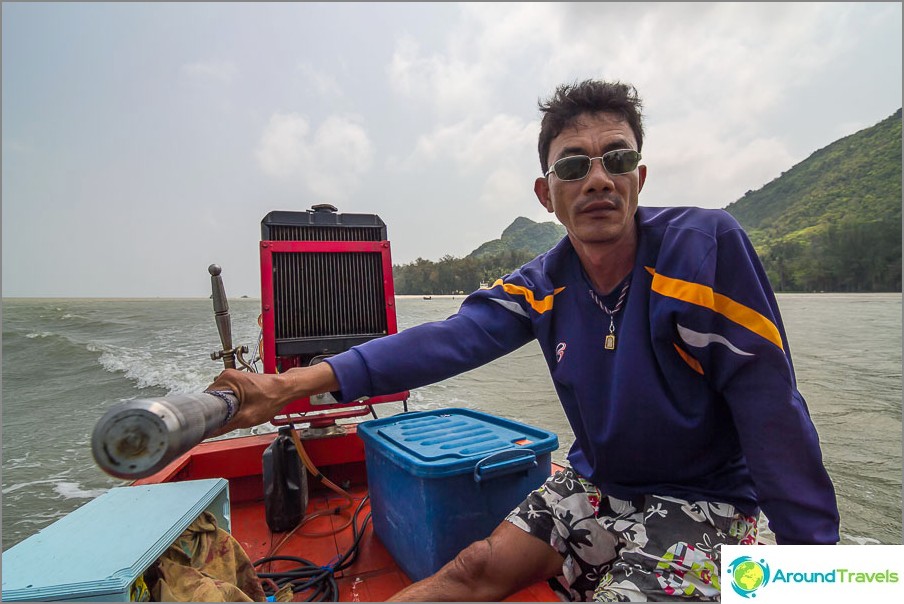 As I said, I swam back on the boat. He approached the Thais (workers of the national park) hanging out on the beach, and they said that the price of the boat was 200 baht, and here, they say, the boatman, swim. But I, smiling, went to the parked boats, there just some Thai couple were going to push off. The parasite from the nat park for some time tried to reason with me, following me, but did not work
As a result, another boatman took me for 100 baht.
For more photos and a more detailed description of the beach, see separate article.
Information to visit
All attractions nat park - described in detail in his post.
The entrance to the national park is standard200 baht On this ticket you can see all the objects of the park, but within one day. Therefore, if you want to climb everything, come here early in the morning. Visiting time from morning to 6 pm approximately, that is, until dark.
To get to the cave you will need to goon foot, but part of the way can be done on a boat (described above in more detail). The ticket booth at the nat park is located right near the beach right after Wat Bang Pu (where there is also a cave). There are also parked boats. We bought a ticket and went to the boats. The standard price is 200 baht per boat in one direction, but if you know how to bargain, then you will sail for 100 baht. Back also. Swim 5 minutes.
Phraya Nakhon Cave makes sense to visit inmorning before lunch if you want to take beautiful pictures. At about 11:30 pm the sun starts to leave the pavilion and it turns out to be in the shade. Believe me, it's better to photograph it lit, it looks very different. I photographed about 10: 30-11 hours.
If you want to visit this place, you can stay in Hua Hin, for example, in budget hotelwhere we stayed sometime. Alternatively, search other hotels in Hua Hin on this link.
But if you don't want to travel from Hua Hin, but rather want to spend time in the vicinity of Sam Roi Yod National Park, you can stop at that comfortable apartmentwhere we lived, or search on RoomGuru Hotel somewhere near. See for yourself, there you can stop at the Dolphin beach (our option), or you can get closer to the Phraya Nakhon cave.
Where is the map
Nat Park Khao Sam Roi Yot
Nat Park Khao Sam Roi Yot:


Life hacking 1 - how to buy a good insurance

Choosing insurance is now unrealistically difficult, so to help all travelers, I compile a rating. To do this, I constantly monitor forums, study insurance contracts and use insurance by myself.

Life hacking 2 - how to find a hotel 20% cheaper

First, choose a hotel on Booking. They have a good offer base, but the prices are NOT the best! The same hotel can often be found 20% cheaper in other systems through the RoomGuru service.

Discount hotels