He began to gradually disassemble photos from the Crimea,of which a lot was done in a week and a half, and I want to tell you about our one-day outing from Alushta to Chatyr Dag. This hike of one day is very good in terms of its availability, both for hikers and for ordinary tourists. Although, of course, it will not be possible to do without physical effort, and people who are used only to the small movements between housing and the beach / cafe will not work. Such walks are very convenient if there is no time for a long hike, but you really want to go to the mountains. I remember exactly the same day we walked on foot Mount Two Brothers in the Caucasus, in Alps near Grenoble in france and also by car on Lagonaki plateau height of 2000 meters in Adygea.
Chatyr Dag Yayla - is a mountain plateau(yayla means mountain pasture) with several peaks. The highest of them is the mountain Eklizi-Burun, 1527 meters high. Actually, we went to her.
Mountain trolley is in the course only in the Crimea. I do not know how expedient it was to make such a mode of transport, but for me it is the most convenient for this campaign of one day. The trolleybus runs at least once every 20 minutes, it starts from the bus station in Alushta, almost all the numbers go in the right direction and need one that goes to the Angarsk Pass. By the way, just as far as the Angarsk Pass, you can safely get from Simferopol and Yalta, the journey time will simply be longer. So, from Alushta, the trolleybus travels about 30-40 minutes. And despite the fact that copies of older than me are moving along Alushta itself, we rode on a modern air-conditioned trolley bus with TVs and watched cartoons. The fare is only 4 hryvnia (16 rubles).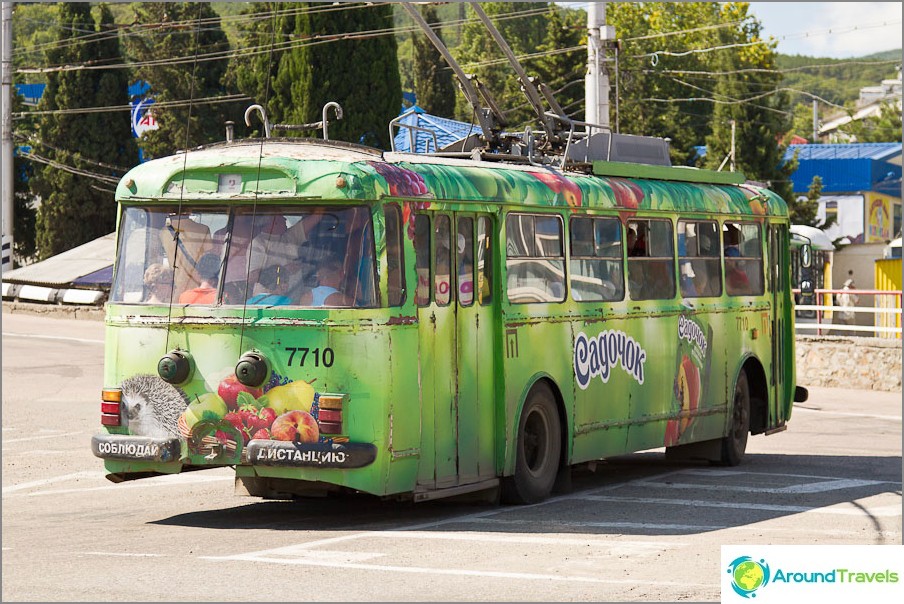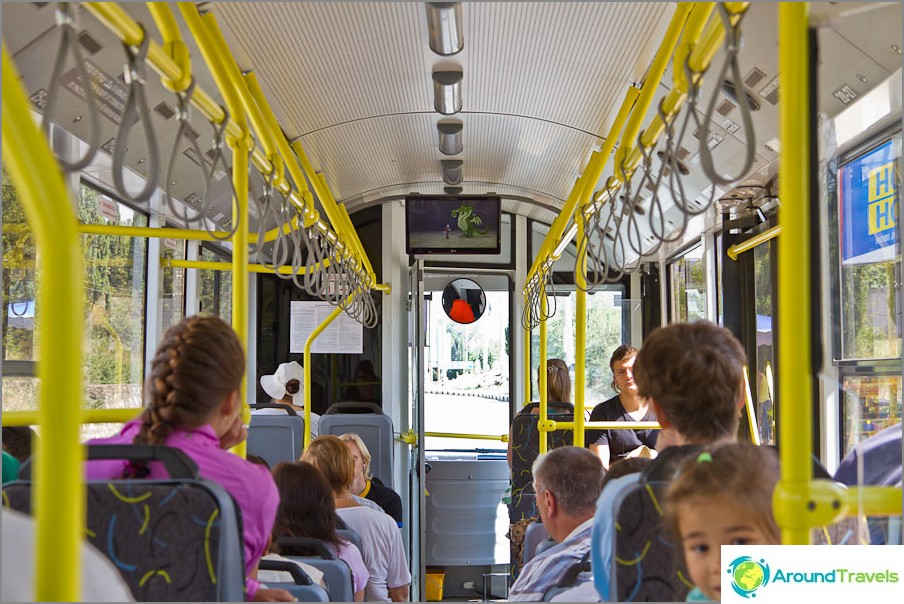 Cross the road (main road) and passa few hundred meters to the tourist center on the asphalt, we got to the camp site, and right after entering its territory we turned right onto the unpaved road going up. There are even pointers there. And in general, the entire route is marked with tags (red stripe) due to its popularity. In 2009, a procession took place on Eklizi-Burun. This is me to the fact that even without a card it is quite difficult to get lost, and in extreme cases, you can ask the right people to find the right people.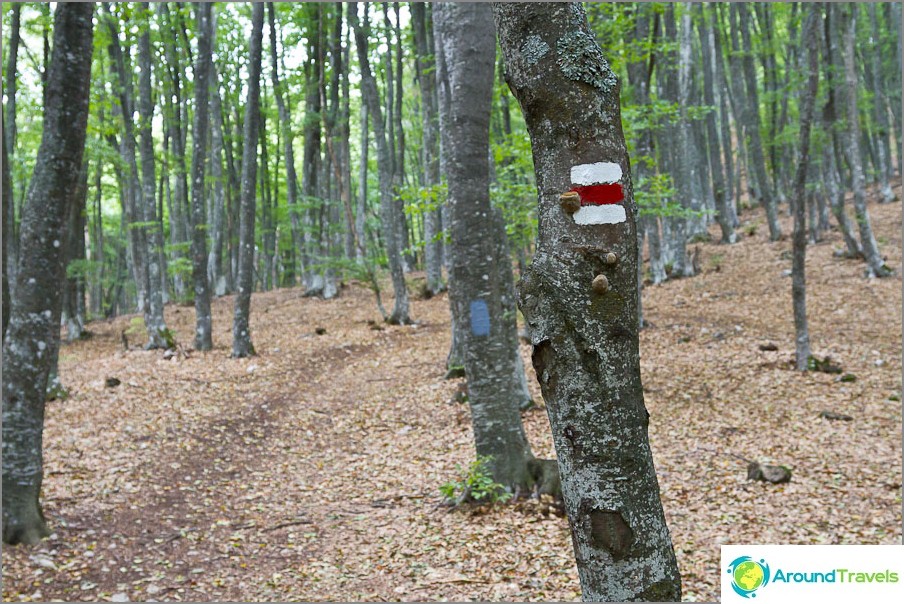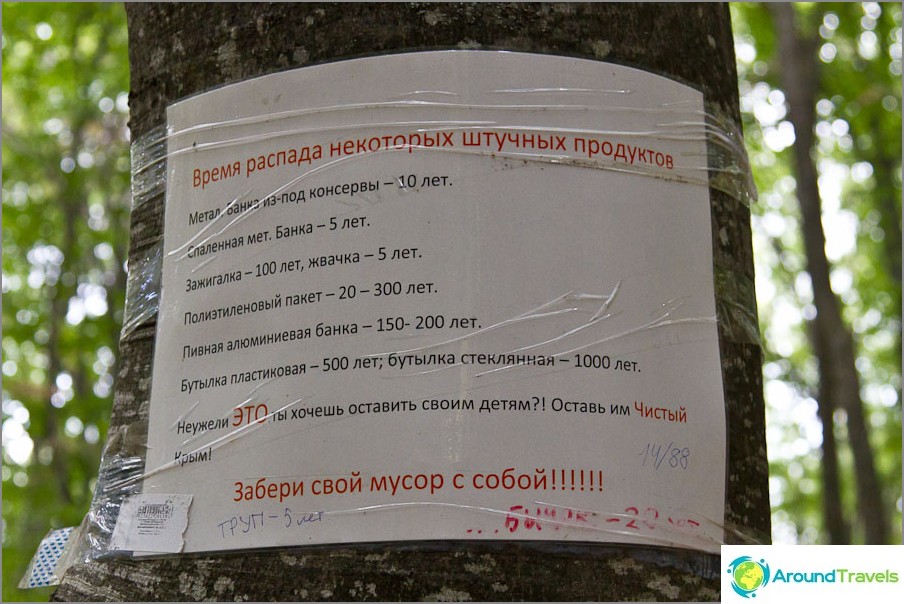 You can go in different ways, but the closestIt runs through the tourist site of the Beech Meadow, which is on the maps exactly as a permitted parking is not marked, but you can stand with a tent on it, according to the forester. This stretch of journey takes about 1 hour. There is a spring, where you can update the water reserves, and wild pears, which are quite edible in August. The most difficult thing begins just after the Bukova Glade - after a while the forest ends and the rise is almost at an angle of 45 degrees. That is why it is good to go to the radial (radial hike) from the Beech meadow, leaving behind heavy backpacks.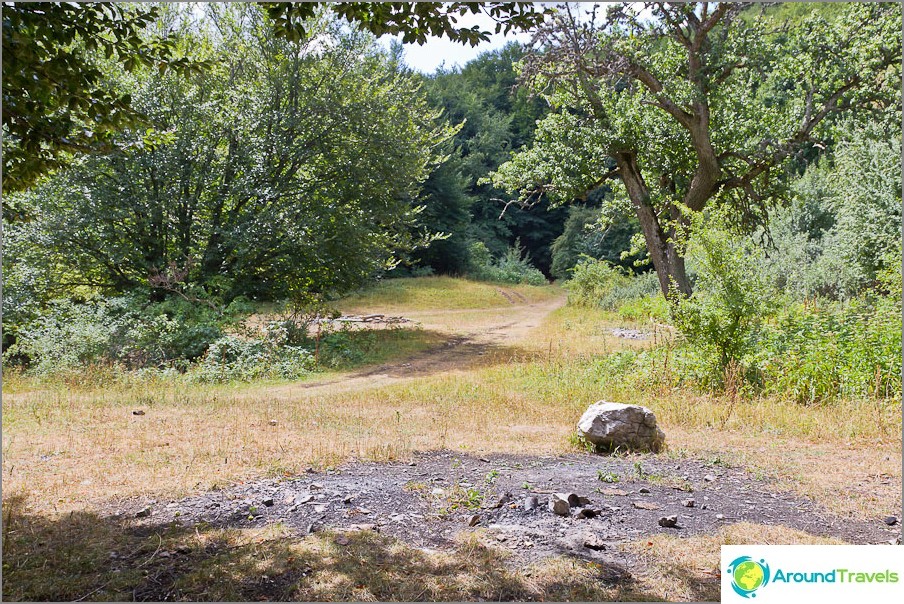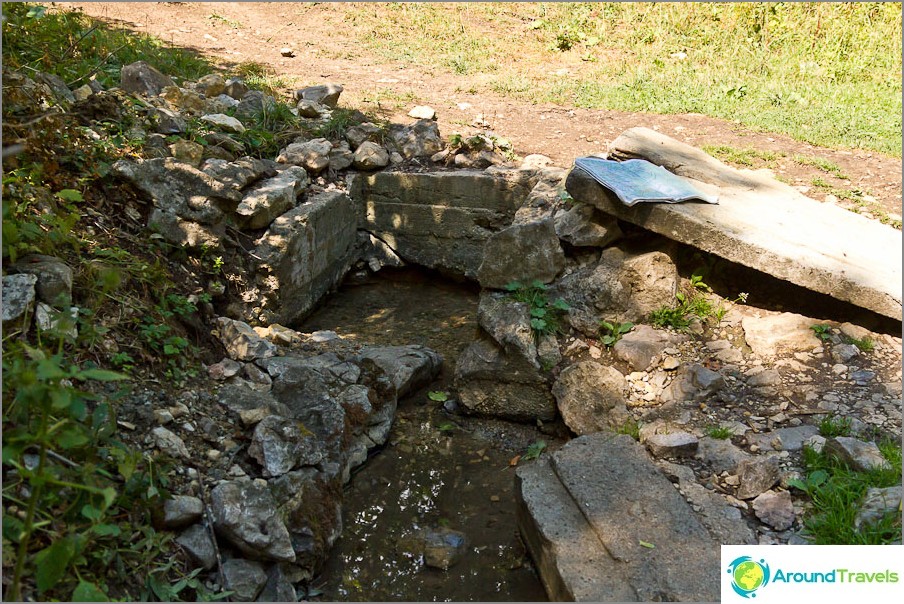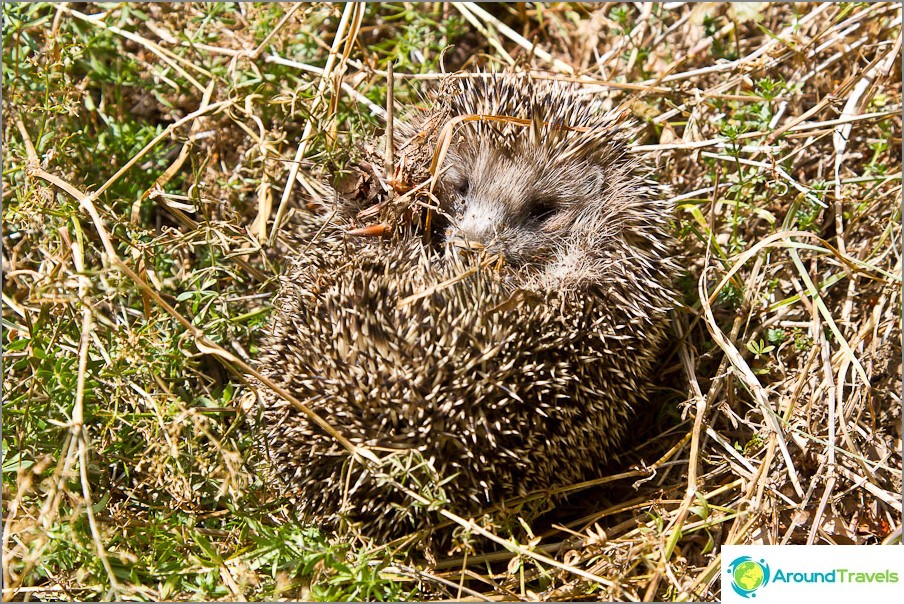 After parking we climbed up, meetingsigns to Angar-Burun (they really do not indicate a specific direction). This is another such peak on Chatyr Dag, which will remain aside, since in fact the main path does lead to Eklizi-Burun.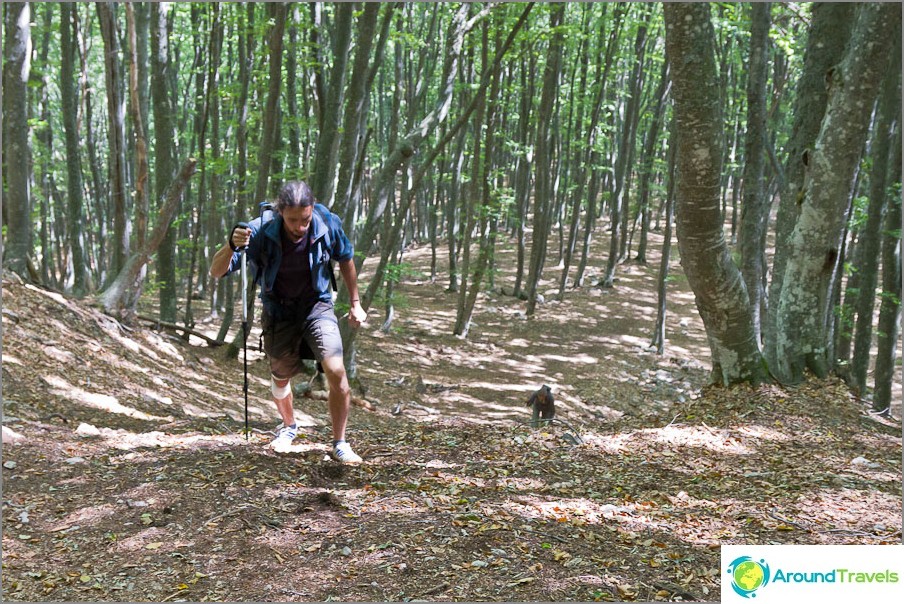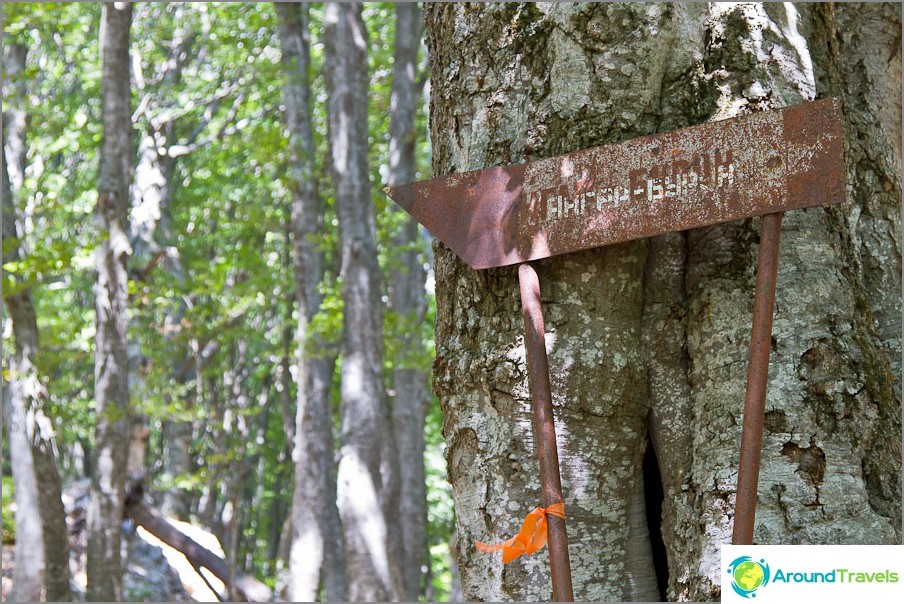 During the long and difficult climb, we wererewarded with gorgeous views of Alushta, Demerdzhi yaylu and Babugan yaylu. In principle, people who are especially tired can finish their way somewhere here, as further mountain views will not change much. But it is worth considering that in front there will be only one small climb at the very end. Going on Chatyr Dag Yale is about an hour more.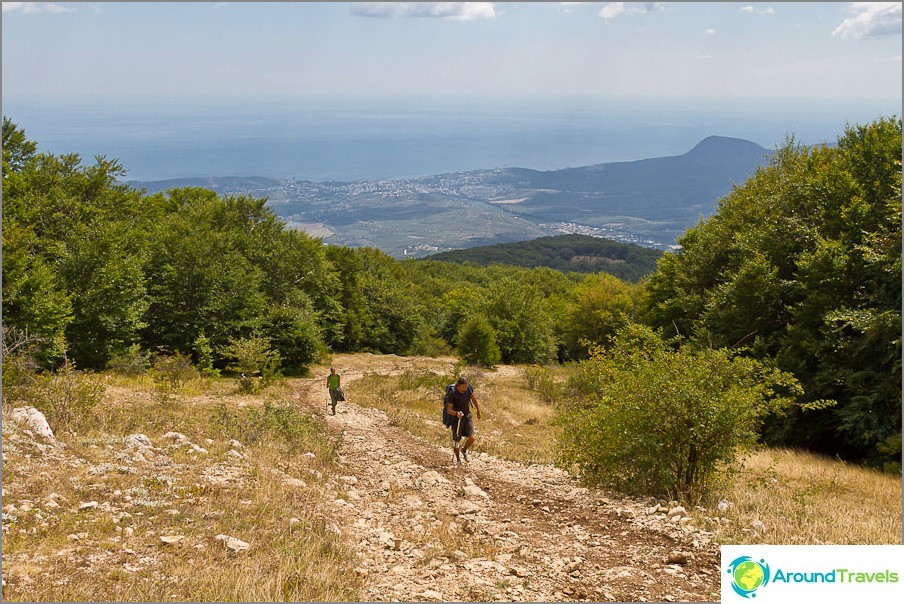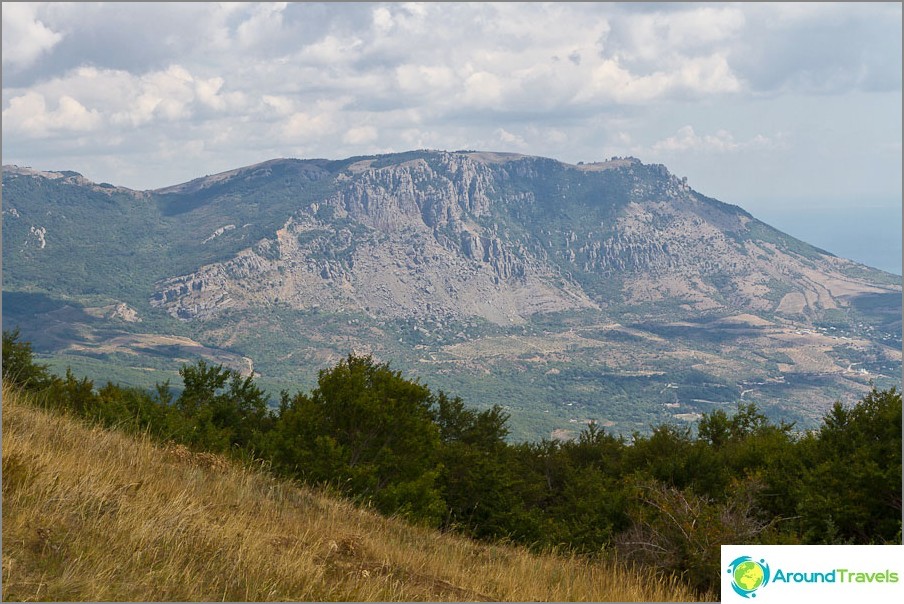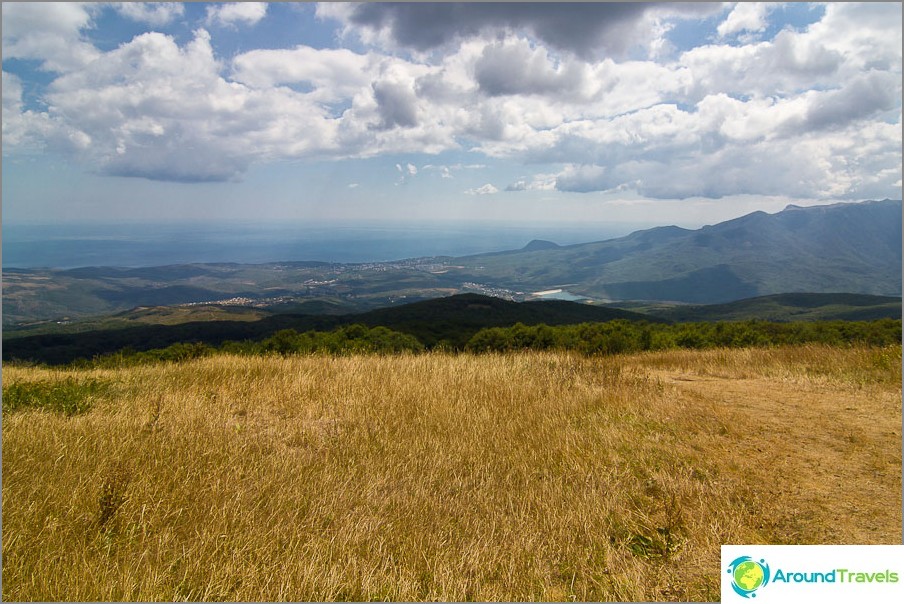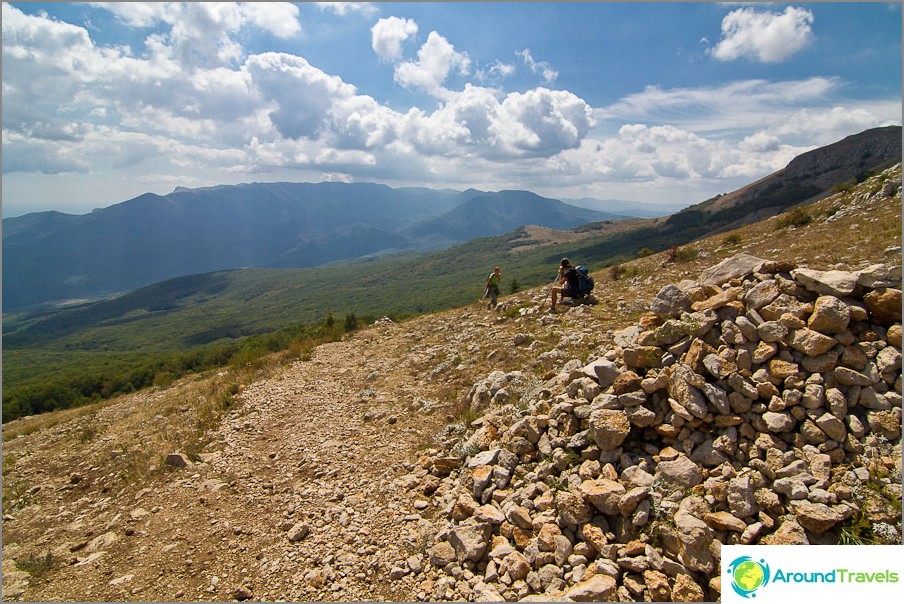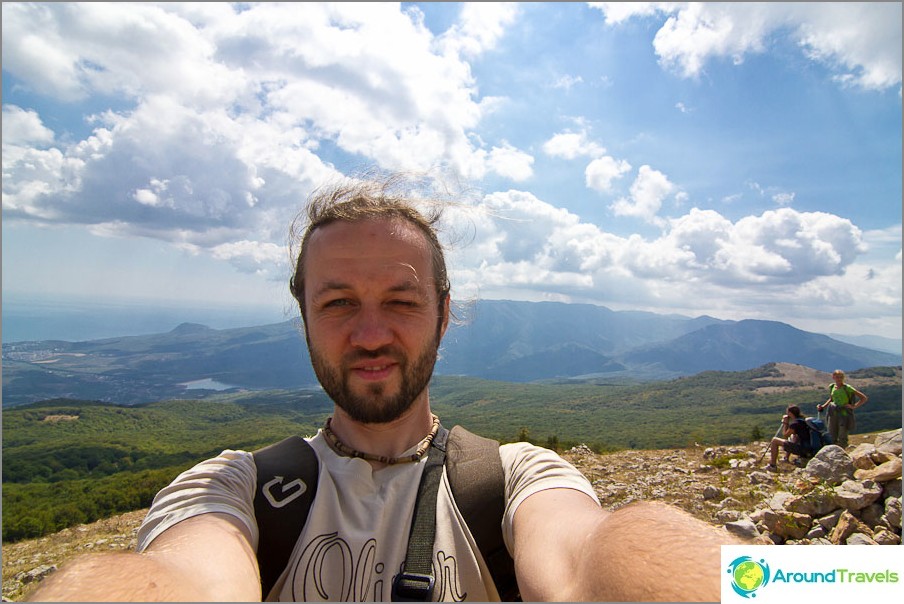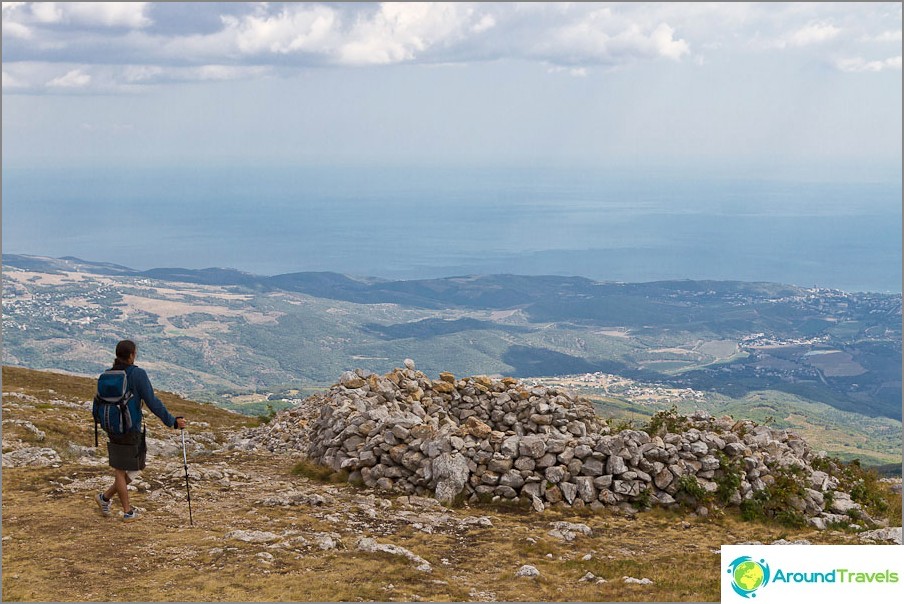 Naturally, we were determined to reach the end,after all, we walked lightly and we simply could not not visit the highest point of Chatyr Dag. Most of all, we didn't want the rain, which in recent days was constantly pouring down and Chatyr Dag and Demerdzhi were wrapped in a veil of clouds, but on this day the sun, though it didn't shine all the time, but the weather favored us.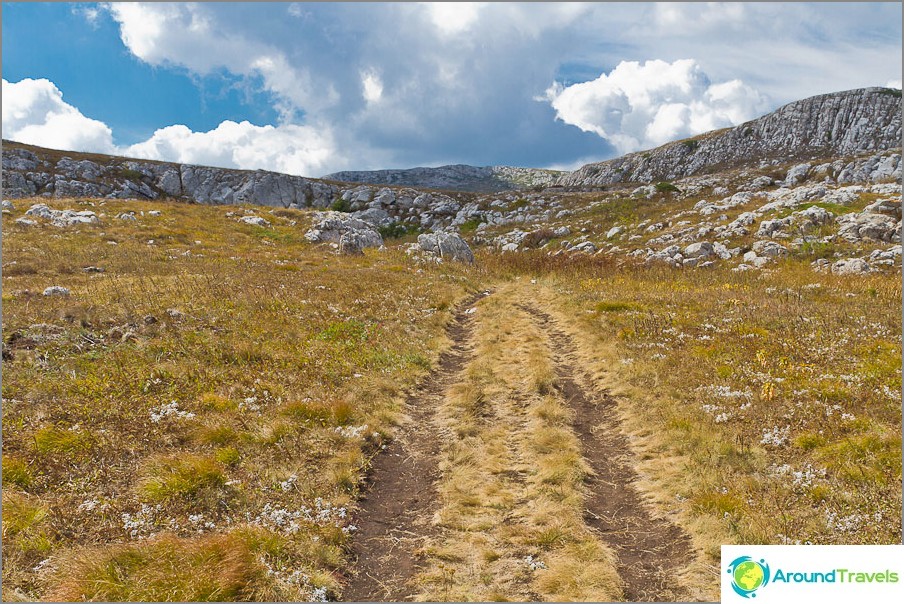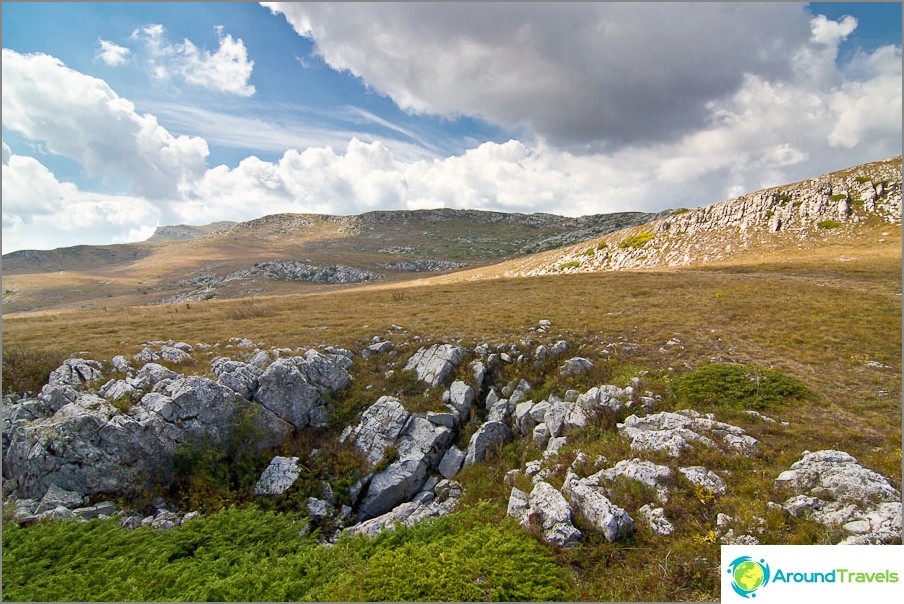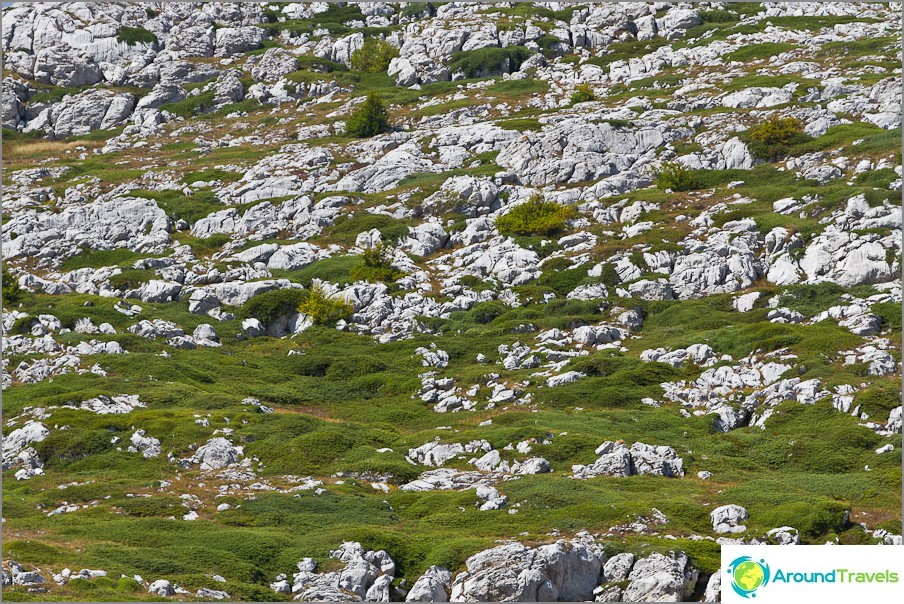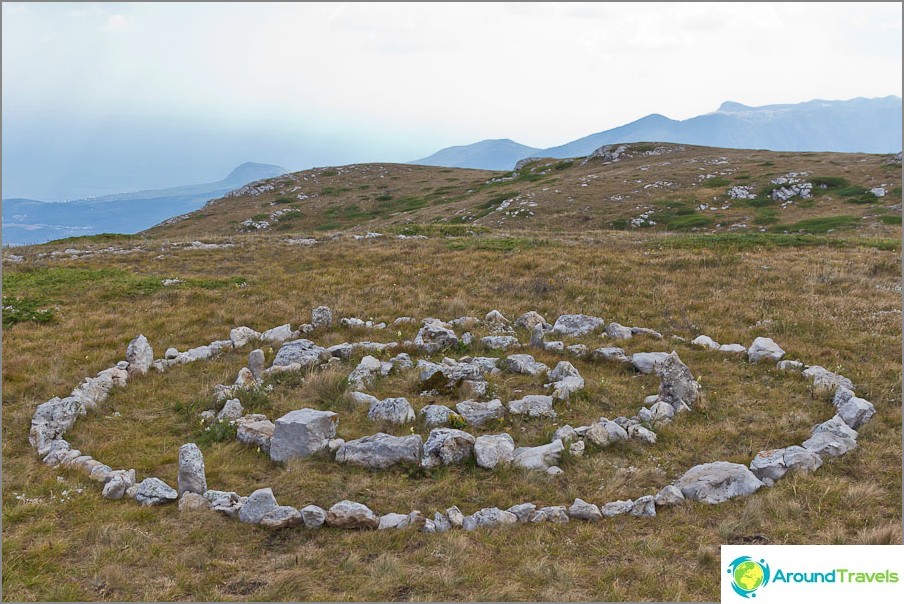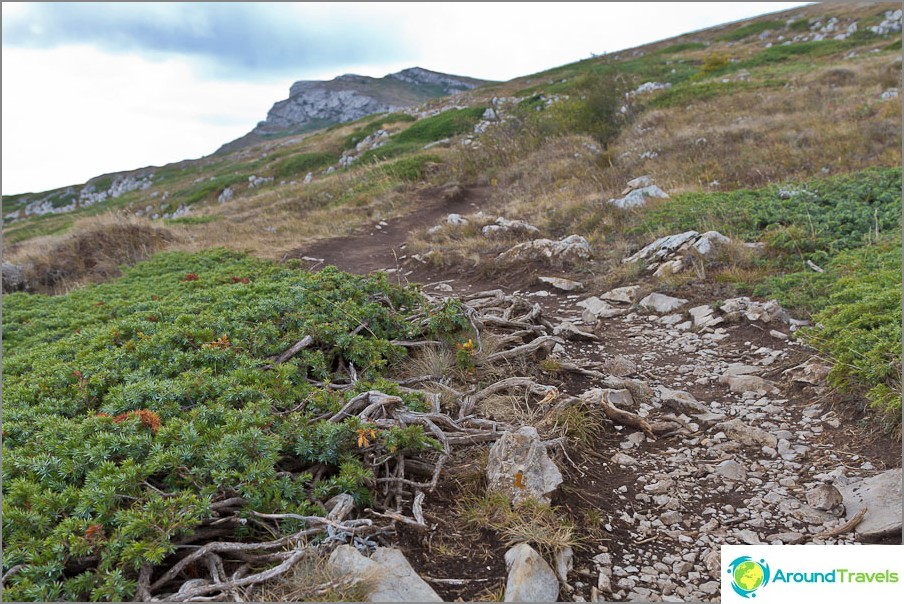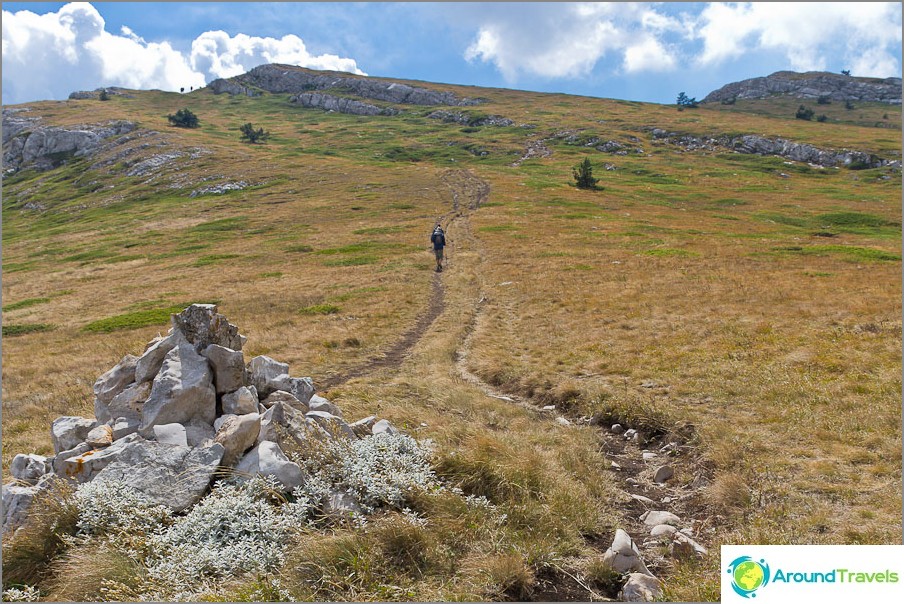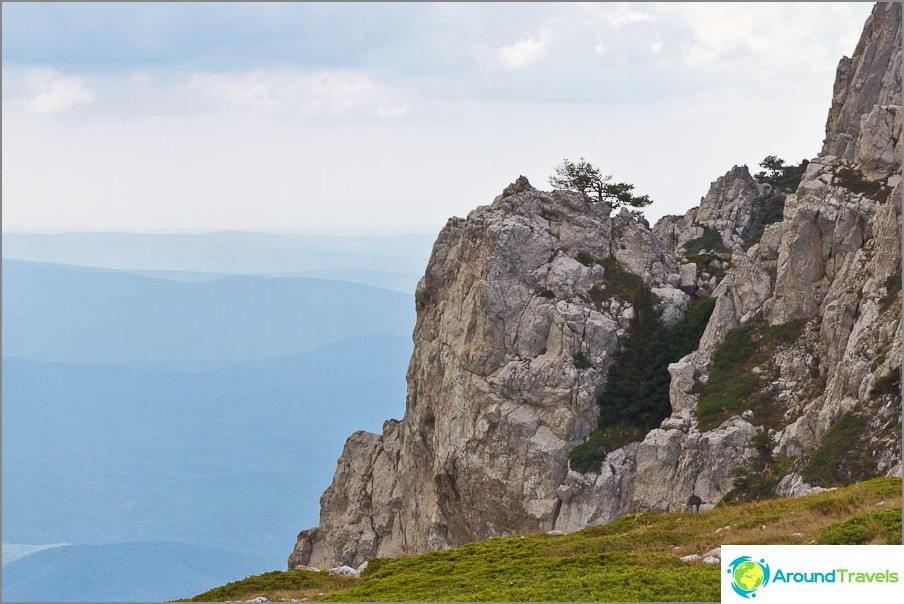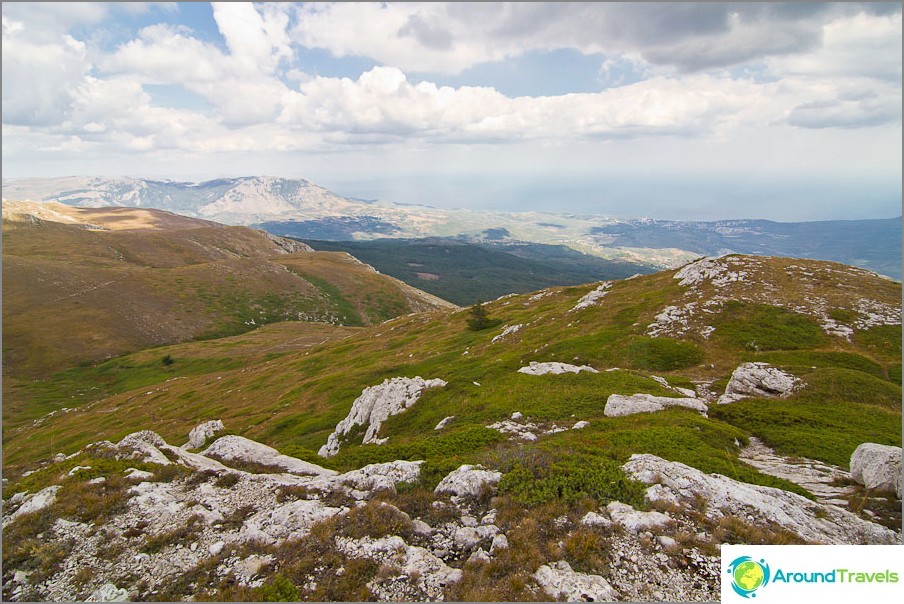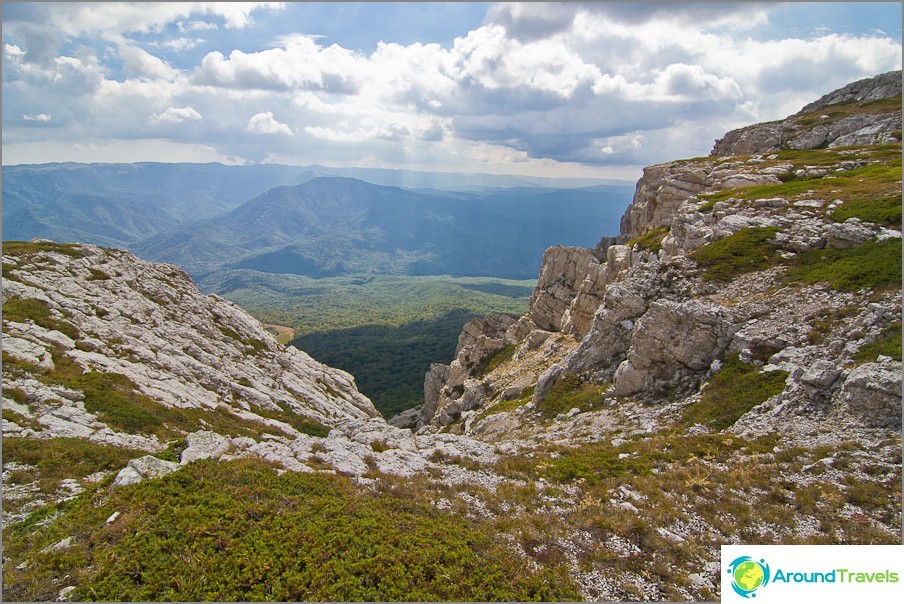 At the summit I met Jehovah's Witnesses,who could not make a photo with a waving scarf, because they could not jump synchronously. Good guys like that, we chatted
After taking a few shots, enjoying the views, snacking on gingerbread and dried fruit, we set off contentedly down. It was worth it!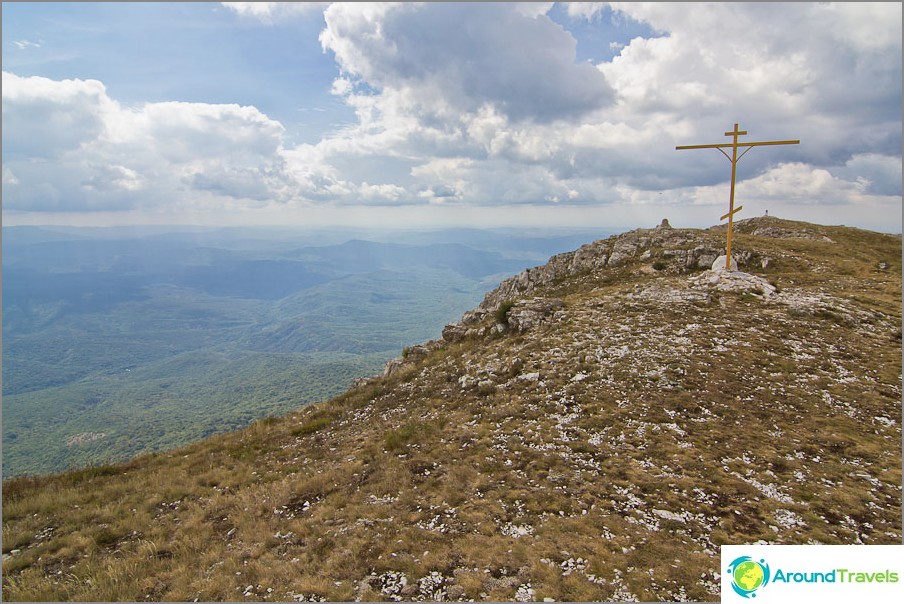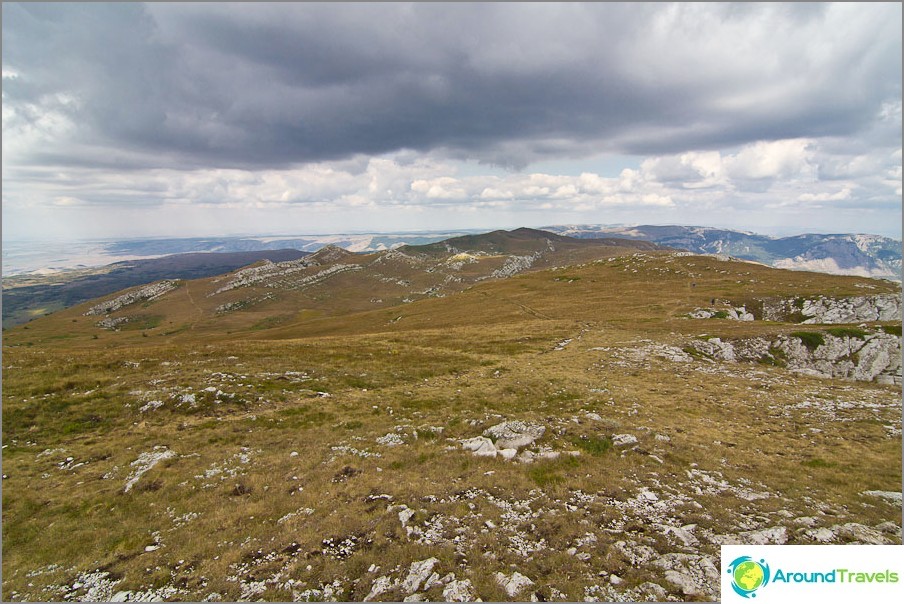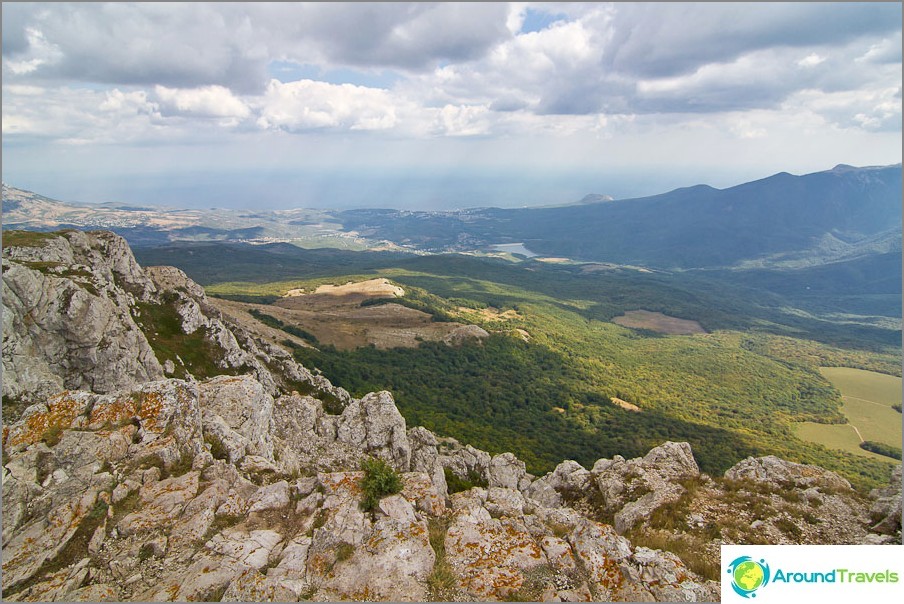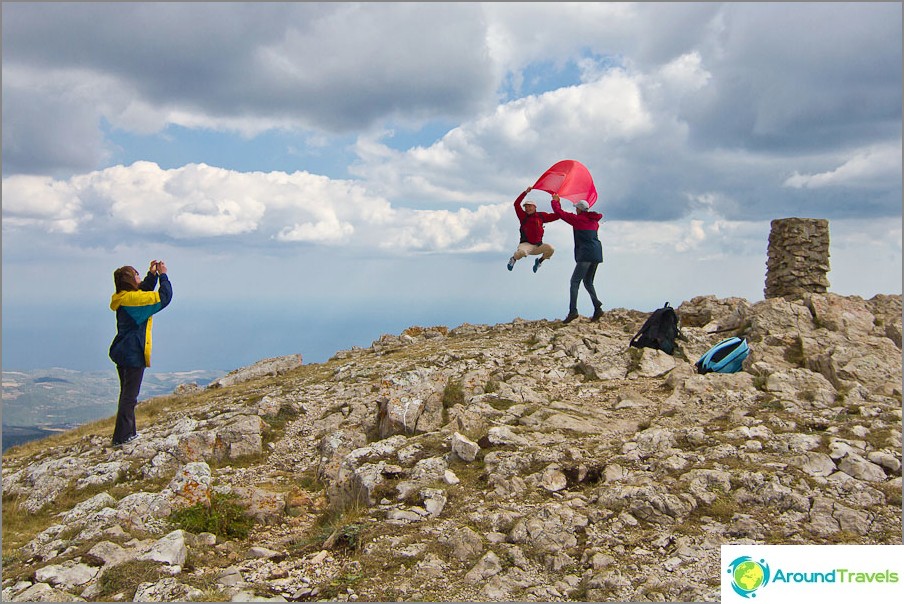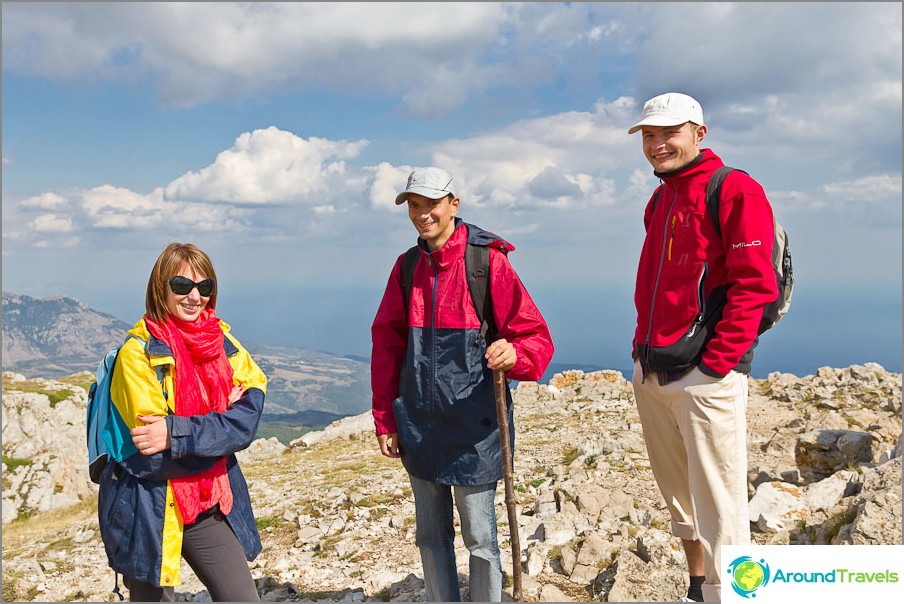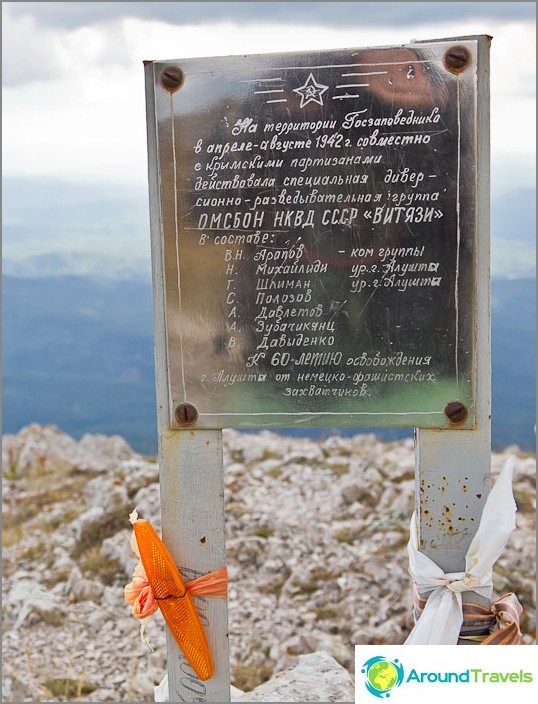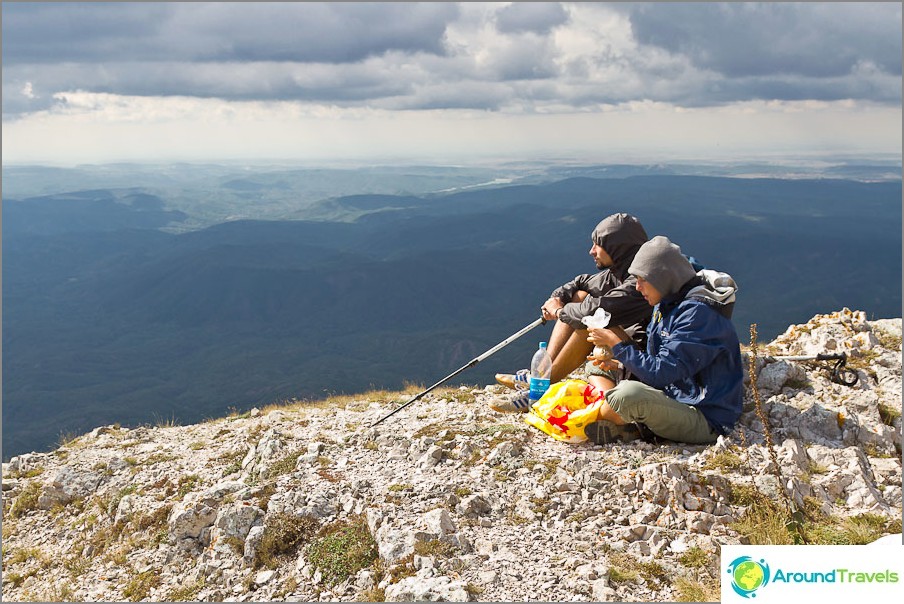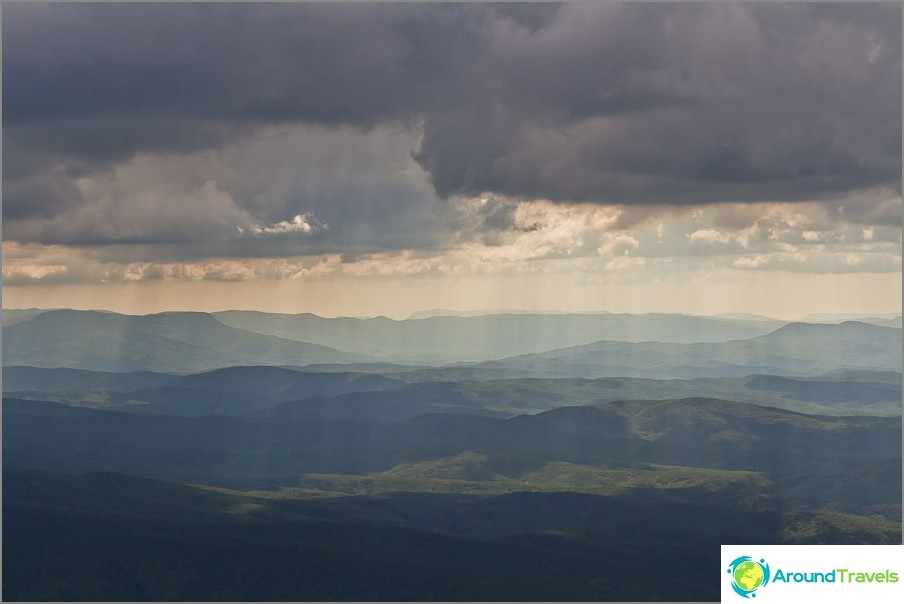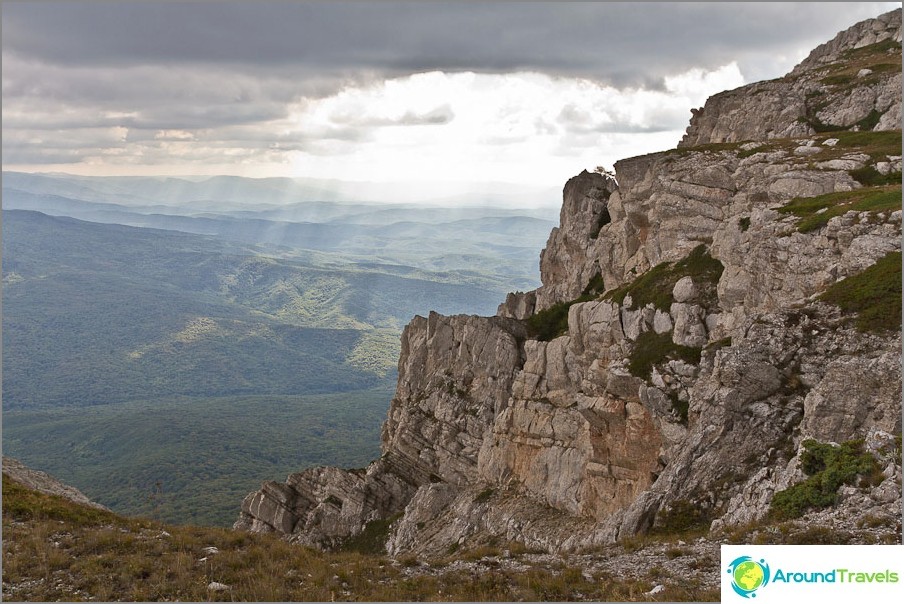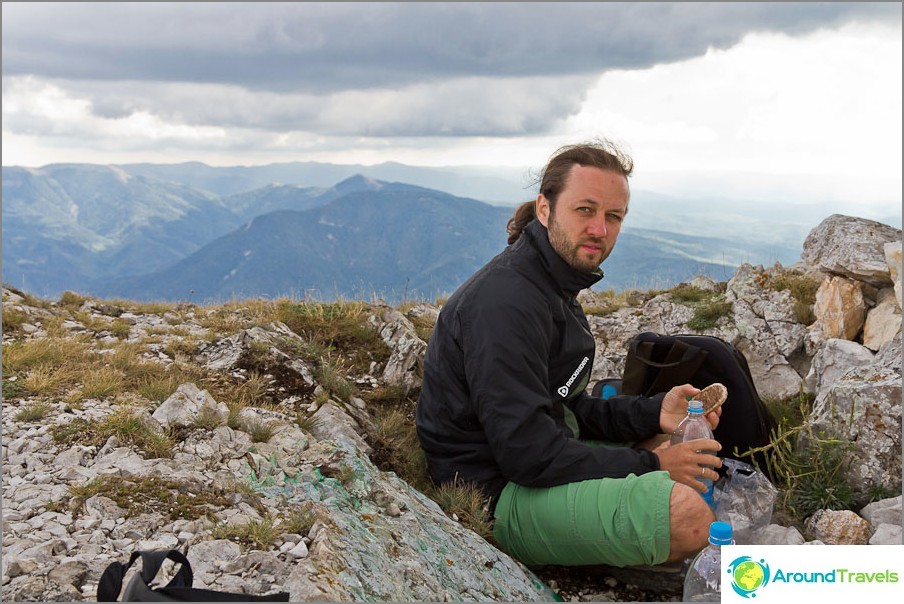 From here it was visible from the height the lower plateau of Chatyr Dag, along which literally a week ago we cut on quad bikes. Funny, on that day, we looked the other way around this peak, and wondered how up there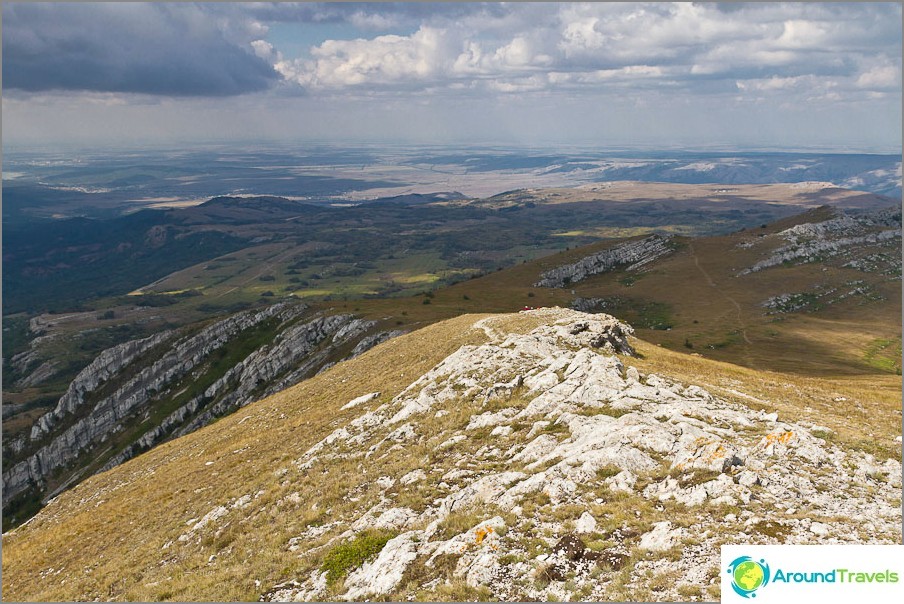 In total, the whole trip took about 6 hours: 4 up + 2 down, this is not taking into account the time on the road on the trolley bus, as well as stay on top. So it's quite such a good one-day walk for lovers of mountain views, and even no equipment is needed.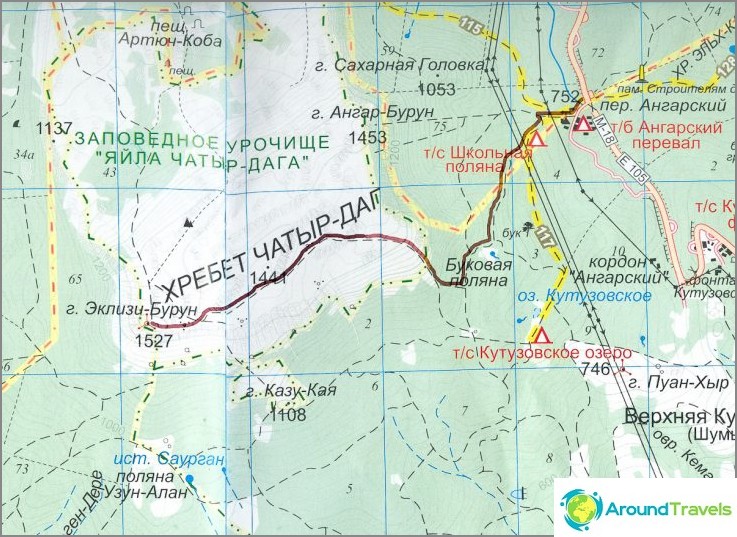 Good and interesting outings to the mountains! And do not litter!
Just in case, here's another link to my detailed post, how to get to the Crimean peninsula and from mainland Russia.