What you need to look for tickets on the Internetit seems to be clear to everyone. There are a lot of advantages - starting from the fact that prices can be started to be monitored for half a year, ending with the fact that you can immediately get all the prices for different flights and analyze what is more suitable. Where to buy cheap tickets, I think, the question is no longer necessary either - via the Internet via a bank card (there are other payment methods). You do not need to go anywhere and the purchase takes 5 minutes, and after another 5 minutes, the e-ticket arrives in the mail, and it is not necessary to even print it. However, I will still tell you where to buy and how to search.
The content of the article
How to search for cheap flights
There are 3 options for finding flights:
- on specific airline sites
- on the websites of air ticket booking agencies
- and on sites aggregators, which are also called ticket search engines
Airline websites
The easiest and most time consumingoption. Search on the forums and blogs, which airlines fly to the country you need and go alternately to their sites and check the availability and cost of tickets. You can also search among companies. low cost airlines (low cost airlines)It is they who offer cheap flights.
The option is applicable when you know exactly which airlines are suitable for you, or wait for promotions on the sale of air tickets from specific airlines. In other cases, it takes too long.
Sites of agencies for the sale and booking of air tickets
Such agencies have agreements withairlines, and through their search form on the site, you can see all available offers from several dozen airlines at once. It is much more convenient than going through the many websites of airlines and check the availability and cost of the desired flights. However, not a single agency has a complete list of all airlines, besides some other agencies have a commission for using services, although it is small compared to the price of the flight. And in order not to pay a commission, you can always see the name of the airline and flight number in the search results, and find it already on the website of the airline itself. True, it often happens and vice versa, the price at the agency is lower than on the official website of the airline. This happens because there are special rates for agencies.
This option is akin to going to the airline ticket office, which isThe principle is the same, only done via the Internet. Just now, all self-respecting ticket offices sell tickets not only for cash in their office, but also on their website via the Internet.
Flight search engines (aggregators)
There is an even more convenient search option.cheap air tickets - search engine aggregators. These sites do not sell anything, they are only looking for something like Yandex or Google. Airline search engines connect directly to several databases of agencies and to the bases of most airlines, so in the search results you get not just a list of flights you need, but also in which agency how much is the ticket.
The commission for using these services is notis charged. Therefore, after the search, you select the desired flight and transfer, either directly to the airline's website or to the booking agency's website, depending on what you have chosen.
The most famous search engines: Aviasales.ru, Skyscanner.ru, Momondo.ru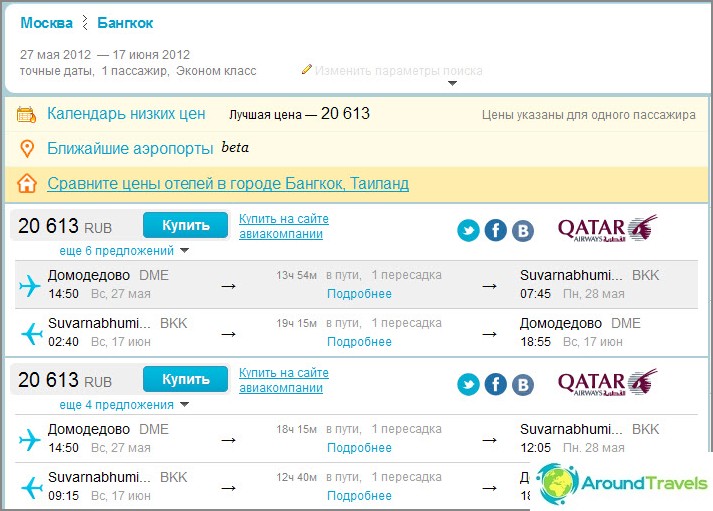 How are we looking for flights?
We mostly use only search engines.Aviasales.ru and Skyscanner.ru, we like them most in terms of functionality and design. And despite the fact that the agencies to which all these search engines are connected to the databases are different, the flights and the prices of air tickets are very similar, if not to say that they are the same.
Unfortunately, absolutely all flights and all airlines will not be present in the aggregators, basically it comes and low costthat you just need to know, as they are not in any databases of any agencies or search engines. Therefore, the algorithm of our actions is:
Open the website of the search engine of airline tickets Aviasales.ru and look for tickets for the required dates. In some cases, we also punch in Skyscanner.ru to see if there is anything else interesting.
In parallel on the forums and other touristResources are looking for information about low-cost airlines flying to the city we need. For example, in Asia, it is AirAsia.com, which has almost no alternative for local flights.
Analyze prices on all sites and selectsuitable, including compound flights (for example, regular flight + local), since it often turns out cheaper than flying directly to the final destination.
It seems to be all told about cheap flights wherebuy and how to search, it remains only to give more specific advice on how to search for the cheapest flights. To not repeat, just give a link where I have already gathered everything in a single list - How to buy the cheapest flights.
Life hacking 1 - how to buy a good insurance

Choosing insurance is now unrealistically difficult, so to help all travelers, I compile a rating. To do this, I constantly monitor forums, study insurance contracts and use insurance by myself.

Life hacking 2 - how to find a hotel 20% cheaper

First, choose a hotel on Booking. They have a good offer base, but the prices are NOT the best! The same hotel can often be found 20% cheaper in other systems through the RoomGuru service.

Discount hotels