This time we went to Thailand with double entry visareceived in Moscow. The first extension we did on samui, and now in Bangkok came the turn to get toborder and back to use the second fold. Various options were considered, ranging from a vizaran to Cambodia to a flight to Vietnam / Burma. By the way, one can speak not a vizaran, but a border wound, because the trip is carried out only to the border (border), and the Thai visa at the embassy does not work, although the vizaran is a more accepted word.
Unfortunately, with a vizaran I pulled to the last, because I really didn't want to go anywhere with Egor, so there was no longer any cheap options. As a result, we still chose to go on rented car to the border with an overnight stay near it. For those who are forced to carry a child with him to the vizarans and want to do it more or less comfortable, perhaps our experience will be useful. But I will talk about other more economical ways too. About why you need vizarany in the article All about visas to Thailand.
The content of the article
Comfortable vizara from Bangkok to Cambodia
From Bangkok the easiest and fastest way to goCambodia, because then go just somewhere around 250 kilometers, and with a strong desire, you can turn around in half a day. Since various vizaran services do not take small children, we did not even consider them, and were initially going to rent a car. Moreover, we need the opportunity to stop at any time, a suitcase of toys and space for games, as well as a schedule, coordinated with the daytime sleep. We also wanted to spend the night near the border in order to make our way easier, and again it would be easier to fit into Yegor's dream. We couldn't leave him at home with his grandmother, for it's still too long. I think somewhere in half a year it will be possible.
The cost of our vizarana in Cambodia:
Car rental - 3000 baht (1500 baht / day)
Petrol - 1500 baht
Hotel - 680 baht
Cambodian visa - $ 40 for two (20 + 20)
Total we get 6500 baht.
Road
We left Bangkok around 5 pm. In Aranyapratet (or rather, near the border) were after 3.5 hours (270 km). We settled in the hotel, ate, watched a movie and went to bed. The next morning, alternately (one of us was sitting with Egor at the hotel) passed the border and engaged the second one. After that, in the afternoon, we started to Bangkok and arrived in 4.5 hours with stops. We took the car at Suvarnabhumi airport and returned it to the same place, which is convenient. In general, I can say that such a trip, divided into two days, is not very tiring and allows you to adjust to the needs of the child (sleep, stops, etc.).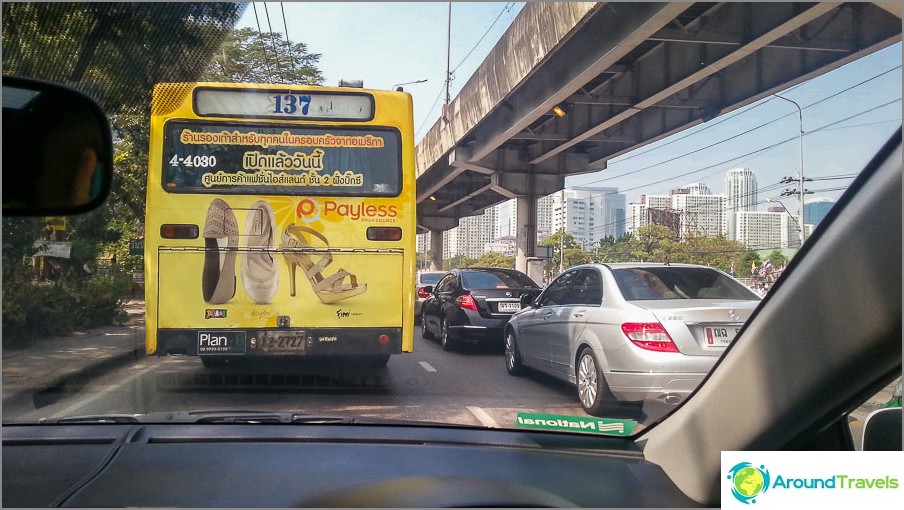 The only thing is, it is better to go in the afternoon, becauseroad markings are faded and driving in the dark is not very pleasant. The rest of the trip I liked the car: good roads, often refueling with a toilet, shops and cafes, wagons do not interfere on the two-lane road.
Here is the point to go. And keep in mind that if you build a route through Google, then it is better to go along the 304 road, and not along the 359 road, as he suggests. Because this stretch of road (359 road) with one lane, the gain in the distance is only 20 km, and you are overtaking wagons. All the way approximately 270 km one way.
Aranyaprahet Poipet
Aranyaprahet Poipet
The most popular transition is Thailand-Cambodia. Details on how to cross the border.
The most popular transition is Thailand-Cambodia. Details on how to cross the border.
Hotel and infrastructure
Hotel Border Hotelwhere we spent the night, very well located. There is a market, a bank for buying dollars, 7/11, free parking. And most importantly, here the border is 10 meters. This is convenient, because we took turns, one parent sat with Egor in the hotel (children can live on overtsteyami and they do not need to stand up), and there was no need to get from the hotel to the border. Specifically, this hotel can be booked here on this link. But you can search and other hotels in the area.
However, there is nowhere to walk with the child. No green lawns and lots of garbage around. And for some reason, it smells eerie fish on the street, although I have not seen either the fish market or the river nearby. The border is located a few kilometers from the city of Aranyaprathet, where there is everything you need, including shopping centers and green areas. And the city on the Cambodian side is called Poipet.
How to cut costs
Our visa-wound is not very budget, but we needit was to go with an overnight stay in order to spend less time in the car a day. However, for those who are not critical, they can reduce their expenses by renting a car in advance (I rented two days before the trip and for the new year in general, so there were no options) and only for one day. Then we get: 1,200 baht rent + 1,500 baht petrol + $ 40 visa for two = 4,000 baht. For two people, it will be the same for the price as the vizaran on the minibus from some travel agency. And if 4 people, then a good savings.
We could also rent a car for one day,for example, from 5 pm to 5 pm the next day, but decided not to be in a hurry and not to risk it. In the end, it turned out that we needed the car as a result of 28 hours due to the fact that we passed the border for a long time and did everything slowly and steadily.
Crossing the border
Having read horror stories about Cambodian border guards, I was waiting for a trick every minute. But I was lucky, and everything went simply and without special extortion on their part. More about everything below.
Border hours from 7 am to 20 pm. It is better to do all the procedures as much as possible in the morning or in the late afternoon. Because all the visasors brought in by travel agencies are here at around noon.
You will need to go through 3 points one way.(Thai border => Cambodian visa issuance point => Cambodian border), and then two points back (Cambodian border => Thai border). We passed everything on December 23, and it is possible therefore there were a lot of people. In 1.5 hours I went through all the procedures (from 9 to 10:30), Daria went in 3 hours (from 11 to 14).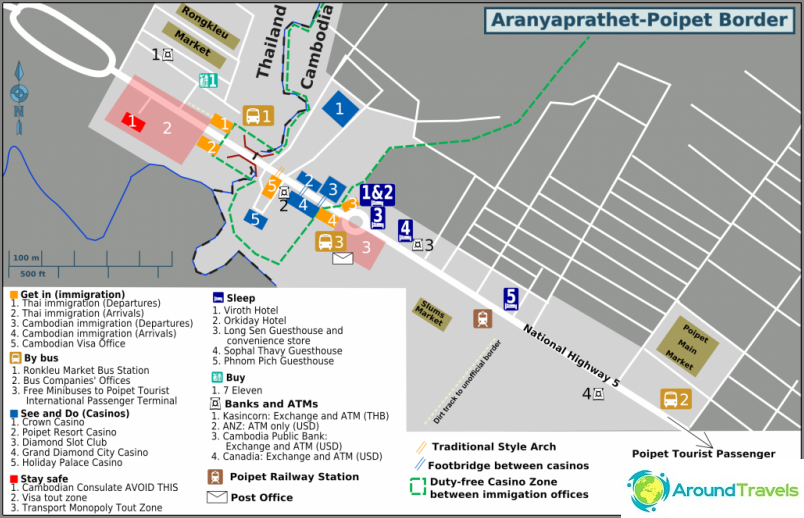 From Thailand to Cambodia
First go through the Thai border. The border checkpoint is on the left side of the road. Look for the Passport Control and Departure sign, get into a narrow long corridor, walk along it and get to the Thai border guards. Make sure you stand in a queue for foreigners (Foreigner), so as not to stand in vain. If you do not have oversteys and nobody is looking for you, then the border guard will put a stamp and you will go further.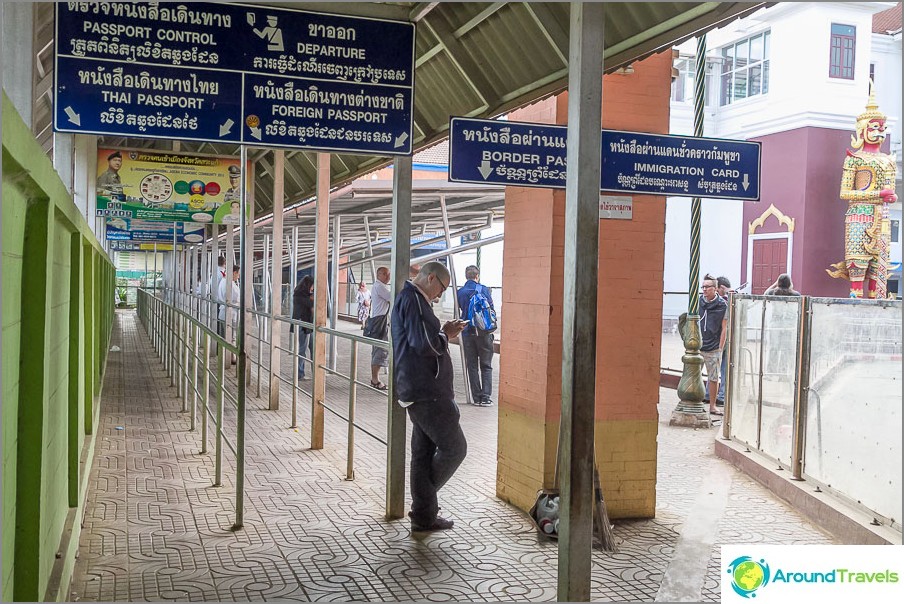 Having passed the Thai border control, you needwill get a Cambodian visa. Exit the Thai building and move on. Near the Khemer arch (with the Kukuruks) on the right side of the road you will see a Cambodian emigre. Fill out a form, put $ 20 (or 800 baht), international passport. Most likely you will be asked here with a serious look for another 100-200 baht, but you, on the contrary, refuse with a kindly face. Ask for several times - refuse several times. Most importantly do not forget to smile. I was asked twice and I twice, smiling, refused. The visa was in my passport after 5 minutes. There is another option to get electronic cambodian visa, but I do not see the point. Well, only if the place is saved in the passport.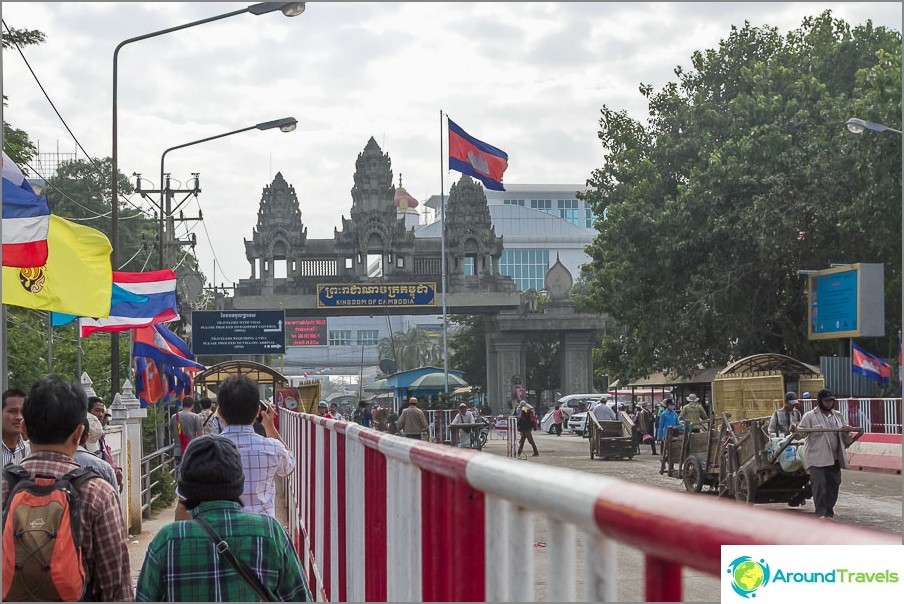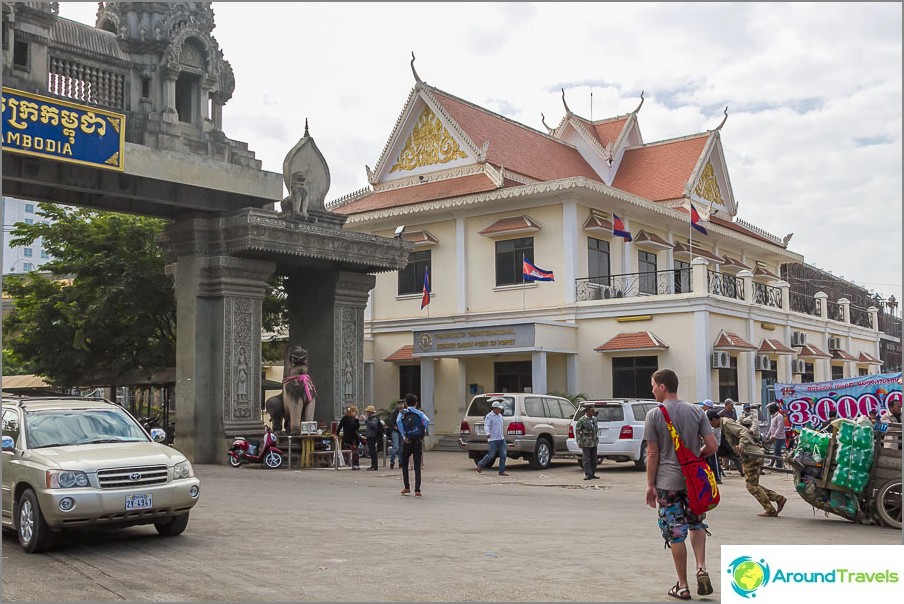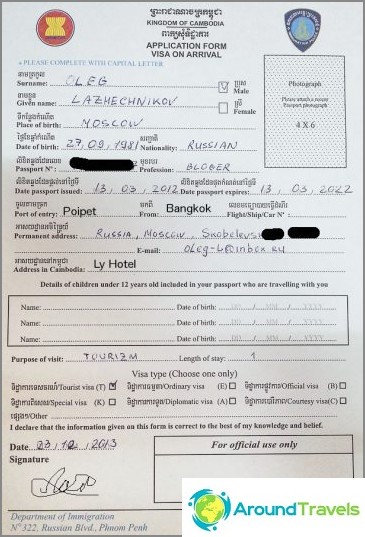 Now the movement has changed from left toright-hand, which means you need to go on the right side of the road. Passing the enticing casino signs, walk up to the Cambodian border towards Arrival. You receive an immigration card, fill it in (preferably straight in line, standing), give the documents to the border guard. Your fingerprints will be taken and then released to the Kingdom of Cambodia in peace. They say they can also ask for money here, but they did not ask me.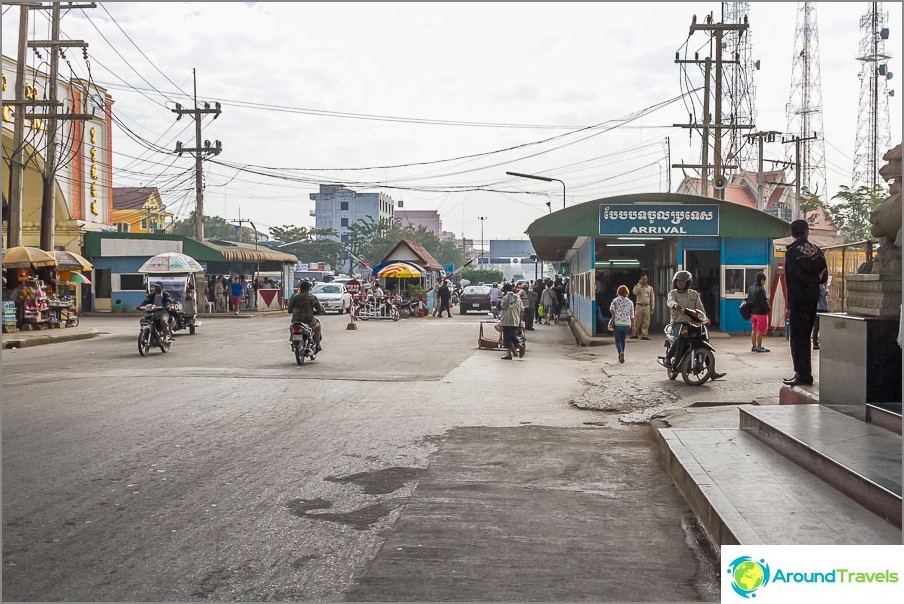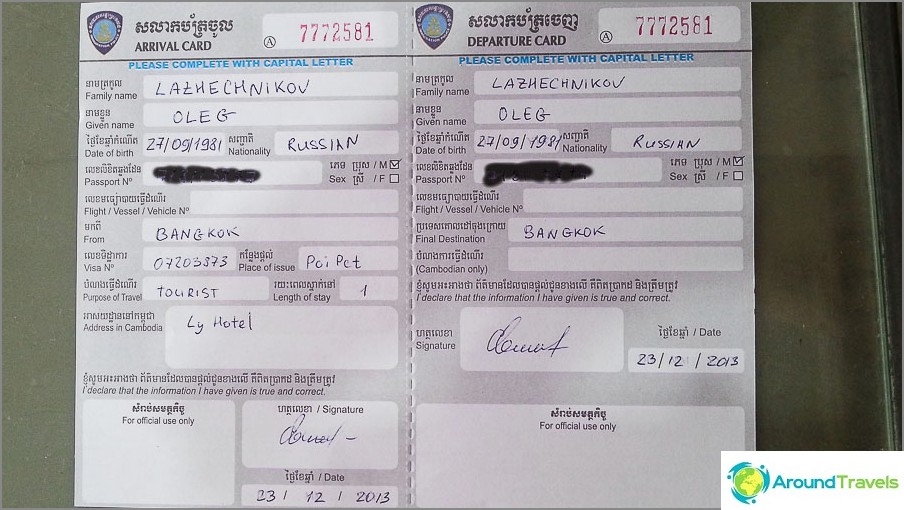 Cambodia
After the Cambodian border crossing to youImmediately rush taxi drivers with the most favorable proposals to bring you to one or another point of the country. From here you can go by bus. Children may also pounce asking for money.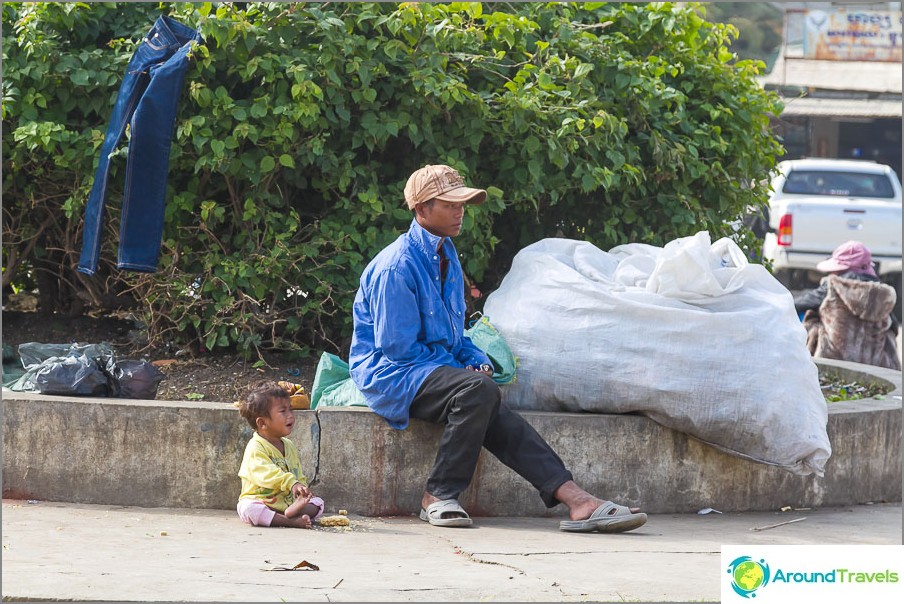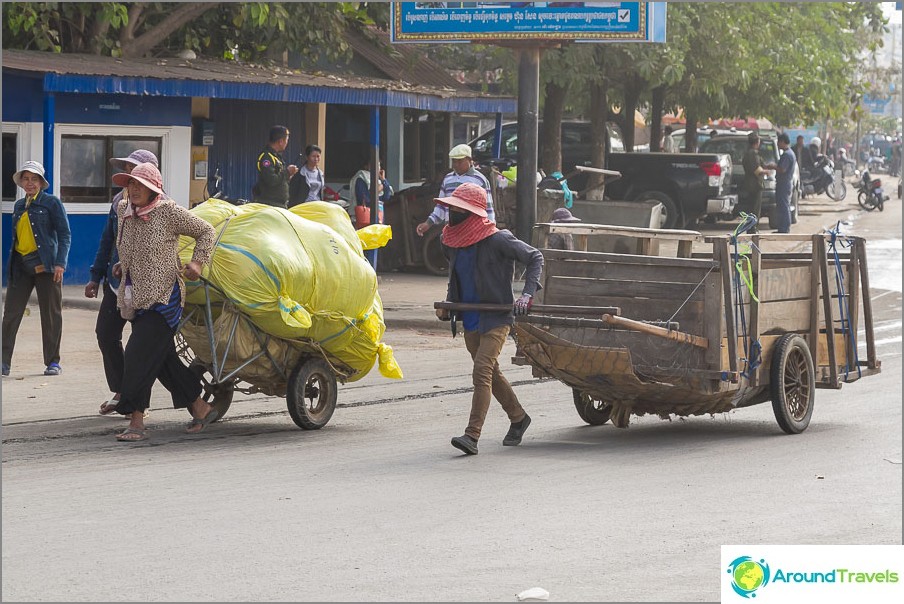 From Cambodia to Thailand
We ignore everyone who asks for something. Turn 180 degrees and look for the Departure sign on the right side of the road. We return the passport there, fingerprints are taken away from you, stamped, and you will fall into the neutral zone. I read that due to the fact that you did not stay in Cambodia even a day, they will try to dissolve you for 100 baht, but I haven't been divorced.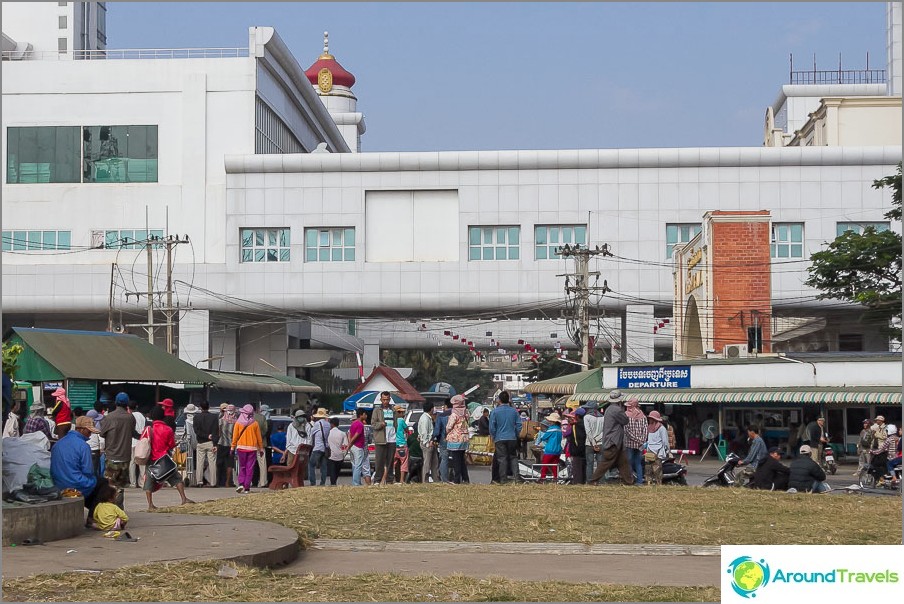 Go further, after the casino and point of issueCambodian visas, on the left side of the road, look for a Thai border checkpoint. Near the staircase (the control itself is on the second floor) and even before entering the building you take an immigration card. When there are a lot of people, you can skip the table where the cards are distributed, so look for it there, without a card, they won't let you go. But it is better to fill out a card in the queue, standing, so that everything will be faster, you will have to stand there for at least an hour.
Then go through the border control. If you enter on a tour visa, be sure to check that you have activated a visa. It is easy to check on the stamp put, if you are on a visa, then there will be a departure date after 60 days. Also in advance, do not forget to include your visa number in the immigration card.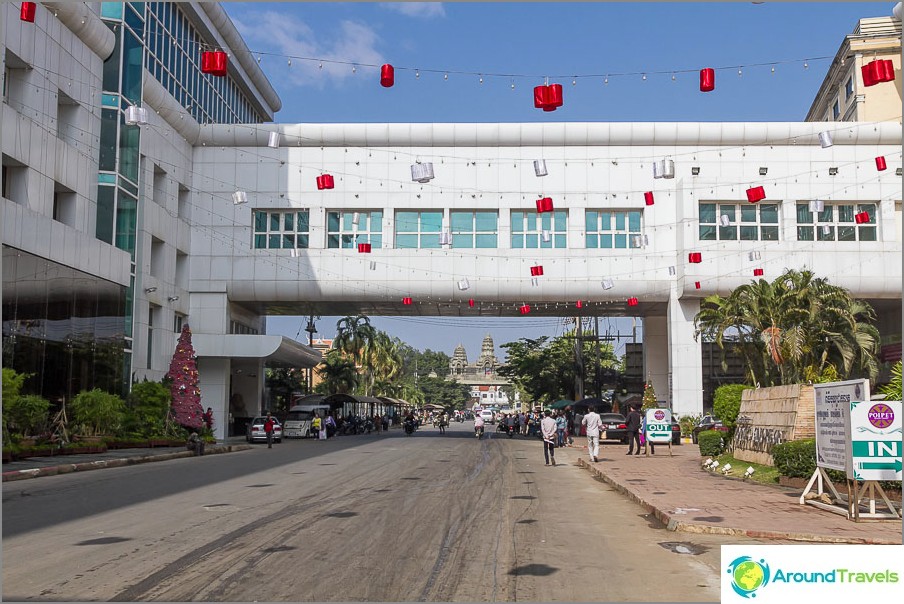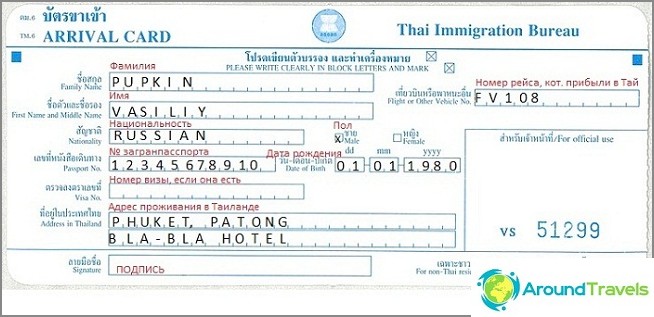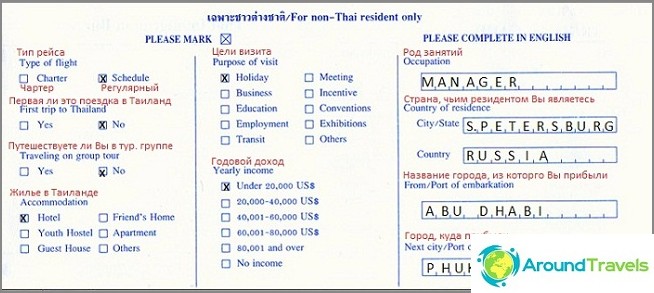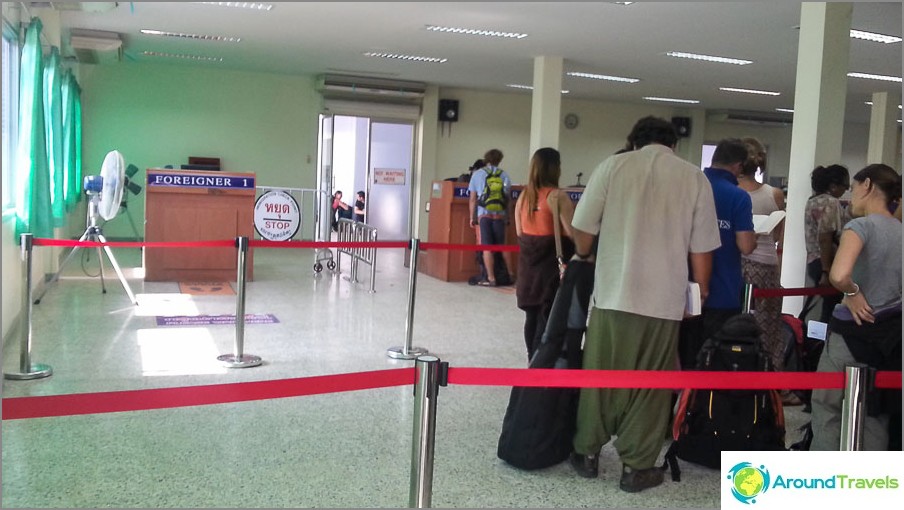 Other Vizarana Ways to Cambodia from Bangkok
Although I have not used in other ways,I know about them, so I will tell you briefly. In general, they resemble each other and do not depend on where you go from, from Bangkok or Pattaya. Well, or almost do not depend.
Vizaran from a travel agency
Another comfortable vizaran is to use it.services of travel agencies Early in the morning you will be taken from a certain point, taken to the border, then taken by the handle back and forth (in some cases you don't even need to go anywhere), brought back. Usually start at 6: 30-7: 00 am, and return at 16-17 pm. But there are vizarany at other times. The price is 1900-2000 baht, the cost of a Cambodian visa is already included there.
http://www.thaivisaservice.com/ - will start at 6:30 am
http://www.thaivisarun.com/ - start at 9:30 am
These offices are not being taken to Aranyapratet, but to the neighboring border point, this should be faster, because it is less popular with tourists and there are fewer people there.
By bus or mini bus
Minibas run from Khaosan (local travel agencies), cost about 300 baht to Poip Pet (that is, one way). Cheap but minus is that there are overlays with the time of departure and other Kaosanov's joy. Back also, on the spot look for some mini-bass, next to Bangkok.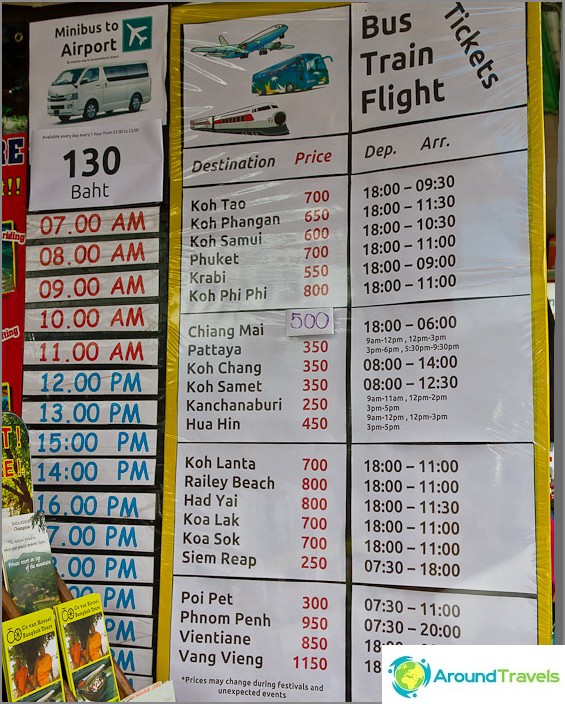 On the bus you can leave from the two bus stations Mo Chit Bus Terminal and Ekkamai Bus Terminal (Bangkok bus station location). Buses run frequently, destination Aranyaprathet (Aranyaprathet), the cost of the ticket is about 200 baht one way, travel time 5 hours. Just keep in mind that you will come to the bus station, from which even then you need to get on the tuk-tuk to the border (60-80 baht). In rare cases, the bus will reach the border. Return, you will need to get from the border to the bus station in Aranyaprathet, and there already buy a return ticket to Bangkok.
In the case of tuk-tukers and in general with alltransfers / buses (except vizaran services), you can try to disembark around a certain office for a couple of hundred meters from the border, where you will be helped with the registration of a Cambodian visa for extra money. But in general, everything is done independently and you do not need the help of such intermediaries! It can be considered a divorce! It is not clear what they are doing. Therefore, we do not go anywhere and wait for the real border.
Taxi
Of Suvarnabhumi Airport you can get to Cambodia in a taxi somewhere for 2-3thousand baht Back as much. Most likely you can agree with someone right on the street in the city, but you need to be sure that they understand where to drive. Read more about taxi in bangkok.
By train
Exotic and long way. The train goes from the main railway station Hua Lampong in Bangkok and to the border twice a day: at 5.55 and 13.05. The ticket costs about 50 baht. This train, travel time more than 6 hours, easily may be late. Likewise, from the railway station in Aranyapratet, you will then need to get to the border point by tuk-tuk.
P.S. My personal choice is rented car or vizaran services. The costs are comparable, but the problems and inconveniences are much less.
Life hacking 1 - how to buy a good insurance

Choosing insurance is now unrealistically difficult, so to help all travelers, I compile a rating. To do this, I constantly monitor forums, study insurance contracts and use insurance by myself.

Life hacking 2 - how to find a hotel 20% cheaper

First, choose a hotel on Booking. They have a good offer base, but the prices are NOT the best! The same hotel can often be found 20% cheaper in other systems through the RoomGuru service.

Discount hotels