A couple of people wrote to me in the comments and Ithought it was a pretty interesting topic. Moreover, it is not interesting who is there what he thinks about me and my situation, because in the comments everything usually slips to the person of the author, namely from whom it is arranged in life and who is used to something. Apparently I am very far from the people, both in terms of relations between people and in terms of travel. However, I am ready to listen to any opinions in the comments, so write what you think, but mind you without rudeness.
The content of the article
Reason for fasting
The reason for the comments was a photo that I posted on Instagram and social networks. Before that, there were similar photos and comments.
Don't put it in words, how I miss nowwinter Moscow. You know, when you sit on the roof of one of the best hotels on the island, and while drinking mojito, you watch the sun fall into the sea, it also pulls you to drop everything and inhale the cold air, which brings the lungs, and knead the gray snowy porridge that leaves stains on your shoes , and finally stand in any traffic jams, warming themselves with instant coffee from a thermocup. Probably, that's exactly what those who ask questions think, am I tired of Thailand for all these years and do not pull me into the winter. No, guys, winter is not mine ??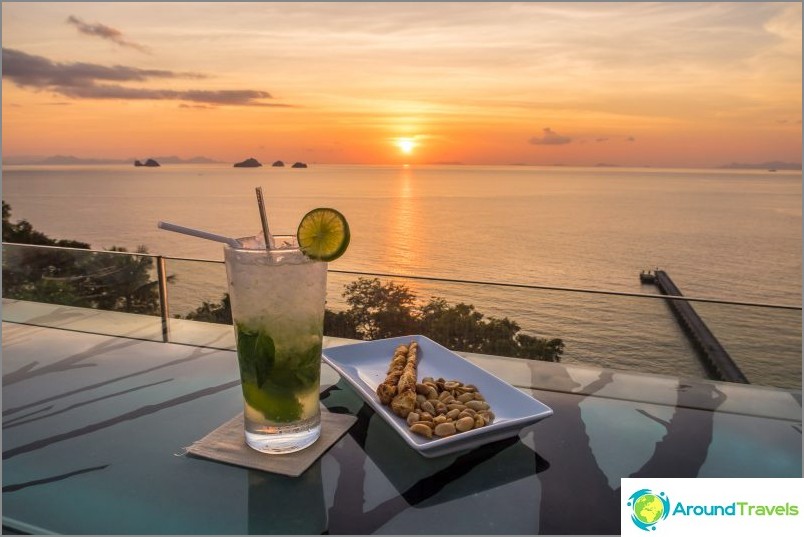 In my understanding, I contrasted only winter andsummer and all. True, they ask questions, do they not pull on Russian food, pull on snowballs or play skiing, get tired of Thailand, where I go for 6 years in a row instead of discovering new countries for myself, as in Asia, and on other continents.
But for some reason it was necessary to be here.prilesti that I am alone. And make an opposition between close and winter. I guess people are used to projecting their situations on others. And perhaps, indeed, they have a choice that they can leave alone, leaving the family instead of leaving all together. I personally do not have such a choice, who would not think there. In this scenario, I would not go to summer either just for the sake of summer. What for? But to go all together from the winter, instead of sitting in the slush in Moscow, at least for a few months, almost everyone can. It needs only a little life to change and approach to work. Actually, this is what I sometimes write on the blog.
I agree, not everyone needs summer. Then all of the above does not apply to them. But let me remind you, I collect lovers of heat here, this is my audience, so it is obvious that I am writing from this position. Nevertheless, the rest could be changed to work for a more suitable (and ideally beloved) and giving greater freedom of movement, or something else to change in life, so that this very life would be more pleasing. I'm for the changes! And once he started from scratch, what about repeatedly wrote.
Why went alone
An inquisitive reader who knows more about me andread a long time, ask, what did I go alone? I will answer. I can't tell you fully yet, a detailed post will be somewhere in a month. And it seems, by the way, precisely because of this reticence, everyone thinks out to the best of his life situations, "projects", as I said above. For now, I can only say that it is necessary. Until this year, we always traveled all together, and I was able to combine work and stay with my family. We already left for half a year, and everything was in time. Now Darya and Egor have very important things to do in Moscow, and I have only a couple of months on Tai, no more. And, if I went with my family, I would not have had time at all, because there is no sense in bringing them here, settling in and then meeting only on the plane back. And I have tight deadlines and I need to gain content exactly one year in advance. In addition, the child to drag for a couple of months is not ice, the fluctuations of climate and temperature will give not a weak acclimatization, and only he will get used to Ty, as already go back to the cold.
Past joint wintering due to Egor's diseasepassed in terms of work to no avail, I did not have time at all, and wintering this year is impossible. That is, if I don't go to Tai now, then the content would be out of date for 2 years, and I'm trying to make relevant and high-quality guidebooks around Thailand. No, of course, I could hire copywriters and give everything away, as if I saw and tried everything myself, but in my opinion it is not fair, considering that I, as the authors, are positioning them. Such sites with rewriting and so lacking in the network. Moreover, this is my earnings, my business, in which I have invested for many years, I can not just pick it up.
Well, in general, why you need to exclude the optionwhen work can be with business trips. And business trips are completely different, someone has them in Russia, someone abroad, someone is gone for a couple of weeks, someone leaves for a couple of months. We ourselves choose work. Who considers it necessary to be at home around the clock, that travel is contraindicated. I personally could not leave for a very long time, but for 1-2 months completely, it fits normally into my life principles, plus I do not think that spouses should be around the clock together. Remember Fyodor Konyukhov, he leaves for an expedition for half a year, or even more. And so all my life. He chose this job, and his wife chose him, despite the departures. For most, most likely, this option would not be suitable, but who said that you should always do everything, as most do?
Favorite work is not always approved
You know, such a thing, that if the work is loved,she somehow does not correlate with everything else. Maybe the work should be unpleasant, it is very difficult to make it look from the outside, so that the person suffers, but for the sake of the family plows. Then it will be socially approved. And when a job, for example, is to potest the bar, sit on the roof of the hotel and drink Mojito (go back to the beginning of the post and photo), and at the same time like everything (traveling, gathering information, blogging), it looks as if you don't work at all, and rest (there was a post about it). No one sees behind this photo that I came running, took pictures, almost drank a drink in one gulp, and ran off to collect information further.
And such a non-stop for 2 months, I'm sure not foreveryone. Considering that from this, even then you need to somehow squeeze money, and this is a bunch of analytics, affiliate testing, technical problems with the site, control of freelancers and so on. What you do between trips for half a year or in the evening or at night in a hotel remains behind the scenes. No, I'm not complaining about work, she is beautiful, but still an amateur. But this is a topic. separate postwhat is blogging and info sites. Probably, if it were so easy, then everyone would just earn it.
And again, you see, I can not for every photowriting a long explanation and telling the whole story, a beautiful picture will lose all meaning. Only "shh" about it. Usually bloggers do not tell anyone how this is actually happening.
On the other hand, if I had a work in a more relaxed rhythm, what does that change? In essence, only monetary exhaust is important.
Personal plays a cruel joke
I also had such an understanding that whenyou write something for the audience and at the same time you write something personal, then it will always be taken into account. That is, when you see a photo of an anonymous person on the network, which he has posted on his Instagram for a couple of years, but does not write who he is and what he is, there will be no questions at all. But it is necessary to learn something about him, then all the texts will be read through the prism of this personal. And at the same time, commentators completely forget that the author can tell far from everything, or, for example, tell first and then stop. The last is my case, I somehow rarely began to write something about personal and went into the informational component, as it brings more benefits to people, and ultimately, money. And it turns out that those readers who have known me for a long time involuntarily have questions, but there are no explanations (I do not write posts).
Honestly speaking, now it's easy to write about personalnot enough time. Maximum - it fotochki in social networks and Instagram. And, thus, it turns out that this personal content, as it were, comes from Anonymous, as this most unfortunate photo. Because if you do it for the audience that knows me, you need to explain a lot of things. Whole post to write. What I actually did in the end. At the same time, I understand that the topic of business trips is very rare, few people travel, look at sights, test hotels and bars, and make money on it. And ideally, this case does not consider at all, and therefore do not consider my situation. Agree, it's easier to just write: guys, while you are sitting there in winter in Moscow, in Thailand there is summer and Mojito on the roof. After all, I really think that it's really possible to go to Tai, if not for half a year, but for months you can. And lonely freelancers are so easy at all!
In fact, if this year were notrestrictions in 2 months, then we would all go together and for the long term, the opportunity to go there. And I would post the exact same photos with the same captions.
P.S. Tell your life situations, your opinion, how everything fits together: travel, family, work. Let each other go on trips or try to be as close as possible, do you like winter / summer, tried to make money on trips or just the office?
Life hacking 1 - how to buy a good insurance

Choosing insurance is now unrealistically difficult, so to help all travelers, I compile a rating. To do this, I constantly monitor forums, study insurance contracts and use insurance by myself.

Life hacking 2 - how to find a hotel 20% cheaper

First, choose a hotel on Booking. They have a good offer base, but the prices are NOT the best! The same hotel can often be found 20% cheaper in other systems through the RoomGuru service.

Discount hotels