Separately, I carry information on the location and opening hours of the Thai consulate. In Moscow, you can make a one-time Thai visa (personal experience of getting), and not in a country neighboring Thailand, this is lesscostly for the money. Naturally, this applies mainly to residents of Moscow and St. Petersburg. But from the rest of the cities, you can send your passports and documents, transferring them through an intermediary, since personal attendance is not necessary.
I remind you that all the information about visas to Thailand for Russiansthere is this link. There is also about when a visa is needed, and what vizarans are about, and about multivisa, and about children's overlays.
The content of the article
Consular fee and time of manufacture of a visa
Electronic queue - On January 2019 servedocuments can be in a live queue if you have a departure in a week. All the rest are by electronic record, which is quite difficult to get, as time flies quickly, almost a month in advance. The alternative is a visa center for extra money.
Consular fee - a one-time visa of $ 40,multivisa $ 200. Accept ONLY in dollars and cash. Torn, crumpled bills, even slightly worn bills will not accept. Notes must be no older than 2009. They say they started giving back, but I would rather bring it without surrender.
Registration term - 3 working days, including daysfiling and issuing. But they can last even longer if there is something wrong with the documents. Just in case, keep this in mind and make a visa in advance. The entry corridor opens on the day you apply for a visa.
If you need to make a photocopy, then this service is almost opposite the embassy (to the left you have to turn and walk a few minutes) in the lobby of the Volga Hotel (such a high-rise building), 10 rubles per page.
If you turn from the embassy to the right and goGarden ring on the underpass, then there Sberbank, ATM and currency exchange. You can also go to the 1st Koptelsky lane (next after Bolshaya Spasskaya street in the direction of the metro), there is Bystrobank, you can withdraw money from an ATM and exchange them at the bank cash office for dollars. But it is better to prepare money in advance for the consular fee.
In the consulate itself there is glue, scissors and pens. But I would nevertheless have prepared all the documents in advance.
How to fill out a migration card. They will give it to you on the plane, regardless of whether you have a visa or you are going to enter a stamp. Just in case, save yourself pictures on your phone.
Working hours
Electronic queue - from February 1, 2018, you can visit the consulate only through an electronic record, and there is also a record for a specific day / time in the queue. For each passport - one entry.
Open Monday to Friday, exceptHolidays Russian and Thai. The work schedule is changing, plus or minus, it is better to come in advance, especially during the peak season. Monday, Wednesday and Friday are the days when representatives of travel agencies come with a bunch of passports. But this does not always mean that these days should not come. For example, in November 2017 the reader of the blog unsubscribed that on Friday was the least of the people. Maybe a coincidence, but maybe not.
9:00 - 11:40 submission of documents for a visa (time is selected during electronic recording)
14:00 - 15:00 issue of passports with visas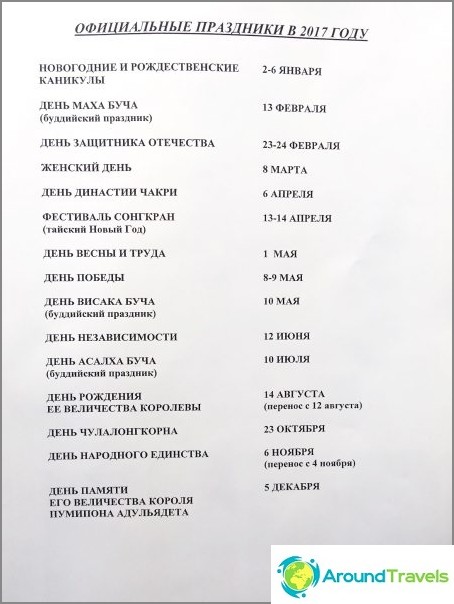 Embassy address
Address of the Thai Consulate in Moscow: st. Bolshaya Spasskaya, 9. Phone: +7(495)608-0856, 608-0817, 608-6671. But the phone is sometimes useless to call. It feels like they just don't pick up the phone.
Of site
And the address of the consulate in St. Petersburg, Bolshoi Prospect V.O., 9.
Driving directions
Come out on m.Suharevskaya, there is one way out. Get up, go out. You need to walk along the Garden Ring; if you look at Prospect Mira, then you must go to the right. If you went along the inner side (depending on where you came out of the subway crossing), then you go to the first pedestrian crossing, cross Sadovoye and there will be the right Bolshaya Spasskaya 50 meters along it and the embassy, ​​follow the left side. If you went on the outer part of the Garden, then just go to the Big Spasskaya and turn left on it.
To go there literally about 10 minutes, longer explained.
Consulate of Thailand in Moscow
Consulate of Thailand in Moscow
st. Big Spasskaya 9
st. Big Spasskaya 9
Life hacking 1 - how to buy a good insurance

Choosing insurance is now unrealistically difficult, so to help all travelers, I compile a rating. To do this, I constantly monitor forums, study insurance contracts and use insurance by myself.

Life hacking 2 - how to find a hotel 20% cheaper

First, choose a hotel on Booking. They have a good offer base, but the prices are NOT the best! The same hotel can often be found 20% cheaper in other systems through the RoomGuru service.

Discount hotels