It is difficult to give advice to tourists of all categories, sohow everyone travels differently on vacation to Turkey - someone on the tour, someone on their own. Since I was able to visit both the resort of Turkey and the real one, I will immediately try and everything that seemed important to me. If you forgot to add something in the comments. I hope the tips will be useful.
And the description of our trip by bus and hitchhiking read here - Alone in Turkey.
The content of the article
Tips for tourists in Turkey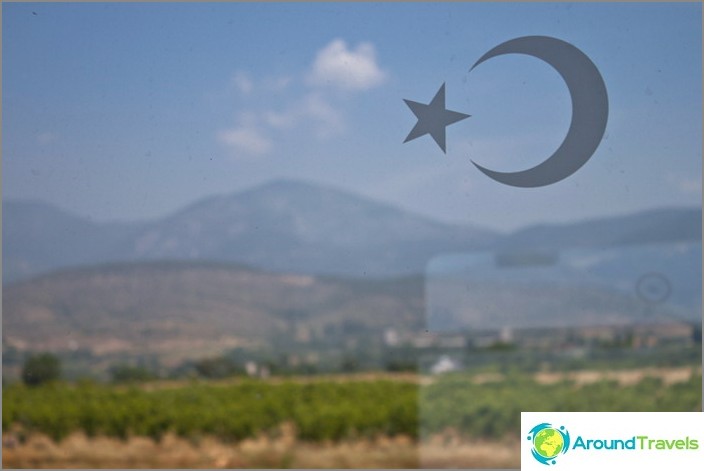 planning an independent travel in Turkey:
- It makes sense to learn Turkish. Since English speakers are rare. At a minimum, you need to bring a dictionary and phrase book. But here lies another problem: you will be able to ask something, but to understand the answer is no. Especially for hitchhiking.
- It makes sense to stock up on maps and guidebooks in advance. GPS will not be superfluous either.
- Do not worry too much about charging batteries, sockets are in almost every toilet, as well as at train stations. And when hitchhiking, it would be good to take along with car charging.
- Each tour operator has its own charter flights,therefore, if you contact him directly, you can buy tickets cheaply, for example, Alba tour, Capital tour, Pegasus. This mainly concerns Antalya. Some tour operators said about it on the site. It is better to buy immediately back and forth from one city. You can try to buy a return ticket from Turkey. For those who want to buy a ticket on their own, I recommend doing it through Aviasales.ru and Skyscanner.ru.
- Separately, I want to highlight the airline Pegasushttp://www.flypgs.com/ru/. It flies from Krasnodar to Istanbul and other cities of Turkey. There are flights to other countries, but we need Turkey. So, the tickets are quite cheap, especially if the promotion is taking place. This is a unique alternative to the ferry Sochi-Trabzon.
- Ferry Trabzon-Sochi. The cost of a ticket is about $ 50-100 per person. Travel time is about 12 hours. There are no schedules like this for the ferry;
Travel Tips in Turkey
holidaymakers at resorts:
- Excursions are quite expensive compared toEgypt And you can go to the nearest places by dolmushes (minibuses), two times cheaper, but without a guide. Another advantage is that no one will customize you, and you can spend as much time on any ruins as you need.
- Hotel guides are rather stupid, could notanswer none of our questions. Only and could talk about their excursions and intimidate all sorts of non-existing horror stories. Their main goal is to dissolve you for money. Do not give in!
Tips for holidaymakers in Turkey
both for holidaymakers and independent travelers:
- To assess the value of the goods, you can multiply the price in lira by 20, and then get the price in rubles. At the moment, the dollar against the Turkish lira - 1.5, the euro - 2.
- Internet cafes are common costone hour 1-2 lira (20-40 rubles). Wherever we were, computers have a microphone with headphones and a camera, so it's much cheaper to use Skype instead of cellular.
- Turkish cellular communication is expensive, about 30kurushey (5 rub) call in Turkey, and 70 kurushey (15 rubles) - a call to Russia, SMS to Russia is also around 15 rubles. A call to a landline phone is cheaper than a mobile one. When buying a SIM card, the tariff is purchased, for a total of 25-35 lire (500-700r), so it does not matter what to buy Turkcell or Vodafone. But if long use is planned, then Turkcell is cheaper to use, and you also need to register your mobile phone in the operator's office, otherwise after a while Simka will stop working with this phone. By the way, if the employees in the salons of communication, if they speak English, then barely, therefore, a clear answer to our questions was not received.
Have a good holiday in Turkey!
Life hacking 1 - how to buy a good insurance

Choosing insurance is now unrealistically difficult, so to help all travelers, I compile a rating. To do this, I constantly monitor forums, study insurance contracts and use insurance by myself.

Life hacking 2 - how to find a hotel 20% cheaper

First, choose a hotel on Booking. They have a good offer base, but the prices are NOT the best! The same hotel can often be found 20% cheaper in other systems through the RoomGuru service.

Discount hotels