Hoping for my good knowledge of English and oursoutstanding abilities in terms of acting, we naively went to live in non-tourist Thailand, not knowing a word in Thai and not taking a phrase book with us And it turned out to be our mistake, because in the northern part of this country, more than often, you can meet a Thai, who does not speak a word or speak English.
The content of the article
Communication specifics
When we talk about communication, we meanordinary Thais, whom you encounter every day at the shop counter, in a cafe, at the hotel reception, and not at those who work in prestigious office work and at a higher level. With such we talked only during hitchhiking, and my soul just sang when we had interesting conversations in good English! So consider this moment, do not demand too much, I doubt that in the same Moscow / St. Petersburg / Your City the saleswomen in the shops speak all English.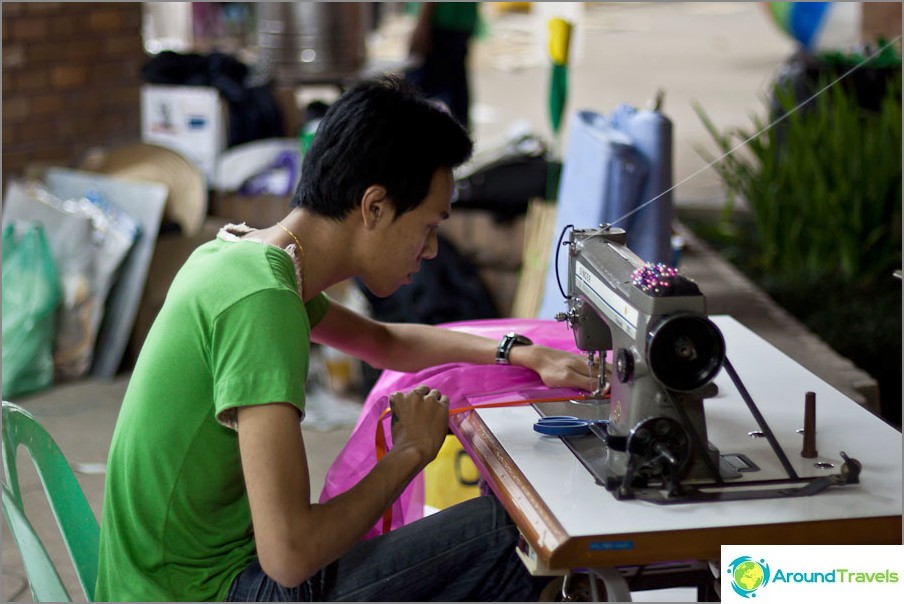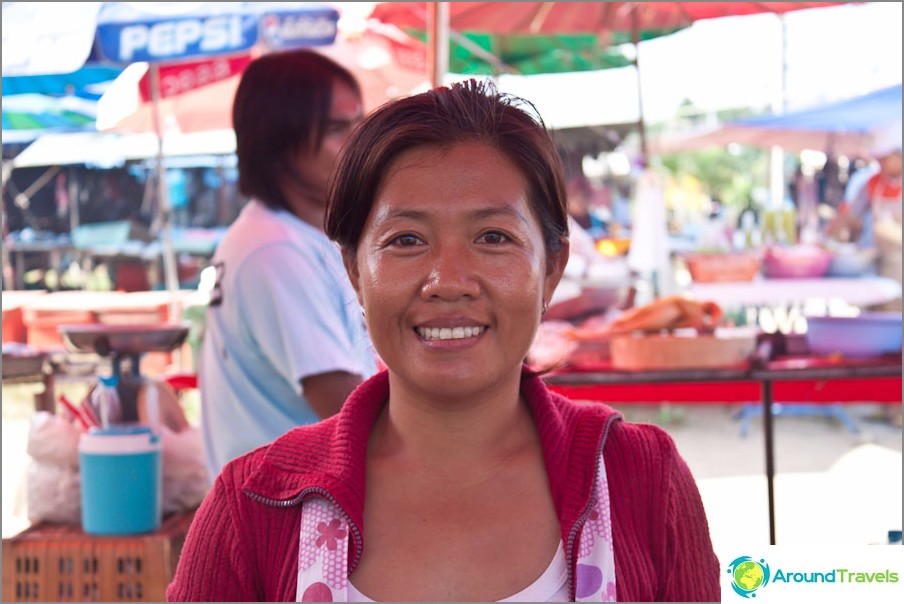 Their impressions of our vain attempts to communicate with ordinary Thais I described in another article, I will not repeat. I recall only that it is difficult, because they are modest guys and hesitate to admit if they do not fully understand you. It is easier for them to pretend that they understood everything and answer "yes", which in the end sometimes leads to not quite pleasant consequences for us.
In fact, the problem is not in modesty, but inculture (you can not lose face and make another lose), so it is sometimes difficult for foreigners to understand how to behave better and how to solve this or that issue. And here, or you are "built into" the local culture, learn the local language and all that (if you come to live for years), or just accept the rules of the game for a while (while you rest / spend the winter).
Cheat Sheet, how to communicate with the Thais
In the old manner
Well, to somehow make your life easier, andTo reduce to a minimum the situation of misunderstanding, we made a magic wand: asked our friend who knew English Taechka to write me a notepad with Thai "hieroglyphs" for some surviving phrases .. It seemed that now life would be easier. You poke your finger at the desired Thai phrase, and there will no longer be any misdending. In vain ...
We were surprised to find that a little from the cityyou will leave, and you have every chance to meet a person who cannot read his own language. Speech about the north of Thailand, in the south did not collide. Of course, it could have seemed so simple to us, but a couple of times they ran into something that you were showing them a phrase in Thai (written by a Thai) in a notebook, and they even refuse to look or uncomprehendingly rummage through their eyes. Our notebook went hand in hand until it found someone who could still read, more often this someone turned out to be children who are still in school. It may well be that the Thais simply did not really want to get involved with foreigners (so as not to lose face), or maybe adverbs were different (there are many Burmese in the north, there are Chinese).
Here are the phrases that we have compiled in the process of living here, the presence of these in written form helped us a lot, maybe it will be useful to you.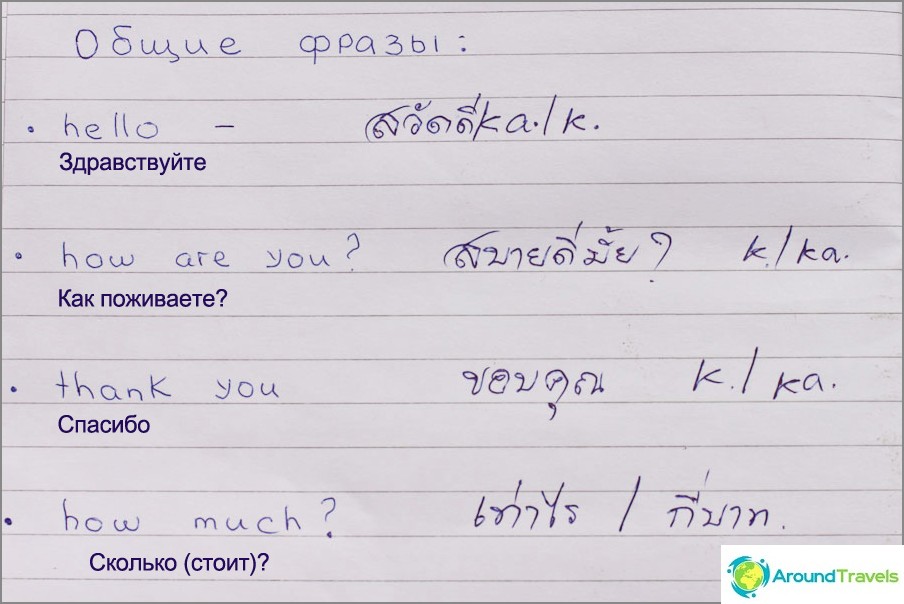 Our heroism was only enough to learn how to correctly pronounce two words in Thai:
Hello - Savadi khap (as men say), Savadi ka-aa (women say)
Thank you - Khap-khup-khap (as men say), Khap-khup-ka-aa (women say so)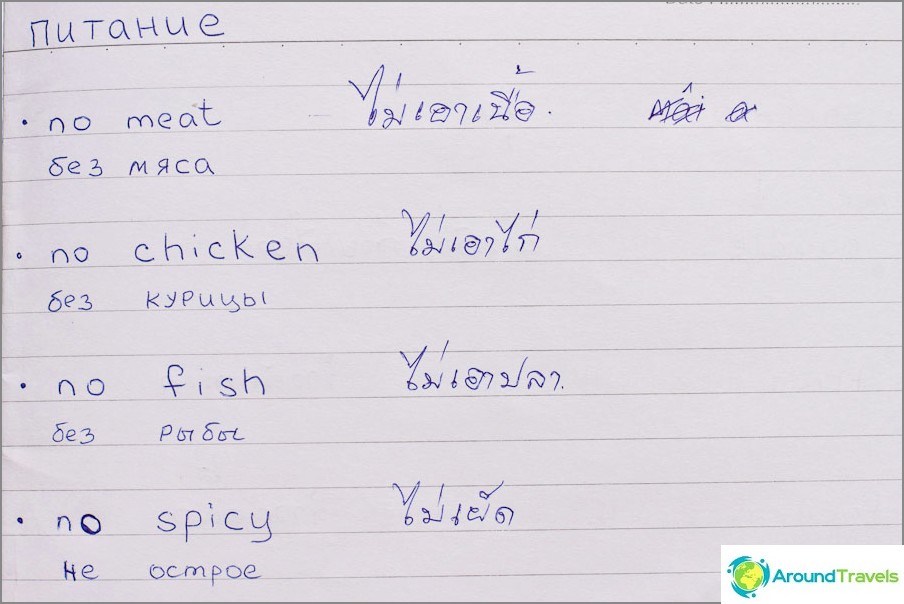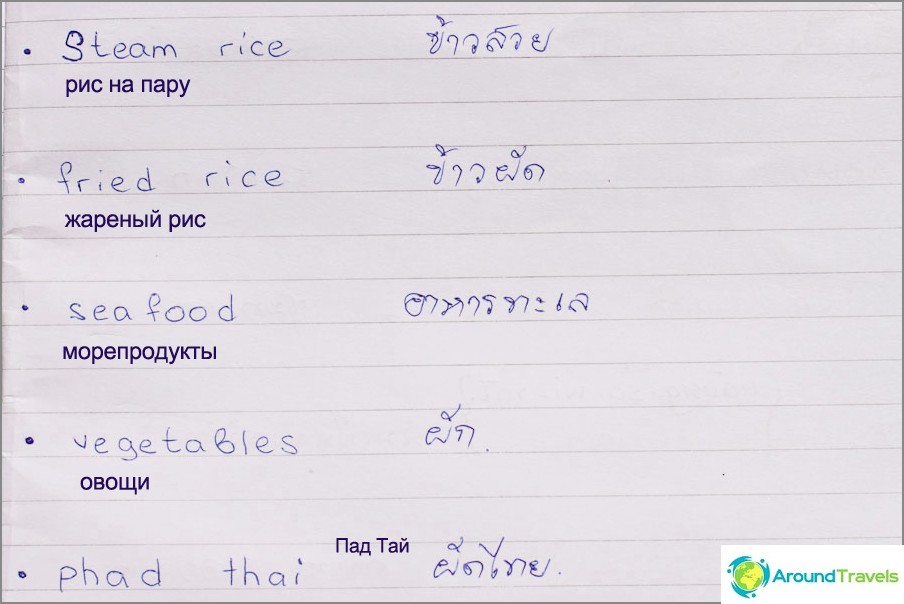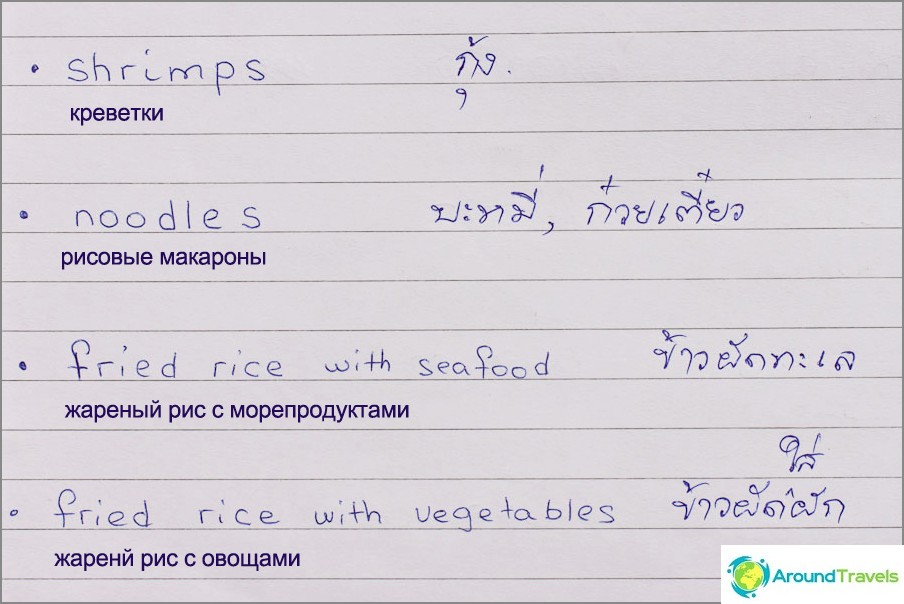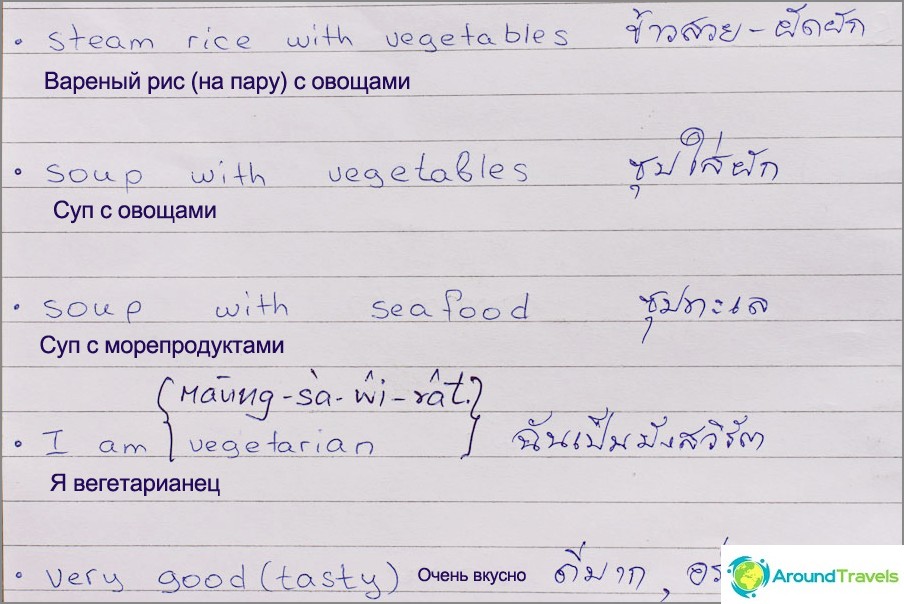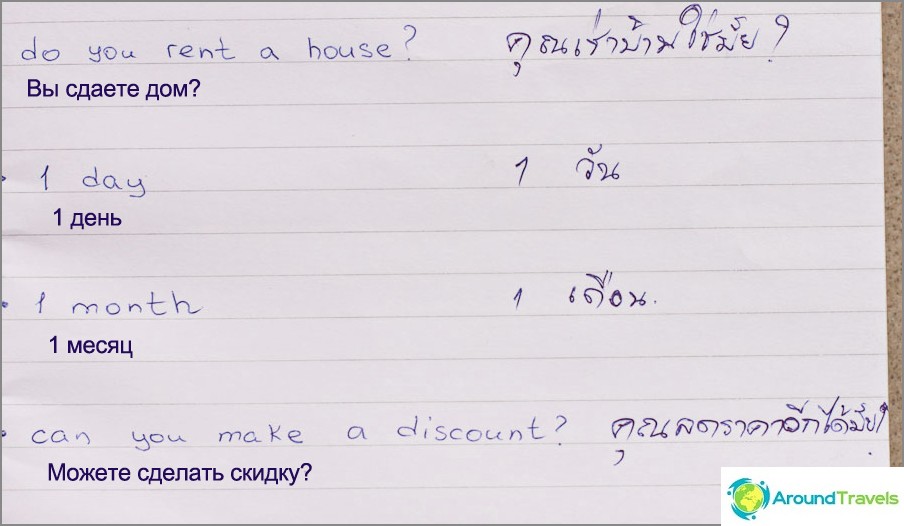 Applications for Android and iOS
UPDATE. The post was written several years ago, when we didn't have any smartphone with a bunch of various useful applications. So now communication in any country has become much easier if you have a modern phone. I have several dictionaries, but more often I use the usual Google Translate.
Google translate - an application that cantranslate text between multiple languages ​​(it is better to use a bunch of English => Thai, it works more correctly), pronounce words and phrases, translate the photographed text. Moreover, for some time it can still work without the Internet (only translation will be available), for this you need to download the necessary language packs in advance.
For sure, there are other applications createdespecially for the Thai language, but we didn't need them, there was always enough Google. Moreover, most often we are in developed cities and resorts, and there almost everyone speaks English, even if it is very simple and distorted.
Calculator to help
Thais deal with numbers easier. Most likely, your question "How much" (How much), you will be asked to look at their calculator, where the seller has collected the desired amount. You can point with your fingers, for example, show 25 with your fingers first 2, then 5. Even if your Thai interlocutor knows English numbers, it is still better to pronounce three-digit numbers by numbers, for example 524, to call five, two, four.
Pronunciation in Thai English
Thais have specific English. This is manifested in both pronunciation and grammar of the language, and when we first arrived in Thailand, I did not immediately learn to understand the English phrases addressed to me. Here are some of the features of their pronunciation that can help you to understand their Thai English.
Our country and you will be recognized only if it is pronounced as RAsia, if you say Thai that you are from Russia, he most likely will not understand you the first time.
Keep in mind that they rarely pronounce the sound "c",and the sound "p" is almost always replaced by "l". Because of this, the English word Guesthouse (English Gesthouse) in Thai will be Gethau, the words rent and room will sound like "tapes" and "Lum", and the fried rice dish will be fly barking.
In general, for the same reason, Thais slaughter andswallow a specific sound of English, denoted by the letter combination "th", so the word month (English month) in Thai English will sound like "man", monthly (English monthly) - like "manly".
Well, if you are told "No have" to the question "Do you have ...", it means that you have just been answered with "No, I don't have ...". Well, this is so, the note is already for advanced polyglots.
P.S. In general, do not be afraid of the language barrier in this country, they speak English there in all tourist places (in Pattaya and speak Russian), you just need to get used to the pronunciation, and using such weapons as savvy and gesticulation, it will be hard for the abyss
Life hacking 1 - how to buy a good insurance

Choosing insurance is now unrealistically difficult, so to help all travelers, I compile a rating. To do this, I constantly monitor forums, study insurance contracts and use insurance by myself.

Life hacking 2 - how to find a hotel 20% cheaper

First, choose a hotel on Booking. They have a good offer base, but the prices are NOT the best! The same hotel can often be found 20% cheaper in other systems through the RoomGuru service.

Discount hotels