Not that I could recommend this hotel, but inIn general, it can be considered for living. It is located near the beach uncomfortable, but at the same time it is quite nice at a reasonable price. Such a middling. Only it is worth considering that without a rented bike or car, there is nothing to do there.
The content of the article
Price and reservation
At Cyana Beach Resort

I took a bungalow for 1600 baht / day (1900 baht with breakfast). But this is January in peak season. Not at a peak price of about 1,400 baht / day (or 1,700 baht with breakfast).
Hotels in Phangan>
Be sure (and I insist) check availabilitydiscounts or special offers on the excellent Roomguru service. It will quickly and simply show you discounts in all existing reservation systems. In Asia, for example, there are lots of offers on Agoda.com that are much more interesting than on exactly the same hotels on Booking.com.
For example, here is a direct link to the hotel: Cyana Beach Resort

.
Interior
At first glance, a very decent resort, whichfully corresponds to its rating of 8.5. And, funny, foreigners are delighted, Russians write bad reviews. Perhaps the fact is that the former assess the hotel itself, the latter evaluate its location.
Indeed, is located on the fan, becauseThe word Beach in the title only says that the beach is near, but that it is completely unsuitable can be found either upon arrival, or from reviews, or by reading blogs that describe Pangan beaches and comparing location.
So I knew where I was going and why I chose it.place, I had a rented bike, and 5-15 minutes for the beaches of Shritan, Haad Son, Haad Yao, no problem. And the hotel is really great, it is consistent with its 3rd stars.
For example, there are all sorts of nice little things thatAlways glad and deliver convenience: soap supplies, a couple of free bottles of water, an umbrella, napkins, a flashlight, coffee and tea, and finally a couple of bananas - a compliment from the hotel. Also there are no trifles: air conditioning, fan, TV, hairdryer, iron, safe (bolted, by the way, to the wall), kettle and fridge. The bungalows are all wooden, clean, new and tidy.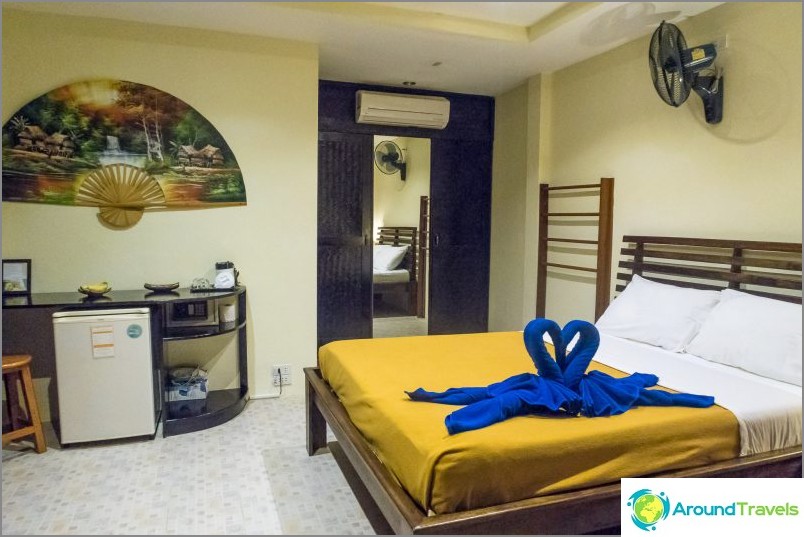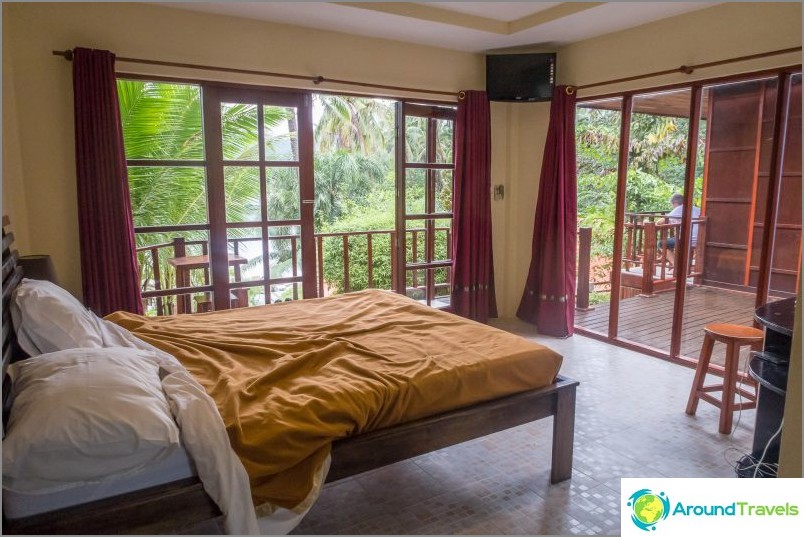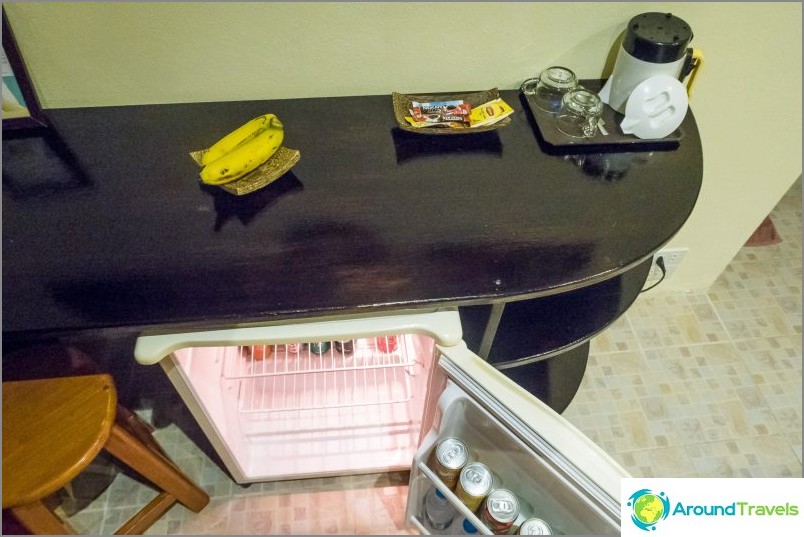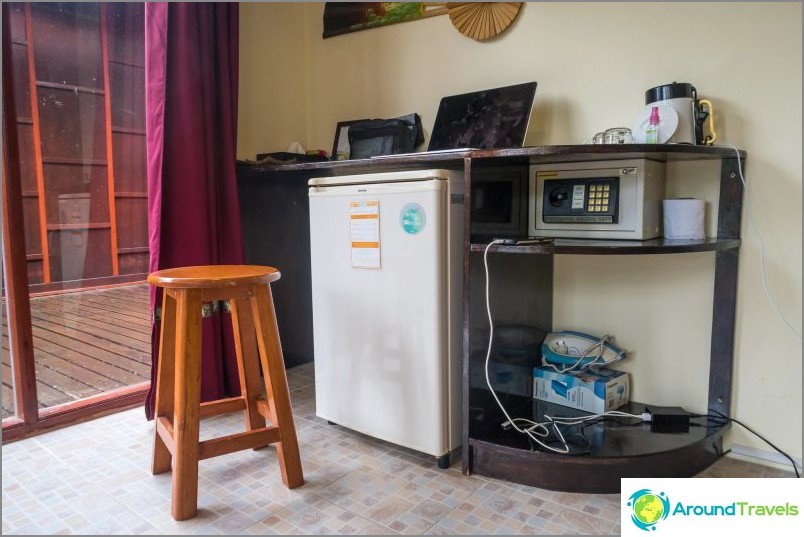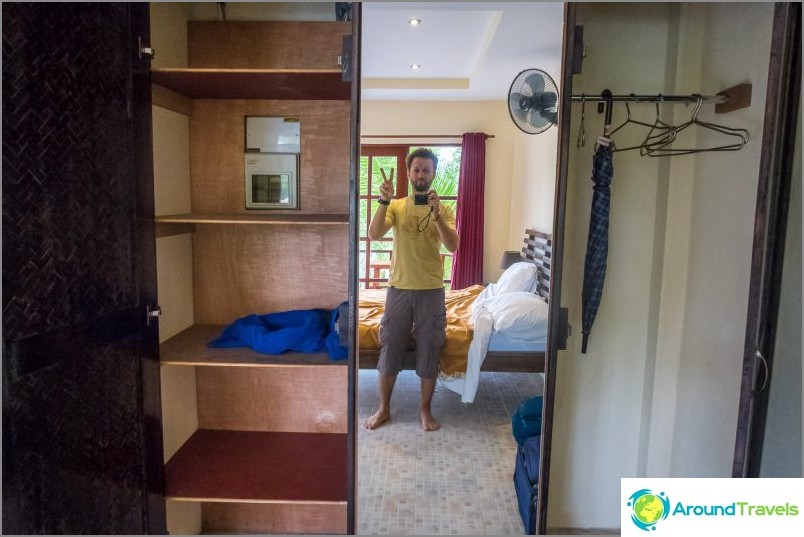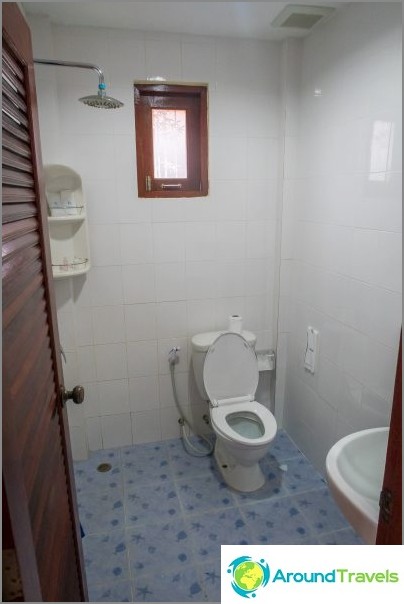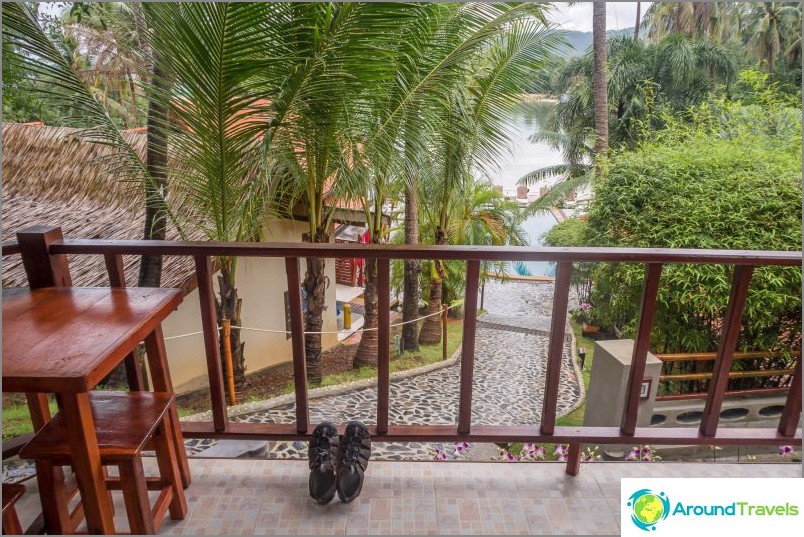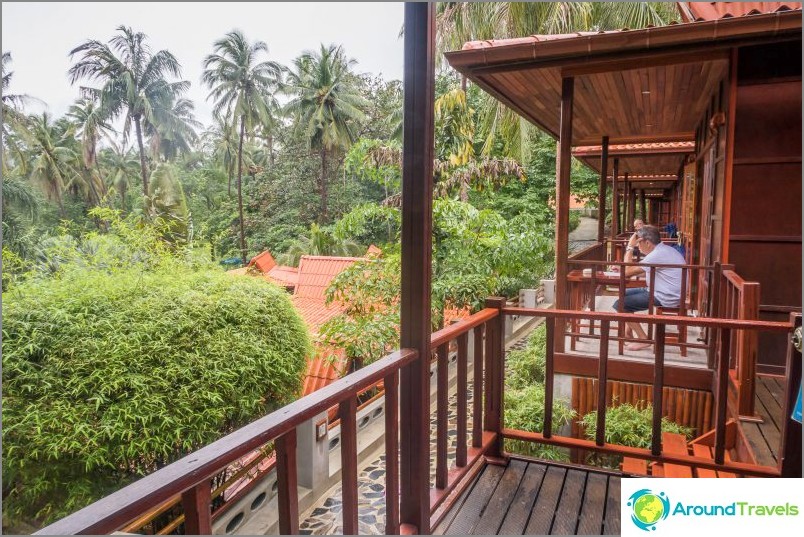 The Internet is not ice. Wifi is connected, but whether the Internet itself will depend on weather conditions, or on the mood of the router. In general, when the Internet was, it was slow. The bungalow didn't work for him at all (sat on 3G), the restaurant seemed to work fine.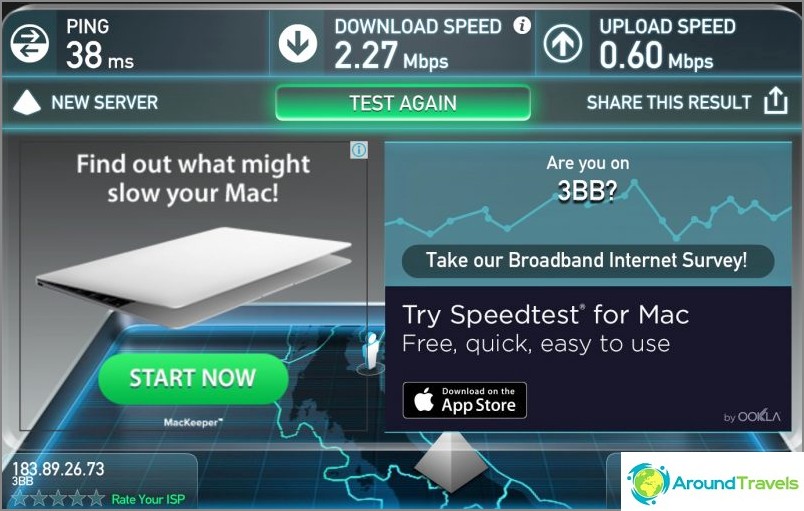 Territory and breakfast
Breakfast from 8 to 10. If it was not included in the price, then 180 baht per person. Breakfast is not bad, finally there is a choice with what an omelet to not only sausages or bacon, but also cheese, vegetables and so on. There are 20 varieties of scrambled eggs, a trifle, but I personally find it convenient, since I do not eat sausages. And there is thai breakfast, you can take a soup with shrimps or chicken, also edible.
Breakfast time is very strict, one day Icame at 10.05 and already everything, the kitchen of the type is closed, begged only coffee for himself, this is their minus in karma. Separately, I just had dinner at a hotel restaurant, the portions are small.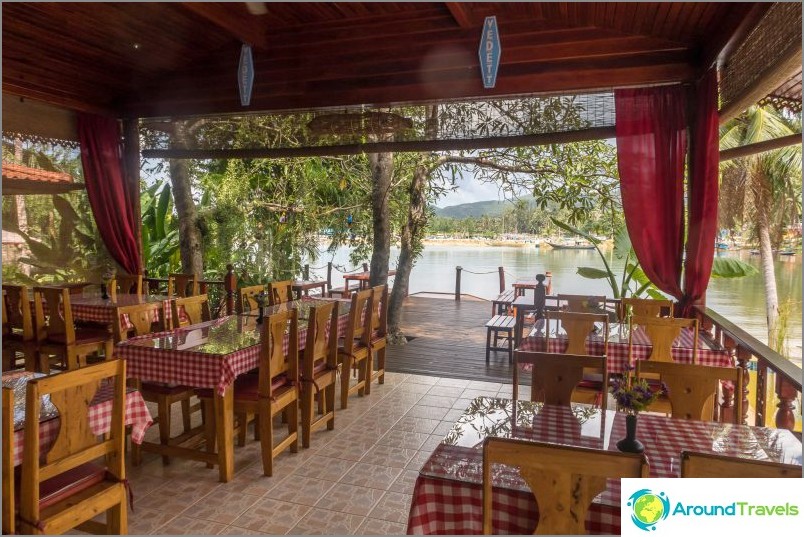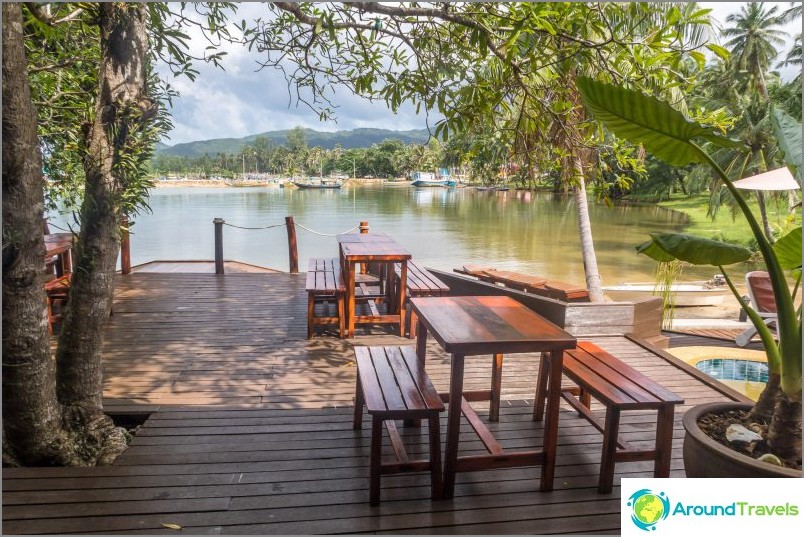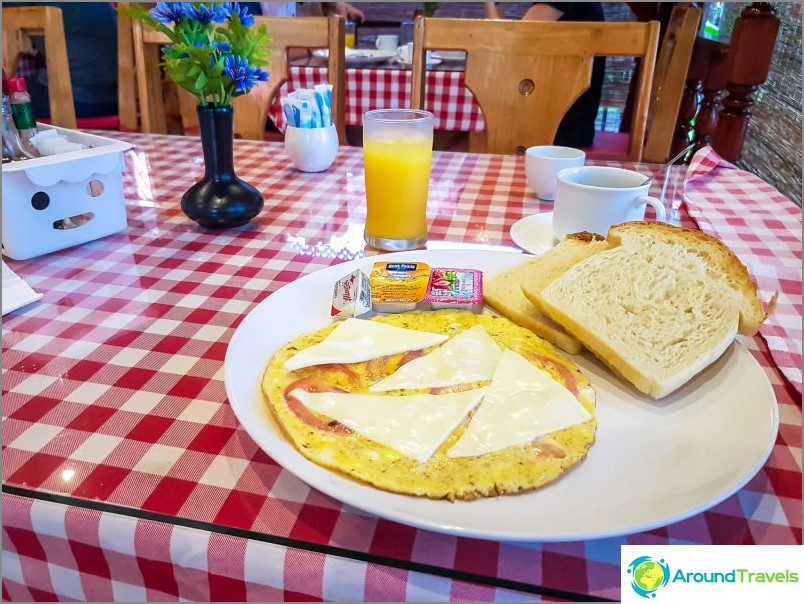 The territory is well-kept and small, in fact, the path to the restaurant and the path between the bungalows. There is a swimming pool near the restaurant where breakfast is served.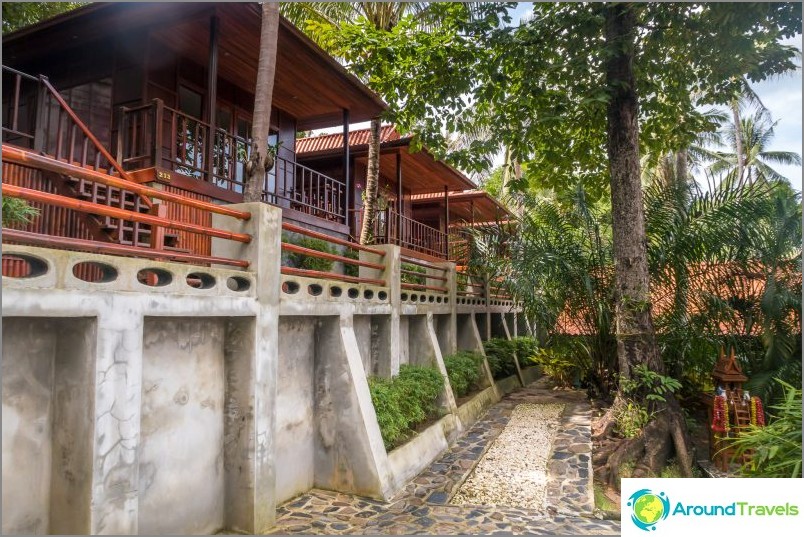 On the map
In my opinion, the location, on the contrary, is convenient,because the hotel is located between Thong Sala and Shritan, everything is very close by bike and from here you can ideally explore the island. And I, frankly, poorly imagine how it costs on Pangan without a bike.
Therefore, from real minuses (becauseThe location can be both a plus and a minus) - this is a dead Internet, I have not earned it. And of course, the lack of a beach is still great when the hotel is on the first line. But that would be a different price.
Cyana Beach Resort
Cyana Beach Resort
Nice and visually pleasant hotel. Wooden clean bungalows, swimming pool, on the beach in a quiet place. But the beach is not swimable at all. If there is a bike, then go to a normal beach for 10 minutes.
Read more.
Nice and visually pleasant hotel. Wooden clean bungalows, swimming pool, on the beach in a quiet place. But the beach is not swimable at all. If there is a bike, then go to a normal beach for about 10 minutes. In more detail.
Life hacking 1 - how to buy a good insurance

Choosing insurance is now unrealistically difficult, so to help all travelers, I compile a rating. To do this, I constantly monitor forums, study insurance contracts and use insurance by myself.

Life hacking 2 - how to find a hotel 20% cheaper

First, choose a hotel on Booking. They have a good offer base, but the prices are NOT the best! The same hotel can often be found 20% cheaper in other systems through the RoomGuru service.

Discount hotels