Almost every day we are asked thathappening in Thailand, is it dangerous to go there. Probably, the Russian media frighten people every day, and even the Foreign Ministry has already recommended refraining from traveling to Bangkok. In principle, the truth may not be worth the trip to the capital, but all sites are full of messages that unrest is taking place in Thailand, not focusing on the fact that there are rallies only in Bangkok. Yes, and in Bangkok itself, everything is not so scary. Since we live now in the epicenter of events, I decided to tell a little about how it looks in reality.
Immediately I warn you, I am not strong in politics,therefore, on this subject I will not write anything at all. And also no guarantees that tomorrow everything will be exactly the same as today. Actually, in any case, you travel at your own peril and risk.
The content of the article
UPDATE. Chronology of recent events
I decided after the publication of the article to add toThe beginning of the article is a chronology of events related to the strikes in Bangkok, both past and future. Future, accordingly, will be updated periodically. Description of the rally, my impressions and photos, look in the second part of the article.
December 28, 2013
Unfortunately, there is violence for two days. Already several people have died and about a hundred have suffered. First, a group of radical demonstrators attacked the Thai-Japanese stadium, where parties are registered to participate in the elections, and as a result a policeman was killed. Then, at night, unidentified persons fired on protesters near the government house, as a result one dead demonstrator.
The strangest thing is that when there were mass rallies withinvolving 200 thousand people, there were no casualties, and when 500 people besieged the stadium, the victims arose. They talk about provocations by pro-government forces in order to tighten the regime. The policeman was shot at a high angle, which also speaks of provocation.
January 4, 2014
Colonel Suthep leading the rallystated that on Saturday, January 4, millions of demonstrators would take to the streets and try to block Bangkok. It will consist in the deposition of all government buildings, major road junctions, shopping centers. Suthep apologized in advance to the citizens for the inconvenience in the capital, and called on all those not participating in the demonstrations to leave the city, for example, to go to the resort to rest. He told the rally participants to stock up on water, food and clothing, because the blockade could last a long time, almost to the point of an election.
Bangkok's blocking date moved from January 4on January 13th. It is planned to block about 20 intersections. But they promised to leave one lane for buses and ambulances. It also seems to not block the ground and underground subways, as well as trains. The airports also promised not to touch, but some flights from some airlines were canceled in Suvarnabhumi. More protesters want to turn off the water and electricity in government buildings. Thai Army does not agree with the intention to block Bangkok.
January 13, 2014
BKK blocking has begun ... Next to us onVictory Monument roundabout is full of people, it is blocked. There is music playing and occasionally someone says something. But so far everything is not different from the previous meetings, it has already happened, just more massively. Other intersections from the planned also blocked. So to move around the center of Bangkok, preferably by subway (or on foot). But, of course, cars drive on the roads, Taxi, bikes, maybe a little less than usual, but they drive, just not through those intersections that are blocked, the city is big. Metro also runs, and the underground works up to 2 nights.
Latest news, track here.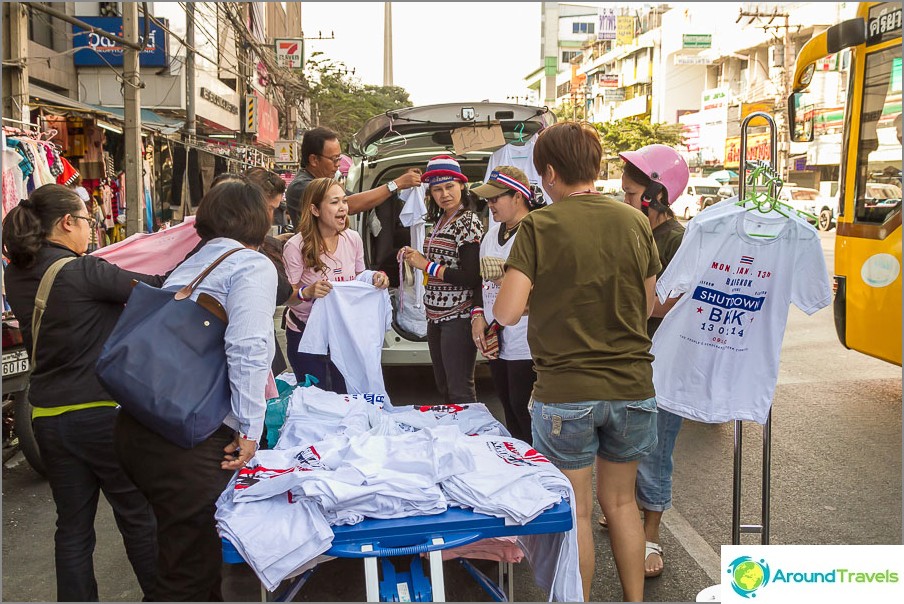 January 14, 2014
No changes yet, BKK is blocked. Nevertheless, you can visit the city and go to different places. There is no information that shopping centers or any attractions are closed. Everything works, tourists shop and go to the sights. Naturally, it is better to use the metro / skytrain, well, and lay time for "wading" through the crowd (if you find yourself in crowded places). Actually, the crowd is only on the designated sites, in other places the city lives a normal life. No emergencies.
I read that there is no one near the Monument of Democracy, which means that you can go quietly to Khaosan. Several airlines have canceled flights to Bangkok, but the airports are operating normally.
January 15, 2014
Let's go today by taxi to our center for trainingwith son. We drove almost from the Victory Monument and further north towards Chatuchak. If you don't drive into blocked intersections, you don't know about the demonstrations, everything is quiet and peaceful. At the same time there are few cars on the road.
January 17, 2014
This afternoon, a grenade was thrown right next to the opposition leader Suthep during a procession in the Banthad Thong Road area. 36 injured people. Something is starting. Here you have a holiday with fun.
January 19, 2014
Another provocation. At Victory Monument 2 RGD-5 grenades were thrown, 28 wounded. We live nearby, heard explosions, but did not pay attention. Nevertheless, everything is calm in the city, not to watch the news, not to go to the protesters and you may not know anything about the existence of the demonstration. In any case, it is better to avoid the main sites for meetings, and then you never know how to get under the grenade.
January 22, 2014
A state of emergency is introduced for 60 days. The state of emergency allows the authorities to declare a curfew, not to allow demonstrations in areas, to prohibit all sorts of gatherings, to detain people on the street, and so on. What does this mean for ordinary tourists? I do not know yet, it may well be that nothing.
January 28, 2014
To write, frankly, nothing. Despite the state of emergency in the city, everything is the same: the protesters are on strike, the intersections are busy with them, as before. Basically, crowds at the sites gather in the evening, since during the day everyone is at work. Therefore, you are going to the center, look at all sorts of oceanariums, etc., do it during the day and, probably, better not at the weekend. Although the crowd does not really interfere in principle, only provocations can be feared.
Walked to the Victory Monument, a little bit of the photographing.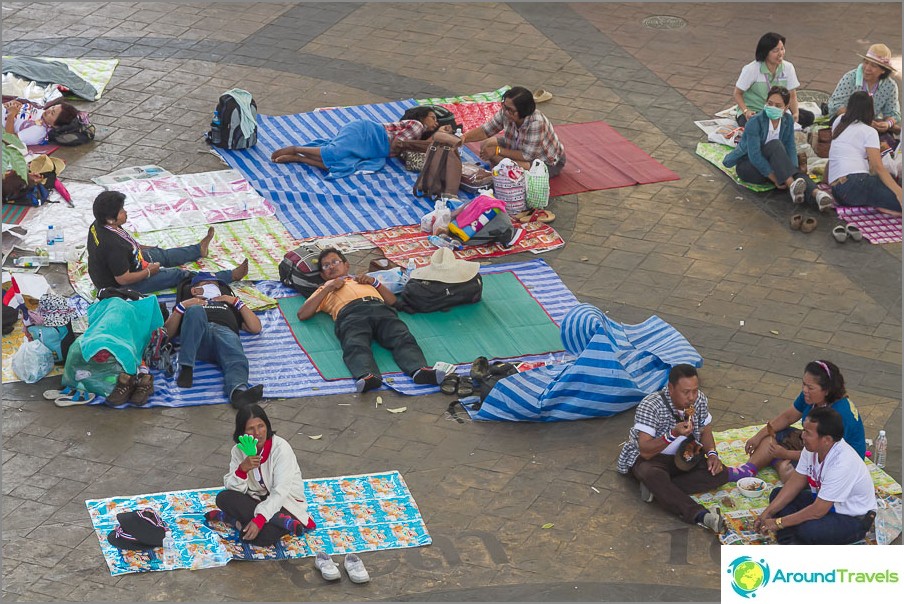 Map of demonstrations in Bangkok
Here I found an updateable map in the open spaces with points where and what is happening. All points are signed, so you need to click and read the description. The map is updated not hourly, but rather quickly.
Demonstrations in Bangkok
Let's start with the fact that demonstrations and ralliesgo only to bangkok. In other cities, everything is calm. Therefore, if you are going somewhere in Samui or Phuket (and any other cities), then you have absolutely nothing to worry about. In addition, if you fly with a transfer in Bangkok and thus the airport will be blocked. At the moment it works and everything is in order, and it seems that nobody has spoken about the strike in it until now. I am sure that if this happens, everyone will know about it at once.
Not all areas
Demonstrations are held not just in Bangkok, butonly in a few of its areas. Demonstrators have main sites where they are located constantly, in the style of the Democracy Monument, which is located in the historical center of Bangkok near the well-known street. Khao San Road. By the way, palaces and temples are working in regularmode. Bangkok in general lives on calmly with its life: there are shops, subways, shopping malls and so on. There is a chance that you will come to Bangkok and will not notice anything at all, depending on where you will go. Several photos from the Internet, since I was not at the main sites.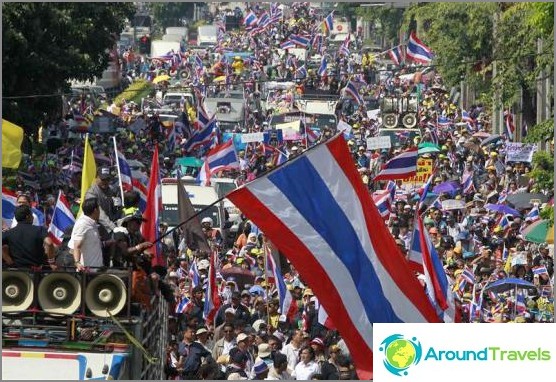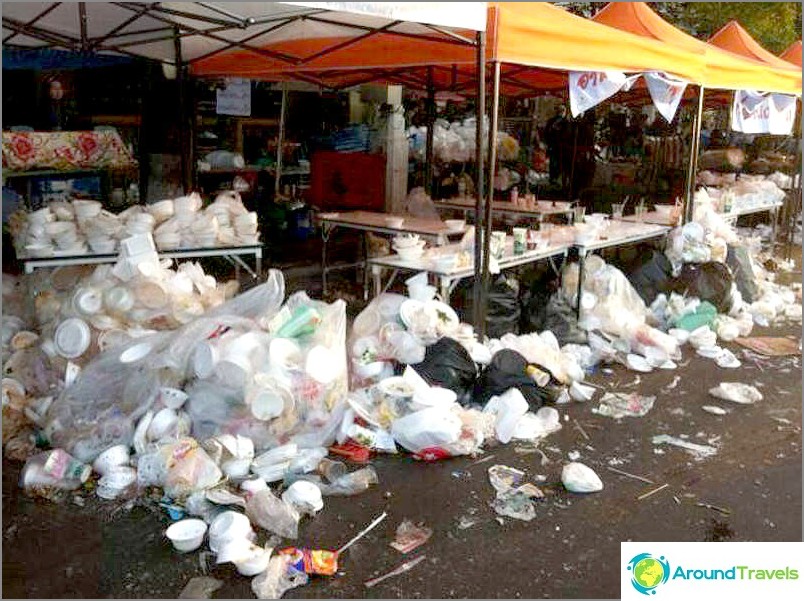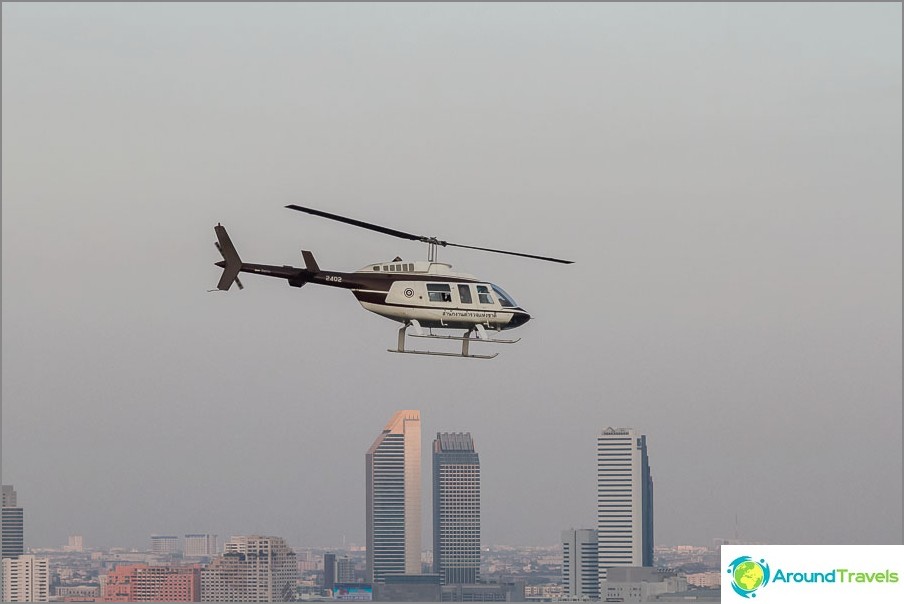 Move protesters in the city
Movement occurs periodically betweensites, as well as the formation of temporary sites. For example, we live near Victory Monument and lately often we see a crowd going in one direction or another past our house. Also on some days, they occupy the entire area around the Victory Monument, this is their temporary site.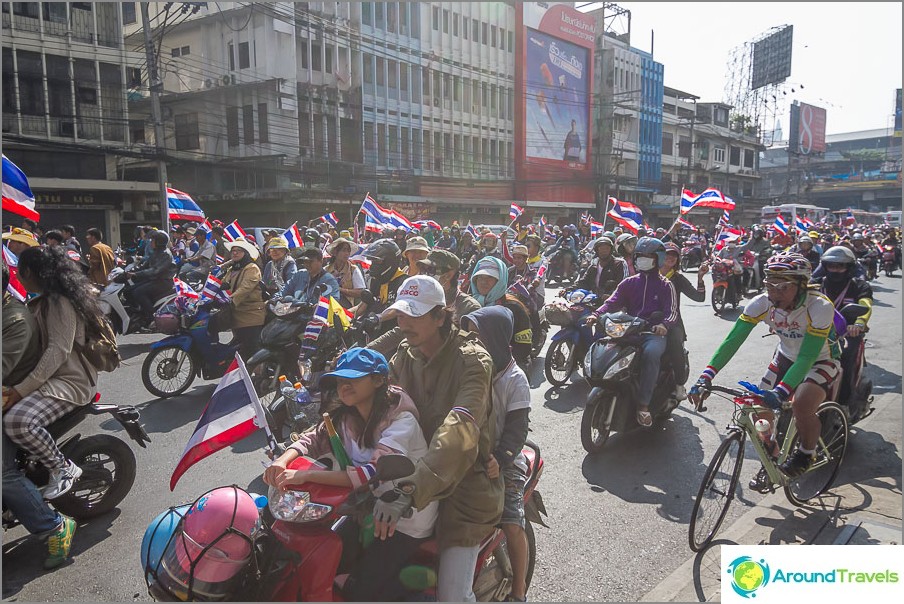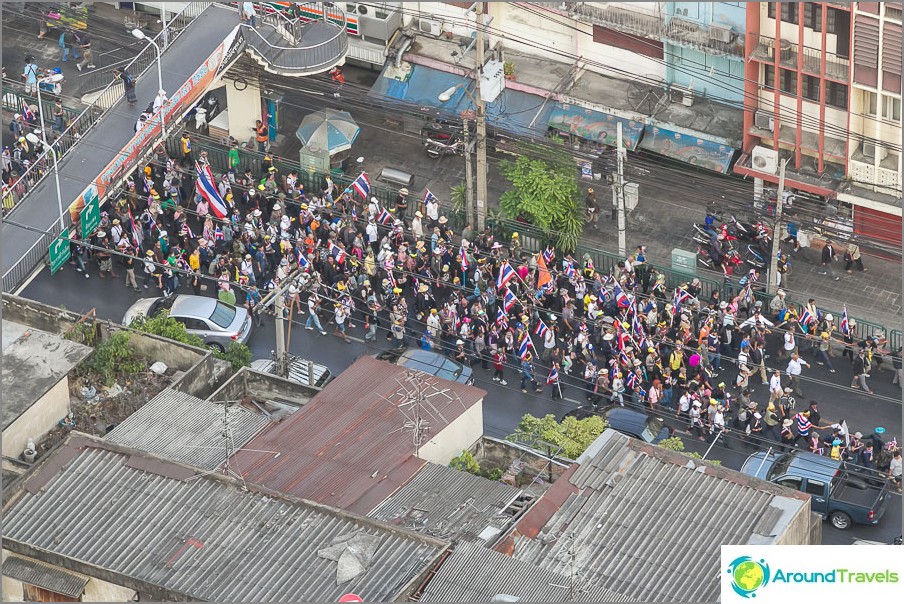 Meeting on December 22
On Sunday, December 22 (there was a massive rallymany temporary sites) I went to Pantip Plaza for wiring, and there just on Ratchaparop Street near Big C Supercenter and near Siam there was a big crowd that flooded the entire street. Nevertheless, all the shopping centers worked, like Pantip Plaza, which I needed. And a day later, on Monday, my mother went to this Big C, where I hadn't come up yesterday, and everything was fine, as if there had been no demonstrations. This is all I have to say that I just don't need to go specifically to those areas, although I don't see anything particularly terrible about it. This is not a war, but peaceful demonstrations. We saw that the crowd was going, turned around and went the other way, if you were afraid. The same with the sites, we saw a massive gathering of people - did not go inside the crowd.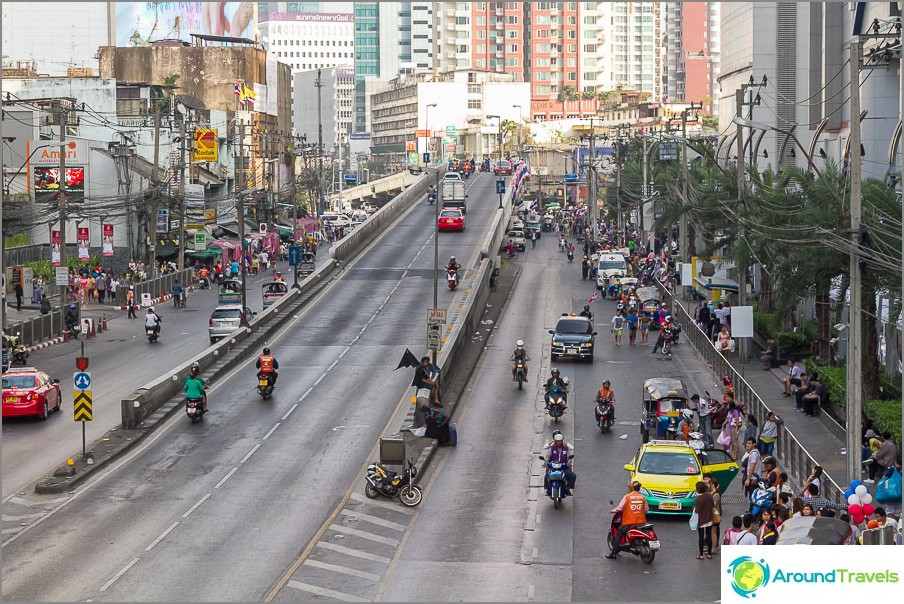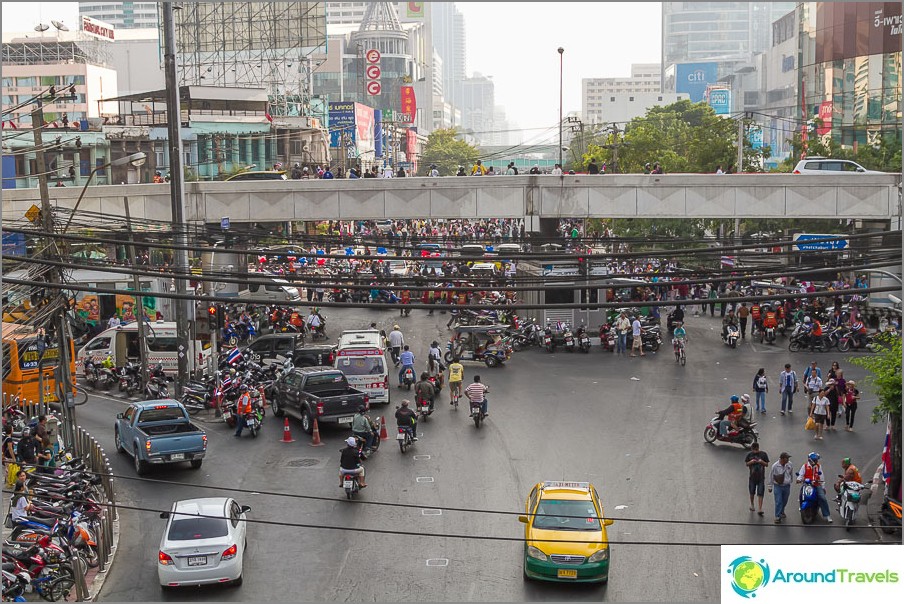 No aggression
And the last thing I would like to say. Demonstrations in Bangkok are not at all aggressive. They vote, make noise, whistle, declare from the stands, sometimes even sing, but no more. The main contingent is the middle class. Many come with children and even animals (saw dogs in a bike basket). There was an episode a month ago, the code smashed the bus and something else there, but it feels like it was made for show. For a month and a half, the rallies are literally one There is no Omon that batons all and takes the buses to jail. The demonstrators came to the government house and calmly occupied it. They have no culture in the massacre, everyone is trying to "bypass the corners" and yield. Therefore, even though the police appear on the streets, they are calm and bored. Although the use of rubber bullets, water cannons and tear gas is not excluded when the passions heat up.
But it is always worth remembering that any crowd, evena crowd of Buddhists, unpredictable. There may be provocations, there may be accidents. Also, everything can go quite differently as it is now, in 2004 in the south everything was tough, judging by the video. In general, do not relax, as if going to Disneyland. The Prime Minister, whom they wanted to remove, is still at the helm. And although the government was dissolved and new elections were appointed, the issue was still not resolved, so the demonstrations continue. Someone even predicts a civil war closer to the elections (February 2).
Those who want to understand more in the subject can read this topic on the forum. She is quite interesting.
And on http://blueskychannel.tv/, in real-time mode, they show what is happening in the city and the latest news is reported, though in Thai.
P.S. I read that the immigrant promised deportation to foreign tourists participating in the rally, so only take a picture and not participate
Life hacking 1 - how to buy a good insurance

Choosing insurance is now unrealistically difficult, so to help all travelers, I compile a rating. To do this, I constantly monitor forums, study insurance contracts and use insurance by myself.

Life hacking 2 - how to find a hotel 20% cheaper

First, choose a hotel on Booking. They have a good offer base, but the prices are NOT the best! The same hotel can often be found 20% cheaper in other systems through the RoomGuru service.

Discount hotels