Today again about travel insurance and thatmost service Cherekhapa Insurance, which is all confused with Turtle Insurance. Few know that Cherehapa also occasionally has promotional codes for discounts. There's even a field for entering a promotional code is so inconspicuous that the thought about it simply does not arise. Therefore, I decided to write a short post on this topic, let it be on the blog. Accordingly, I will periodically add here fresh promotional codes, so that you can take advantage of the discount when you are going on a trip.
Promo codes on Cherehap
If you are reading this post, then most likely you already know what Cherehapa is and why you need this mega-useful service. But suddenly, if you still do not know, then I wrote about him in detail in his post.
No current promotional codes.
BLACKFRIDAY17 - 10% coupon, valid from November 22, 2017 to November 26, 2017 (5 days).
Buy insurance with promotional code>
Promotional codes are valid for all insurance and with any of their conditions (dates, options, etc.). Promo code must be entered on the payment page.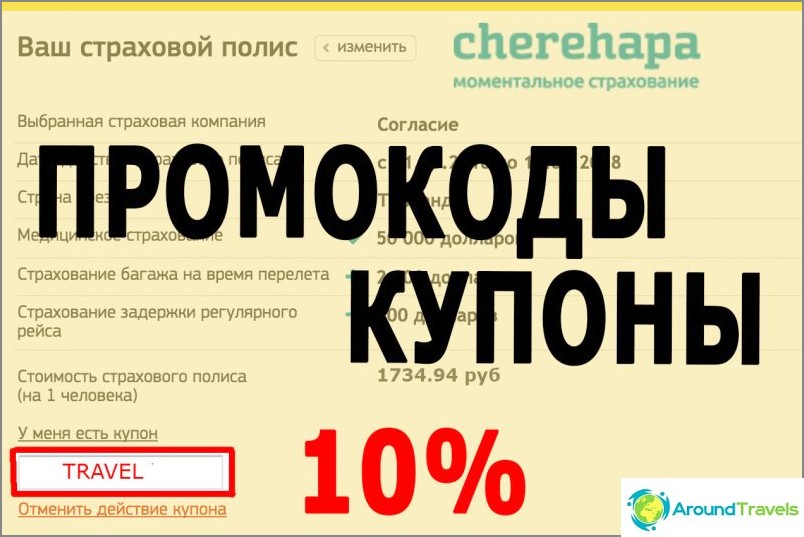 How to use the promotional code
Prokomod need to enter right before payment,so you will see the discount only on the payment page. Well, just in case, the service has this name Coupon, but I'm used to writing the Promocode. So this is the same thing.
You need to follow the link to the site Cherehapy and fill in all the fields to search for insurance (countries, dates, number of people). Then choose the sum insured and the necessary options.
Press the "Buy" button and on the next page youYou will see a small inconspicuous inscription "I have a coupon", which you need to click. After that, you must click on "Apply coupon", and the amount to be paid will decrease by the discount percentage.
Then just pay the policy with your credit card.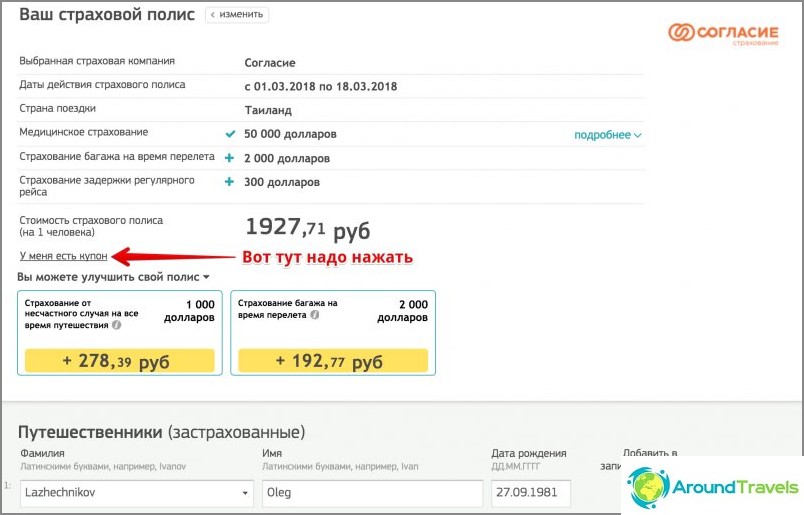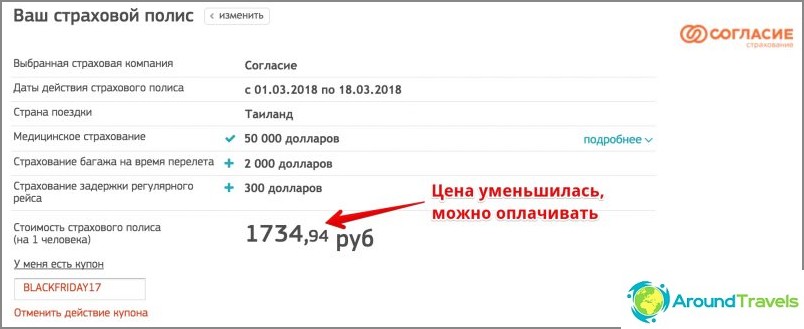 P.S. If you have questions, ask. How to choose insurance with all the nuances and options, I already wrote in my post about travelers insurance.
Life hacking 1 - how to buy a good insurance

Choosing insurance is now unrealistically difficult, so to help all travelers, I compile a rating. To do this, I constantly monitor forums, study insurance contracts and use insurance by myself.

Life hacking 2 - how to find a hotel 20% cheaper

First, choose a hotel on Booking. They have a good offer base, but the prices are NOT the best! The same hotel can often be found 20% cheaper in other systems through the RoomGuru service.

Discount hotels