Thailand is a great place to come tovacation. However, here you can spend the whole winter, if there is a desire and opportunity, and even more. But in any case, you will be faced with the following questions: do you really need a visa to Thailand, and if so, for how many months it is given, how to get a visa, and in general, what other options are there.
The content of the article
Do I need a visa to Thailand - briefly
First I will explain in brief, and then in detail.
Visa to Thailand for the Russians do not need!
All Russians on arrival at the border put ininternational passport STAMP with the ability to stay in the country for 30 days. No more, no less. It's free. Further, this stamp can be extended for 7 days (only 7!) At the local immigration office for 1,900 baht, which is in every Thai resort.
Thus, if you need 37 days for a trip, you may not read further. Just take the tickets and fly to Tai. the main thing honey insurance Do not forget, this is very important! Read my post on the link, you will understand. And looking ahead, I will say that if the duration of the journey is 31-33 days, then you can not extend the stamp for 1,900 baht, and pay overstey at the airport upon departure, but about it separately below, is it worth it or not.
And if you are traveling for a longer period, then be sure to read below options about visas.
Options for stays over 1 month
Stamp for 30 days. Put in the passport upon entry into the country, the passport must be at least 30 days from the date of arrival in Thailand! And not 6 months, as for a visa. Previously, there was a practice to go every month to the border with a neighboring country, cross it, return, and put a new stamp. Such a trip to the common people is called Visa-run (Visa-run) or Border-run (Border-run). However, since August 2014, border wounds have been partially banned. Now, by land, you can drive in a maximum of the second time, and by plane three times. But if there are gaps between the stamps (that is, you will be in another country for several days), then the border guards will be loyal to you. Stamp extended in place for 7 days, total 37 days.
Tourist single entry visa to Thailand for 3of the month. The passport must be valid for at least 6 months from the date of the end of the trip. It is given for 60 days with the right to renew at a local immigrant for another 30 days for 1,900 baht. The visa itself is done in the Thai embassy in Moscow or in a country neighboring Thailand. How to apply for a visa in Moscow. At the very end of the visa, it can be extended for another 7 days.
Multivisa for six months. She came to replace the double-entry visas, which were canceled. Multivisa allows you to enter Thailand an unlimited number of times within six months. The maximum stay after each entry is 60 days, you can also extend the stay for 30 days in immigrant for 1900 baht. The visa is issued only in the country of residence, that is, for Russians only in Moscow and St. Petersburg. Read more about multivisa.
Student visa to Thailand for 1 year. You can get on the basis of training in a language school, for example, English or Thai. It is done in a neighboring country, better in Laos. Given for the duration of your study, but the maximum visa period is 1 year, then you need to make a new one. Every 3 months, the visa must be renewed for 1,900 baht in imigreection, you cannot leave anywhere during the course of study (or, more precisely, you can, but with nuances). It is imperative to study and, in general, with the latest tightening of sharshakins, schools are not listed. The cost of an annual student visa is about 35,000 baht (25,000 baht self-study, plus extensions, plus the initial trip for a visa).
Business visa. I can't say anything about a business visa to Thailand, as we have enough of the previous points. It is done either on the basis of a real business, or a fictitious one through the appropriate assistance firms.
Pension visa to Thailand for 1 year. Worth 5,000 baht. You need to be over 50 years old and have an account in a Thai bank in the amount of 800 thousand baht, and the funds must be there for at least 60 days before applying for a visa.
Visa Thai Elite. Very good visa for those who have money on it and who also want to live in Thailand for a very long time. A visa can be obtained for 5–20 years for 0.5–2 million baht and for years to forget about stamps, trips for a visa, studies and other inconveniences. I myself thought about such a visa when I planned to come to Thailand for 5 years. Read more.
There is a re-entry permit for 1000 baht. It allows you to leave / enter without losing your visa (does not apply to Visa On Arrival), so to say, pauses the visa. It is made out before departure from Ty in any emigration office.
Entry to Thailand and departure
Talked about all the options for staying inThailand, now about the entry itself. If you do not have a Thai visa, then at the entrance to Thailand you will be stamped in your passport for 30 days. It is desirable to have 20,000 baht per person (in dollars, for example) and a return ticket. Check very rarely (isolated cases), but are eligible. With a clean passport, I think you can not worry at all, the chance of checking is even lower.
If you received a visa in advance, then you will enter on a visa. The same can check cash and return tickets.
Return ticket
Not everyone knows what else in Russia when landing inthe plane you can ask a return ticket from Thailand or a ticket to a third country and not let on the flight, if the ticket is not. The same thing can happen in passport control in Bangkok. But they may not ask. We were demanded once in Domodedovo, in Hong Kong, but there are no border guards in Thailand. Thailand is rarely asked, it mostly happens when checking in for a flight in the country of departure.
What can be done with a return ticket? By the way, it can be demanded not only in Russia, but in any country from which you fly to Thailand. The options are different and they are described in the article. How to fly to Thailand without a return ticket. If you are going to buy tickets, I recommend Aviasales.ru and Skyscanner.ru, we use them ourselves.
An example of filling out an immigration card
You'll be given an immigration card back in the plane,which needs to be filled from all directions. Further, it will be stored in your passport prior to departure. I draw your attention to the fact that some fields can be filled in "from shit", for example, your profession or the hotel where you are going to stay. Here more.


Extension of the 30-day stamp for 7 days
I want to note that the Russians extend the stamponly for 7 days, not 30 days, as reported in some media. There was some confusion, everyone was happy about the new rules about 30 days, but it was false information, so only 7 days, not more. It is worth 1900 baht and is done at the local immigration office.
Overstey on departure
For each day overdue on a visa or stamp(overstey) at departure will have to pay a fine of 500 baht. If you stayed more than 21 days, then you can even be imprisoned and blacklisted.
Overstey for a couple of days should not cause anyconsequences except fine. But there is an info that conditions are becoming tougher and it is better not to have oversteys at all, and then later they can refuse to issue a single-entry visa in Moscow (there is no such thing in Laos yet).
Overstory for children under 14 is a slightly different story, but read about it below, in the section on children.
Vizaran in Thailand
What are visa-wounds and border wounds
According to official information you can putonly 2 stamps per year, if you enter by land. With air travel (stamped at the airport) there seems to be no such restrictions. Accordingly, borderland on land is also possible only 2 times. Let me remind you that previously it was impossible not one, and after one stamp, it was always necessary to make a visa. But in fact, they can bother at the first, or they can miss the third time, the human factor and ability to give bribes on occasion.
For more guarantees, you need to make tourist visas (even if one by one) and do not fool yourself.
Visaran (visa run), or another name for the border(border run) - this is a trip to the border back, in order to get a new free stamp for 30 days. The name of the border run (from the word border) is logically more appropriate for such trips, because it's up to the border, and not for a visa. But in a conversation or in a price list of a travel agency that deals with such trips, it is often said that it is a visaran. The fact is that other foreigners (in particular, Ukrainians) at the border do not receive a stamp, but a visa upon arrival for 15 days. Also called vizaranami travel for a visa to the consulate of a neighboring country.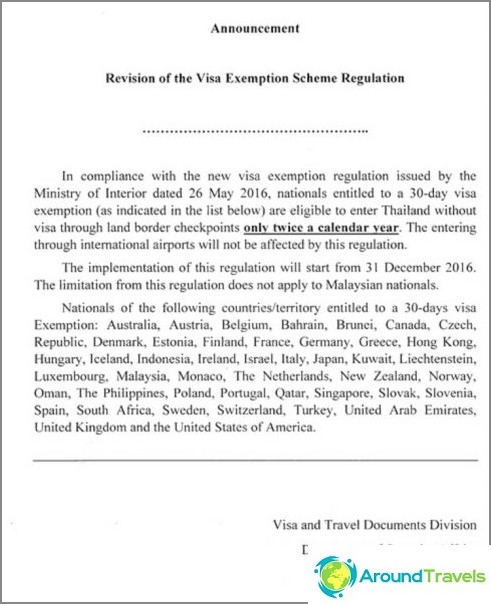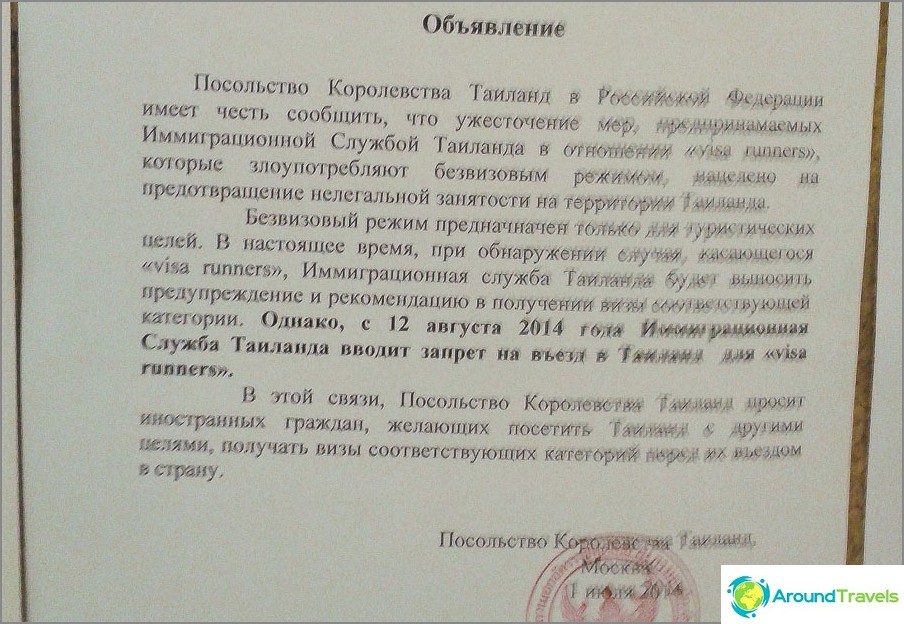 Now it is not clear how many times you can swizzle(enter by stamp). I believe that, provided you do not just cross the border back and forth, but spend some time in another country (week, month), you can put a second stamp, especially if you have a passport not marked with stamps. Speech about the entry by land, since during flights there are usually no problems with stamping (well, if there are more than a dozen). Also, in principle, without any problems, they are stamped after the visa (when you first entered on a visa, and then you decided to make another stamp). Naturally, there are no guarantees that everything will work out, this will be decided by the officer at the border. It makes sense to constantly monitor the situation in social networks, who and how successfully traveled and through which checkpoint.
Where to go to vizaran and how to do it
Actually, all 2 options, how to do borderron. Naturally, the cost of the border, both independently and with the help of a travel agency, will differ depending on the place you are traveling from and the degree of comfort you need.
On their own. For example, from Phuket to Burma - a ticket for a bus to Ranong is bought. Next on the tuk-tuk to the pier, and then by boat to Burma. Back also. Cross the border with Burma in one direction, cross back, get a stamp for 30 days (most likely you will need to give another 1000 baht "gift"), and drive back.
With the help of travel agencies. All the same, only everywhere in the minibus. You all will show and tell. The service is depending on the city. For example, I traveled from Bangkok to Laos not for a stamp, but for a visa, with an overnight stay, I paid 3,000 baht for everything. From Phuket to Burma will be about 1500-2000 baht.
You can go for a stamp to any country, becausemeaning it is at the border crossing. But it's easier and cheaper to travel to visa-free countries neighboring Thailand and closer to your place of residence. Visa-free for Russians - Laos (stamp for 30 days), Myanmar / Burma (on the border $ 10), Malaysia (stamp for 30 days), Cambodia (visa on the border $ 20), Vietnam (stamp 15 days).
From Bangkok go to clerk in cambodia (Aranyaprahet or neighboring passages)
From Chiang Mai go to Vizaran to Chiang Khong (border with Laos) or Me sai (border with Myanmar).
From Pattaya go to Vizaran to Cambodia to Aranyaprahet or adjacent passages, and to Vietnam.
From Hua-Hin they go to Vizaran to Ranong (border with Myanmar), or there are more transitions closer, but I do not know if they are open.
From Phuket go to Vizaran to Ranong (border with Myanmar), in Satun (border with Malaysia), to Hat Yai (border with Malaysia, Sadao-Padang Besar junction).
From Krabi go to to Satun (border with Malaysia), to Hat Yai (border with Malaysia, Sadao-Padang Besar junction).
From Koh Samui and Phangan go to Vizaran to Ranong (border with Myanmar), to Hat Yai (border with Malaysia, Sadao-Padang Besar crossing) Satun (border with Malaysia)
Tourist visa
Duration of stay and actions
At the entrance to Tai on a single entry visa you are given the opportunity to stay for 60 days. Next, this visa will need extend your local immigration office another 30 days for 1900 baht. Thus, we will receive 90 days of stay in total. You can still extend it for 7 days again for 1,900 baht (like a stamp), but this is rarely used by anyone.
In addition to the length of stay, there is also a corridor forentry (or validity). And sometimes there is confusion between these terms. As soon as you receive a visa at the consulate, a corridor immediately opens for entry from the date of the VALID FROM, that is, from the consulate you can at least go straight to the airport. For single-entry visas, the entry corridor is 3 months (for multiviz 6 months). That is, you have exactly 3 months from the date of receipt of the visa to enter Thailand, you can at least do it on the last day. But after the entry begins "stay", about which I wrote above. Therefore, a visa too early should not be done (and they will not give it). VALID UNTIL will be written right on your visa - this is the deadline when you should have time to enter the country.
Registration at the place of stay
In early 2017, the Thais had nothing to do andthey came up with the idea that everyone needed to go to the immigrant upon arrival and register. This was mainly done for those who live in private houses and apartments, not hotels, as the hotel owners themselves must register with their guests. You need to come to the immigrant with a rental agreement or receipt of payment of a communal apartment, or even with a business card of the owners and make the registration. If this is not done, then when extending one day for another 30 days, a fine of 5,000 baht is inserted.
But don't get scared. In fact, all this was checked only in Pattaya and in early 2017, and then scored. At the moment, as I understand it, this is not necessary. Just in case, there was such advice: go from Pattaya to Syrachi or some Hua Hin to extend the visa there. But the advice to stay a week at the hotel, well, so that the owner did the registration, most likely, will not work. Firstly, it is not known if there are any dates for this registration, because you live for 3 months, and the hotel does the registration, probably, only for a week. Secondly, hotel owners put on this duty.
90 day rule
In the summer of 2014, I skipped repeatedlyinformation regarding the fact that the country will be no more than 90 days in six months. But as long as this rule does not apply, if at all will act once. People quietly live on several consecutive one-time, that is, staying in total in Thailand for much more than 90 days within six months. So while nothing has changed. I am sure that as soon as the rule of 90 days begins to act, mass hysteria will begin in all social networks about this, that is, it will be difficult to miss the moment.
However, if you intend to live long inThailand, it is better to attend to a student visa and other types of visas. Anyway, this question will arise sooner or later, as it is difficult to live on tour visas forever.
Multivisa for six months
From November 13, 2015, a double-entry visa to Thailand was canceled (for a moment it remained). Instead of her now semi-annual multivisa without the right of renewal, but with an unlimited number of exits / entries within six months for 60 days. Details on the link.
It works like this. You drive in for 60 days, then you leave the country (you make the vizaran to the border and back) and again you drive in for 60 days, then again, that is, 60 + 60 + 60, which is 180 days in total. You can enter more times, but only 180 days in total, and only 60 at a time. You cannot extend the multivisa. Also, no one bothers to go somewhere between Kratz for some time (like seeing a new country), and not just to the border and back.
Registration of the Thai visa in Russia and other countries
Single or multi tourist visas can bedo in the consulate of Thailand in Moscow and in St. Petersburg. But the consulate in Vladivostok, unfortunately, does not issue more visas. It may be worth doing a one-time visa in Russia, at a minimum, it is cheaper and takes less time than traveling from Thailand to a neighboring country. BUT! Everything depends on the current requirements of the Russian consulate, they change them, and the degree of complexity of processing some documents depends on it. Read the latest information below and decide for yourself whether you need it or not.
On the links you will find a list of documents, an examplefilling out a questionnaire, tips, and discussion in the comments with the latest news from the consulate in Moscow. Constantly someone unsubscribes there about the various nuances after obtaining a visa.
In addition to Russia, a visa to Thailand can be issued inAny country where there is an embassy of Thailand. One of the most common options is a trip from Thailand to Laos, since there is the most loyal consulate of all. You will not need an extract from the bank with the state of funds (and it is almost impossible to make it abroad), references from work, airline tickets, etc. But the multivisa can only be done in the country of residence, that is, for Russians in Russia.
Web sites of all Thai consulates in other countries
Visa to Thailand for children
If a minor goes to Tai not withparents or not with a legal guardian, then you need permission from the parents, otherwise you will not be able to leave Russia. If one of the parents travels with the child, then nothing is needed from the second parent.
To be as calm as possible it is better to make a child a visa.
On the one hand, for children under 14 yearssubject to fines. The child's passport was stamped, but no penalty was taken. Even the immigrant visas themselves were not extended to the children. Conveniently, the child can not be dragged to the vizara, get a little savings on visas. I myself have already flown several times with the child and then traveled with a large oversteem from him, there were no problems.
On the other hand, 2017-2018 has goneinformation that problems began to arise when departing from Thailand, if there was an overstay, as well as when issuing a tourist visa in Moscow, they say, then the whole family is wrapped up. But these cases are episodic, all made a little more insane and calmed down. A bunch of people still do not make a visa to children.
Therefore, the question whether you need to do a visa to Thailand for children, answer for yourself. I will not advise.
Do I need a visa for Ukrainians, Belarusians, Kazakhs
The procedure for obtaining tourist visas for citizensAll countries are the same, and I have described it here. But here free 30-day stamps on arrival are put only to Russian citizens. Therefore, CIS citizens need to make a tourist visa in their homeland (if there is an embassy), either in Moscow or in a neighboring country with Thailand.
Only citizens of Ukraine and Kazakhstan still havean additional opportunity to issue a 15-day visa upon arrival for 2,000 baht (Visa on arrival, VOA) at the international airport. You can enter it once. Visa on arrival can then be extended for 1,900 baht at the immigration office for 7 days.
With the citizens of Belarus a separate story, they havethere is no possibility to arrange anything upon arrival and there is no embassy in the country. Therefore, they need to go either to Moscow and Kiev to make a visa there, or to use the services of travel agencies for an additional fee. And of course, they can issue themselves a visa in neighboring countries with Thailand, like everyone else.
P.S. Good luck in visa matters! And see you in Thailand
Life hacking 1 - how to buy a good insurance

Choosing insurance is now unrealistically difficult, so to help all travelers, I compile a rating. To do this, I constantly monitor forums, study insurance contracts and use insurance by myself.

Life hacking 2 - how to find a hotel 20% cheaper

First, choose a hotel on Booking. They have a good offer base, but the prices are NOT the best! The same hotel can often be found 20% cheaper in other systems through the RoomGuru service.

Discount hotels