Well, now I have this experience, andpositive. And how many conversations I remember was that it is difficult to get a Thai visa in Moscow, and even more so double, make it necessary in Malaysia or Laos, blah blah blah ...
We have a few articles on the blog about Thai visas,therefore, we assume that the person reading these lines is in the subject. Those who do not know, first of all, should read other articles, there are all the details.
The content of the article
Registration of a double Thai visa in Moscow
general information
From November 13, 2015, a double-entry visa to Thailand was canceled (for a moment it remained). Instead of her now semi-annual multivisa without the right of renewal, but with an unlimited number of exits / entries within six months for 60 days. Details on the link.
This post is not relevant and is no longer updated. Here is General post about visas / shtami in Thailand and all the nuances and a separate post about one-time design.
A double entry visa means: 60 days + 30 days extension for 1,900 baht at the place + departure / entry into the country + 60 days + 30 days extension for 1,900 baht. Total get 180 days stay in Thailand.
Visa issued by the consulate in Moscow, is given withcorridor for entry 180 days. It is very convenient, you can not just make a border-run between the crates to the border and back, but fly somewhere for a couple of months. The corridor begins on the date of issue of the visa, that is, you have 6 months from the date of receipt of the passport at the consulate to enter Thailand twice. You can even enter the last day, it does not matter, the main thing is up to the date specified in the visa. In Laos and Malaysia, the corridor gives only 3 months, that is, the second entry must be done in time, in time to do it.
Do I need a visa to Thailand, stamps for 30 days, how to make vizarana and where, duration and duration of stay, how much to pay for overstey, whether to make children a visa, etc. All about visas Thailand
Thai consulate in Moscow - time and location map
Obtaining a single-entry visa in Moscow
How to extend the visa in the immigration office
Visa in Laos
Visa Registration in Malaysia
What does a two-piece look like
This time I decided to try to apply fordouble entry visa So far, we don't really need it, we're only going for a couple of months, but suddenly we'll be delayed, so we wanted to be safe. In addition, in one of the comments on the article about obtaining a single-entry visa in Moscow, right recently, a person said that he received a visa on left armor only.
But actually the hero of the occasion, meet - double Thai visa: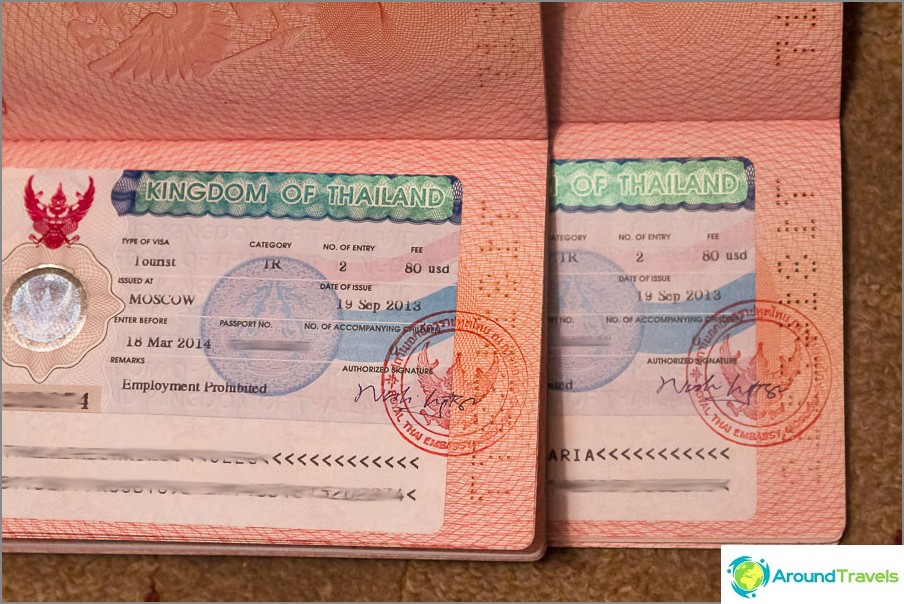 Consular fee, term of registration
Consular fee - a one-time visa of $ 40,multivisa $ 200. It used to be taken in rubles, but now they are only accepted in dollars. Cash in cash, strictly without change, only not torn, not wrinkled bills and not older than 2006, and also do not accept bills with a par value of $ 100. That is, even if there are three of you and a fee for all $ 120, then you need to give smaller ones. Just in case, it is better to invest in each passport for $ 40, but there were cases that they did not want to take $ 50 bills.
The deadline for processing - usually on the 3rd working day. That is, if you hand over the documents on Monday, then on Wednesday you will already get your hands on it. But in the peak months (November-December-January) can increase up to 4 days. The entry corridor opens on the day you apply for a visa.
Consulate opening hours
Be sure to read about working hours of the Thai consulate, there is a queue for coupons. In the same place in a post the location map, a map and a photo of the embassy for better recognition.
The list of documents that I filed
UPDATE. Since October 2013, there is no need to translate documents and notarize the translation, you can submit them to the embassy in Russian (in Moscow). INFA verified personally! The website of the embassy is simply not updated yet. Also, since 2014, the consular fee is accepted in rubles, and not in dollars.
Passport + copy of the main page. The validity period must be at least 6 months at the time of application.
A completed application form for a visa. Application form and sample fill. Filled in English and indicated the duration of stay 3 months.
Photo 3x4 3 years old, pasted on the questionnaire. That is not 4x6, as requested by the embassy.
Certificate from the bank about the availability of 40.000 baht per family (official requirement on the website of the consulate). But, there is an unspoken requirement that it is better to double at least 60,000 baht per person to prove your solvency. I showed a large amount, so I do not know what the lower limit is in practice. The currency of the certificate is not important, the amount needed is equivalent. Just keep in mind that the baht is not equal to the ruble for a long time, that is, 60 thousand baht in rubles is 120 thousand (depending on what rate today). Account statement in Alfa-Bank is 240 rubles, in TKS for free.
A copy of the Russian passport, because in the certificatefrom the bank was indicated precisely Russian domestic passport. If you ask to issue a certificate for the data of a foreign passport, then a copy of the Russian will most likely not be needed.
Ticket Moscow-Bangkok real paid and bookingreturn ticket Bangkok-Moscow 40 days after arrival. When I bought a ticket for the charter (MSC-BKK) at a travel agency, they themselves suggested that I draw a reverse on the same form. In fact, it's just a piece of paper with dates of departure, no stamps. Moreover, they also told me that the tickets are issued for the charter one day before the flight, but for now this is a booking from the tour operator, so the consulate will not have any opportunity to check them in any case. This I mean that the reality of my paid ticket could not be verified either.
For the second Krat reservation Moscow-Bangkok-Moscow,made through Agent.ru. This second trip to Tai is supposed to take place a week after the first trip (after the first cruc). Return ticket to Moscow 40 days after arrival. It was written in the reservation that it would last 9 days. The booking was from Qatar airline and according to the booking code (it will come in a letter from Agent.ru), you could go to the website of the airline itself and print out the itinerary receipt. However, I recommend doing the second time not at home, but somewhere in a neighboring country, it will look much more believable.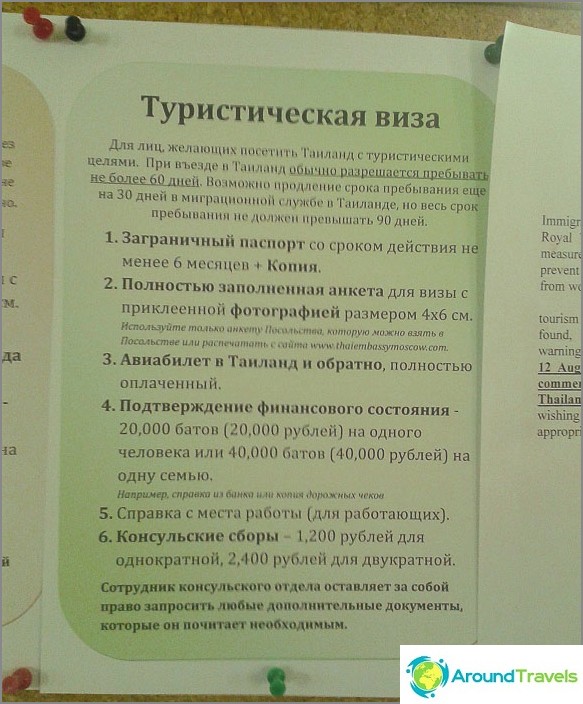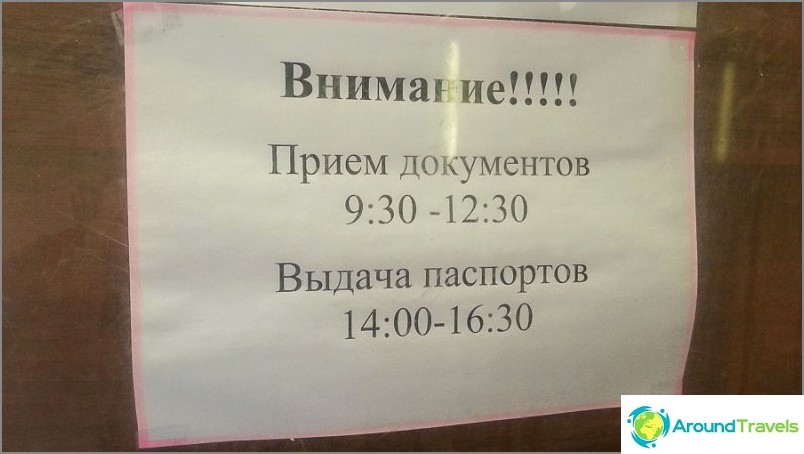 Documents for Daria
Same documents as for me, only insteadI wrote her a letter of sponsorship in English and attached a copy of my bank statement and my passport. Now you can write a letter in Russian. It is written by hand and in any form, which indicates that she is my wife and I will pay all her expenses during this period of stay in Thailand. "I, the surname, name, passport number, I am the sponsor of my wife's surname, name, passport number, and will pay all her expenses from such and such on such and such."
Alternatively, you can simply make an extract from his wife's account so that he does not write anything. Who is easier?
Documents for a child
I did not make a visa for him, because children under 14 can live on stamps with oversteats (details in general post about visas). Children are not charged a fine for overstay (checked personally!). The son flew without a visa and with an unpaid return ticket reservation just in case. But this is not a suggestion to do so, in principle, 3000rub is not a big reason for saving, considering that since 2014 everything has been tightened. But again, I probably would not have made a visa for Egor now.
By the way, not so long ago after his big oversteer, Yegor received a Schengen visa without any problems.
If you do a visa, then all the same documentsby the list. Only you will need a certificate of birth and a copy, a sponsorship letter to cover all travel expenses, a copy of my bank reference and my passport.
Some moments
A copy of the documents, if you suddenly forgot, you cando in a hotel Volga, which is almost opposite the embassy. If you exit the door of the embassy, ​​then you need to turn left, walk 100 meters, and the high multi-storey building on the right is the hotel. Right in the lobby do 10 rubles per sheet.
On the contrary, through the Garden Ring there is a Sberbank, in which there is an ATM and currency exchange.
Come to the embassy early. The first time I came half an hour before closing and did not have time, there was a long line. In the autumn a lot of people go, plus they come from travel agencies to arrange.
What is the time to make a reservation
Remember, there is a risk that this chip is on you.will stop working. But in theory, you risk nothing, except for the refusal of a visa or the refusal to accept documents (most likely it will not accept the docks). All 4 tickets are currently being rolled up, but real and paid round-trip tickets are officially needed. Intermediate tickets according to the embassy officer may be just reservations.
Once again, to make it more clear. You need 4 tickets / armor: two to Thailand, and two from Thailand. Moreover, from Thailand tickets can be in any country, not necessarily in Russia (even better, if not in Russia).
When you make air ticket reservations, absolutely notit is important how many days you laid on each fold. The main thing is to take a period from 31 to 90 days. Because if less than 31 days, then why do you need a visa, will there be enough of a stamp, and if more than 90, then so much is impossible. So feel free to book tickets, laying 60 days (a certain average figure) for every fold. For example, fly on October 1 from Moscow to Bangkok, and after 60 days, on November 29, fly to Kuala Lumpur, where you are 2 weeks. Then fly back to Bangkok on December 15, stay in Tae for about 60 days, and from Bangkok around February 11 you will fly to Moscow or again to Kuala Lumpur. Something like this. Those who want to buy tickets, I advise Aviasales.ru and Skyscanner.ru, we use them.
When you specify the duration of stay in the country in the questionnaire, indicate what happened on your ticket reservation to match.
P.S. Transaero was not interested in whether we have return tickets. The border guards in Bangkok were not interested in anything either, and in particular they did not ask why we have a visa, but Yegor does not.
P.P.S. Good luck to everyone in visa processing!
Life hacking 1 - how to buy a good insurance

Choosing insurance is now unrealistically difficult, so to help all travelers, I compile a rating. To do this, I constantly monitor forums, study insurance contracts and use insurance by myself.

Life hacking 2 - how to find a hotel 20% cheaper

First, choose a hotel on Booking. They have a good offer base, but the prices are NOT the best! The same hotel can often be found 20% cheaper in other systems through the RoomGuru service.

Discount hotels