I am an introvert by nature, and if not for my wife, thenI would sit in my sink and not stick out. Even the time on the street I don't like to ask, let alone learn how to get somewhere. But there is no blessing in disguise, and this is perhaps why I developed the skill of orienteering on the ground, and such help from passers-by is needed very rarely.
When I started blogging, I realized that fearinteraction with strangers terribly prevents me from living and developing further. I understood, of course, this before, but then, this trait did not have a special impact on me - you work and work, you get used to your colleagues after some time, besides, my work was weakly connected with communication. But when I began to travel more often, communication skills were very necessary: ​​and you often have to ask something on the street or in a hotel, and you don't sit silently in a corner, and various people meet along the way, with whom you want to talk. And if we are talking about remote earnings, then communication is necessary there: all sorts of useful contacts, tips, besides, you can come up with something together. Therefore, in the last couple of years I have been rebuilding myself and getting to know each other.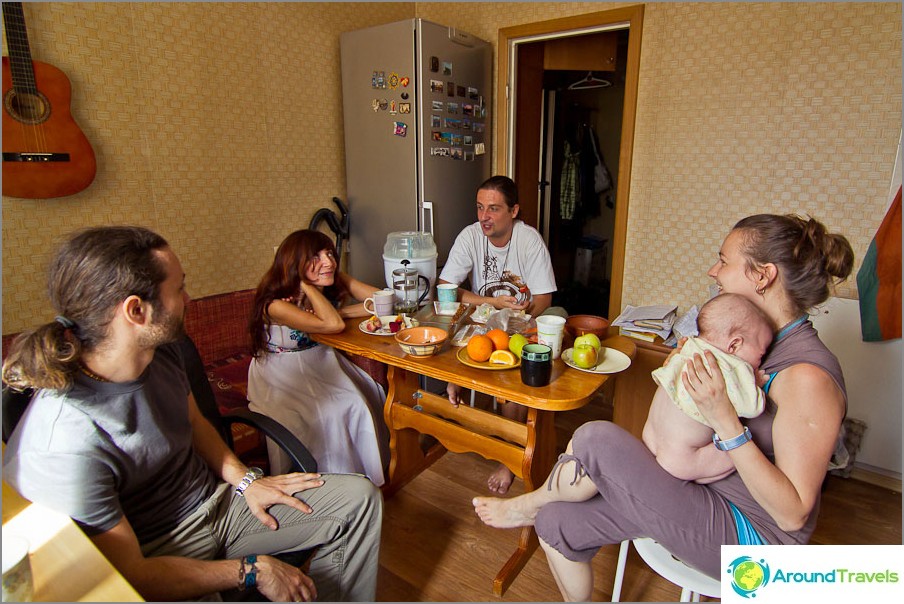 I can not say that I recovered, but it became muchsimpler. However, when I once again think about taking the tourist and tourism groups, I still still trembling, suddenly I can't find a common language or something.
Actually I wanted to say something else. Sometimes meetings are so easy that it seems that you have known people for a long time, and he has already become an extrovert. And just the last two are exactly like that in our home. First, Sasha and Natasha came to us, leading a life-with-dream.org blog and temporarily dropped into Moscow (now drove off to Tai again), and a week later Sergey and Natasha, who are still working in Moscow, but who plan to move to Krasnodar Krai in your camping It's just amazing how many interests we had in life and there were common topics for conversation. I more and more understand how great it is to develop, so many interesting people are around.
Of course, we met them for a reason on the street -with the first were previously virtually acquainted, the second - recently stumbled upon our blog. But this does not change the essence - who lacks communication or understanding friends - out of the shell to search!
Life hacking 1 - how to buy a good insurance

Choosing insurance is now unrealistically difficult, so to help all travelers, I compile a rating. To do this, I constantly monitor forums, study insurance contracts and use insurance by myself.

Life hacking 2 - how to find a hotel 20% cheaper

First, choose a hotel on Booking. They have a good offer base, but the prices are NOT the best! The same hotel can often be found 20% cheaper in other systems through the RoomGuru service.

Discount hotels