Hot time dawned something right after the New Year. The family took me to a reab center and thought about traveling or relaxing for a bit, but somehow I accidentally sat down at the computer and started
As a result, finally divided the blog into two parts, andYegor now has his own blog, where there will be his news (weekdays) and all useful (and not very) information related to rehabilitation. It all started with the division of the subscription, and ended with a separate site. But the site is not the only change, we also made Egor a separate Vkontakte group.
Also this week had to run save money from SB Bank, translate rubles into dollars, and read a lot of news on the banking forum in order to somehow understand what we should do next. But more about that another time.
Blog sharing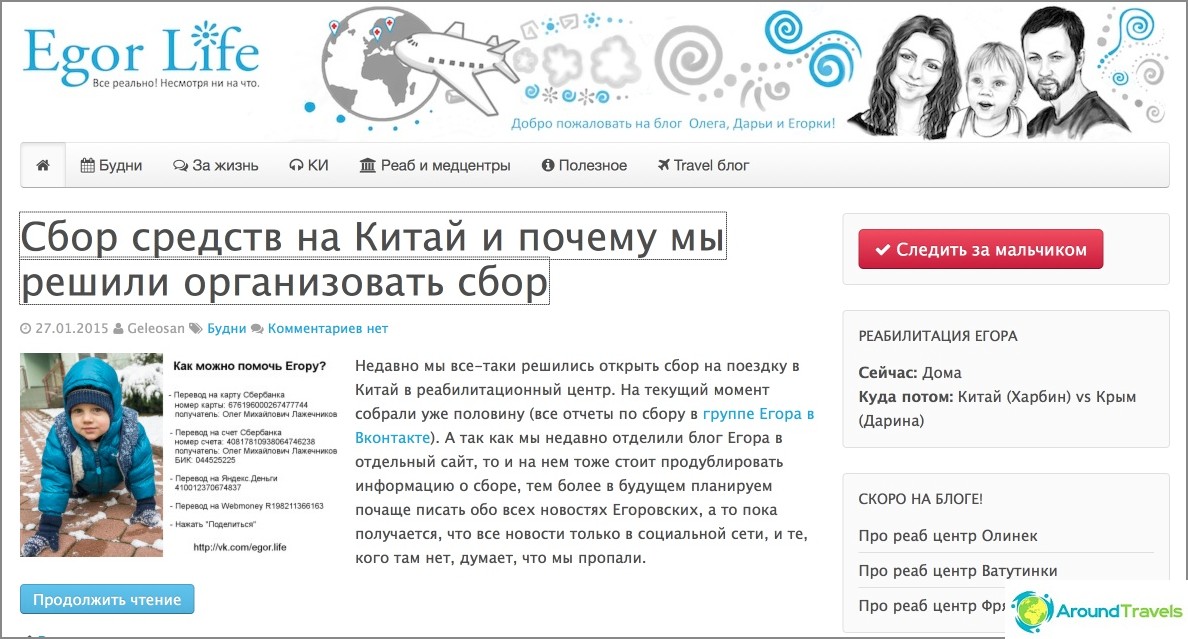 There is nothing to write here, here's a link to the blogYegor. The design is the same, only the cap is different and the colors. Old content on the topic was moved from this blog there and redirected. It is very interesting how search engines will react to such a decision. However, at the moment, the content was not really sharpened by search engines, so there is nothing to lose. There are still minor bugs, but in the course I will complete.
Those who want to follow Yegor (and on his blogwe will allow ourselves to write any small notes much more often), we will need to switch to a new blog and subscribe. Everything is simple, enter the email, click the button "Subscribe" and then confirm the subscription in the mail.
But those who a month ago switched to a new one.the subscription format, and, in particular, ticked off "Egor and Special Children", do not need to do anything, they are already subscribed automatically to the new site. But there are very few of these, according to my statistics, the majority remained on the old inconvenient subscription format. Also in LiveJournal, Facebook and Twitter, while everything remains the same, I see no point in splitting up accounts there, our activity is low there.
P.S. Ugh, insanely glad that I completed this epic on division, there were so many doubts whether it was necessary or not.
Moreover, technically it was not difficult to do everything, but as long as the concept was ripe in the head, so much time was spent.
Life hacking 1 - how to buy a good insurance

Choosing insurance is now unrealistically difficult, so to help all travelers, I compile a rating. To do this, I constantly monitor forums, study insurance contracts and use insurance by myself.

Life hacking 2 - how to find a hotel 20% cheaper

First, choose a hotel on Booking. They have a good offer base, but the prices are NOT the best! The same hotel can often be found 20% cheaper in other systems through the RoomGuru service.

Discount hotels