If you are flying to Singapore not in transit, orif you need more than 96 hours, then you need to do a visa to Singapore. They exist conventional and in electronic form - e-viza. We are interested in the latter, as it is done without visiting the agency / consulate.
The content of the article
Where to apply for a visa to Singapore
Do I need a visa to the Synagapur for the Russians? If you fly in transit and stay in the country for up to 96 hours, then NO.
But remember, transit must be in the 3rd country! That is, you cannot fly from Thailand to Singapore and fly back to Tai. Transit example: Thailand => Singapore => Malaysia. Otherwise, you will not be put on a flight without a visa.
The Singapore Embassy itself has stopped issuing visas andtransferred all authority to issue accredited visa agents. You can also get a visa through other companies that are not listed on the embassy website.
List of accredited visa centers where you can apply for a regular visa:
Singapore Airlines, Moscow
Pony Express, Moscow / St. Petersburg / Vladivostok
VFS Global, Moscow / St. Petersburg
Travel company MANDARIN, Khabarovsk
Travel Company Fregat Aero, Vladivostok
Also, Russians can get an electronic visa online, which is much easier and more convenient, it will not be necessary to go anywhere. To do this, contact the intermediaries in Singapore:
Global Singapore
Singapore Visa Online
Sentosa Tour
The latest company is not on the website of the consulate in Moscow, but they received accreditation directly in Singapore.
The main list of documents for a visa
Completed form. Here is an empty form. An example of filling can be found below.
1 color photo. Photo requirements: high-quality color photography of a studio size in any digital format (jpeg, png, etc.), face and head should be uncovered and girls' hair should be gathered back against a white background.
Scanned or photographed copythe main page of the passport. The expiration date of the passport must be at least 6 months at the time of entry into Singapore. If the child is entered in the parent's passport, then you need to send a photo or scan of this page.
The list of documents for a visa may differ depending on the chosen intermediary. It lists the minimum that everyone needs. Below is more detailed on each of 3 intermediaries.
As I understand it, if the agent accepted the documents then there will be no 99% refusal of the visa.
Registration of the electronic visa at 3 intermediaries
On e-visa I checked with three intermediaries. I ended up with Sentosa, because they have the lowest visa price, and the hotel, which must be booked only through them, still goes with Booking.com, where I was going to book initially.
Sentosa tour (my version, personal experience)
https://sentosatour.com
The cost of a visa: for 1 person $ 50, and in fact out of $ 53 per person. When paying with a card, they charge $ 53, apparently some kind of commission, did not ask.
Registration term: 3-4 days. But in fact, I got a visa thrown to the post a day after payment. Well, and the voucher for the hotel, too, with them.
Sentosa you send a minimum set of documents. Actually, in addition to the price, it bribed. Minimum hemorrhoids.
It is necessary to fill in the questionnaire in electronic form on the website Sentozy
Make a photo of the main page zagrana andattach it to the questionnaire. I took a photo on a small camera on the background of the light wall in the hotel and then processed it in Photoshop. (background made more white). It took 10 minutes.
Choose a hotel not lower than 3 * on Booking.com and attach a screenshot with the hotel, dates and price to the questionnaire, instead of booking (they themselves told me so).
Sentosa reviews documents for 1-2 days and ifeverything is ok, then he says to pay the visa and the hotel on his website (not on Bukienga). Specially send a link where you can make a payment (full amount). That is, initially I did not pay anything, I waited for the docks and the hotel to be confirmed.
The site says that they can ask to sendadditional documents deemed necessary. In my case, nothing was asked. And this is despite the fact that a girl was traveling with me up to (45 years old) with a child, and everywhere it is said that they do not issue such a visa if they are not married. So, the marriage certificate was not requested, as if it was possible to write anything in the questionnaire (they wrote that she was married). No documents were requested for the child either (only passport, photo, application form).
Regarding armor. Sentosa promises to invoice the hotel, the same as at Bucking, with no extra charge. But when I chose the hotel, being logged in to my account, my total cost for 4 days was 30 bucks lower. I do not know why, no discounts for my account are supposed to be, usual acc.
In case of refusal of a visa, the money for the visa is not returned (as with all), and the money for the hotel is returned. But, as I was told, they had no refusals.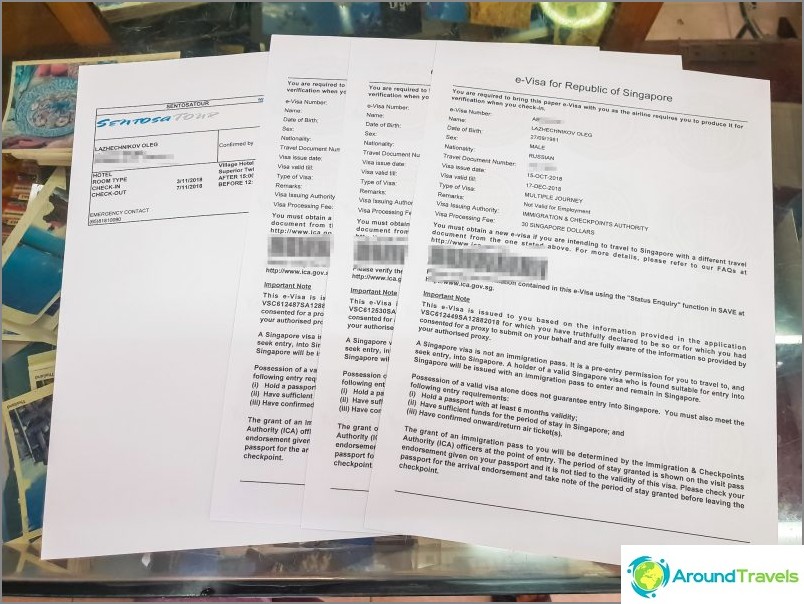 Global Singapore
https://www.globalsingapore.sg/
Cost of visa: $ 60
Duration: 3-4 days.
Urgent visa is issued for 1-2 days and will cost $ 98.
We need a larger list of documents than Sentosa. In addition to the questionnaire filled out electronically on their website, photographs, a scan of the passport and hotel reservation, you must also attach the printed form and filled in completely by hand. If the printer is not at hand, then this is problematic.
For women, there is an additional listdocuments. Women need to attach scan passport spouse and sv-in about marriage. They may also require a certificate from work with an indication of salary and position and a bank statement. Documents from unmarried women under the age of 45 on a visa are not accepted.
Global Singapore reserves the right to refuse to review documents without giving reasons.
Singapore Visa Online
https://singaporevisaonline.sg
The cost of a visa: $ 75.
Duration: 3-4 days.
An urgent visa costs $ 130 and is issued 2 days.
Requirements for documents are minimal, as inSentozy: electronic form on their site, photo, scan or photo page zagrana. But they may be asked to send some additional documents. You do not need to book a hotel through them.
Payment after checking the set of documents.
P.S. Sample fill migration cardwhich you will be given on the plane.
Life hacking 1 - how to buy a good insurance

Choosing insurance is now unrealistically difficult, so to help all travelers, I compile a rating. To do this, I constantly monitor forums, study insurance contracts and use insurance by myself.

Life hacking 2 - how to find a hotel 20% cheaper

First, choose a hotel on Booking. They have a good offer base, but the prices are NOT the best! The same hotel can often be found 20% cheaper in other systems through the RoomGuru service.

Discount hotels