I want to share a nice and affordable hotel, which is literally a few minutes walk from the center. Tong Salybut at the same time in a fairly quiet place. The hotel is small but green and cozy. It is of bungalow type, but the bungalows there are good, they can even be called mini-villas, in fact, hence the name.
The content of the article
Price and reservation
In Mangrove Villa, I paid 1600 baht / day for a villa. Deposit for the key 2000 baht. There all the houses are the same, so there is no choice, in the sense that the price is one for all the rooms. Perhaps the price seems to someone a little too high, but I lived there during the peak season, when prices even in bamboo bungalows were high. Off the peak of the season, the price drops to 800-900 baht, which in my opinion is generally a gift.
Hotels in Thong Sala>
Be sure (and I insist) check availabilitydiscounts or special offers on the excellent Roomguru service. It will quickly and simply show you discounts in all existing reservation systems. In Asia, for example, there are lots of offers on Agoda.com that are much more interesting than on exactly the same hotels on Booking.com.
Well, initially it is more convenient to look there, the mosta large database of hotels is obtained, all the reservation systems at once And for some reason, some hotels are only in Agoda, and others only in Bucking. For example, this hotel is only in Agoda and if you were looking only in one Bucking, you would not have found it. And he is not bad.
Here is a direct link to the reservation. Mangrove villa

.
Interior
Hotel rating is about 7.7, that is not perfect, but already quite. The place in fact was very pleasant. Everything is less new, well done. Everything you need is: a fridge, a kettle (for some reason it was rarely seen on Pangan), a hairdryer, air conditioning by itself, a couple of free bottles of water, decent Wifi, a safe (bolted to the wall). TV has just been antediluvian, but I never watch it when traveling, there is simply no time for it.
There is even a separate room with a sink and a dryer.clothes, I do not know why it was for this whole room to do, but drying is good, although it is possible to hang everything on the railing on the terrace. There is really nothing to complain about, except that there were not enough hooks in the bath to hang a towel. And yet the possible disadvantage is that there is a road nearby, the noise from it can be heard. I did not hear anything at the closed doors / windows, but maybe someone has a more sensitive sleep.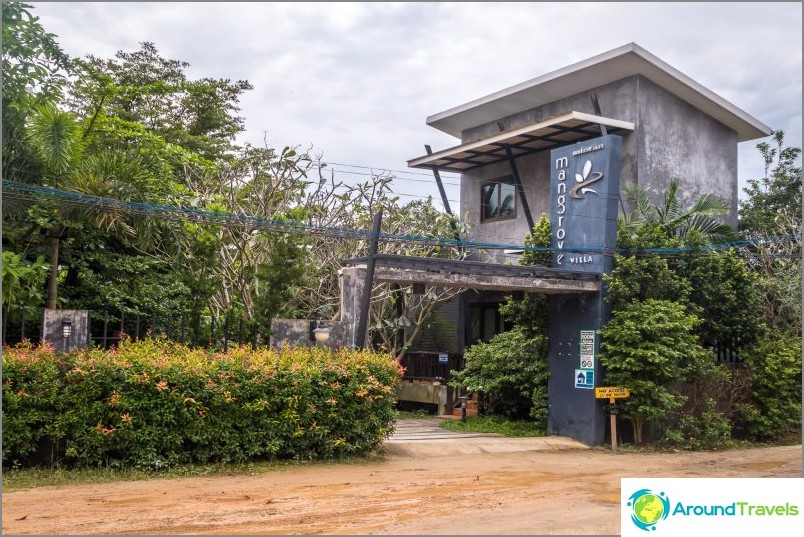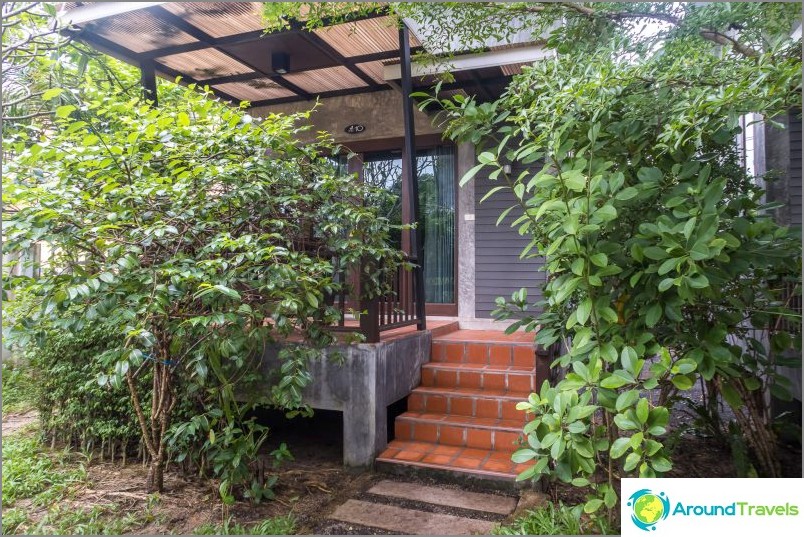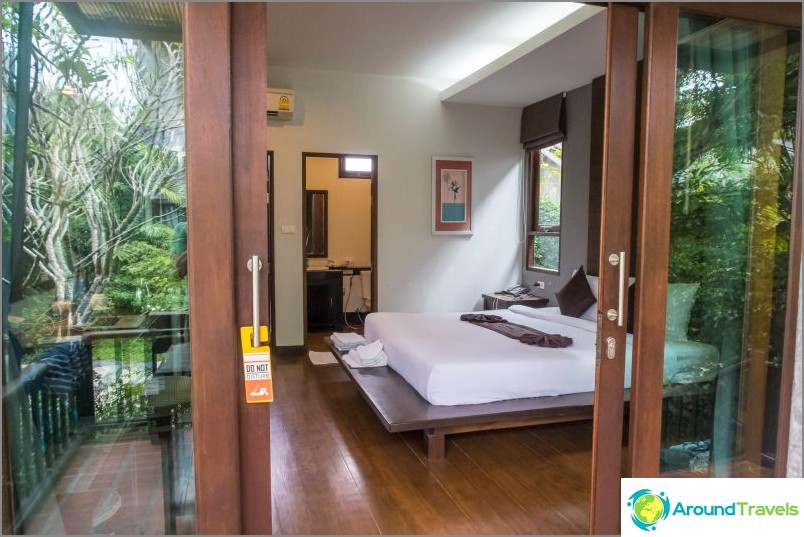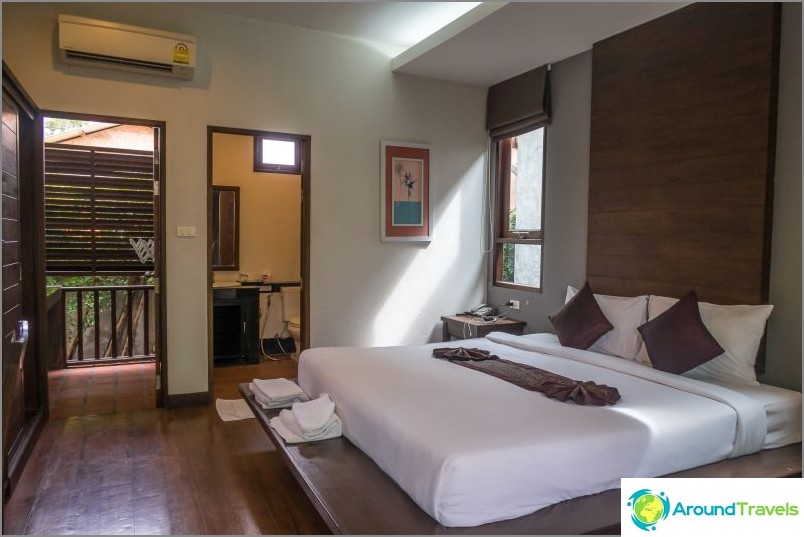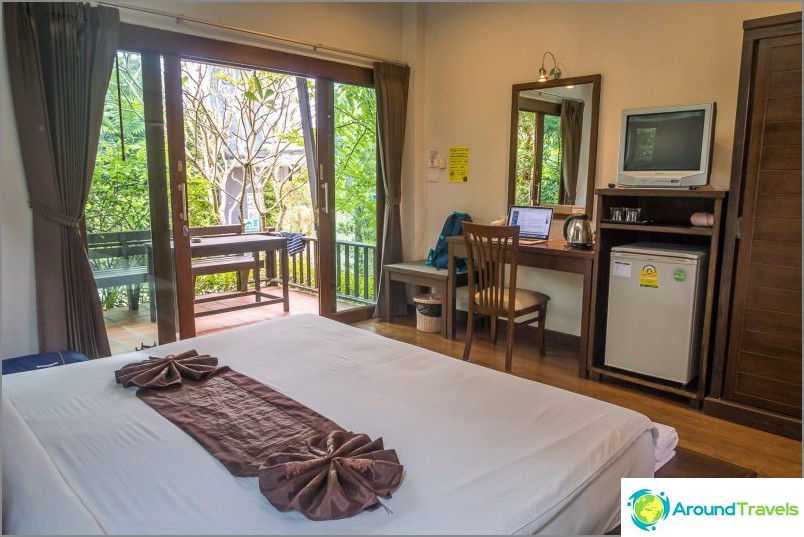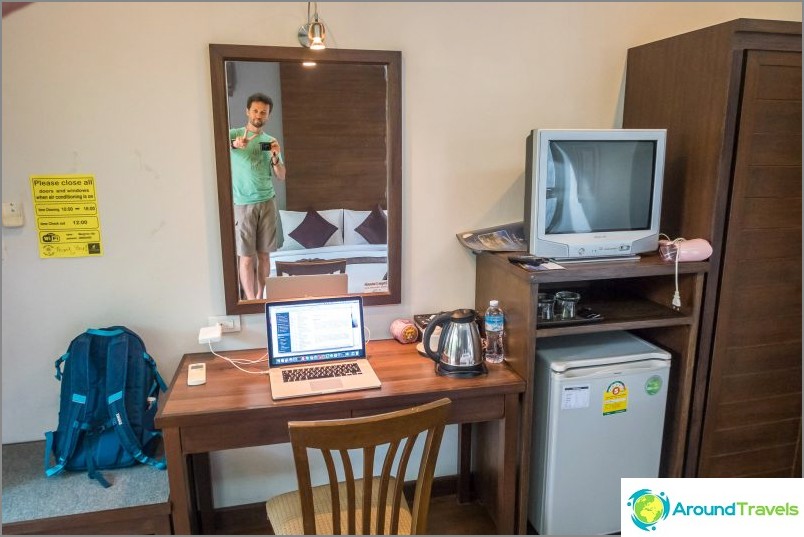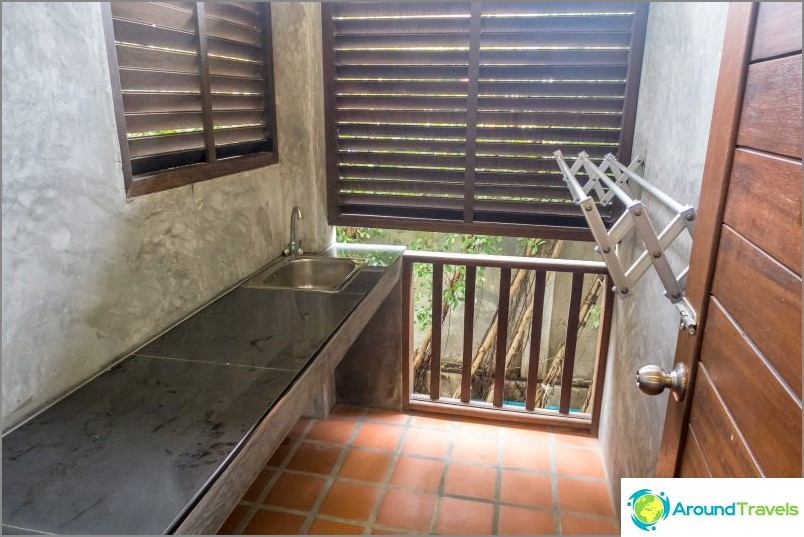 The Internet is not the best, but normal, onlyoutgoing channel is small. For surfing, YouTube and so on, quite enough, there were no problems. And then on Phangan in hotels often so, you connect to WiFi, and there is almost no Internet, you have to use 4G.
Exterior
In addition to the location (about him below), I personally am veryI liked the small, but green territory. Bungalows are almost buried in the forest. That is, even if you are not sitting on the terrace, then behind the bushes you are not particularly visible. Yes, the owners crammed a bit at the hotel, this is a typical Pangan story, when with all kinds of repairs they pull to the last. But for now, the hotel is worthy of staying there for a while.
The main problem is a broken pool, but itsshould have been repaired. Although it is small, it is better to drive on a bike to the beach. And I didn't like the lazy staff. Again, the typical Phangan. All of these are relaxed, so they will be stupid when settling, and they will do the cleaning themselves.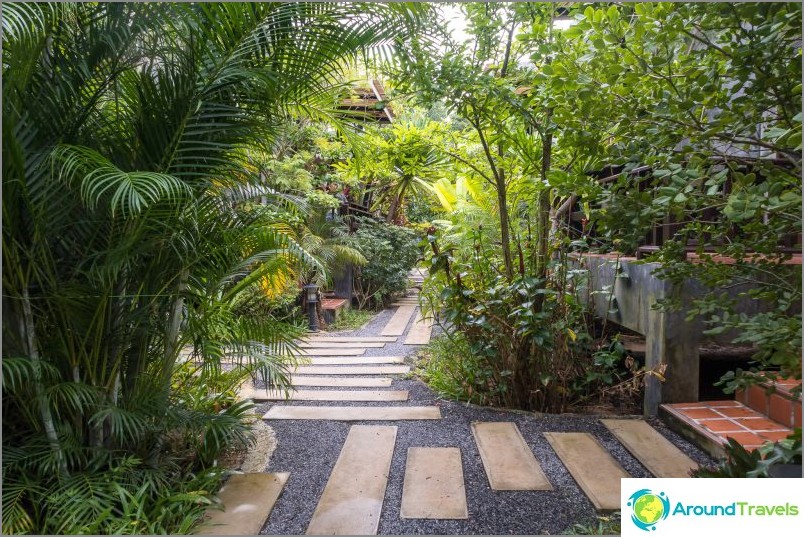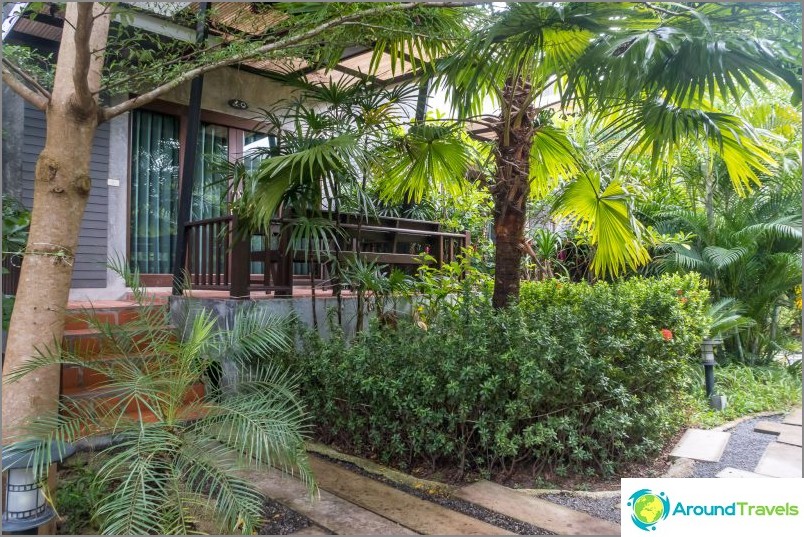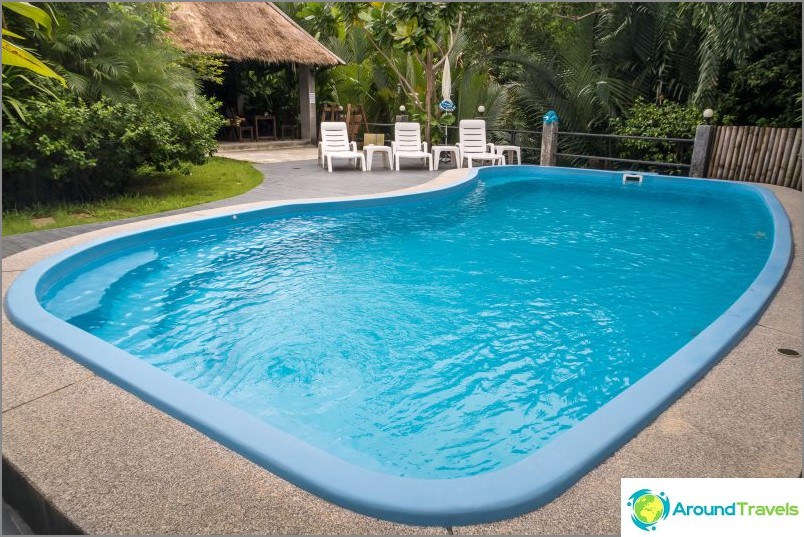 On the map
Hotel Mangroove Villas is very conveniently locatedon the outskirts of Tong Sala near the epicenter of the whole island civilization, which is here a little. Yes, this is not a beach hotel, it is for those who come to actively move around the island, and not to sit in a lounge chair by the pool. To the very center of Tong Sala, where food court Pantip Market and all the shops go on foot literally 5 minutes (500 meters). And in principle there is already close to the big Tesco and the market. Near the hotel there is a 7-eleven and English Pub with good breakfasts.
Right next to there is no good beach, the closest for an amateur (5 minutes walk to him), and there is another mediocre too - secret beachsomewhere between 15 and 20 on foot and uphill. But if you are on a bike, then strategically everything is very good, it's all the same to go. Want in Sritanathen go there for about 15 minutes, to Tong Saly a couple of minutes, to Had Rina 20 minutes.
Hotel Mangrove Villa
Hotel Mangrove Villa
Excellent hotel in the form of solid concrete-wooden villas, immersed in greenery. I lived, I liked it.
More about the hotel.
Excellent hotel in the form of solid concrete-wooden villas, immersed in greenery. I lived, I liked it. More about the hotel.
Life hacking 1 - how to buy a good insurance

Choosing insurance is now unrealistically difficult, so to help all travelers, I compile a rating. To do this, I constantly monitor forums, study insurance contracts and use insurance by myself.

Life hacking 2 - how to find a hotel 20% cheaper

First, choose a hotel on Booking. They have a good offer base, but the prices are NOT the best! The same hotel can often be found 20% cheaper in other systems through the RoomGuru service.

Discount hotels