I am sure most already know about this megauseful thing in the journey, as external batteries (power bank). But I, as always, are lagging behind the progress, my smartphone appeared rather late, and I registered after VKontakte after all. Therefore, I got these devices just recently. But immediately two, one for himself, the second wife. Listen to how it is convenient! When you go non-stop a week in a row and take a lot of photos, shoot a video, sit in the phone, a power bank is simply necessary.
The content of the article
What power bank to buy
Nuances when buying
He brought out for himself a few points that should be taken into account when choosing a power bank.
Input 2A. This parameter is not indicated on all sites, but it is important and depends on it how long the external battery will be charged. This is especially true for large containers, as 10,000-20,000 mAh. Otherwise, you have to wait a day, while at the hotel you spend only the night.
Output 2A. The higher the output, the faster the connected devices charge, if, of course, they allow more current. But do not worry, if they are not intended, they will "take" as much as necessary.
Charging 2A. If you have a charge of 0.5-1A, the input 2A on the battery does not help, it will still be very slowly charged. For example, native charges for Samusung phones are usually only 1A. It would seem that if this is the case, the phone will not "take" more than one amp, but no, it picks up and charges 2 times faster. I specifically bought third-party charging 2A for travel.
Be sure to read the reviews, in factholds an external battery. Some high-capacity batteries (20,000 mAh) are sinful in that they contain only half of the declared capacity, especially compact. It should be understood that the smaller the battery in size, the smaller its capacity, it directly depends on its size.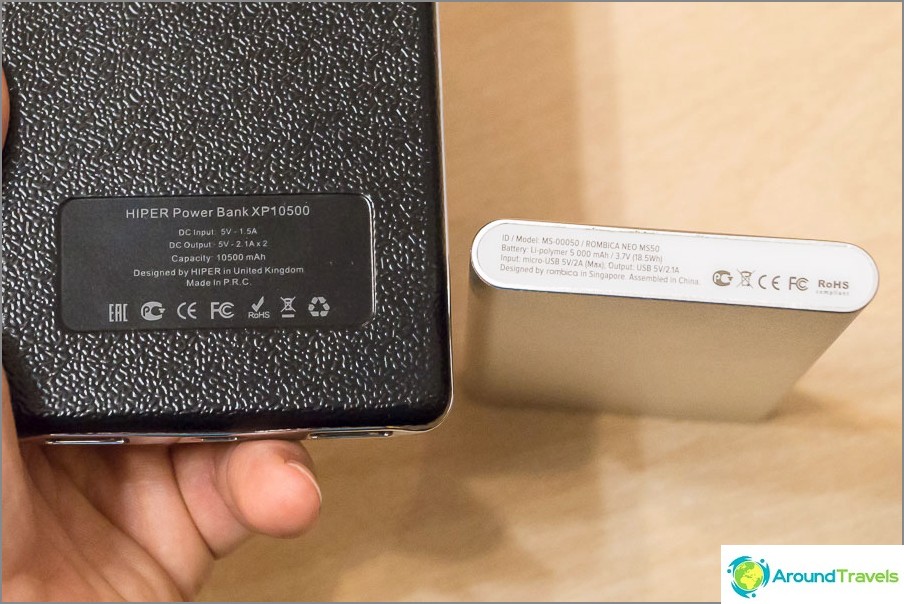 Power bank with Aliexpress
Life hacking - when shopping for Aliexpress, you can receive cashback up to 11% through the EPN service (they have a browser plugin, an application for phones). I wrote everything in great detail in my instructionswhat it is and how to use it.
I have already been advised a lot of things incomments, and I myself, too, was like another read reviews. Indeed, it makes sense to take a power bank on Ali. Cheaper come out several times. You can always read the comments, as far as the actual capacity corresponds to the declared. Often, these devices also buy stores in China and then resell in Russia several times more expensive. I think it is easy to wait for 3-4 weeks of delivery.
At 10.000 mah for $ 15 - this one is very convenient for me
At 10.000 mah for $ 17
External battery HIPER Power Bank XP10500
Capacity: 10500 mAh
Input 1.5A
Output 2.1A at each port (there are two of them)
Weight: 235 gr
Price: 2400 rub
I did not want to wait, powerbank neededurgent, so I bought a Hiper. Most of all I liked the fact that it has two ports. This is very convenient, because you can charge two devices at once. In size, I chose something similar to my smartphone, so that it could fit quietly in the side pocket of my pants or in my waist bag, or so that I could carry it in my hand, but at the same time, I had enough for several exercises. Therefore, I took such a capacity, there are large ones, but practice has shown that 10500 mAh is quite enough for me.
The verification in fact showed that the capacity is somewhatless, as often happens with similar devices. My phone with a battery of 2100 mAh was charged almost 4 times, that is, it was about 7500-8200 mAh. It is clear that the test is inaccurate, but nonetheless. Charging from the outlet (I have a 2A charge especially for all devices) is very long and takes more than 10 hours. I don't understand what it's all about, whether I'm still not charging 2A, or the input here is not really 1.5A, but 1A. If it were not for this, then there would be no complaints at all.
The battery is turned on and off by swiping your finger across the lane (like on phones). It is cut down by itself in a few minutes, if nothing is connected to it.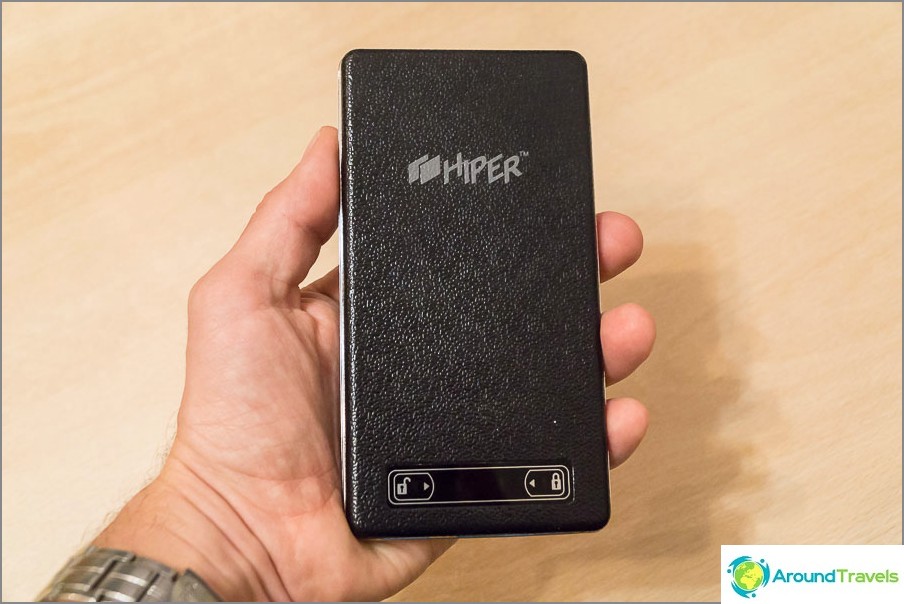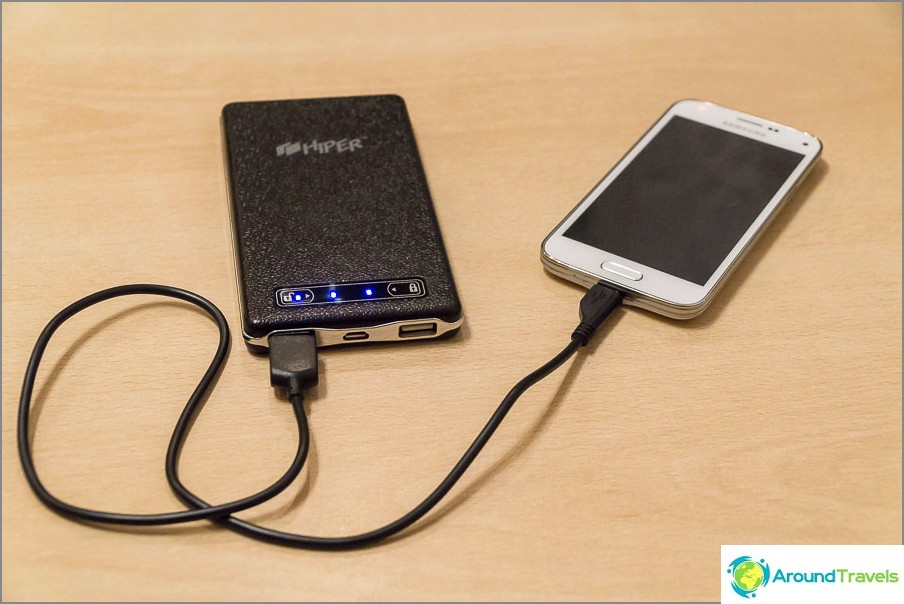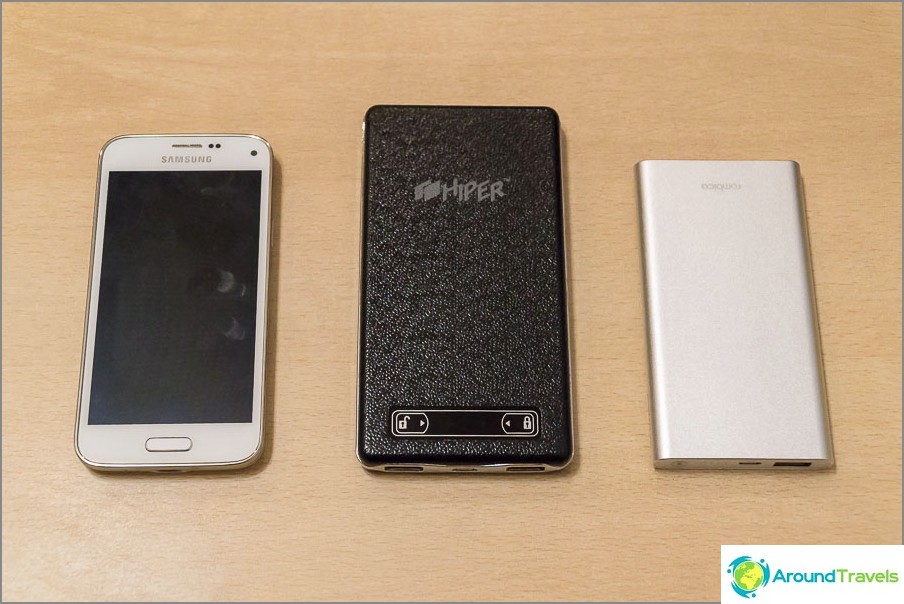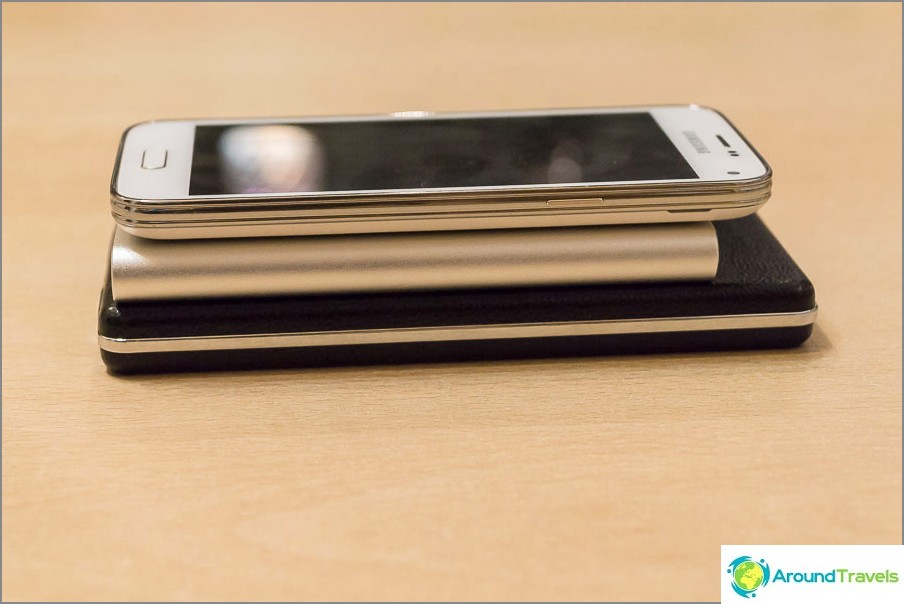 Why do I need an external battery
At the moment I always have a smartphone with me, action cameraand mirrorless. I have 2 extra camerasbattery, but they are enough for a maximum of 1 day with active use. I didn't buy anything for an action camera, as the work time is about 1.5 hours, which is enough for me for 1-2 days. The most sad situation with the phone. In standby mode, it can lie for 3 days, but if you turn on 3G, the navigator, often climb somewhere to watch, it will be enough for half a day in the best case. Therefore, most often I use an external battery to recharge the smartphone. This is especially true for long flights, for example, you can fly 9 hours from Moscow to Bangkok, quietly use the phone, write something, watch movies or listen to a webinar without fear that he will sit down and you will not be able to access the Internet or call upon arrival. Previously, I just tried not to use the smartphone on the plane or charge it from a laptop, but then the laptop would sit much faster.
It's great that all my 3 devices are charging fromUSB, and at the same time you can charge two at once! It was an important nuance when choosing what to buy. Now I always have a reserve and I know that I can use all devices and not save a charge.
I will list the main cases when you need a power bank when traveling. About the fact that he is very useful in the subway, when you travel around the city for a day on business, I will not speak, this is so obvious.
Long flight. You can use your smartphone at the airport, on the plane, and upon arrival.
A long journey, when the day is up ornot sleeping at the hotel at all. Sometimes it's not possible to charge all your devices once a day. I had a similar problem during long journeys by bus, when you go night or day.
As a backup source. It happens that in low-cost hotels there is only one outlet, and it is easier in the evening to alternately charge devices from an external battery, and put it on at night for charging, so as not to jump in the middle of the night and not change charging devices.
Hiking As a rule, 1-2 weeks without recharging and output only in external batteries, no more.
P.S. What do you use? Can you have something more advanced already and I'm behind again?
Life hacking 1 - how to buy a good insurance

Choosing insurance is now unrealistically difficult, so to help all travelers, I compile a rating. To do this, I constantly monitor forums, study insurance contracts and use insurance by myself.

Life hacking 2 - how to find a hotel 20% cheaper

First, choose a hotel on Booking. They have a good offer base, but the prices are NOT the best! The same hotel can often be found 20% cheaper in other systems through the RoomGuru service.

Discount hotels