The Fantasy show in Phuket is considered one of the most popular entertainment establishments of the island province. Fantasy is in the area Kamala beachnear the main road and not noticeentertainment complex is quite difficult. The scale of the show affects both the size of the territory and the number of personnel involved. This is a whole army: artists, waiters, shuttle drivers, traffic controllers, cashiers, ticket collectors, administrators, cleaners - and so on. The entire complex occupies a significant area and is a street with a bunch of shops, attractions and souvenir shops.
The content of the article
Phuket Fantasy Show
FantaSee in the title of the show is a game of Englishthe words "fantasy" is fantasy, and "sea" is the sea. As a result of my visit to Fantasy, I can say that this Phuket landmark was a bit complicated. Because when planning a visit, I did not take into account two main points: I was here without a child, and I was never a shopaholic.
The joke is that when you come here byfull ticket, visiting program provides about 3.5 hours before the show, shopping and lunch (this is if your ticket includes a restaurant). So, for me, these three and a half hours turned out to be quite boring, considering that I was generally alone.
Shopping street
For half an hour I walked around the territory, taking everything off.interesting on camera. Then another half hour sat on the mobile Internet. Then it got dark, and I walked a little with the camera - I took some pictures with night lighting. Again I pooped on the phone, then went to dinner at the restaurant.
In short, I found it difficult to occupy myself with thesethree and a half hours, because shops, as a kind of pastime, are not very interesting to me. Yes, the whole assortment of some kind of child - clothes and toys. I also saw a jewelry store, well, I admit the possibility that there are some other variants of shopping on the territory of Fantasy that have remained out of my sight.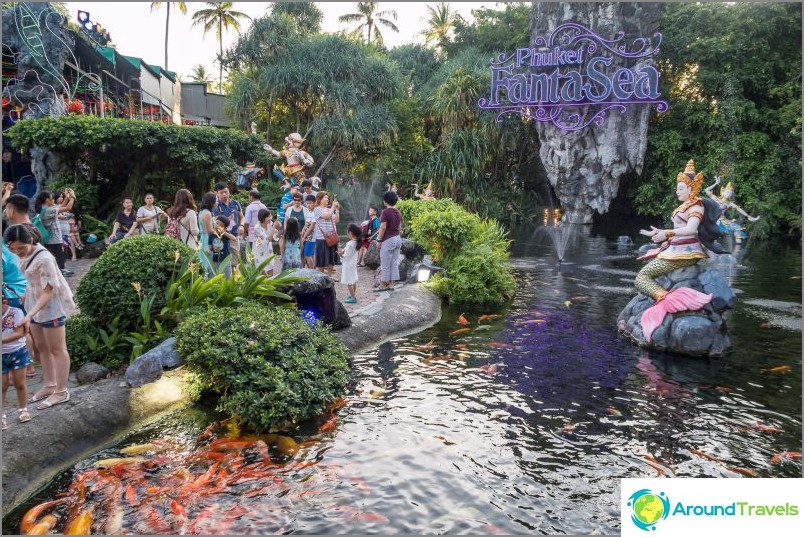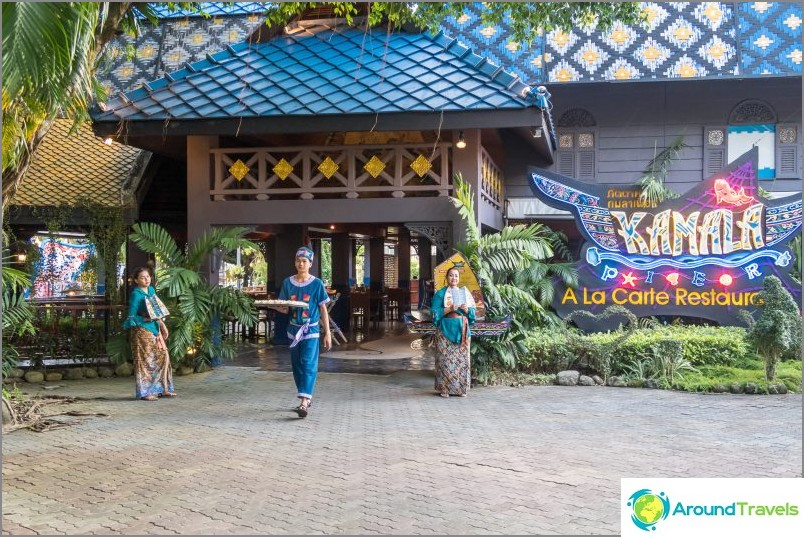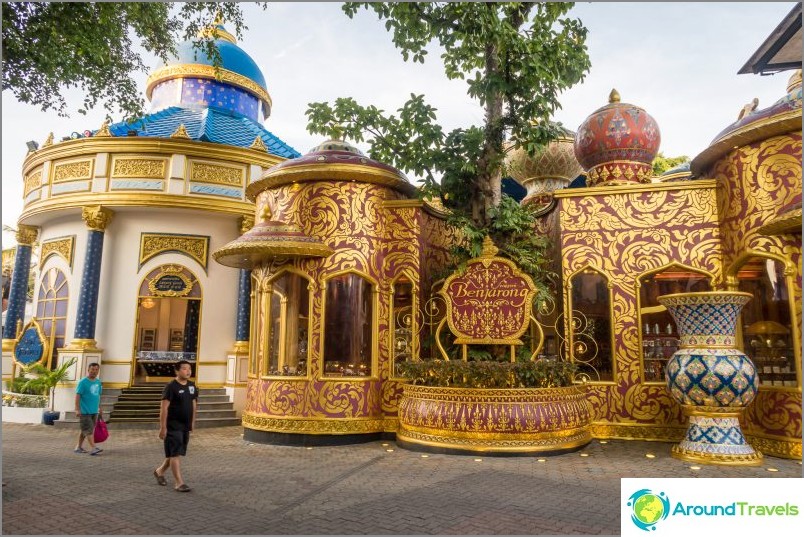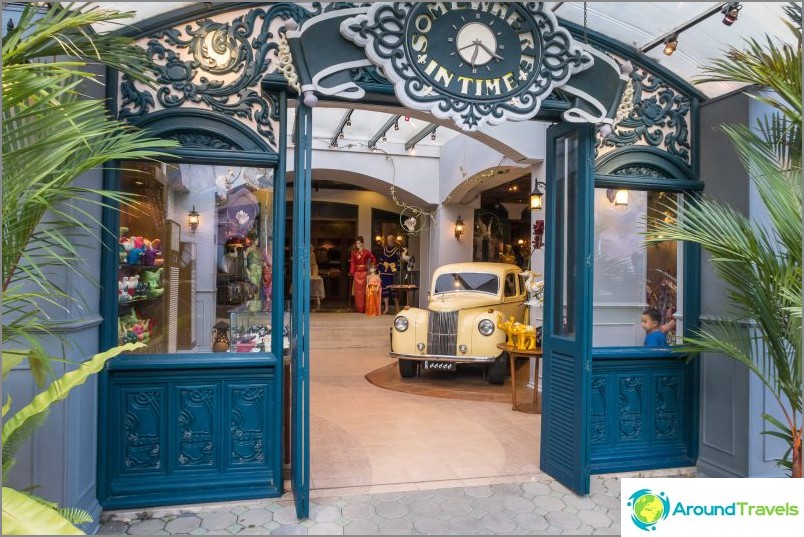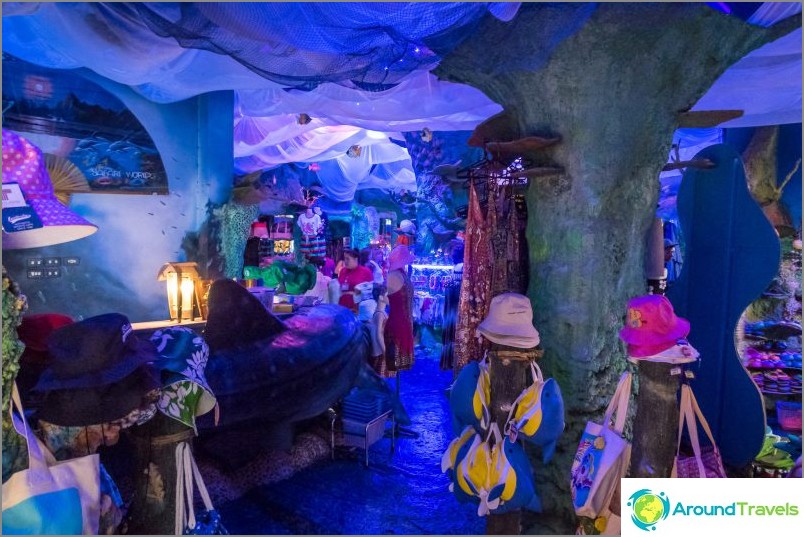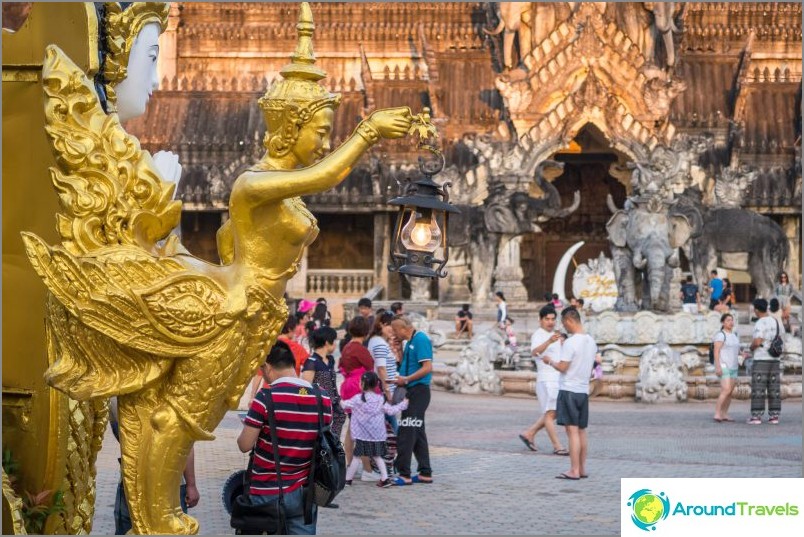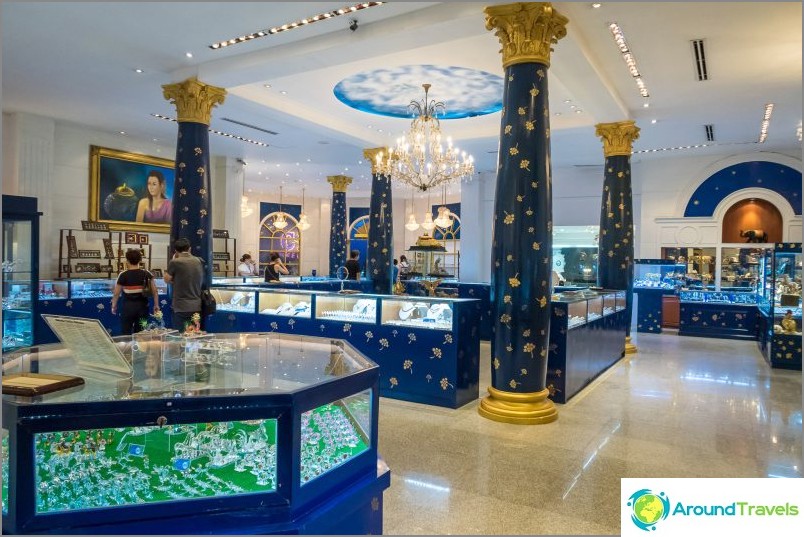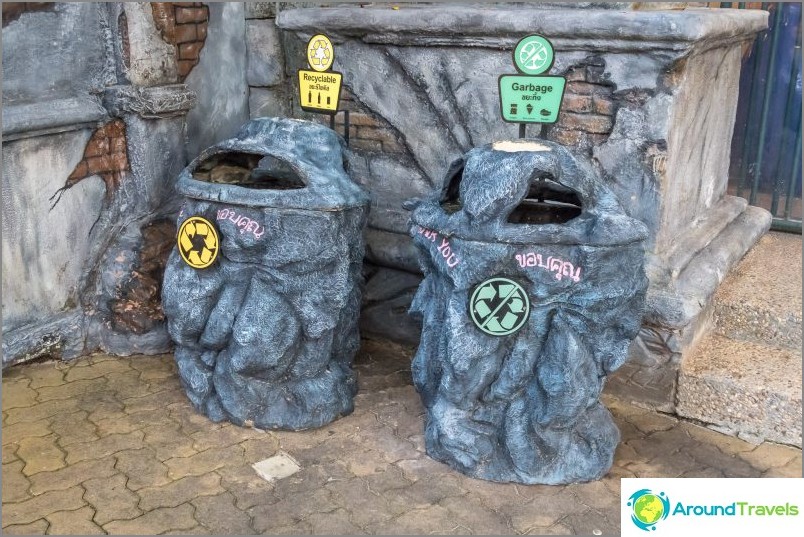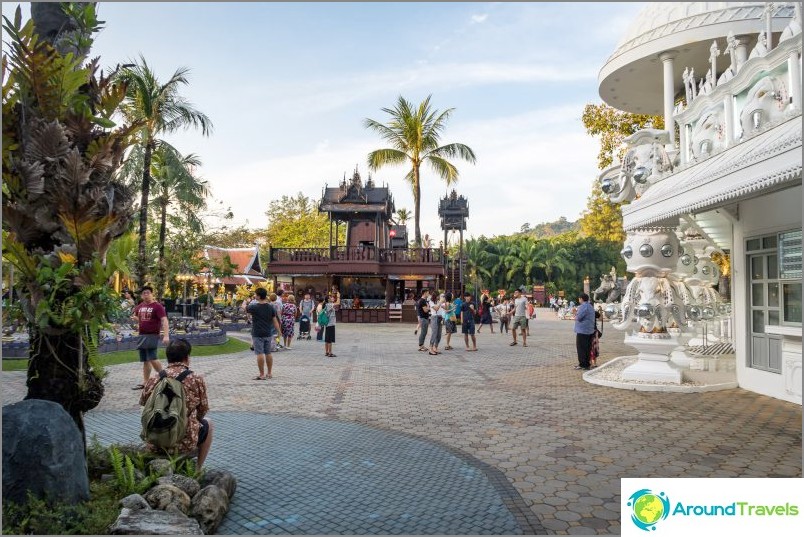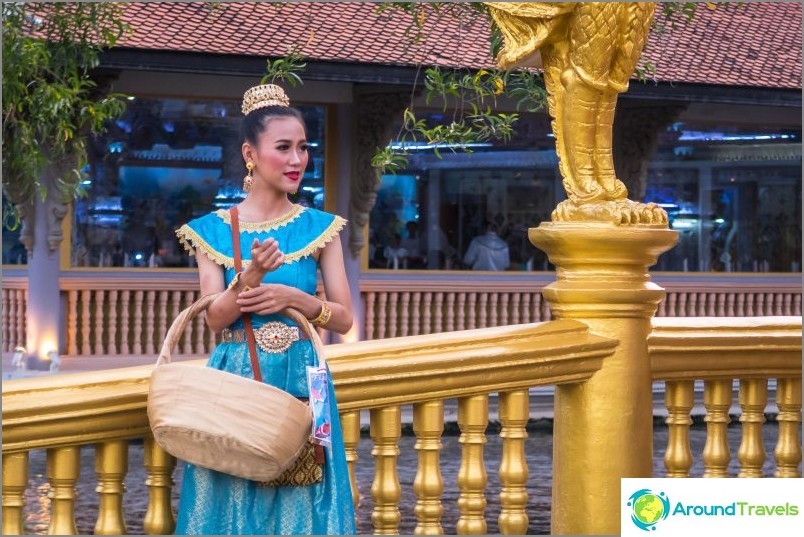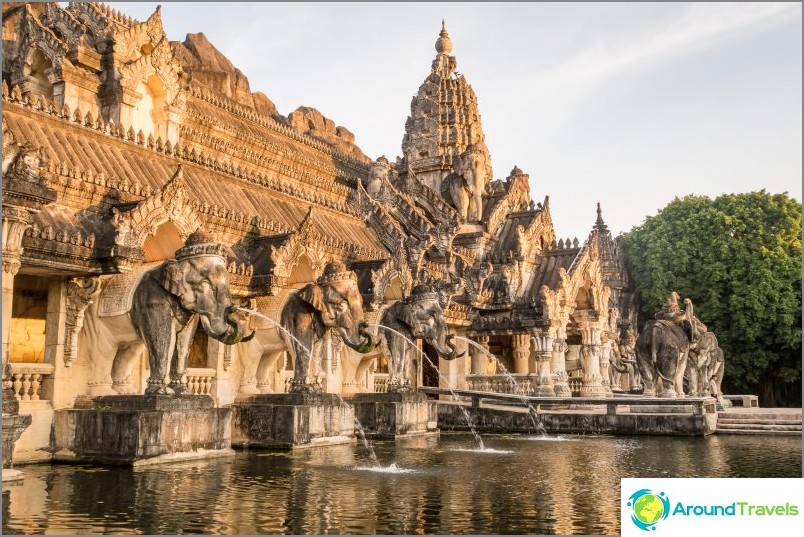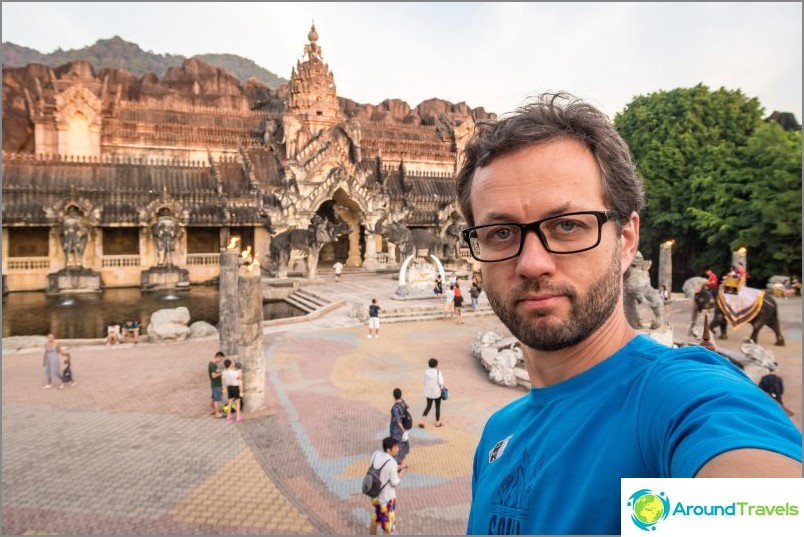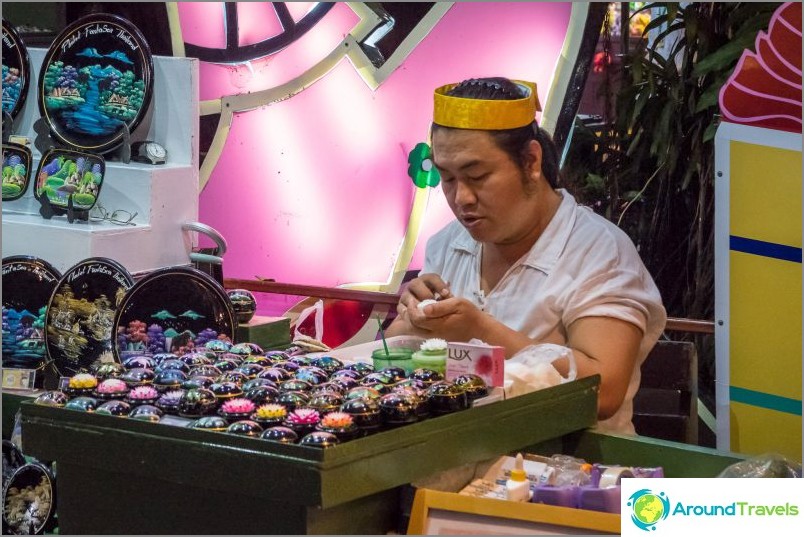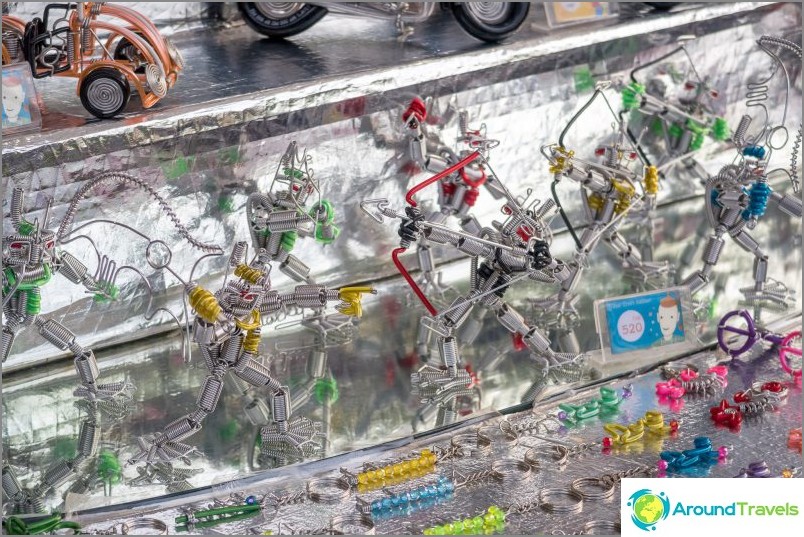 The situation changes if you come here withchildren. For family here is much more fun. Firstly, with a child, your movement speed decreases, and secondly, there are various activities that will be interesting for children. On the shopping street every now and then there are animators, and everything around seems like a bright fairy tale.
Also there is a pavilion with all sorts of games. I didn't focus on this, but in passing I noted to myself that basically it's fair entertainment for agility and accuracy, such as a shooting gallery, where you need to throw balls, darts, pick up bottles with chopsticks. That is why the reviews about fantasy from families with children are completely positive.
Separately, you can ride an elephant or feed it. Naturally all this for a fee.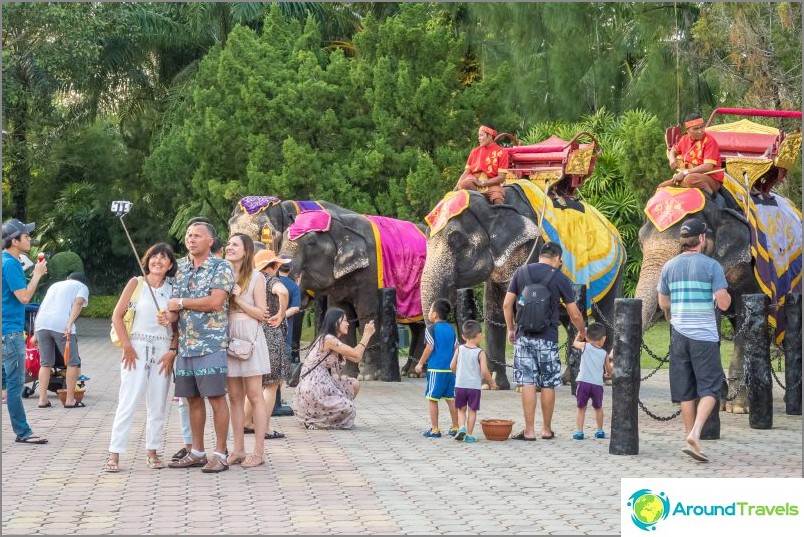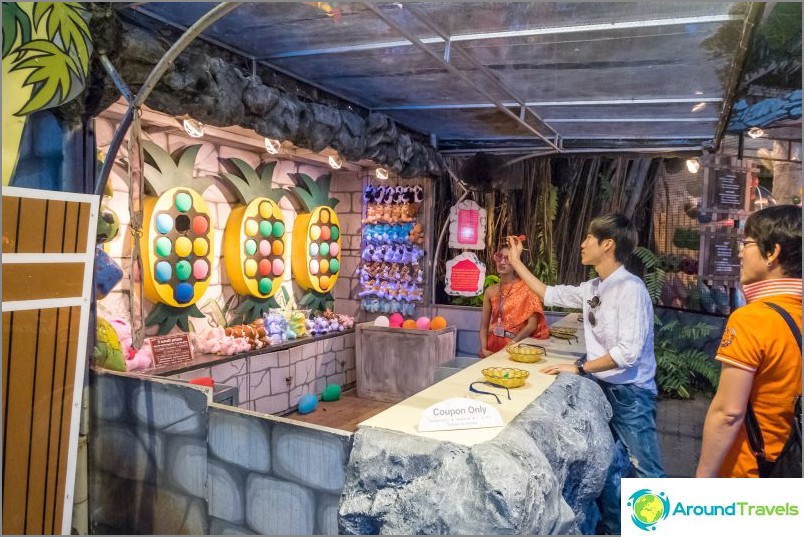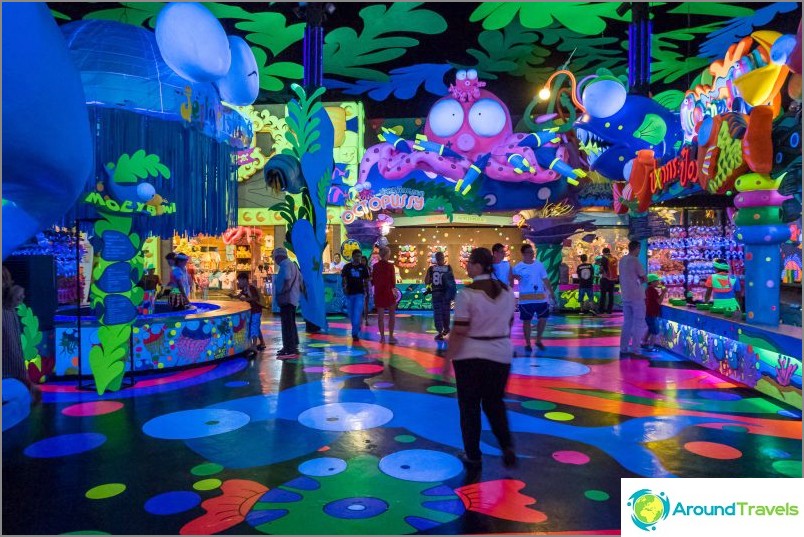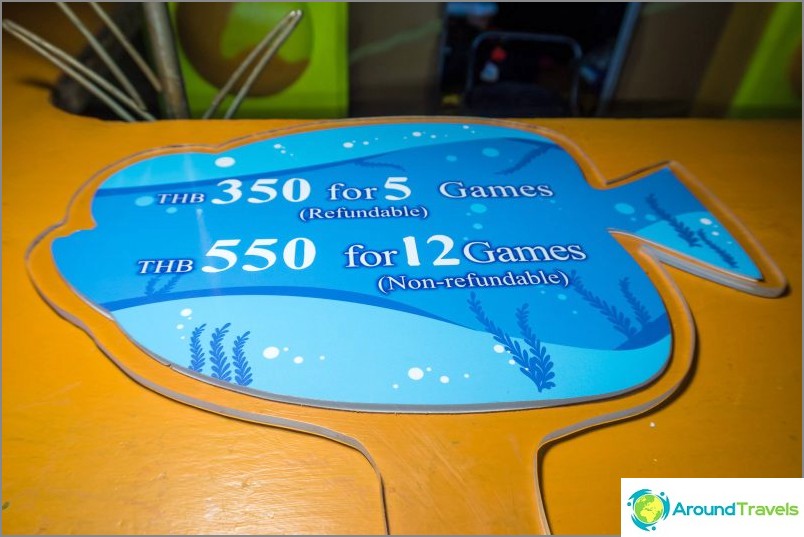 Near the pavilion, where children's rides ondexterity, there is still "tiger show." There are rooms with a fluorescent light and niches where luminous mice run and some other small animals (they didn't see everything). On the branch sits a white parrot, and at the end of this mini-zoo there is a room with a real tiger.
Go, I personally really liked the lighting and scenery, you can make interesting photos.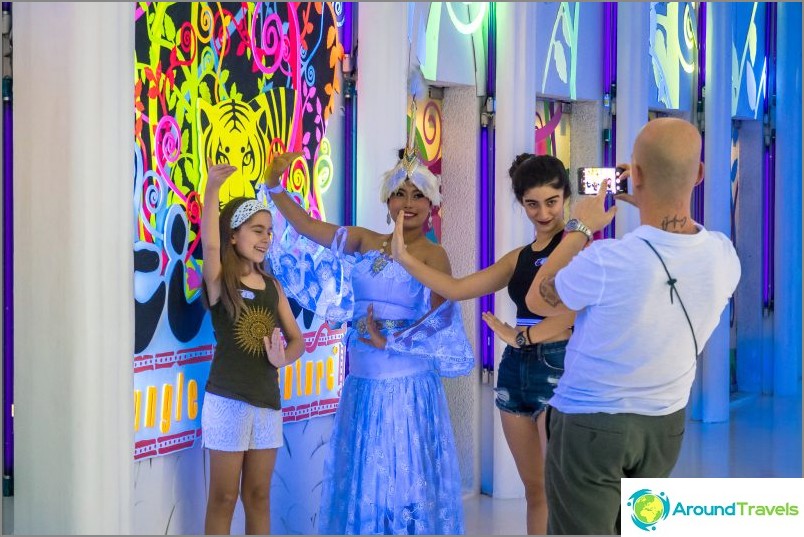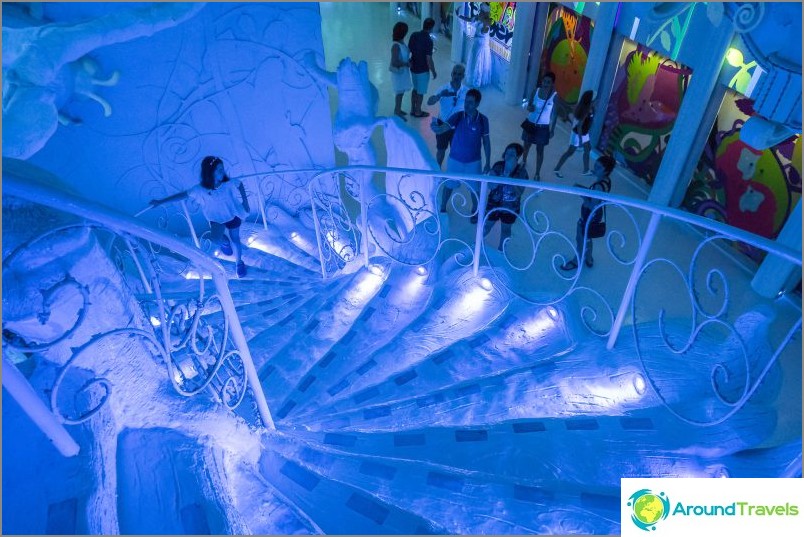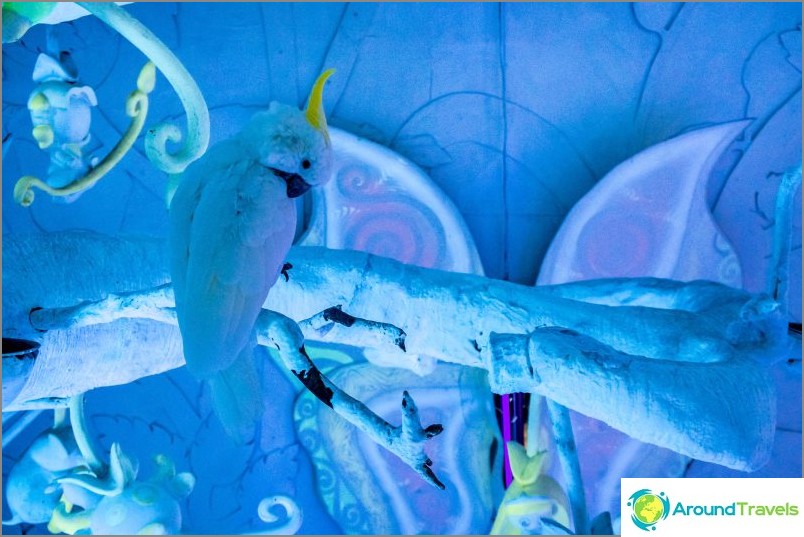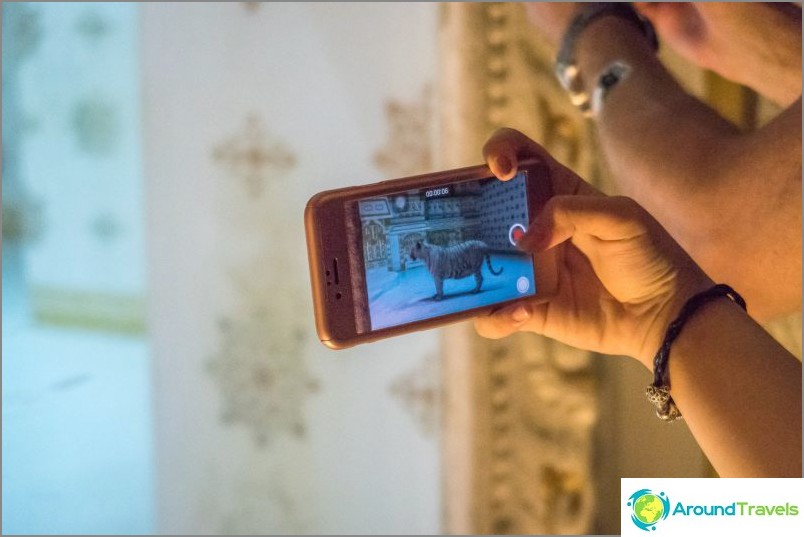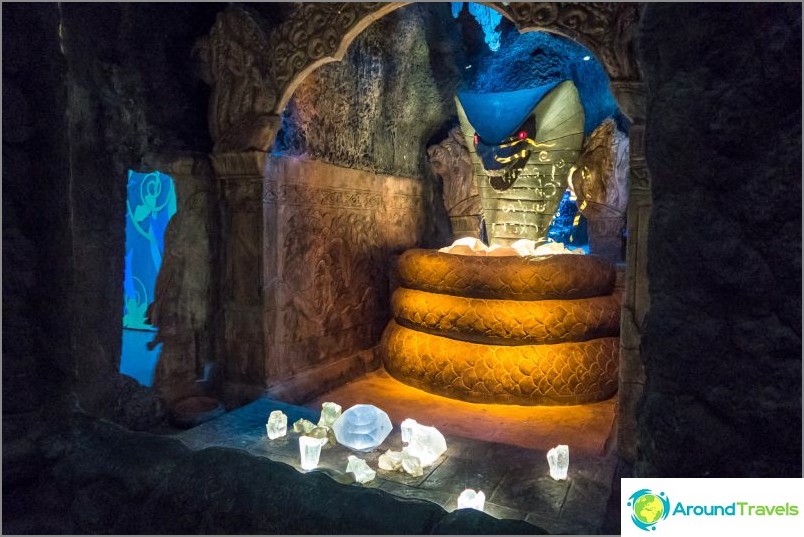 Buffet
The most pleasant thing that happened to me for these threeand a half hours is a buffet. I specifically took a ticket, which included a buffet, although I also offered a choice of seafood dinner at a five-star restaurant. When you enter the buffet room, its scale is amazing. It is really huge, this sensation cannot even be conveyed in pictures - increase everything you see in your mind two times.
Phuket's own snack bar in Fantasy is consideredthe largest in southeast asia. At the entrance you will be given the number of your desk, which will have to find yourself. For a fee, you can order a drink.
Fruit is not enough, but everyone will find something on their own: coffee, tea, water, cakes for tea. There are about fifteen dishes: rice, noodles, green curry, fish in white sauce, massaman curry, meat, everything is quite tasty. Separately, there are sets for salads and a couple of options for salads ready-to-eat.
Compared to the hotels where I had breakfast (andthis is about 20 pieces including five-star ones), here is an excellent choice, and in terms of the quality of dishes - the most delicious. Constantly suitable restaurant staff, pours, puts, takes plates.
To sum up: of the five hours I spent in Phuket Fantasy - the restaurant is one of the main impressions.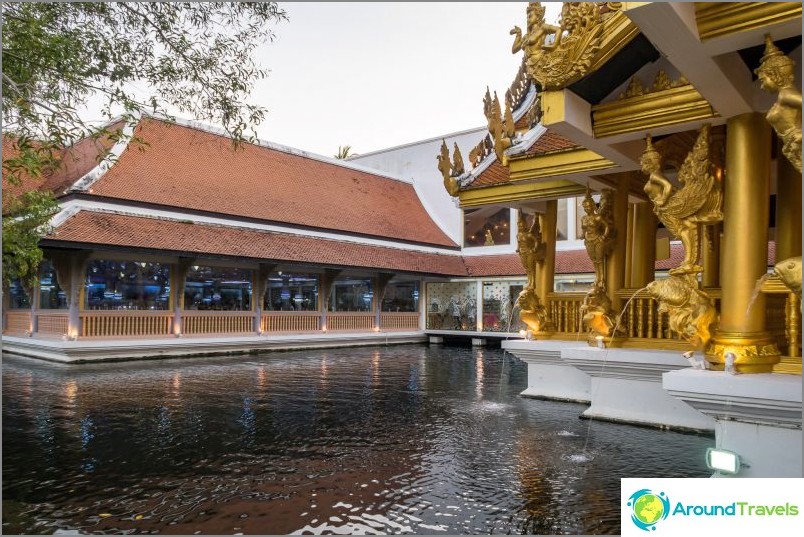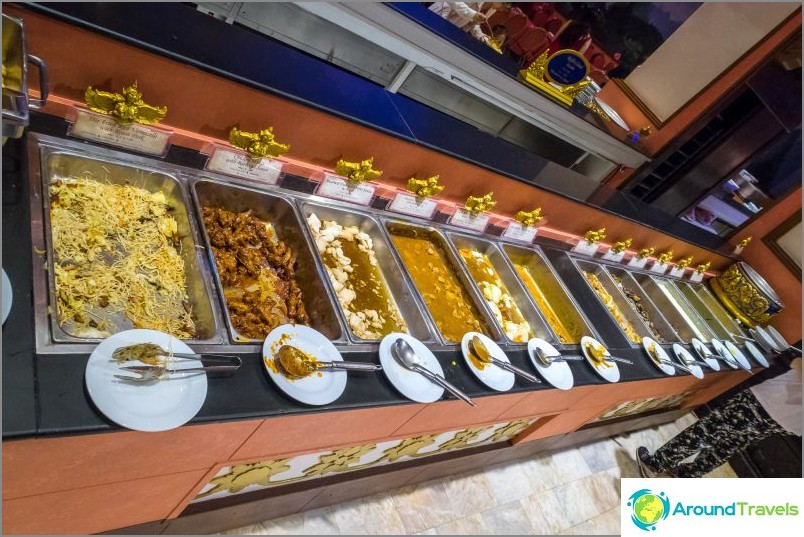 Show itself
At nine o'clock the show began, and it lasted just over an hour. I don't compare the show with anything, because before that I was only on transvestite show Alcazar in Pattaya. Here, too, dancing, but a slightly different act, and not involved trances, as in Alcazar, but ordinary Thais of different stature. So, you have to watch the dance for an hour.
By the way, I noticed one feature. That in Alcazar, that in Fantasy, the movements of the dancers are not very harmonious, not honed. I am not an expert on the show and not a choreographer, but for some reason I always think of the performances of our Russian teams that are on TV, and I think that our level of professionalism is much higher. Although it may not be entirely correct to compare the island show and those who perform on TV.
After the show, I had double impressions. On the one hand, I cannot say that it was very interesting, on the other hand, the time passed unnoticed, and I liked some of the moments very much. For example acrobats, performing under the ceiling, directly above the audience, dressed in costumes, painted with fluorescent colors. And when they were doing their tricks in the dark, it looked awesome. At some point, roosters with chickens ran headlong around the stage, and then lambs. Suddenly. And funny.
I liked the performance of magician clowns, andthat they involved several viewers, though I don't know - dummy or ordinary. They sawed the audience, forced to disappear, in general, had a lot of fun.
The show has a plot, but to be honest, henot quite obvious, and he is not particularly explained along the way. Or rather, at the very beginning, in English something is brought up to you, and then, either there is no voice-over at all, or there may be just a song in Thai. Although, if you think so, the viewer looks at how people in beautiful clothes dance beautifully, and most of them need the story insofar as. For those to whom it is still important - grab a brochure with a plot.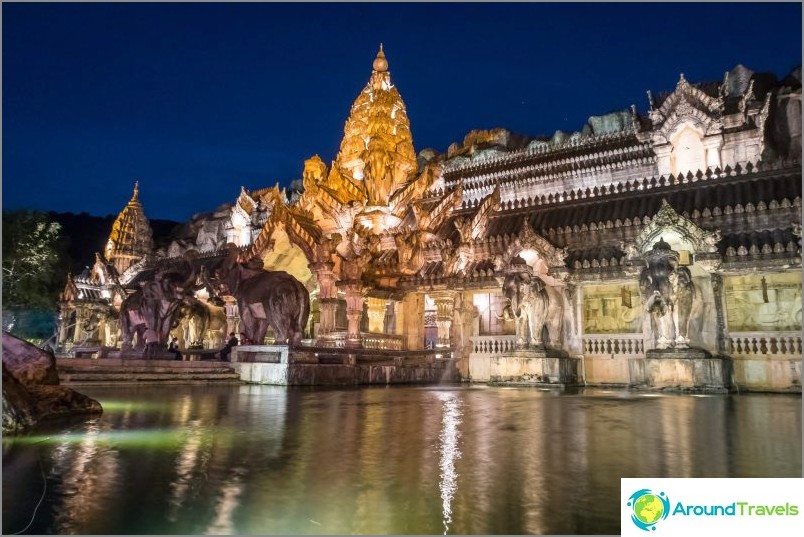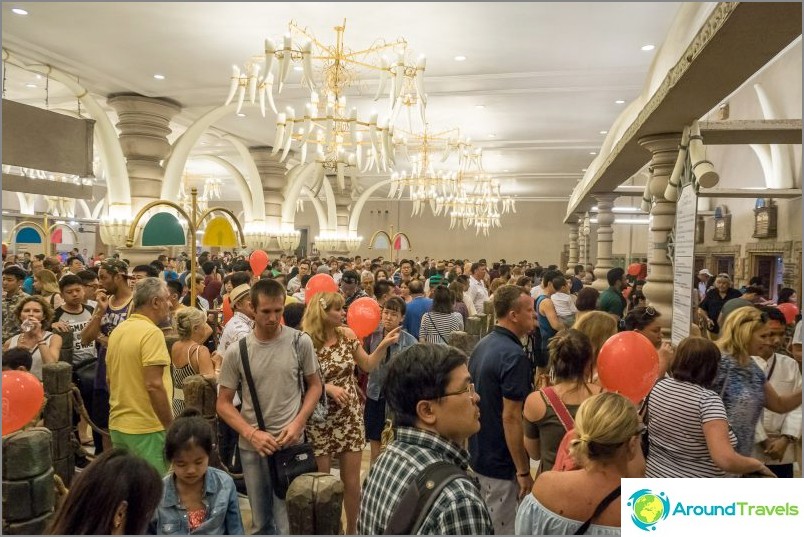 There are circus elements in the show. Elephants walked around the stage, and right at the beginning they passed through the hall along a wide aisle. At the end of the show, the elephants would sit down, bend their legs, stand on each other with both feet. Noisy during the show - pyrotechnics, explosions and smoke are used. It seemed to me that everything here is more focused on children.
In general, my review is - Show FantasiaIt's worth seeing once, if you haven't seen anything like this before, or if you need to walk the children. I personally did not regret that I had gone, but would have left only the buffet and the show. Phuket Alternative Fantasies - Only Show Siam Nicaramth.
Information to visit
Discounted ticket price
Prices on the very useful site Klook, where you always need to check tickets for discounts:
Ticket price for the show - 1470 baht / person.
Show + Buffet - 1,670 baht / person.
Transfer in both directions - 250 baht / person.
Prices from Alfa-Travel, through which I traveled (I ordered on the website and a transfer to the hotel followed me):
Ticket price for the show - 1800 baht / person.
Show + buffet - 2050 baht / person.
Transfer in both directions - 200 baht / person.
Prices on the official site FantaSea Phuket:
Ticket price for the show - 1800 baht / person
Show + buffet - 2,200 baht / person.
Transfer in both directions - 350 baht.
Klook discount tickets>
The difference is not in favor of the official site and nothere is no dirty trick here, I have often noticed such Thai marketing in different resorts. In the Alcazar cabaret in Pattaya it was also, through agencies, cheaper than directly. If you have several people, the savings will turn out already noticeable. Here are the contacts Alpha Travel.
+66622100091 (Whatsapp, Viber, Line, Telegram)
Discount Tickets from Alpha>
From the hotel in Patong I was taken at 5 pmbrought back - at 23 o'clock. If your beach is further, then most likely you will return later than me. I was at FantaSea from 5.30 pm to 10.30 pm, that is, 5 hours. If you are not interested in shopping and lunch, then buy only the show. It takes place 2 times a day, at 19.30 and at 21.00. Lasts about an hour.
Another of Phuket Fantasy prices: ride an elephant on the main square - 1000 baht, feed - 80 baht. Inside, in the theater, a photo with an elephant (attention) - 700 baht!
There is a restaurant at the entrance to the territory, in caseif you are hungry before the buffet, or after, or you have a ticket without a buffet. The rest of the cafes sell something on the little things, ice cream, smoothies, popcorn and so on. I took myself a smoothie for 75 baht, norms. Below in the pictures are prices for drinks and snacks.
Other moments
In the hall where the Show Fantasia takes place - it's cold, I have to take a blouse or a plaid towel, I've got a little cold. It is better to sit closer to the stage - the hall is large and not visible from the back rows without binoculars.
The show itself cannot be filmed on a camera, so there are no pictures, but I didn't even try to fota from under the floors, they say they track them and force them to delete.
At the entrance there is a luggage room for phones andcameras, but this is not necessary - no one checks at the entrance, you can carry everything with you so as not to stand in an extra queue before and after the show. But in general, the delivery and receipt takes not so much time, because they are put on stream.
On the map
Show Fantasia (Fantasea Show)
Show Fantasia (Fantasea Show)
FantaSee show in Phuket is one of the most popular entertainment venues.
More about the show.
The FantaSee show in Phuket is one of the most popular entertainment venues. More about the show.
Life hacking 1 - how to buy a good insurance

Choosing insurance is now unrealistically difficult, so to help all travelers, I compile a rating. To do this, I constantly monitor forums, study insurance contracts and use insurance by myself.

Life hacking 2 - how to find a hotel 20% cheaper

First, choose a hotel on Booking. They have a good offer base, but the prices are NOT the best! The same hotel can often be found 20% cheaper in other systems through the RoomGuru service.

Discount hotels